The joys of Japanese culture can only be fully and seamlessly enjoyed if we understand the Japanese language. Therefore, the Japanese is the only gateway for understanding Japan's history, animation, movies, news, and other exclusive traditional cultures.
Specifically, the Japanese language is special compared to other languages because of its highly specialized words and expressions. Also, this difference is very striking and cannot be found in other languages.
Then, not only for ourselves, giving our children the opportunity to learn Japanese is proven to improve their abilities. Facilitating children to learn Japanese can provide various benefits academically, and personally, as well as even further fostering the character trait of appreciation and inspiration for other people's cultures.
Not only will it have an impact on children's future, enriching their linguistic skills, but learning Japanese can also be an option when children are bored of learning. Moreover, Japan has educational manga and anime. This material can be a great option to add cultural insight but still be fun and rescue your little one from boredom.
However, finding a good, educational, and credible Japanese language learning resource is not easy. For that reason, we are here to present you with 10 and even more cutting-edge Japanese learning resources! Next, please take a look at our review below.
1. Why Your Little One Must Learn Japanese?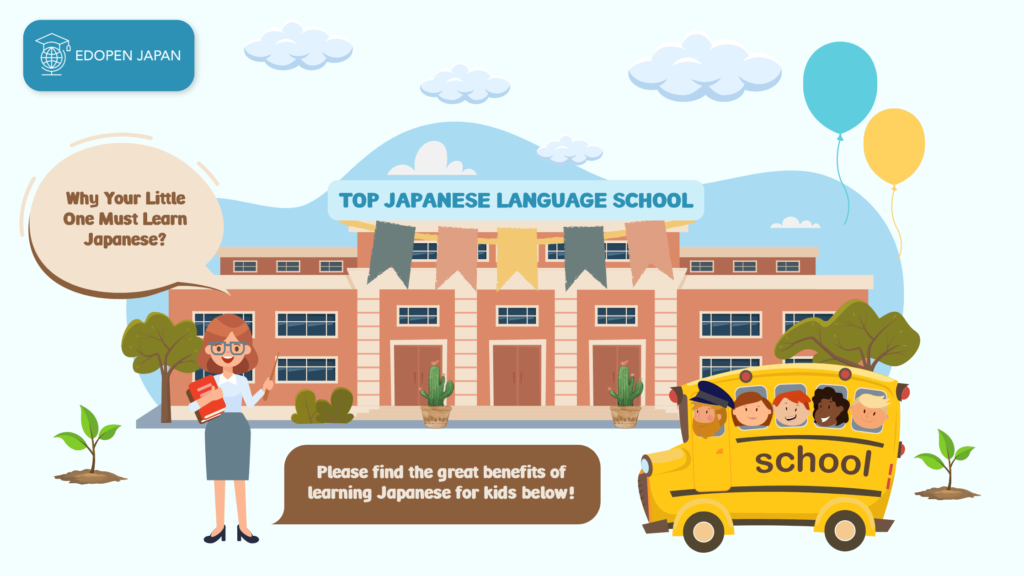 According to experts, the younger a child learns a foreign language, the better chance they have of honing their speech, improving their intelligence, and even enriching themselves individually with a foreign culture.
Although Japanese is a difficult language. However, in addition to the above, allowing our children to learn Japanese will provide them with the following benefits.
Giving children the opportunity to explore and appreciate Japanese culture.
Giving children the opportunity to absorb the nuances, native accents, and origins of the Japanese language from a young age.
Instilling the very strong principles of hard work, discipline, and cleanliness in Japanese.
Giving them special skills that not everyone can have for their future.
Gives children the tools to pursue higher education and build a career in Japan.
And many other benefits. However, to begin the process of learning Japanese for your kids, please start gradually. If your child finds it difficult at first, you may need to change the materials used.
As a tip, you can use illustrated materials that are easy, and simple to understand for the early days of learning Japanese. We currently have a lot of reliable resources. Keep up to date with interesting Japanese teaching materials for your child here! Please share your thoughts below!
2. Is Japanese Hard to Learn for Kids?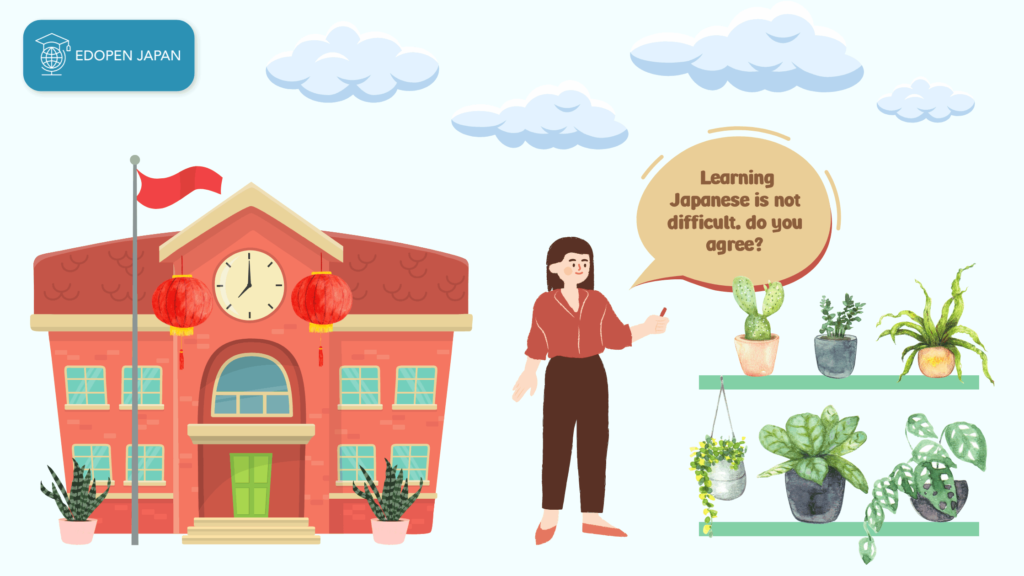 The fact is that studies say that Japanese is a difficult language to master. But that doesn't mean it can't be mastered. Technically, Japanese is even relatively easy because of the following factors, such as:
The pronunciation of each syllable only consists of 5 vowels; a, i, u, e, and o.
Japanese grammatical structure is not complicated, even similar to English for some conditions.
The amount of Japanese vocabulary is not as many and complex as in Mandarin or Arabic.
Consistency and time can be very reliable in mastering Japanese.
The symbols and characters in kanji are very realistic and resemble the original image of the object depicted. This greatly facilitates the understanding of kanji which is the main key to the Japanese language.
Apart from the above factors, there are many more special, unique, and fun things that your child and you can feel when going through the process of learning Japanese. So, the assumption says that learning Japanese is difficult is not true at all.
Because, if we find difficulties in the process, it could be that our learning methods are not right. We must prove this individually and fairly.
3. Can a kid learn Japanese?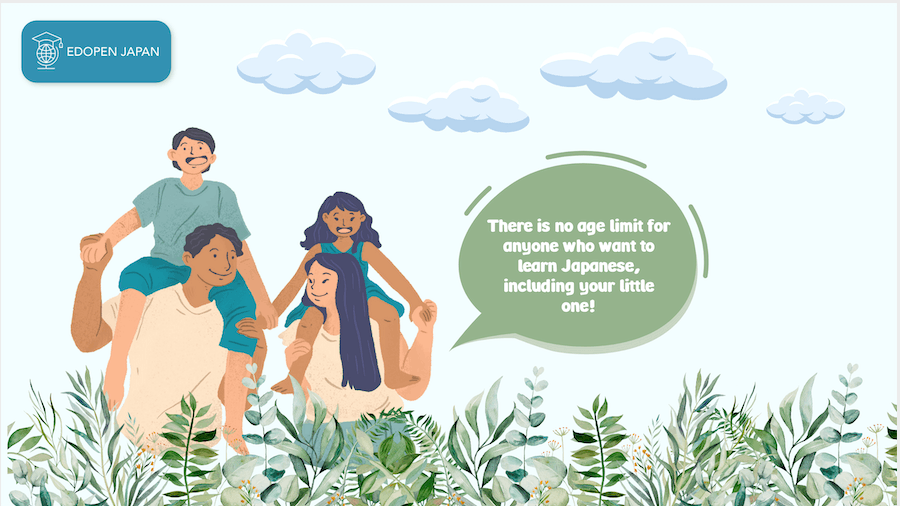 Are you wondering at what age children are ready to learn Japanese? The answer is that there is no age limit for learning Japanese. Especially if you as a parent are also learning this very special and powerful Japanese language.
In fact, you can even start teaching your children simple expressions from the time they are in the womb. This kind of treatment over time will have a tremendous impact as they grow up. Don't be surprised when one day, your kids will be flooded with the Japanese vocabulary that you've been listening to.
By their golden years, your child will be bilingual and even multilingual. So, please don't hesitate! Please share simple Japanese language materials with your child.
Then, please feel free to use the recommended 10 and even more resources that we present here for your beloved child!
4. 5 Great Online Resources to Learn Japanese for Kids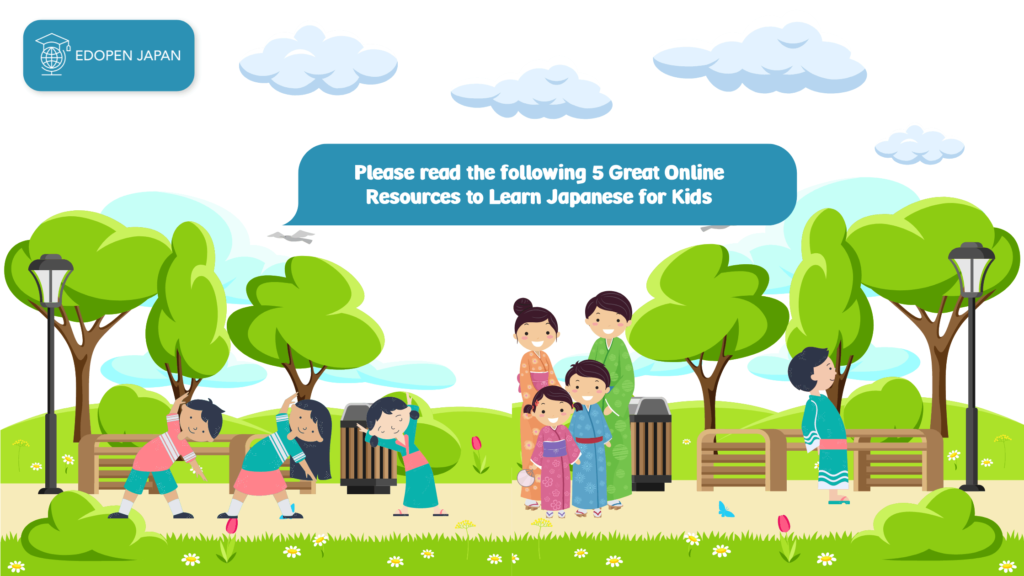 Here are the 5 Great and Credible Online Resources that You MUST USE for your kids learning Japanese.
1) Learning and Practicing Hiragana from Youtube
Children can easily understand a wide variety of topics (even complicated ones) with the help of visuals. Youtube is an unrivaled visual aid platform today.
Seeing hiragana learning materials physically and listening to the sound directly on Youtube will greatly help your child quickly understand Hiragana. In addition, there is a wide variety of bundled materials with very interesting delivery methods.
Using Youtube to teach your child Hiragana will be very useful. However, keep an eye on the duration of the screen time and make sure to keep an eye on your child when learning hiragana by watching Youtube.
2) Learning and Practicing Katakana from Youtube
Aside from Hiragana, don't worry, you can also find various Katakana learning materials for kids on Youtube.
Some videos are usually equipped with very good and interesting animations. And the voice is filled by native Japanese speakers directly. So, when your child learns Katakana and listens to the explanation, then he will absorb the original accent of Katakana pronunciation directly from native Japanese speakers.
For a basic level of understanding Katakana, Youtube is more than enough.
3) Fairy Tales and Short Stories with Easy Japanese
Children love fairy tales and short stories, especially if they can be supported with good animation. The same goes for Japanese language learning. Teaching children Japanese by reading fairy tales and short stories is a very high quality method.
You can read these fairy tales and short stories to your children every night. They will absorb a lot of new Japanese vocabulary every day. Indirectly, you can enrich your own Japanese by reading these fairy tale and short story books. Please click the links below for our best fairy tales and short stories recommendations!
4) Listening the Japanese Songs for Kids
In addition to videos, fairy tale books and short stories, don't forget Japanese songs. Individually, I still often listen to and sing beautiful Japanese songs.
Listening to Japanese songs for your child to learn Japanese is highly recommended. By remembering the melody, learning Japanese becomes very fun. Your child will want to learn Japanese for a long time.
Various songs are also often used by kindergarten teachers in Japan to educate their students. The vocabulary contained in the songs can also be easily absorbed by your beloved child!
5) Learn Japanese by Watching Anime
Everyone looks up to Japan because of anime. Undeniably, anime is a very useful medium also used for Japanese language learning.
Watching anime can also make your child understand Japanese pronunciation and concrete nuances. Currently, there are various kinds of educational anime that you can use.
5. Why Do You NEED the Japanese Picture Books (絵本) for Your Kids Learning Japanese?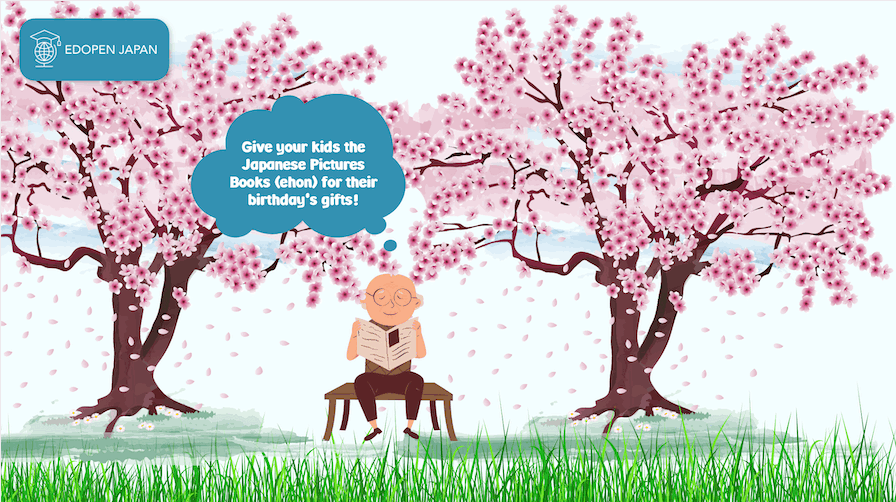 Japanese picture books (絵本) are illustrated books for children that contain structured text and pictures. There is usually an age guide in each of these books.
I highly recommend Japanese picture books because they are very artistic. The mix of bright colors, the size that children can comfortably hold in their hands, and the highly structured and rich content, have always been a special attraction about Japanese picture books or ehon.
In addition to the general subject matter, Japanese picture books also have material on Japanese culture that is very interesting. If your child is already in love with 絵本, then you can introduce them to 図鑑 (zukan). Zukan is an encyclopedia of detailed, comprehensive, and amazing explanations. Your child will love every bit of material in this Japanese encyclopedia and their Japanese will be unbeatable!
6. The Resources for Japanese Pictures Books (絵本) and Short Stories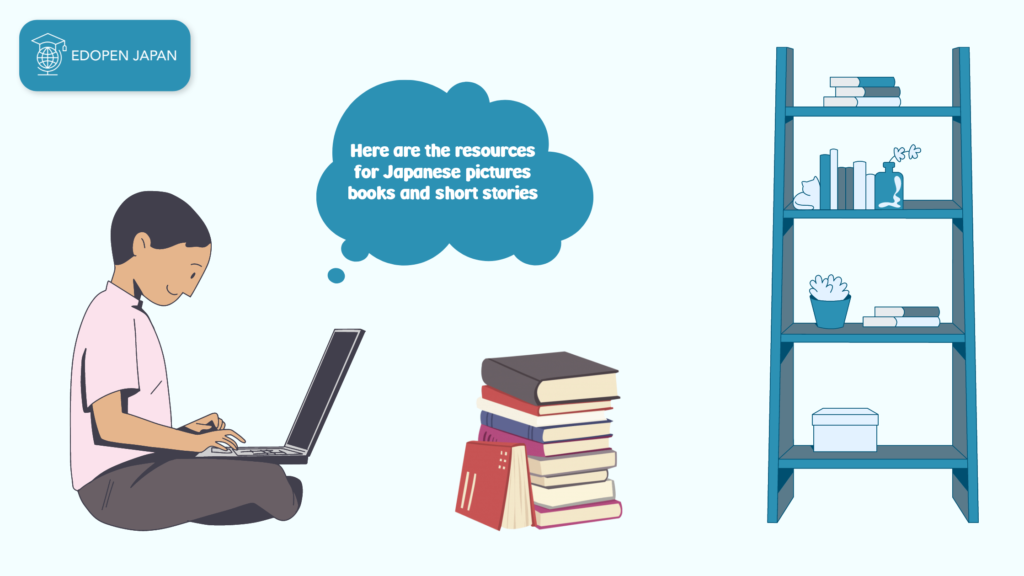 You've been dying to read some Japanese picture books, right? Of course! Not using Japanese picture books is one loss.
But how do you find Japanese picture books? How much are they? How to buy them? Don't worry. In this special article, we've found 3 resources you should visit to find FREE Japanese picture books!
What are they? Read more on the 3 lists below.
1) Ehon Hiroba
There are many Japanese picture books available at Ehon Hiroba. The topics covered are also very diverse. In each picture book information, there is a resume, number of pages and age suitable for children who read this picture book.
The picture books available at Ehon Hiroba are very cute, suitable for moms and dads to read simple stories in Japanese, and very educational with some nuances of Japanese culture. Definitely worth for using!
2) Nihongo Tadoku
On the second list, we recommend Nihongo Tadoku. This website is really amazing. You can read various great works for free. Not only that, you can also download pdf files of these picture storybooks and print them out directly.
Although the illustrations and photos used are still very simple, the materials are very educational. There are also age specifications for readers. You can choose the book that suits you freely and for free! It's really worth it!
3) Hukumusume
Do you want to enrich the type of reading for your children? Just giving them ordinary picture books might sound too easy.
Therefore, at a later stage, try introducing Japanese picture books that tell about Japanese culture. You can find them on the Hukumusume website. This site has a wide variety of short stories and fairy tales that are very interesting and suitable for your children!
7. The FREE Japanese Worksheets for Hiragana, Katakana and Kanji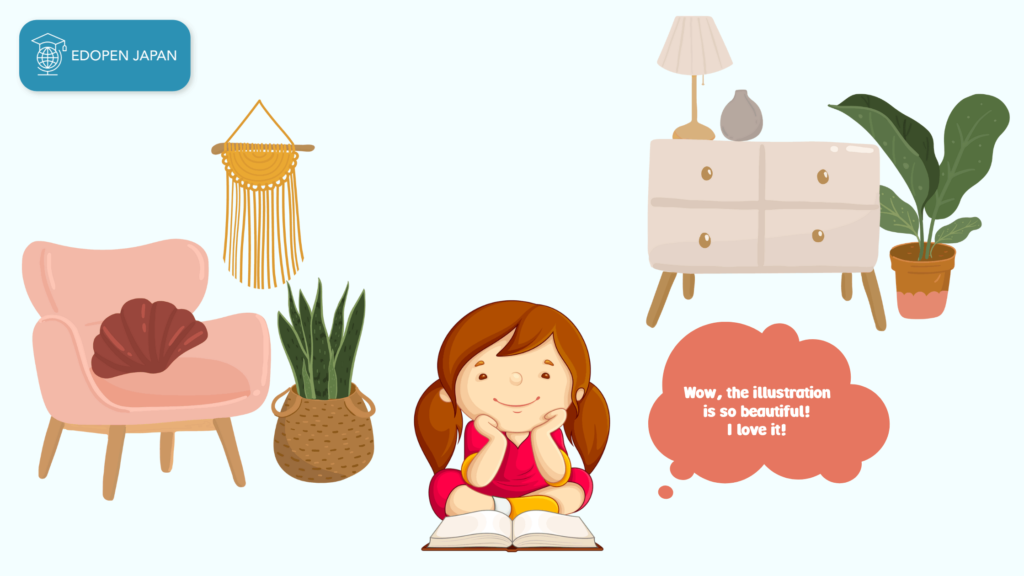 One of the best resources in the internet universe for great Japanese language materials and illustrations and the only one is Chibimusu Doriru (ちびむすドリル). To this day, I still use the free materials here to teach my students Japanese.
This site is really very comprehensive. You can find a wide range of materials for children aged 0. There are worksheets ready to download and print. A wide range of Japanese vocabulary, hiragana and katakana materials, proverbs, idioms, all the materials for Japanese for kids to adults are here!
8. Famous Japanese Cartoon for Kids to Learn Japanese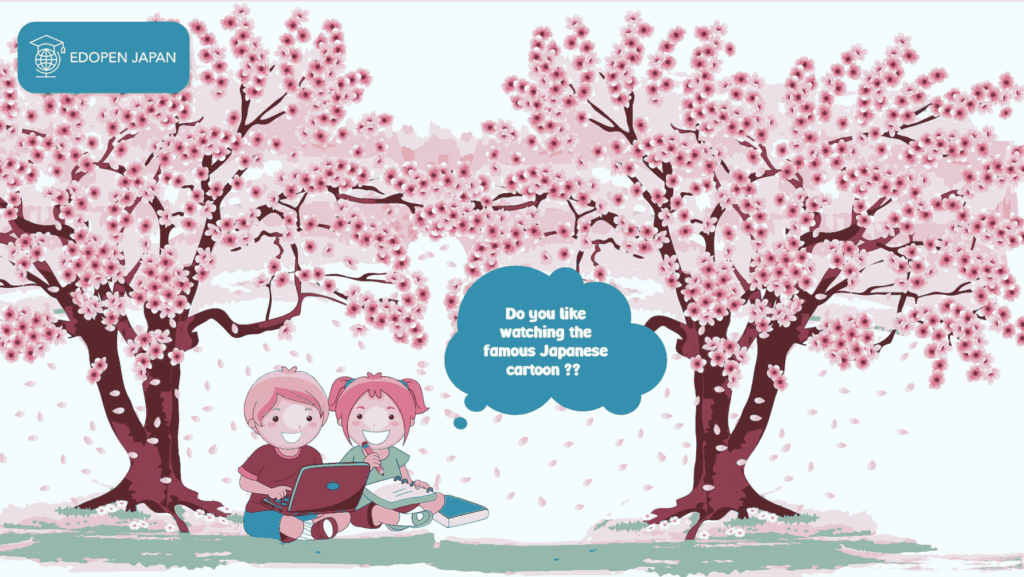 Yep! Of course Japanese cartoons cannot be left behind in this list. Well let's start with a favorite cartoon that has always been a family must-watch since I was a kid. You must be familiar with it!
We would like to mention again 3 Japanese cartoons that you and your family must watch with original Japanese (use subtitles) so you can learn Japanese while watching.
Doraemon
Sazae san
Anpanman (for your child)
And many other cartoons. But the above three cartoons are more than enough. Watching too many will also cause addiction which is not good for health, right!
Conclusion
That's our summary of 8+ Great Ways & Resources to Learn Japanese for Kids! What do you think? Do you have any other additions? Please share your thoughts in the comments section below.
Don't forget to keep up with our latest updates on the Japanese language and culture at EDOPEN Japan. See you in the next article! Thank you for reading to the end!