Especially for those of you who are struggling to find a Japanese language school in Hawaii.
And currently looking for the best place to learn Japanese in Hawaii.
And of course for those of you who are also confused about finding the best tutor to learn Japanese in Hawaii.
Where and what is taught in the language schools available in Hawaii? How to find the best fit for your needs in learning Japanese?
And also to answer the millions of questions that might fill your mind these days about how and where is the best place to learn Japanese in Hawaii?
This article will be your cure for that. This is exactly what you've been looking for. We have summarized 5 of the best and most popular schools that you can choose to study Japanese. Not only that, but we also added the option of how to find the best tutor if you prefer a more private learning format. Okay, let's get started!
About Hawaii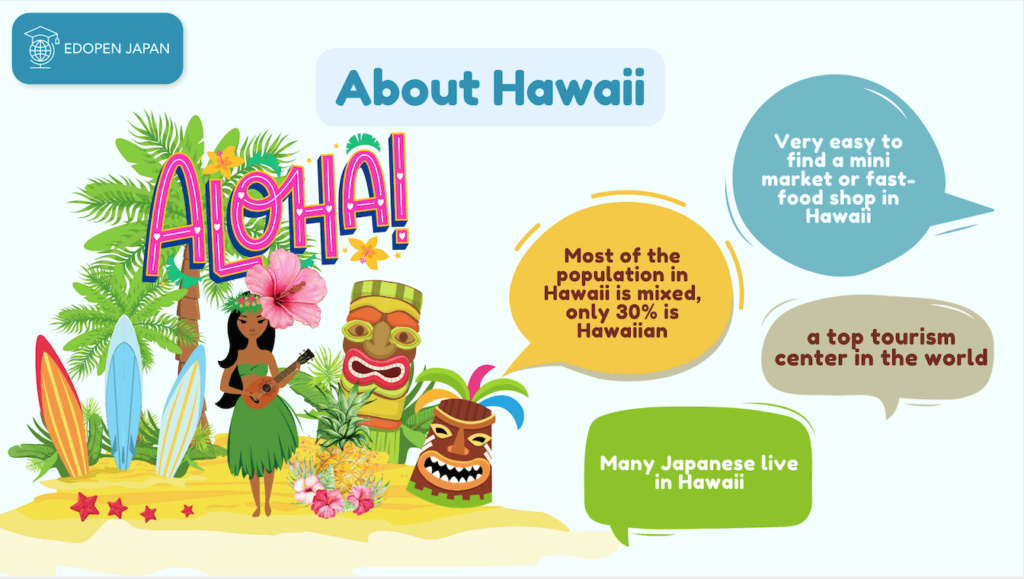 One of the most charming states of the USA is "Hawaii" with its capital city is Honolulu. Hawaii has become a top tourism center, a series of famous figures such as President Bill Clinton and Elvis Presley spent their weekends in Hawaii for vacation.
With various facilities, now it's not difficult to find a mini market or fast-food shop there. Likewise, toll roads and high-rise buildings have been presented in this northern Pacific Ocean archipelago.
Most of the population here is mixed, at 2010 USA Census: 196,428 (2016 est.) Mixed Ethnicity: 30% Hawaiian, 23% Caucasian, followed by Japanese (14%) and Filipino (10%).
Agriculture, tourism, and seafood are at the heart of the pulse that drives the Hawaiian economy today.
In addition, the history of the Hawaiian Islands cannot be separated from Japan, both in terms of history and culture, the distance between Hawaii and Japan is quite close, so many Japanese people are comfortable living in Hawaii today. With such circumstances, the Japanese language becomes quite important to be a bridge both in terms of the tourism industry and the economy of the two countries.
5 Famous Japanese Language Schools in Hawaii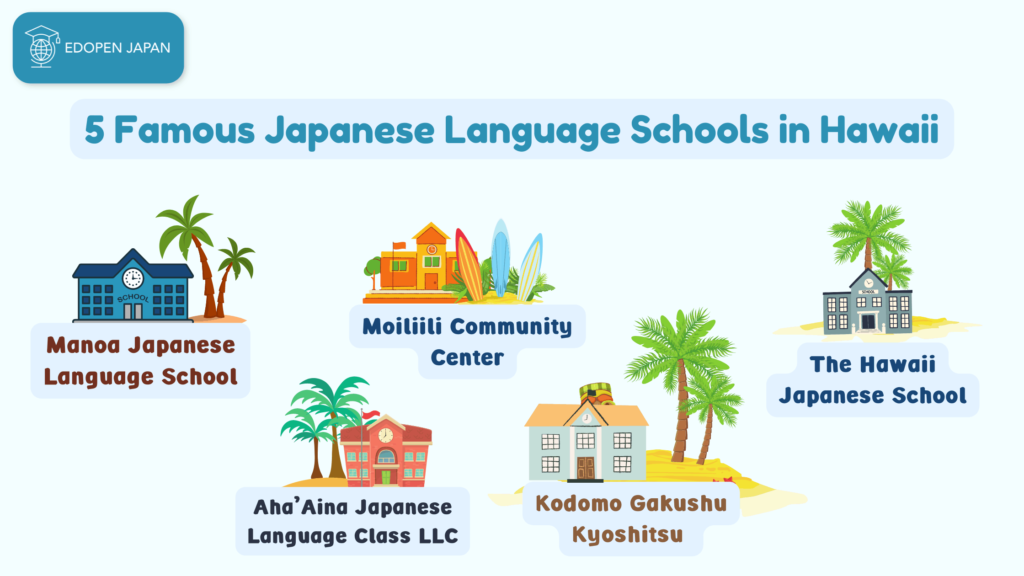 Here we present 5 Best and Famous Japanese language schools in the Hawaiian Islands
(1) Manoa Japanese Language School
If you want to see the significance and contribution of a language institute, we can look at how long it has been in service. Notably, Manoa Japanese Language School (MJLS) has been around for more than 100 years. Manoa Japanese Language School features a blend of learning Japanese with a blend of the beauty and usefulness of the Japanese language itself for everyday life.
MJLS is in the heart of the beautiful Manoa Valley on East Manoa Street. It is the oldest language school in the Hawaiian Islands and has educated thousands of students since 1910.
Students here are predominantly of, Asian or Pacific Islanders 81%, Native American Hawaiians or Other Pacific Islanders 5% and the school also accepts and recommends children through to adults.
Address: 2804 East Manoa Road, Honolulu, HI 96822
Recruitment term: None / Rolling
Number of instructors: not specific listed
Capacity: currently in total 95 students is enrolling
(2) Aha'Aina Japanese Language Class LLC
Aha'Aina Japanese Language Class was founded by a native Japanese with very high teaching hours, Yui Sensei, in the Hawaiian language itself "Aha'Aina" means "feast". This school wants its students to enjoy and be happy in learning. This school has a kind of magic potion that makes Japanese language which some people find difficult but, in this school, becomes a fun and exciting learning experience.
One class is only allowed with a small number of students, so each student gets personal attention. Obviously, the classes are very interactive, human-to-human, so you will be able to talk to your fellow classmates. In addition, Yui Sensei will explain some of the many Japanese cultures as entertainment while studying.
For your consideration, Yui was born and raised in Japan and has taught Japanese in Canada and the United States and has 420 hours of Japanese Language Teacher Training Course in Japan experience.
Address: 1717 Mott-Smith Drive #502, Honolulu, Hawaii, 96822
Recruitment term: currently open, however only online class conducted, due to covid-19
Number of instructors: 21-50
Capacity: 3-8 students each class allowed
(3) Japanese Class held by Moiliili Community Center
The Moiliili Community Center (MCC) is a private, non-profit organization that provides support, services, and programs to residents of Moiliili and surrounding communities to improve the lives of individuals, families, and communities.
There are 4 programs from MCC such as Japanese language school program (common program), children and family program, Kappuna Support (Dungan for elderly people) as well as Moliili senior program.
Additionally, Japanese language school by MCC serves elementary-aged children in Kindergarten through the Fifth grade.
Children will learn grammar, speaking, reading, writing, and interestingly Computer lessons and shodo (calligraphy) classes have also been included in the curriculum for the upper grade levels.
There is no fee to join, but joining is competitive and for this community to continue to exist you can still donate to MCC for the continuation of the Japanese language school program.
Address: 2535 South King St Honolulu, Hawaii 96826
Recruitment term: May and October
Number of instructors: not specific listed, but many volunteer joined
Capacity: small class conducted
(4) Kodomo Gakushu Kyoshitsu (Japanese Class for Kids)
Recently established in 2018, this school accepts students from the age of 5 to junior high school who study Mathematics and Japanese Language Arts in Japanese. For children who have never had basic Japanese lessons, this school guarantees to provide learning techniques that are very easy for children to digest.
In addition to Japanese language and math, this school also offers fun classes that contain lessons about Japanese culture that children will surely love to join.
Address: 1313 Pensacola St, Honolulu, HI 96814 First Baptist Church of Honolulu
Recruitment term: From April and September
Number of instructors: 6 instructors
Capacity: small class conducted and 70 students enrolled
(5) The Hawaii Japanese School (Rainbow Gakuen) For Kids
In fact, this school has been established for more than 40 years, specializing in teaching children in Hawaii with the aim of making children in Hawaii open and think internationally and bridging the close relationship between the USA and Japan.
The school, known as Rainbow Gakuen, has the main purpose of being a companion course to the USA's teaching system, with Japanese language lessons as an addition. Certainly, Japanese can be a good medium for children in Hawaii to shape their mentality and character from two very strong cultures and good for their future.
Because as a complement, Rainbow Gakuen classes are only held on Saturdays. you should not be surprised by the sophistication of this school, now there are more than 600 students enrolled in this school.
As for the curriculum, this school has a special treatment which will make the teaching transition process easier for children to adapt to the Japanese education system. Rainbow Gakuen also uses official books from the Ministry of Education, Culture, Sports, Science and Technology in Japan.
In addition, Language Arts, Mathematics, and Social Studies are also taught to strengthen the character building of children in the future.
Address: 2454 S Beretania St, Honolulu, HI 96826
Recruitment term: April to September (1st semester) and September to March (2nd semester)
Number of instructors: Board member 4 (Native Japanese) and supported by many volunteers as well as the parents.
Capacity: over 600 students enrolled
How to Find Best Online Japanese Tutor in Hawaii?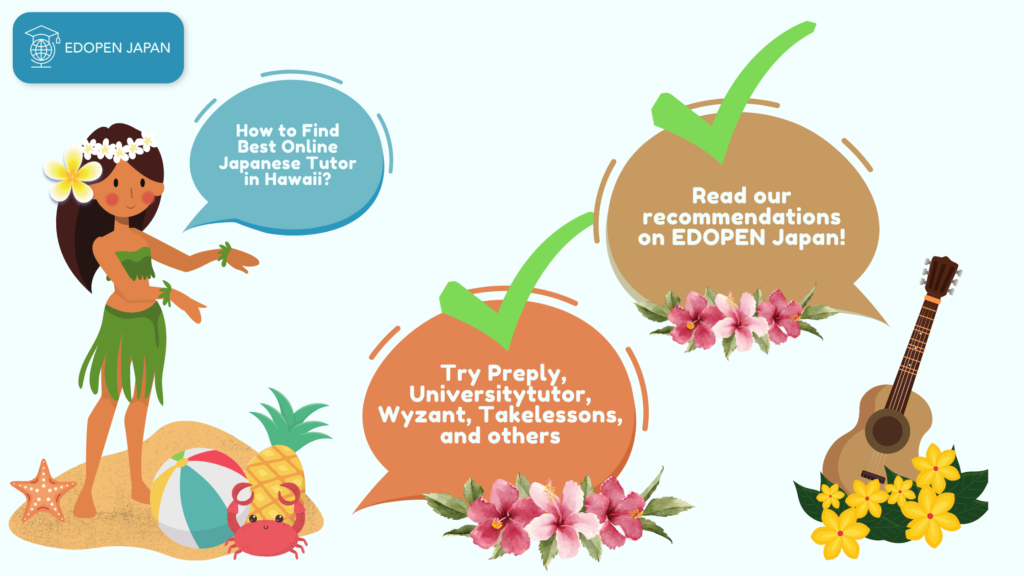 For those of you who prefer a more personalized, online and affordable class format, joining classes held by several online Japanese learning media platforms such as Preply, Universitytutor, Wyzant, Takelessons, and various other online platforms can be the best choice.
They provide Japanese online classes with various interesting and affordable programs. The tutors they recommend are also native Japanese speakers, people who have great experience in teaching Japanese or have worked in Japanese companies for a long time.
Aside from visiting these platforms, you can also read our recommendations on EDOPEN Japan for the best Japanese language schools in Hawaii.
Conclusion
So there you have it, our summary of the best and most popular Japanese language schools in Hawaii. Hopefully, you can find a school that suits you. Don't forget to visit various online platforms to find a tutor that suits your situation.
If you have experience learning Japanese at one of the Japanese language schools we recommended above, please share your experience in the comment section below.
Feel free to contact us if you would like to discuss further how to find the right school and tutor to learn Japanese. See you in the next article! We wish you a successful Japanese learning journey!