Are you looking for the best Japanese language school in Houston?
Or are you also looking for the best Japanese tutors in Houston?
While there are many resources you can find, identifying the best one is difficult.
Where is the best place, what kind of learning materials are available. And most importantly, how to find the most suitable school to meet your needs in learning Japanese?
And also to answer the countless questions that might confuse you about the best place to study Japanese in Houston?
This article is all you need. We have summarized the top 5 best and most popular schools to learn Japanese in Houston. Not only that, but we've also added other options for you to find the best tutors to learn Japanese. Okay, let's get started!
About Houston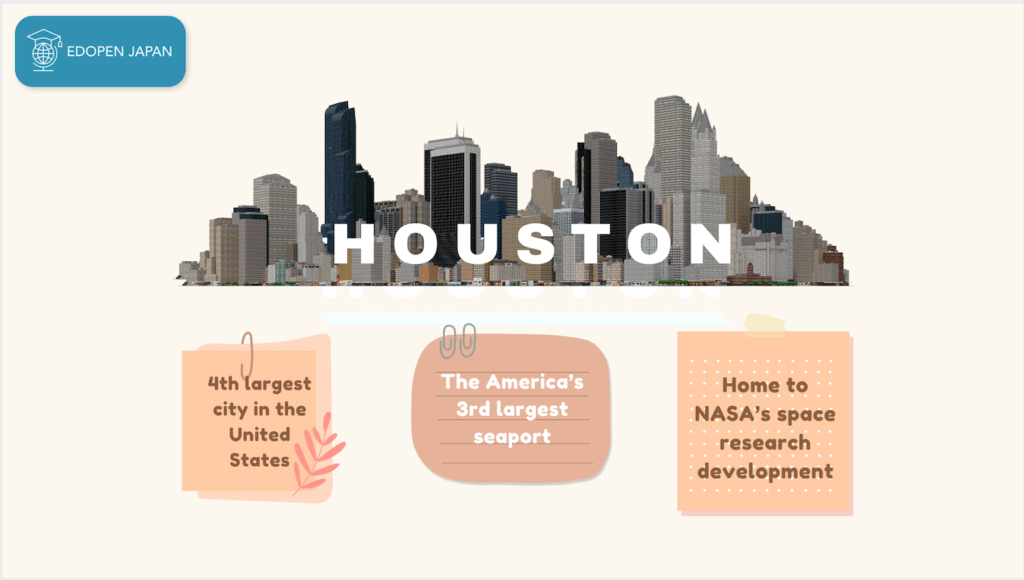 The city of Houston is the 4th largest city in the United States. Houston has become a melting pot of ethnic and racial groups from around the world. Founded by Sam Houston in 1836, the city is relatively young compared to other American cities.
According to the 2008 American Census, the city has a population of about 2.3 million (area = 600 square miles).
Houston was also the America's third-largest seaport, handling more than 80 million tons of international shipping annually.
Activity at the port has become one of Houston's economic strengths that can help develop the city's infrastructure. Houston is also home to NASA's space research development.
Additionally, Houston even surpassed Los Angeles and New York as the most ethnically diverse metropolitan area in the country.
Hence, with Houston's ethnic diversity, the languages spoken are also diverse. It is because the Asian population is very large in Houston, including those of Japanese descent.
Then, Japanese is becoming an important language used in international relations. Let's check out which institutions provide Japanese courses in the city of Houston.
5 Famous Places to Learn Japanese in Houston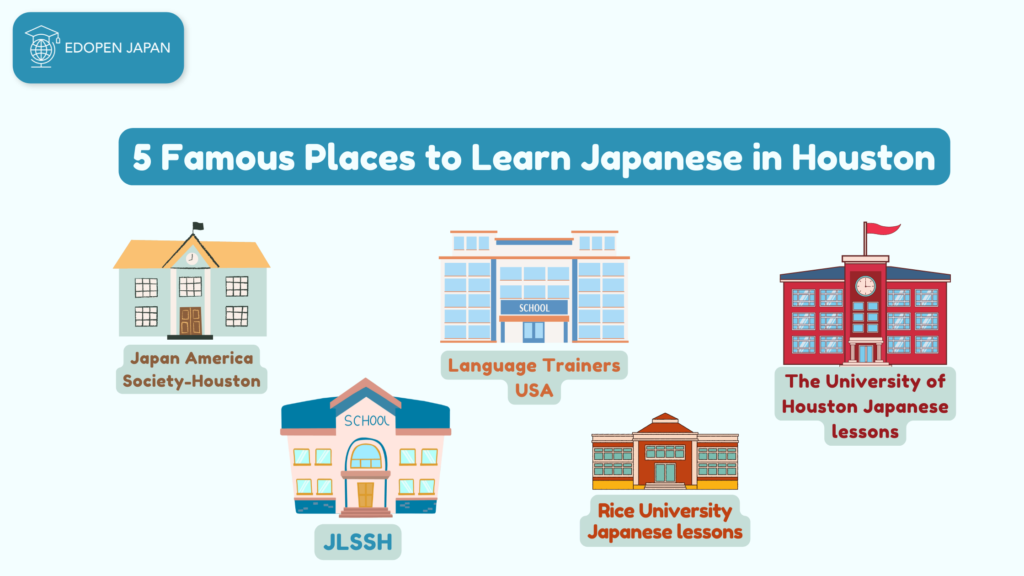 Here are the list of 5 Famous Japanese language schools in Houston.
(1) Japan America Society-Houston
The society proudly calls itself the leading US-Japan exchange in Houston for 54 years. The Japan-America Society of Houston (JASH) is a non-profit organization. This organization has been established since December 1968 by a group of prominent Houstonians.
Since there are so many foreigners in Houston, JASH tries to take on a role to connect specifically for American and Japanese people. In terms of language and education, arts and culture, and business initiatives and networks.
At the Japanese Language Program, this non-profit organization offers Japanese language learning classes for beginners and veterans.
Learners will get the communication skills necessary for tourism, business, and social interactions at all levels of cooperation that many industries require between the US and Japan.
Due to its technical nature, JASH places a significant emphasis on improving conversation. With the aim of strengthening students' ability to communicate effectively in business and social situations. The curriculum introduces basic vocabulary, essential grammatical forms, and sentence structure.
Admission is only from 14 years old and above. Classes offered are divided into: Japanese for Teens, Japanese Language Program Private Lessons, Japanese Language Program Semi-Private Lessons, and On-site Business Japanese Lessons.
Address: Richmond Ave, Suite 670, Houston, TX 77098
Recruitment term: every 2 months per year (January to December)
Number of instructors: 4
Capacity: small
(2) Language Trainers USA
Language Trainers (LT) is one of the most credible providers of language trainers from all over the world in more than 200 cities across the US since 2004. They provide classes anytime according to their students' busy schedules.
Currently, they are focusing on online classes through communication media such as zoom and google meet. Very efficient amid busy US people. All the teachers who will teach you are native. They had official certification and graduated with degree in Japanese.
The language programs and curricula are also very complex to offer. Almost meet all the needs of students with their respective future goals: for business, family and relationships, future careers, traveling, culture exchange, to enter and exam preparation. Special for those of you who want to continue your higher education in your dream country.
The most interesting thing is, LT has trained many employees from world-class companies to train their employees to learn new languages.
Address: 347 5th Ave, Suite 1402-557, New York, NY 10016, USA
Recruitment term: flexible
Number of instructors: > 30
Capacity: only 2-8
(3) Japanese Language Supplementary School of Houston
The school is an auxiliary school as a non-profit institution. This school has been established since 1973 and was founded by the Japanese Chamber of Commerce in Houston. Now, this school not only serves Japanese language learning. But also serves mathematics, science, calligraphy, and social studies.
For teaching activities, classes are available for 6 hours a day every Saturday for 41 days a year. The Japanese Language Supplementary School of Houston accepts students between the ages of 5-18 who are children of native Japanese people.
Furthermore, most of their parents are only temporarily residing in Houston or America in general. Therefore, one of the goals of this school is to keep children who are born, grow up in America still speak Japanese. As well as to maintain Japanese culture and cultural principles for their children upon their arrival in Japan or for their mental foundation in the future.
This additional school can be a reference for those of you who want to learn Japanese. Because now the students are not only from Japanese natives who are living in Houston, but also people from other countries.
Address: 901 York Chester Dr, Ste 2, Houston, Texas, 77079, United States
Recruitment term: besides January to March
Number of instructors: 41
Capacity: 460
(4) Rice University Japanese Lessons
Learn Japanese program in Houston is a subordinate of Rice university foreign language program. This course offers focus on the speaking side of Japanese by emphasizing correct pronunciation, accent and intonation.
It includes basic writing lessons of hiragana, katakana, and the highest level of kanji. In this course, you will learn Kanji through pictures and similar symbols, so it will be easier.
With an average price of $470 per 3-hour course/week. You can choose to meet either Monday and Wednesday or Tuesday and Thursday from 5:45-7:15 pm or 7:30-9 pm. The schedule of each session considers placement test results, teacher assignments, and classroom availability.
The classes themselves available as follows:
Beginning level students (I-IV) will get to learn basic grammar structures and vocabulary of modern standard Japanese.
Intermediate level students (V and VI) will learn a further emphasis on practical language structure and vocabulary expansion and the use of the kanji writing system. Students will be able to master Japanese grammar better, to read and write. If they are going to live in Japan especially for a long time, students already have a strong and rooted Japanese language foundation.
However, this course is not for children. This course is only for adults. People who apply for these classes must have graduated from high school.
Address: Susanne M. Glasscock School of Continuing Studies, Anderson-Clarke Center 6100 Main St.  Houston, TX 77005 713-348-4019
Recruitment term: Winter, spring, summer and fall sessions are welcome for students
Number of instructors: –
Capacity: 12 students/class
(5) The University of Houston Japanese Lessons
This program is under the direct supervision of the College of Liberal Arts and Social Sciences in the Japanese language department of the University of Houston. They offer 2 full years of Japanese studies and the program is called Elementary Japanese 1501 and 1502, also Intermediate Japanese 2301 and 2302.
In this program, you will find almost all the topics about Japanese language learning starting from correct pronunciation, accent, intonation, and pitch, while learning Japanese writing system.
Plus, you will also be able to learn Japanese culture by viewing videos and providing opportunities to participate in cultural events in the community.
With the skills that will be obtained through this program, you will be confident looking forward to a more glorious future especially if you want to have a career in Japan directly. The curriculum offered is a modern curriculum so that it is more easily adapted by all student's level.
Address: Japanese Studies, University of Houston, 617 Agnes Arnold Hall, Houston, TX 77204-3006
Recruitment term: April and September
Number of instructors: –
Capacity: –
Where to Find Best Japanese Tutors in Houston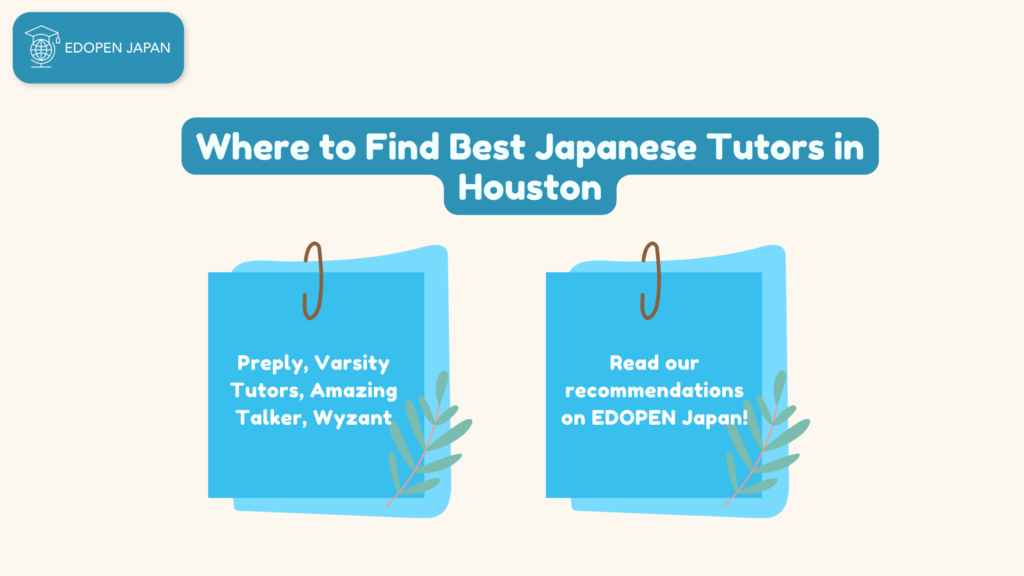 For those of you who want a more personalized, specific, online and affordable class, there is another option. That is, you can take Japanese classes with a Japanese tutor directly.
You can find these Japanese tutors by accessing various media online. Such as, Preply, Varsity Tutors, Amazing Talker, Wyzant and many more.
You just need to find a tutor that suits your needs. They usually have official certificates and experience to teach Japanese.
In addition, please contact us and stay updated with the latest news on our website. EDOPEN Japan will always help you find the best place and tutor to learn Japanese for you.
Conclusion
Okay, those are the 5 most popular and best schools to study Japanese in Houston. We hope you can find the right school for you. Also, we hope you find a suitable tutor.
Don't forget to share your Japanese learning experience in the comments section below. Don't hesitate to contact us if you want more information. See you in the next article! Thank you so much for your time!