This is especially important for those of you who are currently looking for the best Japanese language learning places in Adelaide, Australia. And, for those of you who are also looking for opportunities to work at a Japanese company in Adelaide. Also, to help those of you who are having trouble finding the best Japanese tutors in Adelaide.
We have summarized the 5 most famous and trusted Japanese language learning centers in Adelaide, Australia. Although, you may have found various related information. However, are they really useful and trustworthy or not? You might really need a reliable and comprehensive reference
Therefore, the following 5 best Japanese language learning sites in Adelaide is the reference you need the most. With a long history of providing extensive and growing Japanese language classes. As well as providing various Japanese language and cultural exchange programs. These 5 schools should be on your list.
In addition, we also provide other options for those of you who want to learn Japanese with more flexible and personalized hours. Everything you need to learn Japanese and find the best Japanese teachers in Adelaide, Australia is in this article. Okay, let's get started!
About Adelaide, AU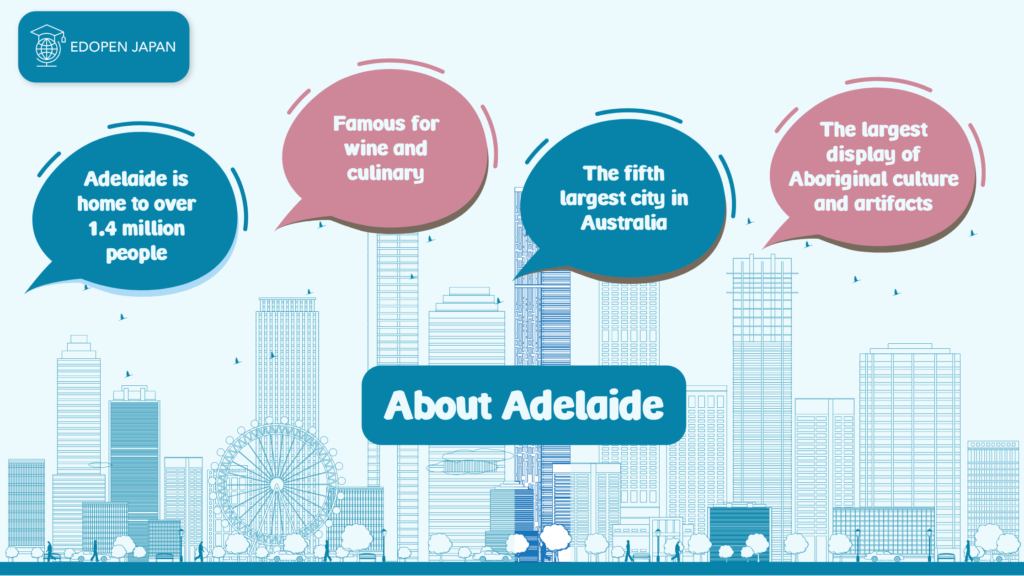 When you mention the name Australia, you'll immediately think of the Sydney Opera House or maybe kangaroos and big cities like Melbourne and Perth. However, apart from these cities, there is also the metropolitan city of Adelaide that we should discuss this time.
The current population of Adelaide is about 1,4 million (2022) with the metropolitan area of Adelaide being 870 km². In terms of population, Adelaide is the fifth largest city in Australia.
Adelaide can be one of the most convenient places in Australia for those of you who want to study abroad. In fact, in 2017 and 2018, Adelaide made it into the top 10 most livable cities by the famous magazine, The Economist.
Apart from being the most comfortable city and a student destination for studying, this largest city in South Australia is famous for its wine and culinary culture. It's no surprise that Adelaide's bounty of produce can be found at the Adelaide Central Market.
Adelaide is home to Australia's largest display of Aboriginal culture and artifacts. If you're curious to see them, you can visit the South Australian Museum and the Tandanya National Aboriginal Cultural Institute.
Furthermore, for those of you who love books and reading, there is the Adelaide City Library located in a quiet alley. The library is only one floor, but its contents are very comprehensive. Apart from of course books in various categories that are as good as new.
Further, there are also meeting rooms, a music room, and an innovation room with a three-dimensional printer that can be used for free. The comfort of this library is supported by soft sofas and natural lighting that makes anyone feel at home in it. This is the best!
5 Highly Recommended Schools to Learn Japanese in Adelaide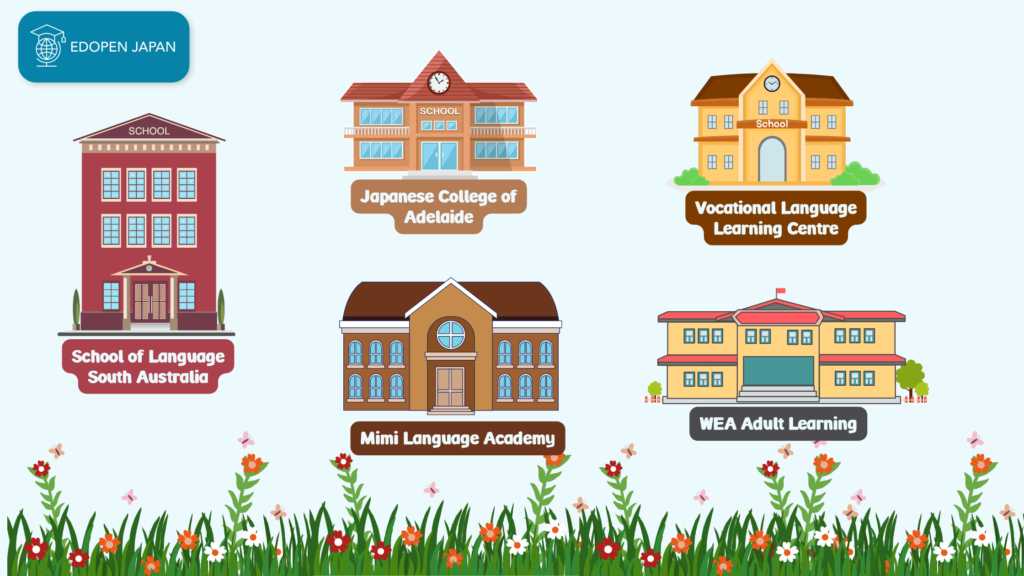 Here are the 5 Most Popular Places to Learn Japanese in Adelaide, Australia
1) School of Language South Australia
This school belongs to the Australian government with the additional purpose of teaching children after getting lessons in formal schools. The children are free to choose the language they want according to their abilities and interests.
Moreover, the school was established in 1986. To date, it has supported thousands of students to pursue their interest in learning languages and experience the joy of embracing other cultures such as the oriental culture of Japan.
In addition, the school's values have a mission to improve access, choice, and continuity in language learning for South Australian students, through the provision of quality programs in a range of languages.
Additionally, you can be sure that this school has a friendly and productive class helping students to be able to speak a foreign language as they look forward to a bright future. Furthermore, the school will also accept international and adult students who want to learn here.
Address: 255 Torrens Rd, West Croydon SA 5006, Australia
Recruitment Term: April and October (Spring and Fall enrollment)
Number of Instructors: >50
Capacity: Small Size
2) Japanese College of Adelaide
This school was established in 1989. The school has been providing Japanese language lessons to high school students and business people. Also for those with a general interest in the Japanese language and culture. As well as to those planning to travel to Japan.
In addition, the school provides qualified teachers with native Japanese teachers, especially important for pronunciation. Gaining an understanding of Japanese culture which is invaluable for anyone learning the language directly from Japanese native speakers.
The school ensures the quality of learning by only holding small classes to ensure enhanced learning that can be taken during the day or evening. Private classes are also offered at this school for those who want intense face-to-face learning and do not have much time. The timing of these private classes can be customized according to the student's needs.
In particular, the school offers beginners, intermediate and advanced classes, exam preparation for the Japanese classes as well as private classes.
Address: Level 5, 118 King William Street, Adelaide, SA 5000
Recruitment Term: 4 Terms
Number of Instructors: –
Capacity: Small Size
3) Vocational Language Learning Centre
This institution will teach you languages in a modern and simple way, completely different from any other class you may have attended so far. It can be difficult for adults to master a foreign language that is new to them. But, VLLC makes learning a language an achievable goal for motivated adults.
Additionally, professional teachers know the journey that makes students speak comfortably. So, age and ability level are not obstacles and barriers. The students will have practical communication techniques while learning the language of their choice.
Accelerated Mind Techniques are a key component of the learning experience. Not only Japanese, but at this institution, you can also learn many other foreign languages. VLLC runs fully interactive online or face-to-face courses that will teach you to engage in everyday conversational situations with confidence.
Further, the school assigns a native speaker, records your voice, practices your pronunciation, and then checks it. VLLC's step-by-step method is guaranteed to develop your Japanese fluency and competence in reading, writing, speaking, and listening comprehension.
Address: 5/116-120 Melbourne St, North Adelaide SA 5006, Australia
Recruitment Term: Anytime
Number of Instructors: 31
Capacity: Small Size
4) Mimi Language Academy
The academy was founded by a young native Japanese student who is passionate about teaching Japanese to all ages. Both children and adults. The academy was established in 2016 and was founded by Ms. Mimi, who is also a member of JALT – Japan Association for Language Teaching.
The academy offers affordable and high-quality language classes by qualified instructors. The academy does not charge registration or membership fees.
All instructors belong to MLA as freelancers and MLA does not earn any profit margin. The teachers have experience learning foreign languages and understand the difficulties of learning languages.
The academy is also proud to announce that it receives high satisfaction from students in any class. In addition to teaching Japanese, to both children and adults. MLA also offers several services to the public such as; Translation
The available classes at MLA are the absolute beginner, beginner, intermediate, advanced, JLPT test special classes, and also, the special classes for children.
Address: Online Class Only
Recruitment Term: Anytime with Prior Contact
Number of Instructors: 4
Capacity: Small Size
5) WEA Adult Learning
Founded in 1913, WEA (Workers' Education Association) is Australia's largest non-government adult education organization. WEA provides instruction to people who are at least 15 years old and above. There are no prerequisites or exams in joining the organization to learn a language. WEA operates as an innovative and flexible adult education service provider at affordable prices for everyone.
Furthermore, every year around 17,000 people enroll in this academy. WEA publishes five-course guides each year. In addition to languages, WEA also teaches students a number of skilled skills such as computers, and services to help people with disabilities follow the main course. Membership in the WEA Club allows students to further their interests. Today, the academy has grown tremendously by delivering courses at more than 30 locations in metropolitan Adelaide.
Address: WEA Adult Education, Box 7055 Hutt Street Post Office, Adelaide SA 5000
Recruitment Term: January, April, June, September, and November
The number of instructors: –
Capacity: –
How to Find the Best Japanese Language Tutors in Adelaide?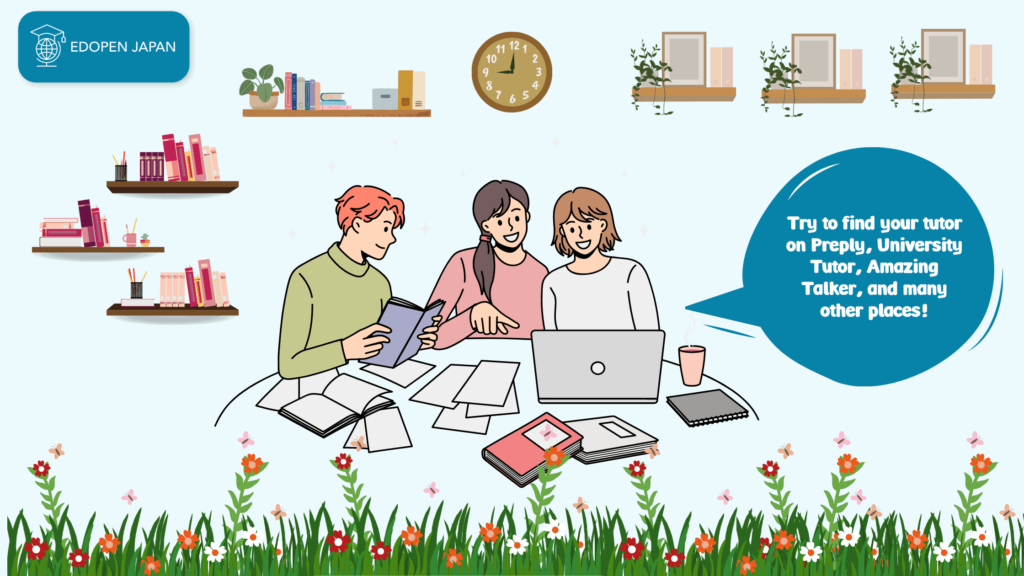 While we've discussed the 5 Best Places for you above, we also want to share another important option with you. This option is specifically for those of you who are looking for more personalized and flexible Japanese classes for your limited time in Adelaide. And you still get the opportunity to learn Japanese directly with native speakers in Adelaide.
You can do this by learning directly with the best Japanese tutors in Adelaide. But how do you find the best Japanese tutors in Adelaide? You can find them at Preply, University Tutor, Amazing Talker, and many other places.
We are also happy to help you find the best way to master Japanese. Don't forget to always follow the most complete and reliable information that we have shared here. We will always give you the best. And we are happy to be a part of your big journey to master Japanese in Adelaide.
Conclusion
Finally, to wrap up this article, here are the 5 most excellent, highly reliable, and trustworthy places we highly recommend for you to learn Japanese in Adelaide. Do you also have experience learning Japanese at any of the places we mentioned above? Feel free to share your experience with us below.
School of Language South Australia
Japanese College of Adelaide
The Vocational Language Learning Centre
Mimi Language Academy
WEA Adult Learning
We sincerely hope that this information will be enough answers for you. Please contact us anytime if you need more information about learning Japanese, here. And, see you in the next article! Thank you for reading to the end! Have a great day and keep up the hard work in learning Japanese!