For those of you who are currently seeking the best place to learn Japanese in Seattle. And also, for those of you who are looking for ways to find the best Japanese tutors in Seattle. Also, for those of you who really want to learn and explore Japanese culture and language in Seattle.
Although, you might be able to find it easily with the development of information nowadays. However, it is still a big question whether the place is really reliable. Therefore, here are the 5 most famous places to learn Japanese in Seattle that are very reliable. We have summarized this list, only for you.
In addition, we also provide additional information on learning Japanese, studying in Japan, getting a visa, and other interesting news.
By choosing the best school and the best tutor to learn Japanese in Seattle, your path to mastering Japanese will be smooth and easy. Hopefully, our information will be useful for you. Okay, let's get started!
About Seattle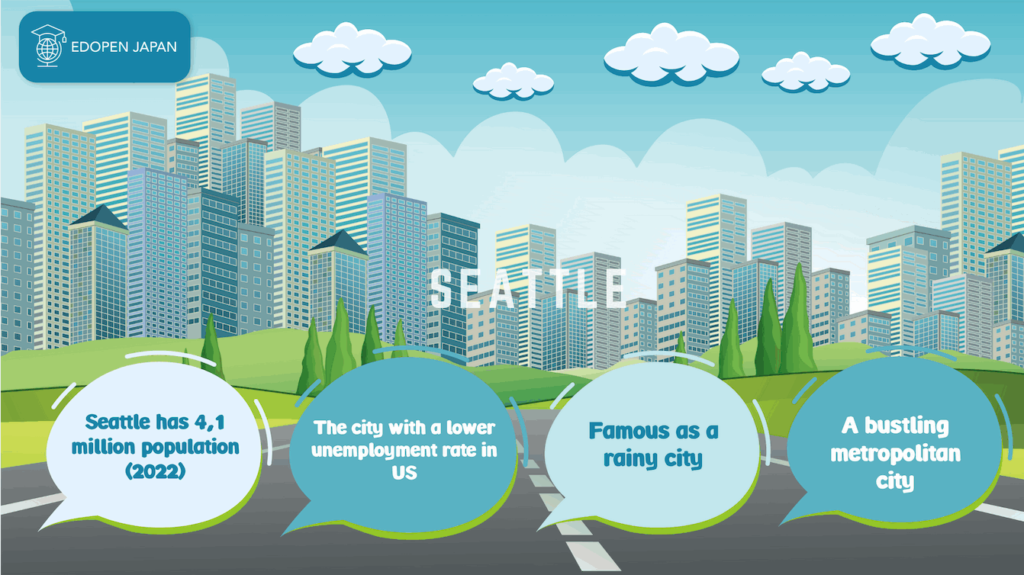 The Seattle metropolitan area has a population of approximately 4.1 million in 2022. This population is the 15th largest metropolitan statistical area (MSA) in the United States. And half the population of Washington resides in Seattle. Its growth rate of 21.1% between 2010 and 2020 makes it one of the fastest-growing major cities in the USA. The top 2 reasons for many foreign residents to come here are to study at universities (the University of Washington is the center) and to work.
Moreover, with an unemployment rate of around 3.3% (at the end of 2016), the Seattle area has a lower unemployment rate than many areas in the US. This is partly due to several large Fortune 500 companies based in the area. This is because Seattle is home to several large companies, to name a few, Amazon, Nintendo, Microsoft, and Boeing.
In addition, Seattle is famous as a rainy city. Although it receives more rainfall than some American cities, Seattle is really a bustling metropolitan city. If you get a job at a world-class company in Seattle, you will get the opportunity to receive an exorbitant salary. With the city as a destination for work and study.
Moreover, there are inevitably many foreigners, as well as job opportunities that require foreign language skills. This is very important for various companies who want to open branches in the country as well as business penetration and expansion in other foreign countries, including Japan.
5 Most Famous Places to Learn Japanese in Seattle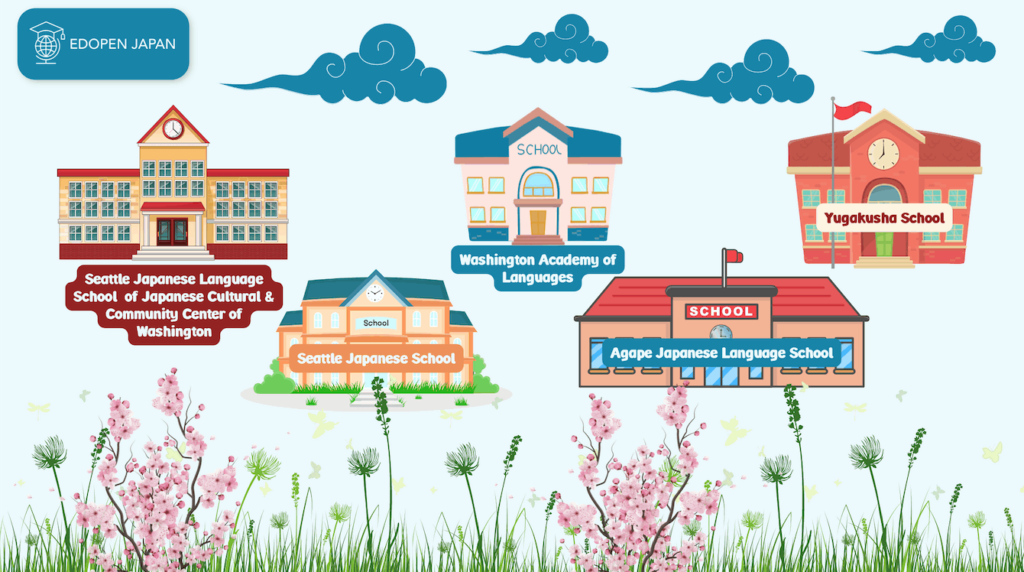 Then, here are the 5 Most Famous Places to Learn Japanese in Seattle you absolutely need to know!
1) Seattle Japanese Language School
Seattle Japanese Language School or "SJLS" is the oldest Japanese language school established in the entire United States, a part of the Japanese Cultural & Community Center of Washington. This school was founded in 1902, exactly more than 100 years of service. The main core remains to provide language education and introduce Japanese culture in the United States.
SJLS has 3 classes for teenagers, adults, and special classes for JLPT preparation. Currently, learning activities are only available online. This school also provides a special class called "introducing tutoring", where this program is one by one- face by face specifically for those of you who want to privately learn Japanese with the best Japanese instructor.
The youth class is for students between 9 and 18 years old. It teaches how to read Hiragana, Katakana, and some Kanji as well as Japanese conversation. Tuition ranges from $465 – $1,240 per semester (depending on how many students). The teachers use the Adventures in Japanese 1 & Adventures in Japanese 1 Workbook.
Adult class, for students who are 18 years old, costs $250 per quarter, each quarter is 10 weeks long. This class will use the "Marugoto" textbook series. The focus will be more on speaking than our other courses. And of course, you will have the opportunity to learn about Japanese culture as well.
JLPT preparation class, this class is only available once a week on Wednesdays online. This class is for those of you who will take JLPT only level 4. The school will be a great bridge for you to prepare the JLPT.
Address: 1414 South Weller Street, Seattle, WA 98144 206-568-7114
Recruitment term: 2 semesters (September and June)
Number of instructors: 11
Capacity: max 10 students/class
2) Seattle Japanese School
The Seattle Japanese school was established in 1971. The main purpose of this school is in addition to the main lessons that students get in regular schools in the city of Seattle. This school is an adaptation school for Japanese children who are in Seattle. The school aims to be able to quickly adapt when they return to Japan as well as a learning system in Japan.
Furthermore, the Locals can also register to learn the Japanese language and culture in this school. In addition to the Japanese language, this school also provides tutoring in Japanese such as arithmetic (math), social studies, and science. This school is also directly under the guidance of the general consulate of Japan in Seattle.
Unfortunately, this school is only available for children, not adults. This school attaches great importance to the learning relationship with parents. The children who study here will have homework to communicate with their parents using Japanese in daily interaction. This activity will strongly increase the Japanese language ability of children, especially in terms of writing and reading kanji.
Address: 919 124th Ave NE #207, Bellevue, WA 98005, United States
Recruitment term: Any season
Number of instructors: 53 staff
Capacity: – (Current total students: 460)
3) Washington Academy of Languages
The Washington Language Academy is a division of Seattle City University. This class emphasizes the use of native Japanese as it is spoken and written naturally. The student will practice speaking and listening at a normal pace. As the result, the students who join this class will have the ability to easily communicate with native Japanese speakers naturally.
In addition, the program is highly research-based. With teachers believe that the most effective process for acquiring a language begins with listening followed by speaking and reading as well as writing.
Further, you will find that the class sizes are small. Students have plenty of opportunities to talk and ask questions in class with the teacher. The teacher naturally speeds up the process and allows the students to improve their skills. All classes are a total of 18.5 hours per semester and tuition is $400 per semester.
Additionally, the Instructors are a mix of native speakers and teachers who have professional experience in Japanese language teaching. The teacher uses Genki 1, 2, Quartet: Intermediate Japanese Across the Four Language Skills 1, and An Integrated Approach to Intermediate Japanese as the textbooks. Also, for the intermediate conversation class, the teacher uses Doraemon No Dokodemo Nihongo.
Address: 521 Wall Street, Seattle, WA 98121 206-239-4780
Recruitment term: Fall and Spring
Number of instructors: 12 instructors
Capacity: max 10 students/class
4) Yugakusha School
Yugakusha School is a nursery school and a language school with teachers who are all experienced native Japanese speakers and have been recognized by the Japan Kanji Education Promotion Association accredited school. The main purpose of providing a balance for children who will have bilingual abilities. Here, the children will be taught to become human resources in the global era.
Further. the school seeks to understand the characteristics of children growing up in the United States and pursues "new learning" to maximize their potential with a Japanese teaching culture approach. Then, the school will always strive to interact with Japanese educational institutions, understand the characteristics of children growing up in the United States, and pursue "new learning" to maximize their potential.
This school also has a variety of classes offered for both native Japanese and non-native Japanese speaker children, ranging from:
Kids' time nursery school (3~5 years old) only 3 study hours
Egg baby class (1 to 2 years old) 45 minutes study hours
The Piyopiyo parent-child class (2 to 3 years old) 45 minutes study hours
After class (elementary school students to high school students)
Saturday class (Kindergarten to elementary school)
Japanese Class Wed: 3:45 pm – 4:45 pm
Additionally, the Japanese class is designed to complement the Japanese language immersion curriculum to assist students (kids) in reading, writing, grammar, vocabulary, and conversation in a small group setting.
Address: 5031 University Way NE, Room #110, Seattle, WA 98105
Recruitment term: always available
Number of instructors: 9
Capacity: 5 students/class
5) Agape Japanese Language School
The agape Japanese language school is the only Japanese language school in the south Seattle area. Initially, the school was founded by Ms. Reiko Mowery who has 35 years of experience in teaching Japanese professional classes. She also has a master's degree in education teaching. Then, in 2014 the school was established for the purpose of special needs children who have bilingual speech.
Furthermore, this school also adopts the concept of small classes, one by one, which is taught by Ms. Reiko Mowery directly. The materials taught are guaranteed to be fun and enjoyable for children. While for adults, the class will be more in-depth lessons on hiragana, katakana, kanji, and conversation.
In addition, the Agape Japanese school offers classes in Japanese Immersion Pre-School & Pre-K Academy (ages 3-6), Kid's Japanese Language Classes (ages 4-10), Saturday Japanese, Language School (ages 10 – Adults), Private Lesson available for Children & Adults, Adult Japanese Language Class. The school offers both group classes and private lessons.
Address: 34004 9th Ave. S. Suite A-1 Federal Way, Seattle, WA 98003
Recruitment term: always available
Number of instructors: 1
Capacity: >10 students registered
How to Find Japanese Tutors in Chicago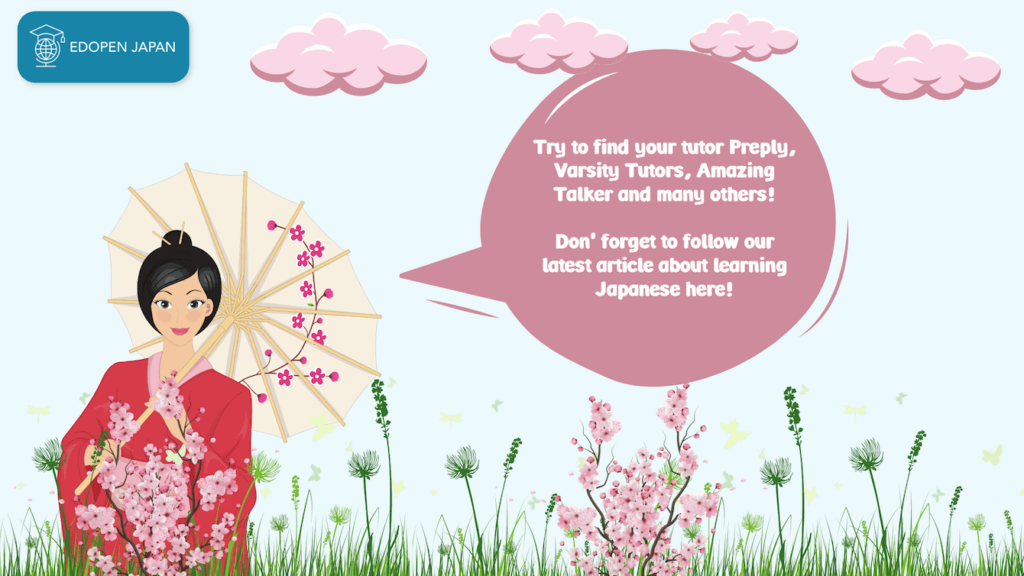 Especially for those of you who are currently confused about finding classes that are more personalized, flexible and unlimited time, and various other special conditions. We would also like to present another option for you besides joining the 5 schools above. Luckily, you can also have the opportunity to learn Japanese directly with native speakers.
Then, how to find the best Japanese tutor in Seattle? You can find them at Preply, Varsity Tutors, Amazing Talker, and many other places.
We are also happy to help you find the best way to master Japanese. Don't forget to keep up with the comprehensive information we have shared here. We will always give you the best. And would love to be a part of your great journey to mastering Japanese.
Conclusion
This is a summary of the 5 best places we highly recommend to study Japanese in Seattle. Do you also have experience studying Japanese at any of the places we mentioned above? Please don't hesitate to share your experience with us below. Then, here are the 5 places we highly recommend for you to learn Japanese in Seattle:
Japanese Cultural & Community Center of Washington
Seattle Japanese School
Washington Academy of Languages
The Yugakusha School
Agape Japanese Language School
Last but not least, we really hope this information is useful. Please don't hesitate to contact us if you need more information about learning Japanese. And, see you in the next article! Thank you for reading to the end! Have a great day!