Are you looking for the best Japanese language school in San Diego?
or are you trying to find a reliable reference for learning Japanese?
or do you want to find the best Japanese tutor in San Diego?
Even with the massive circulation of information through the internet and various media today, you can find the information you want. Finding the most comprehensive and reliable information is still very difficult.
That's why we're here to help you find the best answers and information. Here are our recommendations on the 5 most popular and best schools to learn Japanese in San Diego.
All the facilities, teaching systems, curricula, and even fees will not burden you. Not only that, but you will also have the opportunity to learn from native Japanese speakers who are certified, professional, and have a higher education background.
Because of course, by choosing the right Japanese language school, you will be able to master Japanese more effectively and precisely. This will make it easier for you to access golden opportunities in the future. Okay, let's get started!
About San Diego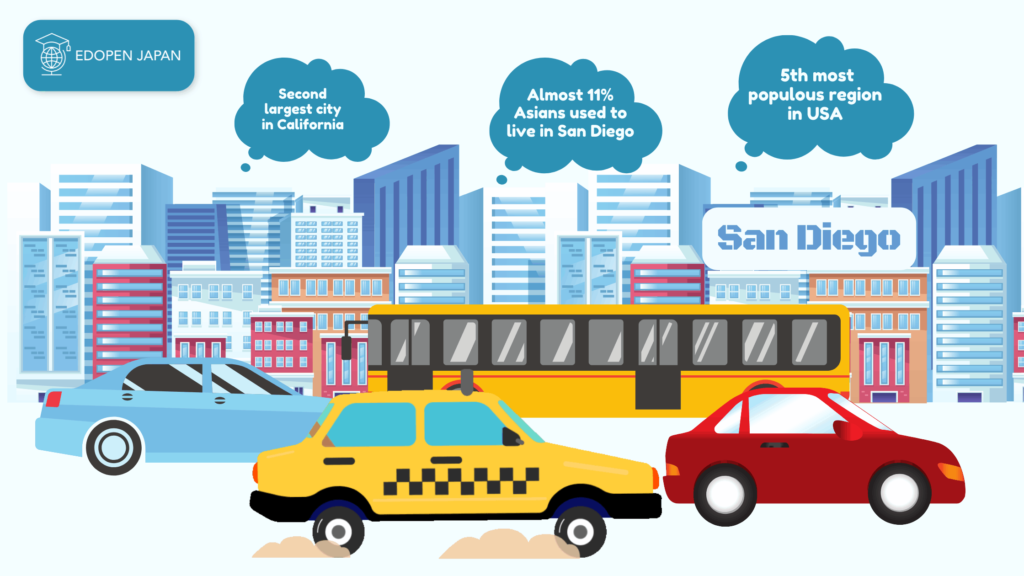 San Diego is the 2nd largest city in the state of California. Also, the 5th most populous region in the USA. San Diego's economy relies on tourism, commerce, agriculture, shipbuilding industry, military, bio-technology, computer science and electronics.
In the field of education, the University of California, San Diego has emerged as a leading university, while many world-class startup companies have been born in the city. In the 2011 USA census, almost 10.9% of Asians used to live in San Diego. This is in line with San Diego's reliance on tourism as the mainstay of the city's income.
Since the exchange flow of Asian tourists is quite large. As well as business transactions between Asians to San Diego, foreign language skills are necessary. When you visit San Diego, you may need foreign language skills.
Also, for those of you who want to travel to one of the Asian countries including Japan as an Asian magnet for any purpose. You should look at the following language schools or institutions that offer Japanese language guidance or teaching services in San Diego.
5 Best and Popular Japanese Language Schools in San Diego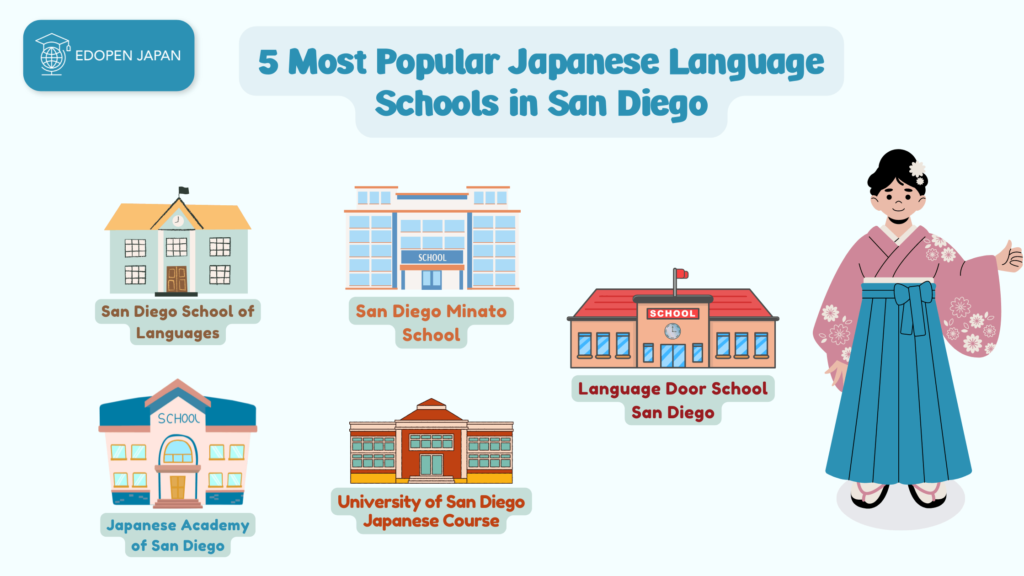 Here are the 5 Best and Most Popular Japanese Language Schools in San Diego! Please also leave your experience when studying Japanese at one of these schools in the comments section!
1. San Diego School of Languages
San Diego School of Languages offers 7 languages to learn. One of them is Japanese. They accept students of all age levels and ability levels. This school offers 3 programs as follows:
In person
Learn live via zoom
Private class
The number of classes and the length of the class is 8 weeks per session with 1.5 hours per week. The class is perfect for those of you who want to prepare for living in Japan, traveling or moving for work. Since the school applies the concept of mainstream daily conversation, one class only has a maximum of 5 students. Further, this school uses native teachers and textbooks of native speakers in the Japanese education system.
Address: 2555 Camino Del Rio South Suite 150 San Diego CA 92108
Recruitment term: April, July, October, January
Number of instructors: 10 (Japanese Native)
Capacity: 12
2. San Diego Minato School
San Diego Minato School is the right place for children of Japanese descent who are temporarily living in San Diego. The school helps the children to adapt quickly to the Japanese environment and education system after they arrive in Japan.
Additionally, this school is a non-profit school by opening donations to anyone. As well as an additional school that is only held on Saturdays. The textbooks used are the same as the textbooks used in Japan.
However, this school only accepts children not adult students. At this school, you can also find a library with a collection of more than 8000 books.
In addition to the Japanese language, the children also can learn mathematics, social studies, and science exclusively using the Japanese language.
Address: Madison High School 4833 Doliva Dr. San Diego, CA 92117
Recruitment term: July and October
Number of instructors: 46
Capacity: > 15
3. Japanese Academy of San Diego
Japanese Academy of San Diego or JASD is an elementary school that has its own preschool called the Tsumiki Preschool. Tsukimi Preschool is available for the daycare of children aged 2-5 years old.
Then, these 2 schools were established in 2003 by the initiative of the Japanese community living in San Diego. Both schools aim to develop children's mentality, skills, curiosity, and strong academic foundation.
Furthermore, the school is especially focusing on high interaction, where teachers directly guide and interact with children. Not only the Japanese language, but students can also learn math, art, social studies, science, and music. Therefore, the children who enroll in this school will have attractive and fun activities.
Address: 4811 Mt. Etna Dr San Diego, CA 92117
Recruitment term: Spring and Fall
Number of instructors: –
Capacity: > 10
4. Take Japanese Course at University of San Diego
This Japanese course program is part of the college, art, and science of the University of San Diego. The course in particular is part of a minor majoring in Asian studies that can be taken by all Sand Diego university students with official credit from the faculty.
Moreover, this program is very suitable for those of you who want to know the basics of about Japanese language and cultural diversity. However, the course does not cover the JLPT test preparation.
But, the program provides student exchange activities at two universities in the heart of Japan, Tokyo, at the Aoyama Gakuin University and Temple University.
Address: Founders Hall 121 5998 Alcalá Park San Diego, CA 92110
Recruitment term: April and September
Number of instructors: 3 (Native)
Capacity: available for all students with max 21 students/class
5. Language Door School San Diego
Language Door San Diego has been in service for over 18 years. The school has also offered language classes in over 36 languages from around the world.
In addition to conventional language lessons, the organization also offers private lessons, translations, interpreter services, and corporate classes.
Further, the institute uses small classes with a small number of students. All the teachers are natives and use native teaching to ensure a quality teaching environment with low tuition fees.
Moreover, the level of Japanese classes is available in 3 (Beginning, intermediate and advanced). The school accepts children and adults. There are 12.323 students have studied at this institution.
Address: 7380 Clairemont Mesa Blvd, Suite 202A, San Diego, CA 92111
Recruitment term: All-season enrollment
Number of instructors: > 18
Capacity: max 8 students/class
How to Find Best Japanese Language Tutors in San Diego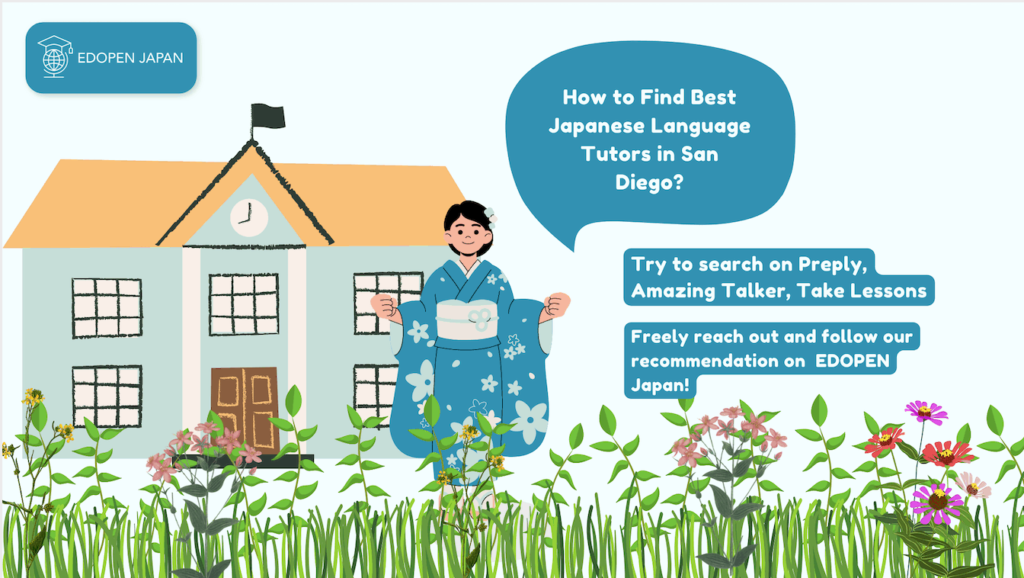 Taking classes at schools or universities courses with official credits may be suitable for some people. However, due to special circumstances such as uncertain working hours, school locations that are not easily accessible, or inflexible schedules, learning Japanese at the schools we mentioned above may not be the right choice for you.
Thus, for these condition, we would like to recommend learning Japanese directly with a native tutor. But how can you find the right tutor? We have the answer for you.
You can use several online Japanese tutor service media platforms. Such as Preply, Amazing Talker, Take Lessons, and many more.
There, you can find tutors with various professional backgrounds. Don't forget to also read reviews from students who have received lessons from them. Learning Japanese directly with a tutor will help you get several advantages.
Moreover, there are flexible time, intensive classes, no space limit, and of course, getting the material directly from native Japanese speakers.
In addition, you can also contact us to discuss any obstacles you face in learning Japanese or in finding the right tutor. Please also always keep up to date with the latest news and Japanese language materials that we deliver at EDOPEN Japan.
Further, we are really happy to be your support in learning Japanese, finding the best school, and the best Japanese tutor! What are you waiting for, find your best Japanese tutor!
Conclusion
These are the 5 best places we recommend for you to study Japanese in San Diego. Do you have any experience studying Japanese at any of these schools? Please share your story in the comment section below!
And here are the 5 best places to learn Japanese in San Diego.
San Diego School of Languages
San Diego Minato School
Japanese Academy of San Diego
Take a Japanese Course at the University of San Diego
Language Door School San Diego
In addition, please don't forget to share your experience learning Japanese at one of the schools we mentioned above. Don't hesitate to reach out to us if you need more information about learning Japanese.
See all of you in the next article! Thank you for reading to the end! Enjoy a great day!