Especially for those of you who are currently looking for the best Japanese language learning places in Pune, India. And, for those of you who are also looking for opportunities to work with Japanese companies in Pune, India. Also, to help those of you who are having trouble finding the best Japanese language teachers in Pune, India.
We have summarized the 5 most famous and trusted Japanese language learning centers in Pune, India. Although, you may have come across various related information. However, are they really useful and trustworthy or not? You might really need a solid reference.
Therefore, here are the top 5 most popular Japanese language learning centers in Pune that you can use as a solid reference. With a long history of providing extensive and growing Japanese language classes. As well as providing various Japanese language and culture exchange programs. These 5 schools definitely deserve to be on your list.
In addition, we also provide other options for those of you who want to learn Japanese with more flexible and personalized hours. Everything you need to learn Japanese and find the best Japanese teachers in Pune, India is in this article. Okay, let's get started!
About Pune, India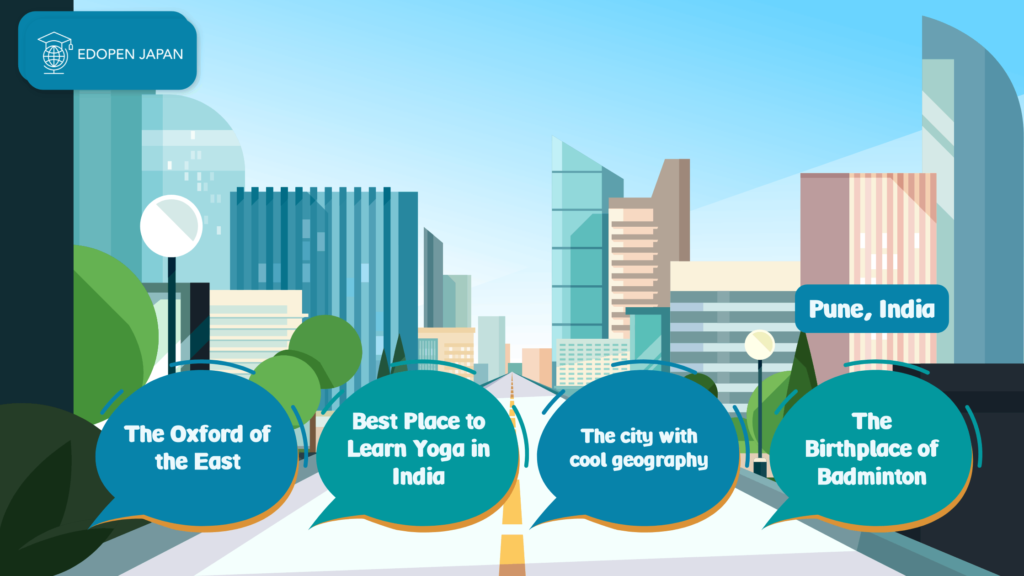 Pune, the Oxford of the East is one of the destinations for students from all over the world to study in India. The current state of the world has many world leaders and influential people who are descendants of Indians. This fact attracts many students from all over the world to study in India. Plus the cost of education and the cost of living in India is low when compared to other developed countries.
In Pune, there are many universities and places that provide short-term courses. One of the famous Universities in Pune is Pune University. The university has a very large campus location with a jungle forest. This campus is very fresh and super convenient for studying.
Furthermore, if there is a meditation enthusiast, then Pune is the answer. Pune is famous as a place to learn yoga as well. In this place, there are also many yoga learning centers and yoga practitioners who are identical to the Indian country.
Additionally, for those of you who like badminton, maybe many of us don't know that Pune is the birthplace of this worldwide sport. In Pune, you will find a cool geography. A lot of nature is super beautiful. The city of Pune is a refreshing place for many residents in India and even in the world.
5 Most Popular Places to Learn Japanese in Pune, India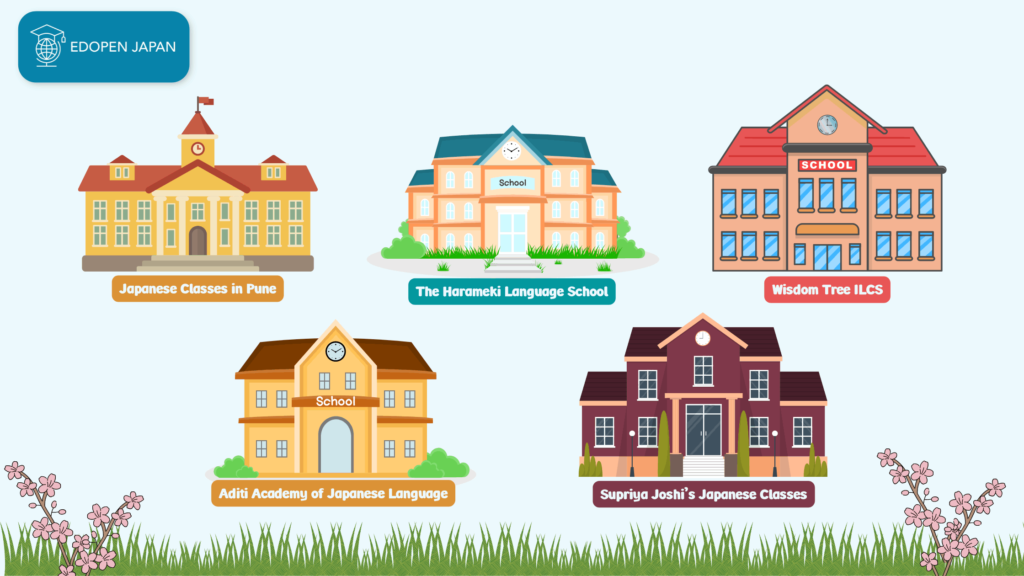 Here are the 5 Most Popular Places to Learn Japanese in Pune, India
1. Japanese Classes in Pune
An electronics engineer who has 16 years of experience living in Japan founded this school. The founder has also passed all JLPT levels from N5 to N1. The school provides experienced instructors who give detailed explanations for every little aspect. Also, the teachers are very approachable by removing all doubts and trying hard to teach their students when it is not clear.
Furthermore, the teachers teach the language in its true sense, a learning experience with all other related aspects as well. Such as culture, people's behavior, and real life in Japan. Thus, making it very unique. The teachers keep our brains motivated until the day before the exam.
Additionally, you can take a Japanese language course with a special course to meet your needs. This customized course content suits the needs of many professionals who are notoriously busy and time-poor. This friendly method helps the students to move up one step on the student's career ladder in the future.
Moreover, this school has very knowledgeable and patient teachers. Also very vocal and encouraging to speak, write and read Japanese even in the online model. At this school you can also choose the class that suits you, the school offers all JLPT test preparation classes.
Address: Suvarnabaug Colony, Dahanukar Colony, Kothrud, Pune, Maharashtra 411038, India
Recruitment Term: Contact for details
Number of Instructors: –
Capacity: –
2. The Harameki Language School
Hirameki Language school has been providing services in the field of the Japanese language for more than a decade. This school has a self-service for you. The school provides you with all kinds of Japanese bilingual needs. Using the Kaizen (Continuous Improvement) principle, they guarantee to provide quality services to ensure complete student satisfaction.
Furthermore, with a 100% motto of quality first, on-time delivery, customer satisfaction, and talent training. This school also not only teaches the Japanese language but also educates Japanese work culture. As well as providing information about job opportunities both in Japan and India.
Moreover, the school is proud to announce that it has had students from various cities in India and from more than 6 different countries around the world and has certainly succeeded in helping them achieve their dreams of continuing their education or employment in Japan. You also can choose the preparation course JLPT test in levels N5-N2.
Address: A-5, Geet Govind Bldg, Dr. Herekar Park, Near Kamla Nehru Park, Bhandarkar Road, Pune – 411004
Recruitment Term: Middle of November
Number of Instructors: 10
Capacity: Small Size
3. Wisdom Tree ILCS (Institute of Languages, Culture & Self Development)
At the Wisdom Tree Academy, the teachers not only encourage students to really inculcate the various aspects of the language but also find out what potential lies within you that should be suppressed to bring out the best in you.
In addition to learning the language, the school combines getting to know the nuances of the Japanese language, Japanese culture, traditions, and customs. It is a holistic experience to learn Japanese fundamentally. The teachers are very knowledgeable. They provide excellent guidance throughout the Japanese language learning journey.
Additionally, many students who study here feel so at home and are able to learn so quickly. The school also has a team of enthusiastic people who believe in working well together. The school's methodical approach to teaching foreign languages and providing students with much-needed cultural insights in Pune. This school might be a good choice for you.
Address: 119/3/3, B-26, Pradnyangad Apartments, Opp. Haripriya Sabhagruha, Near Navshya Maruti, Sinhagad Road, Pune 411030
Recruitment Term: Any Season
Number of Instructors: 4
Capacity: –
4. Aditi Academy of Japanese Language
The Academy has been operating in Pune city for more than 20 years. The school has had more than 1500 students who have benefited from the Japanese language academy. The academy claims that 94% of students enrolled in Aditi academy have been successful in their future. With some going on to higher studies, both in Japan and India. As well as getting jobs in Japan and India.
In addition, Aditi Academy was founded by Ms. Sujata Gokhale, who has over 20 years of experience in teaching, consulting, interpreting, and translating Japanese as a language in India and around the world. The available classes are very complete, including the beginner Japanese, JLPT course, business Japanese, Japanese speaking, and teacher training program.
The Aditi Academy teachers also use a professional mix of Japanese language experts from both Japan and India. Furthermore, the academy also has teachers of Japanese native speaker students. With the times and the world still in the grip of the Covid-19 pandemic, the academy has also opened online classes.
Address: Flat no 2, Vishnulaxmi Apts, Off, Karve Rd, behind BSNL Telephone Exchange, Nal Stop, Erandwane, Pune, Maharashtra, India
Recruitment Term: Contact for Details
Number of Instructors: 6
Capacity: –
5. Supriya Joshi's Japanese Classes
Another privately offered class is coming up in Pune city. This school has been in operation for more than 3 years. The class is founded by Supriya Joshi Sensei, who has completed Teacher Training and Oral Japanese courses. The founder also has experience in the translation of a Japanese translation company for 8 months. This is a very valuable experience in the industry in Japan. The classes offered are 1 to 1 classes, the JLPT exam preparation, and the class for children.
Especially in the child's class, this class suits children from ages 5-12 years old. You will be surprised how easy it is for children to learn a new language with the great experiences and smart methods provided by the teacher.
Address: 18B, Ganesh Dutta Housing Society, Sahakarnagar, Pune, Maharashtra 411009, India
Recruitment Term: Always Available
Number of Instructors: 1
Capacity: >20
How to Find the Best Japanese Language Tutors in Pune, India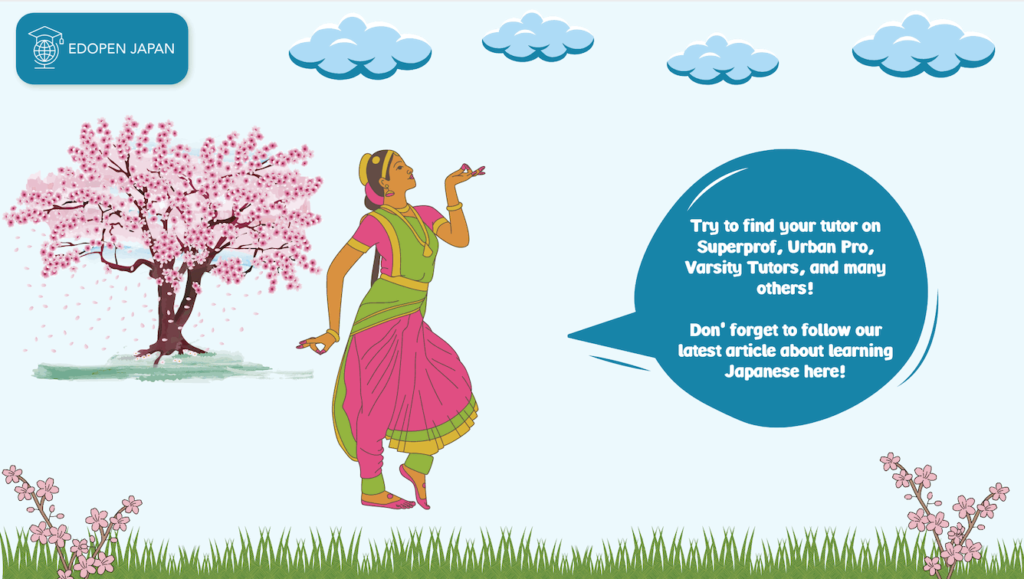 While we've covered the 5 Best Places for You above, we also want to share another important option with you. This option is specifically for those of you who are looking for more personalized and flexible Japanese classes. And you still get the chance to learn Japanese directly with native speakers in Pune, India.
You can do this by learning directly with the best Japanese tutors in Pune, India. But how do you find the best Japanese tutors in Pune? You can find them on Superprof, Urban Pro, Varsity Tutors, and many other places.
We are also happy to help you find the best way to master Japanese. Don't forget to always follow the most complete and reliable information that we have shared here. We will always give you the best. And we are happy to be a part of your big journey to master Japanese in Pune, India.
Conclusion
Finally, to end this article, here are the 5 most excellent, highly reliable, and trusted places that we highly recommend for you to Learn Japanese in Pune, India. Do you also have experience learning Japanese at any of the places we mentioned above? Feel free to share your experience with us below.
Japanese Classes in Pune
The Harameki Language School
Wisdom Tree ILCS
Aditi Academy of Japanese Language
Supriya Joshi's Japanese Classes
We sincerely hope that this information will be enough answers for you. Please contact us anytime if you need more information about learning Japanese, here. And, see you in the next article! Thank you for reading to the end! Have a great day and keep up the hard work in learning Japanese!