Are you looking for the best place to learn Japanese in Philadelphia?
Or are you looking to deepen your Japanese by finding the best Japanese tutor in Philadelphia?
While there are so many resources that you can find, finding the right place that suits your needs can be overwhelming.
That's why we are here to help you learn and find the best places to learn Japanese in Philadelphia. No more getting lost and confused to find them.
This article will discuss 5 places you can go to learn Japanese face-to-face or online. All of them provide a wide range of programs and teachers with professional experience. Some of them also offer classes for children.
In addition, we also provide additional options for those of you who want a more private and online class. Okay, let's get started.
About Philadelphia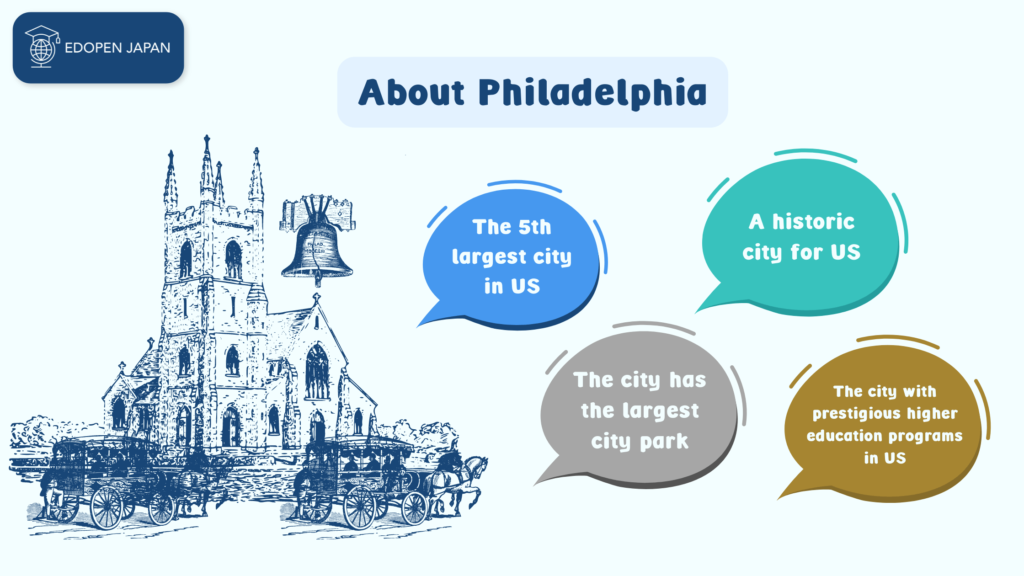 Philadelphia is one of America's most historic cities. It is the 5th largest city in the United States with an area of 349.9 km². As of 1st July 2021, it has an estimated population of 1,576,251 million. In Philadelphia you will find a lot of history that calls it the first zoo in the United States.
In addition, the Liberty Bell has historical significance for the United States. As Pennsylvania Senator Robert Morris long ago said in the 18th century; Philadelphia is 'to the United States what the heart is to the human body in circulating blood'.
It is no exaggeration to call Philadelphia a historic city for the United States of America because it housed the first national hospital, the first United States flag was made here, the first library, and the first stock house also opened in the United States.
Therefore, if you want to learn about the history of the United States, look no further than Philadelphia, where the city has the largest city park at 9,200 acres.
For education, Philadelphia is super famous for having some of the most prestigious higher education programs in the United States.
The three famous and powerful universities with their high class research in the city are Temple University, Drexel University, and the University of Pennsylvania, which are renowned Ivy League universities throughout the United States.
As such, the city has a diverse range of cultures brought by many students from all over the world for you to get to know each other's cultures. Thus, you can learn new languages, including Japanese.
5 Famous Places to Learn Japanese in Philadelphia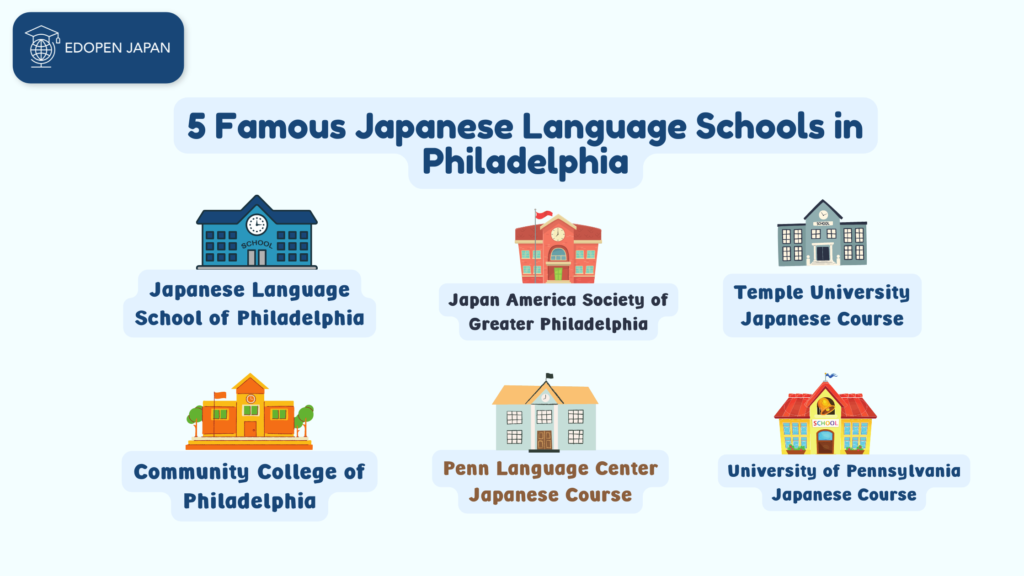 Here are 5 places where you can learn Japanese in Philadelphia both onsite and through online.
(1) Japanese Language School of Philadelphia
Since 1972, the Japanese Language School of Philadelphia has been providing Japanese language teaching services in Philadelphia as a non-profit organization. the Ministry of Education of Japan has recognized and partially funded this great school. The school provides kindergarten, elementary school, junior high school, high school, and consecutive Japanese language courses.
The programs offered by The Japanese Language School of Philadelphia (JLSP) are divided into 4 major programs;
1) Japanese curriculum
2) Japanese as a Heritage Language (JHL) classes for children
3) Japanese as a Second Language (JSL) classes for adults
4) Japanese pre-school classes
Interestingly, JLSP is held following the Japanese education system and calendar where the classes are available weekly on Saturdays. This is according to the Japanese school calendar, from April to March.
In addition to Japanese language, this school also provides students with general subjects such as Culture, Sports, Science and Technology.
If you doubt the authenticity of the teaching in this school, this school uses the same textbooks as schools in Japan. Therefore, the authenticity of Japanese education culture is still alive even though the class are available in US.
Address: Japanese Language School of Philadelphia c/o Friends' Central School 1101 City Avenue, Wynnewood, PA 19096
Recruitment term: April to March (except for JSL classes, which start in September for adults)
Number of instructors: 30 teachers and staff
Capacity: over 230 students from abroad
(2) Japan America Society of Greater Philadelphia
Japan America Society of Greater Philadelphia (JASGP) is a non-profit organization that has more than 30 years of close diplomatic relations with the USA and Japan through business exchange programs, festivals, culture, and education.
This instituttion has 4 main programs such as Shofuso Japanese House and Garden, Shofuso Cherry Blossom Festival, US-Japan Business and Public Policy Series as well as the Japanese arts, business, and cultural educational programming.
Shofuso is a 17th century-style Japanese house with associated residential gardens that reflects the history of Japanese culture in Philadelphia.
The Japanese language class itself offers evening Japanese classes for adults based on a college-style curriculum and is held online currently amid the covid-19 pandemic.
All these class programs study grammar, as well as accompanied by live conversation and almost the guidebooks used are the Genki I and II textbook series. However, if you want to join this class make sure you are over 18 years old.
Address: 5070 Parkside Avenue, Suite 1400, Philadelphia, PA 19131
Recruitment term: Spring, Summer and Fall season
Number of instructors: 9 staff, included native Japanese
Capacity: –
(3) Japanese Course held by Community College of Philadelphia
Community College of Philadelphia is a public educational institution that has been in existence since 1965. This school has served more than 685,000 residents of the city of Philadelphia. For their own language, this campus offers a special program which they call, "world language course".
They present almost all languages in the world in this class, especially languages from countries that are for the international relations.
Then, the Japanese course itself has several class such as into elementary class 1, 2 and intermediate class 1, 2. Furthermore, this class gets 3 credit hours, thus you can not only go to school with the general major you take. You can also take a foreign language course from all over the world including Japanese.
Address: 1700 Spring Garden Street, Philadelphia, PA 19130
Recruitment term: The academic year begins in September and ends in August
Number of instructors: over 100 staffs
Capacity: –
(4) Penn Language Center Japanese Course
Penn Language Center (PLC) is part of the University of Pennsylvania. Since 1989, it has helped strengthen language education for students. The school consistently supports the development of language professionals for students interested in improving their foreign language skills.
Currently, PLC follows the development of online teaching methods, the purpose of PLC is to support your education while studying at the University of Pennsylvania in particular.
Furthermore, PLC has main purpose to assist students with Assessment of Language Proficiency, Language Direct Tutoring Services, Online Courses and American Sign Language Program Languages for Specific Purposes.
Address: 715-716 Williams Hall | University of Pennsylvania | Philadelphia, PA 19104-6305
Recruitment term: Spring, Summer and Fall
Number of instructors: –
Capacity: –
(5) Learn Japanese at Famous University in Philadelphia
If you are a student of Temple University, you can also immerse yourself in the Japanese language and culture by taking courses available at the university.
This course can be a bridge to beginning and intermediate Japanese to emphasize spoken Japanese and conversational practice.
In addition to Temple University, the University of Pennsylvania also hosts a Japanese language program. At the University of Pennsylvania, basic to intermediate intensive classes are available.
Before choosing the type of class, you will have to take a placement test. Even if you don't have a foundation or experience in the program, don't worry. You can still follow and catch up with the material by joining the intensive course.
Where to Find Best Japanese Tutors in Philadelphia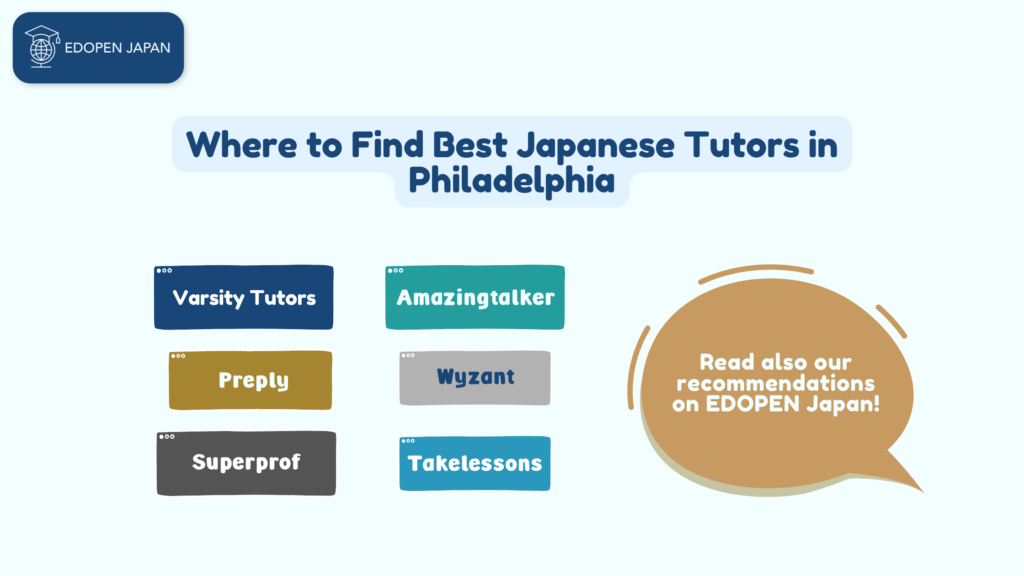 Especially for those of you who want a more customized, online and affordable class, then taking classes held by some of these online media can be the best solution.
Moreover, the tutors they provide are also professional, have diverse and in-depth experience. You can join the classes from anywhere. The price is also very affordable.
So, which online media can you make a choice. You can try to find your best tutor through Varsity Tutors, Preply, amazingtalker, wyzant, Superprof, takelessons and many others.
And of course, you can also get recommendations for the best Japanese tutors and places at EDOPEN Japan. You can also learn Japanese directly by following and reading articles about Learn Japanese that are very comprehensive and light to read.
Conclusion
Here's our round-up of the best Japanese language schools in Philadelphia. Have you ever attended one of the Japanese language programs offered by these schools?
Don't forget to check out the tutor recommendations that you can get through the online media that we shared earlier.
Don't hesitate to contact us if you'd like to discuss how to learn Japanese properly, how to get started and more. We would love to receive your feedback.
Alright, see you in the next article! We wish you a successful and enjoyable Japanese learning journey!