For those of you who want to learn Japanese at a Japanese language school in Boston!
For those of you who are looking for the best language school for your friends, family as well as your loved ones!
Besides, you might be confused to find the right Japanese language school in the city of Boston. You may have found some information but not enough details. And you want to get the most comprehensive information about Japanese language schools in Boston.
Therefore, in this article, we have summarized all the important and comprehensive information about Japanese language schools in Boston, Massachusetts, USA. Not only that, but we have also added information that can help you to find a Japanese tutor in Boston. Okay, let's get started!
1. About the Greater City of Boston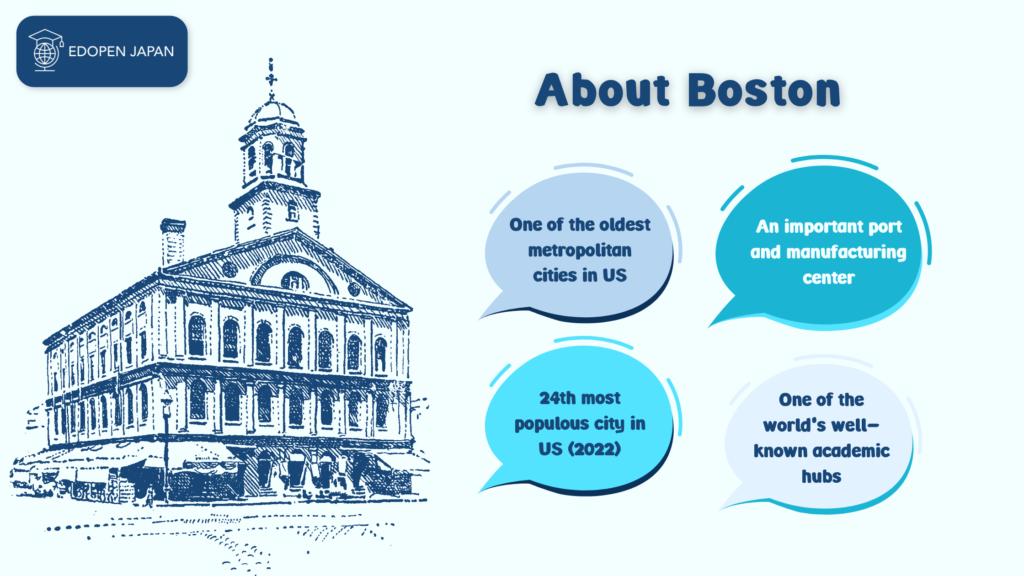 Founded in 1630, Boston is well-known as a historic and the greatest educational city in the United States.
Being one of the oldest metropolitan cities in America, Boston is a worldwide pioneer in innovation, entrepreneurship and technology as it is also has the oldest subway system in the Western Hemisphere of the United States.
Boston is additionally the 24th most populous city in the United States, with a population of approximately 694,000 (July, 2022). About 55,000 of them are foreign residents.
Nowadays, Boston has been an important port and manufacturing center. It is also home to 2 of the world's top universities, MIT (Massachusetts Institute of Technology), Harvard University as well, making it a world center of education and culture. In addition, Boston's businesses and institutions have been ranked among the top in the world.
In 1635, Harvard University was first established in the greater city of Boston. It's true that the Boston area's most asset is the presence of a world-class university with more than 50 campuses and a magnet for many students from all over the world.
Including for learning Japanese, you can easily get lessons from several credible institutions that offer Japanese language learning programs in Boston. And here we summarize the 7 Best Japanese Language Schools in Boston for you. Please check the following!
2. The 6 Best Japanese Language Schools in Boston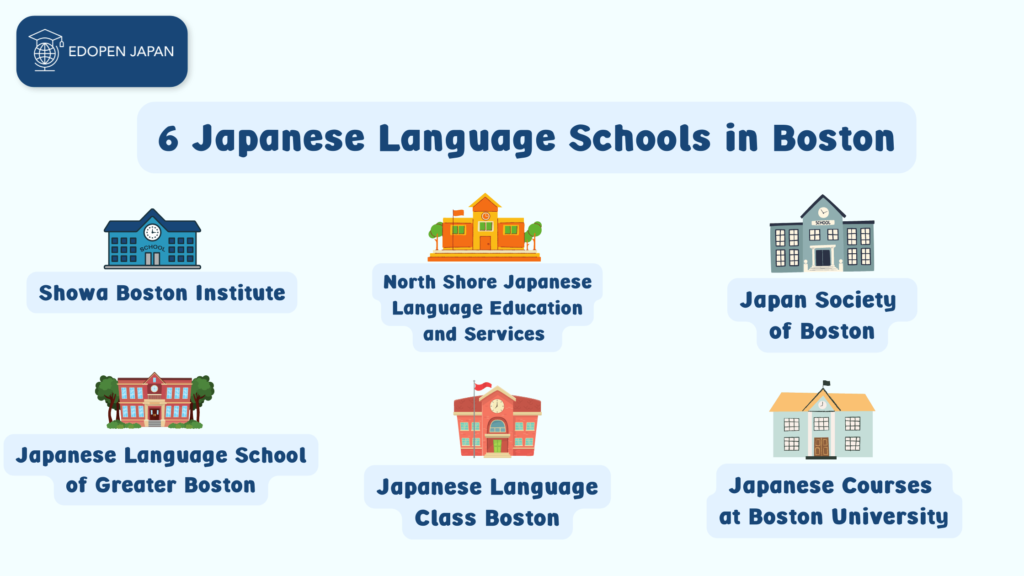 (1) Showa Boston Institute
Showa Boston institute is part of Showa Women University in Tokyo. Over 30 years it has helped thousands of people in and around Boston grow more connected to the Japanese language, people, and culture. The school has the largest population of USA students studying Japanese in Boston. "The Intercultural Exchange is the Spirit of the Showa Boston Institute."
The institute offer 2 classes: Japanese Course and JLPT Preparatory Courses N3, N4 & N5.
Whether your goal is building Japanese language proficiency or growing more culturally connected to Japan, Showa Boston might be the right place that would open the golden opportunity for you to dive into the Japanese culture.
Address: 420 Pond Street, Boston, MA 02130
Recruitment term: Fall Semester from September and Summer as TBA
Number of instructors: 6 (Japanese native, full-time)
Capacity: limited to 10 students each class
(2) Japanese Language School of Greater Boston
The school was built in June 1975 in the suburbs of Boston. Quite uniquely, the Japanese Language School of Greater Boston is only held on Saturdays for kindergarten, elementary, middle, high school students and also Japanese as a Second Language.
Using the facilities of Medford High School, there are now over 800 students studying Japanese here. In addition to educating, nurturing and strengthening the Japanese language of Japanese children living in Boston and the surrounding area, the school also welcomes children from various countries to study Japanese culture and language.
In addition to Japanese language, arithmetic, Japanese history, Japanese culture and arts are also taught here. Not only learning Japanese language and culture, the children can also spend their free time on Saturdays and meet other Japanese friends.
For those of you who are looking for the best Japanese language and culture school for your child or family, we would definitely recommend you to contact this school.
Address: Medford High School, 489 Winthrop Street, Medford, MA 02155
Recruitment term: April and September
Number of instructors: –
Capacity: max 8 students/class
(3) North Shore Japanese Language Education and Services (NSJ)
Are you looking for a Japanese language school that has hybrid classes (face-to-face and online simultaneously)?
Are you also looking for a Japanese language school that specializes in calligraphy, conversation, and teaches unique Japanese culture such as origami (paper folding) as well as many others?
NSJ (North Shore Japanese Language Education and Services) is the school you are looking for. The school has different types of program and classes as below:
Classes for children and teenagers with meetings once a week
Intensive language classes for 2 weeks (Monday – Thursday)
Conversation class for people who already know how to speak Japanese
Advanced to intermediate beginner reading and writing classes
A class for Japanese I beginners which is a new program
Business class and internship program in Japan
Along with other unique classes such as cooking class, origami, Japanese manner, and calligraphy class and many others.
Address: 30 Federal Street Units 2D and 2E Salem, Massachusetts 01970
Recruitment term: Please contact 1 (978) 998-9683 or 1 (978) 998-9683
Number of instructors: –
Capacity: –
(4) Japanese Language Class Boston
JLC teaches Japanese exclusively by only allowing 3-8 students per class taught by Japanese-speaking instructors. JLC also specializes in class hours where the classes are held after main work hours or held on weekends, making it very suitable for workers.
The programs are very diverse, ranging from beginner classes, intermediate classes, advanced classes, conversation classes, Japanese cultural events, weekend classes, private lessons, and proficiency tests,
The good news is that before choosing the right program, you can measure your ability level and consult with the teachers of this school.
Address: 10 Post Office Square, Boston, MA 02109
Recruitment term: July and September
Number of instructors: 7 (Japanese native full-time educators)
Capacity: max 8 students each class
(5) Japan Society of Boston
Japan Society of Boston (JSB), is a non-profit organization with the aim of strengthening cultural and economic ties as well as providing active exchanges between Japan. Rather than that, language is needed as a bridge of close relations between the two countries. Therefore, JSB provides Japanese language education services as well in Boston. The organization intended to enhance your confidence in Japanese while building community connections.
This organization provides the native Japanese teachers while you can connect the class from anywhere by joining the online teaching as well as actively joining the community.
Their programs are group lessons that provide Introductory, beginner, intermediate, advanced as well as the advanced Japanese fiction programs.
Address: 50 Milk Street 16F, Boston, MA 02109
Recruitment term: every summer (April) and fall semester (September)
Number of instructors: 9 language instructors
Capacity: min 4 students and max 8 students
(6) Japanese Courses at Boston University (Summer Term)
If you live close to Boston University, or you are a student at Boston University, then enrolling in a Japanese language class offered by the College of Arts and Sciences, a renowned university in Boston, could be the right move.
In the first semester, you will learn the basics of spoken and written Japanese and there are also written exercises. Then, in the second semester, you can deepen the basics you have learned in the first semester with oral and written exercises.
For those of you who love Japanese culture and movies, then you must take a special course on learning modern Japanese culture through cinema. There, you can learn about Japanese culture, great Japanese directors, and explore various other cinematic aspects.
Address: 200 Riverway, Suite 114, Boston, MA 02215
Recruitment term: summer
Number of instructors: 9 language instructors
Capacity: min 4 students and max 8 students
3. How to Find the Best Japanese Tutors in Boston?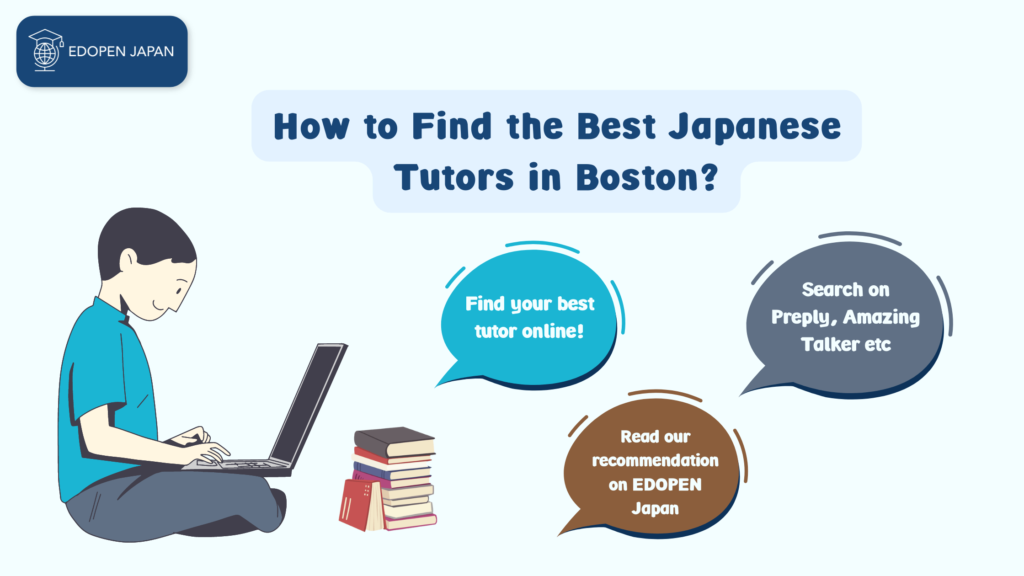 If you want more intensive, online and private classes, then you can also search for available tutors for you through several platforms such as Preply, Amazing Talker, Superprof, Takelessons and various other online platforms.
EDOPEN Japan also provides recommendations on the best places and tutors for you to learn Japanese comfortably in Boston. Please follow along and don't miss our updates here.
Conclusion
To wrap this article all up, there you have it, some information about one of the best cities and super famous city in the US, Boston as well as Japanese language schools in Boston.
Have you ever joined or attended classes held by the schools we mentioned above? Please share your experience in the comment section below. See you in the next article.