Especially for those of you who are currently looking for the best Japanese language learning places in Delhi. And, for those of you who are also looking for opportunities to work with Japanese companies in New Delhi. Also, for those of you who are struggling to find the best Japanese tutor in Delhi.
We have summarized the 5 most famous and trusted places to learn Japanese in Delhi. Although, you might have found various related information. However, is the information reliable or not? You might not have a strong clue.
With that in mind, here are the 5 most popular places to learn Japanese in Delhi that you can use as a strong reference. With a long history of providing Japanese language classes. And an ever-growing variety of Japanese language programs. The 5 schools that we recommend below are definitely worth checking out.
In addition, we also provide other options for those of you who want to learn Japanese with more flexible and personalized hours. Everything you need about learning Japanese in Delhi is in this article. Okay, let's get started!
About Delhi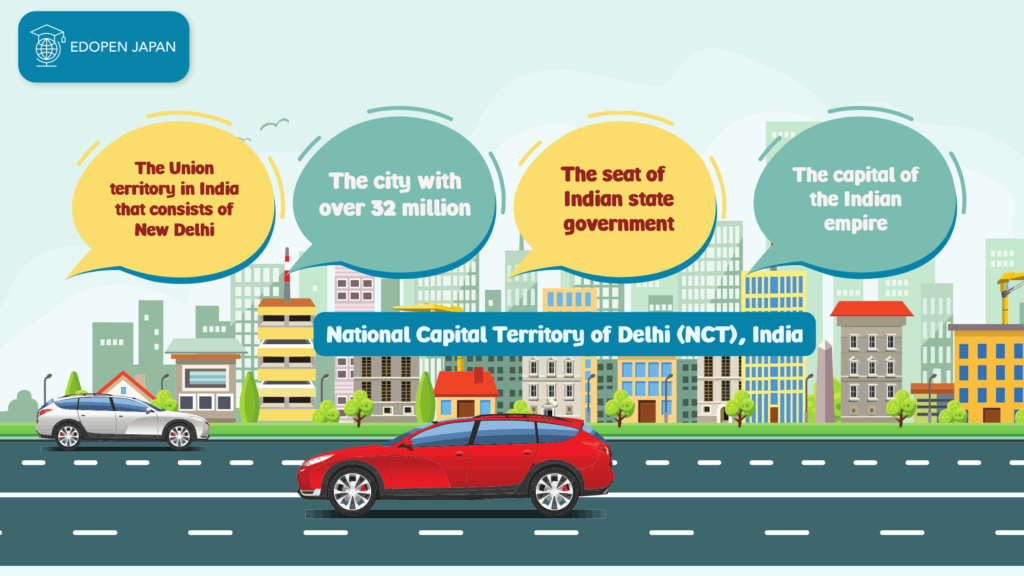 Delhi or officially known as the National Capital Territory of Delhi (NCT) is a city that has an area of nearly 1,500 thousand square km. It is a union territory in India that consists of New Delhi. New Delhi is the capital city of India. Additionally, Delhi is located along the famous Yamuna River.
Furthermore, the population of Delhi metropolis currently stands at over 32 million (2022) with a population increase of 2.8% compared to last year, 2021.
Delhi is famous for being the capital of the Indian empire for hundreds of years.
Plus, it's the seat of the Indian state government and has been inhabited since the 6th century BC. Historic buildings, highly artistic monuments, and architectural marvels represent this magnificent city in India.
Then, you can find the grand forts, monuments, and mosques in the center of Delhi. You can start your visit with the stunning Akshardham temple and the historic Mughal Monuments.
Further, the thriving street markets in the crowd will surely enhance the beauty of Delhi. There, you can find a wide range of unique, interesting, and beautiful products in the rows of shops.
Top 5 Most Famous Places to Learn Japanese in Delhi, India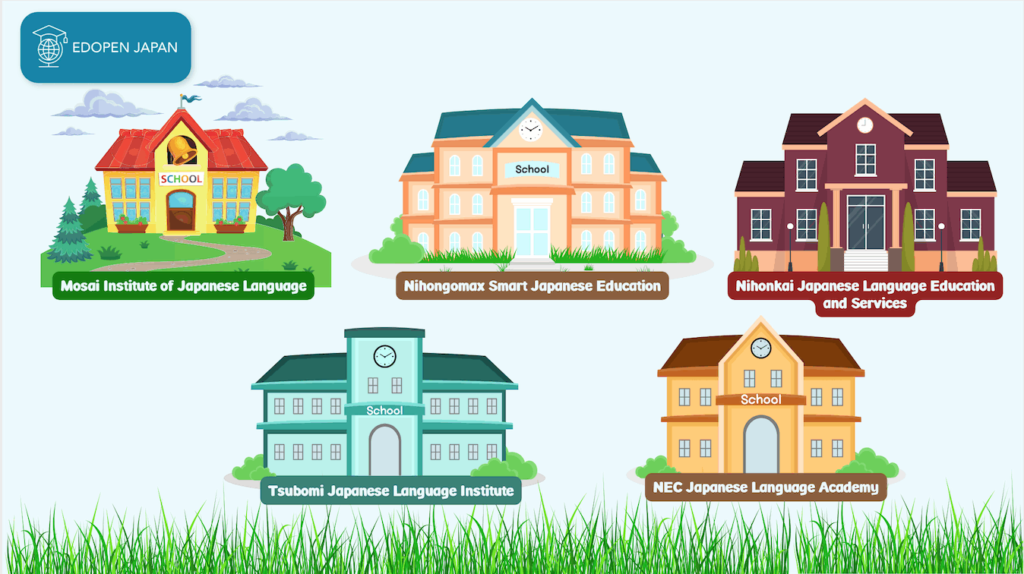 Here are the Top 5 Most Famous Places to Learn Japanese in Delhi, India.
1) Mosai Institute of Japanese Language
MOSAI or Mombusho Scholars Association of India is an officially registered society. Remarkably, the members of this Association are specialists with intensive experience in research, education, institutions and various industries in Japan.
Furthermore, scholars who are active members of MOSAI, also hold important roles in various government agencies as well as vital industries in India. The association has been offering Japanese Language Teaching programs since 1958. There are 3 types of courses offered, namely basic, intermediate and advanced Japanese.
Moreover, in each course, proficiency and group interaction are the two main components. There are also conversation sessions with native Japanese which will help you to become fluent in Japanese.
In addition, you should know that the learning system is quite strict. You need to follow the rules and regulations carefully. After attending this program, you will receive an Official Certificate. The President of MOSAI and the Director of the Japan Information Center (Embassy of Japan) New Delhi will give the official sign for your certificate and distribute it at your graduation ceremony.
Furthermore, the Ambassador of Japan will also be the chief guest at the event. Please also note that the association also provides JLPT, and EJU exam programs as well as Japanese speech contests.
Address: 104 (1st Floor) New Delhi House 27, Barakhamba Road New Delhi-110001
Recruitment Term: July
Number of Instructors: –
Capacity: –
2) Nihongomax Smart Japanese Education
Nihongomax Smart Japanese Education is our second recommendation. This school has taught over 2000 students. More than 50 of them managed to continue their education in Japan and more than 500 of them got jobs in Japanese companies.
Moreover, Nihongomax offers a very fast curriculum, the best trainers, an online learning system, carefully designed JLPT and comprehensive materials, the cheapest price in Delhi, intensive classes with small batches, and very comprehensive listening materials.
Further, here you can learn Japanese from JLPT N5 basic level to JLPT N1 advanced level. The easy and highly effective learning system is the hallmark of every program available at Nihongomax. This school targets high JLPT results at the lowest cost.
In addition to coaching on Japanese language learning with passing the JLPT test being the main goal, the school also provides preparation programs for working in Japan.
Address: Gate No 4, H-4, 3rd Floor, before Bata Showroom, near GTB Nagar Metro Station, GTB Nagar, Delhi, 110009, India
Recruitment Term: Always Available
Number of Instructors: –
Capacity: small size
3) Nihonkai Japanese Language Education and Services
Nihonkai is one of the pioneer Japanese language training institutes that will provide training and proficiency to master the JLPT test. The institute has highly experienced instructors and trainers with certificates of passing the proficiency test and are highly qualified.
If you join this institute, you will start your Japanese learning journey by mastering the basics of Japanese to the advanced level. In addition to Japanese language learning, students will also gain various insights related to the behavior, culture, business etiquette, and conduct of leading companies in Japan.
Furthermore, classes are small and intensive with the implementation of innovative teaching techniques using audio visuals, conversation skits, and verbal and written skills. The learning materials available focus on the JLPT and there are also periodic assessments to measure how well you have mastered each material.
Address: BF-30, Tagore Garden (Near Tagore Garden Metro Station, Gate No.1) New Delhi 110027
Recruitment Term: Always Available
Number of Instructors: –
Capacity: small size
4) Tsubomi Japanese Language Institute
Mr. Manabu Nakamura, a Japanese who was also a teacher in Mosai founded Tsubomi Japanese Language School in 2016. He had previously worked in India and was well-versed in the culture and tactics of getting into Japanese Indian companies.
Then, Mr. Nakamura used a selection of the best learning materials for Japanese language learning, JLPT mastery, and conversation mastery. The school focuses on the target of completing JLPT N1 within 2.5 years. And the target of mastering each level is only 6 months.
Please note, in order to train each student's speaking and listening skills, each teacher conducts a full class in Japanese. The school aims to provide Japanese language education services to Indians who want to master Japanese and get jobs in Japanese companies.
Additionally, Tsubomi places great emphasis on JLPT mastery, and careful provision of learning materials for JLPT mastery is the main focus of the school. Further, Tsubomi strongly supports and facilitates every student who really wants to master Japanese and targets JLPT proficiency.
Address: 60/9, 4th Floor, Yusuf Sarai, New Delhi 110016 (Near Green Park metro station, Gate no. 1, next to Sharma Electricals)
Recruitment Term: November
Number of Instructors: –
Capacity: –
5) NEC Japanese Language Academy
Starting in 2013, NEC Japanese Language Academy (NJLA) provides Japanese language training programs that focus on developing Japanese language skills. This is a solution that aims to fill the Japanese language skills gap in the conduct of business between the two countries.
NEC is here to open the gates for you to explore various fields that require Japanese language proficiency. Such as careers in information technology and job opportunities in businesses with specialized training.
In addition to the Japanese language, you will learn about Japanese culture in a comprehensive way. NEC is the first language institute owned and managed directly by a Japanese multinational company.
With more than 10 years of experience teaching and training Japanese language professionals and engineers, NEC is the best choice for you to learn Japanese and work for a Japanese company. The facilities are state-of-the-art and comfortable with a teaching methodology oriented towards JLPT mastery.
One of the advantages that you can only get here is the opportunity to do on-the-job training and the chance to win job opportunities for those who excel.
Address: 1st Floor, A-31, Near Lajpat Nagar Metro Station, Gate No. 2, Lajpat Nagar-2, New Delhi-110 024
Recruitment Term: Contact for details
Number of Instructors: –
Capacity: –
How to Find the Best Japanese Tutors in Delhi, India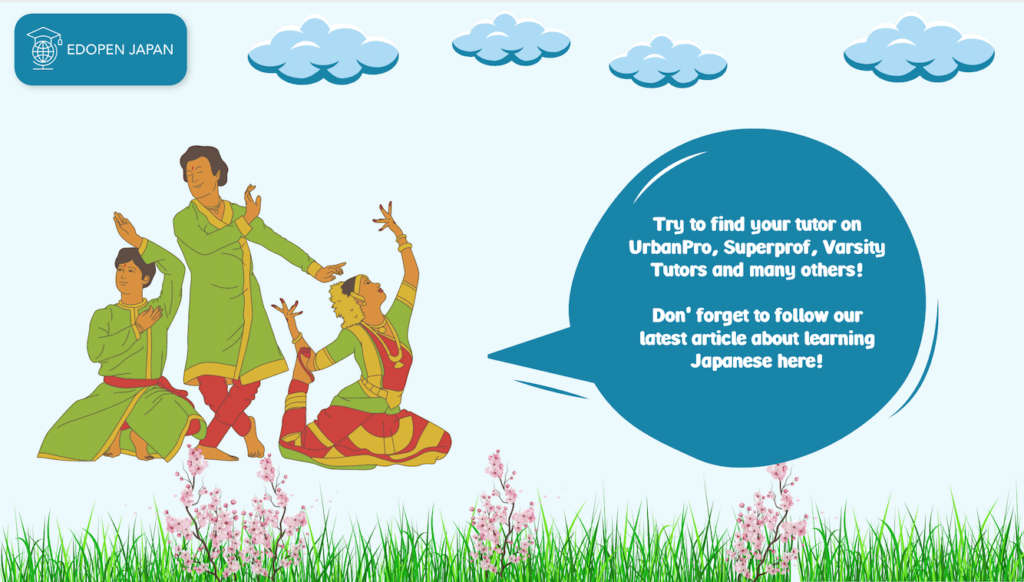 In addition to the 5 Best Places above, we also want to share with you another option that is no less interesting. This option is especially for those of you who are looking for a more personalized and flexible class. You can still have the opportunity to learn Japanese directly with native speakers.
You can do this by learning directly with the best Japanese tutors in Delhi. But how do you find the best Japanese tutors in Delhi? You can find them on Preply, Superprof, UrbanPro, and various other places.
We are also happy to help you find the best way to master Japanese. Don't forget to keep following the most complete and reliable information that we have shared here. We will always provide the best for you. And we are excited to be a part of your big journey to master Japanese in Delhi, India.
Conclusion
To conclude this article, here are the 5 best and most reliable places that we highly recommend for you to Study Japanese in Delhi, India. Do you also have experience learning Japanese at any of the places we mentioned above? Feel free to share your experience with us below.
And, here are 5 places we highly recommend for you to learn Japanese in Delhi, India:
The Mosai Institute of Japanese Language
Nihongomax Smart Japanese Education
Nihonkai Japanese Language Education and Services
Tsubomi Japanese Language Institute
NEC Japanese Language Academy
We really hope you find this information useful. Please contact us anytime if you need more information about learning Japanese, here. And, see you in the next article! Thank you for reading to the end! Have a great day and keep up the great work in learning Japanese!