Are you currently struggling to find the best Japanese language courses in Sydney, Australia? Or, are you also looking for opportunities and want to get into a Japanese company in Sydney? Where mastering Japanese is a must. Also, here we are to help those of you who are struggling to find the best Japanese tutors in Sydney.
We have compiled 5 of the most well-known and trusted Japanese language learning centers in Sydney, Australia. Although, you may also find various information related to this. But are they really useful and trustworthy? You definitely need a reliable and complete reference from us.
Therefore, the following 5 best Japanese language learning centers in Sydney are the references you need the most. With a long history of providing extensive and growing Japanese language classes. As well as providing various Japanese language and culture exchange programs. These 5 schools should be on your list and not to be missed.
In addition, we also provide other options for those of you who want to learn Japanese with more flexible and personalized hours. Everything you need to learn Japanese and find the best Japanese teachers in Sydney, Australia is in this article. Okay, let's get started!
About Sydney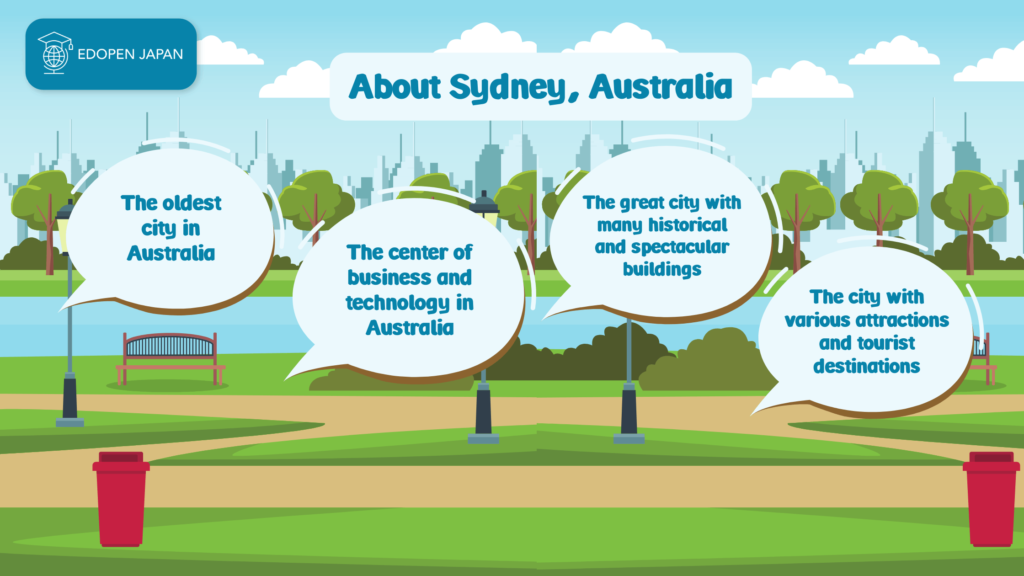 Sydney is the oldest city in Australia. It is now one of Australia's busiest cities. Also, a center of business and technology, and a driving force in Australia's economy. In addition, Sydney is the first port of call for many global citizens, especially those from Europe. The main factor is that the city is located on the coast. Which is accessible to citizens with various backgrounds from various parts of the world.
Furthermore, with this geography, the city is a favorite destination for tourists because it has a climate and weather that tends to be warm. You can find various attractions and tourist destinations in the city of Sydney. When you go to Sydney, you will find many historical and spectacular buildings. Such as the Sydney Opera House.
In addition, as one of the UNESCO cultural heritage sites, visiting the historical building in Sydney will be the best experience of your life. As for education, the city is the choice of many international students, there are at least 35,000 international students, from Asia to Europe. That's why you can see people from a unique diversity of cultures and languages in this city.
Top 5 Most Popular Places to Learn Japanese in Sydney, Australia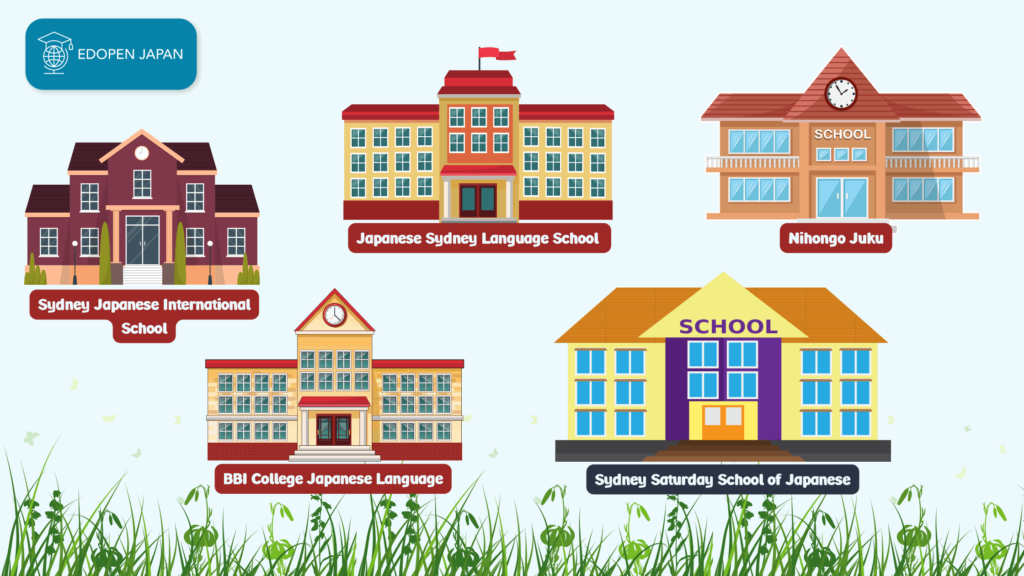 Here are the 5 Most Popular Places to Learn Japanese in Sydney, Australia. We really hope you can get what you need and the best school that suits you best!
1) Sydney Japanese International School
Founded in May 1969, more than 50 years ago, this school has been serving sincerely. According to the initial need for Japanese language schools for indigenous Japanese people who are settling in Sydney, especially for the education of their children, this school was born in the city of Sydney.
Moreover, this school has a unique learning system. Which has 2 curricula in 1 root, the NSW Australian curriculum (from Kindergarten to Year 6) as instructed by NESA (NSW Education Standards Authority). As well as the Japanese curriculum (from Years 1-9) as currently taught in Japan. Therefore, it is divided into two divisions namely English and Japanese curriculum.
Although the school is a group of students, it maintains small class sizes for both curricula. It nurtures the individual needs of each student with different needs and potential by optimizing student-teacher relationships and maximizing students' academic, social, and emotional success.
The school also ensures and offers the best environment to foster children's respect for each other through cultural diversity. The Japanese Language division curriculum used is the same as in Japan with the added benefit of daily English classes. This allows for a smooth transition for children who have recently come to Australia from Japan while accelerating their English skills.
Address: 112 Booralie Road, Terrey Hills, NSW 2084 Australia
Recruitment Term: Prior Contact Necessary
Number of Instructors: 37B
Capacity: Group

2) BBI College Japanese Language
Established in 2011, BBI College's experience in holding Japan Education fair events in Australia. This makes it the perfect opportunity to speak with Japanese education organizations. The school offers very rich services for beginners to advanced learners!
Further, more than just a school, BBI College Japanese Language School can help students not only to provide Japanese language learning opportunities but also to assist the travel of its students who want to go to Japan. Since this school also helps its students who want to study, live and work in Japan.
Moreover, this school labeled them as studying Japanese in Japan as the most efficient way to improve their language skills. And this school can help you to go to Japan to study directly. In addition, to study preparation in Australia before going to Japan, which is a deadly combination of thorough preparation and smoothness of learning Japanese.
Lastly, the school offers General Japanese (Beginner, Upper-Beginner, Pre-Intermediate, Intermediate, Advanced), Travel Japanese, JLPT Preparation, HSC Preparation, and Private Lessons. And to help students who want to work in Japan or study Japanese directly, the school has cooperated with language schools in Japan almost all over Japan, Really Cool!
Address: Suite 3.03,39 Liverpool Street, Sydney, NSW 2000
Recruitment Term: Anytime
Number of Instructors: 4 Native Japanese Speaker
Capacity: Small Classes

3) Japanese Sydney Language School
This school is specialized for all levels of Japanese language ability for adults only. This school offers Japanese language course contracts for 6 days a week full. With the duration of each meeting, students can choose 50 minutes or 80 minutes with a small number of students.
Further, for flexibility, this school offers group or private classes, even students can learn specifically by calling the teacher directly to the student's home. As for the teachers, all teachers in this school are native Japanese with certified qualifications in teaching Japanese.
From the beginning of the teaching, this school emphasizes and teaches using Japanese directly, this is done to encourage students to get used to listening and practice hard to be able to speak Japanese.
Therefore, the school focuses on conversations with students without forgetting listening, speaking, reading, and writing practices. Furthermore, the school uses the most popular textbook, Minna no Nihongo.
Address: Suite 305 Level 3, 332-336 Pitt St, Sydney NSW 2000
Recruitment Term: Contact for Details
Number of Instructors: –
Capacity: 3-9 students
4) Nihongo Juku
Nihongo-Juku refers to the customs of scholars and intellectuals in Japan during the Heian period. The school combines modern teaching techniques while maintaining conventional yet effective teaching methods. Every week, the school there will be having a weekly meeting with teachers to discuss the problems and progress of the students and how to build effective methods to speed up the students' understanding of Japanese.
Furthermore, the teachers are natives who have experience teaching Japanese, Asian and European countries. Students can also choose to use Japanese or English as the language of instruction to make it easier for students to master Japanese normally.
Also, this school teaches how to pronounce Japanese so the students to be as natural as possible. So that, students will understand and Japanese people will understand what students want to convey in Japanese when they speak Japanese to native Japanese or when they arrive in Japan for various businesses.
Interestingly, this school offers a free 30-minute consultation before deciding whether or not you are a good fit for the school's methods.
Address: Olympic Park, NSW, Australia
Recruitment Term: Contact for Details
Number of Instructors: 6
Capacity: 4-5 students

5) Sydney Saturday School of Japanese
This school has been serving Australia for 29 years, especially in the Sydney area. Starting from only 56 students and now reaching 250 students divided into a total number of classes into 17 classes.
Unfortunately, children who can enroll in this school are only children who already have a good foundation in the Japanese language. The age range of students in this school is around 5-18 years.
Furthermore, this school in the initial admission of students conducted tests on their parents to face the actual interview. For you who are looking for a credible Japanese language school for your lovely kids, please kindly consider this school.
Address: Cammeray Public School, Palmer St, Cammeray NSW 2062
Recruitment Term: Only in April
Number of Instructors: –
Capacity: 20 per class

How to Find the Best Japanese Language Tutors in Sydney?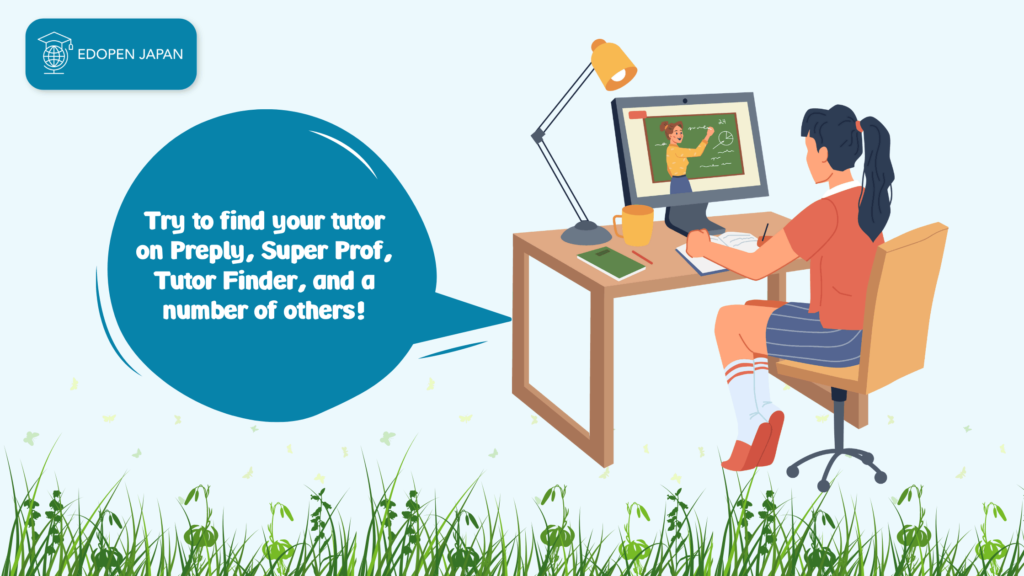 Above are 5 great places for you to learn Japanese in Sydney, Australia. In addition, we would also like to share another important option with you. This option is especially for those of you who are looking for more personalized and flexible Japanese classes for your limited time in Sydney. And you can still get the chance to learn Japanese directly with native speakers in Sydney.
You can do this by studying directly with the best Japanese tutors in Sydney. But how do you find the best Japanese tutors in the amazing city of Sydney? You can find them on Preply, Super Prof, Tutor Finder, and a number of others.
We're also delighted to help you discover the best way to conquer the Japanese language. Don't forget to keep up with the most comprehensive and reliable information we have shared here. We will always give you the most valuable information. And we're happy to be part of your big journey to mastering Japanese in Sydney, Australia.
Conclusion
Finally, here are the 5 most excellent, highly reliable, and trustworthy places we highly recommend for you to learn Japanese in Sydney. Do you also have experience learning Japanese at any of the places we mentioned above? Please feel free to share your experience with us below.
Sydney Japanese International School
BBI College Japanese Language
Japanese Sydney Language School
Nihongo Juku
Sydney Saturday School of Japanese
In addition, we sincerely hope that this information will be enough answers for you. Please freely reach us anytime if you need more information about learning Japanese, here. And, see you in the next article! Thank you for reading to the end of this article! Have a great day and keep up the hard work in learning Japanese.