For those of you who are currently confused about considering starting a new life in Japan? For those of you who want to find fair, factual, and up-to-date information about life in Japan.
Is Japan really safe and comfortable? What are the pros and cons when choosing to settle down and build a career in Japan?
And this had been sitting in my head for days 7 years ago. Until finally my scholarship decision was made to stay in Japan for 3 years. This has also been on the minds of some of my best friends who are now building their careers and lovely families in Japan.
To help those of you who are anxious, nervous, or even confused about deciding to move and settle in the land of sakura, I have compiled this very useful and factual list of disadvantages and advantages.
I sincerely hope that the information I've shared will be insightful, and informative, as well as dispel your doubts about settling down and building a new life in Japan. Okay, let's get started!
Pro #1: The Public Transportation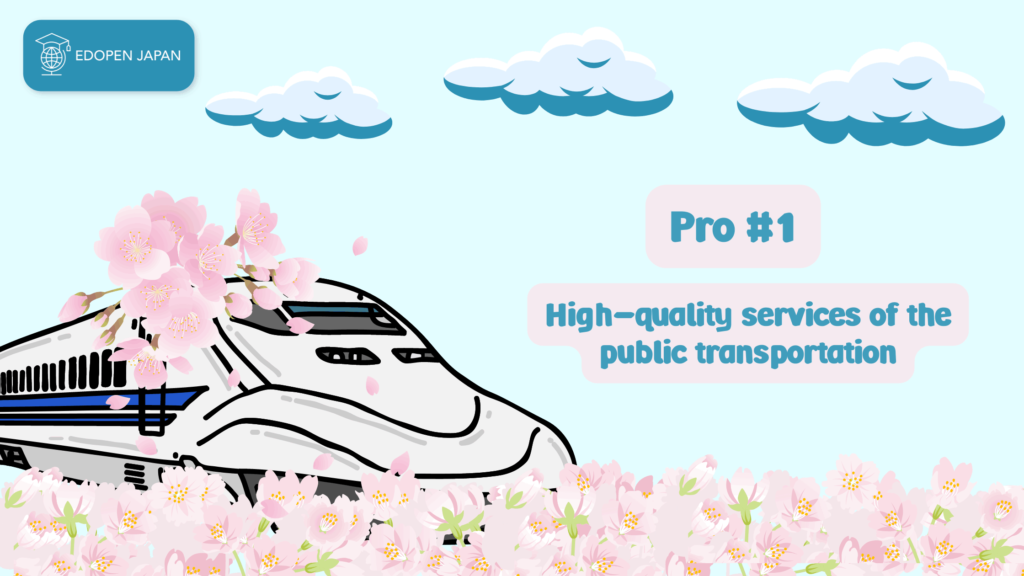 Japan has a magical attraction that makes tourists fly there in droves throughout the year. Of course, supporting this requires a qualified transportation system, and Japan is one of the countries that have the best public transportation system in the world.
Japan relies on a public transportation system. In Japan, the population prefers to use public transportation because car prices and taxes are very expensive and the mass transportation system has touched all corners of Japan.
For departure accuracy, all modes of transportation have a time schedule. So that arrival and departure are in accordance with the set schedule and rarely missed. If missed, the management will surely inform in advance or they will be very embarrassed and apologize once for the inconvenience.
Departure schedules are easily accessible using various mass transportation apps in Japan. There is no need to worry when using mass transportation in Japan because it is safe.
You must know that the bullet train (新幹線/shinkansen), almost has been operating for 58 years and has 0 accidents.
Pros #2: The Security or Safety of Living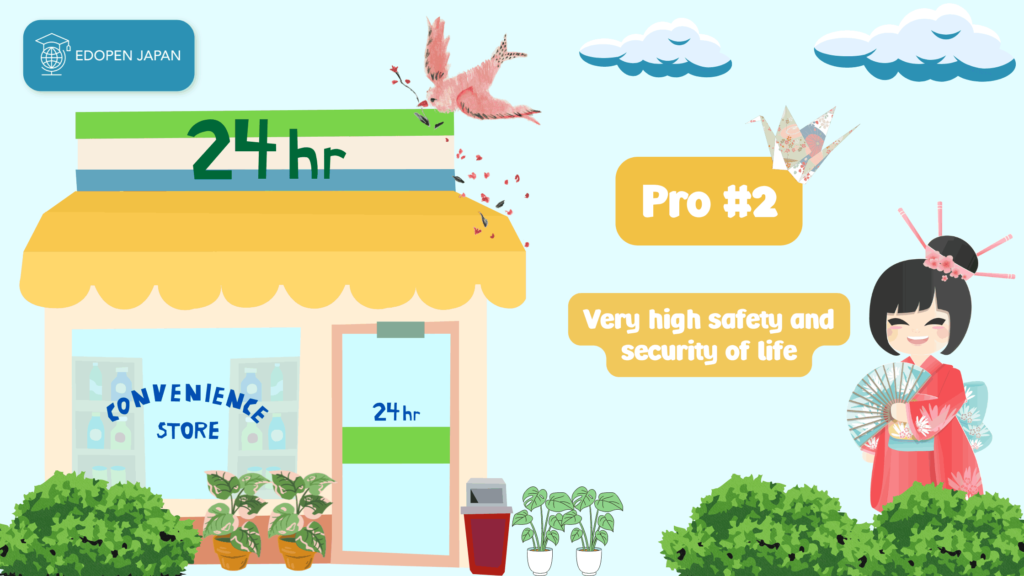 According to the 2019 Global Peace Index, Japan is 9th in the world in terms of "Peaceful Countries". As well as the safety rate in Japan is consistently 5th above other countries today. You should know that Japan has the world's best immigration system and checks on the flow of arms trade.
In addition, women, do not hesitate to go out at night when hunger strikes or want to shop for something. In Japan, almost all grocery stores (コンビニ) are open 24 hours. It is safe from the disturbance of bad people.
Even if you feel bored at home at night after work you will feel safe if you walk in a quiet corner of a big city in Tokyo or Osaka.
Additionally, you will see almost everyone obeying the traffic rules. People will feel really regretful if they violate the rules. Let alone violate public facilities such as traffic, you don't have to worry about waiting for something in the crowd of public facilities.
There have been many testimonials from all tourists from all over the world that if you lose your items, in a short time your lost items will be back to you safely.
Then, you only need to go to the nearest police station. Or to the lost and find the section or the nearest police station in several corners of public facilities such as stations, restaurants, and streets where you lost the items.
Pro #3: The High Quality of Education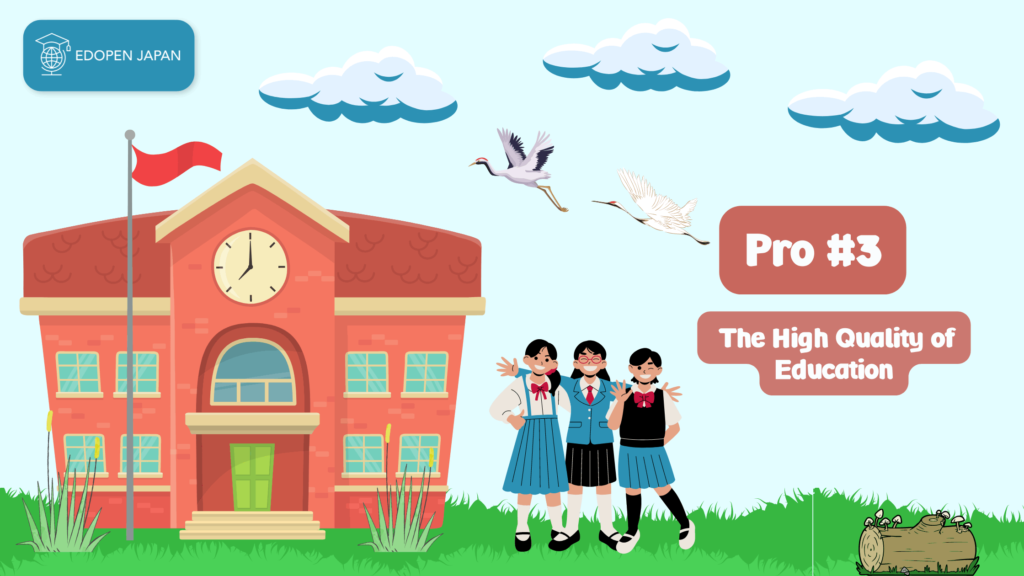 A strong factor that has always been the appeal of this land of the rising sun is its very high level of education by world standards. According to the OECD's Program for International Student Assessment (PISA) for 15-year-olds, Japanese students score particularly high in science.
In addition, English has become a compulsory subject in junior and senior high schools. In fact, in addition to English, the school strongly facilitates their students to learn many other foreign languages.
Then, one thing that has always made a deep impression on me to this day is how my lecturers always challenged us to think critically. Various courses always challenged us to be able to solve factual problems, not only exams. Therefore, research is the number one priority for higher education in Japan. This has led to the rapid development of science and technology in Japan today, making it a great global role model.
Pro #4: The Access to Information & Technology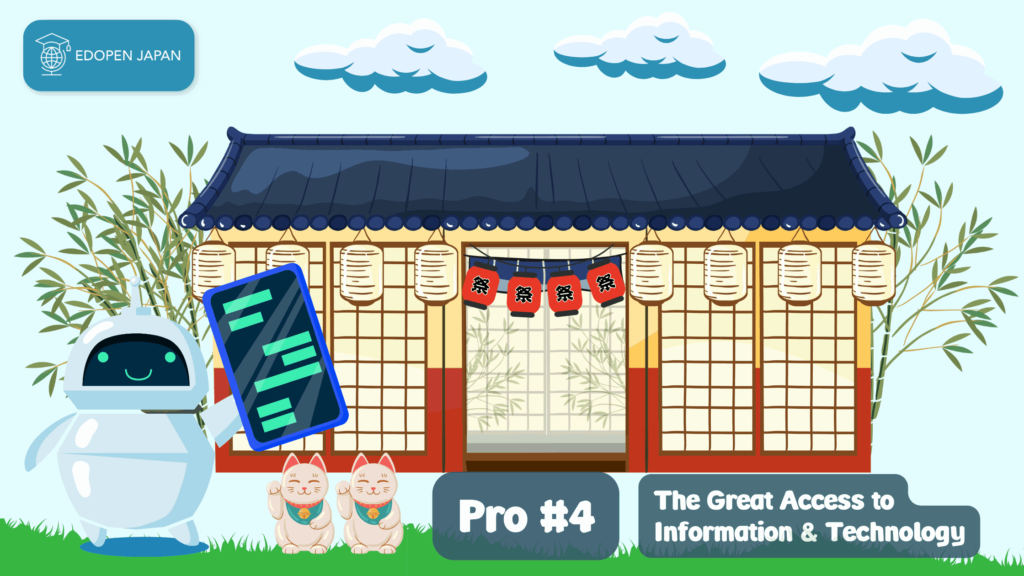 Every time we watch the latest news about Japan, the invention of robots, automation of industrial equipment, technological advances, and innovations in various means of transportation is almost never absent from our eyes.
Japan is always present with various innovations that are very unique, effective, and extremely useful. In addition to robots, Japanese infrastructure is also always at the forefront of the world. For those of you who really want to learn and master technology and information, going to the Japanese University and building a career in Japan is the most appropriate choice.
The rapid development of technology and fast access to information in Japan makes it very easy for anyone to stay for a long time in this great country.
Pro #5: The Great Food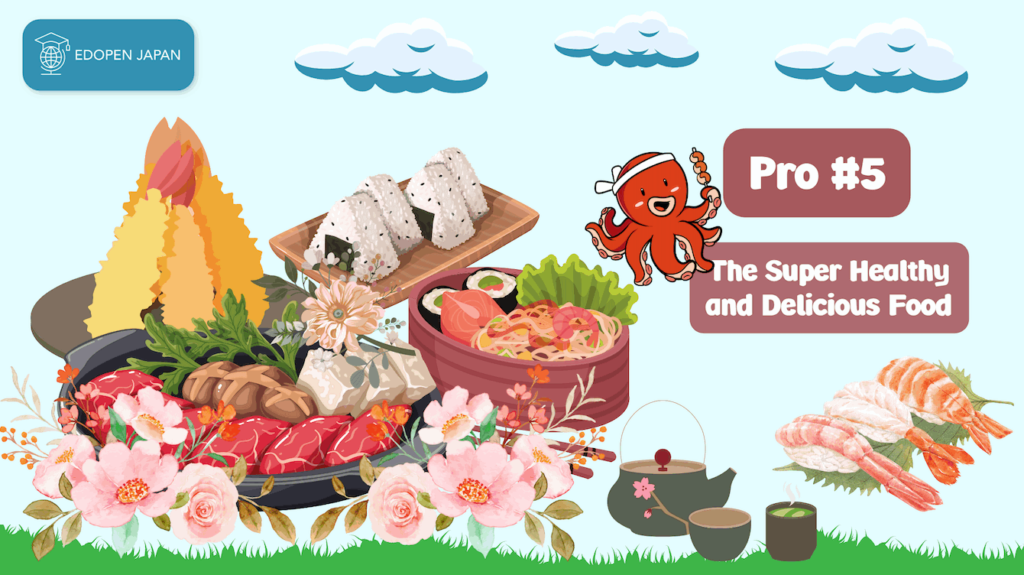 Everyone knows that Japan is a country with a long life span. And of course, also the unbeatable productivity. This is also very evident in Japanese food which is not only delicious but also very healthy. The use of minimal oil, small portions, and various types of food in 1 tray is one of the points that has always been the subject of research by various nutrition experts around the world.
Then, if we compare it with other countries, the lifestyle and diet of the Japanese people is not solely for dieting. However, it is because of the great taste of their food and their appreciation of it, that they are so careful not to overdo it.
My friends always say they must have gained weight from living in Japan. From delicious and fragrant rice to incredibly fresh, healthy, and tasty food, it's always the main attraction. Make sure to keep an eye on the scale if you decide to settle in Japan.
Pro #6: The Job Opportunities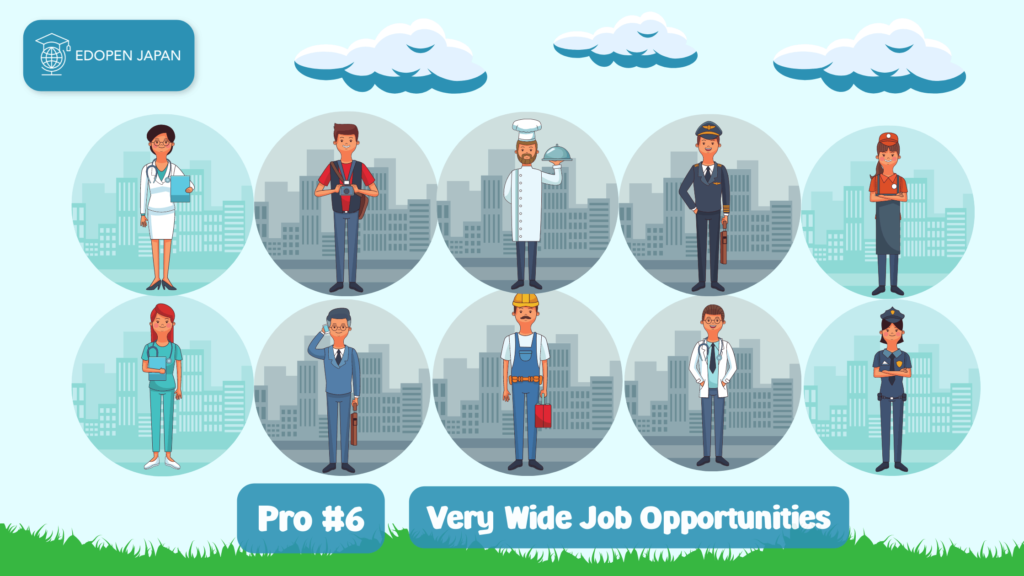 The vast opportunities in the Japanese job market have always been the target of many foreigners. Apart from the very high salaries, and excellent facilities, life in Japan has always been an attraction for foreign job seekers. Especially if you have a Japanese language certificate N2 or N1, your salary will be completely different.
Especially for native English speakers, for example, job opportunities as an English teacher are waiting for you. You can teach privately, and join educational institutions or companies. Especially if you have a teaching certificate and experience, your salary can reach around $2,400 per month.
In addition, you can also apply for jobs as a translator or interpreter and various other types of high-paying jobs.
Pro #7: Lovely Anime & Manga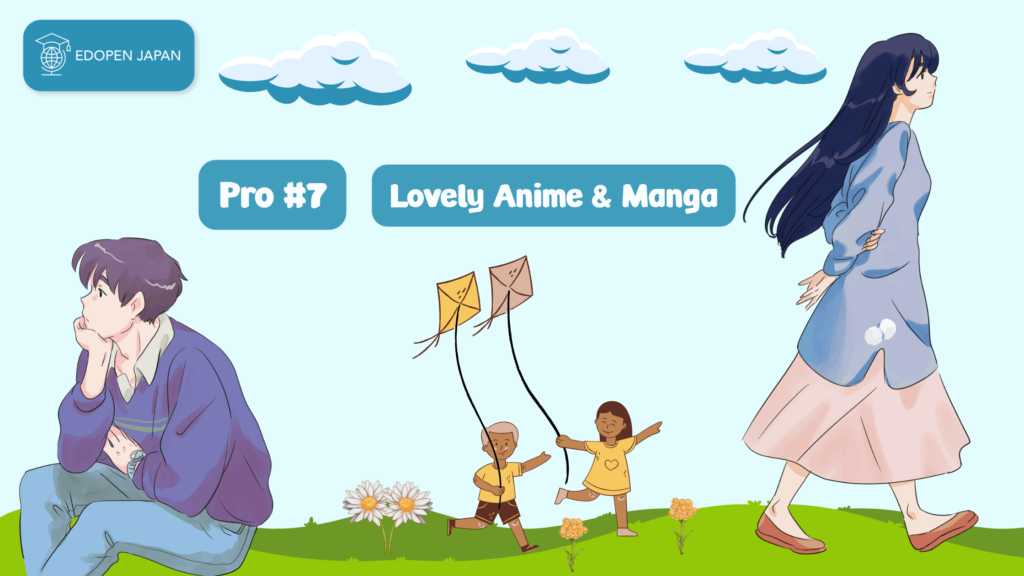 Japan is a paradise for anime and manga lovers. If you're an anime and manga lover, living in Japan will certainly be a very lucrative option. Imagine, during spring break or time off work, you can go visit Akihabara, Odaiba, the Ghibli Museum and various other epic stores in Tokyo or Osaka.
Even if you're a collector of Anime and Manga characters, you can get relatively cheap prices if you buy directly in Japan. I'm sure you'll always fall in love with Japan if you remember how strong the appeal of anime and manga is in your life.
Pro #8: The Equitable Healthcare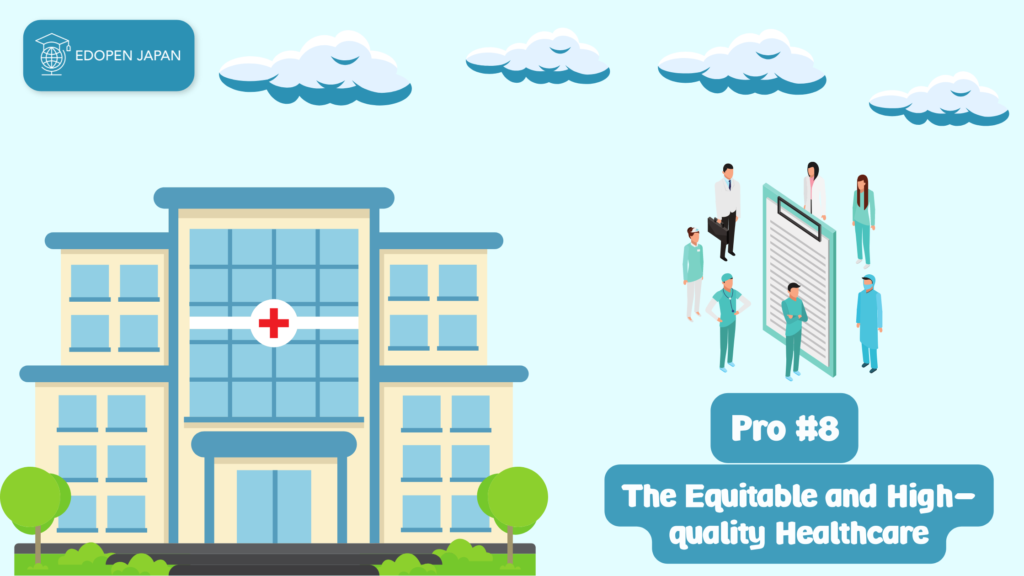 The next critical point that you should understand is about healthcare in Japan. Japan has very universal and inexpensive health care. The medical services provided are also very comprehensive, uniform, and fair. Fairness, well this is very strongly felt.
I have personally had the experience of giving birth in Japan. The education, facilities, administrative processes, and services were all very convenient and fully covered by the government. Only a few special measures require payment, and even then it is very affordable.
In addition, health insurance for children up to the age of 6 is very convenient and helpful. Children aged 0 to 2 years old in Japan even receive a special subsidy for life with 100% free healthcare. That's astonishing. And this policy applies to anyone without any conditions.
Pro #9: Tons of Entertainment and Shopping Center
Anime and manga aside, shopping malls in Japan are truly amazing. You will get a shopping experience with super comprehensive products, the latest fashion, high-quality and cheap home appliances, the latest and power-saving electronics and even a wide selection of karaoke rooms and movie theaters that are super comfortable.
All regions in Japan are full with shopping centers of the same standard. You can definitely find anything you want. Even beyond what you can imagine.
Pro #10: Super Clean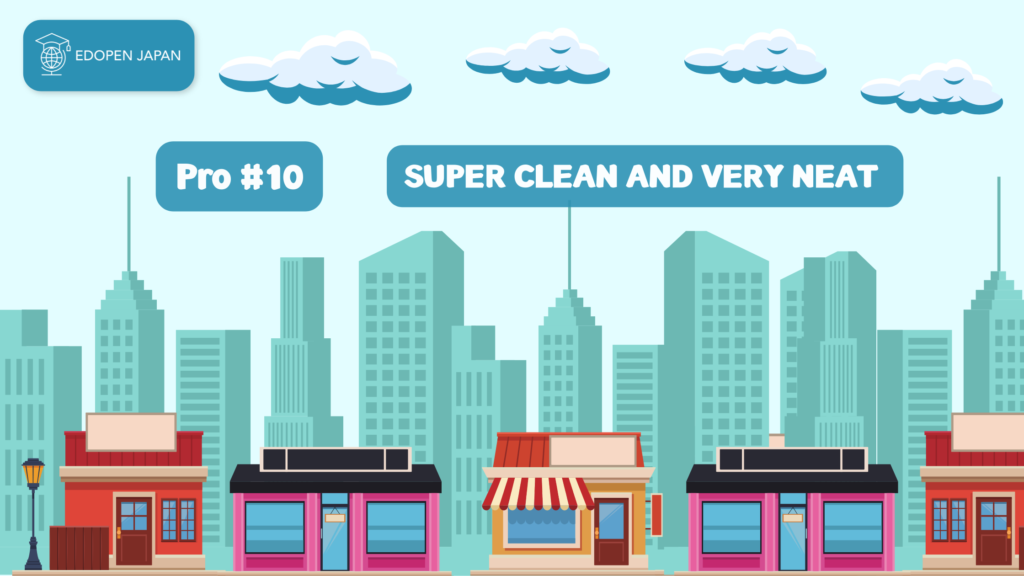 Everyone who sets foot in any part of Japan will have the same thought. How can this country be so clean? Yep, Japan is very clean. The culture of cleanliness has been deeply embedded in them since the 12th century.
You will surely feel astonished when you realize that you won't find a speck of dust in various corners of hospitals, toilets, offices, and various other public transportation tools. And this is nothing new. Japanese people have been accustomed to clean living since they were born into the world because of the strong "value of cleanliness" instilled from their ancestors.
Con #1: The Language Barrier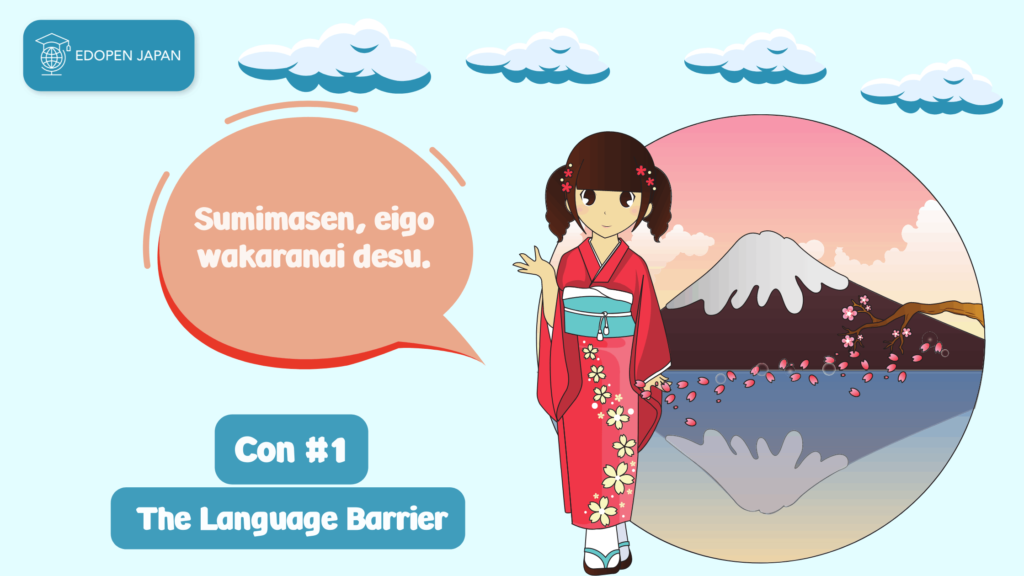 The Japanese language is indeed a struggle and could be the main barrier for any foreigner who wants to settle in the Land of the Rising Sun. Many people have decided not to choose Japan because of this language barrier. Even for people who want to travel to Japan, the Japanese language is still a daunting task.
On the other hand, Japan has now shown its development and struggle to open up to foreigners. Although it's notoriously complex and needs more than 2200 hours to master, it doesn't mean you can't master Japanese.
Having the basics of Japanese is the key to mastering Japanese at the next level. Over time, you will certainly improve your Japanese skills significantly. Start filling your Japanese comprehension tank even from the very basics.
Con #2: Working Pressure, Suicide Problems & Mental Illness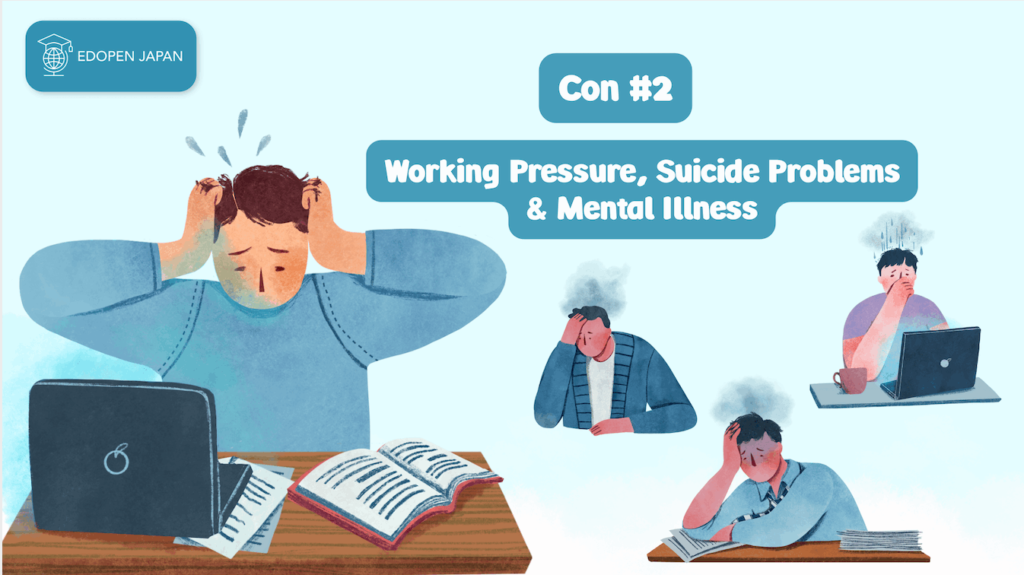 The suicide rate in Japan due to work and life stress is a major social problem. Even in 2019, Japan was ranked as the second country with the highest number of suicides among other developed countries. Then when the Covid-19 pandemic occurred, in 2020 the suicide rate in Japan increased to 16% every month.
In addition, overtime working hours, excessive work stress and various other mental illnesses continue to be a challenge for the Government. Japanese youth have also started to contribute to raising awareness of mental illness in various regions. Various social activities to address this issue have also begun to be voiced.
If you decide to settle in Japan, you need to consider this as well and seek a balanced life. This will make Japan a safe, friendly, and convenient place for you.
Con #3: Very High Living Cost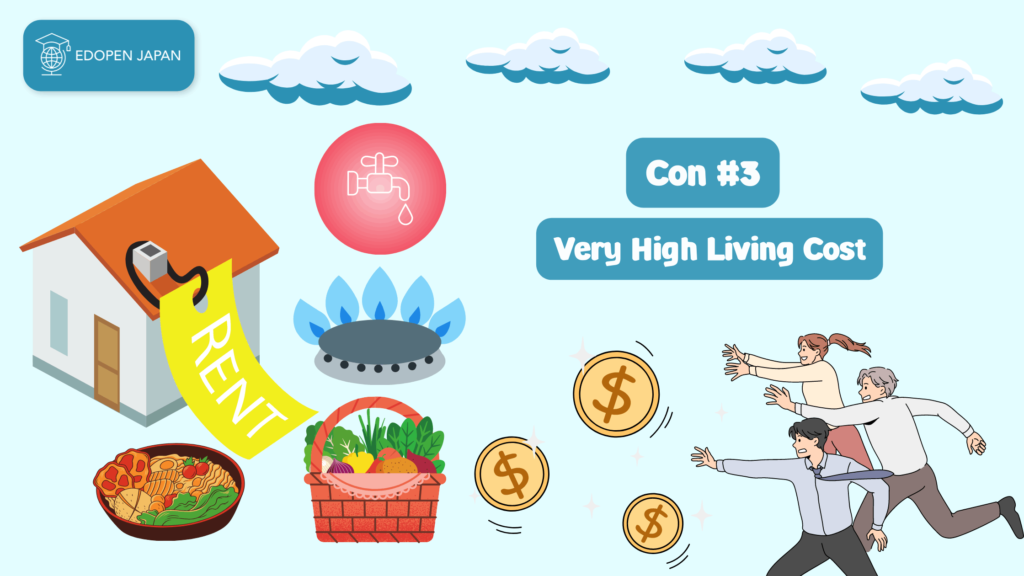 In Japan, workers and short-time students, and travelers are familiar with renting apartments or mansions. Apartments are cheaper and simpler than mansions. Which are more luxurious and expensive. However, in Japan, choosing a place to live can be a difficult thing to do. And the biggest reason is that it is extremely expensive.
A place around the train station or city center will be very expensive if you have one around this area, as well as a new or old residence. In Japan, there is usually a policy that old buildings will be demolished and replaced with new ones.
Although it is expensive, this tip might be useful for you. Try to choose a location that is a little out of town or the suburbs. Then, the apartment rental prices are much cheaper.
Also, you can use mass transportation facilities in Japan which are very fast and on time. It is very common knowledge that most workers in Tokyo prefer to live outside the Tokyo area. And they choose to take public transportation every day.
Con #4: Natural Disaster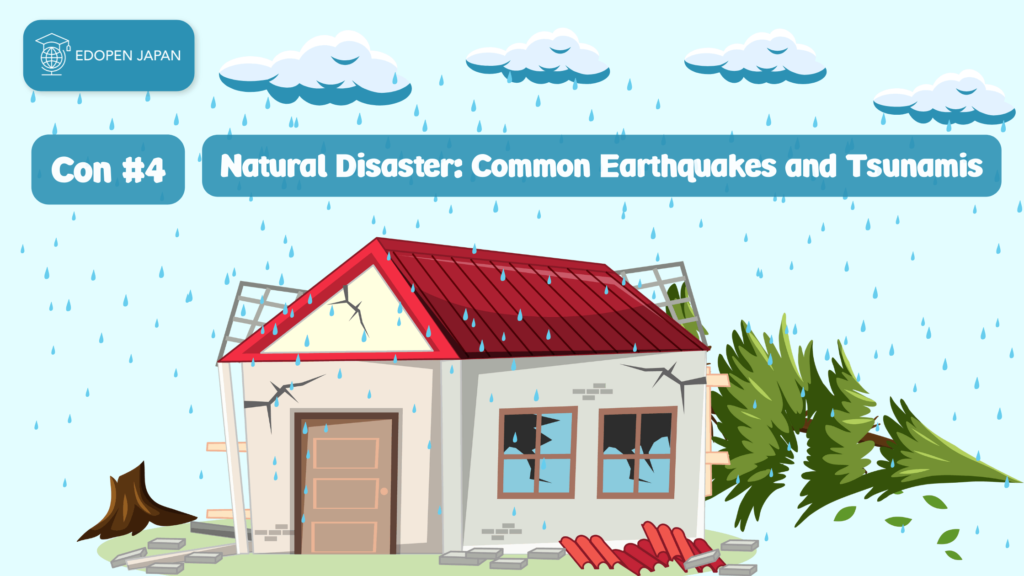 Earthquake, typhoon, and tsunami are famous words in Japan. As a thought-provoking blowup, data from the Japan Meteorological Agency states, there are about 3,800 earthquakes with a magnitude of 3.0 to 3.9 occurring every year. Japan has had many disasters because it is located along the Pacific Ring of Fire. It is the ring region with the most active earthquakes in the world.
Additionally, one of the biggest disasters was the "Great East Japan Earthquake" on March 11, 2011 east of the city of Sendai, Tohoku Region. Tsunami and a nuclear reactor explosion also occurred in the Fukushima area and 15,296 people death. Therefore, the disaster preparedness education is a compulsory subject in schools and disaster protection equipment. And that is available in every public facility across Japan. Even the bullet train Shinkansen has a seismic vibration sensor that will stop instantly when an earthquake occurs.
Japan, therefore, must face this disaster with technological and mature preparations, as well as those of you who intend to stop either temporarily or for a long time in Japan, so that you can get used to facing all situations including natural disasters.
Con #5: Huge Paperwork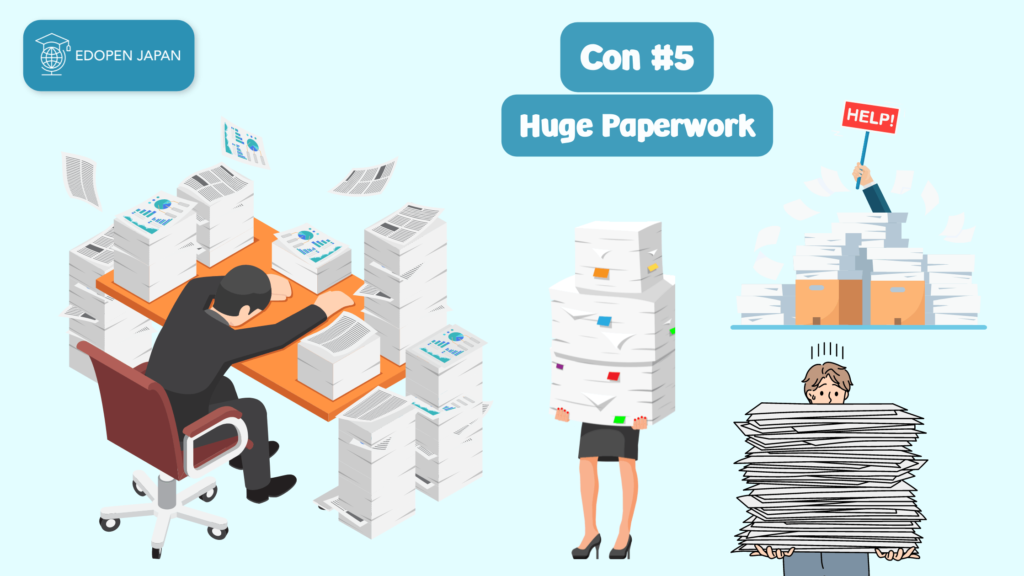 Japanese people are detailed, and neat and love art. Try going to a bookstore in Japan, old people and young people alike fill the corners of the store. Even on public transportation, they can spend hours reading. And writing.
Also, Japanese people are very diligent in writing and neatly documenting their work. Writing one by one slowly and meticulously might be a drag for a paperless foreigner.
However, when you come and settle in Japan, don't be sad by the piles of papers that always adorn the office desk of each of your colleagues. And you'll find them actually remembering which pages and sections they wrote certain topics on.
Although many people find this culture difficult and consider it a con. For me, writing notes on paper, printing out hundreds or even thousands of work sheets and presenting reports sheet by sheet really made me understand what I was doing.
Then, 1 week, 3 months, and even 1 year later, you can still remember it very clearly when you look back at what you wrote. Because, although the paperwork is tiring, it can be your strength to work professionally.
Conclusion
That was the explanation about 15 lists of total pros and cons of living in Japan. What are the points? Please check them out below.
| Pros of Living in Japan | Cons of Living in Japan |
| --- | --- |
| 1. The Public Transportation | 1. The Language Barrier |
| 2. The Security or Safety of Living | 2. Working Pressure, Suicide Problems & Mental Illness |
| 3. The High Quality of Education | 3. Very High Living Cost |
| 4. The Access to Information & Technology | 4. Natural Disaster |
| 5. The Great Food | 5. Huge Paperwork |
| 6. The Job Opportunities | |
| 7. Lovely Anime & Manga | |
| 8. The Equitable Healthcare | |
| 9. Tons of Entertainment and Shopping Center | |
| 10. Super Clean | |
What do you think, are there any points that you agree with? Please share your experience in the comment section below. Hopefully, this article can relieve the confusion that fills your head these days about how life in Japan really is.
See you in the next article. Don't forget to follow our latest updates on EDOPEN Japan. See you in the next article!