Over the past few decades, becoming an English teacher in Japan has become very popular among native English speakers. The massive internationalization program in Japan means that schools, colleges and universities throughout Japan are always looking for native English speakers. Salaries for English teachers in Japan are also the highest in Asia.
However, it can be difficult to find the right program for you. In this article, I have listed the best programs for teaching English in Japan. These programs are hosted by many parties such as government, non-government, corporations, and other non-public companies. I hope this will help you find the perfect program to apply to.
In addition, if you are currently looking for information about life or other Japanese language and culture that might help you prepare for living in Japan, please check out some of our recommended reading as follows:
Read also:
The Basic Japanese Greetings
10 Great Japanese Language Schools in Japan
The Best Books to Learn Japanese for All Levels
What are the benefits of teaching English in Japan?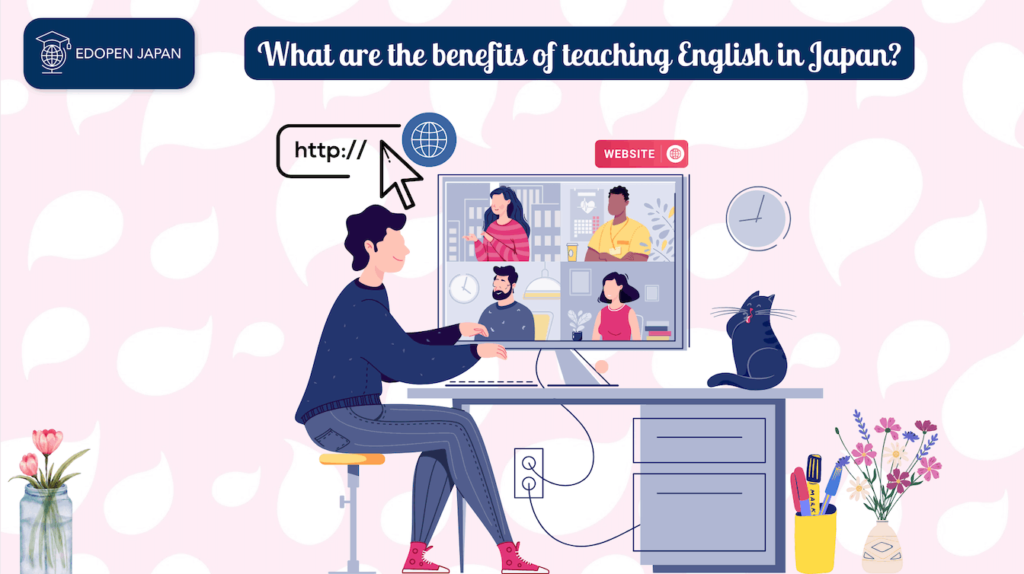 For those of you who are currently looking for opportunities to become an English teacher in Japan, some of the following benefits may increase your enthusiasm and broaden your repertoire. Some of the following facts may also help you make up your mind. What are the benefits of becoming an English teacher in Japan through different programs? The following are the points that we can summarize:
You will be highly respected and have a special place in the work environment and society.
Salaries and benefits for English teachers in Japan are huge. The salary you can earn varies from $20,000 to $30,000 per year.
If you consistently perform well, you will receive various bonuses and increasing benefits.
You will be provided with various facilities such as transportation, very comfortable housing and various other support facilities to make your work comfortable.
You will have the opportunity to learn the unique and very interesting Japanese language and culture. In order to provide an understanding of the material that is easily accepted by your students, a little explanation in Japanese will certainly be very helpful. Over time, you will be able to master Japanese at the same time.
You will have the opportunity to enjoy healthy and very tasty Japanese food.
You will not be disturbed and will have no difficulty in getting to work because the transportation system in Japan is very convenient.
What do you think? Any additional points? Please share your opinions and experiences as an English teacher in Japan in the comment section.
10 Great English Teaching Programs in Japan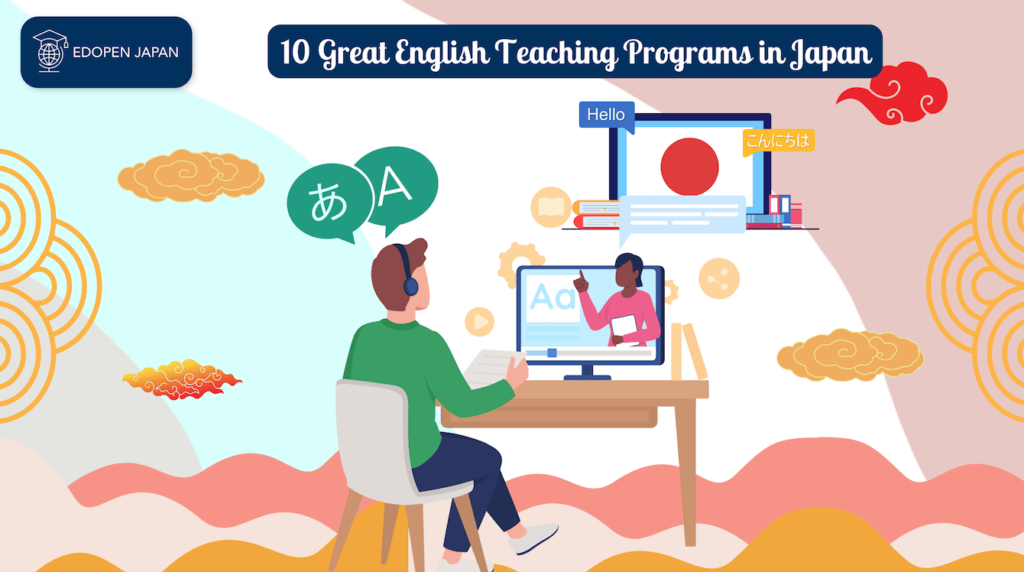 1. JET Program USA
First, the most popular teaching abroad program in Japan is the JET program. Established in 1987, JET has sent more than 70,000 members from around the world (including more than 35,800 Americans). They work in schools, educational institutions, and government offices throughout Japan.
JET is unique in that it is the only teacher exchange program administered by the Japanese government. Or rather, it is an official program.
The participation of countries is very broad. More than 55 countries around the world are currently participating in the JET program. This program offers a double opportunity, namely a unique cultural exchange.
To meet people from all over the world, and even to live and work in Japan at the same time. Alumnae also conduct and organize numerous social, volunteer and professional development activities. Helping individuals through the transition process. When you become a JET member, you join an elite network of extraordinary individuals.
Eligibility Criteria for JET Program
If you want to join this program, please look at the following eligibility criteria:
Be a citizen of the United States by the application deadline
Hold at least a Bachelor's degree or obtain such qualifications
Have not participated in the JET Program
TESL/TEFL Certification
Japanese Language Certification.
2. Interac
Interac is one of the largest non-governmental employers of foreign nationals in Japan. It employs nearly 3,500 people in Japan through a network of 13 offices. Approximately 3,200 of these employees are non-Japanese. Founded in 1972, Interac is one of the largest non-governmental providers of ALTs (Assistant Language Teachers) to Japanese public schools.
Interact's mission is: "By providing academic opportunities for the whole person that enrich the hearts, minds, and lives of people of all ages, we will achieve a more meaningful society. Interact is a title coined by the Japanese Ministry of Education, Culture, Sports, Science and Technology (MEXT). They work as native English speakers in Japanese classrooms.
As an Interac ALT, you have a dual role: language teacher and cultural ambassador. These two aspects are inextricably linked. As an Interac ALT, you will also become a professional in both areas. You can expect to teach the lessons on your own, with a Japanese trainer assisting you in directing the lessons.
Eligibility Criteria of Interac Program
Please look at the glance for the Eligibility Criteria for this program as the followings:
Native English speaker.
You have completed at least 12 years of education in English.
You have graduated or are about to graduate from a university with at least a bachelor's degree (in any subject).
Applicants should be professional in every aspect, team players, flexible, cheerful, and energetic.
Moreover, you will get a plus point if you meet the following criteria:
Have a driver's license.
Have experience in teaching.
The applicant has a teaching qualification, e.g., CELTA, DELTA, and TEFL.
Have experience studying a second language at school or university.
You speak some basic Japanese.
As mentioned above, if you have basic Japanese, you will get the plus point. It will help you a lot to live in Japan. Here in our media, we have many articles about learning Japanese from scratch. Just take a few minutes, you will get a wealth of useful phrases as well as Japanese culture.
3. Westgate
Westgate or Westgate Japan is a non-public company founded in 1983, offering a standard Monday to Friday work week and a competitive salary. Their contracts start in spring and fall terms and are shorter than various programs.
One of the largest private companies dealing with short-term contracts in providing jobs in the field of English language teaching is Westgate Corporation. They employ more than 250 teachers (instructors) to teach at any of their 57 campuses and schools. They offer three programs.
Many wonderful aspects of the job, productive and fun. Perfect for the young teacher just starting out, and for anyone with at least one year of teaching experience who wants to teach English in Japan, Westgate can be a great place to start.
Based in Tokyo, it offers excellent teachers the opportunity to work for just three or four months, either in the spring or fall. For people who really want to experience Japan but are hesitant about living there, this contract is perfect.
Eligibility criteria of the Westgate Program
ESL teaching experience 1000+ hours EFL teaching experience in lieu of a teaching certificate or qualification.
You have got a bachelor's degree or higher
EFL teaching experience in a classroom setting
TEFL certificate and/or a teaching qualification with experience working with young learners
4. AEON: Teach English in Japan
Founded in 1973, with over 250 schools throughout Japan, and teachers from all over the world. AEON corporation is a private company that Recruits teachers for hundreds of language schools across Japan. The AEON Corporation of Japan is an innovator in the field of English language teaching.
Providing exceptional opportunities for learning and mastering the language in the classroom and online. With more than 2,000 employees. The current number of students exceeds 50,000 in each of the branch schools located in every prefecture of Japan. AEON employs a teaching staff of more than 400 teachers and education specialists from English-speaking countries.
Eligibility criteria of AEON Corporation Program
A bachelor's degree in any major.
Or a bachelor's degree in a subject related to English or English Education.
10 years of education from native English schools.
Applicants should possess a genuine interest in japan people and culture.
5. GABA: Teach English in Japan
GABA welcomes applications from any nationality who are proficient in English at a native level. This corporation provides professional aid and a flexible schedule system. Therefore, you can experience teaching in Japan in your personal way. If you are looking to teach adults in Japan, Gaba is one of best your choices. GABA specializes in supporting adult English learners to achieve their learning goals in a 1-1 lesson format.
Currently, they are recruiting for Kobe, Kawasaki, and the Seijo learning studio area. What's even more special for new teachers is that there is a five-minute gap between lessons, but it may feel short for those unfamiliar with the structure of GABA lessons. Experienced instructors will tell you enough time. Hence, the new teachers will be more accustomed to teaching at Gaba corporation. Monthly salaries will vary, nonetheless, the application fee is 1500 yen per 40-minute lesson with a bonus for outstanding teachers.
Eligibility criteria for GABA Corporation program
Native English level.
Hold a bachelor's diploma in any major.
ESL certificate.
Experience in corporate surroundings.
6. NOVA: Teach in Japan
Well, thinking about studying overseas in Japan? Then you're probably going to come across the leading English conversation school franchise, NOVA. NOVA employs masses of native English speakers. NOVA is one of a handful of English conversation schools in Japan that are recognized as "Eikaiwa".
The good news is that some instructors begin their NOVA careers with previous teaching experience. Regardless, each instructor completes an extensive training program before they begin teaching at NOVA.
In addition, NOVA Japan provides you with an easily accessible gateway to Japan by providing you with a visa, a place to live, and a competitive income. If you later decide to take your teaching to the next level, your time at NOVA could be a springboard to something better.
Many Nova teachers go on to work for public schools or other private companies. Nova is unique in that they do not allow Japanese to be spoken in the classroom as they want students to be completely immersed in English.
Eligibility criteria of NOVA-Teach English in Japan Program
No education experience required
Fluent in English
Bachelor's diploma
Lower Entry Requirements
Easy hiring process
If you are interested in this program, please find more about NOVA Japan, below!
7. BE Studio – Teach English in Japan
If you love interacting with children and teaching them English, then you should consider this program. Yes, the Teaching English in Japan Program hosted by Benesse BE Studio. This program would help you to improve your communication skills with children. By joining this program, you would be able to spread your value to the young generation in Japan.
Benesse BE Studio has been providing language services to young people in Japan for over 40 years. Benesse BE Studio is looking for amazing and enthusiastic teachers to join their great company. For you as a beginner, BE Studio even welcomes teachers without professional teaching experience.
As long as you have a passion and love to work with children, BE Studio would be perfect for you! Learn more about their wonderful English teaching programs below!
8. Teach Away
As you may have heard, this worldwide online platform has become very popular over the past few years. Yes, Teach Away is now known as the world leader in international teacher recruitment. Teach Away will help you find the best teaching jobs abroad in over 50 countries around the world.
This leading startup offers tons of job opportunities. From ESL jobs to classroom teaching jobs abroad to director and administrative positions, Teach Away also has a diverse selection of teaching abroad programs.
In addition, Teach Away's partner institutions include major education boards, ministries of education, leading international and private schools, ESL institutes, and vocational schools around the world, including Japan.
For teaching jobs that require TEFL certification, Teach Away would recommend TEFL Online to reduce the burden on teachers. A TEFL course developed by the University of Toronto offers the best in academic quality and accessibility. Learn more about Teach Away below!
9. Tamaki TEFL Recruitment (TTR)
If you need intensive support and advice from an English teaching expert in Japan, the Tamaki TEFL Recruitment (TTR) program would be the best for you. With more than 12 years of experience in the TEFL industry in both teaching and recruiting capacities, Tomoko Tamaki (the founder) would always give the best advice and place candidates in the most suitable job.
According to its official website, TTR has so far successfully placed hundreds of teachers in Japan, China, Taiwan, and Saudi Arabia since its inception in 2015. The founder, Tomoko, taught extensively in Japan, Vietnam, and China before entering the recruitment industry and decided to channel her passion for teaching overseas into creating her own TEFL recruitment company, Tamaki TEFL Recruitment. If you would like to know more about this program, please take a look below!
10. Amity – Useful English for Children
Amity Corporation has become a leader in providing English teaching programs in Japan for more than 25 years. Their specialty is to provide teaching programs for children in Japan. As stated on their official website, formerly, Amity began as the children's division of AEON Corporation founded in 1973. In 1994, Amity began independent operations by opening its own branch schools and by creating its own curriculum as it was growing quickly.
On this day, Amity welcomes over 24,000 students to class each week at over 85 branch schools all around Japan. Amity offers exciting opportunities for enthusiastic professionals who enjoy sharing their knowledge with children. Amity teachers have the greatest opportunity to gain invaluable teaching skills in Japan as they are always developing their education quality.
Are you interested to be a part of Amity Teacher? Then, please find more about this program below!
FAQ about English Teaching Programs in Japan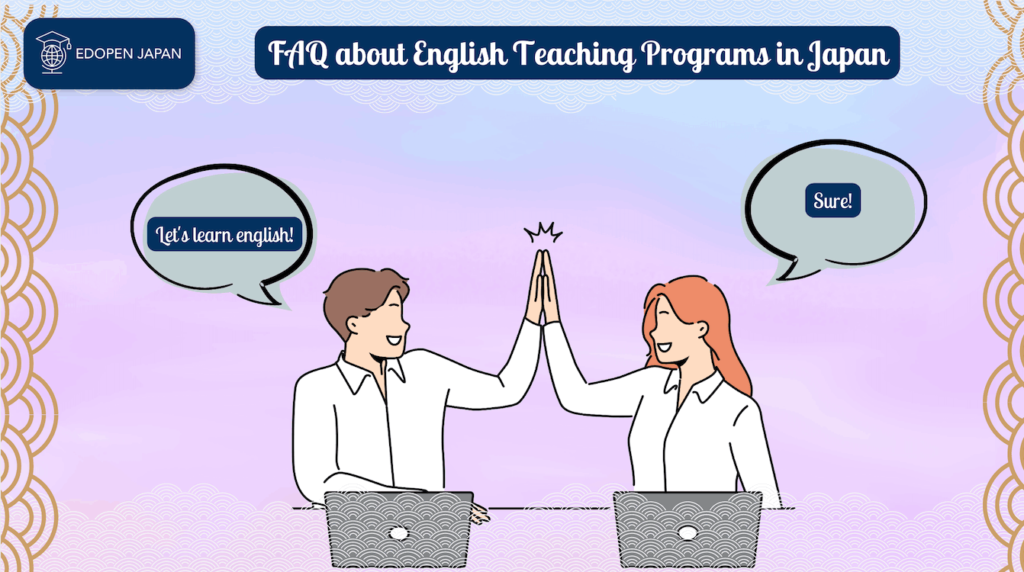 Below are some of the questions you may have about studying English in Japan. We hope that some of the answers that we have summarized below will be helpful and best reference for you!
How do I become an English teacher in Japan?
You can participate in various programs that bridge the English teaching program in Japan. Requirements include a bachelor's degree and at least 120 hours of TEFL certification to apply for a work visa. In addition, please check each program for other requirements.
How much do Japanese English teaching programs pay?
Salaries for English teachers in Japan range from $20,000 to $30,000 USD per year, depending on experience. The longer and better you work, the more benefits and bonuses you will receive.
How easy is it to get an English teaching job in Japan?
To become an English teacher in Japan, you need to build a resume and meet the requirements as best as you can because it is very competitive. TEFL certificates, teaching experience, and various other linear certifications will certainly help.
Can I teach English in Japan without TEFL?
To pass the selection of prestigious teaching programs and get the best pay, you need to have a TEFL certificate.
Can I teach English in Japan without degree?
The opportunities available may be very few. However, if you are a native speaker and have excellent teaching experience, your strong resume may win those few opportunities.
Conclusion
If you have a strong eagerness to teach English in Japan, why do not you try to explore the English Teaching program we have listed above.
Not only get paid, but you would also be able to gain rich experience of living in a beautiful cherry blossom country, Japan.
As well as nurture your professionalism, this will enrich your learning environment.
Let's create an abundance of teaching English experiences in Japan.
If you have any comments, please freely drop them below! See you in the next article.