Bilateral relations between Indonesia and Japan have a long history and continue to strengthen to this day. The number of Indonesian foreign students in Japan is also very large. In addition, the two countries have carried out various cultural, language, and educational exchange activities on a large scale.
In addition, there are many economic development projects between the two countries. On the industrial side, there are many Japanese companies operating in Indonesia. So, there are many job opportunities and exchanges between Indonesian and Japanese workers.
This can be seen in the JLPT test, Indonesia is one of the countries with the most cities holding the JLPT test. Various Japanese study centers are very numerous in Indonesia, various Japanese literature majors are a magnet for Japanese students to enter this department.
Not to mention the invasion of Japanese culture that has been closely linked to the generation of children and even adults in Indonesia, sometimes there are also marriages between two citizens of this country, and several internship programs in Japanese countries are carried out. This phenomenon has become strong evidence that the diplomatic relations between Indonesia and Japan have been deeply rooted since long ago.
And the JLPT test has become the target of some people who are waiting for it. So, it becomes an important calendar for those who know the importance of taking this JLPT test. Thus, let's have a look at this article about the JLPT test in Indonesia.
1. About JLPT (Japanese Language Proficiency Test)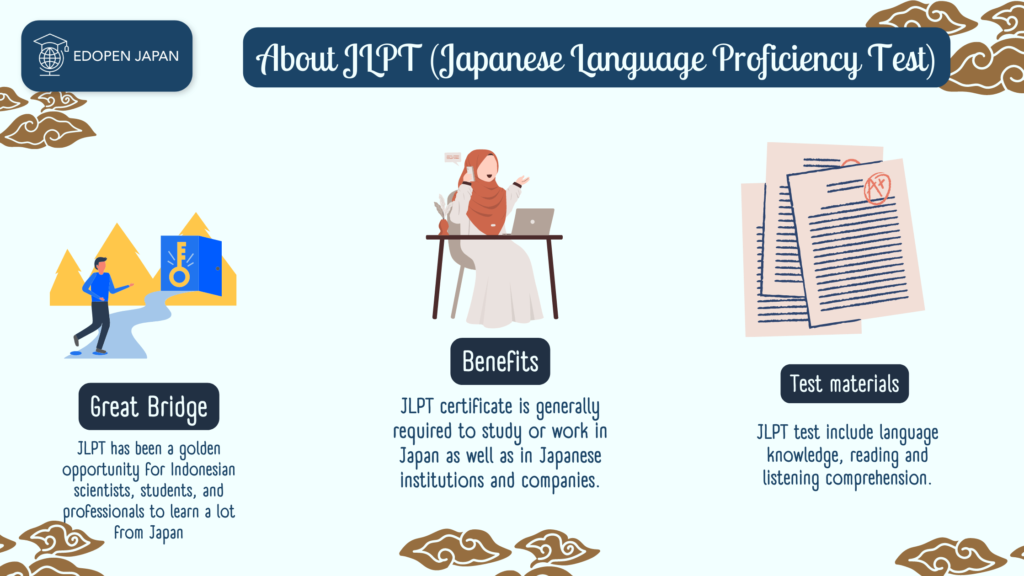 For a long time, the Japanese Language Proficiency Test has been a golden opportunity for Indonesian scientists, students, and professionals to learn a lot from Japan, not only limited to technology but also a variety of noble civilizations and cultures.
In particular, the Japanese Language Proficiency Test (JLPT) has been the standard for certifying Japanese language proficiency worldwide since 1984.[1] Japan Foundation and Japan Educational Exchanges and Services are the institutions that are the main administrators and cooperate with host institutions that are officially designated as the main implementers in each country to conduct this JLPT test.[2]
In addition, the JLPT test (JLPT certificate) is generally required to study or work in Japan as well as in Japanese institutions and companies. JLPT tests have difficulty levels ranging from N5 to N1, with N5 being the easiest level and N1 being the most difficult.
Specifically, the materials tested in this JLPT test include 聴解 (choukai): a test of listening and understanding dialog in Japanese. 読解 (dokkai): tests your understanding of Japanese articles. 文法 (bunpou): tests your understanding of Japanese grammar.
Then, if you pass and receive a JLPT certificate, the JLPT certificate has no expiration date. Therefore, it can still be used for various purposes. The JLPT test is different from other foreign language tests that have an age limit to take, the JLPT test does not require an age limit. All ages can take the JLPT test. The JLPT test fee is relatively inexpensive compared to other foreign language tests, and very affordable, especially for students.
Advantages of the JLPT
There are many benefits to taking the JLPT test and obtaining the JLPT certificate. You can use the JLPT certificate in many areas, such as education, work, the translation profession, the tour guide profession, participation in cultural exchanges, and work apprenticeship programs as well as many others. Some of the advantages of taking JLPT are the followings:
Necessary for Japanese university admission. Suppose you want to enroll in one of the universities in Japan. In that case, you must have at least a JLPT level N2 certificate.
For scholarships to study at a Japanese university. Several universities, institutions, and companies in Japan that offer scholarships to most foreigners require JLPT certificates up to level N2 or even N1.
Getting a job either in Japan or in a Japanese company in Indonesia. If you are proficient in Japanese and can prove it with JLPT level N1 and N2 certificates, then your chances of getting a job in both Japanese companies operating in Japan and in Indonesia are wide open.
Get a better salary and promotion. If you can get a job in a Japanese company and work in Japan, your salary standards will be different from those of ordinary workers. Likewise, if you are placed in a work area in Indonesia, then with this JLPT certificate you will be trusted by top management to become a confidant and be able to take on greater tasks with a higher salary.
Become a certified translator. You can also open a service to translate various texts both formal and informal so that you can increase your side income.
Not only that but with a JLPT certificate, you can receive various benefits and special opportunities. Your value will also be higher and you will be able to compete internationally. Building a better career and life in Japan is also a very easy thing for you to do.
2. About JLPT in Indonesia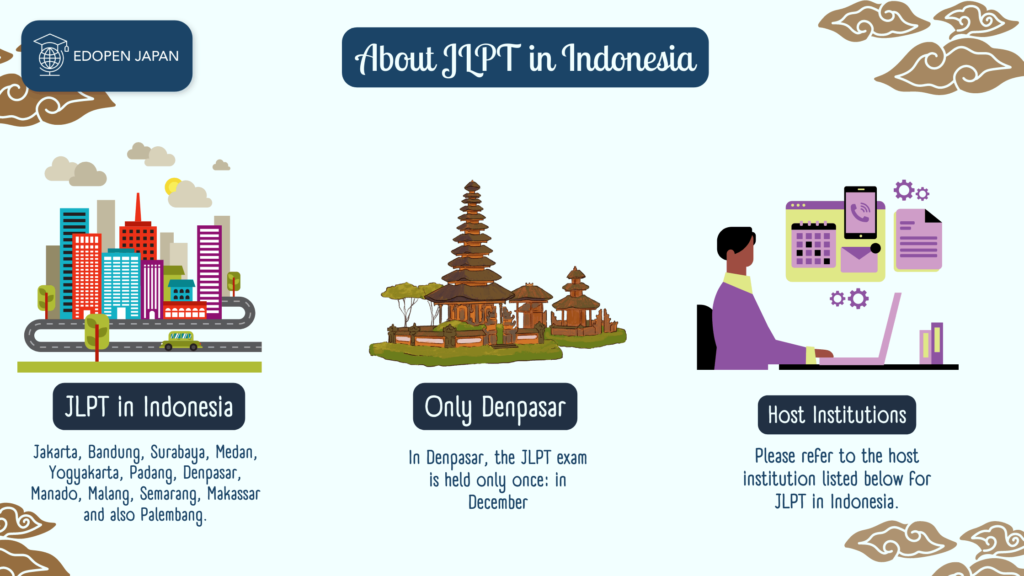 JLPT exams in Indonesia were held in 12 cities: Jakarta, Bandung, Surabaya, Medan, Yogyakarta, Padang, Denpasar, Manado, Malang, Semarang, Makassar and also Palembang. This number is quite high compared to other countries.
Furthermore, the JLPT exam is available 2 times a year in almost all cities, except in Denpasar (Bali). In Denpasar, the JLPT exam is held only once: in December. The rest, in 11 other cities, the JLPT exam is available 2 times: July and December.
Each city has its own local institution that administers the JLPT exam on behalf of the Japan Foundation. You need to check the local institutions in each city if you want to take the JLPT exam in Indonesia. We will provide a discussion of local JLPT institutions in Indonesia in the next section.
If you want to know the list of local JLPT testing centers in Indonesia and other countries, you can refer to the official JLPT testing website below:
List of Local Host Institutions of JLPT in Indonesia
For your reference, below is a list of local institutions that administer the JLPT on behalf of the Japan Foundation. Each local institution has its own policy for administering the JLPT exam. Therefore, if you have any questions, please contact the local institution directly.
City
Host Institutions
Details
Jakarta
Sekretariat Persada/Universitas Darma Persada
Address: Jl. Taman Malaka Selatan Pondok Kelapa – Jakarta Timur 13450
Tel: 0813-1728-8205
Email: jlpt.persada.jkt@gmail.com
Bandung
JLPT Administration Commitee in Bandung
Address: Jl. Ir. Soekarno km 21 Jatinangor, Sumedang, Jawa Barat 45363
Tel: 0877-8105-2467
Email: jlptbandung@gmail.com
Surabaya
JLPT Administration Commitee in Surabaya
Address: Kampus Lidah Wetan, Surabaya 60213
Tel: 0823-3496-2832
Email: bahasajepang@unesa.ac.id
Medan
JLPT Administration Commitee in Medan
Address: Prodi S1 Sastra Jepang FIB USU, Jln. Universitas No.19 Kampus Medan
Tel: 0812-6486-1346
Email: jlpt.medan@gmail.com
Yogyakarta
JLPT Administration Commitee in Yogyakarta
Address: Gedung Soegondo, FIB UGB Di lt 4 Prodi Bahasa dan budaya Jepang
Tel: 0895-1941-4191
Email: jlptjogja@gmail.com
Padang
JLPT Administration Commitee in Padang
Address: Prodi Sastra Jepang Universitas Bung Hatta, Kampus Proklamator II, Jl. Bagindo Aziz Chan Air Pacah Padang
Tel: 0813-7448-9411
Email: jlptpadang17@gmail.com
Denpasar
JLPT Administration Committee in Denpasar
Address: Fakultas Ilmu Budaya, Universitas Udayana, Jln. Pulai Nias 13, Sanglah, Denpasar
Tel: 0812-3755-1233, 0857-9245-6329, 081-9995-5616-8
Email: jlpt.denpasar@gmail.com
Manado
Sam Ratulangi University
Address: Fakultas Ilmu Budaya Universitas Sam Ratulangi Manado Lt.4
Tel: 0812-1249-0004, 0852-5659-4063, 0812-1203-6623, 0813-8044-4590
Email: jlptmanado@gmail.com, panitianokenmanado@gmail.com
Malang
JLPT Administration Committee in Malang
Address: Jl. Veteran Malang, Gedung A Lantai 3 Fakultas Ilmu Budaya, Universitas Brawijaya
Tel: 0823-3302-1992, 0813-3300-6756
Email: jlpt.malang@gmail.com
Semarang
Committee of JLPT of Central Java
Address: Fakultas Ilmu Budaya, UDINUS, Gedung G lantai 3, Jalan Imam Bonjol 207, Semarang
Tel: 0877-3764-5165
Email: jatengjlptku@gmail.com
Makassar
Jurusan Sastra Jepang Fakultas Ilmu Budaya Universitas Hasanuddin
Address: Prodi Sastra Jepang, FIB, Universitas Hasanuddin. Jln. Perintis kemerdekaan KM. 10, Kampus UNHAS Tamalanrea
Tel: 0852-4252-9244
Email: jlptmakassar@gmail.com
Palembang
Administration Committee in Palembang
Address: Ignatius Global School, Jln. Mayor Ruslan No.118, 20 Ilir I, Kec. Ilir Timur I, Palembang
Tel: 0819-9551-1115
Email: highschool.igs@gmail.com
The application timeline and other technical matters related to the administration of the JLPT exam vary from city to city. You will need to contact the JLPT exam organizer by phone or email for the latest information regarding the administration of the JLPT exam. To find out the availability of the JLPT exam, please also visit the link below:
3. General Info about JLPT in Indonesia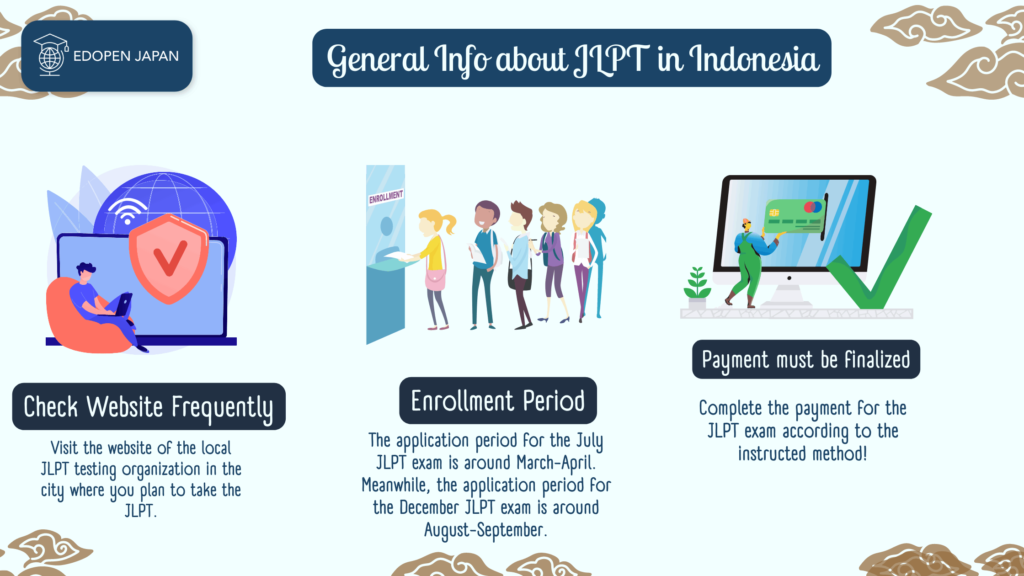 To find out more about the JLPT exam in Indonesia, you need to know what steps you need to take when you want to register, what preparations you need to make before the exam and other things. The following is general information that you need to know as a standard for taking the JLPT exam in Indonesia.
Visit the website of the local JLPT testing organization in the city where you plan to take the JLPT.
Carefully read and note down the important information listed, such as the application period, registration procedure, and payment method. All the information is listed on the registration website and in the available test guides.
Ask your local institution for a test guide or application form for the JLPT exam. If you have any problems accessing the information and others, please contact them.
The application period for the July JLPT exam is around March-April. Meanwhile, the application period for the December JLPT exam is around August-September. This period may vary from city to city. You will need to confirm this with your local institution.
Complete the payment for the JLPT exam according to the instructed method. You will then receive a test voucher via email from the local institution.
In addition, in 2023, the JLPT exam in Indonesia will be held on Sunday, July 2, 2023 and December 3, 2023. For more detailed information about the JLPT exam in Indonesia, please visit the following website. Please use it as a reference and continue to update the information here.
Test Guide and Fee
The test guide is available on the official website for administering the JLPT exam in Indonesia. In fact, the Japan Foundation Jakarta has made a special video tutorial on JLPT exam registration procedures and others. Please visit the link below to learn more:
Below is the fee for the JLPT exam in Indonesia:
| | |
| --- | --- |
| JLPT Level | Fee |
| 1. N1 | 250,000 (Indonesian Rupiah) |
| 2. N2 | 220,000 (Indonesian Rupiah) |
| 3. N3 | 200,000 (Indonesian Rupiah) |
| 4. N4 | 150,000 (Indonesian Rupiah) |
| 5. N5 | 140,000 (Indonesian Rupiah) |
Please read more about the fee as well as the payment method in the link we shared earlier. You may be charged an administrative fee when transferring funds via Virtual Account (VA), QRIS, e-Wallet, and others.
4. How to Register for the JLPT Exam in Indonesia?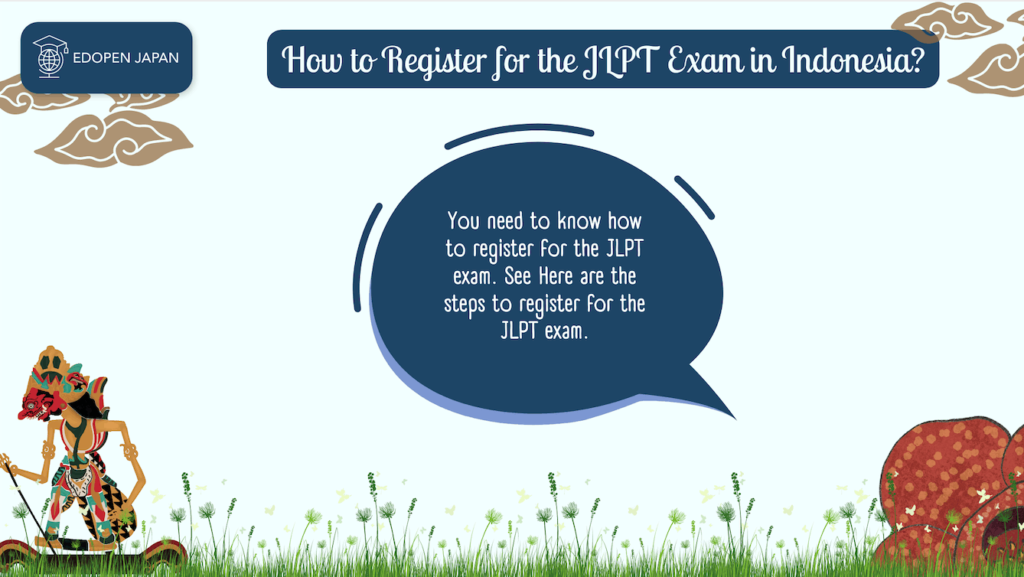 To take the JLPT exam in Indonesia, you also need to know the JLPT exam application procedure. The following are the steps to register for the JLPT exam:
You need to access the website of the local JLPT testing center in Indonesia. Please remember that the registration for each region has a different schedule, so it's very important to check often.
Please select the region and level of the JLPT exam you want to take. An email account can only register for one region and one exam level.
Please complete your profile before doing the registration. Profiles cannot be changed once submitted. If there are any errors in filling out your identity, please notify the host institution immediately.
You need to pay the JLPT test fee. The payment deadline for a virtual account is 2 hours after the account is created. Also, for a third-party account, the payment deadline is 1 hour after the account is created. Please be careful and surely done your payment.
The participants will receive a registration confirmation email. Please note that this email will be sent a maximum of 7 days after the participant has made a payment and the committee has verified the participant's information.
If you follow the steps above, then the registration is complete. The exam number can be seen in the candidate's online account. Then, the exam result pin code can be seen in the candidate's email, and the exam card can be printed after further announcement from the host institution.
The Important Note
The registration may close early if the quota is full.
You will receive a temporary allotment if you have paid in advance.
The payment method cannot be changed. Please surely follow the instruction.
Your JLPT test account will be temporarily suspended if you do not pay the fee.
If the exam is canceled by the committee due to a pandemic situation, the exam fee will be refunded according to the applicable policy.
The board reserves the right to deny admission to any JLPT candidate who fails to comply with the registration requirements or examination rules. The JLPT examination fee paid will be considered forfeited.
5. How to Prepare for the JLPT Exam in Indonesia?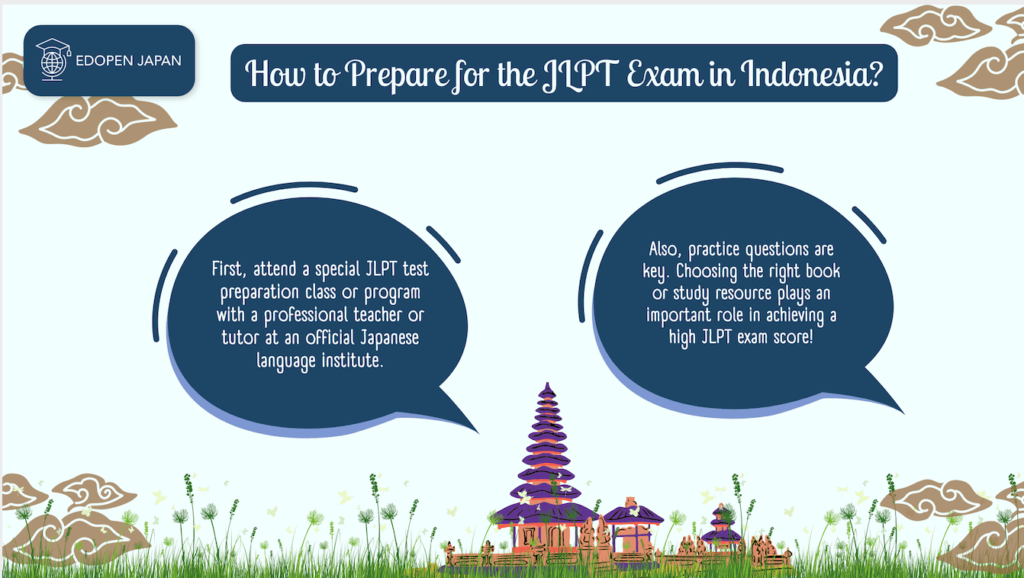 To strengthen your preparation for the JLPT exam in Indonesia, which is held in July and December, there are also important things that you should pay attention to.
In this section, we would like to share with you 2 important things that you should consider in order to effectively prepare for the JLPT test so that you can get high and even perfect scores.
First, you need to attend a special JLPT test preparation class or program with a professional teacher or tutor at an official Japanese language institute. We highly recommend that you take this course because professional teachers will help you understand difficult material effectively. In addition, you can get regular evaluations and measure your understanding or mastery of the test material.
Second, practice questions are key. Choosing the right book or study resource plays an important role in achieving a high JLPT exam score. Currently, there are many best-selling books that you can choose from to practice the JLPT exam questions. Consistent practice will help you get used to answering questions quickly. If you are preparing for the JLPT N3 exam in Indonesia, please read our recommendations for the best JLPT N3 books below!
Third, consistent kanji practice is also very important. The most challenging part of the Japanese language and the JLPT for non-native speakers is the kanji. The more you can master the kanji, the better your chances of getting a high or even perfect score! If you are preparing for the JLPT N3 exam, please read our article below about the N3 kanji you need to master!
Further, any other points we have not mentioned? Please share your thoughts and experience in the comments section below!
Conclusion
This is the last part of the article about the JLPT exam in Indonesia. We hope that this information will be useful to you and help you to really understand the JLPT exam.
Don't forget to regularly update the latest information regarding the JLPT exam on the local institution's website. Please contact them if you encounter any difficulties or have any questions about taking the JLPT.
We are very proud to be a part of your JLPT journey. Thank you for reading to the end. See you in the next article!
References
1 "Message from Organizers". The Official JLPT Website. Retrieved 27 April 2023.
2 "Organizers". The Official JLPT Website. Retrieved 27 April 2023.