Introduction
Ready for a trip to Japan? Known for its high quality "Made in Japan", Japan is economically well developed and is considered the safest country in the world. In addition, Japan has four seasons and is a country of "fusion of tradition and modernity".
Whether you are studying or pursuing a career in Japan, you will experience the traditional Japanese performing arts and pop culture such as manga and anime firsthand.
One of the first things you need to do to perfectly settle into your life in Japan is to learn the Japanese language. There are many Japanese language schools in Japan. You may wonder which school to choose.
If you need the most complete and comprehensive information about all leading Japanese language school in Japan, please click the following link!
Also:
Back to the topic, here I am going to introduce you to "Coto Japanese Academy". This school prides itself on creating a welcoming environment where students can achieve their learning goals and develop their personal learning plans.
The goal is also to teach "Real" Japanese that students would not learn from a textbook. Please read the following information we have gathered only for you! Hope you get anything you need here!
1. About Coto Japanese Academy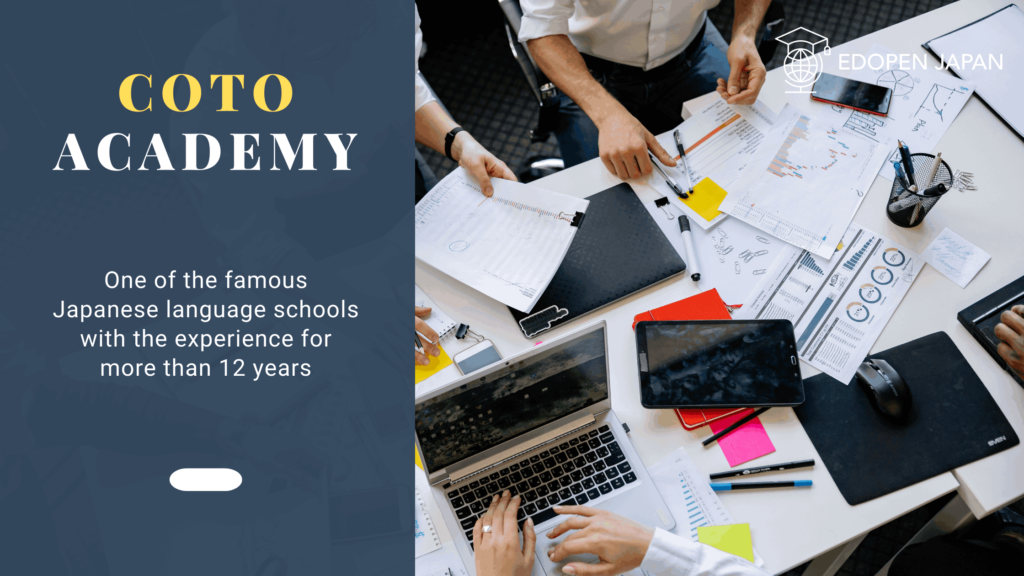 The school's mission is to help students by teaching them "real" Japanese that students would not learn from a textbook. The school hopes that they will be able to live well in Japan with their new Japanese skills.
"Coto Japanese Academy" was founded in 2000 by a group of volunteer Japanese teachers whose mission is to help international residents in Japan.
The school emphasizes practical conversation skills, so there is a lot of variety and the opportunity to get as much speaking practice as possible.
To help their students acquire new Japanese skills for an accessible life in Japan, Coto published theri first Japanese learning textbook, Nihongo Fun and Easy, in 2009. It is really easy to understand and popular, so it has been used by many Japanese learners since then.
In addition, this school keeps class sizes small, with a maximum of 8 students as well, and focuses on conversation, allowing for relational learning and personal attention for students.
All are professional teachers, and private lessons are available, so flexible and free course consultation and level testing is provided to ensure students have a lesson plan to suit their needs.
2. 7 Features of Coto Japanese Academy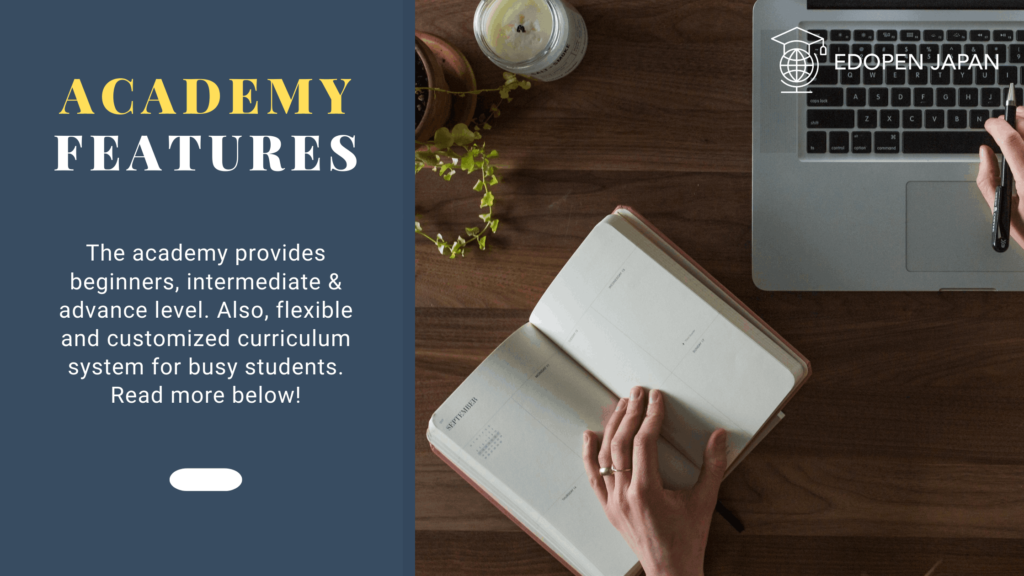 "Coto Japanese Academy" has helped 5,000 foreigners improve their Japanese communication. The school is confident that it can provide professionals with a comprehensive solution to learning the Japanese language.
What are the features of this leading Japanese language school? Please see the table below.
| | |
| --- | --- |
| 1. Variety of Levels and Course | The school provides beginners, intermediate & advance level. |
| 2. Flexible Scheduling | Flexible and even customized curriculum system for busy students. |
| 3. Class Size | Small class sizes – 8 students maximum – allow for relational learning and personal attention. |
| 4. Professional Teachers | Teachers are native Japanese speakers with professional qualifications and have extensive teaching experience. All of them understand basic conversational English. |
| 5. International Environment | The school has students from over 35 countries each year. It accepts students regardless of their knowledge and background. |
| 6. Japanese Course Style | The school focus on helping students acquire practical conversational skills, so more class time is focused on speaking. 70% of class time is focused on speaking. |
| 7. Recognized by Association for the Promotion of Japanese Language Education | The school can help you apply for your student visa (student visa). |
| 8. Various Activities | You have the opportunity to do this in cooperation with volunteers, universities and high schools. You will have many opportunities to make Japanese friends in your generation. |
3. Course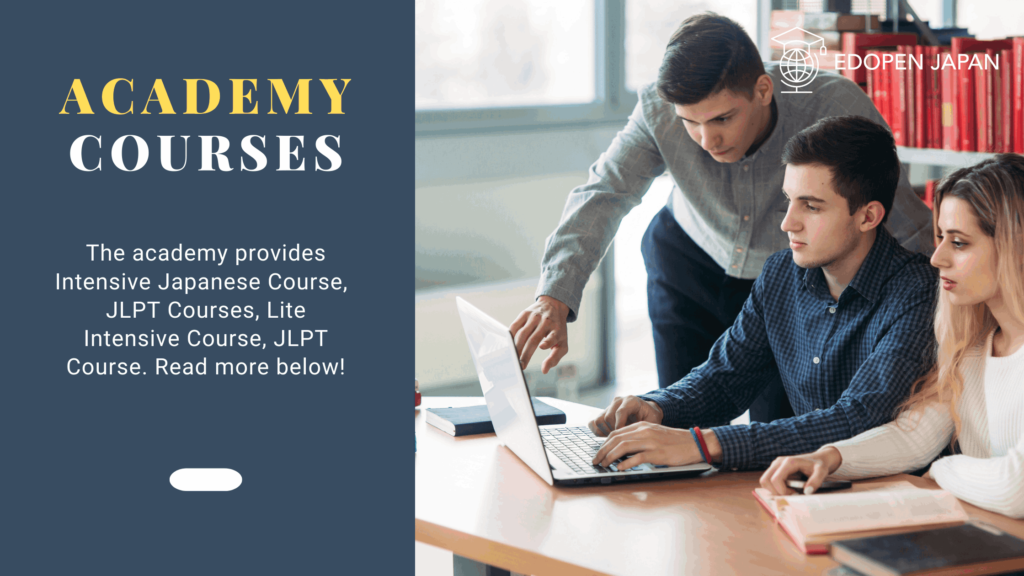 Coto Japanese Academy offers long term and short term courses as well as many other types of courses. Part-time courses and private courses, in particular, are among the most popular courses for students at this school.
(1) Japanese Course
| | |
| --- | --- |
| 1. Intensive Japanese Course | Focus on practical spoken Japanese for daily life that will help you live comfortably while in Japan. |
| 2. Part-time Japanese Classes | In a small group (maximum 8 people), with emphasis on speaking. Covering a wide range of levels, topics and skills. |
| 3. Private Japanese Lessons in Tokyo, Yokohama | Customizable lesson plan to achieve your own learning goal. Communicate professionally in the workplace, prepare for the JLPT, or simply achieve a natural fluency for daily life, |
| 4. JLPT Courses | Targeted Japanese language instruction prepares you to succeed on the exam. Using a mix of in-house and hand-picked materials. |
| 5. Lite Intensive Course | Meet 2x per week for 100 minutes and provide a perfect balance of flexibility and intensity for working professionals. |
| 6. Kids Japanese Class | Combines learning and fun activities for your kids so they look forward to each class visit. |
(2) Online Lessons
| | |
| --- | --- |
| 1. Online Private Japanese Classes | Learn Japanes with speaking and learning sessions with a native speaker and a professional teacher |
| 2. Online Group Japanese Classes | Structured on 18 different levels and types of lessons. From beginners who want to learn Japanese for the first time to advanced learners. |
| 3. Online Kids Japanese Classes | Online Japanese course for children (6-15 years) that is highly effective and fun at the same time. |
| 4. Online JLPT Video Lecture Course | Covers all essential grammar and vocabulary for JLPT levels N1, N2, and N3. Seminar-style lectures let students work individually with class material. |
| 5. Self-Study Courses | You can learn whenever you want with online videos. |
4. Educational Philosophy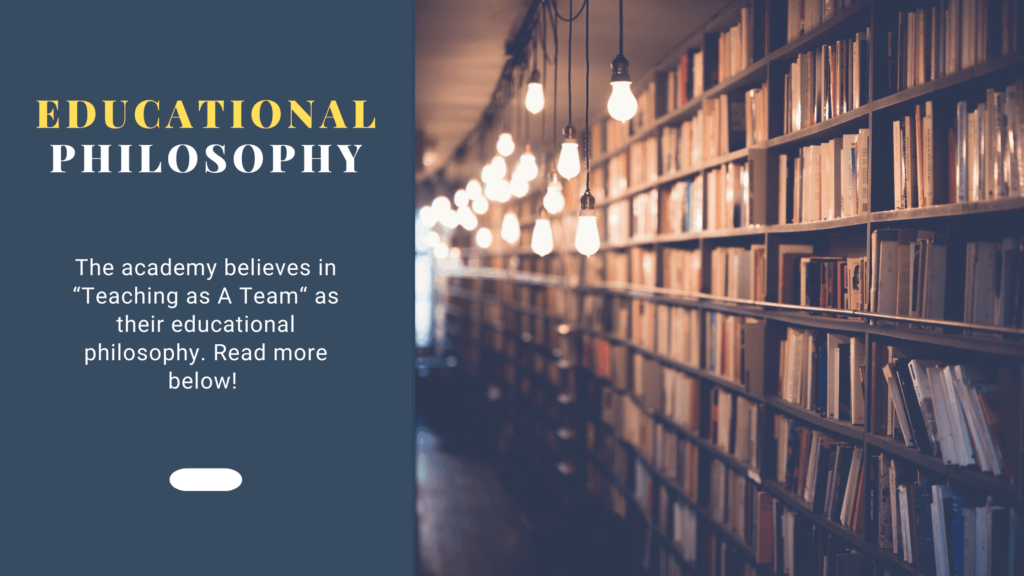 The school believes in "Teaching as A Team". This means that teachers share their insights and knowledge about each student, what ideas they have to help them improve. "Coto Japanese Academy" has the following features of the educational philosophy.
(1) Original Teaching Material
The school offers a wide range of original teaching materials specialized in improving conversational skills at all levels, to provide a natural and practical Japanese education that can only be achieved by native speakers. There are many types of texts, including published books.
(2) Focused on Communication
Focuses on improving conversational skills. This is because conversational ability is the most important of all language skills and can be practiced through Japanese lessons with native speakers.
(3) Assessments and Concrete Lessons Plan
The school pays careful attention to the Japanese language skills that companies expect of their employees and analyzes the current level of students through a conversation assessment test in order to plan lessons to help students reach the desired level and to monitor and report progress through regular assessments.
In addition, this academy has an original and unique policy in the classroom. This is student-first teaching philosophy where the class should be:
Fun and Encouraging
Culturally Sensitive
Mutually Beneficial for the teacher and the student.
To achieve this goal, the Coto Japanese Academy train their teachers with the following 5-point philosophy.
(1) Encourage teachers to create fun and engaging lessons.
(2) Encourage their teachers to lead the class so students can talk and practice.
(3) Support their teachers to always find ways to improve their teaching
(4) Train teachers to encourage their students to actively communicate in class
(5) Remind teachers to always be flexible and adapt to students' needs.
5. Academy Location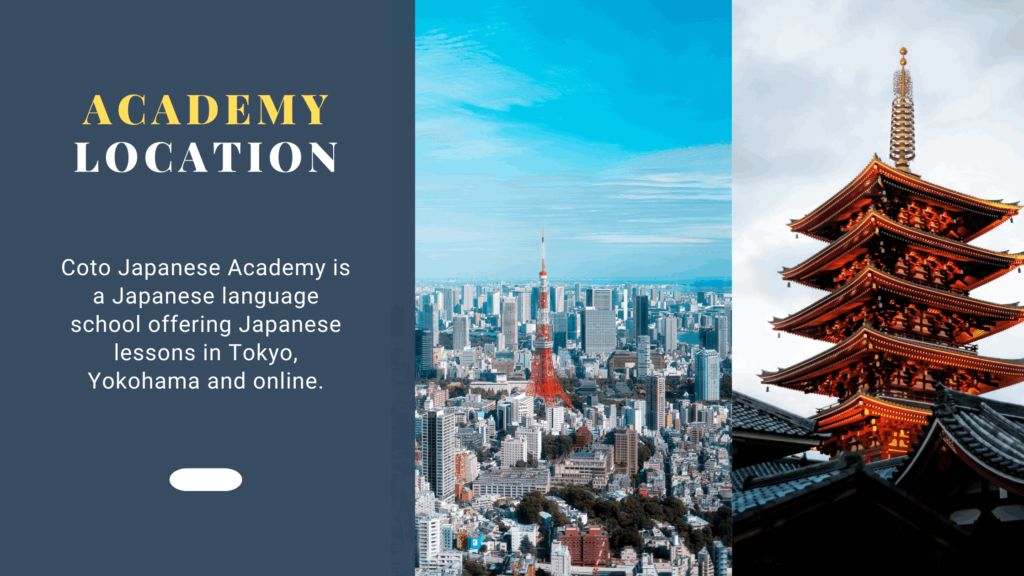 Coto Japanese Academy is a Japanese language school offering Japanese lessons with professional teachers, small classes and personalized lesson plans in Tokyo, Yokohama and online.
(1) Tokyo
Coto Japanese Academy – Tokyo is located just a two-minute walk from JR Iidabashi Station. It is a very comfortable city with fashionable stores and embassies of each country. Well-lit classrooms, cozy lounges and modern amenities allow you to have fun and have an effective learning experience. You will learn Japanese in the best learning environment with professional Japanese teachers while enjoy your living in Tokyo Metropolitan city.
(2) Yokohama
Coto Japanese Academy – Yokohama is located just a 10-minute walk from Yokohama Station. There are many schools nearby and it is a good environment for learning. The Yokohama office focuses on learning Japanese in a small group while staying motivated and having fun.
6. Student Demographics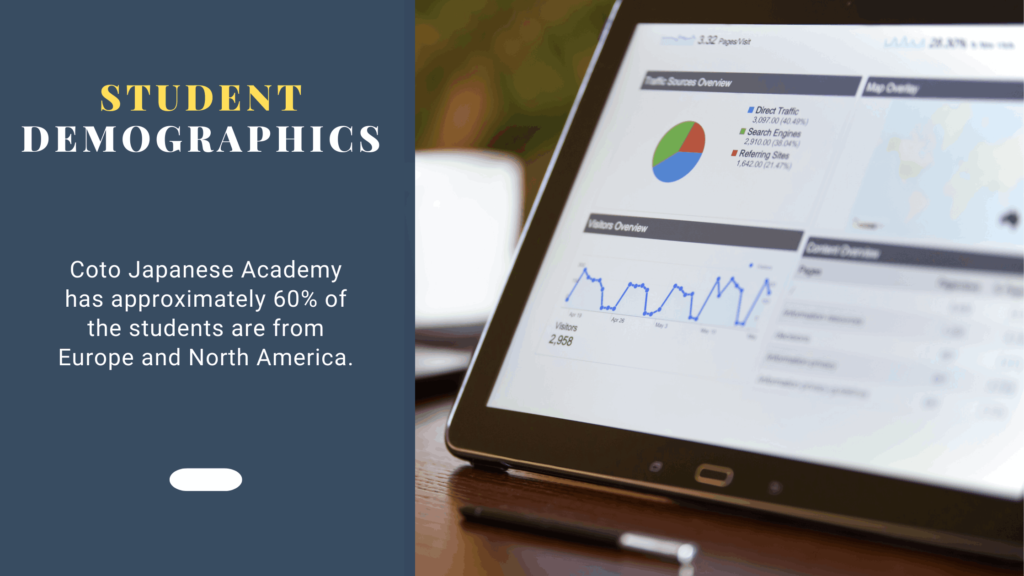 Coto Japanese Academy has approximately 60% of the students are from Europe and North America. With the remainder from Asia, South and Latin America. Most of the students are coming for work or to visit their family or only for a short stay.
Europe: 60%
Asia: 30%
North Central South America, Latin America, and other countries: 10%
7. Course Expenses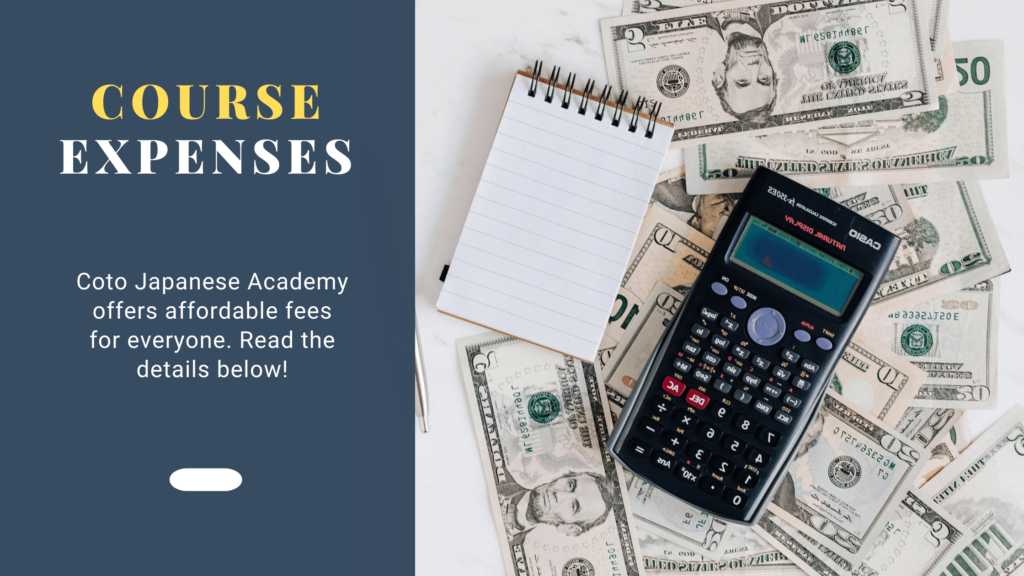 (1) Intensive Course Pricing
1 Week: ¥35,000
4 Weeks: ¥120,000
3 Months: ¥324,000
6 Months: ¥576,000
(2) Part Time Course
8 Lessons with 2 Lessons/week: ¥18,000
16 Lessons or 4 Lessons/week: ¥32,000
(3) Private Japanese Lesson
8 Lessons or 3 Months: ¥38,400 with 1 lesson: ¥4,800/50
16 Lessons or 6 Months: ¥74,400 with 1 lesson: ¥4,650/50 mins
32 Lessons or 8 Months: ¥144,000 with 1 lesson: ¥4,500/50 mins
48 Lessons or 12 Months: ¥208,800 with 1 lesson: ¥4,350/50 mins
(4) JLPT Course
16 Lessons or 4 lessons/week: ¥32,000
(5) Lite Intensive Course
100 minutes for 2 times/week: ¥32,000
8. Activities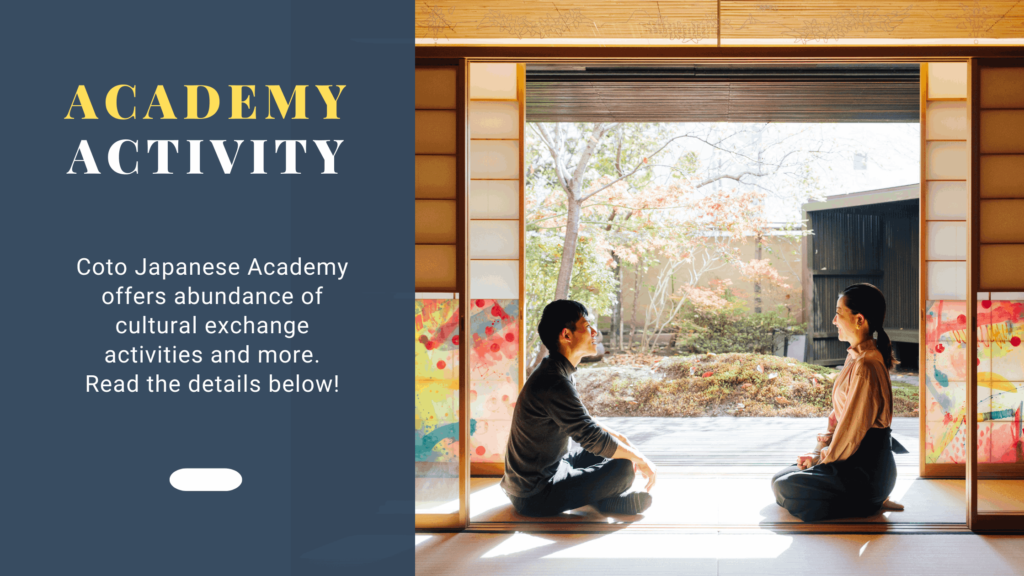 The school organizes not only classes, but also many different activities so that students can learn about Japanese culture every month. For example: exchange party, lunch, cooking, calligraphy and kabuki watching. You can participate in these events at any time and have the opportunity to improve your Japanese skills and experience.
9. Review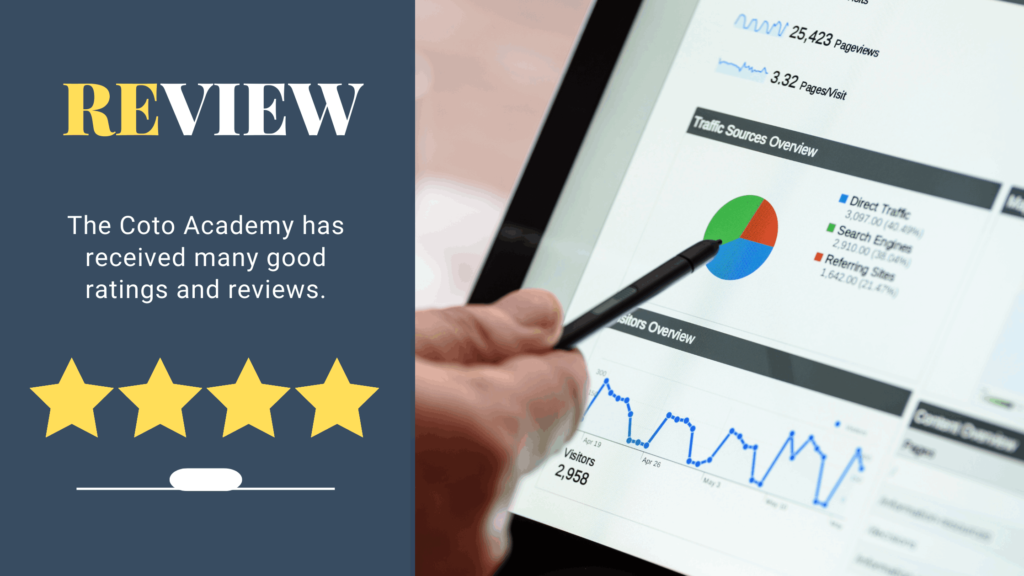 According to some information that we have gathered, Coto Japanese Academy has a lot of good ratings and comments. Please take a look at the students' comments below and consider whether this school is a good fit for you.
One of the best Japanese language schools. Foreigner friendly, experienced teachers. Recommended.
Very friendly and very helpful. They are very patient in the case of beginners with different language skills
Friendly teachers and a variety of ages, extremely flexible to take classes online or in person.
The private lessons were very helpful because they were tailored to me and I progressed at my own pace.
My part-time evening classes fit perfectly into my work schedule, and thanks to Coto, I was able to gain advanced Japanese skills and pass the JLPT.
The course materials were very clear and easy to understand, and the staff was friendly. The teachers here are great.
Classes are held in very small groups and are clearly focused on interactivity. One-to-one lessons are flexible and adapted to your needs. All the teachers are great. Truly one of the best Japanese language schools in Tokyo.
Summarize
"Coto Japanese Academy" was founded in 2000 by a group of volunteer Japanese teachers whose goal is to help international residents and teach "real" Japanese that students would not learn from a textbook.
"Coto Japanese Academy" has already helped 5,000 foreigners improve their Japanese, including 60% students from Europe and Asia.
There are different course levels and most courses are held in small groups (maximum 8 students) with an emphasis on speaking.
Coto has a unique teaching philosophy that focuses on the student, such as fun and encouragement, cultural sensitivity, and mutual benefit for both teacher and student.
The school published its first Japanese language learning textbook, Nihongo Fun and Easy, in 2009, which is still used by many Japanese language learners today.