Introduction
For those of you who are just starting to learn Japanese, finding the right book is the key to success. Especially if you really plan to study and build a career in Japan. Mastering the JLPT N5 is the most crucial start as it's your base to learn Japanese. First, click the following link to know about JLPT levels:
JLPT N5 is a very important foundation for all Japanese learners. At the JLPT N5 level, you need to conquer at least 800 words and 100 kanji in Japanese. Click also the link below to grasp deeper about JLPT N5, a List of 100 Essential Kanji, and 700+ JLPT N5 Vocabulary!
Also, Also, if you need reference to find the best books for JLPT exam preparation in other levels, please click the button below!
Okay then, in this article, we will discuss the 10 most popular and strongest books that will be your powerful weapon in mastering JLPT N5.
With these books, you can learn all the most important basic components of the JLPT N5. Want to know more to clear your questions? Please read on.
Before that, please jump into the following articles to get also about "JLPT Guides, Kanji Lists & Vocabulary Lists"
We hope you'll continue to follow other articles to expand your horizons and understanding about the JLPT. After reading this article, I'm looking forward for your suggestions and impressions in the comment column below.
About JLPT N5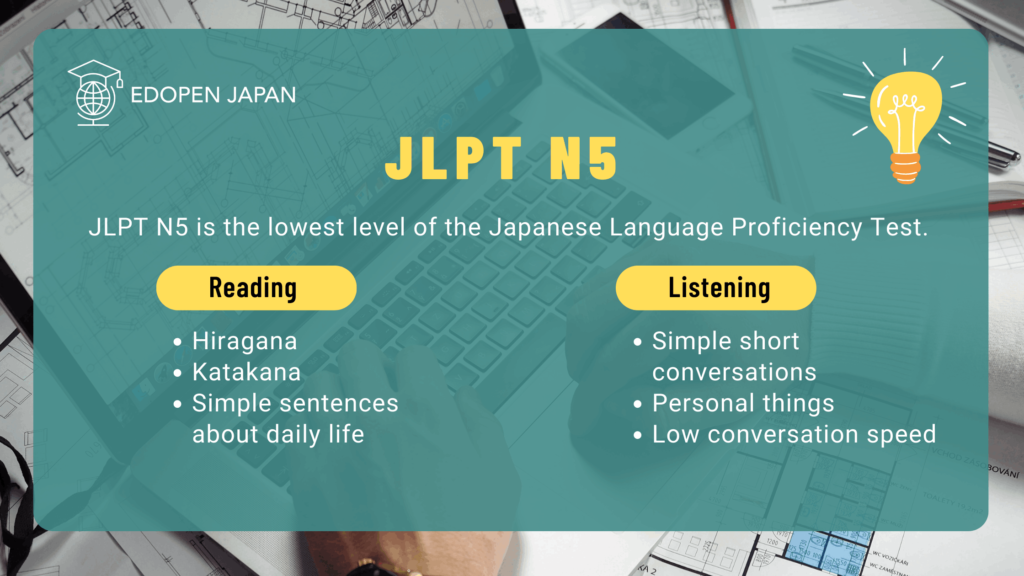 JLPT N5 is the lowest level of the Japanese Language Proficiency Test. This level tests your understanding of basic Japanese. The JLPT N5 tests students' skills in 5 different areas:
Grammar
Vocabulary
Kanji
Reading Comprehension
Listening Comprehension
Reading
According to JEES (Japan Educational Exchanges and Services), the reading competency tested is understanding hiragana and katakana. Also, the standard phrases in simple kanji and some simple sentences about daily life.
Listening
In the listening comprehension section, you'll be tested with several simple short conversations. For example, a conversation in class about personal things. Don't worry, the speed of the conversation is still slow at this level.
JLPT N5 Books for Grammar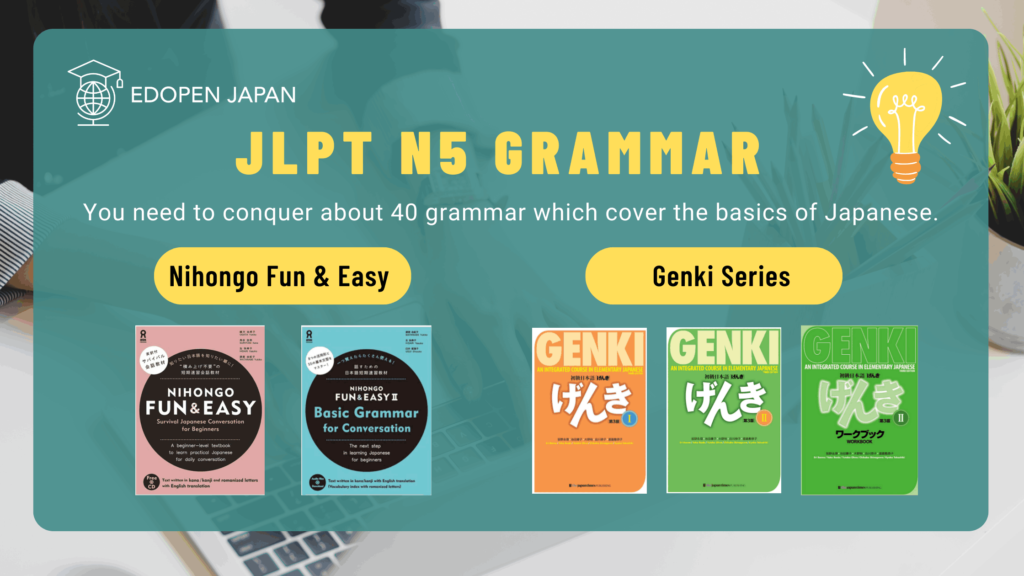 The JLPT N5 goal for the grammar section is to understand about 40 grammar. This grammar covers the basics of the Japanese language. You will be tested specifically on your understanding as well as the application of the following:
Basic Japanese sentence patterns
Basic particles such as は (ha or wa), が (Ga), を (wo), の (no), から (kara), まで (made), etc.
Formal and casual conjugations of verbs and adjectives
Forms of verbs and adjectives in past and present tense
Please read the list of the best books below to master JLPT N5 grammar.
1. Nihongo Fun & Easy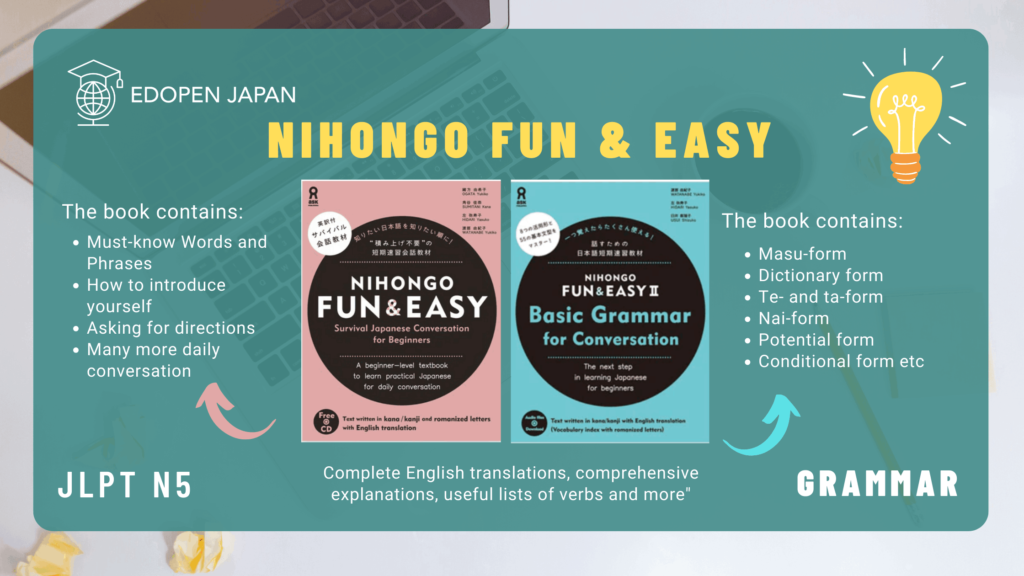 This book is divided into two editions:
1st is Nihongo Fun & Easy Survival Japanese Conversation
2nd is Nihongo Fun & Easy Basic Grammar for Conversation
1.1 Nihongo Fun & Easy Survival Japanese Conversation
This is a textbook for beginners to learn practical Japanese for daily conversation. The text is written in kana or kanji and romanized characters with English translation.
This textbook uses a conversational style to help you sound more natural.
From situation to setting to the topic, you can learn more about what you're interested in.
Each section is independent, giving you the flexibility to learn what is most important to you.
Practical exercises in each unit help you learn natural expressions and idioms.
There are sentences at the beginning of each unit that offer grammar explanations rather than grammar instruction.
The goal of this book is for learners to understand how each term and idea should be used in each context. Grammatical explanations are given at the beginning of each unit so that learners can learn them all specifically.
1.2 Nihongo Fun & Easy Basic Grammar for Conversation
With this book, you can take the next step in learning Japanese. Beginning with basic exercises in each sentence, learners of this book will progressively work toward practical application.
This book is good for anyone who wants to improve their grammar skills.
This textbook is suited for people who want to quickly get better at speaking.
The goal is for students to learn how to use each term and idea in a context.
The units have a variety of contexts to make the lesson more interesting for the students.
The 2nd volume has 14 units, each focusing on a specific topic: how to introduce yourself, ask for and give opinions on prices, talking about ultimate frisbee, etc. However, this 2nd volume does not include romanized text to make learners get to be used to reading hiragana and kanji.
2. Genki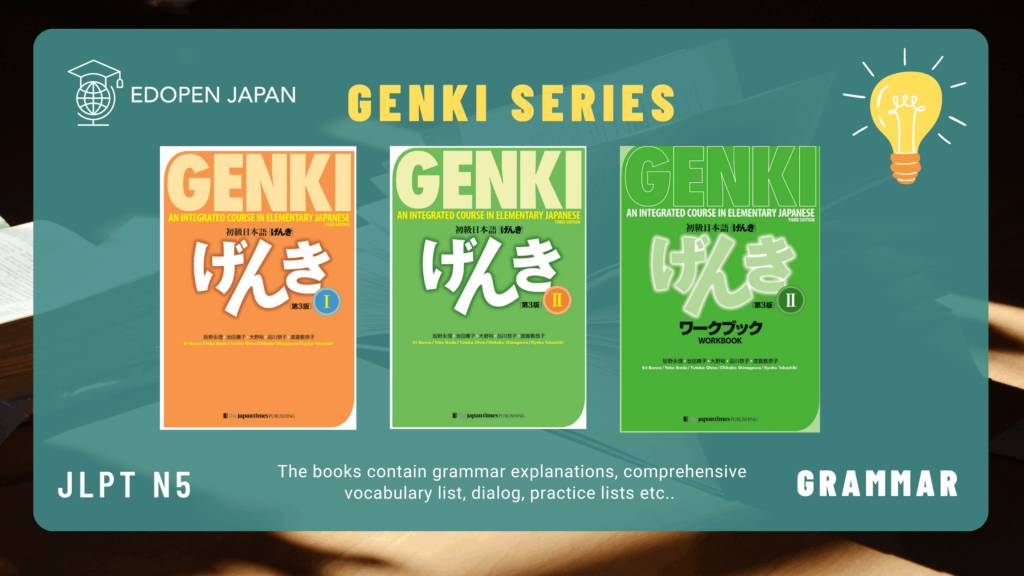 Genki is a series of books praised by most Japanese elementary school students. One of the most famous textbooks for Japanese learners. It's very effective, clearest and easiest.
Genki is very effective in helping you learn polite Japanese.
Genki teaches the basics of the Japanese language in 23 structured lessons.
Well-illustrated and variety of exercises, Genki is sure to enhance your Japanese skill!
Although primarily intended for college-level instruction, the book is also suitable for self-learners. The Genki series, written by various authors, includes:
Genki I: Integrated Course in Elementary Japanese
Genki II: Integrated Course in Elementary Japanese
Genki II (Workbook): Integrated Basic Course in Elementary Japanese, and several more
The conversation and grammar section is the largest part of the textbook. This is the main reason why you need to buy Genki because with this book you'll not only study formally for JLPT Exam but also support your conversation practice in everyday life.
JLPT N5 Books for Kanji & Vocabulary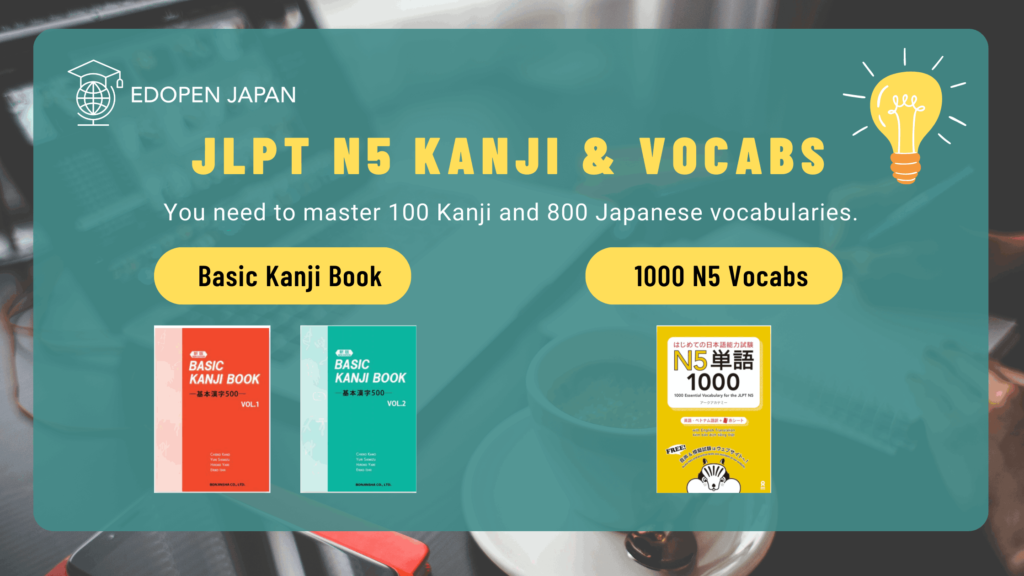 To pass the JLPT N5, you need to know about 800 Japanese vocabulary. The vocabulary includes verbs and adjectives expressing colors, simple conditions, and feelings. In addition, numbers, objects, places, and days are also included.
As for the kanji, you need to know at least 100 kanji. The tested kanji usually refer to numbers, body parts, directions, sizes, and some kanji used in the simple vocabulary.
3. Basic Kanji Book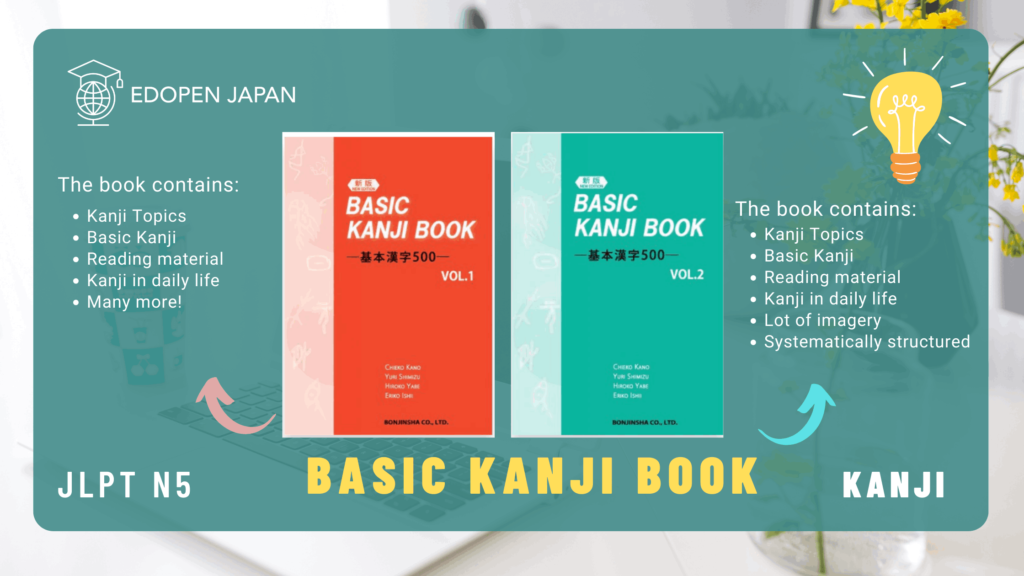 This popular and well-reviewed textbook is the ideal reference for learners who need a solid basic knowledge of the most important kanji. This book consists of two volumes.
1st Basic Kanji Book Vol.1 contains 251 kanji
2nd Basic Kanji Book Vol.2 contains 249 kanji to complete its first volume
The book consists of about 22 lessons. Begins with the "Kanji Topics" section that will introduce the origins, structure, common usage, and other aspects of the Kanji. This is followed by lessons on writing and reading exercises.
There is also a longer reading section, followed by a quiz about "Kanji in daily life". This book is highly recommended for those who want to start learning Kanji comprehensively.
4. 1000 Essential Vocabulary for the JLPT N5 Exam Exercise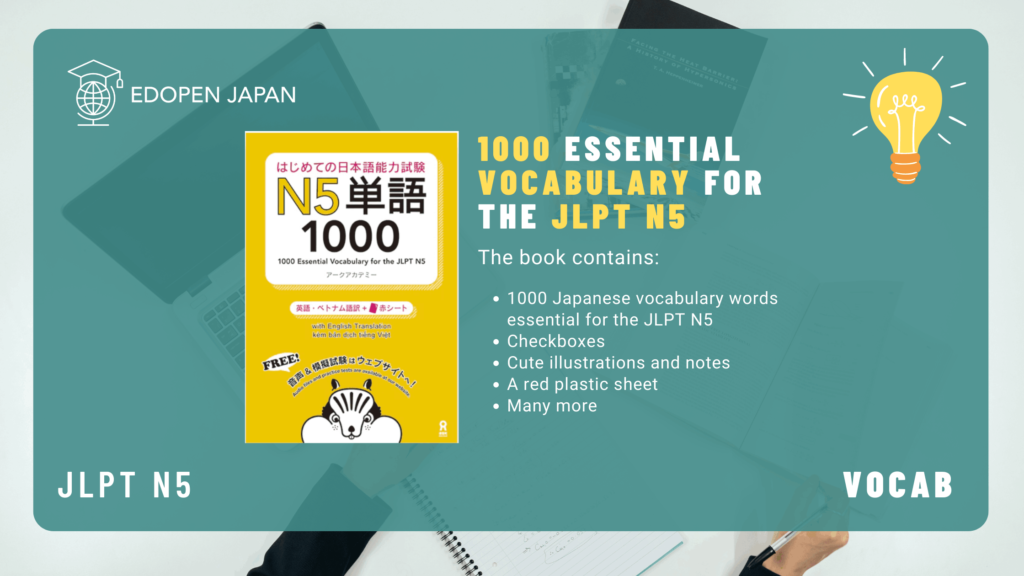 1000 Essential Vocabulary for JLPT N5 is an indispensable textbook when you need the most. This concise textbook divides general vocabulary into 10 chapters. All contents cover daily life in Japan, including work, hobbies, shopping, health, and so on.
Also, this book contains about 1,000 vocabulary words that you'll need for the exam. To help you memorize the vocabulary, 1000 Essential Vocabulary for JLPT N5 includes several downloadable audio files.
With this book, you'll be surprised at how cute illustrations and Japanese notes deepen your understanding.
JLPT N5 Books for Practice Test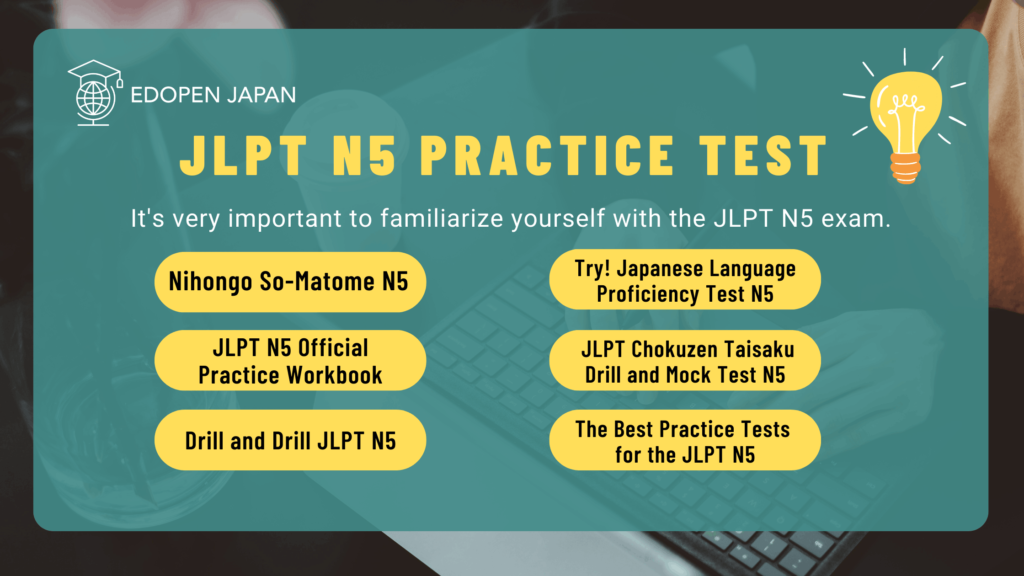 To familiarize yourself with the JLPT N5 examination, it's also very important that you try to solve the sample questions as much as you can.
For a limited budget, the following books will cover most of the facets of the JLPT. They even have questions that are extremely detailed.
5. Nihongo So-Matome N5
If you're looking for an all-inclusive textbook, Nihongo So-Matome is for you! The book focuses on everything you need for N5. If you can learn 2 pages a day, you can prepare for the JLPT N5 in just 6 weeks. The book contains:
42 daily Japanese lessons organized by kanji and vocabulary
Also grammar, reading comprehension, and listening exercises
It also includes English and Vietnamese translations. Don't miss the cute illustration and an audio CD is also presented to you.
6. JLPT N5 Official Practice Workbook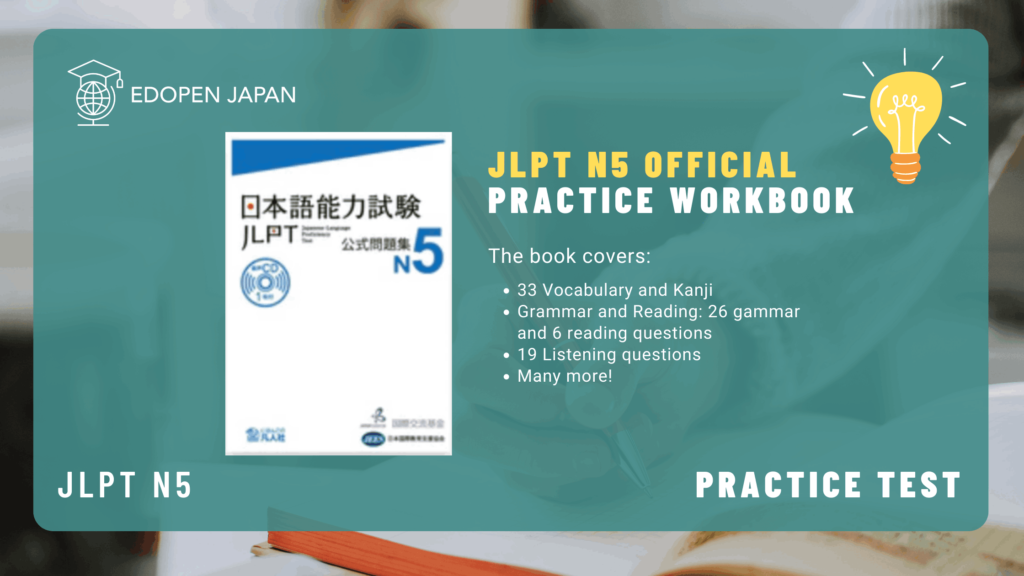 You should try the Official JLPT N5 Practical Workbook which is exactly the same simulation as the JLPT N5 exam. This book contains:
Over 33 vocabulary and kanji
26 grammar and 6 reading questions
For the listening part, there's an audio CD. With just this one book, you've enough material to strengthen your JLPT N5 preparation.
7. Drill and Drill JLPT N5 Kanji, Grammar, Vocabulary, Reading, and Listening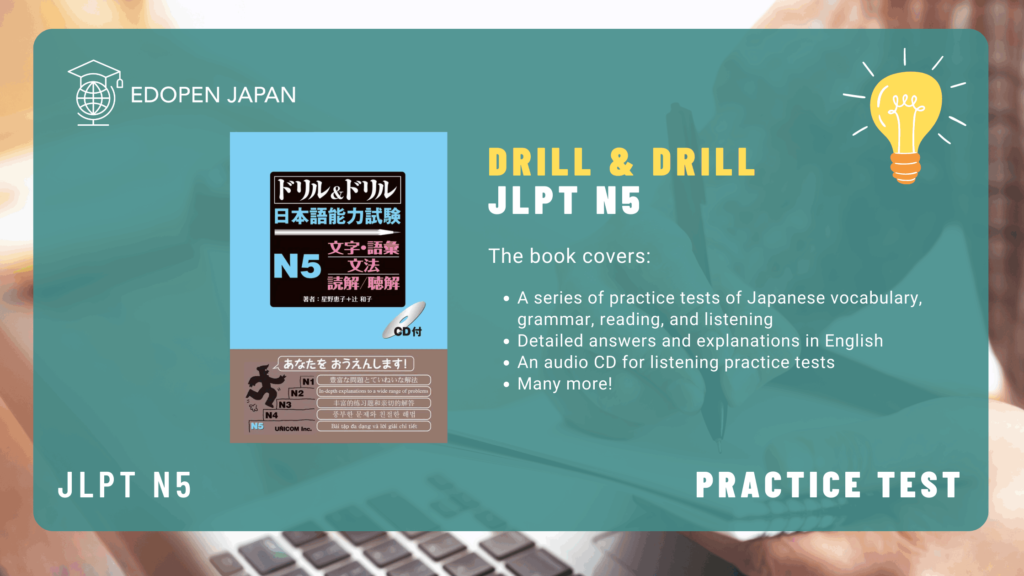 This book is also very comprehensive for the JLPT N5 prep. It contains more than 250 questions. All contents cover vocabulary, grammar, reading, and listening. This book includes:
The answers are in a separate booklet
Detailed translations and explanations
Sample sentences, tips, and hints
To help you learn with this book, it's important that you record your score after the test. Then, you can easily track your progress.
8. Try! Japanese Language Proficiency Test N5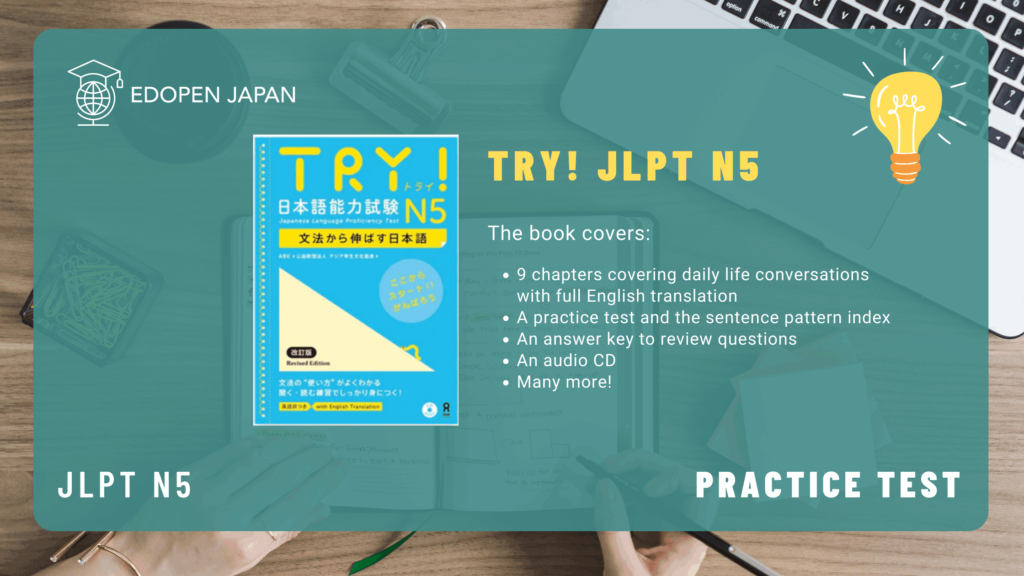 Try! The N5 Japanese Proficiency Test will give you a better approach to Japanese conversation. This book will enrich your understanding of Japanese grammar through conversation.
The book includes nine different chapters with conversations from everyday life. This book is another strong supplement to passing the JLPT N5 exam.
9. JLPT Chokuzen Taisaku: Drill and Mock Test N5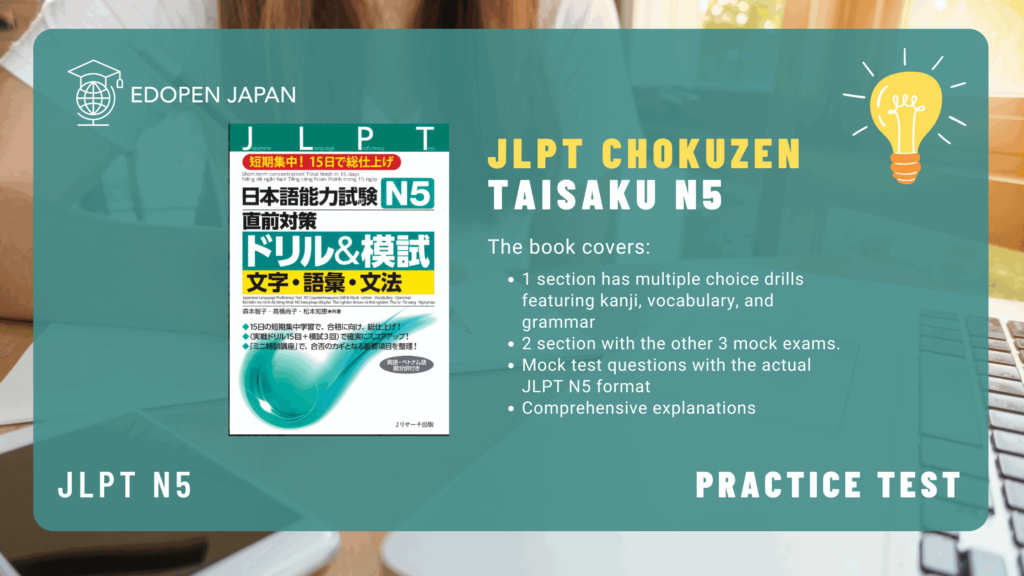 This book is perfect for those of you who've limited time to pass the JLPT N5. If you need more practice, this book is the solution. The book includes:
2 main sections: 1 with multiple choice drills featuring kanji, vocabulary, and grammar. Then the other one provides 3 challenging mock exams.
Mock test questions similar to the actual JLPT N5 Exam.
Comprehensive explanation
To increase your speed in answering the questions, this book is also great.
10. The Best Practice Tests for the Japanese Language Proficiency Test N5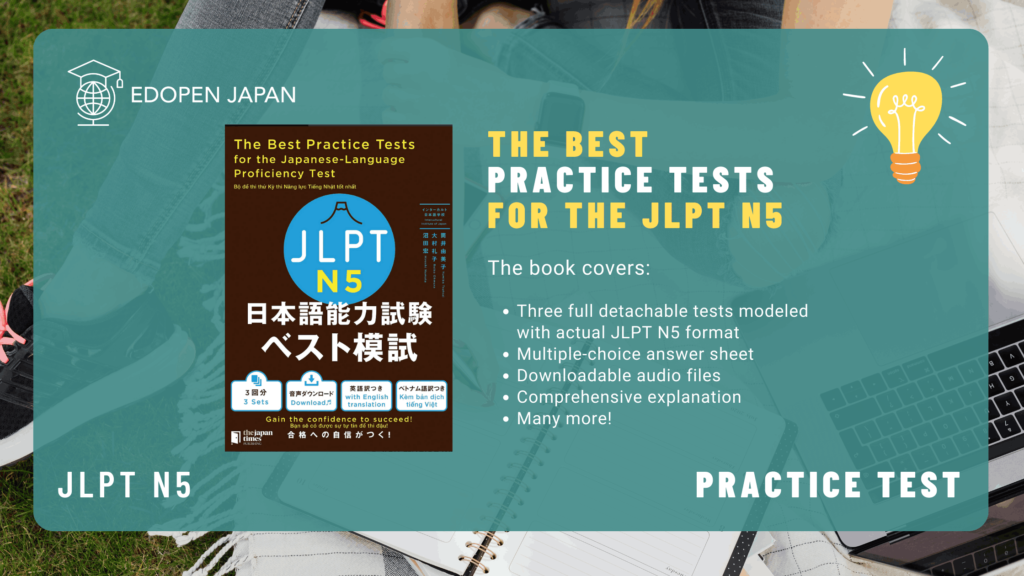 With this book, you have a complete package to prepare for the JLPT N5 with a strong strategy. The book includes:
The 3 full detachable tests modeled on JLPT N5
Multiple-choice answer sheets
Downloadable audio files
Especially how to manage your time, and answer tricky and difficult questions. And of course, using this you can strengthen your understanding of the basics of Japanese N5 at the same time.
Conclusion
Finally, We'd like to ask you to review again the 10 Most Famous and Powerful Textbooks for Passing JLPT N5 that we've described above. We also appreciate any comments and suggestions for our improvement. We wish you success in passing JLPT N5!
Insights other than the technical aspects of JLPT will also help you develop a deeper understanding of Japanese learning. Please visit the link below to get everything you need to learn Japanese on your own!