JLPT, which stands for the Japanese Language Proficiency Test, is an official test administered by the Japan Foundation. It has been held since 1984 and aims to certify the Japanese language itself to non-native speakers. This Japanese language certificate is very important for those of you who wish to continue your higher education at one of the Japanese universities.
Furthermore, this JLPT certificate is also very useful for those of you who want to get a job in Japan at least up to the JLPT N2 or N1 level which is mostly the standard of Japanese universities and Japanese companies. The JLPT test is very important for those of you who are pursuing the golden opportunity to enter Japan. Therefore, see the following explanation of the JLPT test in Los Angeles!
JLPT Test Guides and Fees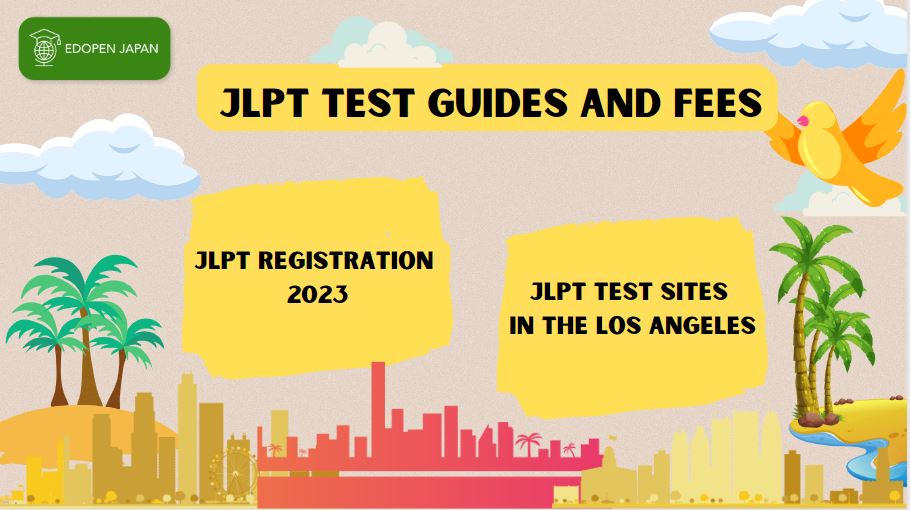 The JLPT is normally administered twice a year, on the first Sunday in July and December, during the pandemic conditions for the US region it will only be administered once, in December 2023. When registering, candidates will normally be asked to provide a photograph, a form of identification, and of course, a scan of proof of payment with their full name and the level of exam to be taken. Do not forget to print out your JLPT test card, as you will need to show it when you take the test. Pay attention to each registration procedure. Don't forget to keep track of the exam registration deadlines so that it's not too late to register. And most importantly, amid this pandemic, you must continue to adhere to the covid 19 prevention protocol. For all the fees each level is charged 100 USD.
JLPT Registration 2023
Once again as an affirmation for registrants that JLPT 2023 will only be held in July detailed information, you can access through the link here. Only when the registration time is open you can open an account to do the registration.
JLPT Test Sites in the Los Angeles
Starting in 2022, the Los Angeles JLPT will be held at King Hall California State University, Los Angeles 5151 State University Drive, Los Angeles, CA 90032 (for all levels). The 2023 exam may be held at the same location, but be sure to check the official AATJ website for information and updates.
To give you an idea of capacity in 2022 is the following:
N1: 145
N2: 140
N3: 170
N4: 120
N5: 165
So, first come, first served will get the registration.
JLPT N5-N1 Test Content Explanation – Miscellaneous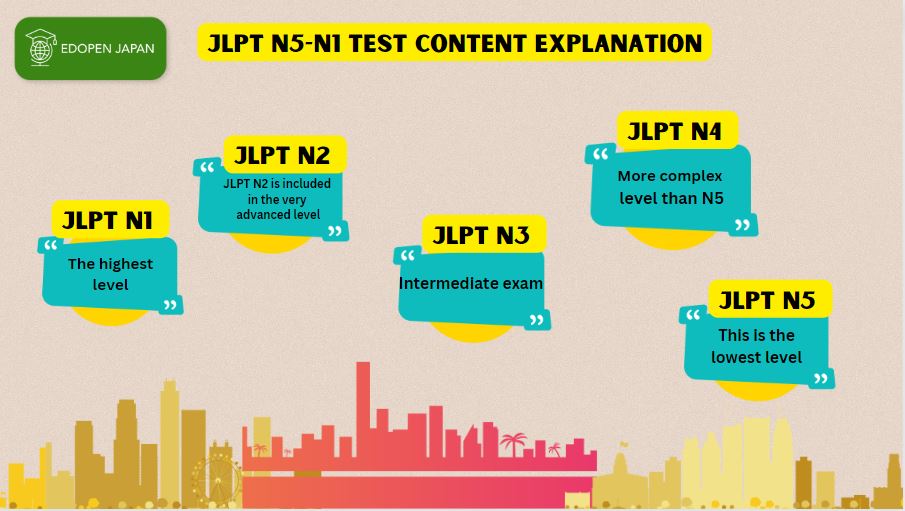 JLPT N1
is the highest level of all the JLPT test levels, this is an advanced level test. Please note that before taking this level test, you must have mastered approximately 10,000 vocabulary words and 2,000 kanji, and candidates are expected to have studied Japanese for more than 900 hours.
Here's a summary to help you visualize the JLPT N1 test criteria;
Kanji: about 2000
Vocabulary: about 10,000
Length of study: 1000 hours
Purpose of use: Very useful in any circumstances
JLPT N2
After the highest level we discussed above, JLPT N2 is included in the very advanced level, which is certainly more difficult than the JLPT N3 exam below. The preparation to be able to maximize when taking the test is that you have mastered at least about 6000 Japanese vocabulary words and about 1000 kanji and have known and studied Japanese for more than 600 hours, all these expectations are used for your smooth conquest of the JLPT N2 test.
The following summary will help you understand the JLPT N2 test criteria;
Kanji: around 1000
Vocabulary: approximately 6,000
Length of study: 800 hours
Purpose: In both academic and business environments, it is very useful in a variety of situations.
JLPT N3
JLPT N3 can be said to be the intermediate exam, before taking this test, JLPT N3 candidates need to know about 3,500 Japanese vocabulary words and about 700 kanji and have studied Japanese for about 500 hours, which is ideal to pass this level of the test.
The following summary will help you understand the JLPT N3 test criteria;
Kanji: about 650
Vocabulary: 4000
Length of study: 600 hours
Purpose: It is possible to use it to some degree in everyday life in Japan
JLPT N4
JLPT N4 is a more complex level than N5, or in other words, the second lowest level of the Japanese language test. Before registering for this level, candidates should already know around 1,500 Japanese vocabulary words and 300 kanji and have studied Japanese for at least 400 hours.
The following summary will help you understand the JLPT N4 test criteria;
Kanji: about 300
Vocabulary: 1500
Length of study: 400 hours
Purpose: Only a basic knowledge of the Japanese language to speak on an everyday basis
JLPT N5
This is the lowest level, JLPT N5 is the gateway to the JLPT test. You will be required to understand approximately 821 Japanese vocabulary words and 103 Kanji. To pass the test with a satisfactory score, candidates are expected to have studied Japanese for approximately 300 hours.
The following summary will help you understand the JLPT N5 test criteria;
Kanji: about 100
Vocabulary: 800
Length of study: 200 hours
Purpose: In everyday conversation with ordinary people, it is basic to understand Japanese.
How to Study for the JPLT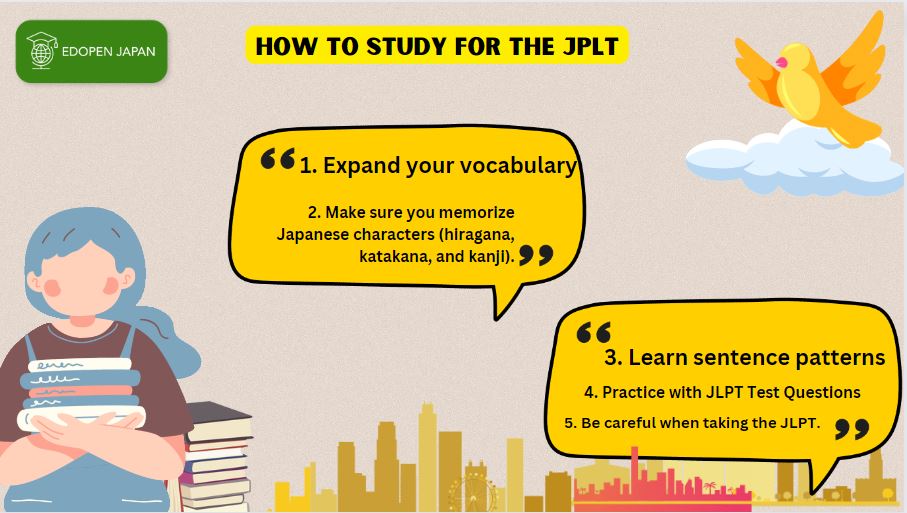 Make sure you can answer the questions quickly and consistently for at least 1 hour. How can you do this? The only way is to practice. But don't just practice. Measure the time you spend practicing so that you know your limits. You can try the following tips, please check them:
1. Expand your vocabulary
This is the main key, having a large vocabulary makes it easier to recognize and know the meaning of the words you learn, reading is the fastest way to add new vocabulary and the goal is to find new vocabulary when learning Japanese. Use the new vocabulary frequently in your daily activities.
2. Make sure you memorize Japanese characters (hiragana, katakana, and kanji).
Focus on learning hiragana and katakana because kanji characters have a style that is too difficult to learn. Once you have memorized hiragana and katakana, devote extra time to learning kanji. You can write the hiragana and katakana letters repeatedly. Get used to writing Japanese words or sentences in hiragana and katakana until you feel comfortable. Get used to reading texts that contain hiragana and katakana characters as well as kanji.
3. Learn sentence patterns
Learn sentence patterns that you use regularly throughout the day. Ask someone who knows Japanese to correct your exercises. In addition to learning sentence patterns, you must memorize vocabulary consistently every day.
4. Practice with JLPT Test Questions
This is the most important thing, practice like a real JLPT test and look for JLPT test questions that are widely distributed on the Internet, especially test questions from the previous year. The aim is to familiarize yourself with the types of questions and procedures you will encounter. It is also necessary to learn the mechanism of how the questions are done and how to do the questions.
5. Be careful when taking the JLPT
Prepare mentally as much as you can. Do not be nervous or anxious about taking the JLPT. If you are nervous about making mistakes when reading Japanese letters that are written in a similar way, review them quickly. It is also important to listen carefully to what the native speaker is saying to avoid misunderstandings.
Best Books to Prepare the JLPT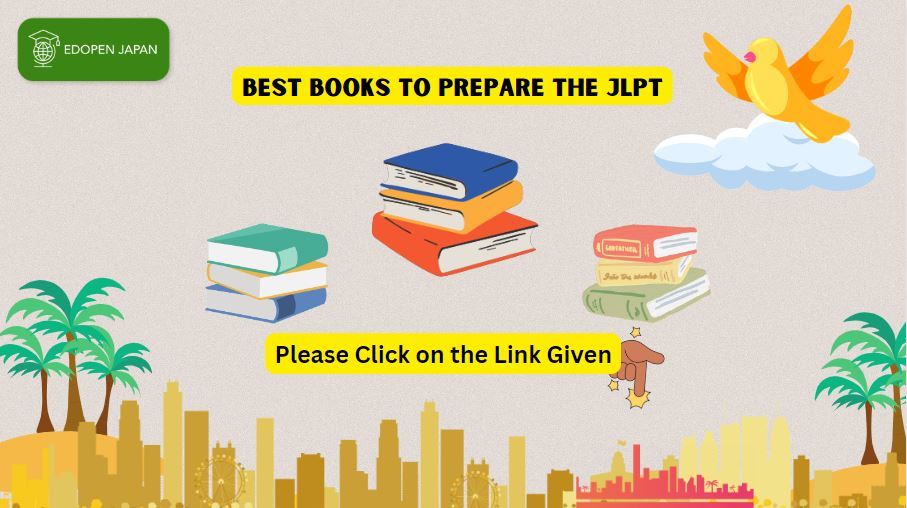 Books are the second-best teaching after direct classroom teaching by professional teachers. Many self-learners have also successfully passed the JLPT at various levels. Unlike books for learning Japanese, JLPT test books must have a certain structure and characteristics. Make sure you use books that are designed to help you prepare for the JLPT exam, so they follow a different methodology. Therefore, we will recommend specialized books to help you study for each level from N5 to JLPT N1. You can read the full review of the best books for JLPT N1, N2, N3, N4, and N5.
Conclusion
In the end, we concluded that the test in the city of Los Angeles is not difficult to register for, but you need to plan and take note of all the procedures for the 2023 test, which may be very different from last year's. Therefore, we make a list as a reminder and add to your information below:
1. JLPT Test Guidelines and Fees
JLPT 2023 Registration Form
JLPT test locations in Los Angeles
JLPT N5-N1 Test Content Explanation – Miscellaneous
How to study for the JPLT
Best books to prepare for the JLPT
See you in the next edition of our latest article, waiting for the good news of your JLPT test pass, don't forget to let me know!