Have you ever read a Japanese novel? Japanese novels are a fantastic way to practice your Japanese! Not only do they practice Japanese grammar, but they also tell a story that will keep you reading. The following novels are short and entertaining, with very little in the way of complicated Japanese literature that won't make for a long day of reading.
Let's read Japanese novels that are also highly recommended for beginners.
Read also:
Everything to Know about "Rōmaji" in Japanese
How to Learn Japanese Writing?
How to Learn Japanese Fast: 10 Smart Methods
Key Clues Before Studying Japanese Through A Novel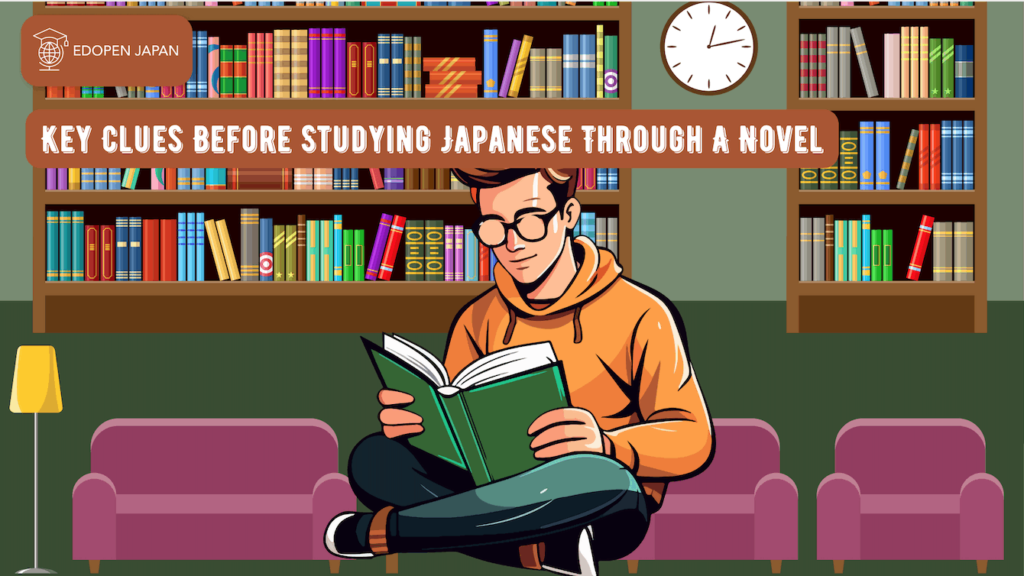 This is a good guide for beginners to read a novel in Japanese. Read books written in simple Japanese or short novels. Remember that I can read novels in Japanese from the beginning, so reading novels will be more enjoyable and you will get addicted to reading long stories that will further improve your kanji, vocabulary, and grammar skills. I strongly recommend that you have at least the JLPT N3 level of Japanese before you start reading these novels.
You can start reading a novel earlier, but it will be a problem later if you read a Japanese novel without basic vocabulary and grammar knowledge. Prepare at least your basic Japanese skills, and the progress of your Japanese learning by reading a novel will be very significant.
10 Most Great Japanese Novels for Beginners!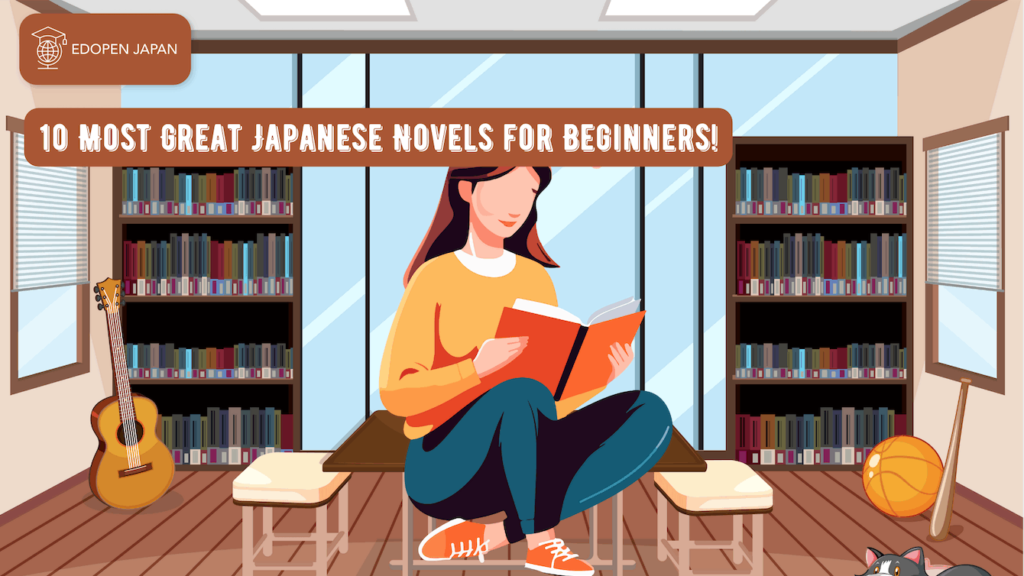 1. Novel Mr. Miller 小説ミラーさん
Japanese Level: 0
Author: 横山悠太 (Yuta Yokoyama)
The popular textbook "Minna no Nihongo" is widely used by N4 and N5 level students in Japanese language schools both in Japan and abroad. The character of a foreigner named Miller often appears in it. "Mr. Miller's Novel" is a novel whose main character is Miller, which is very popular among Japanese language school students. If you think other novels are "a little difficult," please read this one first. Even beginners can read and understand this novel.
2. Kiki's Delivery Service 魔女の宅急便
Japanese Level: ☆
Author: 角野栄子 (Eiko Kadono)
"Kiki's Delivery Service" is a famous novel that was once made into a movie by Ghibli Studios. The story is about a teenage witch named Kiki and her new life after moving away, where she tries to stand on her own feet away from her hometown and family.
The story follows different parts of Kiki's life, from her struggles and growth to some romantic and heartwarming episodes with the people she meets in her new town.
Although a movie has been made of this novel, the feeling is very different when we read the novel, you will find a feeling of never getting bored in reading this novel until this novel has 5 series to satisfy its readers. This novel is easy to digest, provides easy-to-understand references when you get stuck, and is very easy to read. The kanji used is simple enough to be suitable for the JLPT N4-N3 level.
"Kiki's Delivery Service" is a very easy read and a great book for beginners to learn Japanese and a perfect reading project for you as a learner. The perfect reading project for you as a beginner to learn Japanese.
3. Bokko-Chan ボッコちゃん
Japanese Level: ☆
Author: 星新一 (Shinichi Hoshi)
This novel is highly recommended for beginners of Japanese, there are many simple words that you can look up and will increase your vocabulary. This novel was written by Shinichi Hoshi with the character of a short novel and is very easy to read "Bokko-Chan" is one of Shinichi Hoshi's masterpieces.
This novel was written in 1971, for the language of this novel is used a lot of hiragana than kanji, it will be very easy if you read a paper book and when you need to find the word.
4. Kitchen キッチン
Japanese Level: ☆☆
Author: 吉本ばなな (Banana Yoshimoto)
This is a famous fiction novel that tells the story of a character named Mikage who lives with a grandmother. The novels are about the dynamics of a family that goes through many ups and downs, spiced with a bit of melancholy about what it means to be a family, whether by blood or by choice, and about how food and the kitchen bring families together, characterizing the warmth of a family.
This is a novel that revolves around stories of everyday life, is very light-hearted, and will be especially enjoyable for beginner Japanese learners, there is also some vocabulary that is quite difficult, but that's the challenge, you will discover new and more complex vocabulary.
5. Hankyu-Train" 阪急列車
Japanese Level: ☆☆
Author: 有川浩 (Arikawa-Hiroshi)
The next novel that I highly recommend revolves around an incident at a train station and is written in simple words that are not difficult for beginners to understand. The title of this novel, "Hankyu Train," is the name of a train that actually exists in Japan (Hyogo Prefecture).
This novel is about eight stations in Japan that contain many events that are packaged into a novel and eventually made into a movie called "The One-Way Miracle of the 15-Minute Hankyu Train". It is highly recommended that you read and watch the movie based on this novel. It is better and easier to understand if you watch the movie after reading the novel in order.
6. Stories You Find for Yourself 君が見つける物語
Japanese Level: ☆☆
Various authors: Edited by Kadokawa Publishing
This novel is a mix of different authors in Japan, with several series of novels that carry teenage themes such as school, friendship, love, and horror. The stories can be considered for both teens and adults, but with an easy-to-read conversational style and with a bit more furigana than the average adult novel.
The storyline is perfect for beginner readers because you don't have to commit to reading a large amount, it's not difficult for beginners to understand the content of this novel.
If you read this series of novels, you will enjoy the great characters of Japanese authors such as Murakami Haruki, Yoshimoto Banana, Miyabe Miyuki, and Otsuichi.
7. After The Quake 神の子どもたちはみな踊る
Japanese Level: ☆☆
Author: 村上春樹 (Haruki Murakami)

Haruki Murakami is one of the most famous authors whose works have been widely translated into English.

In addition to learning about Japanese culture, you can also learn Japanese through his novels.

Reading the original Japanese version is a good way to start learning Japanese for beginners through novels by this Japanese author.
8. Arashi no Yoru ni あらしのよるに
Japanese Level: ☆☆
Author: 木村裕一 (Kimura Yuichi)
First published in 1994, this novel is well worth reading for its depiction of how Japanese people value emotion and was adapted into an animated film that was one of the first nominees for the Animation Award of the Year at the 2007 Japan Academy Awards.
Originally intended as a children's book, the popularity of the children's book Arashi No Yoru Ni in Japan prompted author Yuichi Kimura to turn it into a series and write five more books.
The novel tells the story of a goat named "Mei" who wanders into the barn one-night seeking shelter from a storm. He meets other refugees in the barn and the story revolves around friendship, love, and feelings of friendship for each other.
Thus, this novel is very suitable to be used as one of the materials for learning Japanese through novels because the plot and the use of Japanese are not complicated.
9. Brave Story ブレイブ・ストーリー
Japanese Level: ☆☆
Author: 宮部みゆき (Miyuki Miyabe)
The book is about the life of a little boy whose father abandoned him and whose mother was hospitalized after a suicide attempt. The author portrays the boy as a brave one who is determined to change his life and eventually finds a magical world of vision. The story was originally serialized in Japanese newspapers.
10. Crayon Shin-Chan クレヨンしんちゃん
Japanese Level: ☆
Author: 臼井儀人(Yoshito Usui)
The novels, or more precisely the manga books, which have been translated into various languages and made into movies around the world, have become very popular and are enjoyed by children and adults alike. Almost everyone knows Shin-Chan's mischievous character, "Crayon Shin-Chan" is a picture book that illustrates the importance of family through the cute everyday adventures of this Japanese boy.
This is a Japanese manga series starring a 5-year-old troublesome boy. Manga is a style of Japanese comic books and graphic novels, usually aimed at both adults and children. This is one of the reference sources for learning Japanese novels or books to read for beginners.
Tips You Need to Know to Read Japanese Novels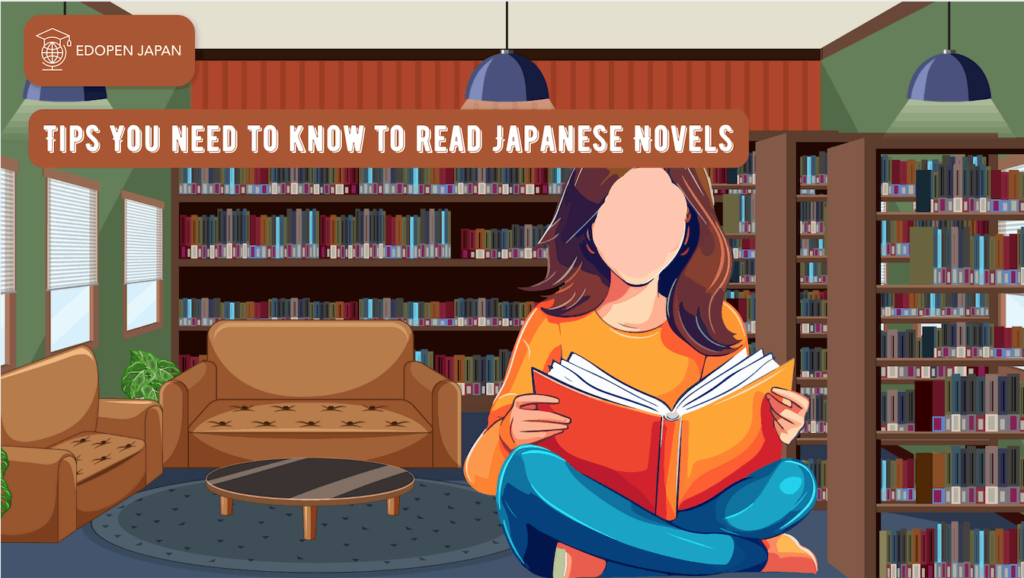 (1) Choose Slice-of-Life Novels
Slice-of-life stories present an arbitrary sequence of events in a character's life. Some examples include stories on high school life, office drama, and even some supernatural first-person narratives that depict regular daily routines. It provides glimpses into the Japanese lifestyles of typical Japanese characters.
Not distracted by flashy scenes and technical jargon, the slice-of-life style reveals the life of a Japanese character in beautifully woven detail. Slice-of-life is easy to read for beginners in the Japanese language since it avoids technical topics and out-of-date vocabulary. Moreover, many slice-of-life novels have elements of supernatural fiction that accompany the otherwise normal life of the protagonist.
(2) Choose Newer Novels
I recommend you pick up a novel written within the last 50 years, and the more recent the better. Firstly, lifestyle changes with time. Authors of the older generation tend to have very distinct perspectives on life and mannerisms, those that differ from our expectations today.
Secondly, Japanese language learners should look for novels with sentence structure that is close to present-day grammar. Lastly, newer works tend to depict scenes and characters that reflect the current culture and society of Japan.
Reading novels written by authors living in the same era offer an opportunity for readers to relate to the events of the story. The vocabulary and behavioral patterns used in such familiar scenes are what will become handy for Japanese language learners hoping to travel to Japan in the future!
(3) Keep a Digital Dictionary Handy
Since Japanese novels are written for Japanese readers, they inevitably include advanced terminology and intermediate kanji. But fear not! You can use a digital dictionary to look up unfamiliar words and letters. I recommend you download the free translator app on your mobile phone.
Not only does it have up-to-date translations, but this app also has a drawing feature that allows you to trace the shape of an unknown kanji into the search engine. This is very convenient for non-Japanese readers who often do not know how to pronounce the kanji! But please make sure not to use your dictionary so often to practice Japanese.
(4) Try Novels with Adaptations
It can be difficult to enter the world of a novel, especially when it's not written in your first language! If you are looking for motivation to start reading a Japanese language book, why not try opening a novel with film and drama adaptations? After watching the characters and becoming familiar with the setting of the story, you will feel at ease when reading about them in a Japanese novel. The advice is to watch trailers, short clips, and even the first few episodes of the adapted version without completing the entire series. This way, there will be elements of surprise when you are reading the novel!
Summary
Which one do you like best? Pick up some of these Japanese books to expand your vocabulary and reading comprehension skills while rediscovering the sheer joy of reading. These 10 novels are included as bestsellers in Japan, so you can also learn about Japanese cultures, lifestyles, and trends from the author.
At the same time, you will gain a more complete understanding of Japanese culture, which will help you get closer and closer to mastering the language. I hope this article will inspire those who have begun to feel comfortable with basic grammar and vocabulary and are eager to practice reading authentic materials. I am sure that you can begin your exciting adventure in the world of Japanese language and literature.
To make it easier for you to list what you should pay attention to when you start reading Japanese novels or want to learn Japanese through them, summarize them based on the content of the article you are reading below.
If you want to try Japanese novels, strongly recommend you have at least a JLPT N3 level of Japanese.
For beginners Let's choose "Slice-of-life" novels that are easy to read for beginners in the Japanese language since it avoids technical topics and out-of-date vocabulary.
Recommend you pick up a light novel written within the last 50 years, and the more recent the better.
To boost your motivation, it is also good to check movies or TV dramas, or novels.
Those 10 novels are included as the best sellers in Japan, so you can also learn about Japanese cultures, lifestyles, and trends.
If you continue to read These books, will inspire those who have started feeling comfortable with basic grammar and vocabulary and you will be bound to master Japanese in no time and useful for reading comprehension measures of the JLPT!