Are you currently struggling to find information on how to take the JLPT exam in Toronto, Canada? Do you want to find complete information on how to take the JLPT exam in Toronto, Canada?
Because it's not just about preparing for the JLPT exam, according to the level you are taking. All the information related to the technical things you need should also be considered.
Also, the JLPT is usually held twice a year in Japan, in July and December. However, for certain regions, the JLPT may be administered only once a year, according to the policies of local institutions and the Japan Foundation.
Coupled with the Covid-19 pandemic situation, the JLPT exam administration policy has also changed. You need to update the rules of the JLPT exam in cities in Canada, such as Toronto, for example, on the local website of the relevant institution.
Therefore, in this article, we will discuss in detail how to take the JLPT exam in Toronto, Canada in 2023. All the technical information that you need related to JLPT in Toronto is here.
Such as what you need to apply for, how much you need to pay, and what are the do's and don'ts when taking the JLPT exam in Toronto. We summarize everything as thoroughly as possible. Now, let's start our discussion about the JLPT Toronto!
1. About JLPT in Canada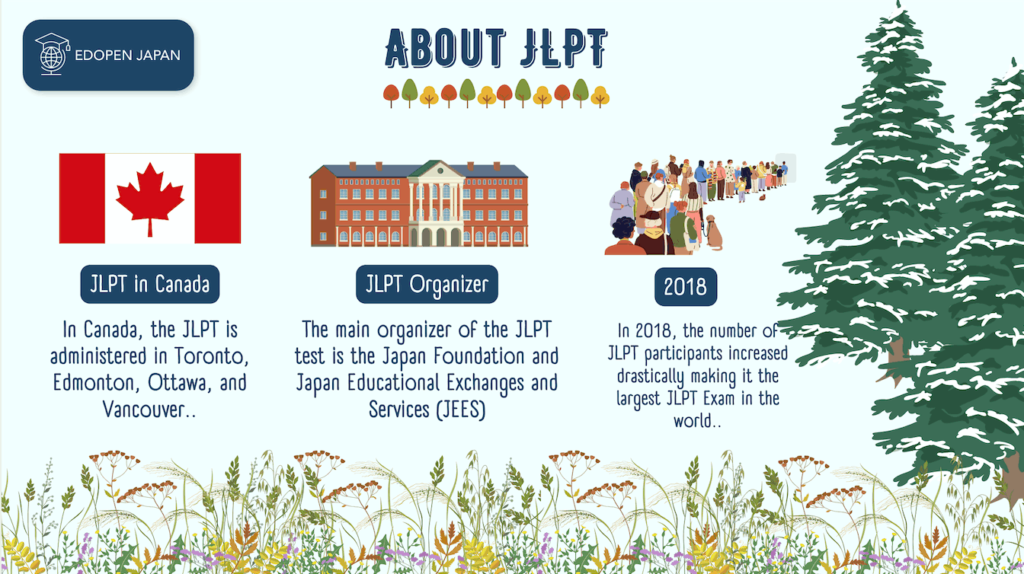 In Canada, the JLPT is administered in Toronto, Edmonton, Ottawa, and Vancouver. The JLPT is made for its original purpose as a way of certifying the ability of someone who is not a native Japanese speaker.
Furthermore, the JLPT is administered in Japan and around the world with an intensity of 1-2 times a year, usually at the beginning of the first week of July and December. The main organizer of the JLPT test is the Japan Foundation and Japan Educational Exchanges and Services (JEES).
Moreover, the first JLPT test was held in 1984 with a total of 7000 participants for the first JLPT and increased drastically in 2018. More than 1 million participants have taken the JLPT test in total around the world.
To date, the JLPT test results have become the official standard of measurement for universities, companies, and institutions in Japan for various purposes. In order to obtain human resources to provide better future opportunities through advanced research, business, and scholarships for students.
With this JLPT certificate, students can apply to universities in Japan, job seekers can get their dream jobs, and those who are already working can be promoted to higher positions in their companies.
JLPT 2010 Revision
According to the history of the JLPT test, before the revision in 2010, the previous JLPT test only ranged from level 1 test to level 4 tests. Then, in 2010 there was a revision of the main core of the JLPT test, especially with the addition of the level tested with the addition of level N5.
In addition, the N1 level test is the highest level and level N5 is the lowest level that can be selected by participants for various important purposes regarding the participant's future or just wanting to know how far their language level is.
Why are People Taking the JLPT?
The followings are our comprehensive summary of why you should have a JLPT certificate and what can be an attraction for you to take the JLPT test:
There are plenty of opportunities to work in the world's top companies, many of which are Japanese.
If you are already working in a Japanese company, either in Japan or in your own country, this certificate can set you apart from your colleagues and help you get promoted.
Increased salary and skills in the eyes of Japanese companies.
The opportunity to study at Japanese universities, many of which have become world-class.
Getting a job in the health sector, especially as a medical professional, is wide open, especially with the number of elderly people in Japan who need care.
You can also work in the entertainment industry as a dubber for Japanese cartoons.
You can become a teacher of Japanese and a translator of Japanese documents.
Then, you can also work as a university lecturer in the language department.
Are there any points we forgot to mention? Please feel free to add them to your experience, not to mention the benefits of studying and obtaining a JLPT certificate.
In addition to the academic and employment benefits, you will also be able to understand a wide variety of Japanese literature, which can add to your knowledge of Japanese culture.
The Details of JLPT Test Levels
According to some literature and discussions with the JLPT exam candidates, the following are the skills that become the benchmarks of each level in the JLPT.
What someone needs to master to pass the JLPT exam at level N5, for example, is discussed here. We hope this can be your compass to pass the JLPT exam.
JLPT Levels
The Expected Ability
1. N1
(1) Able to learn and read 2000 Kanji.
(2) Know and use 10000 Japanese vocabulary words.
(3) Be able to hold a variety of conversations in any situation and understand the different nuances in a sentence pattern in both formal and informal conversations.
2. N2
(1) Able to read and write 1000 Kanji.
(2) Master 6000 Japanese vocabulary words.
(3) Be able to read and understand Japanese articles on general topics and be able to understand Japanese conversation in depth.
(4) Be able to understand Japanese news broadcasts well.
3. N3
(1) Able to know and read 650 Kanji
(2) Master approximately 3750 Japanese vocabulary words.
(3) Be able to read Japanese articles written in Kanji and understand everyday conversations in various dialects and local languages of Japanese people at a standard speed.
4. N4
(1) Able to read and write up to 300 Kanji.
(2) Able to understand 1500 Japanese vocabulary words.
(3) Able to understand the everyday conversation and read simple conversation materials in everyday Japanese life.
5. N5
(1) Able to know and read 100 Kanji.
(2) Master 800 Japanese vocabulary words.
(3) Master standard sentences written in Hiragana and simple kanji used in everyday Japanese conversation.
Fortunately, there are now many books that cover all of the above skills in a very comprehensive and even complete manner. The price is also very reasonable. If you decide to take the JLPT exam, finding the right book is also the best step to take.
2. Technical Rules about JLPT in Toronto, Canada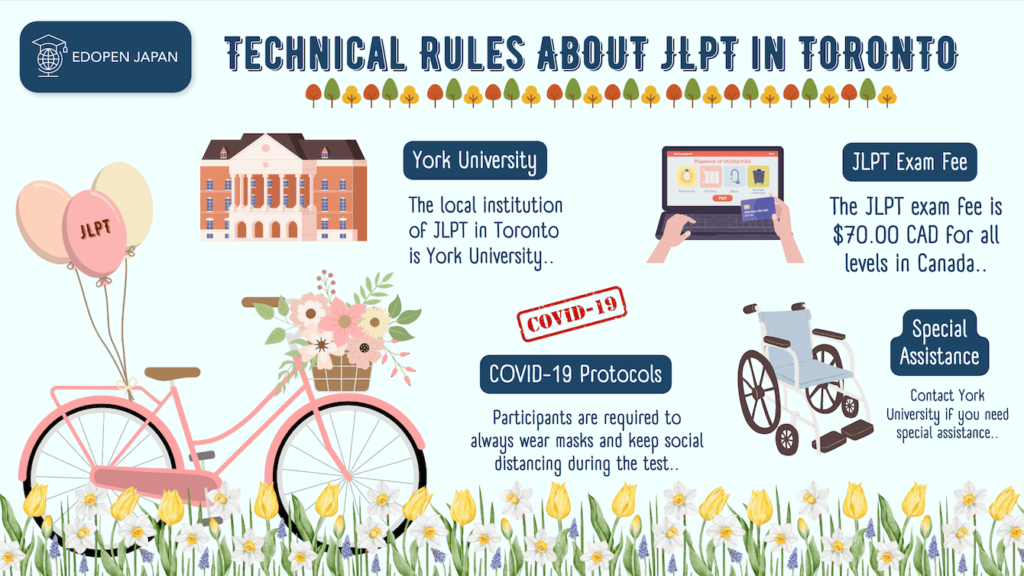 If you have decided to take the JLPT exam, especially in Toronto, Canada, then you need to know the technical rules related to JLPT in Toronto, Canada. Such as, understanding the exam rules, competencies tested, what you need to prepare for the day of the exam, exam fees per level, and several other things.
In particular, since you are taking the JLPT exam outside of Japan, each JLPT administration rule is fully handed over by the Japan Foundation to local institutions.
If you want to know the sample questions of the JLPT, the test composition, the scoring, and so on, then everything is available on the local website of the JLPT organizing institution.
In the case of the JLPT administration in the city of Toronto, Canada, this is York University. The information we summarize here is based on information published on the York University website. Let's try to discuss some important points below.
JLPT Test Guide and Policies
In the midst of the Covid-19 pandemic that plagued the world, the virus prevention protocol was very much in place. The University of York, as the JLPT test venue also implemented health protocols. Participants are required to always wear masks during the test and to always keep a safe distance from each other.
This is in order to always maintain cleanliness and to clean their hands using the hand sanitizers always provided by the organizers in every corner of the public area. Participants should also remember to carry and adhere to the following items:
Official photo ID
Voucher sent by York University
Pencil and eraser (ballpoint pens and pens are not allowed)
A mask
No food or drink is allowed in the examination room.
If you have a medical or other condition that requires you to drink water, please ask the invigilator for permission or assistance.
Only clear, unlabeled water bottles are permitted.
In addition, please remember that there are no mobile phones are allowed during the test. Please also note that any cheating will result in the JLPT test being canceled without mercy.
JLPT Test Fees
The JLPT exam fee is $70.00 CAD for all levels at all local institutions in Canada. Payment in advance is non-refundable under any circumstances. If you arrive late on the day of the JLPT exam or are unable to take the JLPT exam for reasons beyond the local institution's control, the JLPT exam fee will be forfeited.
Payment will be made by credit card and payment instructions will be provided upon successful completion of the JLPT application process. Please note that the application process can only be completed online.
Special Accommodation
If you need special accommodations, you must first contact the local institution. You will be asked to fill out a special request form and submit it before the deadline. Be sure to contact them before that time.
Don't worry, at York University all lecture halls used as exam venues are wheelchair accessible. If you have any other concerns, please feel free to contact York University for further assistance:
3. General Process of JLPT in Toronto, Canada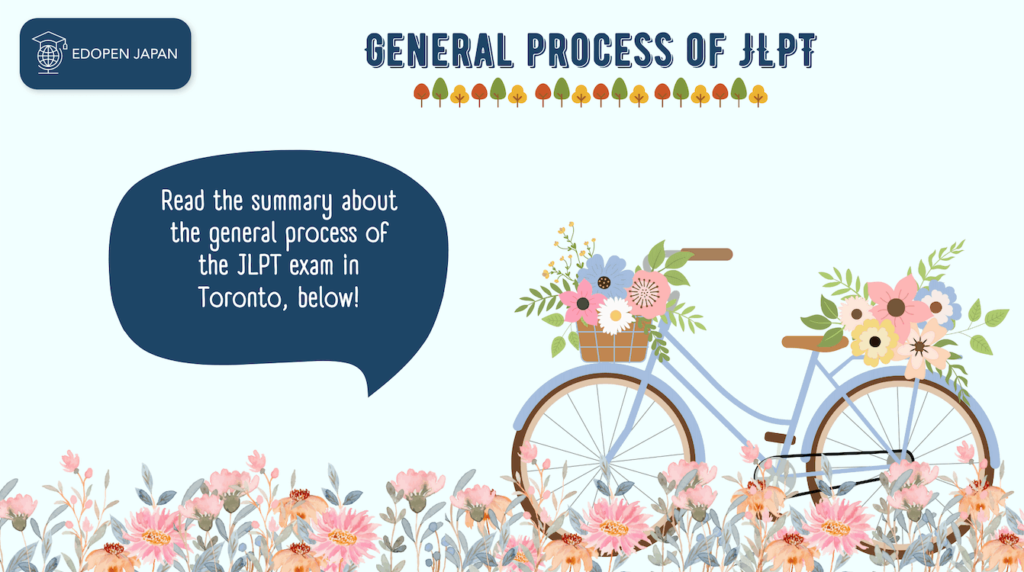 Below is a summary that we can share with you about the general process of the JLPT exam abroad. If you have decided to take the JLPT exam in Toronto, at York University, the following process can be used as a reference:
Check the York University website for information on how to apply.
Download the test guide and read the application form carefully. Read the Test Guide carefully and register according to the instructions provided by York University.
Pay the test fee using the payment method provided.
Please note that registration periods vary. You should always update the information posted on the York University website regarding the JLPT exam.
You can contact York University to find out exactly when the JLPT registration period opens.
Once your application is complete and your payment is received, you will receive a trial voucher mailed to your address. Please make sure that your address is correct and clear. You will then need to take the JLPT exam at York University.
Approximately 1-2 months after the exam, you will receive the JLPT result notification by email and the Japanese Language Proficiency Certificate will be sent to your address.
4. Highly Recommended Place to Learn Japanese in Toronto, Canada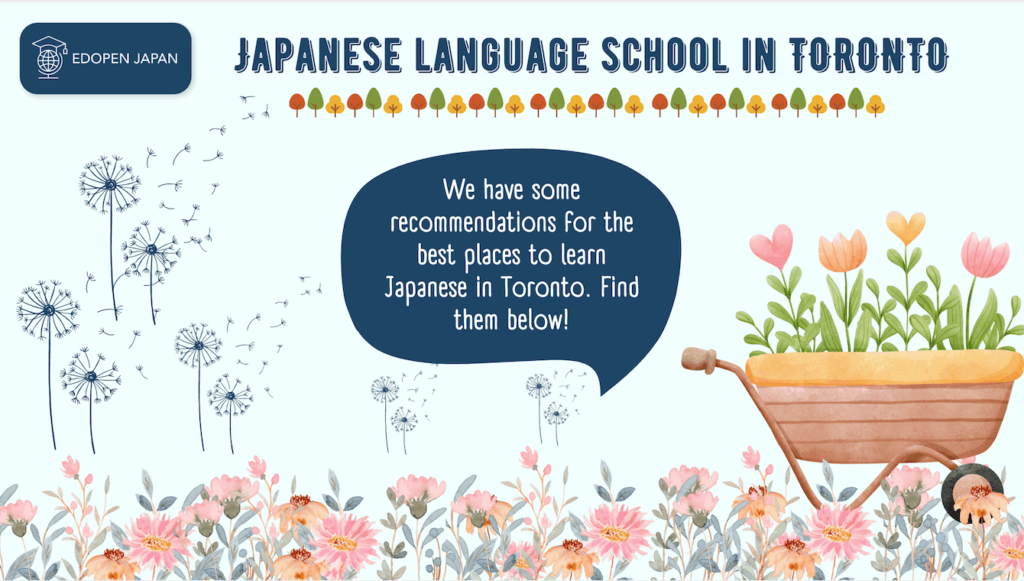 If you are currently looking for the best place to learn Japanese in Toronto, Canada. We have some recommendations for the best places to learn Japanese in Toronto. Among them are Aita Japanese Immersion School, Hansa Language Center, and also Japanese Canadian Culture Center.
Some of these schools have Japanese language programs from beginner to advanced level. For JLPT preparation, please contact the school for more details.
We recommend this option for those of you who want to learn Japanese intensively and purposefully with professional teachers and an effective Japanese learning schedule. Please read more about each school's profile by clicking on the link below!
5. How to Find the Best JLPT Tutor in Toronto, Canada?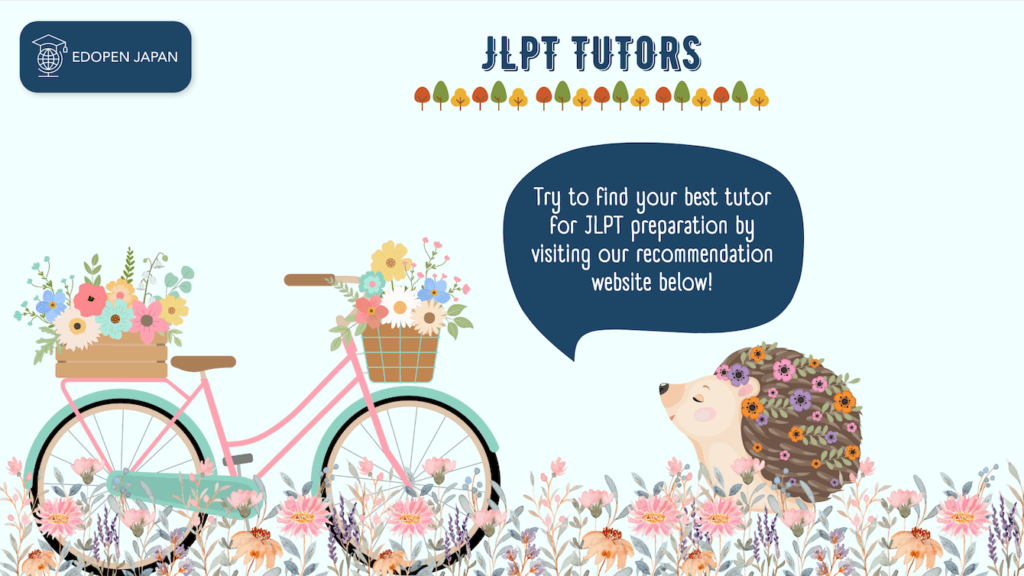 Teacher and preparation are inseparable elements in facing an exam, as well as the JLPT test. If you get a teacher who is a professional experienced in guiding JLPT test takers then this is the best choice. This is actually our additional option for you who want to learn Japanese with private tutors on a flexible and customized schedule.
Furthermore, please find a professional tutor with a native level. You can also check the performance of each tutor by looking at reviews from previous students. But where can you find these native Japanese tutors? We would like to recommend that you visit the websites of Preply, Super Prof, and Amazing Tutors.
There you will find tutors who can help you prepare for the JLPT exam in the best quality. Even at an affordable price. We hope you find the best one!
Conclusion
This is all the important information about JLPT in Toronto, Canada. We hope this discussion can increase your knowledge and strengthen your preparation for the JLPT exam in Toronto, Canada. Hopefully, this discussion is also enough to open your horizons to be even more enthusiastic in preparing for the JLPT exam in Toronto, Canada.
We are proud to be a part of your journey in preparing for the JLPT exam in Toronto, Canada. We sincerely hope that you can successfully pass the JLPT exam in Canada with a perfect score!
If you have any experience with the JLPT and learning Japanese, please share your thoughts and experiences here. Don't forget to keep updating the information we share here. See you in the next article!