When you see this article, the question arises whether you intend to learn Japanese for certain important purposes or plan to move to Japan for a long time. Therefore, it is also very important that you know about the JLPT test. The Japanese language proficiency test is very necessary for those of you who have such a plan.
In addition, learning the Japanese language, as a new foreign language for you is a positive activity that can keep you active and have a tremendous side effect on your future with many bright future opportunities. For those of you who already have a basic knowledge of Japanese, the JLPT is the benchmark to measure how far you have progressed. By taking the JLPT, your knowledge of Japanese will be internationally recognized.
Then, in order to help those of you who are currently struggling with the JLPT Delhi, want to get the best scores in the JLPT exam, and want to have a correct understanding of the technical matters related to the JLPT Delhi, we present this article.
We have summarized very important information regarding the conduct of the JLPT in Delhi. Everything you need to take your JLPT Delhi exam is in this article. Now, let's start discussing the JLPT exam in Delhi this time!
1. About JLPT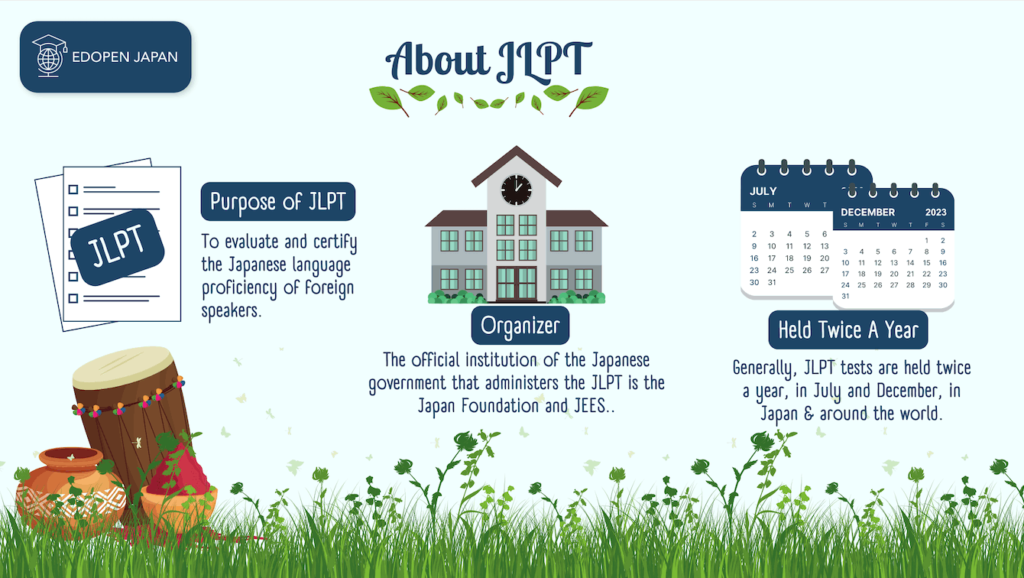 The purpose of the JLPT (Japanese Language Proficiency Test) is to evaluate and certify the Japanese language proficiency of foreign speakers.[1] It is the world's most prominent Japanese language proficiency test among several existing Japanese language proficiency tests for non-Japanese speakers.
Additionally, At the beginning of the JLPT, there were only 4 levels, N1-N4. Over time, in order to improve the quality and cover more benchmarks of Japanese proficiency for non-native speakers, the structure and composition of the JLPT exam changed to be 5 levels: N1-N5 in 2010. Level N1 is the most difficult and level N5 is the basic or easiest.
Furthermore, the official institution of the Japanese government that administers the JLPT is the Japan Foundation and Japan Educational Exchanges and Services (JEES). Outside Japan, the Japan Foundation administers the JLPT test in cooperation with local institutions.[1]
Interestingly, the JLPT has no age limit for those wishing to take the test, and many native Japanese also take this Japanese language proficiency test. Also, compared to other foreign language proficiency tests, the JLPT is affordable for all groups, including students. Generally, JLPT tests are held twice a year, in July and December, around the world.
Advantages of JLPT
It cannot be denied that JLPT certificates are needed in various fields of the economic and social movement for those who wish to be associated, both officially and unofficially, with Japan. Here we provide some points:
1. For Higher Education in Japan
Most of the top Japanese universities through the Japanese University Entrance Examination System (EJU) require JLPT level N1 test skills or certificates. The JLPT certificate is therefore your gateway to further education in Japan.
2. For Working in Japan and Japanese Companies in Your Country
In most cases, level N2 is the limit for job opportunities in Japan, as Japanese companies prefer employees with 2 language skills. As well as Japanese companies that have invested heavily in other countries. The company will value its prospective employees more if they can speak Japanese as demonstrated by this JLPT test certificate.
3. Ease the Immigration Process
According to the official JLPT website, those who pass the JLPT N1 receive 15 points. And, N2 receives 10 points under the government's "Point-based Preferential Immigration Treatment System for Highly Skilled Foreign Professionals". Individuals with a total of 70 points or more receive preferential immigration treatment.[2]
4. For Scholarships
This is the dream of all students from all over the world who want to study in Japan. In order to gain knowledge in peace without having to think about living expenses while studying in Japan, many scholarship providers in Japan both from the university and private sector will offer full scholarships if you can speak Japanese. Also, at the beginning of registration, the JLPT certificate is a mandatory requirement that must be included.
5. To Measure Your Japanese Skills
You may never have thought about studying at a Japanese university or working for a Japanese company, but many people around the world are interested in Japanese culture. And you may end up learning Japanese to enjoy the entertainment you love, such as anime, drama, or manga written in Japanese. There is nothing wrong with officially measuring your Japanese language skills through this JLPT test. It also gives you the opportunity to become a freelance translator.
Are there any of the other five points above that I forgot? Please share your thoughts in the comments section below!
2. About JLPT in Delhi, India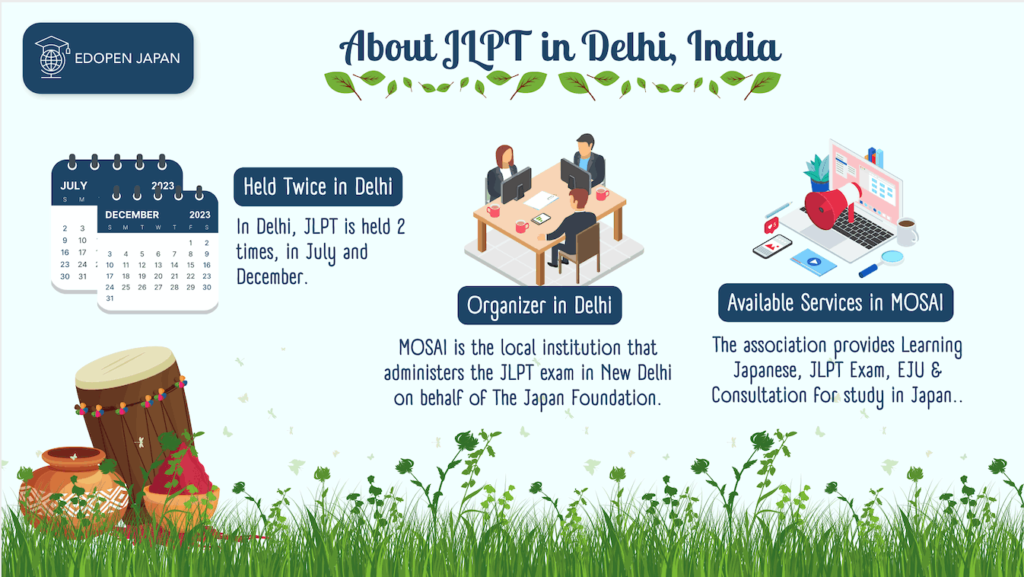 Once you have decided to take the JLPT in Delhi, you need to know what are the regulatory components, guidelines, and technical matters that you need to prepare for, and what costs you need to incur. Especially if you want to take the JLPT outside of Japan. In Japan, the JLPT is usually administered twice a year.
However, in certain countries such as India, due to the condition of Covid-19 and various other special conditions, JLPT is held 2 times, but in certain cities only 1 time. Specifically, in Delhi, JLPT is held 2 times, in July and December.
Then, the JLPT is held in the city of New Delhi, and the Mombusho Scholars Association of India (MOSAI) is the local institution that administers the JLPT exam in New Delhi on behalf of The Japan Foundation.
Next, please refer to the following description to find out more about MOSAI as the local institution to organize JLPT in New Delhi, India.
Mombusho Scholars Association of India (MOSAI)
Mombusho Scholars Association of India (MOSAI) is a registered society. This association selects members consisting of specialists with a first-hand intensive experience of years of research and academic assignments at Japanese universities, research institutions, and industry.[3]
Further, the purpose of the association is to promote education, research, and academic activities between the two countries, India, and Japan. In general, the association provides several services to people in the New Delhi area such as:
1. Learning Japanese
2. Conducting JLPT Test
3. Entrance Examination for Japanese Universities (EJU)
4. A consultation center for those who want to study in Japan
In addition, the association is also very active in the field of research. As well as several educational programs and is very vigorous in conducting scientific publications, holding lecture exchanges, organizing seminars, international conferences, official exchanges, and significant activities undertaken to strengthen bilateral relations between India and Japan.
Address: 104 (1st Floor) New Delhi House, 27 Barakhamba Road New Delhi-110001
Phone: +011-23752964, 23313524
E-mail: mosai.india@gmail.com
3. General Info of JLPT 2023 in Delhi, India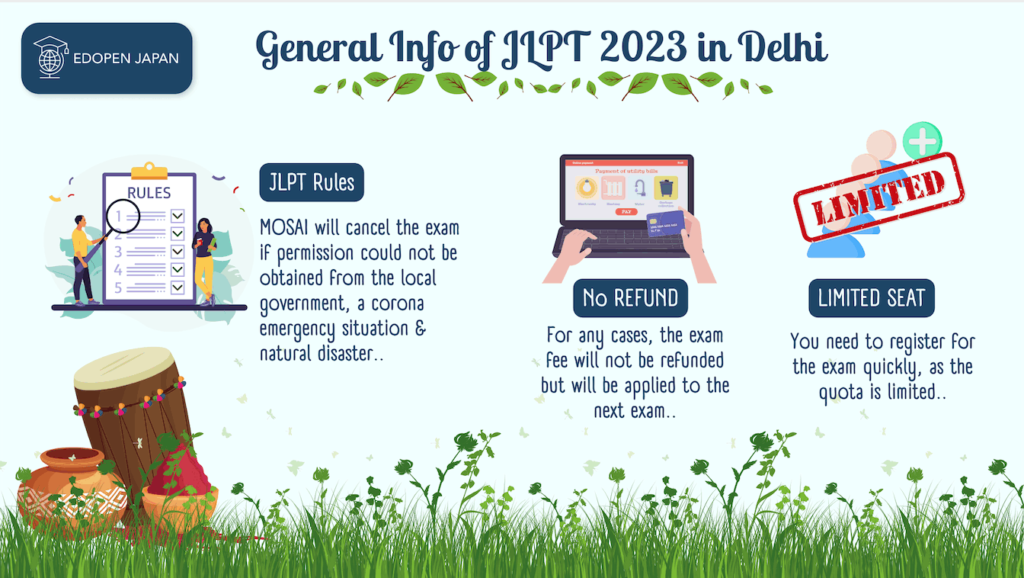 The JLPT service in India is available in 8 cities. Especially in Delhi city, JLPT was organized by MOSAI in New Delhi city on behalf of The Japan Foundation. A detailed explanation of MOSAI has been described in the previous section.
Then, please note that JLPT is held twice a year in July and December at the New Delhi Center.[4] You can choose any level from the easiest, N5, to the most difficult, N1.
In addition, MOSAI has very strict rules regarding the conduct of the JLPT in the midst of this pandemic. MOSAI will cancel the exam if permission could not be obtained from the local government, a corona emergency situation, and also a natural disaster. In this case, the exam fee will not be refunded. However, exam fees will not be forfeited. Exam fees paid will be applied to the next exam.
JLPT Test Guides and Fees in Delhi, India
Bear in mind that JLPT Level N1 and N5 exams are held in the morning session, you can't be late. Meanwhile, JLPT levels N2, N3, and N4 are held in the afternoon session. There are seat allotments for each level. You need to register for the exam quickly, as the quota is limited, especially for levels N2 and N1.
Then, if you are a person with a disability, you must send a special request by email to mosai.jlpt@gmail.com. If you forget to do so, special assistance will not be available on the day of the exam.[4]
Regarding the exam fees you will have to pay, everything is listed on the online registration form. Please pay attention to the opening and closing dates of the online registration, because if you miss them, you will lose the opportunity to register. The exam fee is Rs 1800/-. You can pay online only through Paytm wallet, UPI, credit/debit card, or net banking.
4. How to Register the JLPT in Delhi, India?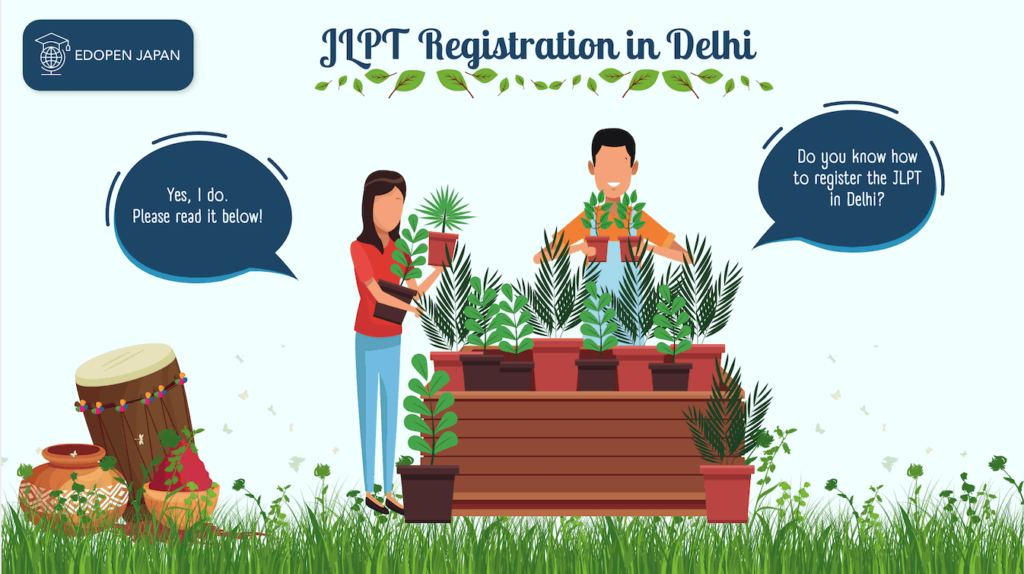 As stated previously, the registration can only be made ONLINE. Here, we give you a simple step-by-step as the reminder below:
Please prepare all documents required for uploading like scanned images of photo ID (Aadhar Card, Voter ID, Driving License, Passport, Pan Card ready for uploading). Make sure that the photo to be uploaded is clear, in JPG format, and in size between 10 KB to 100 KB only.
Be sure to prepare passport-size photos for uploading, should be clear, and in JPG format, with sizes between 10 KB to 50 KB, photo dimensions should be 3.5 cm (width) x 4.5 cm (height), and selfie-style photos are strictly prohibited.
Provide a debit or credit card to pay the fee online.
Make sure you save the form in case you need to print it. You will then receive an email confirming your online registration.
In addition, for this upcoming July exam, there is a capacity limit for candidates at each level, as follows:
| | |
| --- | --- |
| JLPT Level | Quota Limit |
| 1. N1 | 100 |
| 2. N2 | 105 |
| 3. N3 | 110 |
| 4. N4 | 200 |
| 5. N5 | 800 |
The above information is subject to change, so you should always check the official MOSAI website for the latest information on JLPT. Please click on the following link to visit the official MOSAI website. We wish you good luck!
The Important Note about the JLPT Result
For JLPT exam results, the score report is sent by the local host institution, in this case, MOSAI. Typically, exam results are distributed at the end of March for those who take the exam in December.
Furthermore, MOSAI will send a JLPT certificate along with a JLPT scorecard to the address you provided in your online application. Please fill it in correctly, and don't fill in your address incorrectly as this will cause delays or even no delivery.
In addition, if you do not receive a certificate or JLPT scorecard, please come to MOSAI and pick it up at the MOSAI office within 2 years from the date the JLPT exam results are announced.
The certificate or JLPT score given is the original certificate received from the Japan Foundation. If you fail the exam, you will not receive a certificate or JLPT score. After the announcement, you can also visit the MOSAI website to check your JLPT exam results.
5. The Best Places to Learn Japanese & Prepare for the JLPT in Delhi, India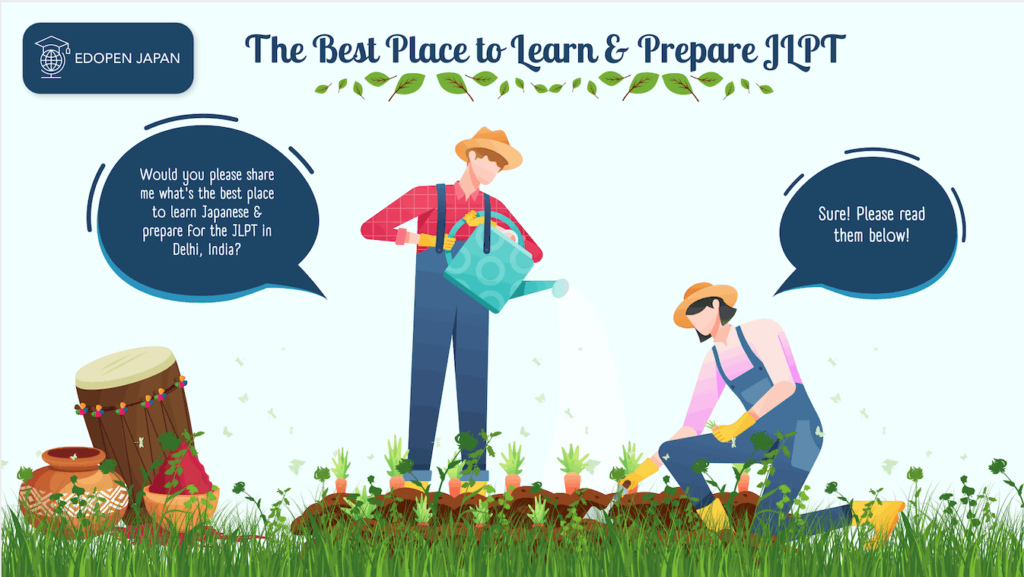 For those of you who are currently confused about finding the best place to learn Japanese and also prepare for the JLPT exam, we would like to offer you an interesting option. Don't worry, we will recommend you the best places to learn Japanese and also prepare for the JLPT exam.
In addition to MOSAI, there are of course several other schools that offer special JLPT preparation programs for all levels in Delhi, India. Some of these schools were founded by native Japanese speakers with professional and certified teaching experience.
Then the price offered is also affordable. You just have to choose the program that suits you. To learn more about this highly recommended school in Delhi, India, please read our article below. We have included all the detailed information you need about these schools in the article below. Please check it out!
One Powerful Way to Boost your JLPT Score!
In this section, we want to share with you one of the most powerful tips for improving your JLPT score. You want your JLPT score to be good or even perfect. The key is to review the JLPT exam material to deepen your understanding of the JLPT material at the level you want to achieve.
To do this, you really need to choose the right study resources for your JLPT exam. Each level has a different level of difficulty. The JLPT exam is also very time sensitive. You can't play around when taking it. It is highly recommended that you take a sample exam exactly the same as the JLPT exam.
Therefore, we recommend that you check out our selection of books, which we have carefully rewritten and reviewed. All of these books have an excellent reputation among JLPT candidates. You can purchase them through an online platform, but before doing so, you must carefully read the contents of the book. Some of them also have questions that are similar to those in the real JLPT exam.
If you're currently fighting for the JLPT N3, this selection of books is a must! Please click on the link below to see more details about the books we highly recommend for you!
Conclusion
That was the discussion about the JLPT in Delhi, India, and everything you need about the JLPT exam in Delhi, India, we have explained.
Further, we really hope that this information can be your strength to get a perfect score in your upcoming JLPT exam! Don't forget to always update the information about learning Japanese and JLPT exams here. Please share your experiences with the JLPT exam in the comments section below!
Last but not least, we are very proud to be a part of your JLPT exam journey. Thank you for reading to the end. See you in the next article!
References
1 "Objective and History". The Official JLPT Website. Retrieved 9 March 2023.
2 "Advantages of JLPT". The Official JLPT Website. Retrieved 9 March 2023.
3 "About MOSAI". Mombusho Scholars Association of India. Retrieved 9 March 2023.
4 "Important Notes". Mombusho Scholars Association of India. Retrieved 12 March 2023.