Are you searching for comprehensive information about the JLPT exam in India? Is it really hard for you to get comprehensive and up-to-date information about the JLPT exam in India?
Even though the JLPT exam is held 2 times a year in Japan, is it also held 2 times in India? You may also not know that not all cities in India have test centers that administer the JLPT.
Other than that, how exactly does the process of registering for the JLPT exam work, how much do you have to pay, and where is the best place to study Japanese and also prepare for the JLPT? We know you are curious and need answers.
That's why we are here to help you answer all of them. We have provided a very thorough and comprehensive summary of the JLPT exam administration in India. All the information you need about the JLPT exam in India is here.
Don't forget to read this article till the end. If you have any other things you want to confirm, please leave them in the comments section. Now, let's start discussing the JLPT in India!
1. About JLPT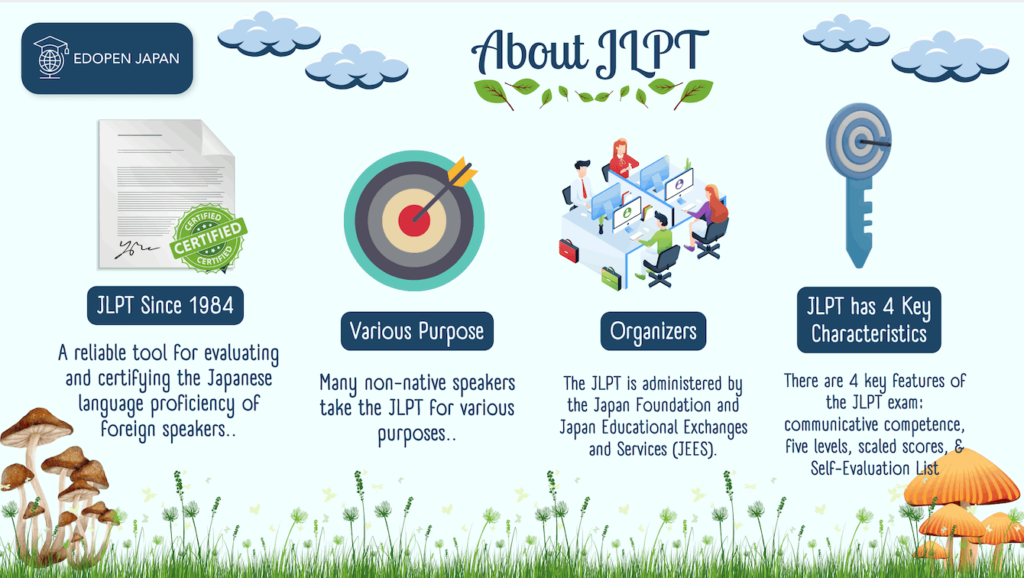 The JLPT (Japanese Language Proficiency Test) is a reliable tool for evaluating and certifying the Japanese language proficiency of foreign speakers that has been in existence since 1984.[1] Many non-native speakers take the JLPT for various purposes. Such as applying for jobs, job promotions, and applying for scholarships at Japanese universities, to certify the completion of the Japanese language school attended and many more.
The JLPT is administered by the Japan Foundation and Japan Educational Exchanges and Services (JEES). The Japan Foundation administers the JLPT overseas in cooperation with local institutions. Meanwhile, JEES administers the JLPT exam in Japan.[2]
Beginning in 2009, JLPT was held twice a year, in July and December, whereas previously it was held only once, in December. In addition, starting in 2010, JLPT has been administered with a "new concept". That is, the exam focuses more on communication skills that can meet the needs of a wider variety of participants and is designed based on analysis accumulated over many years.[3]
The Four Key Characteristics of the JLPT Exam
There are 4 key features of the JLPT exam[4], as follows:
Measures the communicative competence needed to perform tasks
Chooses an appropriate level from five levels
Measures Japanese proficiency more accurately with scaled scores
The "JLPT Can-do Self-Evaluation List" is offered.
Further, the JLPT is specifically formulated to test not only knowledge of Japanese vocabulary and grammar, but also the ability to use it in real communication. Therefore, there are 3 elements that are used as a basis for evaluation: "language knowledge", "reading", and "listening".
And, due to the large size of the exam, all answers are scored by a machine, and the JLPT does not directly test the foreign speaker's speaking and writing skills as English proficiency exams do.
In addition, another uniqueness of the JLPT exam is the 5 levels it offers. There are levels N1, N2, N3, N4, and N5. Levels N1 and N2 measure the understanding of Japanese used in various real-life situations. While N4 and N5 measure understanding of basic Japanese, especially those used in the classroom (school). Meanwhile, N3 is a level that bridges the gap between the understanding of Japanese at levels N4/N5 and N1/N2.
Moreover, the JLPT scoring method is also very fair and accurate by using a "scale score". This is designed to produce a consistent score and allow measurement on the same scale regardless of when the test is taken.
2. About JLPT in India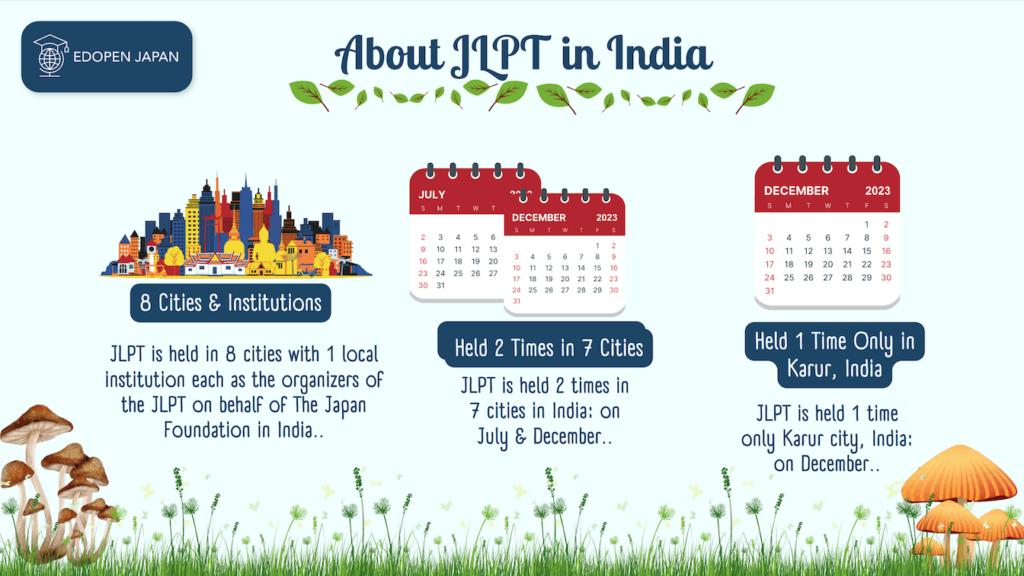 The JLPT exam in India is organized by the Japan Foundation in cooperation with local institutions in several cities in India. There are 8 cities with 1 local institution each, which are the organizers of the JLPT on behalf of The Japan Foundation in India.[5]
Moreover, JLPT was held 2 times in 7 cities: New Delhi, Pune, Kolkata, Chennai, Bengaluru, Mumbai, and Santiniketan. However, it was held only once in December in the city of Karur.
The JLPT Rules and Policies in India
Each local institution cooperating with The Japan Foundation in each city organizes JLPT with its own specific guidelines. The following is an important note from us for those of you who want to know what the rules are for conducting JLPT in each city in India.
You need to check the websites of each local institution that organizes the JLPT exam in each city.
You can visit the official JLPT website. Next, select the Test Registration Process column. Then select the List of Overseas Test Sites and match it with the city where you want to take the JLPT exam. From there, you can click directly on the website link of the relevant local JLPT organizing institution.
Always check for the latest information on when the JLPT application opens at the local institution.
Contact the local institution where you will take the JLPT exam and ask for a reminder and detailed information about the JLPT exam.
Ask about anything unclear or specific about the JLPT exam in advance to get comprehensive and useful information for your JLPT exam.
JLPT Test Guide in India
All information regarding the application guide, registration, and administration of the JLPT exam in 8 cities in India is the same as that published for other countries. As for the Test Guide, you can download the booklet from the website of the local institution where you will be taking the JLPT exam.
Please be sure to read the entire Test Guide carefully, as it contains everything you need to know to take the JLPT exam.
Next, to find out how much the JLPT exam costs for each level, you should check the website of the institution directly.
Please note that payment can only be made online by credit card, debit card, or net banking.
Do not enter the wrong test site and level of the exam you wish to take, as this information cannot be changed once the application process is complete.
There is no change of data once it has been sent.
Then, you will receive a voucher once your application has been accepted. If you do not receive the JLPT voucher after completing all online application procedures and making payment, please contact your local institution for clarification. Please remember that the application can only be completed online within the specified time!
3. JLPT Test Centre List and Details in India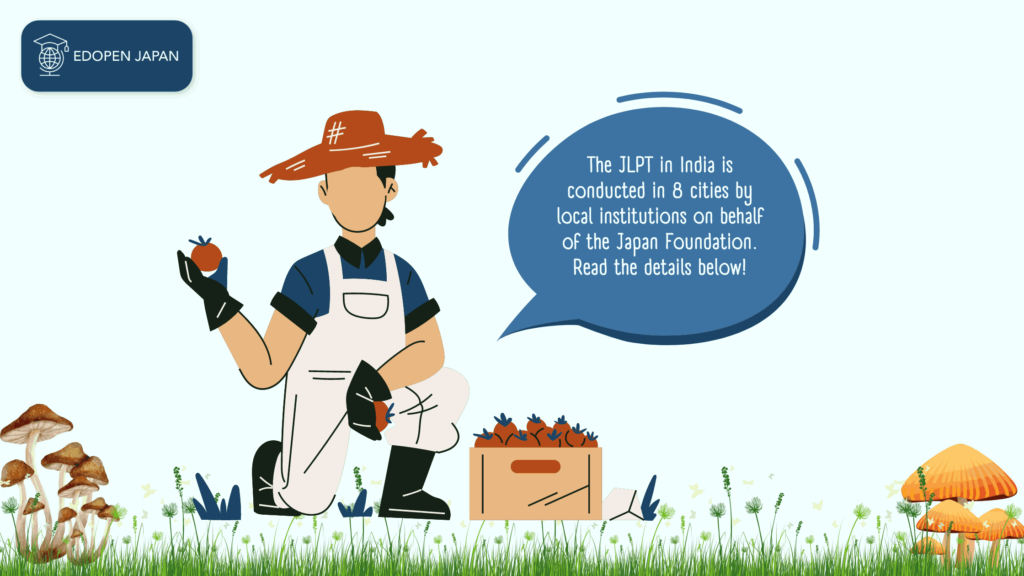 The JLPT in India is conducted in 8 cities by their respective local institutions on behalf of the Japan Foundation. Each of these institutions has different technical guidelines for conducting the JLPT exam. The following is a list of the local institutions organizing JLPT in India:
In 7 cities except for Karur, JLPT was held 2 times: July and December. While in Karur only once, only in December.
About MOSAI (New Delhi)
The Indian Association of Mombusho Scholars (MOSAI) is a registered association of professionals with extensive experience in research and academic work in Japanese universities, research institutes, and industry.[6]
In addition, MOSAI mainly promotes various educational, research, and academic programs as a form of cooperation between India and Japan. This organization also works in collaboration with the Japanese Embassy in India, The Japan Foundation, and various other organizations related to bilateral relations between India and Japan.
Address: 104 (1st Floor) New Delhi House, 27 Barakhamba Road New Delhi-110001
Phone: +011-23752964, 23313524
Email: mosai.india@gmail.com
About JALTAP (Pune)
The Pune Japanese Language Teachers Association (JALTAP) was established in August 1993 as a medium for promoting the Japanese language and improving the teaching skills of Japanese language teachers.[7]
In addition, this association focuses on providing various methods of teaching Japanese with the latest methodologies and teaching tools, providing training by Japanese language experts, and assisting in applying for scholarships for Japanese language teachers from the Japan Foundation. The association also provides information on job opportunities and scholarships for Indian students.
Address: Flat No 2B, 1st Floor, Ghagre Residency, Survey No.105/30,
2 lane, Bharati Niwas Lane, Karve Road, Pune 411004
Phone: +91-7507250660 , 020-25445678
Email: jaltap0660@gmail.com
About Indo-Japan Welfare and Cultural Association (Kolkata)
The Indo-Japan Welfare and Cultural Association (IJWCA) focuses on organizing various events to promote Japanese language and cultural education. The activities of this organization include organizing Japanese language classes in cooperation with the Consulate General of Japan, the host of the JLPT since 1998.[8]
In addition, this organization actively organizes various interesting activities related to Japanese language education and culture, such as Japanese speech contests, and Japanese language teaching seminars, and supports various studies and publications related to Japanese.
Address: 2B Asraf  Mistri Lane (18/4, Pramathesh Barua Sarani,
(18/4 Ballygunge Circular Road) Kolkata, 700 019, West Bengal, India
Phone: +91-33-2475 3773
Email: iindojapanwca@gmail.com
For details on other local institutions, please click on the table above and jump to their websites!
4. What are the Best Places to Learn Japanese and Prepare for the JLPT Exam in India?
In order to properly prepare for the JLPT exam so that you can get a perfect score, getting an intensive course from a reliable Japanese language school is very important.
Therefore, we want to help you find the best place where you can get intensive JLPT test preparation courses in India.
The 10 Japanese language schools we have listed have a very good track record in JLPT preparation. You can choose a school that is suitable and close to where you live. The price is also very affordable.
Please read more about the 10 schools, we highly recommend below:
In addition to taking intensive courses at a formal Japanese language school, you may need a more flexible type of Japanese course with your limited time. You may also prefer private lessons with a live Japanese teacher.
Therefore, especially for those of you who want intensive, flexible classes tailored to your own abilities, we also have additional options. It is by taking a Japanese preparation course with native Japanese speakers. You can find a selection of Japanese tutors through Preply, Amazing Talker, and several other sites.
You are free to choose and please read the reviews of students who have studied or prepared for the JLPT. We really hope you find the best tutor!
5. One Valuable Clue to Boost your JLPT Score!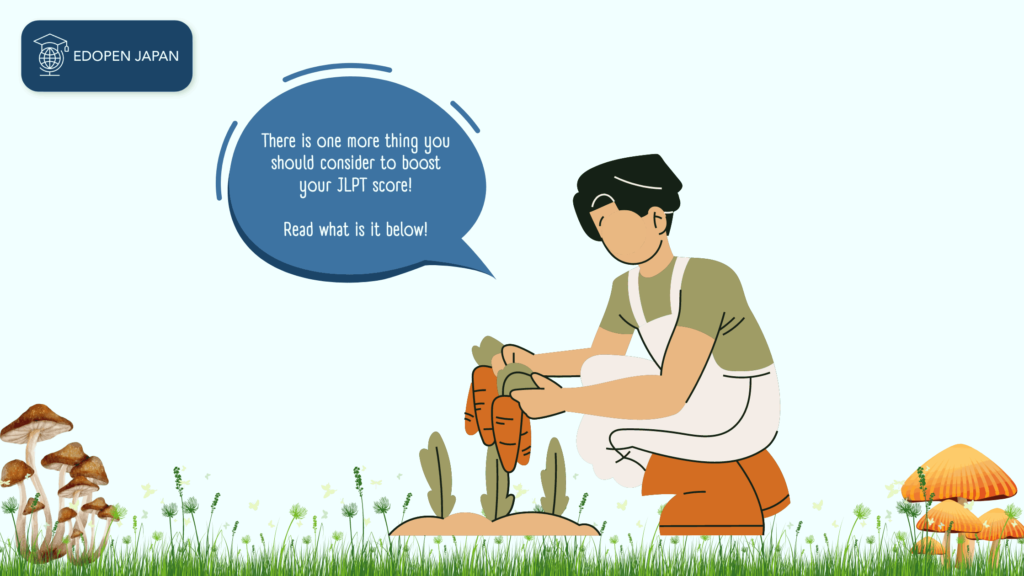 Apart from attending special Japanese language preparation classes organized by official Japanese language schools or finding special private lessons with native Japanese speakers, there is one more thing you should consider to improve your JLPT score.
You need to improve your mastery of the vocabulary at the level of the JLPT exam that you are struggling with. Understanding the many and extensive Japanese vocabularies will really help you get a perfect JLPT score.
Apart from understanding, you also need to really know how to use Japanese vocabulary in actual daily communication. Because in the latest JLPT exam, you will not only be tested on memorizing vocabulary but using it in everyday life is also the main point.
If you are preparing for the JLPT N2 exam, then, please read our article on the following JLPT N2 vocabulary list.
We really hope you can get a perfect score in your upcoming JLPT exam! We wish you good luck!
Conclusion
At the end of this article, let's review together the 5 points that we have been discussing regarding the JLPT in India as follows!
An Overview of JLPT and Its Advantages
About JLPT in India
JLPT Test Centre List and Details in India
The Best Places to Learn Japanese and Prepare for the JLPT Exam in India
One Valuable Clue to Boost your JLPT Score!
We really hope this article has helped you understand the JLPT exam, prepare well for it, and get a perfect score at whatever level you are aiming for! See you in the next article!
References
1 "Objective and History". JLPT Official Website. Retrieved 10 March 2023.
2 "Organizers". JLPT Official Website. Retrieved 10 March 2023.
3 "Message from Organizers". JLPT Official Website. Retrieved 10 March 2023.
4 "Four Key Characteristics". JLPT Official Website. Retrieved 10 March 2023.
5 "List of Overseas Test Site Cities and Local Host Institutions". JLPT Official Website. Retrieved 10 March 2023.
6 "About Mosai". Mombusho Scholars Association of India. Retrieved 11 March 2023.
7 "About JALTAP". Japanese Language Teachers' Association, Pune. Retrieved 11 March 2023.
8 "IJWCA Main Activities". Indo-Japan Welfare and Cultural Association. Retrieved 11 March 2023.