Are you a student or a recent graduate who yearns to work abroad, in a country with technological advancements and an ecosystem that is well suited to work productivity? Japan is one such answer, and long before you think of getting it, the JLPT test certificate is the key to it all.
For those of you in the Chennai area, it is mandatory for you to know the latest information about the policy updates in the midst of the covid-19 pandemic which has changed the order of some of the JLPT 2023 test policies.
Important information about registration procedures, the latest JLPT test locations, the number of fees you must spend, what you can and cannot do when facing tests at the test site, and how to best prepare for the JLPT 2023 exam that you need to know before registering for the JLPT as a first step to avoid ignorance and mistakes in the future.
Well, right now you see the article below that we are going to peel thoroughly this time, please refer to the JLPT test in Chennai!
1. Get to know JLPT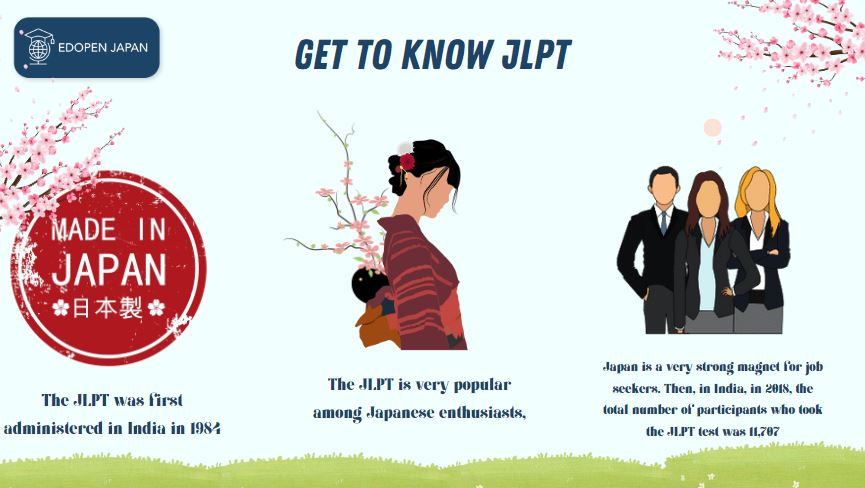 JLPT stands for The Japanese-Language Proficiency Test (日本語能力試験, Nihongo Nōryoku Shiken), which is an assessment of Japanese language proficiency for non-native Japanese speakers, covering knowledge, reading, and listening skills (Japan Foundation, 2011).
The JLPT was first administered in India in 1984 (Japan Foundation, 2009). It was also administered simultaneously around the world in the same year. The official party organizing it in Japan itself is JEES (Japan Educational Exchanges and Services), while the Japan Foundation administers the overseas tests and cooperates with the host institutions of the countries concerned.
The JLPT is very popular among Japanese enthusiasts, especially among learners and students from abroad who want to study at leading Japanese universities, especially in the field of technology, where Japan is one of the world's science and technology hubs.
Moreover, Japan is a very strong magnet for job seekers. Then, in India, in 2018, the total number of participants who took the JLPT test was 11,707.[1]
JLPT Benefits and Value
Don't be surprised if you can pass the JLPT test and get a JLPT certificate, especially with a high level, your future will change significantly, let's review it directly:
1. For immigration matters
You will be facilitated when entering Japan through the airport and dealing with immigration. You will get 15 and 10 points if you can show the JLPT N1 and N2 certificates with the pattern under "Point-based Preferential Immigration Treatment System for Highly Skilled Foreign Professionals". Individuals with a total of 70 points or more will receive preferential immigration handling.[2]
2. JLPT as the Mandatory Law
This is a mandatory law for someone who wants to become or find a job as medical personnel in Japan. The JLPT N1 test certificate is very necessary for some medical professionals such as doctors, dentists, nurses, and elderly caregivers.
Because it is related to human safety so understanding Japanese is mandatory, as well as some special terms in the medical field which are mandatory and measured at the N1 level in the JLPT test.
3. It is highly applicable for university admission in Japan
JLPT N1 and N2 certificate competence become a mandatory measure for students who want to be enrolled as students in Japanese universities to take the entrance examination. Especially, many scholarship providers in Japan also require Japanese language competence measured by JLPT N1 and N2 test certificates.
4. Highly Required For professionals
Many world-class Japanese companies require Japanese language skills at the JLPT N1 and N2 test levels, especially many Japanese companies that have invested in India, many recruiters have required Japanese language skills at the N2 and N1 levels.
5. Just For fun!
This reason applies to lovers such as anime, food, culture, nature, and some films that inspire many people around the world who end up learning Japanese either formally or self-taught. Surely you will be happy by measuring the extent of your Japanese language skills officially. There is nothing wrong with not measuring your Japanese by taking the JLPT test, who knows in the future you can become an officially certified Japanese translator.
2. General Info of JLPT 2023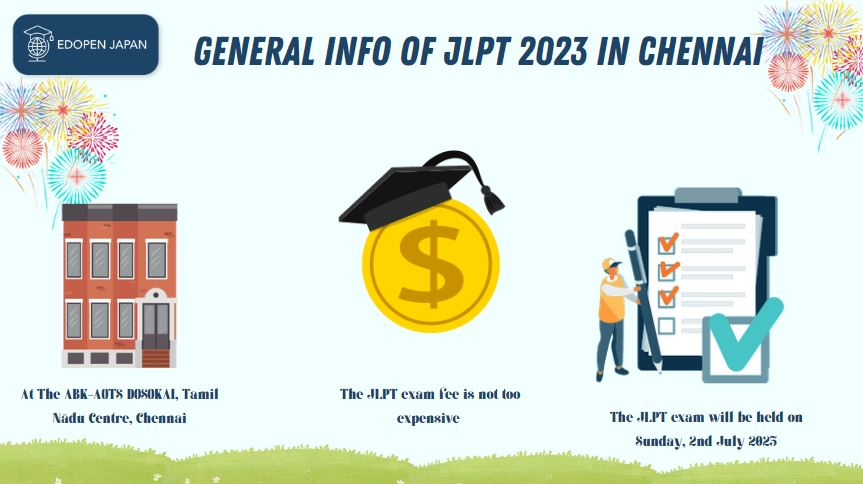 Generally, the tests are conducted twice a year worldwide and the 2023 JLPT in India is conducted twice a year in July and December, the JLPT exam will be held on Sunday, 2nd July 2023. Candidates can register online with online registration opening from 10.00 am on Wednesday 1st March 2023 to Friday 31st March 2023 at 5.00 p.m.
Please note that registration will be on a first-come, first-served basis. As a reminder to all JLPT candidates in Chennai, the JLPT test has a capacity of 4000 candidates and the current registration status is as follows: Total 4000 Submitted 393 Remaining 3607.[3]
JLPT 2023 Exam Site in Chennai
In 2023 in the Indian region itself, there will be a JPT test in 8 regions.[4] For the Chennai region itself, it will be held at the following address:
The ABK-AOTS DOSOKAI, Tamil Nādu Centre, Chennai
3rd Floor, Chateau D Ampa, New No. 37 Old No. 110 Nelson Manickam Road, Amjikarai, Chennai – 600029
Please contact the following email address for all the ins and outs regarding the JLPT 2023:
jlptchennaiind@gmail.com or rangaots@gmail.com.
JLPT Exam Fees
Keep in mind that candidates must feel lucky and grateful that the JLPT exam fee is not too expensive when compared to other foreign language proficiency tests. The JLPT exam is quite affordable for candidates, especially for students. The followings are the JLPT Exam fees:
| | |
| --- | --- |
| JLPT Levels | Detail Fee |
| 1. N1 | INR 1,947/- (INR 1650 + GST INR 297) + Payment gateway fee |
| 2. N2 | INR 1,829 (INR 1550 + GST INR 279) + Payment gateway fee |
| 3. N3 | INR 1,682/- (INR 1425 + GST INR 257) + Payment gateway fee |
| 4. N4 | INR 1,534/- (INR 1300 + GST INR 234) + Payment gateway fee |
| 5. N5 | INR 1,416/- (INR 1200 + GST INR 216) + Payment gateway fee |
3. How Do I Register for the JLPT Exam?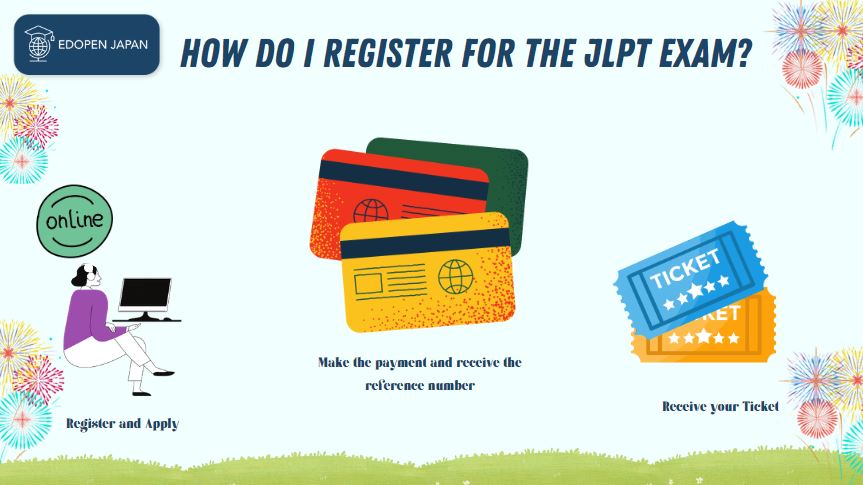 The simple process is divided into 3 parts as follows:
1. Register & apply
2. Make the payment & receive the reference number
3. Receive your hall ticket
Let's break it down, the first step is that the candidates will be asked to fill out the JLPT 2023 test application form to register through the online portal and the form can be accessed through the following link:
The second step that needs to be done is the payment that needs to be paid by the prospective candidates using credit cards and debit cards and after making payments the candidates will get a reference number.
This process will take the next few weeks after the previous 2 processes have been done and the candidates will get an online hall ticket which is very important to use in the JLPT test.
How to complete the JLPT 2023 application form
What's special about the 2023 JLPT in Chennai is that candidates can register for two JLPT levels at the same time. But, please note that this can be done by doing it at different times and registering separately for the two levels.
For example, if you want to take the JLPT Level N1 test at the first scheduled time at noon. And then, you can take the JLPT Level N2 test at another scheduled time at noon. The official test time in the Chennai region is before noon:
1. The session starts at 9 am for N5 and N1
2. After Noon: The session starts at 2 pm for N4, N3, and N2
Here is a simple procedure that will make it easier for the participants to fill out the JLPT 2023 Chennai Registration Form (Online).
Please prepare a passport-size photo ready for upload. Make sure the photo is clear in JPG or JPEG format with dimensions of 3.5 cm (width) x 4.5 cm (height). Please note that selfie photos are not allowed.
In order to speed up the payment process, set up the most convenient payment method for participants immediately.
Bring your government-issued ID and note your date of birth to be prepared to upload the required information when filling out the registration application.
Check the registration and confirmation email in your email after registration, look for this email in your inbox or spam folder, do not miss it.
Please check the information in the application you have filled in and make the payment
Then, you will be given a reference number, then after filling in the application. Please make sure it is filled in, it is a good idea to print a copy of your application form. This is done in case you need it in the future, so you don't have to bother anymore.
In addition, please note that there will be no refund of payments made by candidates unless there is an error made by The Japan Foundation or JLPT Test Administrative Committee Chennai due to unforeseen natural calamities.
Things to remember during the JLPT test in Chennai
The use of mobile phones is strictly forbidden in any JLPT test area, so make sure you don't use them.
Social distancing when entering the test area is a must to prevent infectious covid-19
The use of hand sanitizer is mandatory when entering the test area
Please bring a personal identification card for use in each test area
You are not allowed to change your seating position for any reason
Please ensure that you do not bring any tools that will not be used during the JLPT test, only stationery is allowed to be used and carried during the test.
Friends and family are not allowed in the test area; they can only accompany you outside the JLPT test area
Participants are not allowed to leave the test venue for any reason during the JLPT test.
4. How to Best Prepare for the JLPT Test?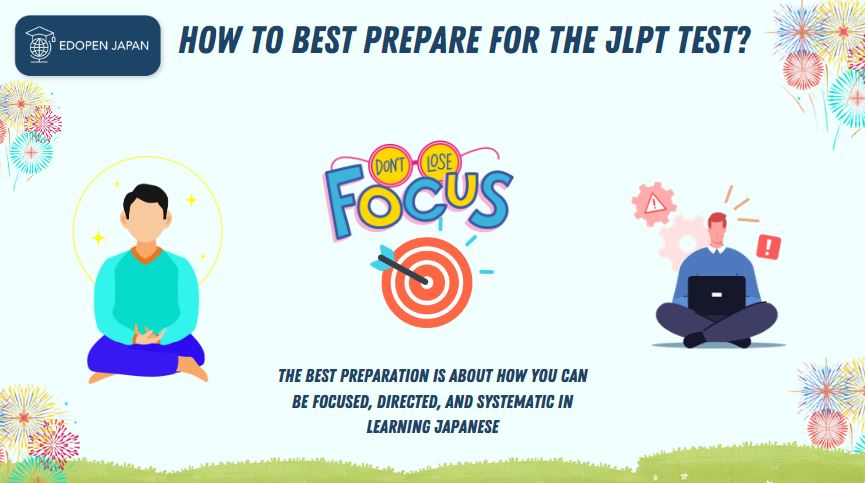 Immediately, without further, the best preparation is about how you can be focused, directed, and systematic in learning Japanese. Especially in preparation for the JLPT test, and language schools are the best place as a JLPT test preparation companion.
For those of you who live in Chennai Tamil Nadu, you can enroll in Japanese language schools in the region, we have summarized the best schools in Chennai that will make it easier for you to choose Japanese language schools in Chennai by clicking the button below.
Conclusion
Let's make a conclusion as your insight in preparing for the JLPT test in the Chennai region, India. Please pay close attention, don't miss the deadline time and what to prepare. Here, we can conclude in general:
1. JLPT 2023 Exam Dates
2. JLPT 2023 Exam Site in Chennai
3. How Do I Register for the JLPT Exam?
4. JLPT Exam Fees
5. How to Complete the JLPT 2023 Application Form
6. Things to Remember During the JLPT Test in Chennai
7. How to Best Prepare for the JLPT Test
Let us hear from you if you have applied and nothing has happened to you. Good preparation is half the success. Cheers fellas!
References
1 "Number of Applicants and Examinees by Test Site". JEES. Accessed 5 March 2023.
2 "Advantages of JLPT". The JLPT Official Website. Accessed 5 March 2023.
3 "Application Status". JLPT Online Application – Chennai, India. Accessed 5 March 2023.
4 "List of Overseas Test Site Cities and Local Host Institutions". The JLPT Official Website. Accessed 5 March 2023.