For many years, Australia and Japan have been known to the world for their strong cooperation in economic, educational, cultural, and various fields. Especially in the economic field, JAEPA (Japan-Australia Economic Partnership Agreement) for example, has become a bridge to increase the economic growth of both countries.
For this reason, there is a growing number of Japanese language enthusiasts in Australia. Meanwhile, many Japanese people visit various cities in Australia for economic, business, educational, and cultural exchanges. Quite a few students in Australia want to continue their education in Japan in order to build a career in various big cities in Japan.
Well, are you one of them? Are you currently a student in Adelaide looking for a way to master Japanese so that you can continue your education at a top university in Japan? Do you need information about the best places to learn Japanese in Adelaide? You know, the golden ticket that you need to grab for a great future is called JLPT.
Therefore, we are here to help you know how to learn Japanese and prepare for the JLPT exam in Adelaide. You don't need to fly to Japan to take the JLPT exam. Because in Adelaide, there is already a local institution, which may be very close to where you live, that has official permission directly from the Japan Foundation to conduct the JLPT exam in Adelaide.
All right, let's start by discussing everything you need to know about taking the JLPT exam in Adelaide, Australia.
1. About JLPT (日本語能力試験)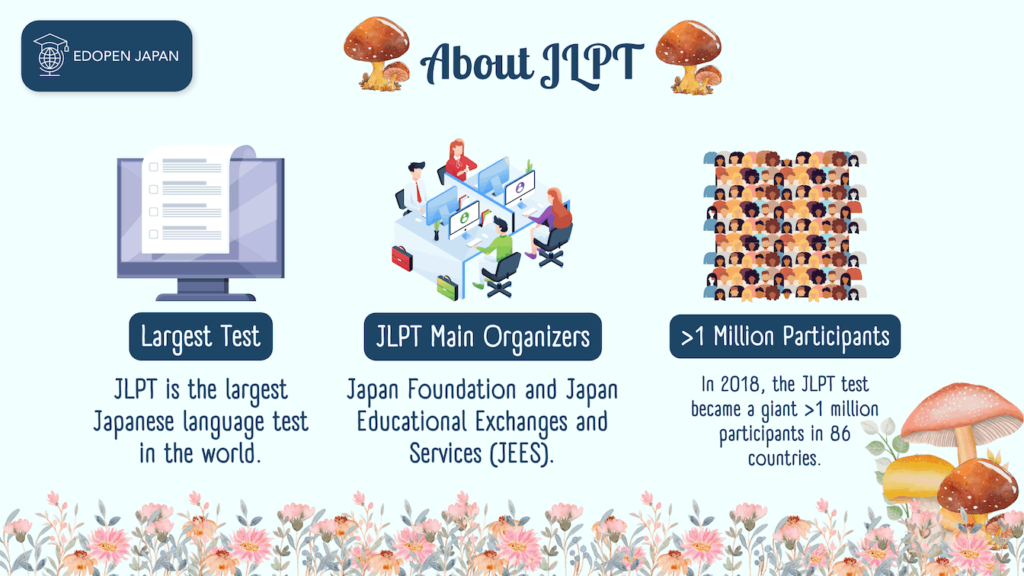 The Japanese-Language Proficiency Test (JLPT) or 日本語能力試験 is the largest Japanese language test in the world.[1] Since 1984, the Japan Foundation and Japan Educational Exchanges and Services have continued to offer the JLPT as a reliable means of assessing the Japanese language proficiency of non-native speakers. [2]
In addition, the JLPT is widely recognized in the corporate and government sectors as a benchmark for measuring proficiency and a powerful motivator for Japanese language students.[1] Then, in 2018, the JLPT test became a giant with more than 1 million participants in a total of 86 countries around the world, making it the largest Japanese language test in the world.
Furthermore, JLPT certificates are very important for various groups such as students, employees, and professionals. This certificate can also be used to facilitate immigration to Japan for skilled workers.
Especially students, mainly need this certificate when entering Japanese universities as well as seeking scholarships. Generally, they need N2 and N1 levels. Similarly, workers who apply for jobs in Japan will be asked for JLPT certificates at the N2 and N1 levels.
Then, this JLPT certificate will be used for various national examinations as certifications for various professions held by foreigners in Japan.
The Advantages of the JLPT Certificate
In addition to the various uses briefly mentioned in the previous section, the following is an example of the benefits and uses of the JLPT certificate. When a person holds a JLPT certificate, there are many benefits that differentiate them from others when dealing with Japan.
These range from academic credit and graduation certification in schools to preferential treatment in companies and recognition of qualifications in society.[3] The followings are some of the advantages of having a JLPT certificate:
Preferential treatment from Japanese immigration authorities. A person with a JLPT N1 certificate will receive 15 points under the government's "Point-based Preferential Immigration Treatment System for Highly Skilled Foreign Professionals."
Necessary (JLPT N1 certificate) for national examination for some professions. Such as medical practitioners, dentists, nurses, and many others.
For nursing assistants, the JLPT N1 certificate is required for nursing school graduates to take the examination in each prefecture of Japan.
The JLPT N1 or "N" certificate is exempt from examination for foreign children attending high school in Japan.
Under the EPA program, a JLPT N3 certificate is necessary for nurses or nursing staff holding Vietnamese passports to work in Japan.
In addition, the JLPT certificate is also very powerful for Japanese university entrance examinations and applying for Japanese scholarships. You will surely need it when seeking an opportunity to work for a company in or outside Japan and to advance your career in a company.
2. About JLPT in Adelaide, Australia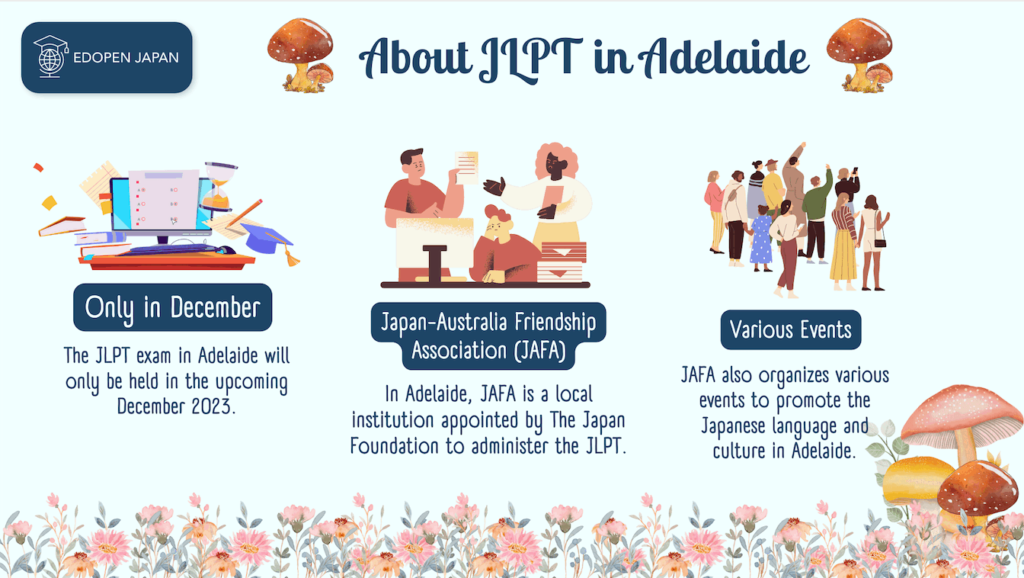 The JLPT in Australia is held in 6 cities: Canberra, Brisbane, Perth, Sydney, Perth, and Adelaide.[4] However, the JLPT exam will only be held once in 2023. Specifically, in Canberra, the JLPT will only be held in July. And in 5 other cities, the JLPT will be held in December. On behalf of the Japan Foundation, each city has its own local institution that administers the JLPT.
Therefore, please note that the JLPT exam in Adelaide will only be held in the upcoming December 2023, not in July. This is due to the ongoing restrictions due to the Covid-19 situation in Adelaide.
For the latest information on the administration of the JLPT exam in Adelaide, please visit the website of the local institution that administers the JLPT on behalf of the Japan Foundation. In Adelaide, the Japan-Australia Friendship Association (JAFA) is a local institution appointed by The Japan Foundation to administer the JLPT in Adelaide.
In addition to the JLPT, the association also organizes various events to promote the Japanese language and culture in Adelaide. Please read more about JAFA in the next section!
Japan-Australia Friendship Association (JAFA)
The association has been active in Australia since 1998 as a non-profit social and cultural volunteer organization that forges strong ties between Japan and Australia. The main focus of the Association is a social mission, organizing educational and cultural exchange events rather than profit-making economic events.
In addition, its members have studied, worked, and lived in Japan. Some have even married Japanese and brought their families to live in Australia. Various Japanese cultures have influenced Australian society, from Kabuki to karaoke to manga.
Furthermore, the association is also very happy and opens its arms to Japanese people who want to join together to enjoy and love Japanese culture or just miss Japanese culture. If you would like to learn more about JLPT and various events related to cultural and Japanese exchange and even anime, you can contact JAFA.
Address: PO Box 582, Fullarton SA 5063, Australia
E-mail: kaicho@jafa.asn.au
Telephone: +61 (08) 8370 8771
3. General Info about JLPT Test in Adelaide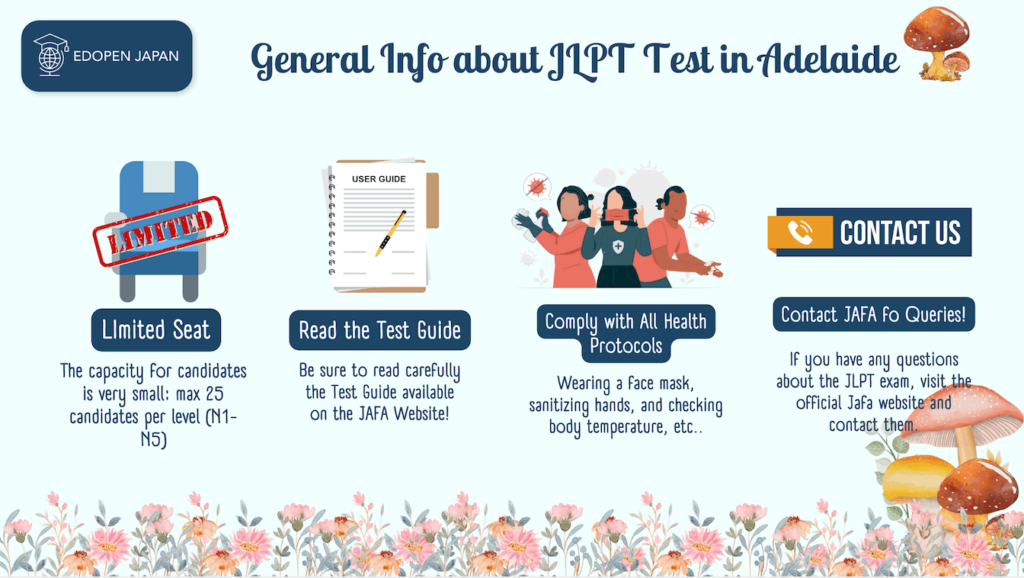 The JLPT exam is divided into 5 difficulty levels, namely N1 (the most difficult), N2, N3, N4, and N5 (the easiest). Each of the tests has 3 main components, as follows:
Language Knowledge (Vocabulary/Grammar)
Reading Comprehension
Listening
Further, all questions on the exam are multiple-choice. There is no essay section. There is also no oral component on any level of the JLPT exam. In addition, the capacity for accepting candidates for the Australian region is full for July 2023. Therefore, the next registration will be redirected to December 2023.
Furthermore, the capacity for candidates in July is very small, with a maximum of 25 candidates per level (N1-N5). All due to the Covid-19 situation, which is still recovering and does not dare to take any further risks.
Moreover, candidates are required to comply with all health protocols (e.g., wearing a face mask, sanitizing hands, and checking body temperature) imposed by the host institution at the test venue.
If a candidate fails to comply with these health protocols, the host institution will not hesitate to prohibit the candidate from entering the test venue and the candidate's participation will be considered failed.
JLPT Test Guide and Fees of JLPT Test in Adelaide
Regarding information on how other technical procedures, exam fees, and also how to fill out the application forms will usually be posted on the official JAFA website.
Specifically, in 2023, the JLPT exam was held only in December 2023. There was no JLPT exam in July. You can access the Test Guide information and other updated information about JLPT and Cultural Exchange and the Japanese Language on the official website of Jafa below:
The price of the JLPT exam in Adelaide varies slightly. You will also need to pay a booking fee, which is included in the JLPT exam fee. The following are the fees:
| | |
| --- | --- |
| JLPT Level | Fee (JLPT+Booking) |
| 1. JLPT N1 | $95 |
| 2. JLPT N2 | $95 |
| 3. JLPT N3 | $95 |
| 4. JLPT N4 | $85 |
| 5. JLPT N5 | $85 |
If you have any questions about the JLPT exam or learning Japanese in Adelaide, you can visit the official Jafa website and contact them.
4. How to Register for the JLPT Test in Adelaide?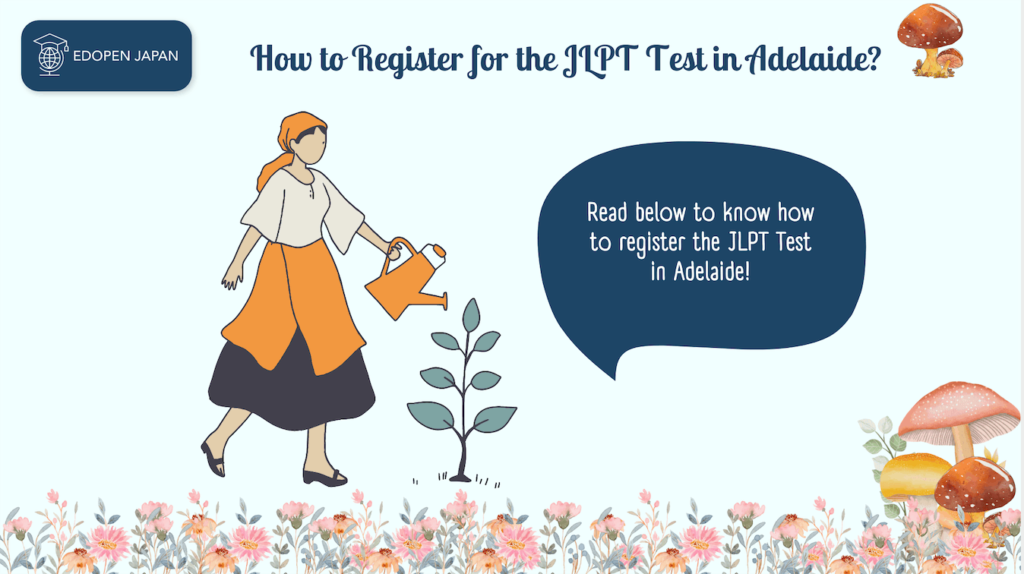 Please note that each procedure for each region in Australia may be different. Please always check the latest news through the host institution's website in the city where you are registering. Especially for the outline of JLPT 2023 in Adelaide is as follows:
The registration period will be announced by the local host institution (JAFA).
Links to the online registration form will be available during the registration period.
Prepare all the necessary documents before you apply.
After registering, your results form will be sent to your email address.
After a few days, the test voucher will be distributed to the participants.
Then, please fill out and carefully check all the information you entered during the registration process. Confirm by e-mail to the local institution, whether your application is correct or not. If you have any questions, please contact JAFA by e-mail or phone.
The Important Note about JLPT in Adelaide
There are several things that must be of concern to the candidates facing this JLPT test such as the following:
Test vouchers will be sent 1 month before the test. All candidates must print a physical copy of the test voucher and bring it to the test center.
At the time of the test, you will be required to bring a personal identity card for identification, which will then be matched with your application form as valid proof.
If you arrive more than 10 minutes late, you will be allowed to enter the test venue.
You are not allowed to take any items with you during the test, such as question papers and any items in the test room.
Please note that there are no refunds after registration.
In addition, the test results will be announced and posted online at the scheduled time. Please remember your 8-digit passcode is required to check your results online. There will be no change of test center after registration and completion of the form by prospective candidates.
Also, if the prospective candidate has special needs, it is essential that the prospective candidate asks their local host institution for a "Request for Special Test Accommodation Form" and submits the completed form with their application form before the deadline specified by their local host institution.
5. The Best Place to Learn Japanese and Prepare for the JLPT Test in Adelaide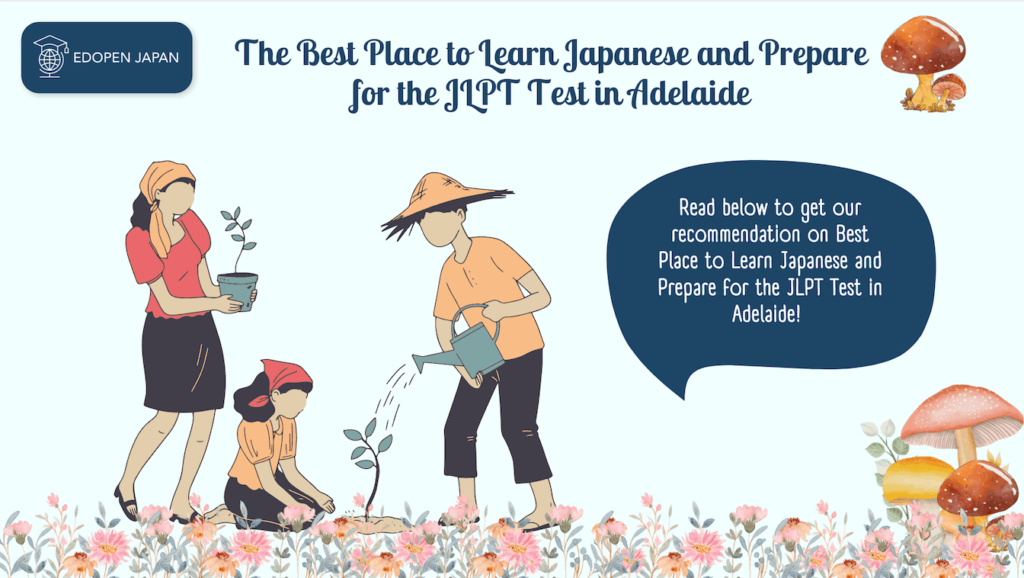 In addition to understanding the technical aspects of the JLPT exam, it is very important to prepare for the JLPT exam properly and effectively. For those of you who are currently confused about how to prepare for the JLPT exam in a focused, intensive, and accurate way, we have options for you.
Take a JLPT test preparation course organized by professionals. For example, by enrolling in a specialized Japanese language school and preparing for the JLPT exam. Specifically for Adelaide, we have summarized the best schools that are highly trusted to study and prepare for the JLPT exam as well as possible.
Read more about our recommendations for places to study Japanese and prepare for the JLPT exam in Adelaide below!
How to Boost the JLPT Score?
Other than taking special JLPT test preparation classes at the best and most trusted schools in Adelaide, for those of you who want to get good and even perfect JLPT scores, you should consider this.
Many have managed to get very good and even perfect JLPT scores because they practice the JLPT exam questions very often. Because practice questions really help you get used to and quickly master the JLPT questions, which continue to grow.
Without practice, your preparation will be not strong enough. Then, in order to practice JLPT exam questions, you need the right book. And we have compiled several books that have successfully brought JLPT fighters very good grades.
If you are currently fighting for the JLPT N5, then please read our review of the best JLPT N5 practice books below.
Conclusion
Alright, here's the end of all the information regarding the JLPT exam in Adelaide. We have also provided some additional tips to help you prepare for the JLPT exam. And getting a perfect score isn't just a dream!
We are very proud to be a part of your JLPT preparation process. We hope you find the information we have provided useful. Thank you for reading to the end. See you in the next article!
References
1 "About The JLPT". The Japan Foundation, Sydney. Retrieved 20 March 2023.
2 "Introduction". The Official JLPT Website. Retrieved 20 March 2023.
3 "Advantages of JLPT". The Official JLPT Website. Retrieved 20 March 2023.
4 "List of Overseas Test Site Cities and Local Institutions". The Official JLPT Website. Retrieved 20 March 2023.