Japanese is one of the most widely studied languages in the world. Unlike other languages, Japanese is not difficult to pronounce. Japanese uses kanji, hiragana, and katakana in its writing. It takes a long time to learn all three, especially Kanji. Because it is so difficult, more than a few Japanese learners have given up on learning Japanese.
Besides being hard to write, taking a language course or analyzing a book can sometimes be boring. There are many ways to study Japanese extra without problems. And absolutely no boredom. One of them is through games.
Yes, this time I will discuss 10 top class Japanese language learning games including app games for you. Please take a look at the following option guys!
Also, if you want to learn Japanese phrases in a minute, our media is the right place for you. Please always update what we have published here and find what you need! Especially, if you are currently learning certain Japanese vocabulary that comes up a lot in everyday conversation and mastering it will make your Japanese more natural and beautiful, please read our recommendations below!
Read also:
TOP 8 Most Powerful Free Japanese Learning App
48 Most Popular Japanese Slang You Need to Know
The Meaning of Yabai (やばい): All You Need to Know
The Best & Most Fun Way to Learn Japanese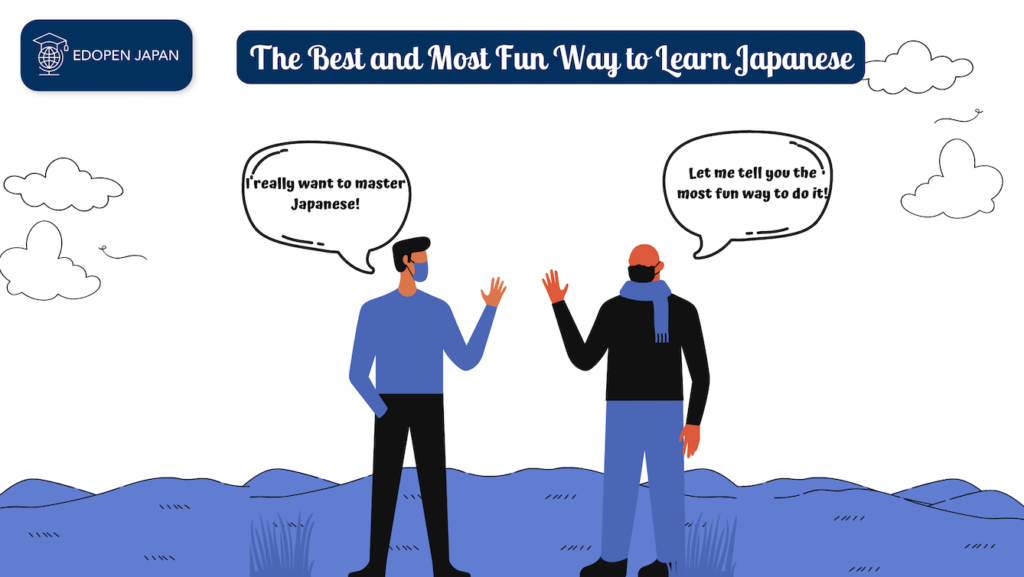 Learning Japanese from books may sound very old-fashioned and boring to most people. In addition, the development of Japanese materials in books and in more modern media may have various differences.
Besides, you may want easier and more effective learning methods and resources to learn Japanese. To meet your needs, we would like to recommend the best tips for learning Japanese that are effective and have the potential to quickly improve your Japanese skills.
What are the best tips and ways from us? The following are some points that you can adopt and do consistently for a period of time and then see how your progress in Japanese language development changes significantly!
Learn Japanese from YouTube
Learn Japanese with Video Games
Consistently listen to many Japanese songs that also have beautiful and inspiring meanings
Enjoy relaxing time and still learn Japanese by watching interesting Japanese movies or dramas.
Learn Japanese with material available in apps that are easy to install on mobile phones.
What do you think? Please try 1 or more of our tips above and let us know how much your Japanese improved!
Why does Playing Games Help You Learn Japanese Faster?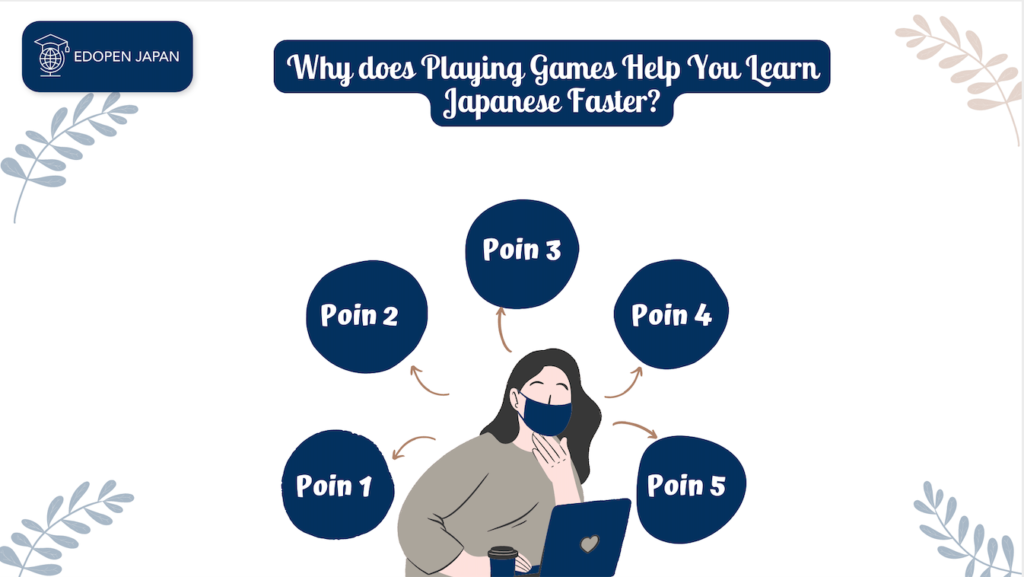 Playing games is a very enjoyable activity for most people and will never be boring. Quite a few also use games as a medium for learning certain languages or materials, including Japanese.
So why can games help you learn Japanese faster? The following points may open your eyes.
Playing games is an enjoyable activity. Therefore, games that contain boring or difficult Japanese material will be easy for you to digest with games.
Some games are usually in the form of games that test or challenge. This will make us more motivated because we will be challenged to overcome the various challenges available and will indirectly increase our ability to master various materials in Japanese.
The full color display of the game is very interactive. This really helps us to understand various materials quickly and a lot. We will not feel tired compared to reading material in a book, which seems very boring.
Games can usually be installed on our mobile phones. Therefore, we can access them whenever we have free time. This is different and very effective for fast learning compared to having to carry and open heavy books everywhere for just 5 minutes to learn Japanese, for example.
On the other hand, of course, you also need to learn Japanese from other sources to improve your knowledge of Japanese. Spending time only with games may be too extreme, as you can get comprehensive Japanese materials from various other media.
10 Great Games to Make You Master in Japanese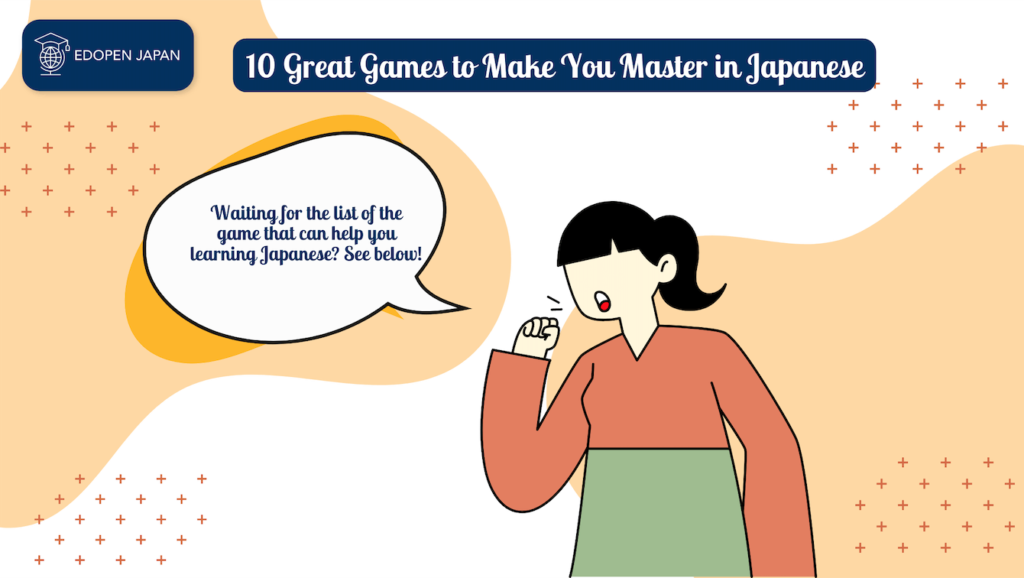 1. Learn Japanese with Tako
First, one of the best Apps, if you favor learning Japanese you can do it through this app. The Learn Japanese with Tako recreation is very exciting to play directly from your smartphone!

The first-rate section about this app is that all the kanji characters and grammar are in JLPT N5 levels. Of path, this will be a very top medium for you to research primary Japanese. This app is full of fun mini-games. This app will support you to train languages at a leisurely pace.
2. My Japanese Coach – Nintendo DS
Secondly, My Japanese Coach adopts an educational style to study Japanese that is lots easier. Surely, it can make you grasp it quickly.
There are various classes to go through. This video game is very powerful to educate you on Japanese vocabulary. Of course entire with the right spelling for each character. If you still have a historic Nintendo DS or 3DS, you can nevertheless attempt to play this game.
3. KawaiiNihongo – Learn Japanese
KawaiNihongo or Kawaii 日本語 is one of the best app that really famous among Japanese learners. You can learn the Japanese language, from basic to advanced level for free using this app. And the most important thing, everything is in English! This app will surely help you to learn Japanese faster. You can learn how to read and write Hiragana, Katakana, and Kanji with very cute and colorful flashcards. Here, you can learn Japanese through fun games and experience mnemonics learning techniques.
As I can say based on my experience, KawaiiNihongo is perfect for beginners who want to learn to read and write Japanese from scratch. Just try KawaiiNihongo and you will absolutely be amazed at how quickly you can master Japanese from Hiragana, Katakana, Kanji, and grammar!
The strongest part of this app is the vocabulary. Because this is what exists and is seen in each day's activities. This way of mastering will truly be extra enjoyable than studying a language as it is applied in the classroom, which solely makes us as normal human beings sleepy.
4. Slime Forest Adventure
To get started out with the fundamentals of Japanese, Slime Forest Adventure is an exquisite beginner's system to introduce you to easy hiragana and katakana. It is with the former being the primary developing block of the Japanese language.
Then, the free model of this journey activity will train you on the basics. Although you can pay for the upgraded model to study to learn about greater kanji and tricky sentences. However, the free version is adequate for casual beginners who desire to analyze katakana only.
Moreover, Slime Forest Adventure's gameplay is especially simple, requiring you to understand the proper phrase or persona in order to defeat the enemies on the screen. This is awesome for helping you memorize easier characters too.
5. Memrise
Memrise is the identification of a one-of-a-kind utility that is set up amongst Android smartphone users. The app moreover helps with instructions in different languages. In Memrise, you can examine grammar and vocabulary via quizzes, lessons, exercises, and games.
Additionally, the Memrise software moreover helps offline gaining an understanding of processes, proper pronunciation exercises, day-by-day goals, bots, and analyzing games. All of these elements aim to instruct customers about Japanese grammar or grammar properly.
If you are searching for the Japanese to gain expertise in apps that can assist you to take Japanese greater seriously, Memrise is the app you need to consider.
6. Learn Japanese by Mindsnacks
In this app, there are increased than 800 phrases and phrases to learn. Not completely that, there are Kana, Kanji, and Romaji in it. The app itself is broken up into pretty a few video games the region customers can look at a lot of new vocabulary whilst taking Japanese to an increased level.
Then, users can play quizzes in this utility to enhance vocabulary, numbers, colors, day-by-day items, and many others. In each lesson, there are 20 phrases. Thus, the purchaser will no longer explode his head if there are too many words that exist as soon as in one study. In addition, each lesson has been surpassed. From this assessment, users can see what errors have passed off and how they ought to be.
7. Drops
Next, there are Drops. This application from the developer Language Drops provides five minutes for you to study Japanese every day. This application prioritizes classes on vocabulary and sentences rather than grammar. Drops also provide a game function so that customers don't experience bored whilst studying.
This software affords about 99 subjects with almost 1700 phrases and sentences. You can discover each and every day. Want to? Try it!
8. Flashcards by NKO
For the common student, this app offers a twist to reading flashcards. One that can't without problems with the aid of pen and paper methods. Before we get into the recreation aspect of things, let's dig into all the reachable options. Everything seems to be customizable, to the factor the place I would want to write some other article simply to give an explanation for it all.
If you're a trainer or simply searching to share your vocabulary decks, there are even exported and sharing options. Flashcards can be made with text, images, drawings, videos, or even sound recordings. These are all choices handy earlier than you even make a deck. Once you make one, you can go similarly and edit your lists by way of greater choices, such as including borders or altering the colorations of your cards.
Once you've brought that kaleidoscope border you've been eyeing, it's time for the games. We can wager what the video games Match, Spelling, and True & False ought to be. It's the QBattle, Loci, Flappy, and Blocks video games that you have to play to discover out what they're all about. Regardless of the game, you're going to be aware of your vocabulary and emerge as a greater expert in Japanese.
9. StudyStack
Study Stack affords lots of Japanese flashcard units masking any and each topic. You will be capable to exercise and learn about vocabulary, grammar, and sentences. Also, the phrases to any degree you may need, from amateur to advanced.
It's a lot of exciting to browse around and see as well. It is simply how many subjects there are. You will additionally discover quizzes and take a look at video games. This will assist you to revise your standard information about the Japanese language.
10. Learn Japanese Yami
In the top 10 places, I would give it for Learn Japanese Yami. Yes, in my opinion, Learn Japanese with Yami is the best Japanese Learning Game with a new effective learning method. In this app, you can get a very rich way of studying Japanese. Then, they use the combination of Speech, Image Demonstration, and Gamification, It is very awesome.
Moreover, the application has a vocabulary list based on great and reliable Japanese learning materials. This is along with unique and fun illustrations that help us remember Japanese vocabulary easily. Next, every player will embody an in-game character, challenge hundreds of Japanese lessons and quizzes. We would also look for items to unlock a new character's costume as well as improve the vocabulary. Please do not worry, because you can also learn kanji and pronunciation for both JLPT exams as well as the daily communication in this App.
Conclusion
As a conclusion of this article, here are some messages from me to you out there:
First, Learning a language is actually the same as we play a game in principal. Even though the challenge stage of vocabulary and grammar is different, we nonetheless have to study a whole lot to extend understanding and obtain experience. The extra we seize understanding about a language, the extra possibility we are to evolve into higher levels.
Again, when you come throughout a phrase or phrase you do not know, write it down on paper. Not solely the vocabulary, but the complete sentence. This will assist your writing and beef up phrases greater efficaciously in your memory.
If you are an extra serious student, you can write a journal about your adventures. Summarizing the story, or a crushing defeat will give you great experience. It will supply you with the chance to exercise sentence formation, grammar, and use of Japanese vocabulary.
That's all from me, if you have any comments please leave them freely below! I am looking forward to hearing from you!