Are you currently researching how to take the JLPT in Canada? Do you find it difficult to find relevant information on how to take the JLPT in Canada? It is certainly not easy and can take a lot of time to do independent research on how to take the JLPT in Canada.
That is why we are happy to be here for you. We have compiled a variety of relevant and very useful information for you when taking the JLPT in Canada. Such as the technicalities to be considered, how to register, where the JLPT test site in Canada is located, when the application process opens, and several other important things. With this, your JLPT preparation material will not be in vain and will be perfect.
With this, you can also take the JLPT exam easily and smoothly without any significant obstacles. For example, in Canada itself, the JLPT is held in 4 major cities, namely Vancouver, Toronto, Edmonton, and Ottawa. Especially for 2023, for example, the JLPT will be held twice in Vancouver and Edmonton, but only once in Toronto and Ottawa. You need to be aware of this so that you do not make any mistakes in your JLPT preparation strategy and in determining the location of your JLPT exam.
In addition to the above, there are many more technical things that you need to pay attention to when preparing for the JLPT in Canada. We really hope that the information we have prepared is useful for you. Now, let's start the discussion!
1. About JLPT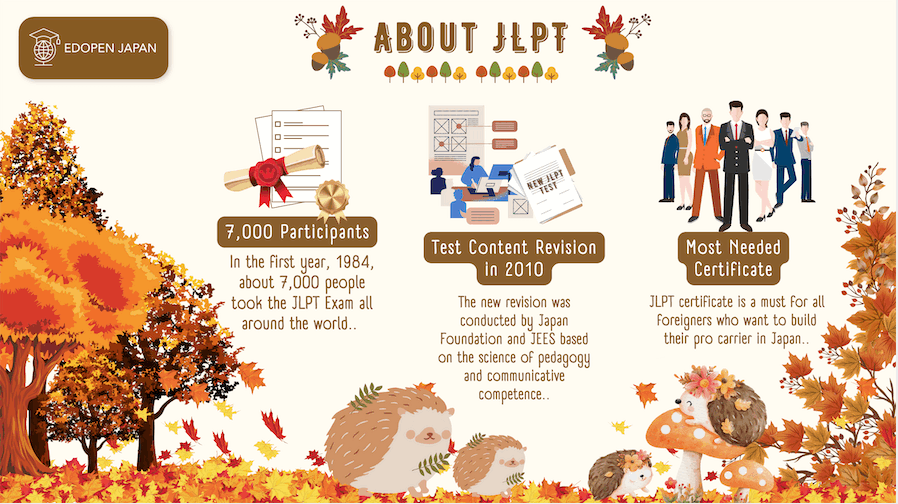 The JLPT was first tested in 1984 by the Japan Foundation and Japan Educational Exchanges and Services (JEES) to measure and certify Japanese language learners. In its first year, 7,000 people had already taken the test.
Moreover, one of the peaks was in 2018 when participants from around the world reached more than 1 million. As of December 2020, more than 12 million people in Japan and overseas have taken the JLPT. This makes it the largest Japanese language exam in the world.
Further, the institutionalization of the JLPT certificate expands its usefulness: in addition to measuring Japanese proficiency for academic purposes, JLPT certificates are now used by employers to assess the qualifications of job applicants. And also, to evaluate employees for promotion and recognition.
More specifically, JLPT candidates use the test to demonstrate their language skills when applying to educational institutions, study abroad programs, internships, and more.
Over the past 25 years, the Japan Foundation and JEES have revised the content of the JLPT. In 2010 a draft of the new Japanese language proficiency test was created.
The content changes in the new JLPT test are that it is divided into five levels of ability. Level 1 is the most difficult, while level 5 is the easiest. The name JLPT levels we know until now is level N1, N2, N3, N4, and N5, where N stands for Nihongo). Each test consists of three parts: writing – vocabulary, listening, and reading – grammar.
The JLPT Test is usually given once or twice a year throughout the country on the first Sunday in July or December. In Canada, as stated previously, the 2023 Japanese Language Proficiency Test will be held in the cities of Toronto, Edmonton, Ottawa, and Vancouver.
The JLPT Test Revision Contents in 2010
The purpose of the JLPT revision conducted in 2010 was to ensure the continued relevance and accuracy of the JLPT. The Japan Foundation and Japan Educational Exchanges and Services (JEES) introduced a revised version of the test in 2010. This new test concept is based on the science of pedagogy and based on changes in concepts that were applied 25 years ago.
In addition, the revision of JLPT is also to measure communicative competence. The emphasis is on practical Japanese communicative competence and Japanese language skills, including writing, vocabulary, and grammar, and the ability to carry out communicative tasks using knowledge of Japanese.
Moreover, the revision is also to increase the number of levels from 4 to 5. The revision added the easiest level N5 that we all know until this day. Candidates can choose the level that best suits their abilities. Each test consists of three parts: Writing – Vocabulary, Listening, and Reading – Grammar.
Advantages of Taking the JLPT
Undeniably, the JLPT is like a passport for most people who come into contact with Japan, whether they are students or workers, and many companies require this JLPT certificate. If you have this certificate, it means that you have a distinct advantage over your competitors.
On the other hand, it is a fact that in Japan the JLPT is considered for preferential immigration treatment as well as eligibility for various national examinations. Outside Japan, it is widely used as a school certificate, as some schools have made Japanese a compulsory subject alongside English.
In the professional and industrial world, it is also used for job screening and promotion, as well as for various national and international qualifications. In addition, many Japanese companies, both in Japan and those that have expanded overseas, require JLPT certification for prospective employees.
2. Technical Rules about JLPT in Canada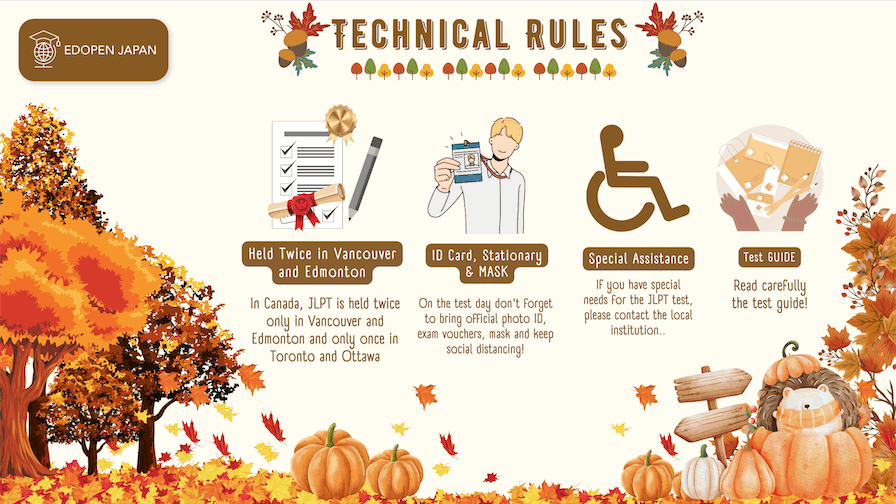 Preparing for the JLPT exam without knowing the details of how the test is organized is a disadvantage. You need to know what the rules are, what you can't break, what requirements you need to prepare, what equipment you can and can't bring with you while taking the JLPT exam, and many other things. You have to prepare everything well.
Especially if you are taking the JLPT exam abroad. You have to know where to find the local institutions that are trusted by the Japan Foundation. In Canada, for example. If you decide to take the JLPT exam in Vancouver, where can you take the exam, when will the JLPT registration open, who can you contact if you have a problem, and so on?
You need to do your research before you decide to take the JLPT exam. Of course, in addition to preparing the JLPT exam material at the level you want. For that, let's try to discuss them one by one in this section.
Test Guide of JLPT in Canada
JLPT is held simultaneously in Japan and around the world on the first Sunday in July or December. JLPT is usually held twice. In Canada, JLPT is held twice only in Vancouver and Edmonton. While the other 2 cities, Toronto and Ottawa are held only once in December.
JLPT exam registration is accepted only online, there is no other way. Since the administration of each JLPT must take into account the conditions of COVID-19, there are specific rules that you must pay attention to, and those vary in each test site in Canada.
For example, you must wear a mask and maintain social distancing. Always keep your hands clean by using the hand sanitizer provided. Please check and confirm these rules on each JLPT host website.
Then, you must also pay attention to the items that are allowed and not allowed to be brought, such as official photo ID, exam vouchers that have been sent, stationery such as pencils and erasers, and so on. Don't forget this and miss it when the JLPT exam starts in a few minutes.
For more detailed guidelines on organizing JLPT in Canada, please read the JLPT Guidelines below!
Test Fee
The JLPT exam fee is $70 CAD for all levels, N1 to N5. Remember, once you have made the payment, the exam fee is non-refundable for any reason.
If you arrive late on the day of the exam due to illness, inability to travel, border closures, or any other reason other than an official cancellation of the exam by the Japan Foundation or the official testing agencies trusted by the Japan Foundation in Canada, the exam fee received by the Board will not be refunded.
The JLPT exam application you have completed will also provide you with detailed instructions on how to make the payment. Be sure to make your payment carefully and enter your identity correctly. Don't forget to check your test site correctly.
Additionally, you will not be able to change it once the application process is complete and your information has been automatically recorded. For more detailed guidelines on organizing JLPT in Canada, please read the JLPT Guidelines below!
Special Notes
Host institutions of JLPT in Canada are very responsible and friendly to all reasonable suggestions and requests. If you have special needs for the JLPT test, please contact the institution by completing a special JLPT application form with a special request.
Then, please also check the details of this special accommodation with your host institution. You will be notified one month before the test if your request has been approved.
Then, please make sure that your request relates to the smooth running of the JLPT test. Moreover, it is possible that not all your requests can be met by the host institution due to the circumstances and capabilities of the host institution. For more detailed guidelines on organizing JLPT in Canada, please read the JLPT Guidelines below!
3. JLPT Test Sites in Canada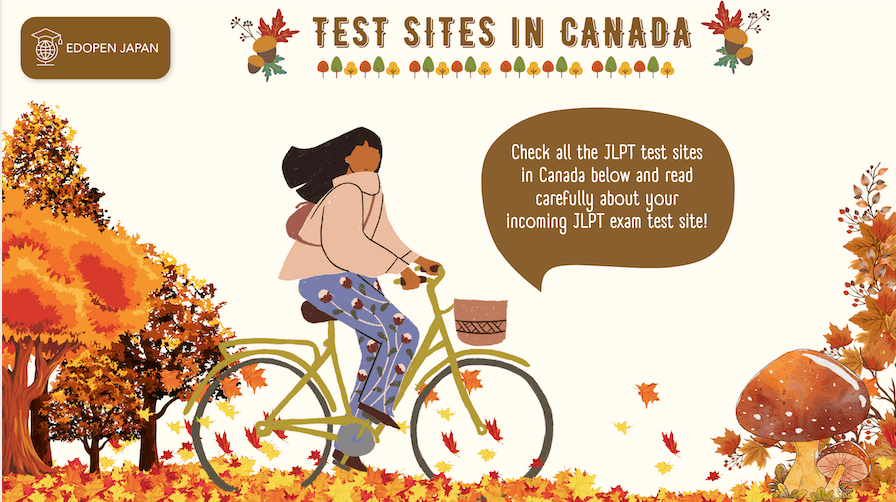 In 2023, the JLPT in Canada will be held in 4 cities, namely Vancouver, Toronto, Edmonton, and Ottawa. Each city has a local institution entrusted by The Japan Foundation to organize this test.
All information related to the administration of the JLPT is available on the website of each local institution. All you have to do is check it daily! Below is a brief summary of the JLPT test sites in Canada. Please visit their websites by clicking on the links we have provided.
(1) Vancouver Japanese Language School and Japanese Hall (Vancouver)
The Vancouver Japanese Language School & Japanese Language Hall (VJLS-JH) is a non-profit, community-based organization dedicated to the advancement of Japanese language education, culture, and community. The organization was established in 1906.
As the oldest Japanese language school in Canada, VJLS-JH has been teaching and promoting Japanese language and culture education. In fact, since 2019, the school has been designated as one of Canada's national historic sites.
The institution also offers a variety of educational programs and actively promotes the history of Vancouver's Nikkei community. Various cultural exchange events, both national and international, are organized by this institution for all Canadians. The institution is very active in strengthening and enriching the intercultural understanding of Japan and Canada to both local and international communities.
Including the JLPT, the Japan Foundation has entrusted VJLS-JH with the administration of the JLPT exam in the city of Vancouver, Canada. VJLS-JH even has a special program for JLPT exam preparation. Please visit the school's official website for more information about the JLPT.