Who among you dreams of studying or having a brilliant career in a developed country like Japan? The first thing you need is Japanese language certification by taking the JLPT test.
If you're familiar with the TOEFL or IELTS test, the JLPT is a Japanese version that is very different in terms of content. Let's take a closer look at the JLPT in Chicago!
About the JLPT test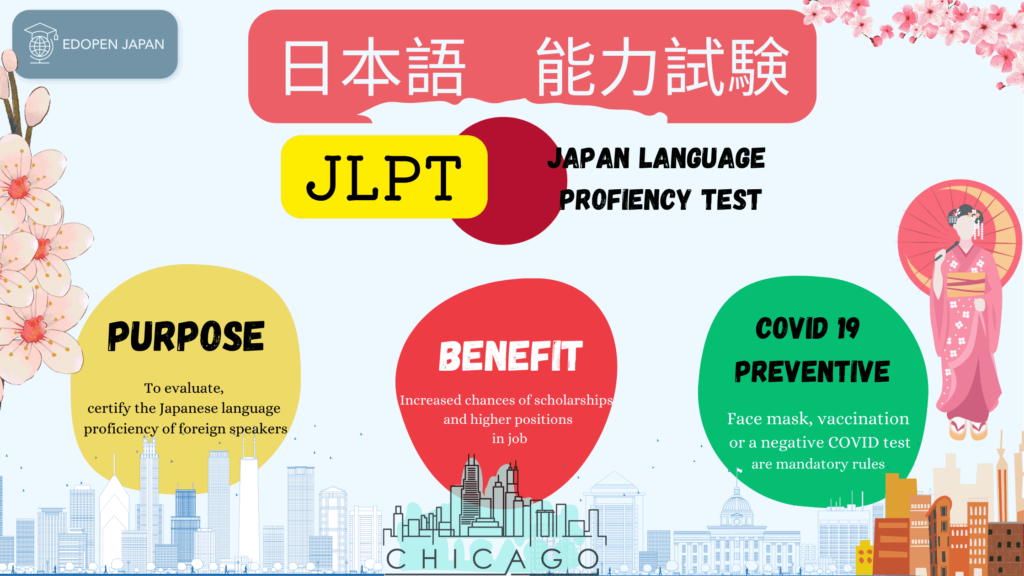 The Japanese Language Proficiency Test (JLPT) is a test to measure fluency in the Japanese language. It is administered by Japan Educational Exchanges and Services in Japan and by the Japan Foundation (JF) and its related organizations around the world (for the US, the American Association of Teachers of Japanese (AATJ). Since its first administration in 1984, the test has been administered in 81 countries around the world.
Its purpose is to evaluate and certify the Japanese language proficiency of foreign speakers and it is administered twice a year: in July and December. The exam is divided into 5 levels (from the easiest level N5 to the most difficult level N1) and differs from other foreign language tests in that the JLPT does not have a speaking section, but is entirely in the form of multiple-choice questions.
Benefit of JLPT
The JLPT may be unnecessary for ordinary people, but it is a must for scholarship and job seekers in one of the world's technology hubs, Japan. This is because many scholarship and job providers in Japan require JLPT test results as the main requirement for registration. The JLPT or Japanese Language Proficiency Test measures a person's ability to master the Japanese language.
This JLPT test will thoroughly measure your Japanese language skills through 3 benchmarks, language knowledge, reading, and listening. There are levels from N5-N1 in the JLPT, so the higher your JLPT score, the more opportunities you will have to get scholarships and high positions in a job application.
Covid 19 preventive measures during the JLPT test
Based on the 2022 JLPT tests and rules in the USA, registration is online only and Chicago has a maximum capacity for N1 level: 80 N2: 110 N3: 70 N4: 70 N5: 70. In the midst of the COVID-19 pandemic season, various rules and guidelines are very difficult to implement, so let's look at the reviews below. Wearing a face mask, washing hands, or showing proof of vaccination or a negative COVID test are mandatory rules for all candidates to comply with when arriving at the test venue.
Candidates will be severely sanctioned if they fail to comply with this main requirement by not being able to enter the venue and will be considered unable to take the exam. Strict advice from the organizer is that candidates with symptoms of COVID-19 are advised not to come to the test venue.
Test Rules & Policy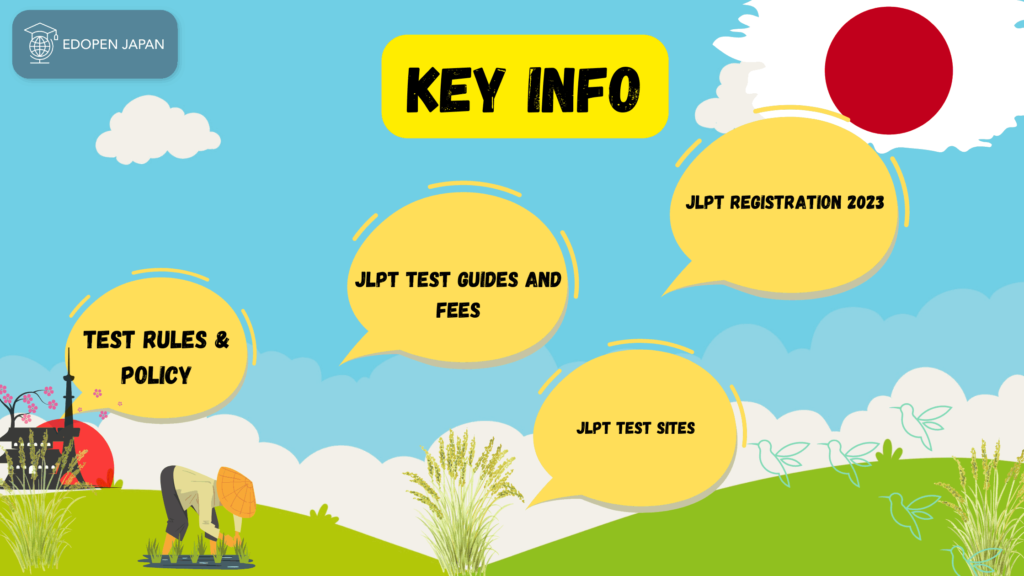 In General
By registering for the JLPT online, you agree to abide by these JLPT Rules and Regulations and all requirements stated or communicated to you, either orally or in writing, at the test center where you have registered, even if your registration form is accepted without your signature. JF and AATJ reserve the right to change or amend the JLPT Rules and Regulations without notice.
Please note that all forms and test fees must be paid in advance before proceeding to the next stage and that all payments can only be made by credit card. Please note that there are no refunds for cancellations, only if the test is canceled by the organizer. At the time of the test, you will be asked to show proof of identity in the form of a driving license, student card, and passport or national identity card. social security cards, credit cards, ATM cards, and store credit cards will not be accepted. Please note that if there is a discrepancy between your registration card and your identity card, you will be asked to produce other official documents such as marriage certificates, court orders, etc. Delays of more than 10 minutes from the scheduled start of the test will result in the unforgivable sanction of your registration being canceled.
On the release of test results
Keep in mind that the JLPT test knows whether you passed or not, if you do not meet the required score in each section, then you will be declared not passed, even though your score in other sections is very high. You can access the JLPT test results online through the website of Official JLPT by clicking the button below. By logging in and preparing your personal test number and passcode.
Your certificate of completion will be issued and sent via email along with the test score results for those of you who passed, if there is an error in writing your personal information can contact AATJ, and within one year after the issuance of the certificate will be accommodated.
JLPT Test Guides and Fees
Before discussing this section further, people with disabilities who require special and additional accommodations can first contact AATJ to discuss their needs. For each level of difficulty of the JLPT test there are 5 namely; N1, N2, N3, N4, and N5, the highest level is N1 and the lowest is N5, N means "Nihongo". For all fees, each level is charged 100 USD.
JLPT Registration 2023
JLPT 2023 will be held in July and registration information is available here. Note that a link to the online registration system will be available during the application period. You will first need to create a personal account to register. Unfortunately, the JLPT is not held in July for all regions of the United States. To make it easier for you to remember the JLPT 2023 deadline, we will make a flowchart of how your strategy should be to remember all the steps of the JLPT 2023 deadline test below;
1. In July
This month, AATJ will issue updated information on the instructions and registration schedule for the JLPT 2023 test, you are asked to read the instructions carefully before registering.
2. In August and September
This month, registration for the JLPT will open in mid-August and close around mid-August. Make sure you don't miss your chance to register.
3. End of October
Once you have registered, you will receive a voucher confirmation email and test venue information will be announced at the end of October.
4. On 3 December the JLPT test is ready to take place.
Prepare everything well, both internal and external conditions of each of you, on the 3rd of December this test will be conducted, good preparation will bring good results, keep up the spirit and positive thinking.
5. The results will be announced in February-March 2024.
The announcement of your JLPT test results will be made no later than 30th March 2024 through the personal email you have registered.
6. Release of JLPT pass certificate at the end of March
A certificate will be sent to your email address no later than the end of March 2024 if you pass.
JLPT Test Sites
As an illustration in 2022, the maximum applicant capacity for the JLPT 2022 test in Chicago is;
N1 80 Applicants
N2 110 Applicants
N3 70 Applicant
N4 70 Applicant
N5 70 Applicants
In total there are 400 capacities, which means not all are available, so make sure who is registered quickly then they are entitled to take the JLPT test in America at this time only done in December. For the location of the test in 2022 in the Chicago area, held at DePaul University, Lincoln Park 2022, 2023 it could be carried out in the same place, but make sure you look for info and often check the updated info on the official AATJ website.
How to Find the Best JLPT Tutor in the Chicago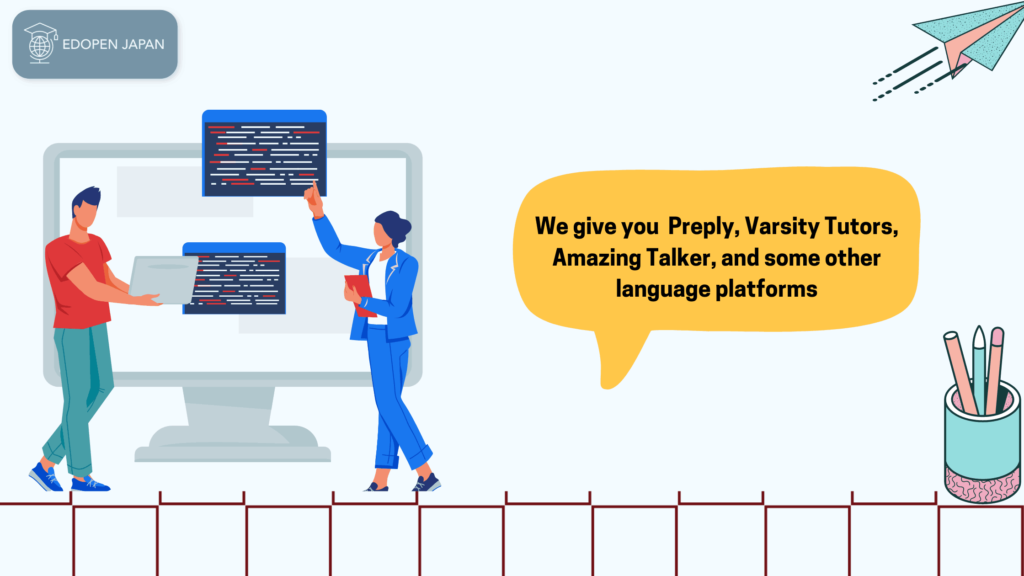 Preparation is the most important weapon when facing something important in life. Therefore, you should prepare well, especially about JLPT test materials. From the materials we have prepared, you can also learn about learning Japanese, studying in Japan, and Japanese culture, all of which are the mutual feelings we want to give you in witnessing together your struggle to master Japanese.
Furthermore, to get an experienced tutor in Chicago, we give you such as Preply, Varsity Tutors, Amazing Talker, and some other language platforms. Feel free to discuss your JLPT test progress and your Japanese learning journey with us. Keep up to date with our latest articles and we look forward to being a part of your bright future!
Conclusion
Let's wrap up, before fighting the JLPT exam, you should note it down in a personal book, read it carefully, keep it in mind mate, and don't miss the deadline at a certain time that could be fatal to your plans.
Test Rules & Policy
JLPT Test Guides and Fees
JLPT Registration 2023
2022 JLPT Test Sites in the US
We wish you the best of luck on the JLPT test, be sure to contact us if you have been able to succeed in the JLPT test, especially if you have passed the JLPT N1 test. We are very happy to hear it and do not hesitate to discuss it with our team if you have any questions. good luck, and keep great buddy!