Listening to podcasts has become one of the great ways to learn and teach various content nowadays.
Especially podcasts that are about learning Japanese and various interesting topics related to Japanese social life and culture should be listened to and not missed!
In addition, you can listen to them freely anywhere without time restrictions, listening to Podcasts is most preferred because it can train our listening and speaking skills very strongly. It's truly an effective learning method.
For Japanese itself, there are tons of quality podcasts that cover a wide variety of topics. Starting from topics with basic to advanced Japanese levels.
For this article, I've summarized 12 lists of the best Japanese podcasts that you should listen to in order to improve your Japanese!
All of them, I have listed based on the level ranging from those suitable for beginners to advanced learners.
Podcast for Beginners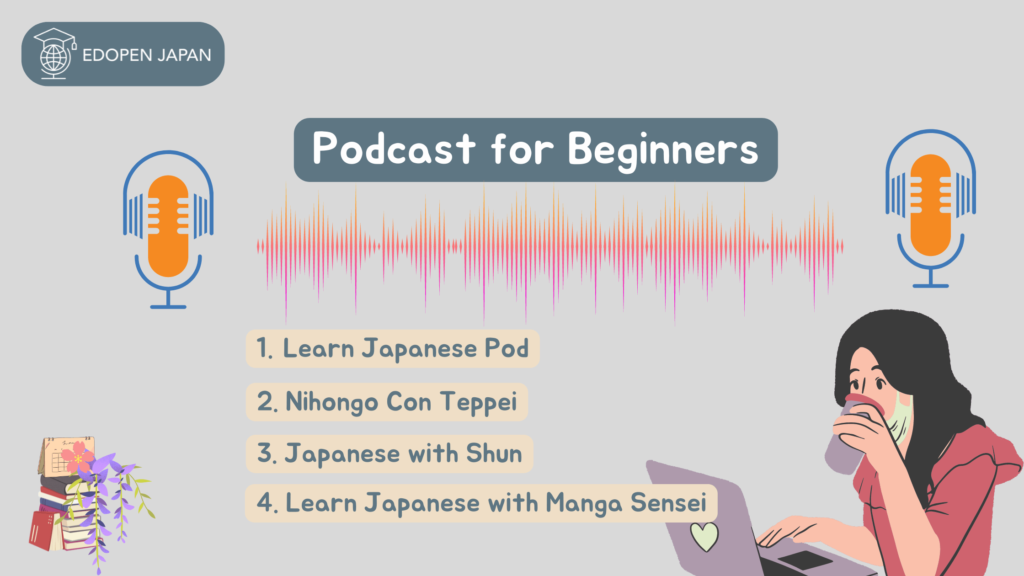 First, I will discuss podcasts that are suitable for beginners in learning Japanese. They cover a wide range of topics from basic to intermediate level Japanese.
Please choose based on your current Japanese language ability. You can start by listening to light topics first until you find the advance topic that suits you later.
1. Learn Japanese Pod
Learn Japanese Pod is number 1 on my list because in my opinion, the Japanese contents are very specific and diverse but presented in a very fun way, perfect for Japanese learners who want to start their Japanese journey easily.
Learn Japanese Pod is packed with great formatting, helpful full transcripts and there are currently 370 episodes with a variety of specific topics, Japanese conversations that are very pleasant to listen to, definitely worth a listen. The podcast started by Alex Brooke in 2007 is very popular among Japanese learners today. Learn Japanese Pod will help you speak Japanese with fluency and naturally.
2. Nihongo Con Teppei
If you want a podcast format with full Japanese monologues that is shorter and lighter, then Nihongo con Teppei is perfect and a must-listen.
Nihongo con Teppei is currently winning the hearts of listeners from all over the world. The clear intonation, passionate delivery, slow pace and highly motivating nature of this program is a great reference for your basic level of Japanese.
Another thing I really like is that the topics are very useful and diverse. 3 minutes feels very fast and valuable because the material presented is very useful for everyday life.
In addition to learning Japanese, you'll also receive other insights on things like time management, learning to focus, how to create good habits, and many more, around 617 episodes that you should not miss at all!
3. Japanese with Shun
If you are very familiar with the material covered in the Genki 1 & 2 books, then listening to a live podcast on the material by native Japanese teacher Shunsuke Otani-sensei is a must.
Learn Japanese with Shun (Otani-sensei) is very interesting and fun. His very slow, clear and light intonation is a pleasure to listen to.
You really don't need a transcript to listen to this podcast. The topics are also very interesting and funny. They provide insightful perspectives and are very close to everyday life in Japan.
Apart from learning Japanese, you can also get a very strong sense of Japanese culture with Otani sensei's great delivery.
There are currently 183 episodes with a duration of around 7 minutes. An additional point that makes this podcast called Japanese with Shun very beginner-friendly is the incredibly helpful vocabulary review at the end of the podcast. The Japanese with Shun podcast is definitely worth a listen!
4. Learn Japanese with Manga Sensei
The content is very specific with a short duration but has a very informative and light explanation that helps learners find understanding of various materials in Japanese understanding such as grammar usage, vocabulary meaning and various other important and useful Japanese learning material topics directly.
The podcast, which started in 2017, has 1142 episodes with a duration of about 5 minutes that you can listen to easily and lightly.
Prepare your Japanese study notes when listening to this podcast and discover that you will get various interesting tips and concepts in understanding Japanese study materials that are very useful!
Podcast for Intermediate Learners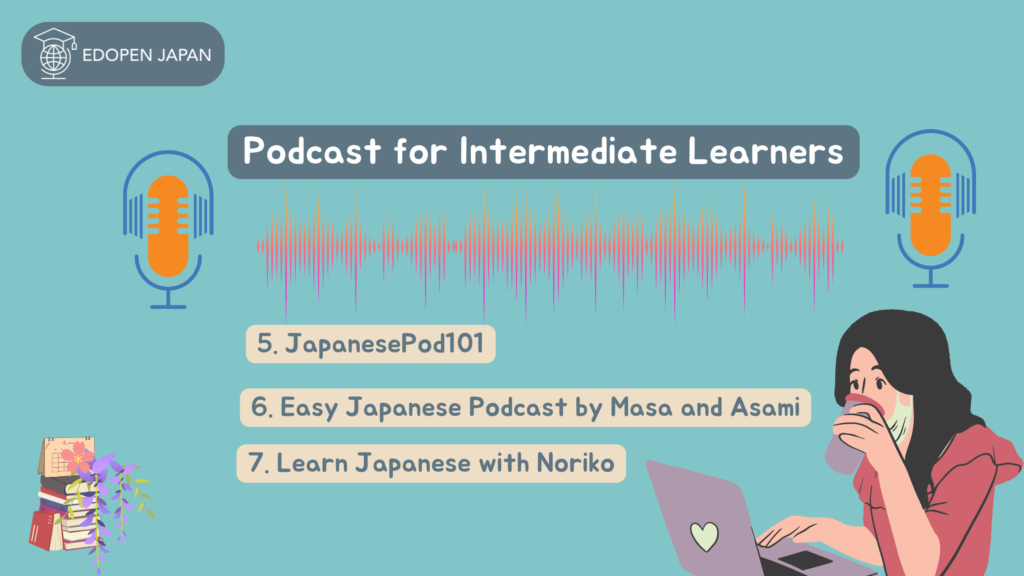 Moving on to the intermediate level of Japanese, the following list is a list of podcasts that are suitable for listening to those who already have basic Japanese at least JLPT N4 level.
Most of these podcasts cover the topic of JLPT N3 -N2 but at a slow pace. Therefore, don't worry! This podcast will be very useful and light for you!
5. JapanesePod101
If you want to learn Japanese easily and for free then listening to the various podcast series provided by JapanesePod101.com is a must!
You can almost get everything you need by listening to JapanesePod101.com. They provide very comprehensive, detailed and focused information on a wide variety of Japanese learning topics. However, the podcast also covers a variety of interesting material about Japanese culture.
Not only that, the selection of topics provided is also very current. This podcast can be awarded as the most linguistically and culturally informative podcast among other Japanese language learning podcasts.
This sublime podcast that has been started since 2005 has always won the hearts of many people. Currently, you can listen to 784 episodes of varying lengths. Don't miss it!
6. Easy Japanese Podcast by Masa and Asami
Easy Japanese Podcast, fronted by 2 Japanese natives, Masa and Asami, is very friendly. They also bring topics that are very closely related to everyday life. Funny, interesting but insightful conversation from 2 young people.
Listening to the topics of conversation they bring seems to take you in the midst of young Japanese people. It will really provide a fun and rewarding atmosphere to learn Japanese and Japanese culture at the same time.
This podcast is fairly new but already has 448 episodes with an average podcast time of 10-11 minutes. Totally worth it, this Easy Japanese Podcast by Misa and Asami is a must-listen!
7. Learn Japanese with Noriko
One of the podcasts created by a certified Japanese teacher named Noriko is also on the list of podcasts that you must hear.
In addition to Podcasts, Noriko-sensei also has a YouTube channel and is also a community host for a well-known community for Japanese language enthusiasts called Japanese together.
You can enjoy her podcasts which have a wide variety of topics. If you want to improve your listening skills to an intermediate to advanced level, then this podcast is a must listen.
The podcast, which started about 2 years ago, currently has 486 episodes with an average duration of about 10 minutes.
It's rare to find a podcast from a certified Japanese teacher directly! Listening to Noriko-sensei's podcasts will really expand your Japanese vocabulary and is very effective to improve your Japanese level to an advanced level!
Podcast for JLPT Warriors & Advance Level Japanese Learners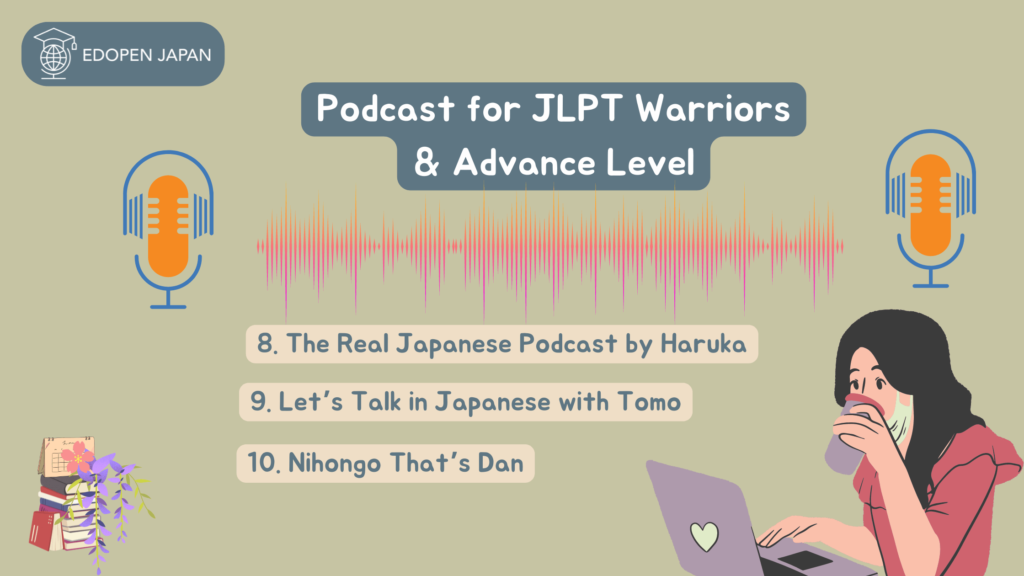 On the other hand, if you have an advanced level of Japanese, and want to add vocabulary and use it really like a native Japanese speaker, then you can already listen to the podcasts presented in the following list.
The various topics discussed are also very close to work, issues that are being discussed in Japan and globally and even science and technology.
Please find the most suitable podcast for your needs!
8. The Real Japanese Podcast by Haruka
For those of you who want to focus on improving your Japanese language skills at an intermediate level, or even an advanced level, namely N3, N2 or N1, then listening to a podcast called "The Real Japanese Podcast" created by a Japanese language teacher – a native Japanese speaker named Haruka-sensei is highly recommended.
The Real Japanese Podcast is a podcast that talks about culture, food, travel and even anime in Japanese.
Her charming and welcoming style will make you feel like you're talking to a Japanese friend of the same age.
The real Japanese podcast started in 2020 and currently you can listen to 163 episodes with an average duration of around 16 minutes.
What's great about Haruka-sensei's podcasts is that you are able to access the podcast transcripts on her website, "Haru no Nihongo". In addition, each podcast is labelled with the JLPT level of the topic discussed. It's a must-listen! Don't miss it!
9. Let's Talk in Japanese with Tomo
If you want to strengthen your listening skills for the JLPT test at any level from JLPT N1 to N5, then this podcast titled "Let's Talk in Japanese" by Tomo-sensei is a must-listen.
Tomo-sensei explains the Japanese topics in great detail, the speaking speed is not too fast and the choice of words used is not too difficult but also not too easy.
Listening to this podcast by Tomo-sensei is very useful for strengthening your understanding of grammar, vocabulary usage applied to events that occur in daily life in Japan. Very interesting and full of brilliant insights!
"Let's Talk in Japanese" by Tomo-sensei started in the middle of 2019 and already has a lot of listeners from all over the world and currently you can enjoy 235 episodes with an average duration of around 11 minutes. Highly recommended! Don't miss it!
10. Nihongo That's Dan
The podcast "Nihongo That's Dan" created by Japanese couple "Nakayoshi" is really engaging.
You'll get to listen to everyday conversations of Japanese couples that you won't find in textbooks. Therefore, it is very attractive for you to listen to.
For myself, when listening to this podcast, I felt like I was diving into real Japanese life from the perspective of 2 people telling stories and expressing their opinions on various interesting topics in casual yet authentic Japanese.
The "Nihongo That's Dan" podcast has had listeners from various countries, the podcast which started in May, 2019 has caught the attention of many people because of its very easy, light and conversational delivery, so it is very lively.
We highly recommend it for Japanese language learners to become fluent in Japanese naturally.
11. Rebuild
I would be guilty if I didn't introduce you to the most fascinating and unique podcast of this century, if I do say so myself, called Rebuild. Rebuild is the podcast owned by Tatsuhiko Miyagawa, a highly skilled software engineer.
Well, if you want to listen to a real Japanese native talking about a serious topic especially technology software development and gadgets, very informative and even make you astonished by the facts, science and even the hottest issues in the world and Japan, then Rebuild is a must-listen.
12. GoGo Eibukaiwa
This podcast called Gogo Eibukaiwa is a treat for you, who want to listen to 2 native Japanese named Abe and Yoshi discuss a wide variety of exciting topics and even weird news from around the world.
That being said, they dedicate this podcast as a listening program for ESL students. They perform the podcast in a mix of English and Japanese so it can be used for anyone to learn Japanese and English at the same time.
Definitely worth a listen! This podcast is not only informative but also very entertaining!
Conclusion
To wrap up this piece, please allow me to remind you that learning Japanese can be achieved from anywhere and at any time.
One of the ways is with podcasts that are free and you can access anytime anywhere. I hope this list can help you find the best podcasts that will truly assist you in becoming proficient in Japanese.
Please leave your feedback in the comment section below! Good luck and become proficient in Japanese!