Are you currently looking for the best Japanese school in Malaysia? Are you also seeking the best approach to learning Japanese in Malaysia?
Also, do you have a keen desire to work in a Japanese company where fluent communication in Japanese is an unavoidable requirement? Then we are here to help you solve all these problems.
In this article, we have compiled 5 of the best and most reliable places to learn Japanese in Malaysia. And they are also very affordable! On top of that, you'll be able to join a wide variety of classes that are very flexible and intensive. You are free to choose according to your own needs.
One more important fact – the 5 places we've summarized above also have a big history of providing Japanese language programs. Furthermore, most of them have been accredited by local institutions for their excellent programs. If you are looking to study in Japan, these top 5 should be on your bucket list.
Additionally, we also have the information you need to find a native Japanese teacher in Malaysia. Learning Japanese with a native speaker is the perfect way to go if you are looking for more intensive instruction, a flexible schedule, and a personalized learning phase.
If this is your case, then studying Japanese with a native speaker is an indispensable choice. Everything you need to know to find the best way and place to learn Japanese is here. Now let's get started!
About Malaysia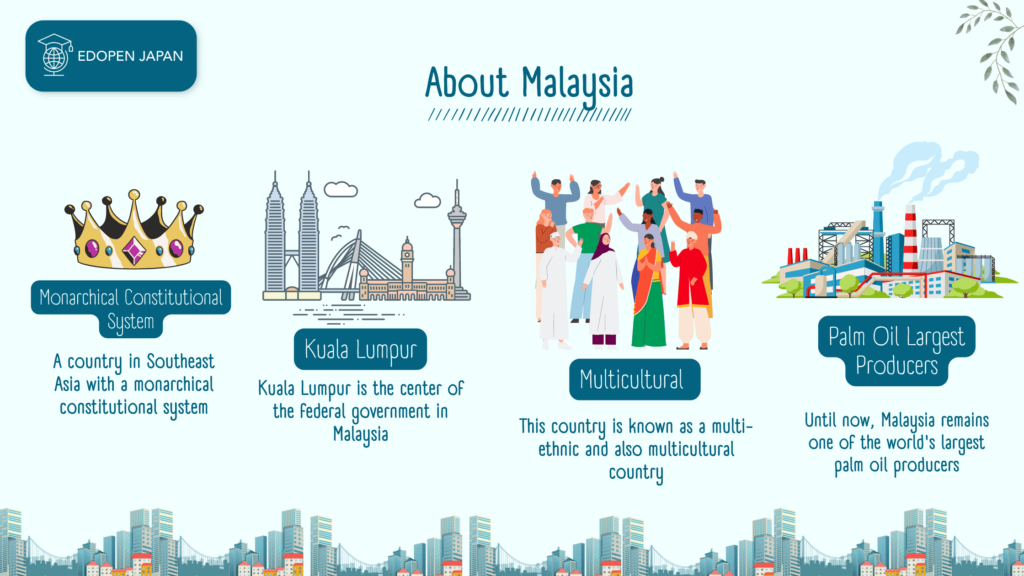 The country is the 45th most populous country in the world with over 32 million people. It is a country in Southeast Asia with a monarchical constitutional system, Malaysia. Malaysia consists of 13 states and 3 federal territories with its capital city being Kuala Lumpur.
The city of Kuala Lumpur is the center of the federal government in Malaysia. On the other hand, the adjacent capital city of Putrajaya is the administrative center.
Besides, this country is also referred to as the Malay country. As history records that since the 18th century, the Malay kingdoms in Malaysia were subject to the rule of the British Empire. This country is famed as a multi-ethnic and also multicultural country.
In particular, 50% of the ethnicities that occupy Malaysia are ethnic Malays. The rest are ethnic Chinese, Indians, and native peoples. The official language of the country is Malay.
However, English remains a second language that is actively used in the everyday life. Although the majority of the population in Malaysia is Muslim, the Malaysian constitution gives full freedom to embrace other religions.
In Malaysia, the head of state is the King, who is elected every 5 years from among 9 state Sultans. The government is then headed by a Prime Minister.
The Economy of Malaysia
On the other hand, the economy in Malaysia is growing from its natural resources and also the development of the tourism sector, trade, manufacturing industry, and also technology.
In addition, Malaysia's economy is growing at an average of 6.5% per year, making it a stable country and the 3rd largest in Southeast Asia.
The country was once the world's largest producer of rubber, tin, and palm oil. And to this day, Malaysia remains one of the world's largest producers of palm oil.
After manufacturing and commodities, tourism is Malaysia's largest economic contributor. Malaysia is said to be the 14th most visited country in the world and the 4th most visited country in Asia.
In the field of technology, Malaysia's history is also beyond dispute. The country is ranked 36th in the Global Innovation Index for its rapid development of technology and knowledge products.
The country is also ranked 36th in the Global Innovation Index with its rapid development of technology and knowledge products.
5 Most Popular Places to Learn Japanese in Malaysia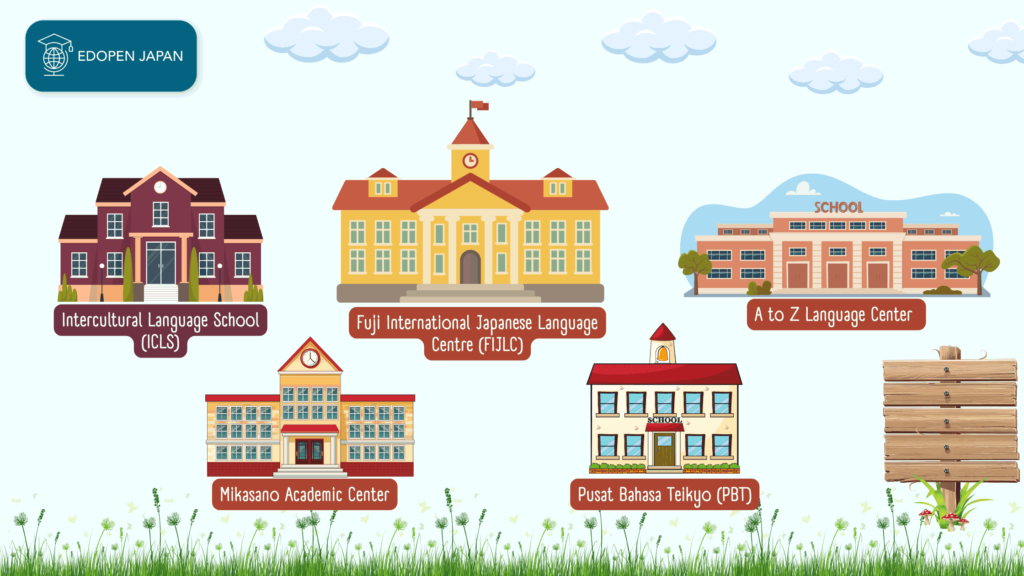 Here we would like to present to you in detail the 5 best and most reliable places to learn Japanese in Malaysia. We truly hope that you will find this information valuable. We sincerely wish that you'll find the best option you've been looking for!
1. Intercultural Language School (ICLS)
Intercultural Language School (ICLS) has been providing language education to Malaysians who have a strong will in learning languages for more than 30 years. 9 world languages are available in this language and cultural institution. One of them is a Japanese course.
Moreover, the ICLS Japanese course is one of the largest Japanese schools in Malaysia. It has been trusted by the Malaysian people in the number of 1200 students registering and studying at the ICLS Japanese course every month.
The teachers at ICLS are all experienced locals and certified by the Malaysian Ministry of Education. The curriculum employed is the same as that developed and used in Japan. Using teaching methods and active contact with students directly. The followings are the available courses:
| | |
| --- | --- |
| Courses | Details |
| 1. Intensive | Available for beginner or advanced level with a total duration of 6 meetings |
| 2. Part-time | 2 times a week (weekdays) with a range of 2-4,5 months |
| 3. Corporation Training | Provides consulting, design, and presentation of language training in the workplace with an adjustable schedule |
| 4. Private | Specially designed for individual needs |
Furthermore, due to the high demand, ICLS has expanded its reach by opening branch schools in Kuala Lumpur, Subang, as well as Damansara.
Address: Kuala Lumpur, Subang, Damansara (Malaysia)
Recruitment Term: Contact for Details
Number of Instructors: 19
Capacity: >6/Class
2. Fuji International Japanese Language Centre (FIJLC)
Fuji International Japanese Language Center (FJILC) is one of the best options if you are serious about studying in Japan directly. The school collaborates with 10 universities and vocational schools in Japan.
You can apply immediately if you meet the language and administrative qualifications. The school provides active counseling and guidance to help students. FJILC only accepts students from the age of 10 and adults.
Furthermore, the school guarantees the quality of its teachers, who have many years of teaching experience and are multilingual (English, Chinese, and Malay). The followings are the available courses:
| | |
| --- | --- |
| Courses | Details |
| 1. Beginner 1-2 | With the target: students master 200-400 words, hiragana, and katakana as well as conduct the conversations |
| 2. Intermediate 1-4 | The Program's goals: students master 600-800 words, Japanese grammar and be able to pass JLPT N4 |
| 3. Advance Course | Students can pass JLPT N3 to N1 |
In addition to prioritizing Japanese language learning, the school also focuses on the entertainment of its students by organizing and preparing various useful activities such as Japanese Culture Day, parties, and many opportunities to communicate in Japanese.
Especially for busy students, the school offers weekend study time and of course, the price of the course is very affordable and reasonable.
Address: No. 1-2, Jalan PJS 11/28, Bandar Sunway, 47500 Subang Jaya, Selangor, Malaysia
Recruitment Term: 3 times/month
Number of Instructors: –
Capacity: Group
3. A to Z Language Center
Established in 2004, the school specializes in Japanese language learning services for students in Malaysia. It has added other languages to its menu of services such as Malay, English, and Mandarin.
In addition, headquartered in Damansara Utama, the center is growing rapidly by opening branch schools in Johor Baru and Penang. These prove that this school has the quality and is accepted among Malaysian learners.
Furthermore, all Japanese teachers are qualified and experienced natives of other languages. This school has local Malaysian teachers who have high quality with a qualified educational background.
You will also find this school full of fun and excitement as you progress through the learning process. The types of classes available are intensive courses, private courses, and group classes. All are available for practicing speaking, reading, writing, and listening. Also, to prepare for the JLPT test from N5-N1 furthermore A to Z language center uses "Minna no Nihongo book" as a learning textbook.
Address: Damansara Utama, Johor Baru, Penang (Malaysia)
Recruitment Term: Contact for Details
Number of Instructors: –
Capacity: Small or Large Group
4. The Mikasano Academic Center
The Mikasano Academic Center (MAC) specializes in preparing students for higher education in Japan. MAC was founded by professionals who graduated from Japanese universities. Hence, the founders of MSC know clearly the Japanese education system that will try to bring and adapt it to Malaysia.
In addition, it can be said that MAC is pre-university tutoring where students can choose from more than 700 universities in Japan. The students will also learn the ins and outs of universities in Japan both private and national. The followings are the available Japanese courses:
| | |
| --- | --- |
| Courses | Details |
| 1. Part-time Japanese Language Programs | Best for busy students and cover all levels |
| 2. Full-time Japanese (Special Programs) | Intensive program with 30 hours of classes per week |
| 3. The Japanese Preparation Program Before Study in Japan | Special courses for the Japanese language used in academic (Japanese Universities) |
Through MAC training and all kinds of comprehensive services, the center really supports students who really want to continue their studies at universities in Japan.
Address: No. 4A, Jalan Perai Jaya, Bandar Perai Jaya, 13600 Perai, Pulau Pinang, Malaysia
Recruitment Term: Contact for Details
Number of Instructors: –
Capacity: Small or Group
5. Pusat Bahasa Teikyo (PBT)
Pusat Bahasa Teikyo (PBT) is the only Pre-U Center recognized by the Japanese Ministry of Education, Culture, Sports, Science, and Technology – MEXT (Monbukagakusho).
Teikyo Language Center (PBT) is part of the Teikyo group of universities in Japan, which was established in 1997 by an association of Japan lovers in Kuala Lumpur, Malaysia.
The main purpose of establishing PBT is to prepare Malaysian students who wish to continue their education in Japan. The center aims to produce academically excellent personnel and build good and peaceful relations between Malaysia and Japan.
As an illustration and as a strong point for you to enroll in PBT 96% (169 out of 176) of PBT graduates in the last 3 years have studied in Japan. Furthermore, the lessons given here (math, social science, physics, chemistry) are 3 to 4 times more than other Pre-Us in Japan so you will really be trained.
Therefore, not only the Japanese language but also the subject matter readiness is also trained and prepared by PBT. Furthermore, document readiness and the study environment in Japan have been equipped in PBT before you take the JLPT exam or the Japanese college entrance exam.
Address: No.2, Jalan 1/86, Off Jalan Taman Seputeh, Kuala Lumpur 58000 Malaysia
Recruitment Term: Contact for Details
Number of Instructors: 25
Capacity: Group
Hot to Find the Best Japanese Language Tutors in Malaysia?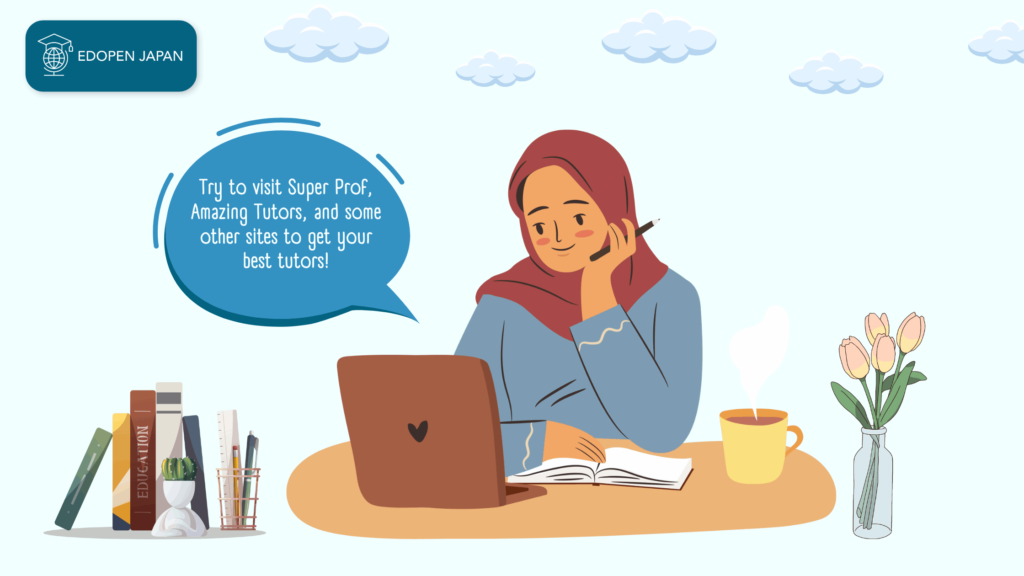 Then, these are our picks for 5 places to learn Japanese in Malaysia. Then we would like to give you another important option.
Also, this specific option will be very convenient for those of you who have time limitations. Besides, you can still get Japanese lessons from native Japanese speakers in Malaysia as well.
You can also get the best tutors based on the evaluations and former students who will help you even from the very beginning.
So, how do you find the best Japanese tutors in Malaysia? We strongly recommend you explore Super Prof, Amazing Tutors, and some other sites.
We would also be delighted to help you find the best way to learn Japanese. Please always remember to follow the most thorough and reliable information we provide here. We will strive to give you the best.
And we look forward to being a part of your great journey to master Japanese and pass the highest level JLPT in Malaysia!
Conclusion
In short, these are the 5 most reliable and trusted places to learn Japanese in Malaysia that we strongly suggest.
Furthermore, do you have any experience learning Japanese in any of the places we have mentioned above? Please share your experience with us below.
| | |
| --- | --- |
| School Name | Available Courses |
| 1. Intercultural Language School (ICLS) | Intensive, Part Time, Corporation Training and Private |
| 2. Fuji International Japanese Language Centre (FIJLC) | Beginner 1-2, Intermediate 1-4, and Advance |
| 3. A to Z Language Center | Intensive, Private, and Group |
| 4. The Mikasano Academic Center | Part-Time, Full Time, Preparation Before Studying at University in Japan |
| 5. Pusat Bahasa Teikyo (PBT) | Japanese Language Specialized Course and Preparatory Course |
To conclude, we do sincerely hope that this information will be a helpful reference for you in finding the best places to learn Japanese in Malaysia. In addition, if you need more information about learning Japanese, please feel free to contact us anytime here.
And we will see you in the future! Thank you for reading to the end! Have a great day and keep learning Japanese.