Are you currently looking for relevant and up-to-date information on how to take the JLPT in Auckland? Getting complete, accurate, and reliable information can be difficult. What's more, you probably don't have enough time to do the research yourself.
That is why we are here to provide you with everything you need to take the JLPT exam in Auckland. We believe that if you also know the important technical things about how to take the JLPT in Auckland, your JLPT preparation will be perfect.
Moreover, you will be able to take the JLPT exam smoothly without any technical problems. For example, you may have heard that the JLPT exam is held twice in Japan. Overseas, it is not necessarily held twice. For example, in certain locations, it may only be held once.
In addition, the JLPT overseas is not held in all cities. Therefore, you should really check and calculate how to get to the place where you want to take the JLPT exam in Auckland as best as possible.
Apart from that, there is a lot of other important information that you should pay attention to. Well, let's talk more about it in this article!
1. About JLPT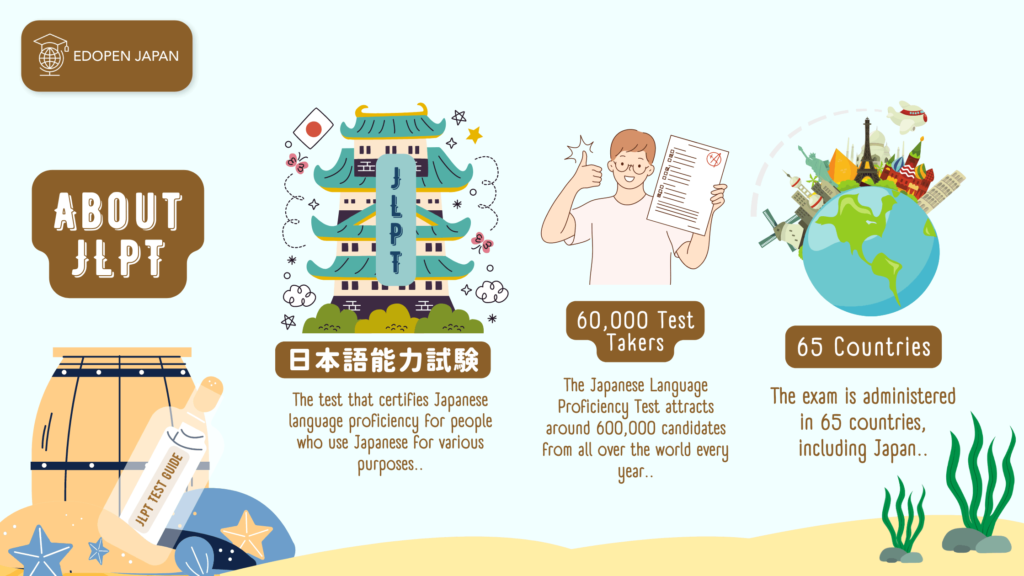 The Japanese Language Proficiency Test (JLPT for short or in Japanese "日本語能力試験") is a test that certifies Japanese language proficiency for people who use Japanese for various purposes. The Japanese test takers are not native speakers.
Moreover, the popular JLPT certificate is commonly used for students who are continuing their education in one of the Japanese universities and for workers who want to find a job in one of a Japanese companies.
In addition, this exam has a difficulty level ranging from N1, N2, N3, N4, and N5. With N5 as the easiest and N1 as the hardest. The exam is administered in 65 countries, including Japan. JLPT in Japan is held twice a year, in early July and early December (with the exception of some countries where it is held only once a year).
To date, the Japanese Language Proficiency Test attracts around 600,000 candidates from all over the world every year.
Benefits of Taking JLPT
The use of JLPT certificates is very wide. For example, as a requirement for study scholarships to Japan Monbukagakusho (MEXT) scholarship and various scholarships from companies in Japan. Also, as a requirement for university entrance in Japan.
In the professional and industrial world, this certificate is very important as an obligatory requirement for applying for work in Japanese companies.
We can give the usual division of JLPT certificates based on their usefulness at each level of the JLPT certificate as follows:
| | |
| --- | --- |
| JLPT Test Levels | Usage |
| 1. N1 & N2 | Best for applying for jobs and scholarships in Japan |
| 2. N3 | Useful for applying for a job or internship in Japan |
| 3. N4 & N5 | Useful for applying to Japanese language schools in Japan |
2. JLPT Test Rules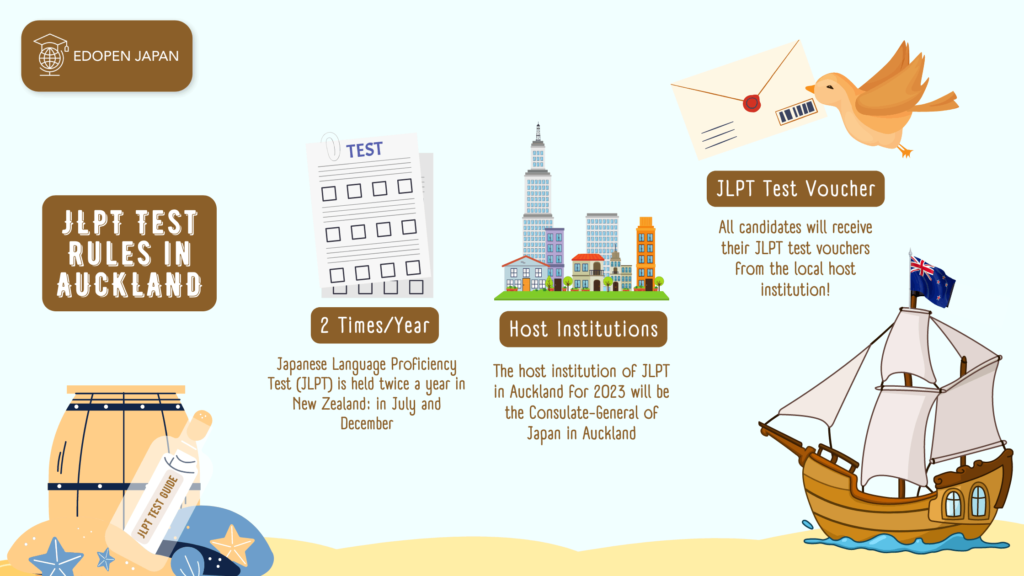 The Japanese Language Proficiency Test (JLPT) is held twice a year in New Zealand: once on the first Sunday in July (Wellington and Auckland) and once on the first Sunday in December (Wellington, Auckland, and Christchurch).
Furthermore, the host institution in 2023 will be the Consulate-General of Japan in Auckland. The test venue and schedule for 2023 will be announced by the host institution at a later date. Pay close attention, if your application is incomplete, both material and non-technical deficiencies, such as a violation of the ethics defined by the host institution, or there is a mismatch in the data you have submitted, the host institution has the right to reject your application.
Your application may be cancelled also if one or more of these situations come to light, even after your application form has been accepted. Candidates will receive their test vouchers from the local host institution within two weeks of the closing date for applications.
In addition, you may contact the host institution again if your test voucher has not been issued within this time. The host institution is responsible for the safe and smooth running of the JLPT, including the smooth running of the candidates.
JLPT Test Fees
The followings are the exam fee for JLPT Test in Auckland, New Zealand. They vary depending on the level:
Test Level
Test Section
Fee
1. N1
(1) Language knowledge (vocabulary and grammar) and reading
(2) Listening
$75
2. N2
(1) Language knowledge (vocabulary and grammar) and reading
(2) Listening
$70
3. N3
(1) Vocabulary
(2) Grammar and Reading
(3) Listening section
$65
4. N4
(1) Vocabulary
(2) Grammar and Reading
(3) Listening
$60
5. N5
(1) Vocabulary
(2) Grammar and Reading
(3) Listening
$55
Moreover, please do not hesitate to contact the host institution if you encounter any problems. Then, during the test, you should bring your test voucher, writing utensils (HB pencil), and identification such as a passport and driving license. Please note that you cannot sit the test without this. Then, if you forget to bring your photo identification to the test center.
Special Needs for Disabled Participants
The organizers are very concerned about participants with disabilities and special needs. If you require special testing arrangements because of illness, personal injury, physical disability, or other impairments, please make your request directly to the organizers.
Furthermore, you can do this by completing the 'Special Test Accommodation Request Form' and submitting it with your application form before the deadline set by your local host institution.
In addition, please be sure to tick the box in the top right-hand corner of your application form. If the information provided on the application form is insufficient, JLPT candidates may be required to provide medical certificates or other documentation.
As preparation takes time, late applications may not be accepted. It is therefore advisable to make your request a few days before the test date to avoid any special requests going unfulfilled.
If you would like to read more about the technical aspects of implementing JLPT in Auckland, New Zealand as well as the most updated information regarding JLPT, please click the button below!
3. Quick Tips on How to Prepare JLPT in Auckland, New Zealand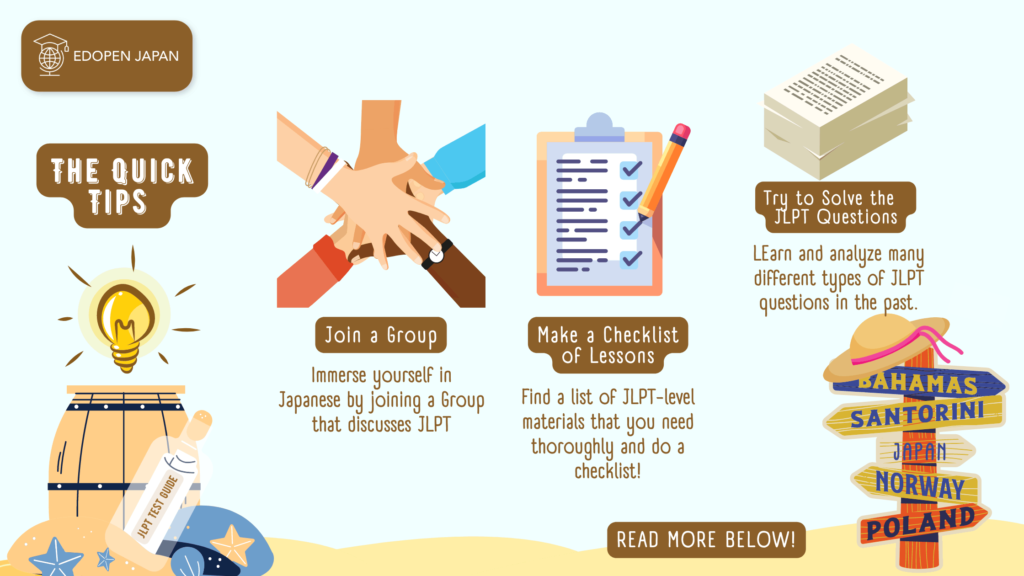 After knowing and understanding the test guidelines and policies, the next step is to prepare yourself as well as possible for the JLPT test. The following quick tips are your main key to facing the JLPT test later!
Join a Group that Discusses JLPT
Joining with people who have the same passion and goal is to make us always be in a positive and vibrant environment. By nature, humans are social creatures, someone will usually feel stronger, more energized, and more confident when they have many friends.
In addition to that reason, joining a Japanese language group or community that discusses JLPT and has a goal to pass the JLPT test will be beneficial. We can learn from the experiences of the members. We can share tips and tricks for the JLPT exam and we can also ask questions about the JLPT.
Make a Checklist of Lessons
Learn more about the exam-level material that you will face. Please find a list of JLPT-level materials that you need thoroughly. Make a checklist of the materials that you have understood and emphasize by underlining the material that you do not understand. Then, try to focus on the material that we have not mastered to relearn.
Study in Depth the Types of JLPT Questions
You must look at the previous year's JLPT test questions. Each JLPT level has different types of questions. In addition to Japanese language skills, knowing the types of questions in the JLPT is also one of the factors that determine graduation.
Many first-time participants fail the test because they do not understand how the characteristics of the test are tested, so familiarize yourself with the JLPT test questions.
Drill, Practice Questions, Reading & Listening
Intensity is key, the more often we practice working on JLPT questions, the faster and smoother we will answer them. Reading and Listening are also a must because many in this session participants score disproportionately.
Try to multiply reading newspapers, academic reading books, reading and listening to the news on Japanese television that must be in Japanese which will help you in facing this test session.
Exam Simulation is the Ultimate Key
This is the key of all keys, make a simulation like you are chasing a deadline, the pressure when facing a real test, so that when the real exam you will calmly face it. Give deadline hours in each session according to the actual test.
Then, crosscheck the correct answers you choose. If the results are 70% more correct, the chances of passing the JLPT test will be greater.
4. How to Find the Best Places to Prepare the JLPT?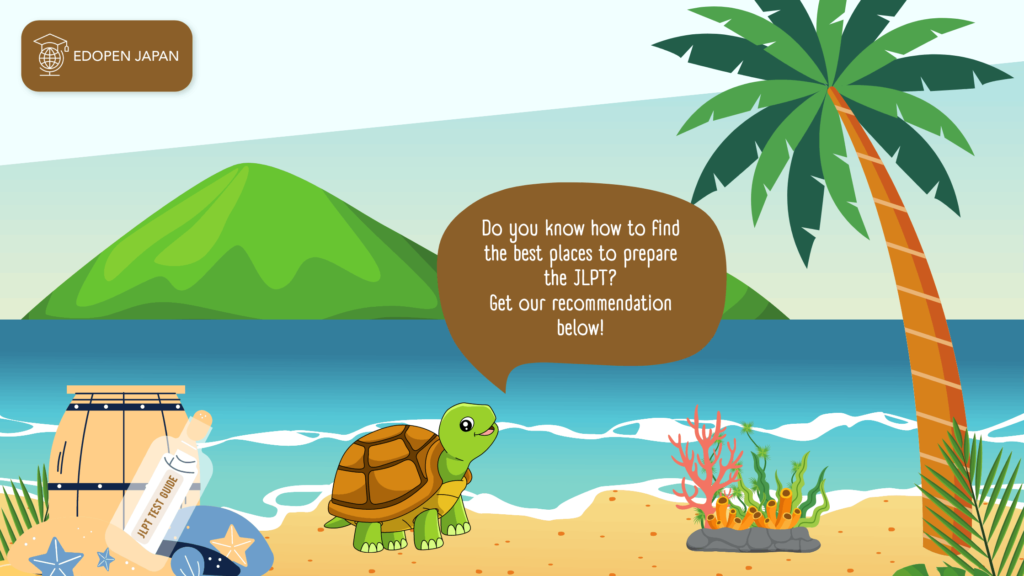 In addition to the tips above, we would like to offer another alternative to prepare for the JLPT exam, which is to take Japanese language preparation courses at schools or Japanese language institutes in Auckland.
Some of these schools have very good, varied, and professional programs. You can choose the best school, according to your needs. In fact, in addition to JLPT preparation, there are various types of courses that are very helpful for Japanese language learners from scratch.
Various Japanese language programs from beginner to advanced levels are also available. You are free to choose the course that suits your needs. The school also provides JLPT test assistance and professional teachers.
You can choose a Japanese language school in Auckland that has experienced professional teachers who have passed the JLPT N1 test. Or even better teachers with native status and who have a lot of experience assisting students who have passed the JLPT N1 test.
Please visit the following link to find out more about the best Japanese language schools in Auckland!
Conclusion
Last but not least, here's our discussion about the JLPT in Auckland, New Zealand. Hopefully, you can get the JLPT certificate, which has always been the favorite of every foreigner, and is really very valuable!
And surely! after that, you'll be surprised by the many benefits you'll get by bagging the JLPT certificate, especially for those of you who want to build a career or education in Japan.
We are very happy and hope that all the information we have shared here will be useful to you! We are very proud to be a part of your JLPT journey.
And we wish you a perfect score on the JLPT exam! If you want to get the latest information about JLPT, don't forget to update the information we publish here. See you in the next article!