Introduction
Do you know what "Duolingo" is? Nowadays there are many language teaching applications, and each of them has a different approach to teaching. "Duolingo" is one of those language apps, that is not only popular but also completely free.
With over 300 million users worldwide, it is the most popular and most downloaded learning application in the world. If you want to know how to use "Duolingo" effectively or hear reviews from Duolingo users to see the quality and so on, now is the time to learn about this useful tool.
This time, I would like to introduce everything about Duolingo. Please read the following Duolingo Japanese Review and try to think carefully if it suits you.
1. What is Duolingo?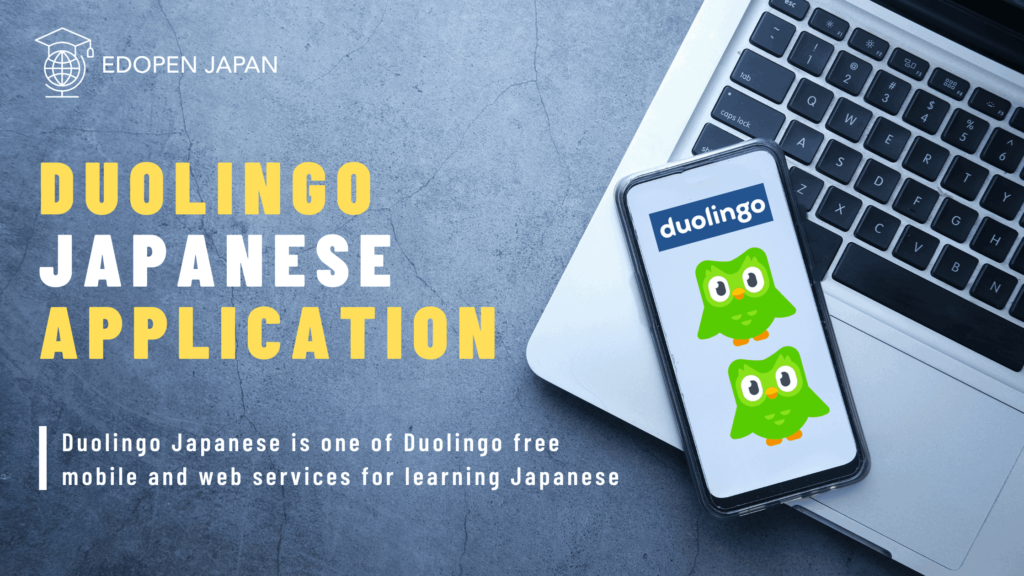 "Duolingo" is the most downloaded language learning application in the world. Over 300 million people use it to learn different languages. It is a free educational website and application that also offers paid qualification exams.
Duolingo offers over 100 courses in nearly 60 different languages, including English, Spanish, French, German, and Japanese
With 8 courses in beta and 14 courses in development.
Users can practice vocabulary, grammar, and pronunciation using repetition.
Exercises can include written translations, reading and language comprehension, and short stories.
You can download it from the App Store, Google Play, or the website and start as a beginner or take a placement test. The full Duolingo Japanese course covers JLPT levels 4 and 5.
Duolingo is a good learning tool to have fun, get motivated, and learn new vocabulary.
2. Trace of Learning Japanese with Duolingo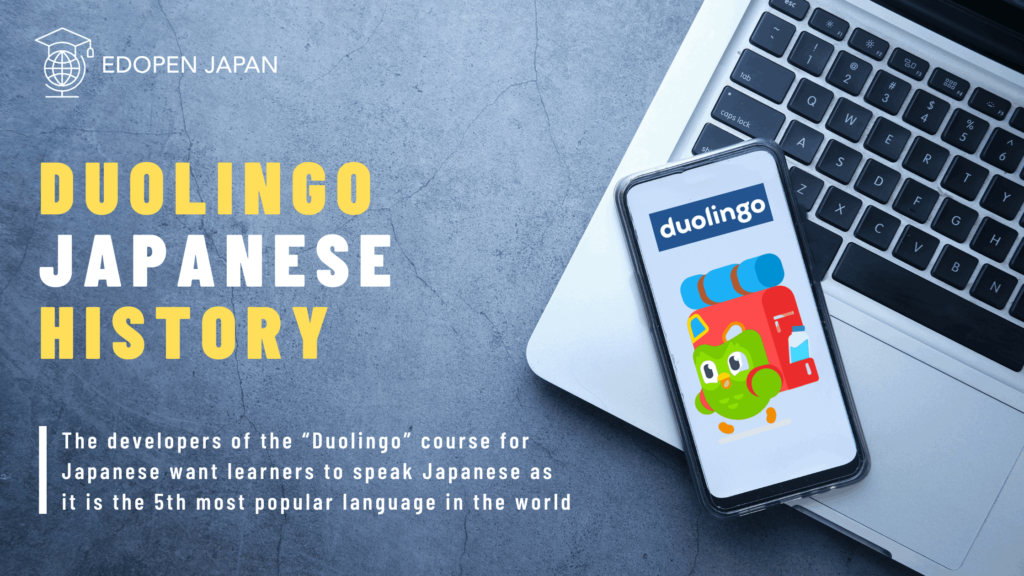 Since its launch in 2012, Duolingo has been the most popular and most downloaded educational app in the world. According to the Duolingo report, Japanese is now the 5th most popular language in the world and the most popular Asian language.
The developers of the "Duolingo" course for Japanese want learners to speak Japanese from the beginning by using a teaching method similar to that used by children. Learners need to use katakana, hiragana, and kanji immediately and overcome the hurdle of Japanese grammar.
Although Japanese was one of the most requested languages, "Duolingo" did not release its Japanese course for many years as the company struggled with both effective teaching and getting around some technical hurdles.
However, after the updated course was released in 2019, it has improved a bit and is as good as any other Duolingo course.
In this "Duolingo" time, you can start learning "Hiragana", one of the most important Japanese alphabets, which you should learn early.
Then you'll learn about self-introductions, greetings, idioms, and commonly used vocabulary. After that, you'll learn activity-related vocabulary and phrases such as exercise, eating, shopping, and directions.
3. Features of Duolingo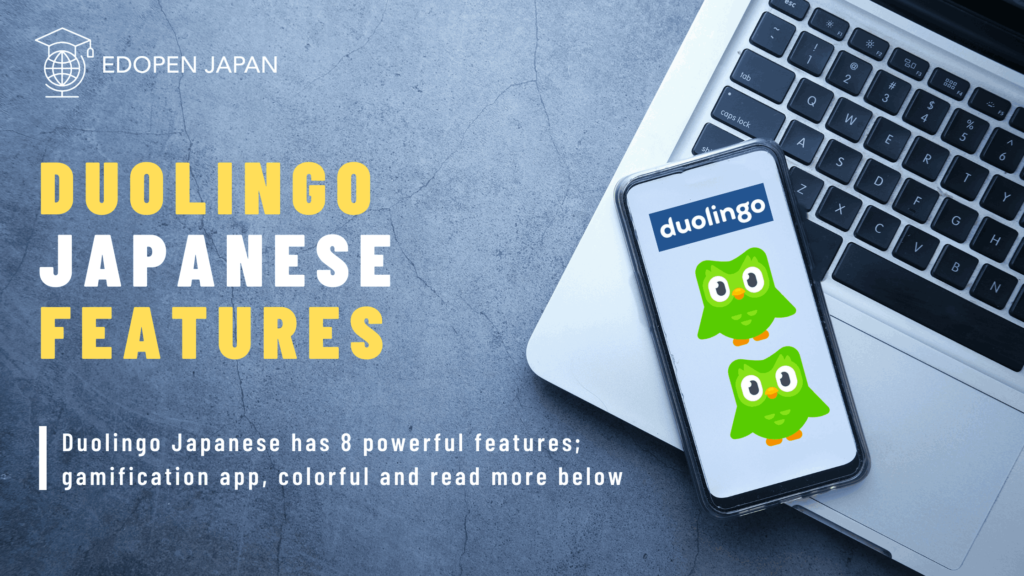 "Duolingo" automatically analyses the learning lives of millions of people using Big Data and provides personalized lessons that are effective for each student. This allows for efficient and quality learning despite all the content available for free.
According to a study by the City University of New York, 34 hours of learning on Duolingo is comparable to a university semester (more than 130 hours).
"Duolingo" uses a learning approach called "Implicit Learning". "Implicit learning" is an approach to learning a language in the same way a child learns his or her native language.
In school classes, teachers usually teach students knowledge, such as grammar, and then students often work on practical problems. However, in "Duolingo", which involves implicit learning, there are no grammar explanations.
The program is designed so that the learner first solves a problem and learns the rules and patterns of the language naturally. It is like a child learning their native language based on experience.
This approach encourages the use of communicative words and effectively raises "known" words and phrases to a "usable" level.
Students can compete against their friends or see how they do in randomly selected groups of up to 30 users. Ranking in leagues is determined by the number of XP earned in a week.
Badges in Duolingo represent achievements earned from completing certain goals or challenges, allowing you to learn Japanese like a game, such as skill points and levels.
| | |
| --- | --- |
| | 8 Features in "Duolingo" |
| 1. | The Most downloaded language learning application in the world. |
| 2. | Multilingual. |
| 3. | The contents allow you to learn Japanese like a game. |
| 4. | Covers reading / listening / speaking / writing. |
| 5. | Basic sentence structure and words. |
| 6. | Colorful and pop appearance. |
| 7. | Personalized learning. |
| 8. | Totally Free. |
(1) Most downloaded language learning application in the world
The total number of downloads is the highest in the world, and 34 hours of study is equivalent to one semester at a university.
(2) Multilingual
Duolingo offers courses in over 94 languages for 28 languages speakers. These 94 languages range from large languages like English, French and Chinese to small languages like Mayan, Basque and Esperanto. The reason is to keep these smaller languages alive.
(3) Contents allow you to learn Japanese like a game
There are many features that motivate learning, so you can learn efficiently and have fun without getting bored, just like playing a game.
(4) Covers reading / listening / speaking / writing
Duolingo covers all the elements necessary for learning a language, such as a vocabulary, writing, reading, listening, speaking, and translating.
Since these four elements are included in several questions evenly in one lesson, you can learn a language intensively and in a balanced way in a short time. There are only 20 questions at a time, but they contain all the elements you need to learn a language.
(5) Basic sentence structure and words
"Duolingo" lets you learn a language by repeatedly learning basic grammar and words. As you learn the basic forms repeatedly, you can develop the ability to put yourself together even when ,new grammar or words come up. Even beginners can learn in a simple way, making it easy to get started!
(6) Colorful and pop appearance
Duolingo has a colorful and pop look, so you will not get tired of it visually. When you learn a new word, it's very easy to remember it thanks to the cute illustrations. One of the attractions of Duolingo is that you can enjoy learning like a game.
(7) Personalized learning
Duolingo's unique personalized training is very different from other language learning applications. As you progress in learning, the AI can analyze each individual's learning situation, change the lesson content each time, and learn at the level and pace that best suits you.
(8) Totally Free
When you download a language learning app, you may worry about the price, but you can enjoy the language learning app "Duolingo", which is so sophisticated and fun to learn, for free!
4. Why is Duolingo available for "FREE"?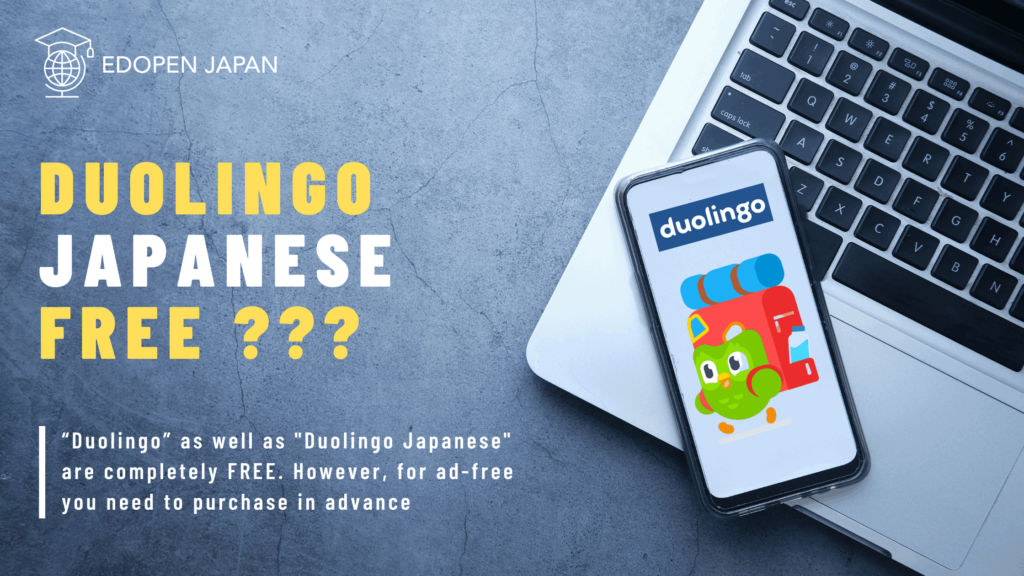 "Duolingo" is completely FREE. This is because it is funded by advertisements that are displayed at the end of each lesson. There are also optional in-app purchases, for example, to become ad-free or to pause the stream for a day.
Some may have wondered why these apps are available to everyone for free? The answer lies in the background of the development of "Duolingo" by Luis von Ahn, the developer of this application.
Originally from Guatemala, as a child, he witnessed a situation where the gap between the rich and the poor creates an educational gap.
As a result of his reflections on eliminating educational inequalities, he believes that learning a foreign language is one of the most effective ways to escape poverty.
And "developing the best education in the world that everyone can use" became the corporate mission of "Duolingo".
Even now that it has become popular all over the world, it remains to offer it "for free". In fact, Duolingo is now a great supporter and driving force for refugees living in Europe!
5. What is Good about Duolingo?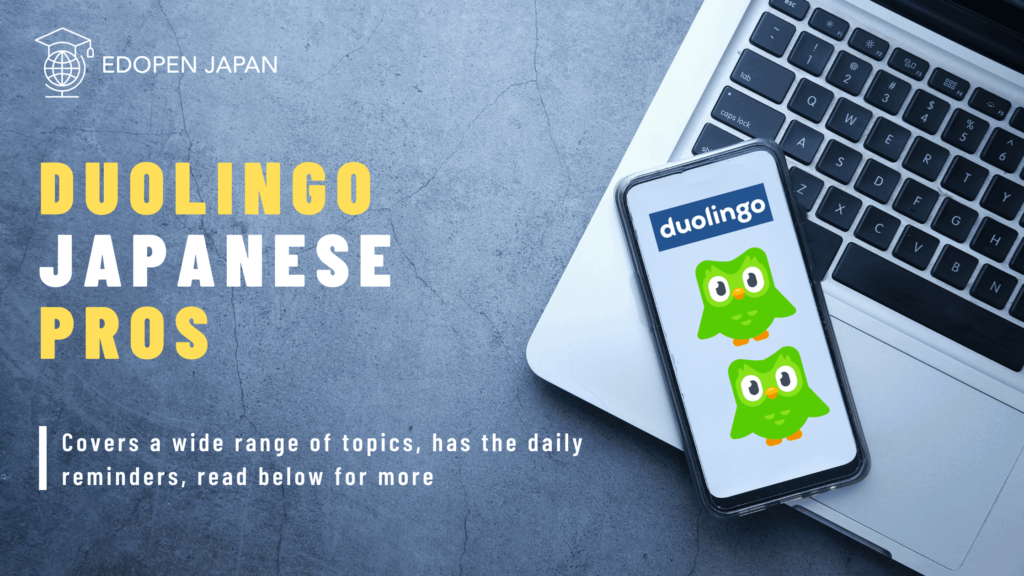 There are some opinions on the pros and cons of "Duolingo" Japanese users. Here I present some good points for using this application.
To help students make connections between related words and concepts, Duolingo offers its lessons by topic rather than by grammar or difficulty.
The thematic structure in Duolingo Japanese allows you to immediately apply the vocabulary you learn.
Features like a daily reminder function encourage and help you learn the daily basics.
There are a few other nice features, like the ability to form a language learning group with friends or strangers to motivate each other and chat about Japanese.
You'll learn Japanese vocabulary on a variety of topics that can be changed from time to time. We can say that "Duolingo" is a good application that makes learning fun and easy for everyone to use.
Pros:
Includes learning hiragana and katakana.
Covers a wide range of topics
Daily reminders encourage you to keep learning
A good range of vocabulary and grammar in the course.
It's fun with all the different gamification elements.
The variety of exercise types makes it interesting.
The competition section motivates you a lot.
6. Problems with Duolingo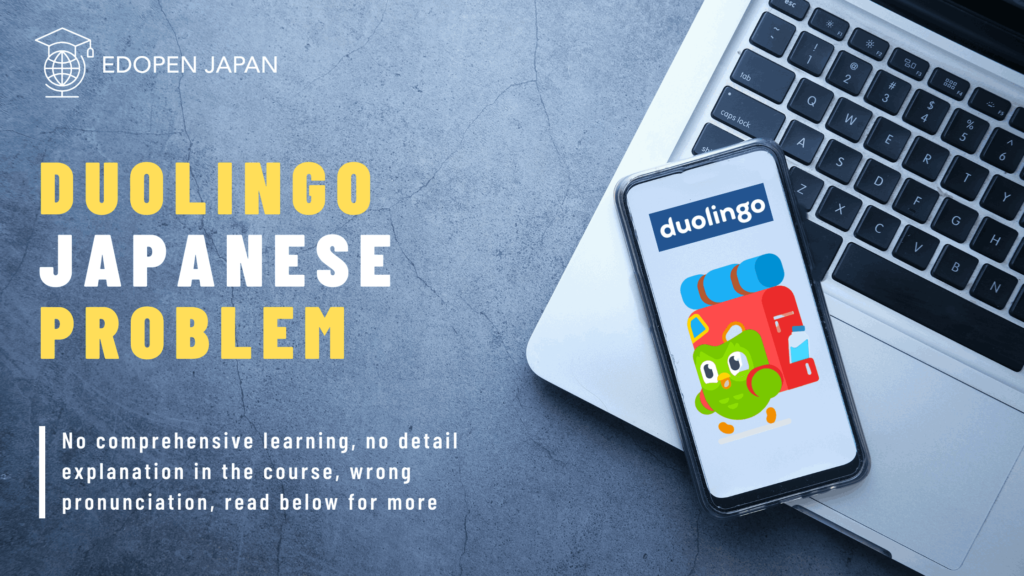 Unfortunately, there are a few bugs and problems with "Duolingo". Here I would like to inform you about the disadvantages of "Duolingo". One problem is that it does not really explain the difference between hiragana, katakana, and kanji.
This learning style is not suitable for everyone. You may be better off learning hiragana and katakana by yourself first, or you may want to use Duolingo as a practice program.
Another problem is that you will only learn to recognize Japanese characters. You cannot learn how to write. If you want to write Japanese by hand, it is important that you learn the correct stroke order when you learn a new character.
But Duolingo unfortunately does not teach this, so it's better to learn and practice writing by yourself first.
Another obvious problem is the sound. Most of the functions make a sound when you tap the word. However, some of them do not work. This is a problem because you can not hear the pronunciation of the whole sentence.
Even worse, the pronunciations are sometimes wrong. In Japanese, a word can have multiple pronunciations or meanings, so this is a very serious problem. Duolingo does not seem to recognize more than one pronunciation for each word or character.
But, please keep in mind that Duolingo Japanese is still very new, so I hope they will work on some of these issues in future updates!
Cons:
No comprehensive learning solution for grammar or kanji.
There is no explanation of the difference between hiragana, katakana, and kanji.
Not leveled or suitable for JLPT study.
Does not ask you to memorize the stroke order of kanji
Lacks professional grammar explanations.
The audio quality is not better.
Pronunciation is sometimes wrong.
Kanji stroke order is currently missing in Duolingo.
| | | |
| --- | --- | --- |
| | Duolingo teaches you how to: | Duolingo doesn't teach you: |
| 1. | Listening to and understanding Japanese sentences. | The stroke order of Kanji. |
| 2. | Being able to construct sentences in Japanese. | Know the grammatical rules for using grammar points. |
| 3. | Be able to read "hiragana" and "katakana". | Grammatical constructions outside of example sentences. |
| 4. | Be able to figure out grammar through context and comparison of translations. | Kanji Radicals |
7. Duolingo Gamified Learning – Making Japanese Learning Fun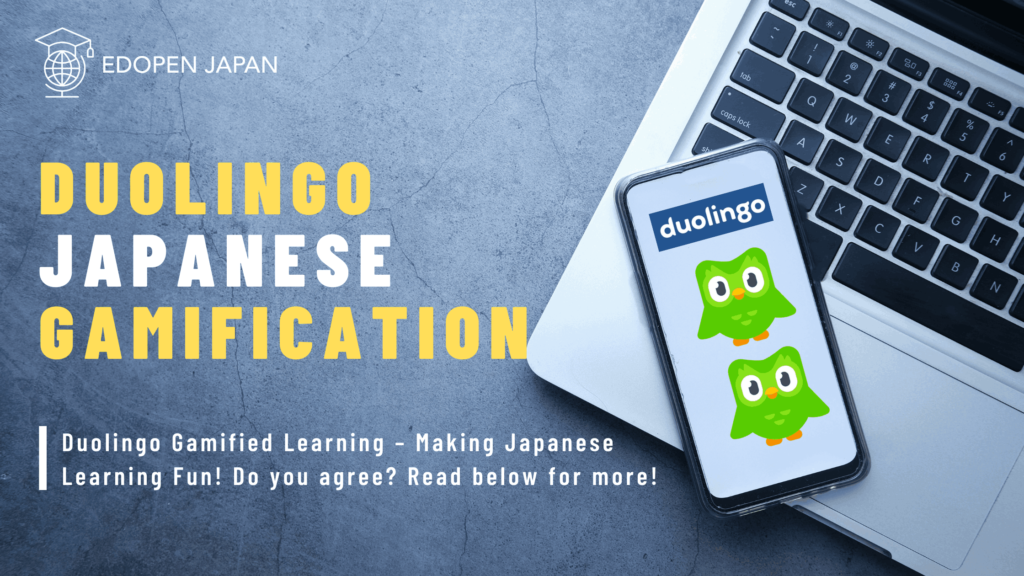 One of the elements that makes learning fun at Duolingo is the Gamified program. We learn better when we have fun, which is why gamification is such a popular motivational tool used in schools, apps, and even the workplace today. There are many ways gamification is built into Duolingo.
| | |
| --- | --- |
| Leveling system | Spend more time and progress through the sessions and you can ascend. Then, you can get golden stars! |
| Unlock rewards | Climb to customize aspects of the user interface, such as disguising the Duolingo owl or accessing special. |
| Achievement badges | Depending on the number of hours you spend studying, you can earn badges and reach milestones that will be displayed in your profile. |
| Streak tracking | Study for a set amount of time each day to continue your streak. |
| Goal tracking | Set a goal and the coach owl will tell you if you are on the right track to reach that goal or not. |
| leagues and leaderboard | Compete with your friends and the Duolingo community-ranked on the leaderboards. |
8. Duolingo Social Learning – Makes People Connect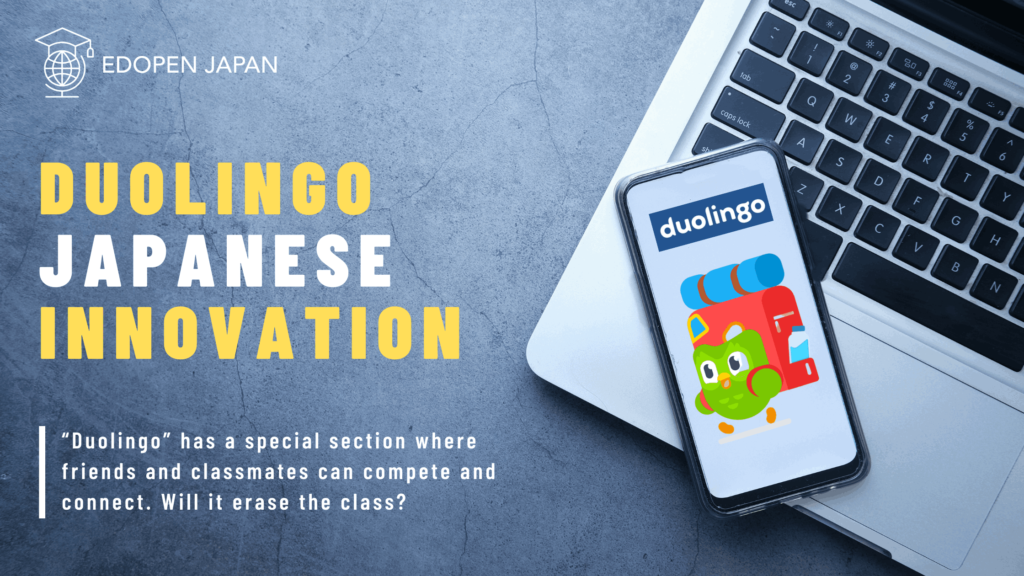 "Duolingo" has a special section where friends and classmates can compete and connect. Duolingo students can follow each other through their profiles or add their Facebook friends.
Most people want to keep up with their friends, so the leaderboard is a strong social element. You can click on the chat bubble for any question in the lessons to see what other users have asked about that particular question and what answers they received, or you can ask your own question.
9. In Our Thought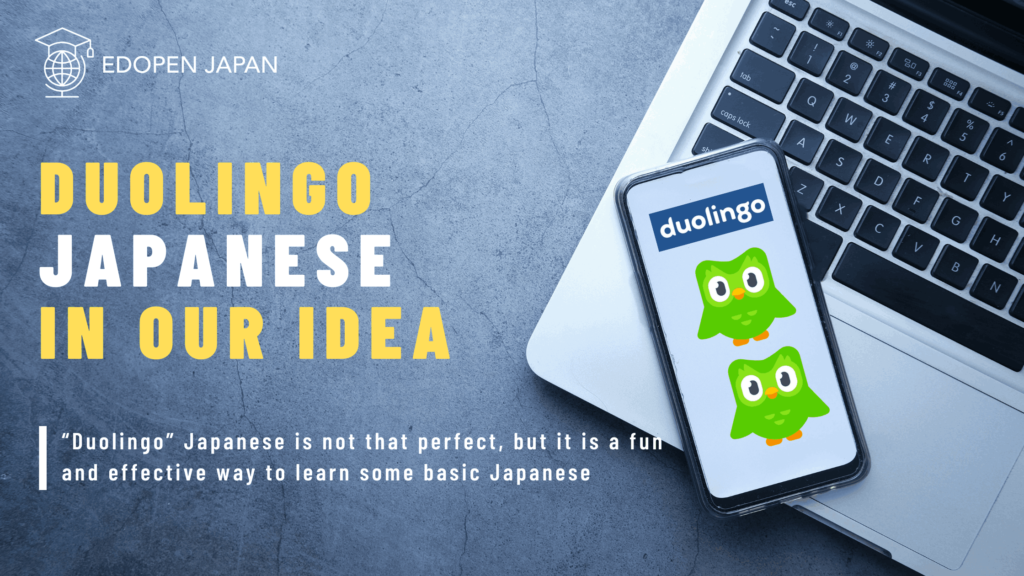 "Duolingo" Japanese is not that perfect, but it is a fun and effective way to learn some basic Japanese. For those who are beginners or want to practice a certain grammar, it is a really good application to learn Japanese.
Even if you only have a few minutes a day, "Duolingo" is one of the most effective ways to spend your time. However, if you have more time, I recommend you to use other learning materials instead.
To avoid confusion, it is highly recommended that you at least learn how to use hiragana in advance and then use Duolingo. Then I think this application will be very easy for you to use!
Duolingo is great for:
Duolingo is not so great for:
1. Rote learners:
who learn best by repetition and memorization
Tourists: tourists looking for a phrasebook
2. Dabblers:
who wants to try Japanese to see if they like it
Serious learners:
students who need to know the 'why' behind the grammar
3. Busy people:
who need to fill short blocks of time with a quick lesson
Japanese writers: who want to learn how to write Kanji, Hiragana, and Katakana.
4. N5/N4 students:
who wants to revise for the JLPT N5 and N4 exams
Intermediate students: who want to go beyond a beginner level
| | |
| --- | --- |
| Advantages of Duolingo | Disadvantages of Duolingo |
| There is a lot of great vocabulary and grammar in the course. | There are no comprehensive grammar explanations. |
| Fun with all the different gamification elements. | Audio quality could be much better. |
| Variety of exercise types makes it interesting. | Forced to follow a set sequence of lessons makes thematic lessons frustrating. |
| Social learning and competitive learning build their connection and motivation. | An index card set automatically created from problem areas would be useful. |
| It's cute with the owl mascot and colorful. | There are no lessons on how to write kanji stroke order, Hiragana, and Katakana. |
How did it go? Did you understand the review about Duolingo? There are many different features, advantages, and disadvantages of Duolingo. Please read this article and think carefully if you want to use it. I would be very happy if this helped you.
Summarize
Duolingo is the most downloaded free language learning application in the world and there are courses in about 60 languages such as English, French, Spanish, German, Chinese, and Japanese.
Duolingo is a free application because the developer Luis believes that learning a foreign language is one of the most effective ways to get out of poverty, and "developing the best education in the world that everyone can use" became the corporate mission of "Duolingo".
Duolingo has great points like covering hiragana and katakana learning and a wide range of topics, having all the different gamification elements and personalized learning.
Duolingo has some problems, such as audio problems, explanation of kanji, and lack of professional grammar explanations.
Duolingo is great for N5/N4 students, busy people, and rote learners because the course has a good range of basic vocabulary and grammar, and the variety of exercise types makes it interesting.