Are you currently researching important and comprehensive information on how to apply for JLPT in Edinburgh, UK? Are you struggling to find valid, comprehensive, and updated information about JLPT in Edinburgh or UK? Even if you have prepared your JLPT materials well, you still need to know technical information. All the information you need about the technicalities of JLPT in Edinburgh, UK is right here. We have compiled it for you as comprehensively as possible.
In Japan, the JLPT is usually held twice a year, in July and December. However, specifically for overseas, such as Edinburgh in the United Kingdom, the JLPT will be held only once. Other changes may occur. You will need to update this information on the website of the JLPT organizer in Edinburgh, UK. Not to forget, in the midst of this pandemic situation, which health protocols you should pay attention to, you must learn well. Because, the rules for organizing JLPT in Edinburgh, UK can change at any time.
Therefore, in this article, we will discuss in detail everything you need to take the JLPT in Edinburgh, UK. All the information on how to apply, fees, technical updates related to the JLPT in Edinburgh, UK, and website links that you need to follow every day are all here. Now, let's get started!
1. What is JLPT Exam?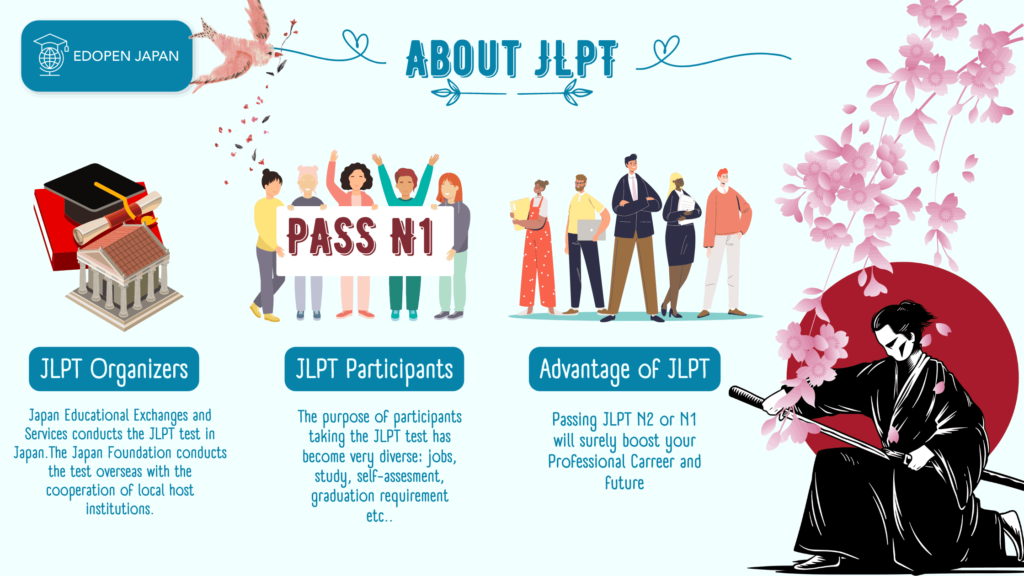 JLPT is the abbreviation for Japanese Language Proficiency Test or in Japanese 日本語能力試験. The JLPT has been in existence since 1984, 39 years ago. It is organized by the Japan Foundation and Japan Educational Exchanges and Services. JLPT is the most widely recognized test of Japanese language proficiency for foreigners.
Over time, the number of JLPT test takers has increased. Initially, there were only about 7,000 test-takers worldwide, and by 2011, the number had increased dramatically to 610,000. This also made it the largest language exam in the world at that time.
With the development of time, the purpose of participants taking the JLPT test has become very diverse. Its use has also become very widespread.
The purpose is such as for employment, and promotion, to be one of the requirements for improving qualifications. JLPT also continues to experience improvements in its organization system to date.
In particular, to ensure the relevance and accuracy of the JLPT test, the Japan Foundation and Japan Educational Exchanges and Services used a revised test model in 2010. This latest version of the test is the result of the latest research in Japanese language pedagogy and testing theory.
The Advantages of Taking JLPT
One of the main reasons many people take the JLPT is because it's job-related. Even today, if you want to work in a Japanese company, you need to have a JLPT certificate. Although there are many companies that are still willing to accept workers without a Japanese language certificate, your Japanese language skills will still be required by the hiring company. At the very least, you need to pass the JLPT N2 exam to get a job in a prestigious company in Japan. Not only that but your job opportunities will be greatly expanded. Especially if you have a JLPT N1 certificate.
In addition to job opportunities, another advantage you can get by having a Japanese language certificate is the opportunity to win scholarships to continue your studies at prestigious universities in Japan. In fact, some universities require you to show them not only your English proficiency certificate but also your JLPT certificate. If you can't provide proof of your Japanese proficiency, they will usually at least ask you to write a special letter in which your former professors evaluate you in Japanese.
Preparing JLPT N3, N2, and N1 certificates takes a lot of time. However, believe me, the benefits you can get when you have them are very much deserved even more than you can imagine.
2. JLPT Exam in the UK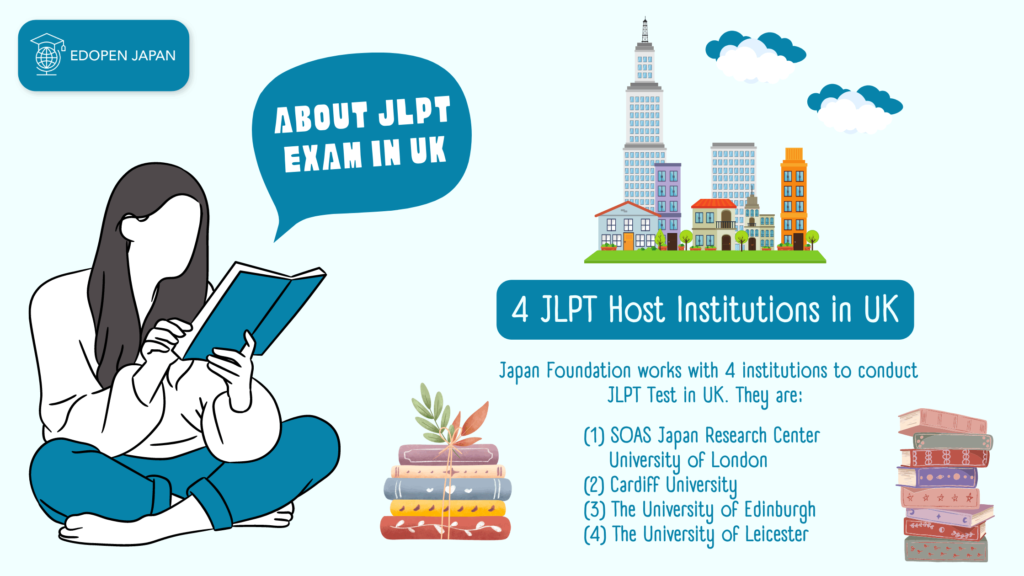 Specifically for the UK, the Japan Foundation works with 4 institutions. They are SOAS Japan Research Center – University of London, Cardiff University, the University of Edinburgh, and the University of Leicester. All of these institutions administer the JLPT on behalf of the Japan Foundation. The format of the test is generally the same as the JLPT test in Japan and other countries.
Especially for those of you who want to take the JLPT exam in Edinburgh, you need to pay attention to this. Don't make a mistake in deciding where to take the exam. Once you have completed all the stages of JLPT registration, you cannot change the venue. For those of you who live or study in Edinburgh, you can take the JLPT exam organized by the University of Edinburgh.
The Japan Foundation
As additional information for those of you who are curious, what is the Japan Foundation? Japan Foundation is the only Japanese institution that focuses on implementing comprehensive international cultural exchange programs for the whole world.
Japan Foundation also conducts many events, cultural exchanges, dialogue programs, and sharing how to learn Japanese for everyone around the world. These activities aim to strengthen the friendship and relationship between Japan and the world. Japan Foundation is very active in creating a new space that can be a bridge between Japan and the world.
The Japan Foundation was established 50 years ago, in October 1972. All activities conducted by the Japan Foundation are supervised by the Japanese Ministry of Foreign Affairs. All activities of the Japan Foundation are funded by grants from the Japanese government, investment income, and various donations from the private sector.
The global network established by the Japan Foundation is numerous and strong. This includes the organization of the JLPT test. The Japan Foundation has headquarters in Tokyo, Kyoto, 2 Japanese Language Institutes (1 in Urawa and 1 in Kansai), and 25 overseas offices in 24 countries.
JLPT Test Sites in the UK
For the United Kingdom, the JLPT is held in 4 cities: London, Edinburgh, Cardiff, and Leicester. The 4 institutions that organize JLPT on behalf of The Japan Foundation in the UK are as follows:
(1) London: Japan Research Centre, SOAS University of London
(2) Edinburgh: University of Edinburgh
(3) Cardiff: School of Modern Languages, Cardiff University
(4) Leicester: University of Leicester
Therefore, if you want to take the JLPT exam in Edinburgh, then please read the detailed information about the JLPT organization at the University of Edinburgh by clicking the button below!
3. Technical Rules about JLPT in Edinburgh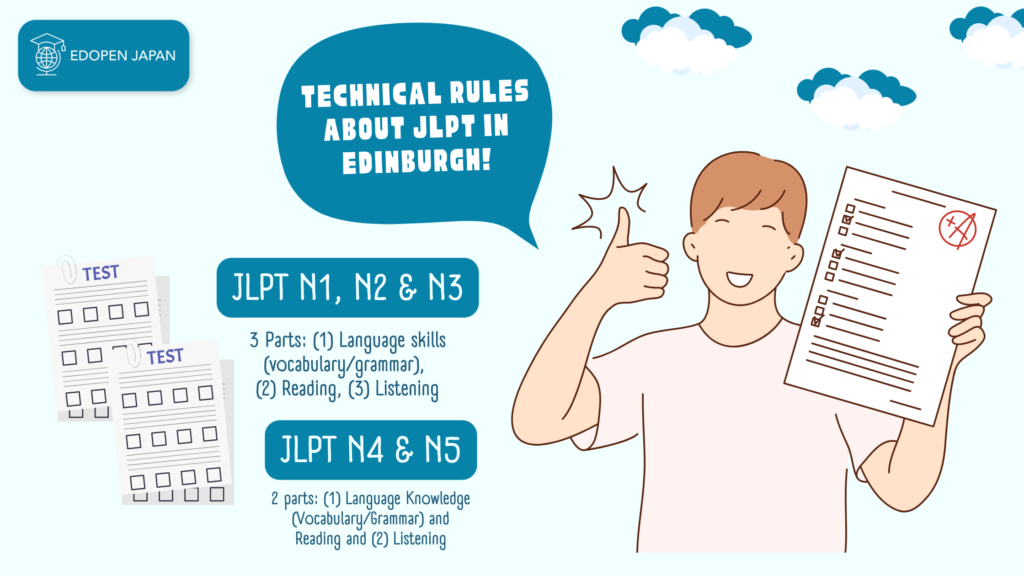 If you have decided to take the JLPT test in Edinburgh, then you need to know the technicalities related to the JLPT in the UK and especially in Edinburgh. What do you need to prepare, what level of exam is tested, what skills are tested, and how much money do you need to spend, everything you need to know, including how to get to the exam center and how not to be late with your registration, because everything can only be done online!
Therefore, in this section, we'll give you a brief summary of the key points you need to consider if you want to take the JLPT in Edinburgh in 2023.
The JLPT Test Guides, Rules, and Fees in Edinburgh
You should note that by completing the JLPT application form, you are deemed to have given your full consent to all items contained in the JLPT exam, especially those relating to personal information. The next JLPT exam will be held at the University of Edinburgh on December 3, 2023. Please check back for updates on JLPT registration and don't miss out!
There are 5 levels of JLPT exams, namely JLPT N1 (hardest), N2, N3, N4, and N5 (easiest). Specifically for levels N1, N2, and N3, there are 3 parts of the assessment which are as follows
(1) Language skills (vocabulary/grammar)
(2) Reading
(3) Listening
While specifically for JLPT N4 and N5, there are 2 parts of the assessment which are as follows
(1) Language Knowledge (Vocabulary/Grammar) and Reading
(2) Listening
The fee to sit this exam at the University of Edinburgh is TBC for 2023. The fee is non-refundable.
Regarding the JLPT exam fee at the University of Edinburgh, please visit their website and contact them for more information. Please also note that you will not receive a refund once payment has been received.
Test results are available online. Keep checking the University of Edinburgh website for the link to your results. Do not forget the passcode you entered when you registered, as you will need it again to access your results.
If you pass, you will receive your JLPT certificate from the University of Edinburgh. For the December exams, you will receive your results in early March. If you do not receive your JLPT exam results, you can contact the test host using the details below.
4. FAQ about Taking JLPT in Edinburgh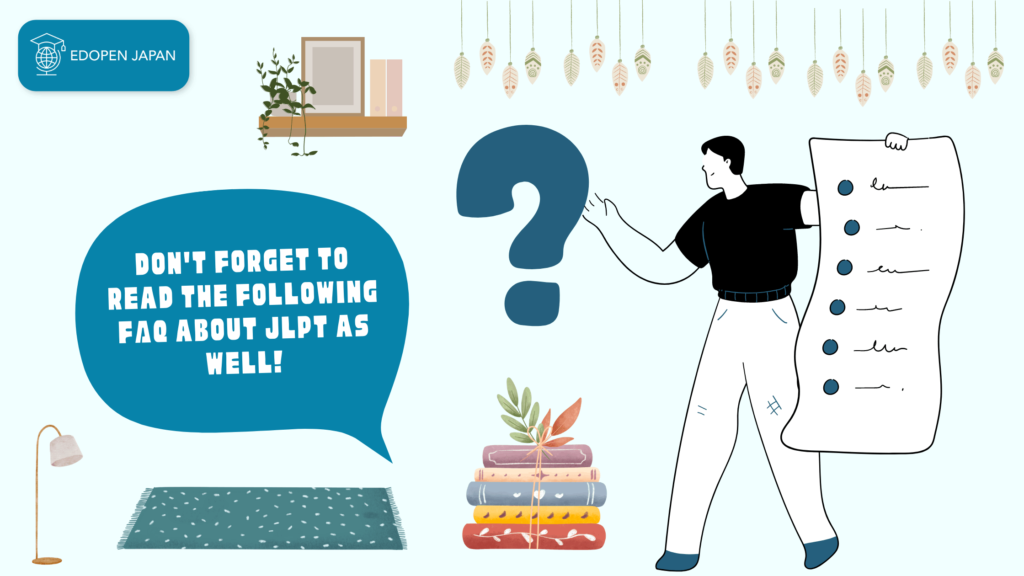 Below are some answers to questions you may have regarding the JLPT Edinburgh test. Please feel free to contact us if you have any further questions!
Does the JLPT certificates expires?
The JLPT certificate never expires.
How long is the JLPT Exam?
Since the test time may change at any time, you should check the JLPT website for the current JLPT exam schedule.
The JLPT can be taken by anyone who is not a native speaker of Japanese. In Edinburgh, only candidates over the age of 16 are allowed to take the JLPT.
Can I take the JLPT in more than one level at a time?
You can only take one level at a time, as each level is given at the same time and you must complete each section from start to finish.
Hope you succeed in chasing the JLPT levels you want and we wish you get the perfect score!
5. Where Can I Learn Japanese & Prepare for JLPT in Edinburgh?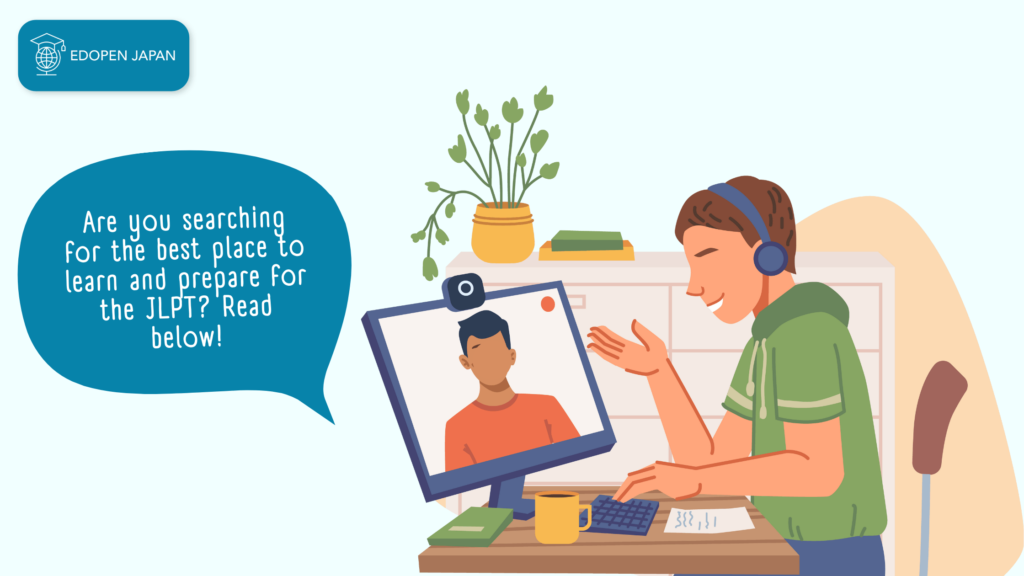 There are several places that offer Japanese language classes and special programs to prepare for the JLPT in Edinburgh. If you are interested in joining one of these programs, you can contact the organizer of the program directly.
In addition, the programs offered are also very diverse, ranging from basic Japanese language learning to intermediate level, as well as JLPT preparation.
Moreover, there are even special JLPT boot camps for those who are interested in seriously preparing for the JLPT. The places you can visit to find Japanese language learning and JLPT preparation programs in Edinburgh are as follows:
| | |
| --- | --- |
| Institution/School | JLPT Levels |
| 1. University of Edinburgh | JLPT N4 Only |
| 2. Nihongo Connection | All Levels |
| 3. Ipo Ipo Japanese | N5 to N2 |
Next, please visit the details of the Japanese language school in Edinburgh as well as the school that have the JLPT preparation program by clicking the button below!
6. Our Recommendations on Best Books to Prepare for the JLPT Exam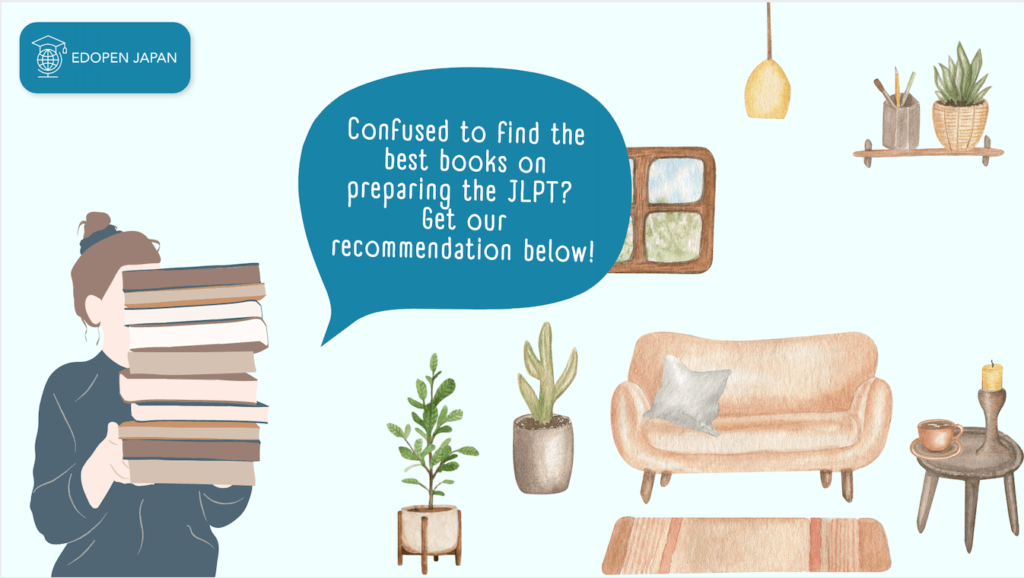 Are you looking for the best book to prepare for the JLPT on your own? Finding the best JLPT preparation book is certainly not an easy matter. But don't worry, we are here to help you find the best book for JLPT preparation.
We have studied various types of books that are highly favored by JLPT test-takers around the world. The price offered is also very affordable. You just need to use them well and set your time management strategy to go through all the materials until you understand the JLPT materials at the level you want. Consistency plays a big role here!
There are at least 2 books that we highly recommend to prepare for the JLPT, namely the New Kanzen Master series (新完全マスター) and Nihongo Sou Matome (日本語総まとめ). Both have the complete series for all JLPT levels.
7. How to Find the Best JLPT Preparation Tutor in Edinburgh?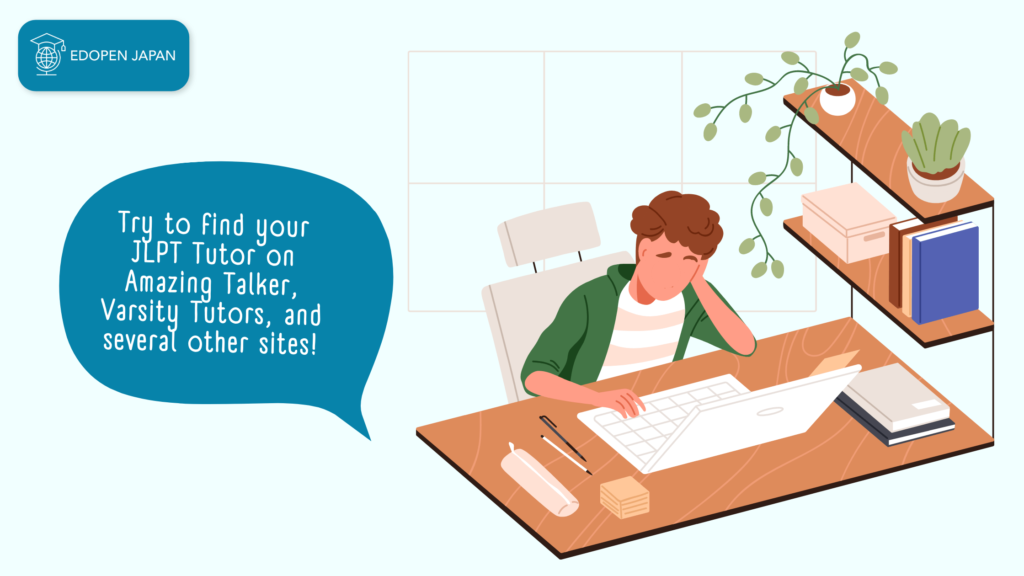 This was our discussion about JLPT preparation in Edinburgh. To give you more options, we would also like to recommend where to find the best tutors for JLPT preparation in Edinburgh.
This option is especially important for those of you who want a more intensive JLPT preparation program with a flexible schedule. You can also get Japanese lessons and JLPT preparation from native Japanese speakers. Most of the tutors you can choose from also have excellent and professional experience in teaching Japanese.
Then, how do you find a tutor specifically for the JLPT preparation program in Edinburgh? You can find them on Amazing Talker, Varsity Tutors, and several other sites. You can choose yourself based on reviews from alumni who have taken lessons from these tutors.
Conclusion
Well, that was our whole discussion about the JLPT in Edinburgh. If you can pass the JLPT test and get the certificate, it will indeed provide you with many benefits and open up great opportunities for your life. We are very proud and look forward to being a part of your journey to conquer the JLPT in Edinburgh.
May you pass the JLPT Edinburgh exam with a perfect score! If you have any experience taking the JLPT Edinburgh exam, what are the points that you feel are important to pay attention to, etc., please share them with us here. See you in the next article!