For those of you who are currently looking for an effective way to learn Japanese that is not limited by space, region or time. Of course, with various class options that can adapt to your schedule, your basic skills and most importantly, your financial ability.
Choosing to learn Japanese with online classes can be one of the most appropriate choices. By finding the right class, you may find it easier to absorb learning Japanese and allow you to master Japanese in no time.
In this article, we have summarized 8 of the best online Japanese classes that have received a very good reputation from students. The online course programs offered are also very varied and at very affordable prices. You just have to choose the most suitable one that suits your needs.
In addition, if you are currently looking for other Japanese learning resources that you can access anytime and anywhere. Please read our recommendations below:
Read also:
The Best Books to Learn Japanese for All Levels
10 Great Japanese Language Schools in Japan
8 Most Popular Manga to Learn Japanese
The Benefits of Taking Japanese Classes Online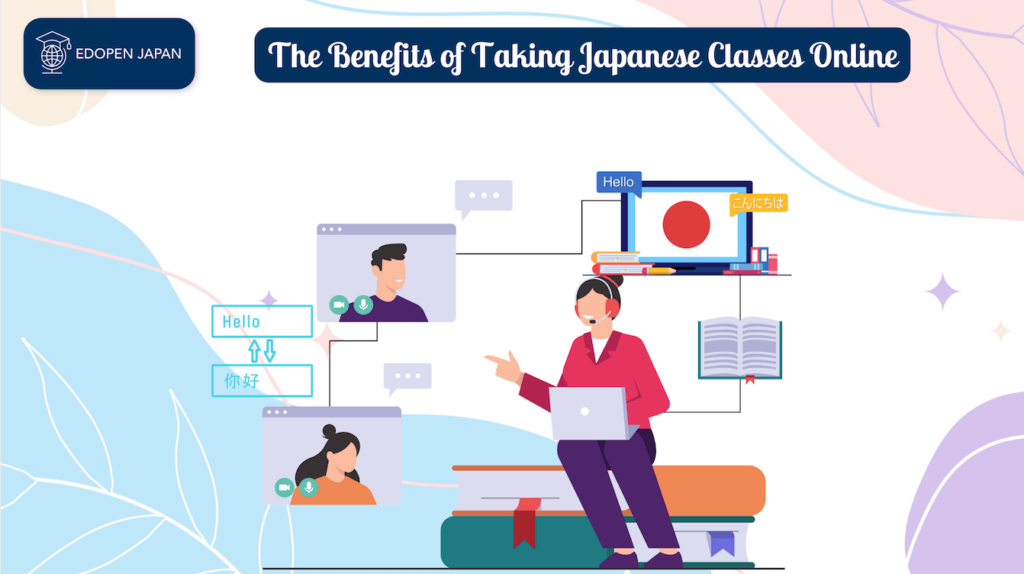 Learning Japanese is a very enjoyable process and a necessary condition for the growth of one's foreign language skills. There are those who choose to take offline Japanese classes directly at Japanese language schools, for example, with various privileges.
However, for those of you who have limited time and money, taking online classes may be the right choice. Some of the benefits that you can get by taking various Japanese language courses online are as follows:
There are no time or location restrictions. As long as you are connected to the Internet, you can study anytime and anywhere.
Allows you to absorb, digest and retain more information in less time.
Makes it easy for you to review lessons you don't understand without a time limit, without having to take notes or ask questions over and over again, which may annoy your tutor or teacher.
Allows you to learn Japanese more personally and at your own ability and pace, without being distracted or following the pace of others.
You can save a lot of energy, time and money because online classes cut your accommodation costs to go to the place of study and online class prices are usually much more affordable.
Any other additions? Please share your experience with online Japanese classes in the comments below!
8 Best Online Japanese Classes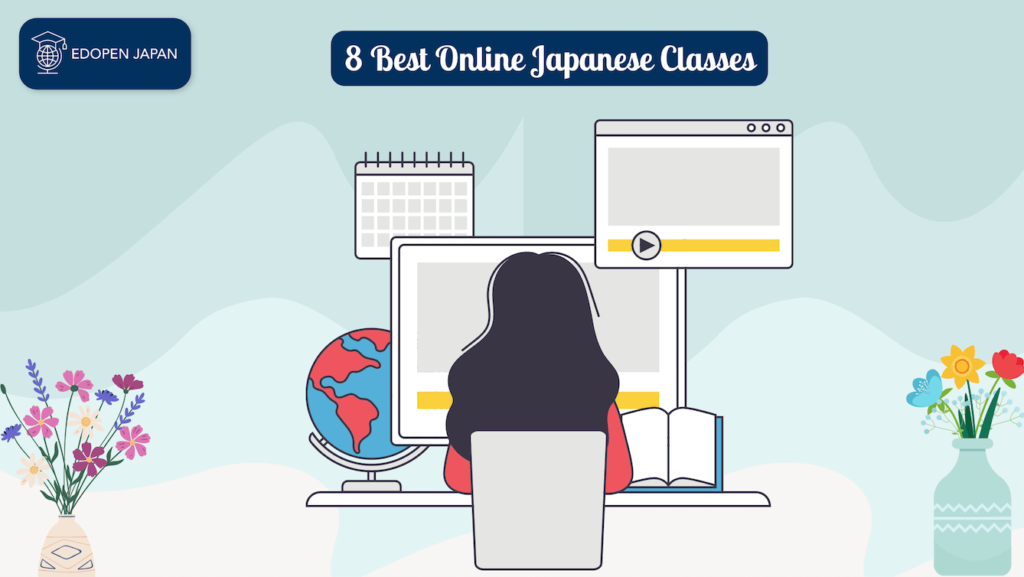 1. SNG Online Japanese Language School
SNG stands for Shinjuku Nihongo Gakko (新宿日本語学校) in Japanese or it is Shinjuku Japanese Language Institute. Shinjuku Japanese Language Institute was founded in 1975 by 3 founders. They are Takayoshi Ezoe, his wife Setsuko Ezoe, and their oldest son Takahide Ezoe. The Institute offers Japanese language courses to more than 500 students from more than 50 countries around the world.
Additionally, SNG has had over 45 years of experience in Japanese teaching. The strong point of this school is as the following:
This language school is a leading Japanese language school in helping new learners.
Have proven experience in preparing students to pass entrance exams (EJU) on Japanese campuses which of course use Japanese as the language of instruction.
This school has a special method called the Ezoe Teaching Method.
Moreover, the learning method is visually very interesting and unique. Combined with the "Visual Learning Japanese" blended learning system, students can continue to practice at home. Thus, the learning process will go faster. You can find this school in Takadanobaba. One of Tokyo's leading student' districts, only 5 minutes from Shinjuku, and close to major areas of Tokyo such as Harajuku and Ikebukuro.
2. edX Japanese Courses
If you want to find a Japanese online course, but with a limited budget, this is the answer. I share this not only for those of you who have limited funds but more than that. This Course is FREE, totally FREE. This online course is edX Japanese. This course collaborates with prestigious universities such as Harvard, Princeton, Yale, Waseda, and MIT to provide free online courses.
EdX offers online language education and courses for Japanese language learning beginners. For example, WasedaX's Steps in Japanese for Beginners. This course gives a great introduction to the language as a whole. What you can get in this online course? The program provides several points as the following:
Basic vocab words (Japanese phrases)
Conversational skills
Grammar (Japanese verbs and sentence structures) and more.
Founded by Harvard and MIT in 2012, edX is a non-profit. As well as an open-source learning platform with such a great aim to "enhance high-quality education for everyone, everywhere".
3. Udemy
In the third place, we would like to give it to Udemy. The online learning site Udemy provides excellent graphic design courses. There are several categories as well. The interesting part of Udemy is that you may choose the study materials that suit you best. Of course, with the most affordable cost. An interesting tagline offered from Udemy is " Get Fluent and Confident in JAPANESE – Learn the basics from a native speaker. Learn it right and speak with confidence"
The strong points of Udemy are the following:
Udemy is a video-based Japanese language learning media.
The topics are very rich and easy to be implemented.
There are English subtitles for beginners.
It provides FREE Access materials as well.
4. italki
Italki is highly recommended for those of you who want to learn Japanese online with a native speaker. Is learning in italki free? Unfortunately No. You have to pay for the language lessons you want to take. Moreover, there are many methods to learn Japanese online. However, learning with a personal teacher remains the best way to master the language in italki.
Additionally, a private teacher will give you the necessary training. As well as helping you study Japanese most efficiently. Italki is one of the favorite sites to learn Japanese online courses with teachers from native Japanese speakers themselves. The features of this course are writing, correction of language, partner discussion, writing, and much more.
5. JF Japanese e-Learning Minato | The Japan Foundation
In the fifth place, we would like to explain about e-Learning Minato. e-Learning Minato is an online Japanese language course organized by The Japan Foundation. What is The Japan Foundation? In short, the Japan Foundation is a non-profit organization. It is under the Ministry of Foreign Affairs of Japan that focuses on Japanese cultural exchange, Japanese intellectual exchange as well as Japanese language teaching and learning in many Asian countries, parts of Europe, and America.
In addition, you can learn from basic to intermediate levels. There are many courses to choose. You can learn hiragana characters, katakana, kanji, to choose the textbook style. On this website, you may choose Self-Study as well and all of this is totally free! Or you can try the tutor support course.
6. Berlitz
Berlitz offers a very wonderful and fun way of learning Japanese. Using Berlitz, you would be able to learn to speak Japanese and understand how to communicate with the people of Japan. As well as gaining cultural knowledge and understanding the Japanese society. Also, there are very well-structured as well as comprehensive classes. They are from basic to professional level.
Additionally, you will get the following benefits of taking online Japanese classes at Berlitz:
You will get dynamic and fun teaching
Take classes with friends
Different stimuli for learning
Study according to your routine
Don't miss these online courses for those of you who want to learn Japanese freely.
7. Coto Japanese Academy
Coto Japanese Academy or Coto Academy has been selected as one of the best Japanese language schools in Tokyo, Yokohama, and ONLINE. This academy has more than 20 years of experience teaching Japanese to foreigners.
They provide Japanese language lessons online for foreigners with professional teachers. This online course is divided into 18 different levels and lesson types. From beginners who want to start learning Japanese for the first time to advanced learners. This academy even provides Japanese classes for students who want to improve their Japanese business.
8. Akira – Online Japanese School TOKYO
This online class was just established in 2019, what's interesting about this online class is that they use the scientifically proven SLA method. The SLA method is (Second Language Acquisition Research is the science of clarifying the mechanism of how one acquires knowledge of a language other than one's mother tongue through neuroscience, psychology, and linguistics.
In addition, they will explain to you what your problem is and how they solve it according to SLA effectively. With the SLA method, you can grasp how to study efficiently before starting to learn. Apart from being a native teacher, this teacher is also officially certified with a guaranteed learning experience.
Offering lessons in English as well requires students to prepare vocabulary and grammar topics to use the material in English and focus on training outputs in hands-on lessons. This new type of learning style is called "flipped learning". You can also try the free feature for the initial trial period to find out where your Japanese language skill level is and then just be steady to study with Akira.
FAQ about Japanese Classes Online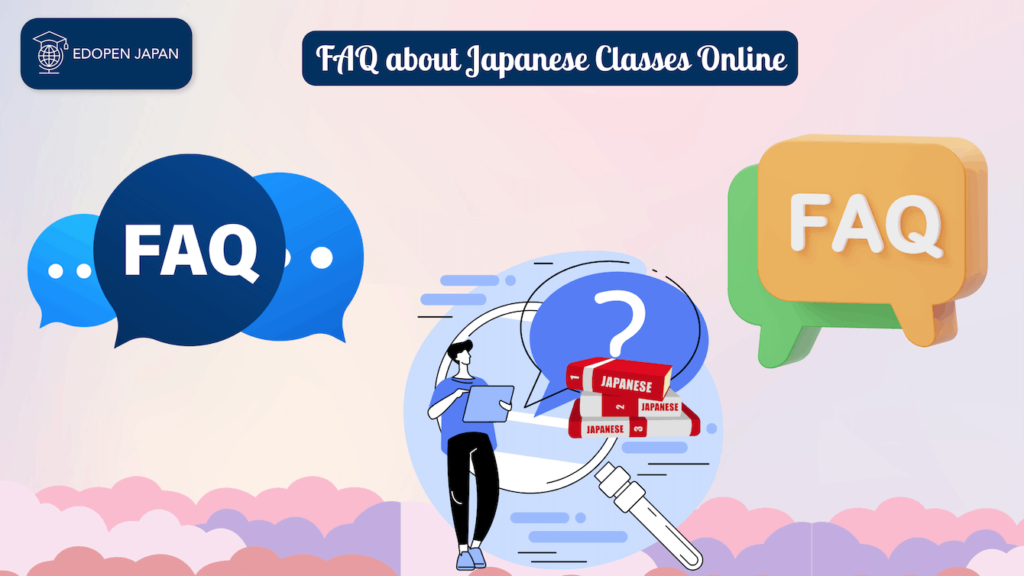 The following are examples of questions that may arise in your mind regarding online Japanese classes. Some of the following discussions may add insight and broaden your view of online Japanese classes.
Are online Japanese classes worth it?
One of the most effective and efficient ways to learn and master Japanese is to take Japanese courses online. Considering the flexible schedule, time, place and price, it is much more affordable than offline classes.
Can we take Japanese classes online?
Of course you can! The program above could be an option for you!
What is the best way to start learning Japanese?
An easy and free first step can be to start reading a discussion of Japanese material that can be accessed anytime, anywhere online. After that, you can start taking the available online classes!
Still have questions? You may be wondering about the price you have to pay to take Japanese lessons online. Please find out the price by clicking on each of the online Japanese class programs we have listed above.
Conclusion
I hope this article will help you to find the best Japanese online class you are looking for. Hope you can find that learning Japanese will be fun and wonderful in this way. Hope this article also would change our minds and make knowledge more accessible to all, without any barriers.
If you have any comments as well as suggestions for my improvement, please freely drop your comment below. I am looking forward to hearing from you. Thank you very much for spending your precious time. See you in the next article!