Do you like learning the Japanese language online? Definitely, there are some of you who choose to study and grasp Japanese quickly from anything aired on the Internet. And first of all, we absolutely need to thank the Internet.
We do not need to fly to Japan, attend formal language schools and pay much money to get the knowledge. Everything is open to us. Hope we can use this privilege as best as we must to do.
Okay, next for this time, we have summarized a list of great websites for learning Japanese. All of this great info is only for you. ALL of the materials are FREE. Of course, every website has its own characteristics. It provides you with a different approach to learning Japanese.
Therefore, all you need to do is just only to find what suits you best. Moreover, we also have a very great, informative, and useful guideline for you in learning Japanese. Everything on the websites is FREE. Please always update our published articles here!
In addition, if you are currently studying Japanese language and culture, especially material related to certain phrases and sentences that appear most often in everyday Japanese conversation, please also read our recommendations below!
Read also:
What is the Best Online Japanese Class?
The Best Books to Learn Japanese for All Levels
10 Great Games to Make You Master in Japanese
The Best & Powerful Sources to Learn Japanese Online for Free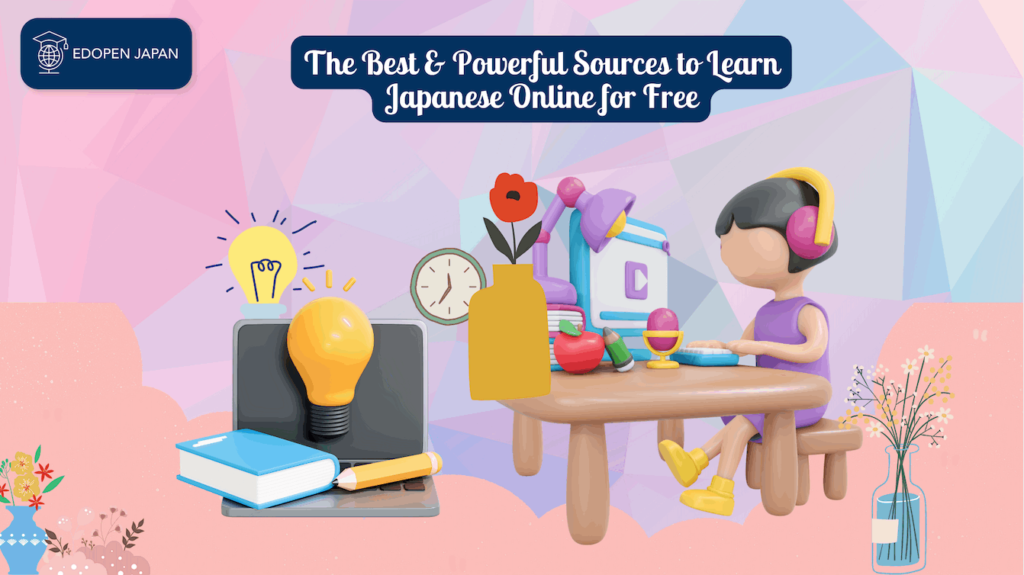 The sophistication of the Internet makes it very easy for all of us to get information about anything, including Japanese materials. Especially now, resources and materials for learning Japanese that are very interesting, comprehensive, and even more complete than those available in special Japanese language schools are available and easily accessible.
What are the best media or ways to learn Japanese online? and free of course!
Study Japanese video material available on YouTube.
Use a special app that is free on cell phones for everyday use.
Study the material available on websites dedicated to Japanese material.
And option number 3 is very popular because you can access various information that is very comprehensive and free of charge anywhere, anytime.
Some material providers on certain websites are even official bodies that are part of the Japanese government, which have special programs for sharing Japanese language materials, starting from easy to advanced levels. What websites can you visit to learn Japanese for free? Please read our summary in the next section.
The Best Japanese Learning Website for All Levels and Learners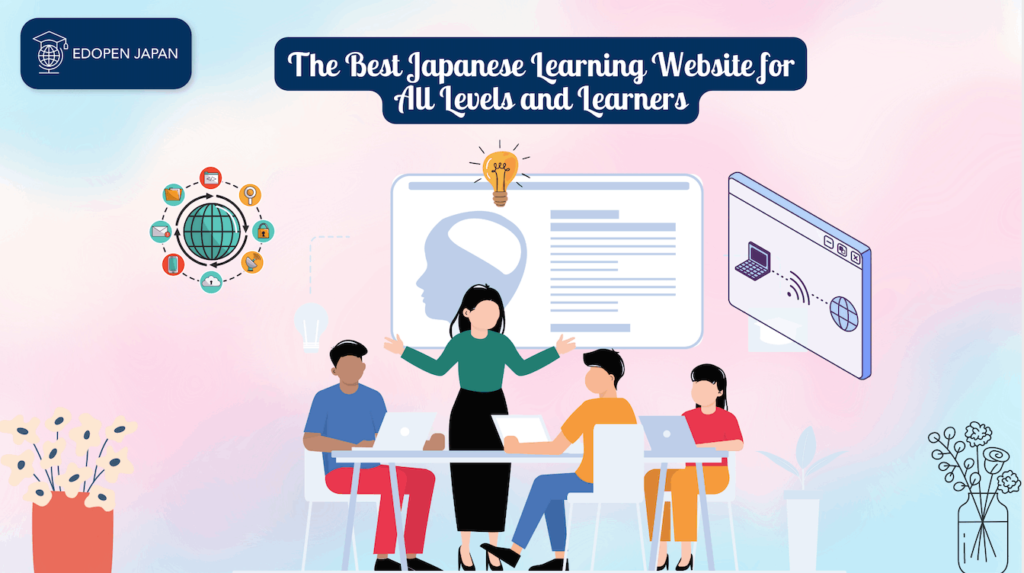 1. Nihongo e-な
Nihongo e-な or Nihongo e-na is the most complete and perfect Japanese e-Learning portal that provides various sites that we can access to learn Japanese. Established in 1972 as a semi-governmental corporation by The Japan Foundation Japanese-Language Institute, Kansai.
This great foundation offers overseas students direct support through Japanese language programs and the development of Japanese teaching materials and websites.
In this portal, there are various categories, such as Reading, Listening, Grammar, Kana, Writing, Speaking, Kanji, Vocabulary, and other categories. By selecting one of the existing categories, we can immediately be taken to a wide selection of sites to learn about the categories we previously selected. The key button to search what you need is as the following:
By choosing the key button above, you can choose the studying material you need. Furthermore, there are 3 levels of the learners, Beginner, Intermediate, and Advanced. There are various kinds of fun games as well. Also, many materials are available on Android or iOS-based systems.
This portal can be accessed using English as the language of instruction, making it easier for us as beginners to learn easily from any part of the world. Surely, this site would successfully make you find what you are looking for all the time.
2. NHK World-Japan Learn Japanese
NHK World Japan is a worldwide broadcasting carrier of the public broadcaster NHK in many overseas languages. Of course, English is included. On their professional website, you can discover Japanese studying substances in the structure of digital and audiobooks. You can download the materials for free so you can get admission to it anywhere.
The plus factor of NHK World Japan is the getting to know substances with very beautiful anime illustrations. You can observe the classes sequentially primarily based on the curriculum or in accordance with the theme.
After finishing the lesson list, you can then get admission to extra-direction courses. Here you can advance your vocabulary and take quizzes. Unfortunately, "Easy Ways to Learn Japanese" from NHK World Japan is aimed at beginner learners, so those who are extra superior may also have to seek the other materials elsewhere.
3. Connect and Enhance Your Life in Japanese
This site is the official website of the Japanese language division of the Cultural Agency of the Ministry of Education, Science and Technology, Sports, and Culture of Japan. So, it is very trusted and managed by people who work professionally. This site was just launched in 2020. The surprising news is that now it has access to this website at least 15,000 people per day.
By providing various languages ​​from various parts of the world, this site is easier to understand and learn with your respective language of instruction. This site specializes in the everyday situations of foreign nationals living in Japan. The site has a simple system structure.
We can also choose content that suits our respective circumstances while in Japan. Since this site was made by the Japanese government, it is intended for people who live in Japan and do not have the opportunity to learn Japanese as well as people who have just lived in Japan and are learning Japanese for the first time.
3. Marugoto
Marugoto or まるごと is a Japanese e-learning platform with the useful resource of The Japan Foundation. Here you can analyze Japanese both independently or interactively with the assistance of a coach to make corrections to assignments or stay teaching.
Marugoto in unique interests' grownup remote places freshmen and has pretty a few levels that are tailor-made to the participant's stage of proficiency, ranging from basic, intermediate, to most advantageous levels. To begin, you can first take a test to find out which stage you need to take.
What's different about Marugoto is how you can pick between "Katsudoo Course" and "Katsudoo & Rikai Course" at stage A1. The "Katsudoo Course" is usually for contributors who want to analyze Japanese blissfully. The purpose is for participants to reap sensible verbal trade skills in Japanese for daily stipulations and puts a larger emphasis on the conversational or speaking aspect.
Meanwhile, "Katsudoo & Rikai Course" is a route for folks who decide to look at Japanese completely. The intention is to draw close to Japanese thoroughly, the area you will analyze no longer fully how to communicate like in the "Katsudoo Course," but how to read, listen, and write in advance.
4. Erin's Challenge I Can Speak Japanese
Are you tired of learning only by writing too much and stiffly? Then, Erin's website is the solution for you! This site is also under The Japan Foundation. On this site, you'll learn not only with text but also with a short video starring Erin, an English student who studied in Japan for 6 months, and also manga.
Furthermore, please don't worry, she only learns how to speak Japanese. Thus, there's not much grammar. You can learn a lot about daily conversations. Here, you can get not only Japanese but also Japanese culture. Such as Japanese customs, traditional games, and others, there are also vocabulary and quizzes. So, it's much easier to understand and perfect to do in your leisure time.
5. Tae Kim's Guide to Learning Japanese
If you want to learn grammar in a structured way, "Tae Kim's Grammar Guide" is a good choice. Why? It is because we can learn very sequentially and systematically, just like in a formal class with a textbook.
This online guide on the website is a comprehensive and comprehensible resource on how to learn Japanese. The website also offers a PDF guide, the book in PDF file format is a carefully crafted resource for beginners and advanced learners of Japanese.
Furthermore, you'll also find lessons and exercises on hiragana and katakana, as well as in-depth sections on various aspects of Japanese grammar. The site is easy to navigate, so you can find exactly what you're looking for and spend time learning areas where you need extra help.
6. Tofugu
Tofugu is a blog with lots of awesome content for anyone learning Japanese. The site has been around since 2007 and is run by its founder, Koichi. On this site, the founder uses a pretty creative method to teach Japanese, which he says he learns as fast as he can. Besides, he also teaches some Japanese culture, which is very interestingly packaged at this site.
In addition, the most interesting thing is that Koichi, the founder, has even been given the title of "The Destroyer of the Japanese Language Learning Industry" by Japanese learners. You'll find easy-to-follow guides with videos and graphics to help you understand the different aspects of the language.
As well here, at this website, you can get an abundance of articles on effective and creative ways to learn and practice Japanese. Then, if you're planning a trip to Japan to improve your language skills, you'll love the travel guides on this site.
7. Duolingo
Duolingo is already very popular because it offers almost all kinds of teaching languages from different parts of the world as a native language. Thus, it's the choice of more than 12.3 billion active language learners. Duolingo team doesn't want to be half-hearted in supporting the Japanese language.
They've decided not to use Romaji, but have gone straight to Katakana, Hiragana, and Kanji, which are the most difficult levels for most new learners. This is because very few in Japan use Romaji, especially in rural areas that aren't comparable to big cities like Tokyo, Osaka, or the tourist city of Kyoto.
The content focuses on real-life situations such as ordering food or navigating the city, as well as phrases that are considered essential. Of course, this website also offers the possibility to learn Japanese through anime and manga. So, as an anime and manga lover, don't worry!
8. JLPT Sensei
From the name, you already know that this is a website specifically for those who focus on studying for the JLPT. The other websites are mostly only for levels N5-N3, and only to be able to speak Japanese every day and in simple conversations with foreigners living in Japan. What is more? JLPT Sensei is a language blog & grammar database to help you learn Japanese and pass the JLPT exam even up to N1.
The Japanese Sensei website provides a super complete list of kanji starting from levels N5-N1, more than that, there is also a practice test here. Good luck conquering Japanese level N1 for you guys!
The Pros & Cons of Learning Japanese Through A Website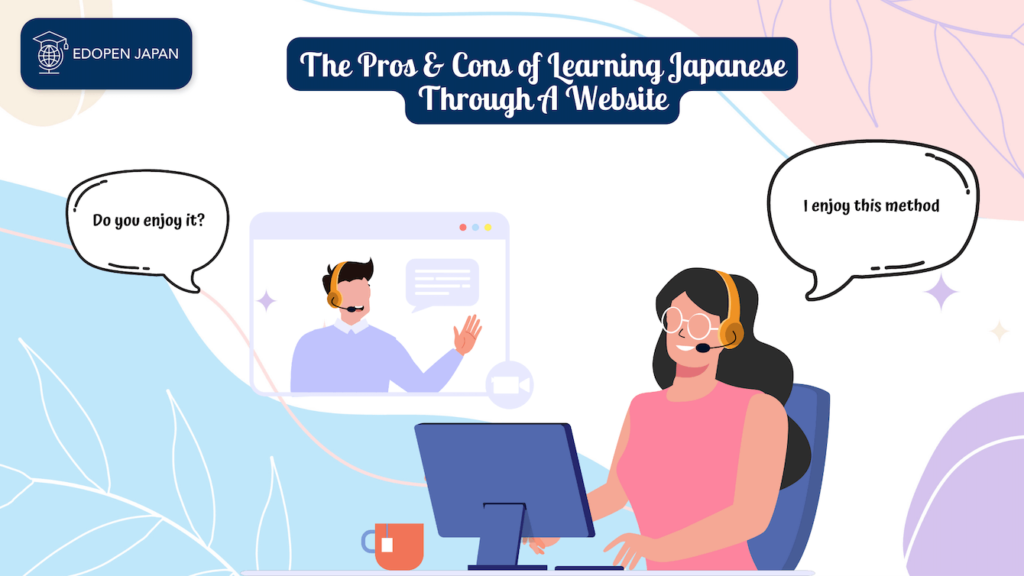 Learning Japanese through websites or other online media certainly has pros and cons that you need to consider. You need to consider the following pros and cons.
Pro 1: Learning Japanese through a website is very flexible.
Pro 2: Learning Japanese through a website is accessible and affordable anytime, anywhere.
Pro 3: In the midst of a pandemic or conditions that don't allow us to get together, learning Japanese through the website is of course very safe.
However, some of the following disadvantages are unavoidable.
Cons 1: Opportunity to speak and use Japanese directly is very limited.
Cons 2: Opportunities to make connections to share Japanese learning experiences with each other are very limited.
Cons 3: Opportunities to be immersed in an intensive Japanese-speaking environment and to visit Japanese cultural sites are limited to non-existent.
What's your opinion? Do you have any other points? Please add your views in the comments section below!
Conclusion
Last but not least, as a conclusion of this article, I would love to share with you 3 great tips below that hopefully can boost your strength to conquer the Japanese.
Be Persistent
Keep Focus and Build Strong Commitment
Practice, Practice, and Practice!
I really hope these small tips will help you. If you have started to learn Japanese, what is your favorite website? I would be really happy to receive your comment below. Thank you very much! See you in the next article!