Are you thinking about adding new adventures to your life? Maybe you've been thinking about moving abroad and trying new things and cultures to add to your bucket list.
Japan could be a country to think about. When one first lands and visits the country, it often leaves the lingering thought, "What would life be like in Japan?" The Land of the Rising Sun offers a variety of job opportunities for foreigners, along with a taste of new challenges, accompanied by the beautiful scenery of cherry blossoms and snow monkeys in hot baths.
You are right, Japan seems to be attractive to many foreigners. When they first came to Japan, many foreigners might have ruled out Tokyo because they were afraid of the crowds. It was hard to figure out which city to move to and start a new life and job. In this article, we will go through the top cities to live in Japan to help you decide which city to choose. Let's go!
In addition, if you are currently gathering information about Japanese life, language and culture, please read our recommendations below!
Read also:
The Best Books to Learn Japanese for All Levels
How to Count Money in Japanese?
The Basic Japanese Greetings
Where should a foreigner live in Japan?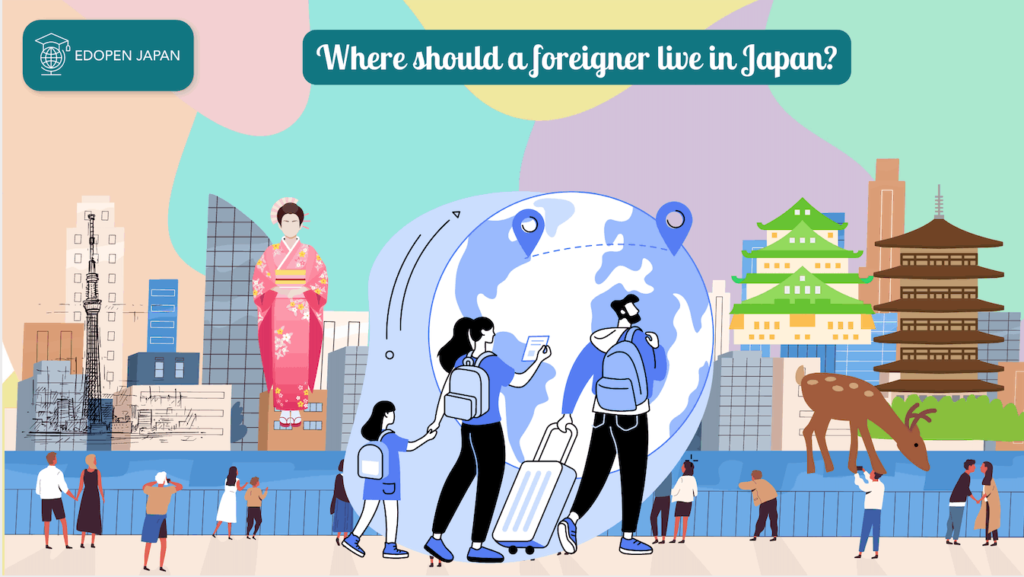 According to several reliable sources we have gathered, most expatriates live in large cities in Japan. These cities are usually Tokyo, Osaka, Kobe and Nagoya.
For example, Tokyo is considered to be more friendly to foreigners than other cities in Japan. Tokyo has many facilities that make it easier for foreigners, such as the many English tour guides, and it is believed that Japanese people living in Tokyo can speak English better than native Japanese people living in other cities.
Then, Osaka became the second choice of city that is in great demand by foreigners, especially expatriates. Osaka is considered to be more relaxed and the people are friendlier compared to the crowded and very busy Tokyo.
In fact, Osaka is considered the friendliest city in Japan. The native Japanese living in Osaka are very friendly and warm. However, compared to Tokyo, Osaka residents may not speak English fluently.
Apart from Osaka, foreigners also like other cities in the Kansai area such as Kobe and Kyoto. The cost of living in Kyoto is considered the cheapest compared to other cities in Japan. Being a popular tourist destination, Kyoto is also an area with native Japanese who can speak English.
What are the best cities to live in Japan?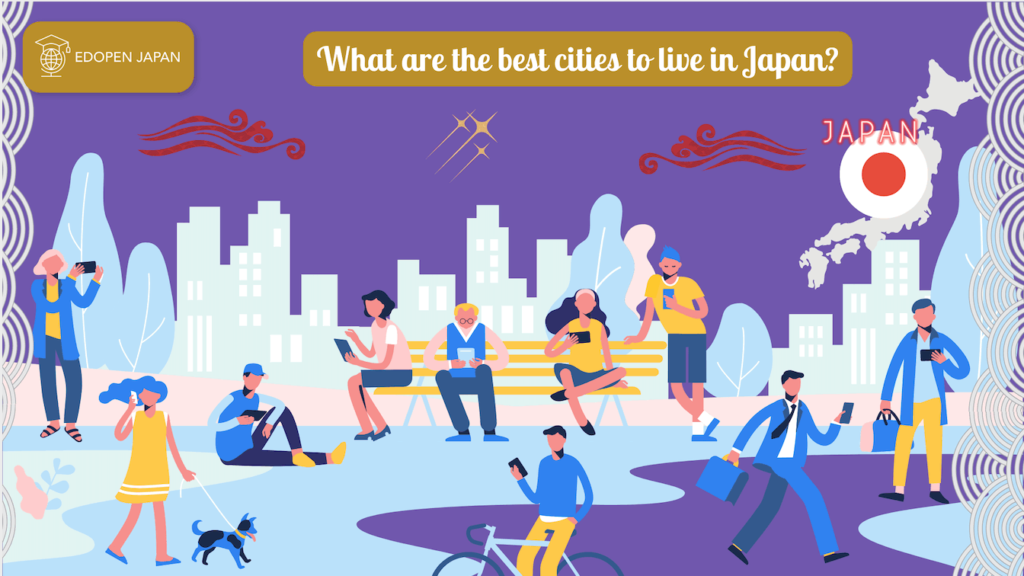 1. Tokyo
Tokyo is ranked among the top cities for foreigners to live in Japan. Despite its reputation for crowds (as I mentioned earlier) and expensive cost of living, it is undeniable that this city is a perfect mix of convenience, a fusion of culture and high tech, with a larger job pool available for foreigners.
You can find just about everything from clinics to hiking trails in the urban landscape. It has the right mix of tradition and pop culture. The city is well connected with public transportation and skyscrapers, making it an attractive and popular option for expats to live in.
From my experience living in Japan, Tokyo once scared me but turned out to be a pleasant surprise. I love the convenience and job opportunities that are available in this city. It is also good to note that there are many more English speaking facilities available in Tokyo than in the rural parts of Japan.
It was very easy to make an appointment and travel to a clinic for emergencies. For a newcomer to Japan, Tokyo is a good place to start. It has a large expatriate population, making it an easier place to settle in.
2. Osaka
Right after Tokyo comes Osaka, a city that is also incredibly popular with foreigners and locals alike.
Located in the western region of Japan, Osaka is a less crowded version of Tokyo. Osaka prides itself on its food, sake and mountainous terrain. Osaka does not fall short of what major cities have to offer and is one of the most important economic centers in Japan.
Osaka has a vibrant nightlife and many amenities such as restaurants. However, the weather can be a little more humid than in other cities other than Tokyo. There are also fewer English-speaking amenities available compared to Tokyo, which can be a great place to learn and improve your Japanese language skills.
Many of my friends who have lived in Tokyo often tell me that they hope to move to Osaka in the future. Coming from Osaka to Tokyo, I can understand why.
3. Kyoto
Kyoto is located just north of Osaka and is easily accessible from Osaka. It is known for its traditional history and beautiful gardens. From the streets of Gion to the Golden Temple, this city is a popular destination for tourists from around the world. The peaceful yet incredibly scenic area, which was once the capital of Japan, attracts many foreigners to live here.
The cost of living is higher than in most cities, but this city has well-connected transportation such as punctual trains and buses. This city is popular with those who want to be close to the city, but not too close. Kyoto promotes serenity and is a great place to get away from the hustle and bustle of the city.
Kyoto has always been my lost opportunity. I wonder if I will be able to fulfill this desire to live in Kyoto, or is it a buried hatchet for me?
4. Nagoya
Located between Osaka and Tokyo, Nagoya is an underrated city. It has the same facilities as the big cities. Nagoya prides itself on being safe and beautiful, which makes it a great option for foreigners with families. A cheaper option to live in Japan, I'd say.
You'd be surprised to learn that there are quite a few foreigners living in Nagoya (I was!) Even though the expat population is smaller than in the big cities, it still has a mid-sized expat community. It is geographically close to the coast, making it a scenic yet suburban community.
5. Nara
Deers.
It is one of the popular places that many people go to when they travel around the west coast of Japan. I mean, you have to visit Nara when you're in Osaka.
Nara is just south of Osaka. However, unlike Osaka or Kyoto, it does not have a dense expat community. Job opportunities for foreigners in this city are also rather limited. However, Nara offers all the amenities, such as a wide variety of restaurants and shopping facilities.
Nara is a good choice for many who are interested in nature and history. There are many nature trails in Nara and many choose to travel from Nara to Osaka for work. It is a great city to learn about the architecture and history of Japan.
6. Yokohama
Yokohama is well known for its architecture and Chinatown.
Located south of Tokyo, Yokohama is a popular city for many to live in. Yokohama is a great home for many expats and is home to more than 90,000 expats. It's only 30 minutes from Tokyo and offers many amenities such as shopping, dining and scenic picnic spots. It's an affordable alternative to Tokyo.
7. Fukuoka
Furthering down south to the Kyushu region of Japan is Fukuoka.
The Kyushu region of Japan is warmer than the northern region. Fukuoka is famous for its affordable cost of living, convenience, and amazing food choices from ramen to nabe. This beautiful city is surrounded by mountains and is closer to countries like Korea and Taiwan because it is in the southern region of Japan.
Fukuoka has a relatively small number of ex-pats and is a good place for many who are interested in a taste of life outside of Japan's big cities.
8. Sapporo
From the southern regions, we'll travel all the way to Hokkaido in the northern region of Japan.
Hokkaido is famous for its snow, skiing, beer and food. If you are not afraid of the cold and snow, Sapporo is a good option for settling in Japan. A fan of skiing and miso ramen? You've come to the right place.
Sapporo is not only famous for ramen and skiing, it is also a scenic place all year round with cherry blossoms in spring, lavender in summer, fall foliage in fall, and well, skiing season in winter. Sapporo also has quite a large expat population with more than 15,000 foreigners living in this city.
It is one of the top cities to live in and a great alternative for those who want to live outside the cities.
9. Fujisawa
Lastly, the top-rated city to live in: Fujisawa.
What a turn of events! Honestly, this is not a common name for many (even for me!). Fujisawa is located in Kanagawa Prefecture, close to the beaches and has a great view of Mt. Fuji.
It is a great town for nature lovers because of its accessibility, history, and relaxed atmosphere. It is only an hour away from downtown Tokyo and is a great place to live a balanced lifestyle.
What is the most peaceful city in Japan?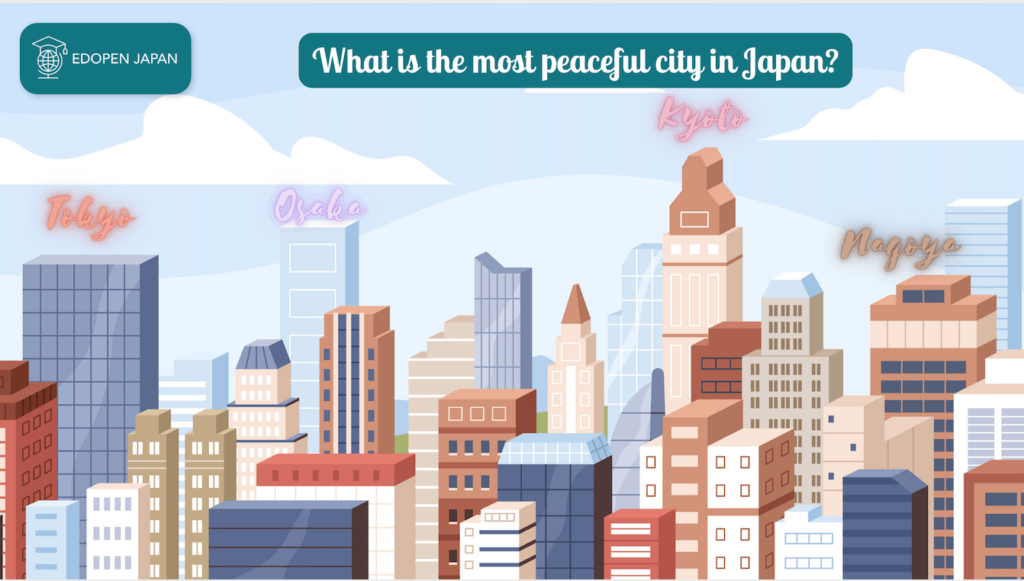 According to the information we have gathered from various sources, Kyoto is the most peaceful place in Japan. In addition, according to various expatriates and foreigners, this city is the most beautiful and safest place to live. The crime rate in this city is considered lower compared to other cities.
Is it better to live in Osaka or Tokyo?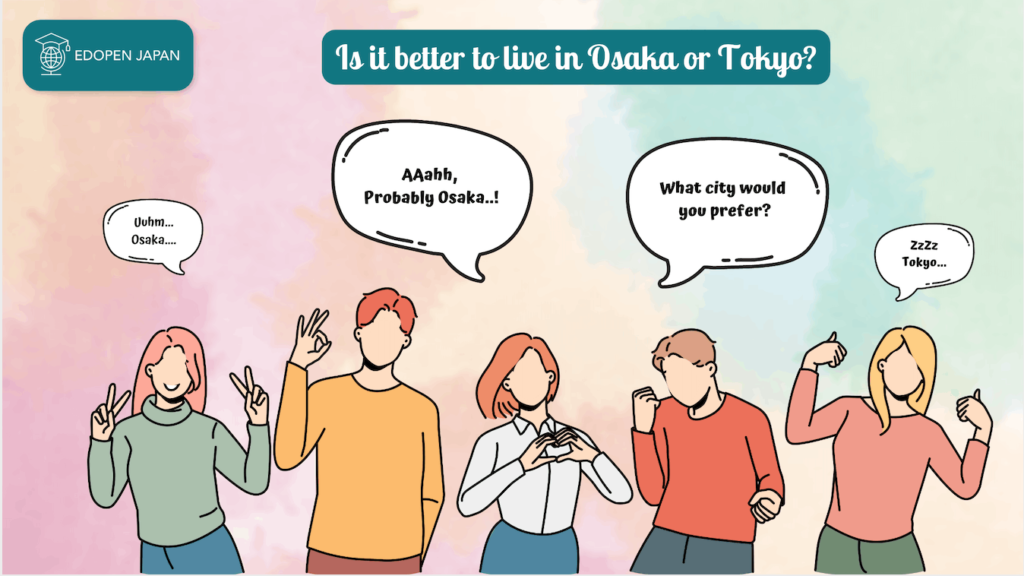 Tokyo and Osaka have very significant differences that need to be taken into account. In general, the differences between the two cities can be seen in the following aspects:
The cost of living is certainly higher in Tokyo than in Osaka.
The population in Tokyo is larger than in Osaka.
The job opportunities offered in Tokyo are greater than in Osaka because Tokyo is the center of trade, economy, government, industry, and the center of various walks of life in Japan.
The language spoken in Tokyo is standard Japanese. The language used in Osaka, on the other hand, still contains regional dialects.
If you prefer crowded and busy places, Tokyo may be a better choice. Apart from that, if you also want a lot of job opportunities, then Tokyo is also the right choice.
Meanwhile, if you prefer to live with a lower cost of living, a more relaxed atmosphere, a friendlier community, then Osaka can be a very appropriate choice.
Summary
This is a brief summary of some of the top cities that many expats choose to live in. There are many more cities not covered in this article that may be suitable for your lifestyle choices and budget. For example, Okinawa may be ideal for a more beach-style lifestyle, or Kobe for a fusion of fresh scenery and western-style architecture.
When choosing where to live in Japan, there are many factors that contribute to the decision. It depends on individual preferences. For an expatriate like me who moves frequently for work, my choice of city tends to be based on accessibility to work. For young families, access to top-notch schools might influence their choice of location.
Once you've made the move, you'll be able to find the right city for you here in Japan. Want to read more about my experiences in learning Japanese and Japanese culture? You can find it here. See you next time!