Are you thinking of coming to Japan to study the language and culture? or do you just want to experience life in Japan? One of the best ways to experience Japan while learning the language and culture is to come as a student.
If you plan to study in Japan for more than 90 days (3 months), you will need a student visa. A student visa in Japan can last from 3 months to a maximum of one year and three months. If your course is for two years, do not worry as the school will be able to assist you in renewing your student visa.
As an additional reference for those of you looking for the best place to study in Japan, please also read our recommendations for the best universities in Japan:
Read also:
10 Most Popular & Prestigious Medical Schools in Japan
11 Most Popular Scholarships to Study Abroad in Japan
10 Best & Most Popular Universities for Engineering in Japan
Now, let's go through the steps of obtaining a student visa in Japan below!
How hard is it to get a student visa in Japan?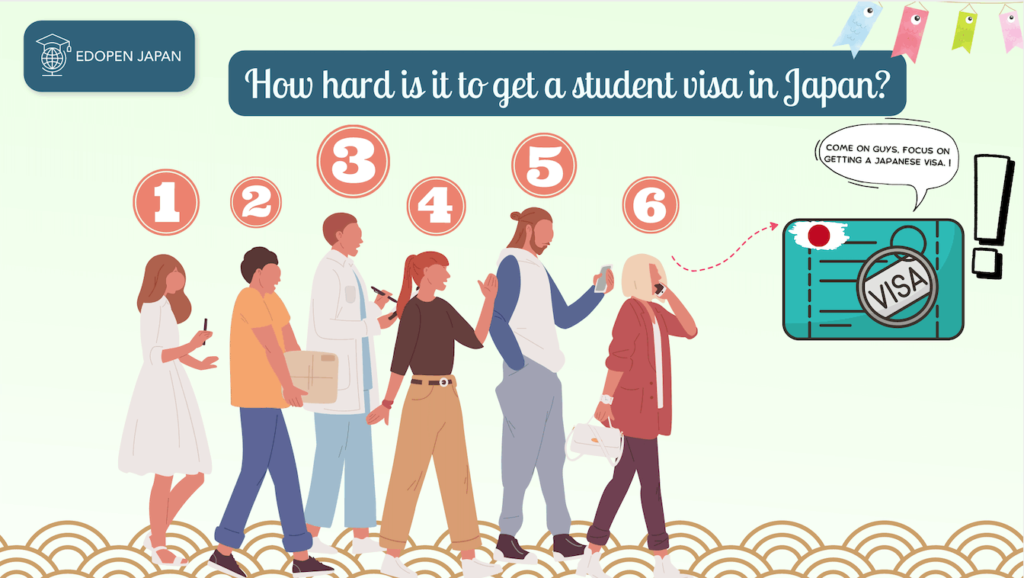 Obtaining a student visa in Japan is not difficult, but it is not an easy task. This is because you are required to submit extensive and careful documentation. If you are about to apply for a student visa in Japan, you should really understand what your main goal is and how long it will take you.
The bureaucratic system for obtaining a student visa in Japan is certainly designed to work for us. As long as you follow all the instructions carefully, make all the necessary requests and provide strong written evidence, the process should go smoothly.
Remember that the student visa application process is the very first step you need to take in order to enter and study in Japan. If you can't get through this process properly, then you are not qualified enough to be a student at any of the educational institutions in Japan. Therefore, take any difficulties you may encounter when applying for a student visa as a lesson in how well you have prepared for your new life in this cherry blossom country.
8 main steps on how to apply for a Japanese student visa?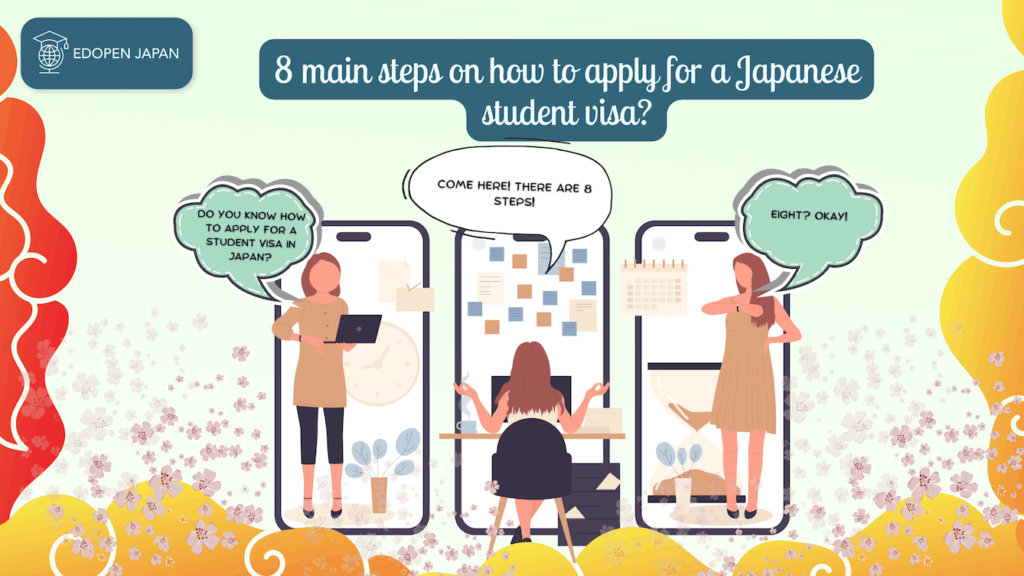 Step 1: Deciding a school
The first step in coming to Japan to study is deciding and choosing a language school. There are a wide variety of language schools and courses can last from as little as 12 weeks to as long as two years. Most language schools offer job placement services upon graduation and are a great way to start your new life in Japan.
Once you have chosen a school, you will need to submit your application to the school. This can be done by completing the application form and returning it to the school. Depending on the school, some additional documents may be required to support your application, such as a medical certificate, proof of employment (if you are currently employed), an essay, or proof of financial need.
Step 2: Preparing required documents
The next step would be to start the process of obtaining a student visa that will allow you to come and study in Japan. There are a number of documents that are required for your student visa application:
1. Visa application form
Try to be as accurate as possible when filling in this form, which will be sent to the immigration authorities.
2. Copy of passport
Enclose a copy of your passport photo and signature page. If you have travelled to Japan in the past, please also include copies of your entry and exit stamps.
3. Passport size photos (4cm x 3cm)
Prepare about 8 of these with these specifications:
Taken in the last three months.
Plain white background.
You must start straight ahead with a neutral facial expression.
Your face must be fully visible.
The picture must be of good quality (focused, clear and sharp).
4. Academic documents
Diplomas and official transcripts are usually required.
5. Proof of financial support
Last but not least, you will need some form of proof that you will be able to cover not only your tuition fees, but also your living expenses while you are studying in Japan. This proof can take the form of
Bank statement (last 3 months).
Proof of income.
Letters of financial aid or scholarship.
Letter of sponsorship.
The minimum requirement is to have ¥2,000,000 in your bank account when applying for a student visa.
Step 3: Submit and receive a Certificate of Eligibility (COE)
Once you have submitted these documents to your school, your school will submit them to the Immigration Department on your behalf. The next step is to obtain a Certificate of Eligibility (COE).
The COE indicates that you are eligible to apply for a student visa to enter Japan. You will need a COE before you can apply for a visa to enter Japan. The COE is not a visa and is only a requirement for applicants to obtain a student visa in Japan.
Step 4: Receiving COE
On average, it takes one to three months to receive an update on the status of your COE application. Once your COE has been approved and issued, your school will notify you and send you your COE by post.
Step 5: Applying for the Japanese Student Visa
Once you have received your COE, you will need to go to the nearest Japanese immigration office to apply for your visa if you are currently in your home country. If you are currently in Japan on a tourist visa, you will need to return to your home country to apply for your student visa.
The following documents are required when applying for your student visa:
A valid passport
Visa application form
One photograph taken within the past 3 months
Certificate of Eligibility – the original document and one copy
Letter of admission into said school
Other additional documents the specific consulate may ask for, depending on the country
For more information, contact your local embassy or consulate.
Step 6: Obtaining the Japanese Student Visa
Once your visa application has been processed, you can return to the embassy or consulate to collect your student visa. Do not forget to get your COE back as you will need it when you land in Japan at immigration.
Step 7: Land in Japan within the Student Visa validity
The Japanese student visa is usually valid for 3 months after approval. Make sure that you land in Japan during the validity period of your visa. If not, you will have to start the whole process again from step 2.
Step 8: Enjoy your student life in Japan
Now you can sit back and relax. Get out and enjoy your student life in Japan. There is so much to see and do. Make every moment count. You deserve it after the stress of the visa application process!
FAQ about Japan Student Visa Application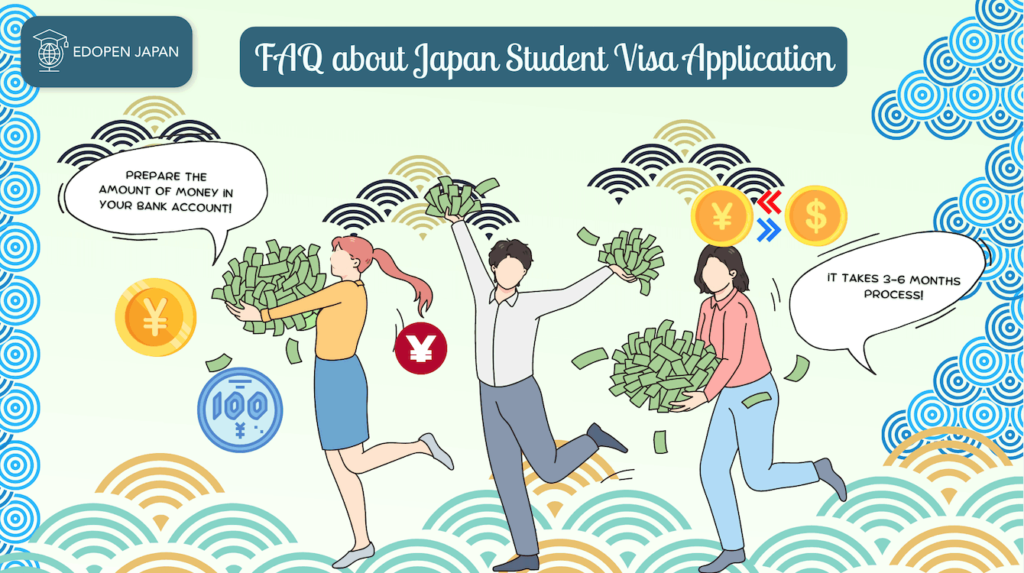 For further information, please see the discussion below on issues relating to student visa applications in Japan.
How much bank balance is required for Japan student visa?
The amount will vary depending on several factors. According to various reliable sources, the average amount of money that should be available in your bank account is ¥2,000,000 (2 million JPY) as mentioned above.
What is the age limit for Japan student visa?
The general criteria for the age limit for student visa applicants in Japan is 18 years old.
How long does it take to get a Japanese student visa?
It takes 3-6 months to apply for a student visa (6 months or more). The Japanese immigration authorities usually only issue student visas 4 times a year: January, April, July and October. You should be aware of the deadline.
If you have any other questions about applying for a student visa in Japan, or any comments related to this discussion, please share them in the comments section!
Conclusion
Let's review the discussion on how to apply for a student visa with some points below:
Obtaining a student visa in Japan is not a difficult task. However, you must follow all instructions carefully and thoroughly.
There are 8 main steps to applying for a student visa in Japan. Follow them carefully and your student visa application will be successful.
The amount of money you need to prepare to apply for a Japanese student visa is on average 2 million JPY.
The average length of time required to process a Japanese student visa is 3 to 6 months. With careful preparation and if you meet all the requirements, your student visa application in Japan will be a success!