Japan is a country that presents an exciting combination of cultures, modern and traditional, that while from afar it looks all homogenous, each one presents its own uniqueness to the formation of the Japanese society. And this is especially noticeable in a multifaceted metropolis like Tokyo. It is in Tokyo that one can enjoy a myriad of these mixtures of modern and traditional cultures in Japan at once. And Because of this, studying for a bachelor's degree in one of the many international universities in Tokyo could be one of the best ways to experience first-hand the multifaceted Japanese culture.
Language skill needed
Before even beginning to contemplate studying abroad, one of the main questions is if there is a need to be fluent in the language, especially in Japan, which is a country known for not being "English friendly." But while understanding and being fluent in Japanese will undoubtedly open a broader range of universities and courses in Japan. That doesn't mean that there aren't courses one can study without being fluent in Japanese. That could be through a mixture of subjects imparted in both English and Japanese or even the complete English courses that some of the most renowned universities in Tokyo can offer.
It must be said as a side note that for partaking in the courses offered only in Japanese; one must have accredited the JLPT N2 or N1 certification, depending on the university and at least 200 points on the Japanese section of the EJU test before being able to enroll at the university.
The cost of studying in Japan
The admission and tuition fees can vary, depending on if the university in question is private or public. According to JASSO (Japan Student Services Organization), the average fees of studying in a Japanese university can be from 820,000 to 1,400,000 yen per year[*]. In comparison, for universities located in the United States, this can range from 3,000,000 to 4,000,000 yen per year. So, in comparison, the tuition fees at a Japanese university are much more affordable than the ones at an American University.
[*]Source: www.studyinjapan.go.jp/en/planning/know-schools/universities/
6 International universities with courses imparted in English located in the Tokyo region.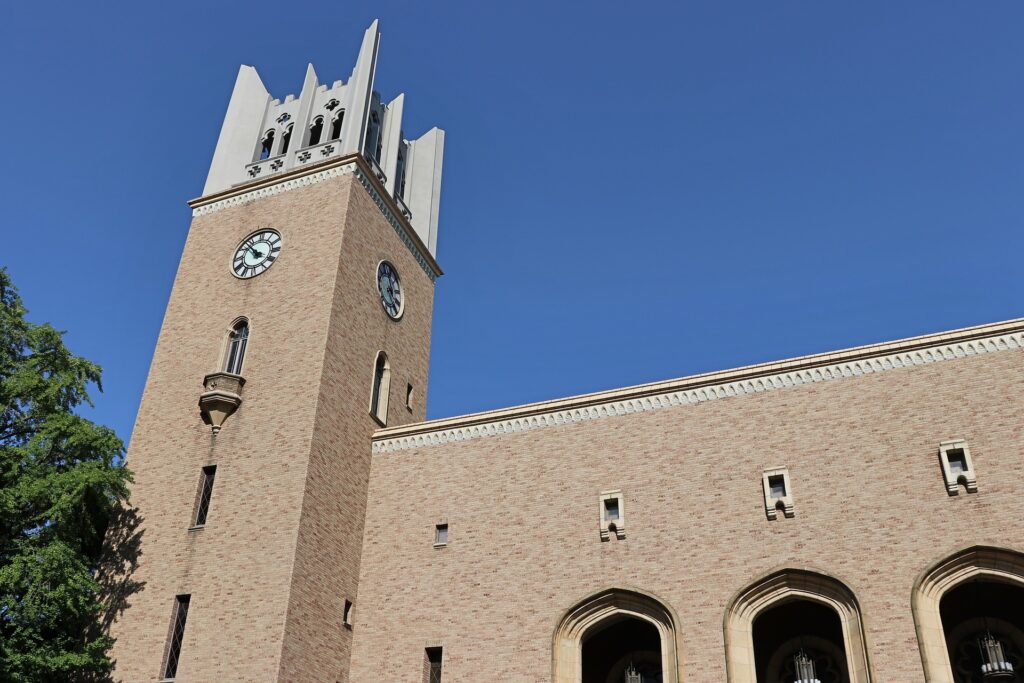 While there are many universities in Tokyo and all-around Japan, we will focus on the ones near the Tokyo metropolitan area. Ones who also present courses imparted in English or mainly in English with supplementary courses in Japanese. This list is presented without any particular order for the universities.
University of Tokyo
The University of Tokyo is also locally known as Todai. It is the most known Japanese university. It is historically the first national university in the country, and it ranks as the 1st university in the country while at the same time securing 23rd place globally in the QS World Ranking (2022)[*]. It has 16 departments distributed in 10 faculties and five graduate schools in various areas, like human sciences, economics to Aeronautics and Astronautics.
The University of Tokyo has Undergraduate courses in English in Global Sciences, Environmental Sciences, and International Relations, to name a few. The school year at the University of Tokyo starts in April. Todai is composed of 3 campuses: Komaba for liberal arts, Hongo for humanities and sciences, and Kashiwa for scientific research and graduate courses. All the University of Tokyo campuses enjoy a great location near a great variety of sightseeing areas and attractions, which makes it easier to study while enjoying the experience of living in Tokyo.
[*]Source: www.topuniversities.com/universities/university-tokyo
Waseda University
Waseda University is one of the top private institutions based in Tokyo. Being the second largest university in Japan, Waseda University has seven undergraduate schools with English-based degree programs and accepts various types and formats of standardized test scores, including the SAT, ACT, IP, among others. Japanese language ability is not required for applying to these courses. Some of the areas with English programs are Political Sciences, Social Sciences, Creative Sciences, Advanced Science, engineering, to name a few. Including schools imparted only in Japanese, Waseda University counts with 13 undergraduate schools. The schools that impart classes in English have, on average, a tuition fee of approximately 1,500,000 yen per year[*]. And it is also good to note that Waseda manages dormitories and has contracts with privately owned dormitories so that students who are just arriving in Japan can find a place to stay quickly. With a big student body, both national and international, it is considered one of the best universities to mix with people from different cultures and backgrounds.
[*]Source: www.waseda.jp/inst/cjl/en/students/fee/
Meiji University
Meiji University is another known private university in Tokyo, with ten undergraduate schools. Meiji University focuses on interdisciplinary studies and active learning. For studies imparted in English, it possesses an English Track Program at the School of Global Japanese Studies, where the students can obtain a bachelor's degree by selecting courses from various fields to build their own and unique curriculum with six central features: Understanding "Cool Japan," Learn about Japan, Learn about the world, small-class-seminary education with a focus on class debates under an expert in the field, Japanese language program with different levels, such as the students can develop their language abilities while studying at Meiji University and a multicultural environment. The courses taught in English are grouped in 3 areas, Culture and Art, Globalization and Business and Society.
Keio University
Composed of 6 campuses distributed between Tokyo and the nearby region of Kanagawa, Keio University is one of the renowned private universities in the Tokyo region. It is also considered the oldest of them. While Keio University has an ample variety of graduate programs imparted in English, its selection of courses in English for undergraduate students is more limited, including only three faculties, Economics, Environment and Information Studies and Policy management. While this selection is small, the courses present the quality of study expected from Keio University, making it an excellent option for international students who wish to be active in those fields. It also, as Waseda, has its own dormitories to help international students focus on their studies and get the opportunity to generate a community with other students partaking in courses at Keio University.
Tokyo Institute of Technology
Commonly known as Tokyo Tech. It has one interesting take in a multifaceted degree based on the Global Scientists and Engineers Program (GSEP), which focuses on multidisciplinary studies that include classes in Sciences, Management, Engineering and Liberal Arts. And while the topics are entirely self-chosen. Each student receives personalized guidance with the intent of developing the students in the area they want to more fervently and with a higher specialization while still having a general grasp of other areas of study. This course is imparted in the Meguro Campus of Tokyo Tech.
Sophia University
Sophia University, or in Japanese Jochi Daigaku, is a private catholic university known for its excellence in education. It presents high standards in the studies of foreign languages and literature. The Campus of Sophia University is located in Yotsuya, the heart of Tokyo. However, it presents an abundance of greenery and nature. It has a variety of courses imparted in English, including STEM, Economics, International Relations and Liberal arts. The course calendar used in Sophia University is similar to the one in most of the rest of the world. This course calendar makes it so that courses start in September, while in other universities in Japan, the school year starts in April. It makes Sophia an excellent option for international students who want to continue their education without waiting between the end of an American School Cycle and a Japanese one in April.
Summary
In summary, while studying in Japan and especially in Tokyo can be seen as something difficult, expensive, and foreign, primarily because of the language barrier; a good number of international universities in Tokyo present courses and options for international students to study in English. This makes it easier for someone from abroad to continue their education with ease. And surprisingly at a more affordable rate in comparison with universities in America and The United Kingdom, making studying in Japan not only an idea but one that could be recommended and thought of as a viable option for studying abroad while enjoying the marvels and experiences that take place in the mega-metropolis that is Tokyo.
---