Thanks to those who have made a great contribution to the fight with COVID-19, this global pandemic is being controlled in many corners of the world, including Japan. This means that it is now easier to make plans for applying to universities without too much worry like these two years.
Have you ever heard of Sophia University? Sophia University, which is 上智大学 (Jochi Daigaku) in Japanese, is one of the most prestigious universities in Tokyo and of course in Japan. This institution is not only well-known among Japanese students, but is also a popular choice for foreign students.
If you are in the process of deciding which school to apply to, it is very important for you to check out the detailed information of each school to make sure that the school can really meet your needs. In this article, let's check out the introduction, school ranking, acceptance rate, and other information about Sophia University before you start sending your application.
Introduction to Sophia University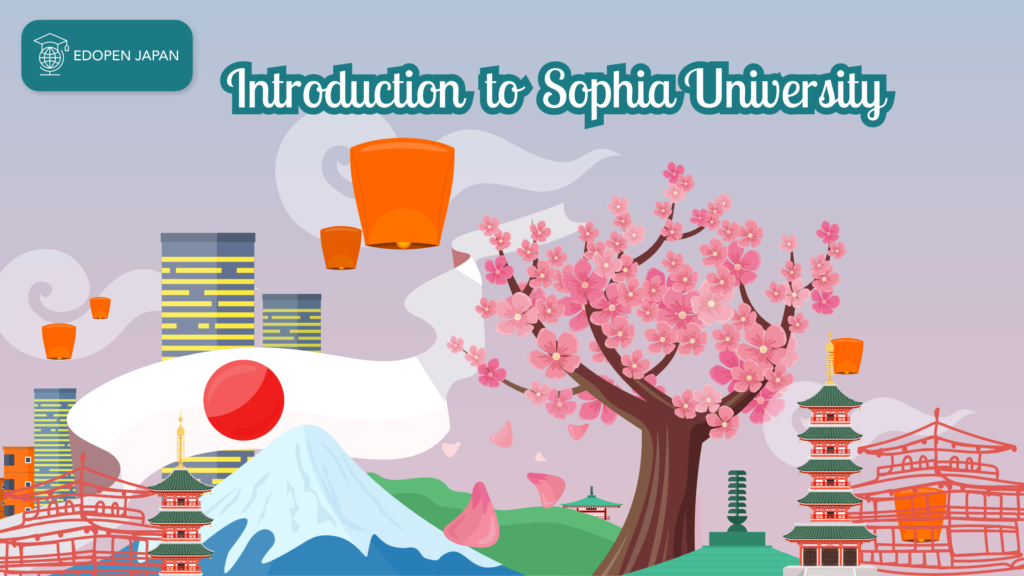 People may be a little confused when they first hear the name Sophia University. Questions like these probably popped into your head before you typed the name into the search engine. "Are you sure it's a university from Japan?" "Why is it called Sophia?"
Categorized as a private university and located in the heart of Tokyo, Japan, Sophia University was established in 1913, this institution is a Jesuit-affiliated university founded by three Jesuit priests, Joseph Dahlmann from Germany, Henri Boucher from France and James Rockliff from the U.K. The university is known for putting emphasis on internationality. Sophia University conducts classes in English and has welcomed multinational students, faculty and researchers for more than half a century.
Sophia University and two other universities all located in Tokyo, Waseda University and Keio University, are given the name "Sōkeijōchi" (早慶上智) for being the most prestigious private universities. There is an interesting truth that among all universities in Japan, private schools make up nearly 80%. It is really a large proportion. So it is always not surprising to find out that many of the prestigious universities are private.
According to the statistics offered by the official page of Sophia University, this university currently has 13,260 enrolled students, of which 1,429 are international students, including undergraduate and graduate students. Sophia University has 9 undergraduate colleges and 10 graduate schools spread over five campuses: Yotsuya Campus, Mejiro Seibo Campus, Shakujii Campus, Hadano Campus, and Osaka Satellite Campus.
The Ranking and Acceptance Rate of Sophia University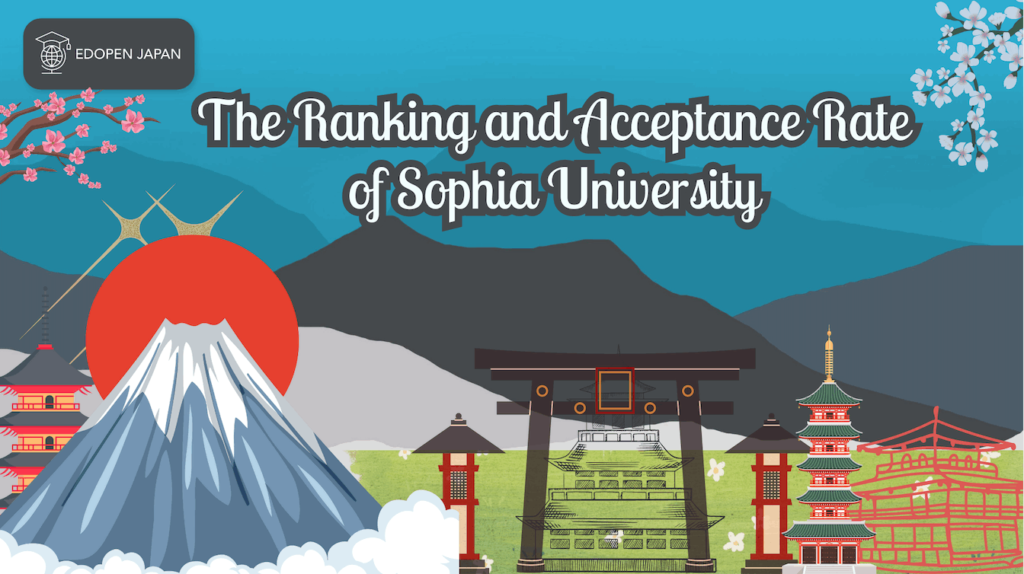 Below is a discussion of Sophia University's ranking and acceptance rate, which you can use as a reference when considering this university for your education.
World Ranking
It is certain that the ranking of the institution can have a huge influence on your decision to study abroad. According to QS Global World Ranking (2023), Sophia University is ranked 801-1000. As to the information provided by Times Higher Education (2023), Sophia University is ranked as the 18th best university in Japan. From the statistics above, we can understand why the number of international students applying to Sophia University can be so high.
Acceptance Rate
As regards the official website of Sophia University, let me show you the acceptance rate of the English program in the statistics below.
Faculty of Liberal Arts
Applicants
Accepted
Acceptance
Rate
(approximately)
Spring 2021
471
160
33.9%
Autumn 2021
857
218
25.4%
Faculty of Science and Technology
Green Science Program 2021
29
13
44.8%
Green Engineer Program 2021
42
15
35.7%
Sophia Program for Sustainable Future
Journalism Autumn 2021
48
19
39.5%
Education Autumn 2021
50
19
38%
Sociology Autumn 2021
61
16
26.2%
Economics Autumn 2021
185
51
27.5%
Global Studies Autumn 2021
104
39
37.5%
Introduction to the English Programs at Sophia University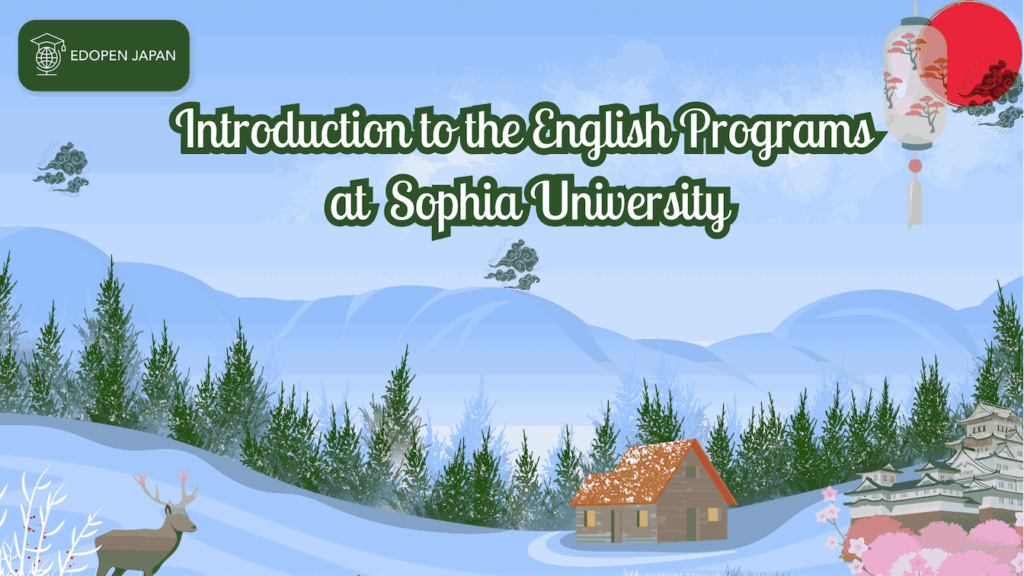 There are 9 faculties for undergraduate students which are the Faculty of Liberal Arts, Faculty of Science and Technology, Sophia Program for Sustainable Future, Faculty of Theology, Faculty of Humanities, Faculty of Human Sciences, Faculty of Law, Faculty of Economics, Faculty of Foreign Studies and Faculty of Global Studies.
Among all these faculties, only three of them are taught in English, which is the Faculty of Liberal Arts, Faculty of Science and Technology (only the Green Science Program and Green Engineer Program), and Sophia Program for Sustainable Future.
Faculty of Liberal Arts (FLA)
The Faculty of Liberal Arts is the first fully English-taught undergraduate program at Sophia University, founded in 1949 and named the International Division in the post-war period. It became the Faculty of Comparative Culture in 1987. It was not until 2006 that this faculty was named to the Faculty of Liberal Arts.
In that year, this faculty moved from the Ichigaya campus, which is a campus arranged by Sophia University for foreign students, to the main Yotsuya campus. There were seven other institutions on this campus. In this way, foreign students have more opportunities to interact with Japanese students.
Currently, there are about 200 freshmen and a limited number of transfer applicants each year. About 20 percent of the students are international students. There are three main majors offered by the Faculty of Liberal Arts, which are Comparative Culture, International Business and Economics, and Social Studies.
Faculty of Science and Technology
In 2012, this faculty launched two undergraduate programs, the Green Science Program in the Department of Materials and Life Sciences and the Green Engineering Program in the Department of Engineering and Applied Sciences. These two programs are fully taught in English to meet the goal of globalization.
In addition, they run these two programs in small classes so that students can have better discussions with their classmates and their instructor. Since they are located on the same campus as the Faculty of Liberal Arts, it is encouraged for students to participate in these non-science courses of Liberal Arts so that students can get some information or knowledge in cultural aspects which can have a positive effect on their profession.
Sophia Program for Sustainable Future (SPSF)
Sophia University launched this brand new program, which is also fully taught in English, in the fall semester of 2020. In this program, international students are allowed to choose the specific field of social sciences and humanities.
The fields include the Education Program, Sociology Program, Economics Program, International Relations & Area Studies Program offered by the Department of Global Studies, Journalism Program offered by the Department of Journalism, and Management Program offered by the Department of Management. It is believed that with the establishment of SPSF, the international students can have more diverse choices.
When to Start the Application to Sophia University?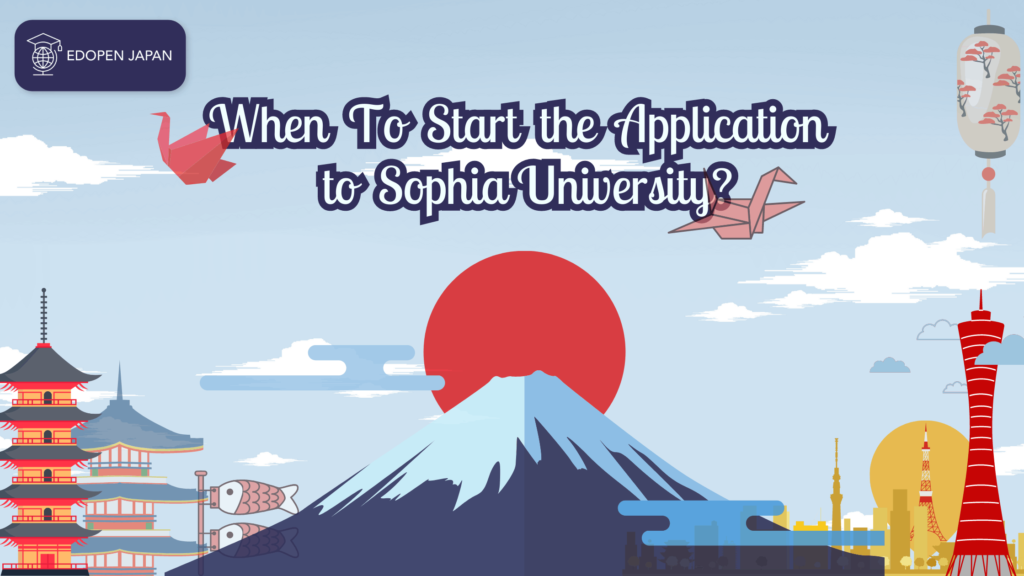 Unlike the U.S., the spring semester in Japan usually runs from April to July and the fall semester from September to February. Let's take the 2022 admission of the Faculty of Liberal Arts of Sophia University as an example. There are two periods for students who want to apply for admission in spring 2022. The two application periods are for freshman students. The application for transfer students is only open during the first period.
First period:
Application Period (online): August 25, 2021 – September 15, 2021 (JST)
Notice of Results: October 29, 2021 (JST)
Second Period:
Application Period (online): November 17, 2021 – December 10, 2021 (JST)
Notice of Results: February 4, 2022 (JST)
Then, below is information for the autumn 2022 entry.
First period:
Application Period (online): November 17, 2021 – December 10, 2021 (JST)
Notice of Results: February 10, 2022 (JST)
Second Period:
Application Period (online): March 16, 2022, 10:00 a.m. – April 6, 2022 (JST)
Notice of Results: June 3, 2022 (JST)
Conclusion
Sophia University's reputation can't be denied with the efforts they have made to make itself an excellent and international institution. According to the acceptance statistics of all the English programs, the number of students accepted is quite different between each program. The FLA, which is the pioneer of English programs, accepted more students compared to the two other faculties.
In the fall, FLA accepted 218 students, the Faculty of Science and Technology accepted 28 students, and SPSF accepted 144 students. About 30 to 40 percent of the applicants are admitted by these programs of Sophia University. The Faculty of Liberal Arts has the lowest acceptance rate of 25.4% in the fall entry, while the Green Science Program of the Faculty of Science and Technology has the highest acceptance rate of 44.8%.
Read Also:
Waseda University's Acceptance Rate
10 Most Popular International Universities in Tokyo
Top 10 Universities with the Best Arts Program in Japan