Ready for a trip to Japan? Known for its high-quality "Made in Japan", Japan is economically well developed and is considered the safest country in the world. In addition, Japan has four seasons and is a country of "fusion of tradition and modernity".
Whether you study or pursue a career in Japan, you will experience the traditional Japanese performing arts and pop culture such as manga and anime firsthand.
One of the first things you need to do to perfectly settle into your life in Japan is to learn the Japanese language. If you want to live and have a career in Japan, it is essential to know the language.
You may be wondering which school to choose. There are many Japanese language schools in Japan. Here I would like to introduce the "Kudan Institute of Japanese language & Culture [KILC]". This school is one of the oldest schools that offer not only Japanese language classes but also cultural experiences. You can get useful information and learn from this article.
1. About Kudan Institute of Japanese language & Culture [KILC]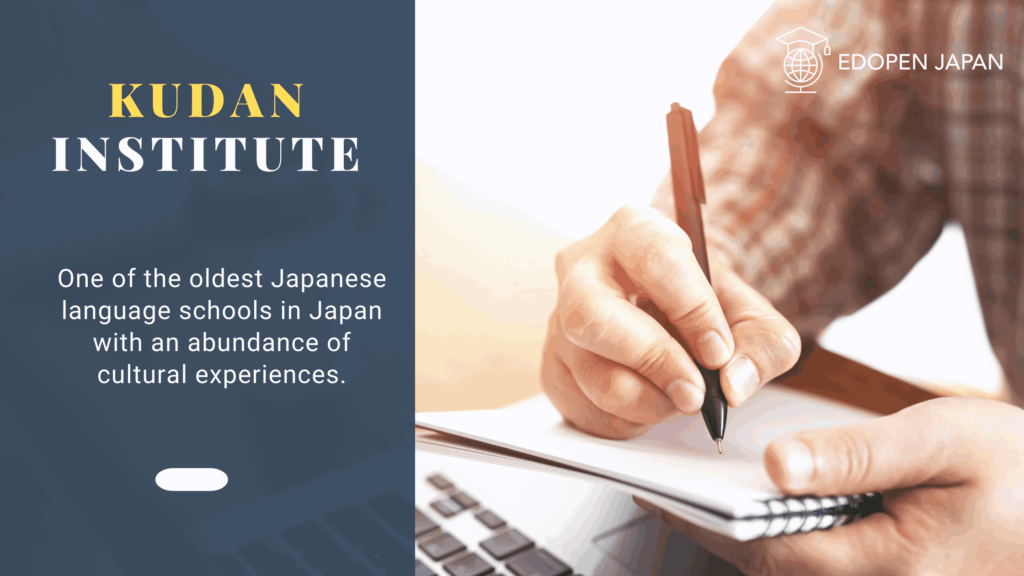 Kudan Institute of Japanese Language & Culture [KILC] is one of the Japanese language schools in Japan, where multinational students from all over the world, most of whom come from Europe and North America, enroll every month to complete their Japanese program and learn about Japanese culture.
The school also aims to increase the number of pro-Japanese families in the world by giving them the opportunity to experience Japanese culture and history, which can only be experienced in Japan.
The school also strives to run the school with the goal of providing students from around the world with a place to deepen international exchanges.
Kudan's educational philosophy is to promote pro-Japanese people and improve their understanding of the country. The goal is to provide an education and experience that can only be had in Japan.
Then, you will not only learn the Japanese language and culture, but also have the opportunity to interact culturally with other students. The manga course in particular is a popular program for students who are passionate about manga. With the support of the staff and teachers, as well as the support of host families, friends, and other students, it is possible for anyone to feel comfortable at this school.
2. 7 Features of KILC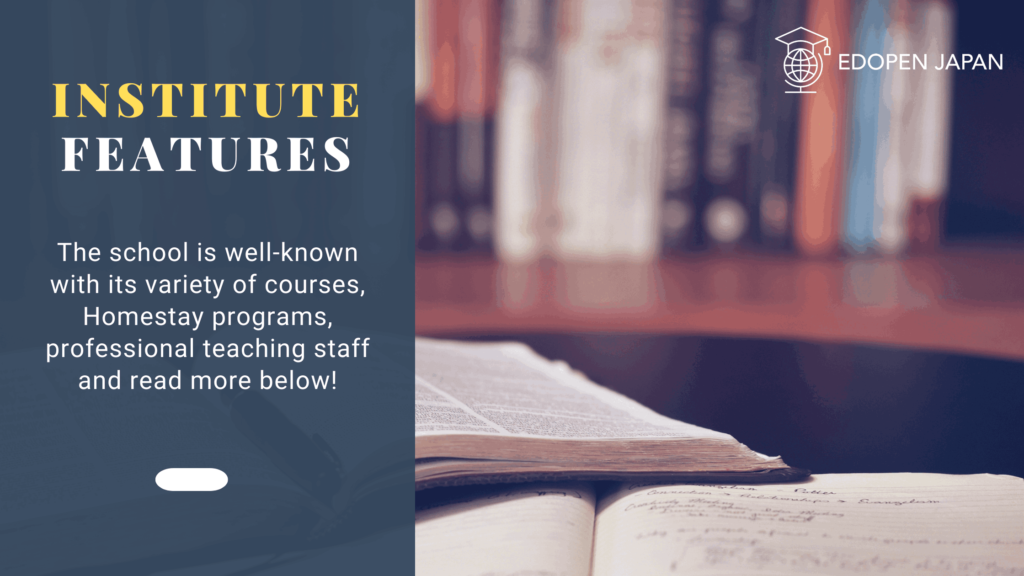 In addition to learning the Japanese language, the school also offers the opportunity to learn about Japanese culture through activities in Japan, reaching out to more people in the world. Further, the school is licensed by the Association for Promotion of Japanese Language Education. Please note the following 7 main features of this institute as follows:
The Institute admits high school and college students (admission of high school students is subject to certain conditions).
There are a variety of courses: Japanese Intensive Course, Japanese Conversation Course, Japanese Holiday Course, Practical Course for Beginners, Manga (Comic) Course, and others.
The institute offers not only Japanese language classes, but also Homestays with over 300 host families. You can improve your Japanese language skills and immerse yourself in the Japanese culture.
Professional Teaching Staff. The teaching staff consists of a core of dedicated professionals who have many years of experience teaching Japanese to foreign students.
Various rich activities. Various school activities and opportunities for your experience.
The Institute accepts students from all over the world. The school has students from over 35 countries each year.
Support for Student Visa. This school is accredited by the Association for the Promotion of Japanese Language Education. It can help you with your student visa application.
3. Course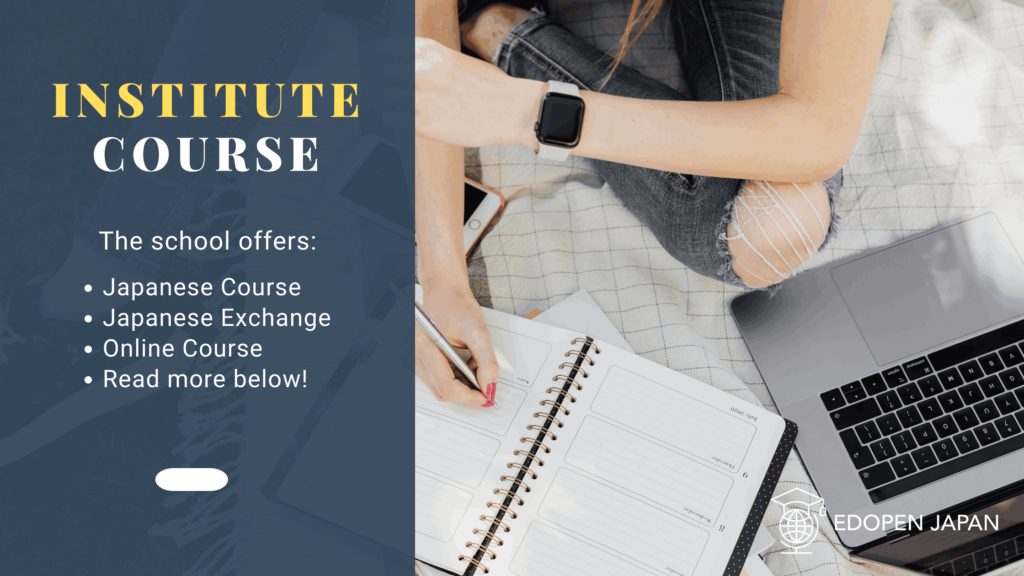 (1) Japanese Course
| | |
| --- | --- |
| Conversation Course | The goal is to learn and, above all, develop their conversational skills by taking on specific situations and topics. |
| Intensive Course | The goal is to learn and especially develop their conversational skills. |
| Practical Course for Beginners | For beginners to learn to read hiragana/katakana, useful vocabulary, expressions, for daily life in Japan. |
(2) Japanese Exchange Culture
| | |
| --- | --- |
| Summer holiday Course | Many practices of daily conversation for their spoken and listening skills to be refreshed! |
| Manga(Comic) Course | Learn both Japanese and Manga during your short 3-month stay. Japanese language and manga collaboration of Kudan and Mangajuku. |
| Cooking Course | The course offers a variety of Japanese cuisines, such as learning about Japanese cuisine and culture. |
| Tea Ceremony Course | Learn the Japanese language and the culture of the Japanese tea ceremony (Bonryakutemae) at the same time. |
(3) Online Course
| | |
| --- | --- |
| Online Japanese Course for Beginners | Designed for beginners of the Japanese language. Simple terms using the expressions. |
| JLPT Prep Course | Intensive improvement of grammar scores in a short time. |
| Job hunting Support Course | Preparation for finding a job in Japan can be completed in 2 months. Lectures by Japanese language teachers with experienced company staff. |
| Business Japanese Brush up Couse | Learn not only business Japanese but also corporate culture and etiquette. |
| Online Private Lessons | Improve your Japanese skills quickly with customized lessons. |
| One-on-One Online Tea Ceremony Lessons | Choose tea ceremony lessons in one of three languages: Japanese, English or Italian! |
4. School Location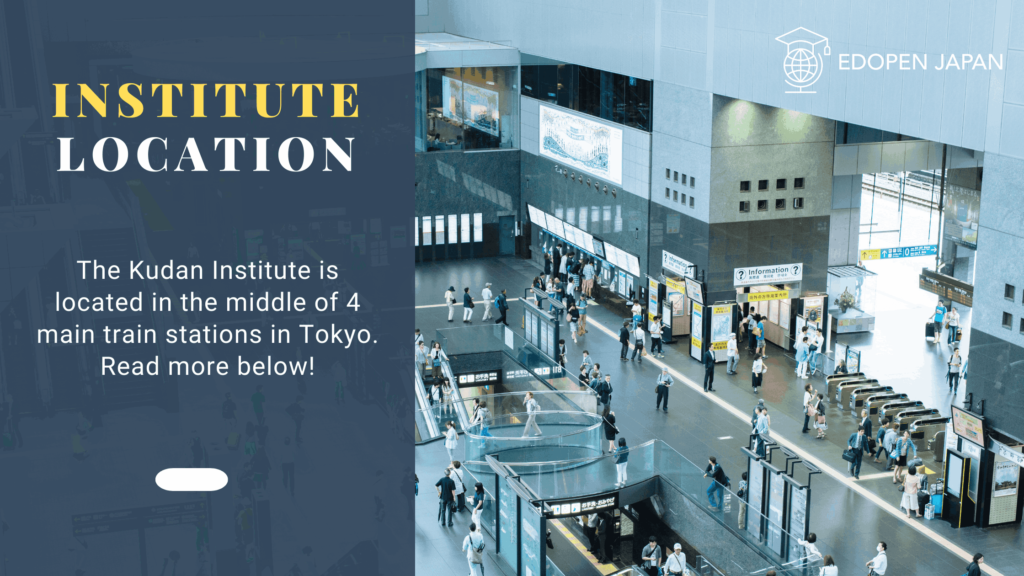 To reach this school, you can choose one of the following nearest train stations:
4-min walk from the east gate of Suidobashi Station (JR Chuo line, Sobu)
5-min walk from the gate A2 Suidobashi station (Toeimita line)
9-min walk from the gate 5 Kudanshita station (Tokyometorotozai lines, Hanzomon)
The school is located in the middle of 4 train stations, 17 minutes from Shinjuku and 6 minutes from Tokyo, with good connections to the main train stations. There are also an amusement park, many universities, vocational schools, some bookstores, and sports and music stores, so the station is really convenient and you can enjoy life in Tokyo.
5. Student Demographics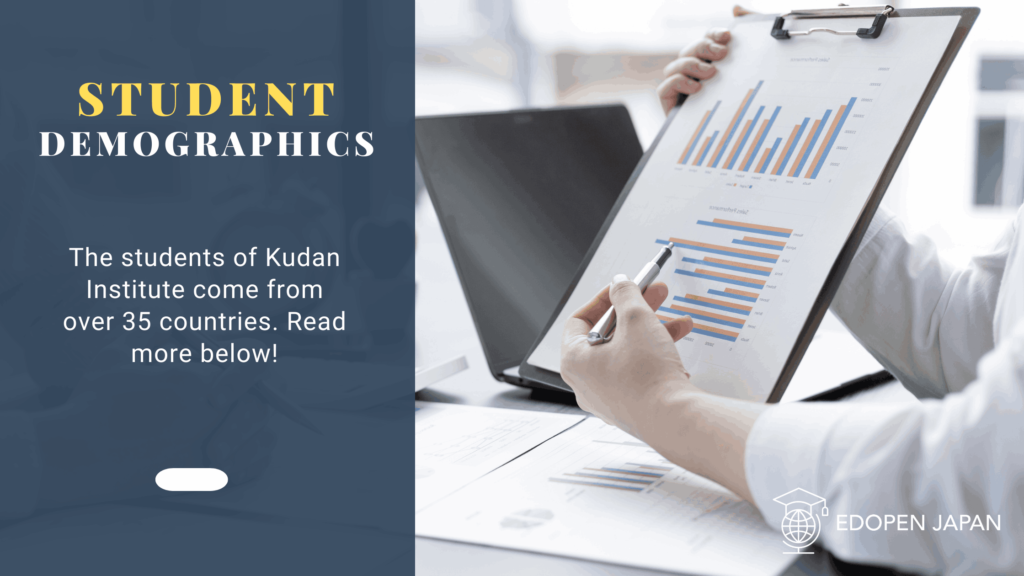 Students studying at the Kudan Japanese Cultural Research Institute come from a variety of countries. The ratio is as follows:
Europe: 47%
Asia: 33%
North Central South America and other countries: 20%
In total, students come from over 35 countries. The school also actively hosts 40 students from around the world each month.
6. High-Quality Facilities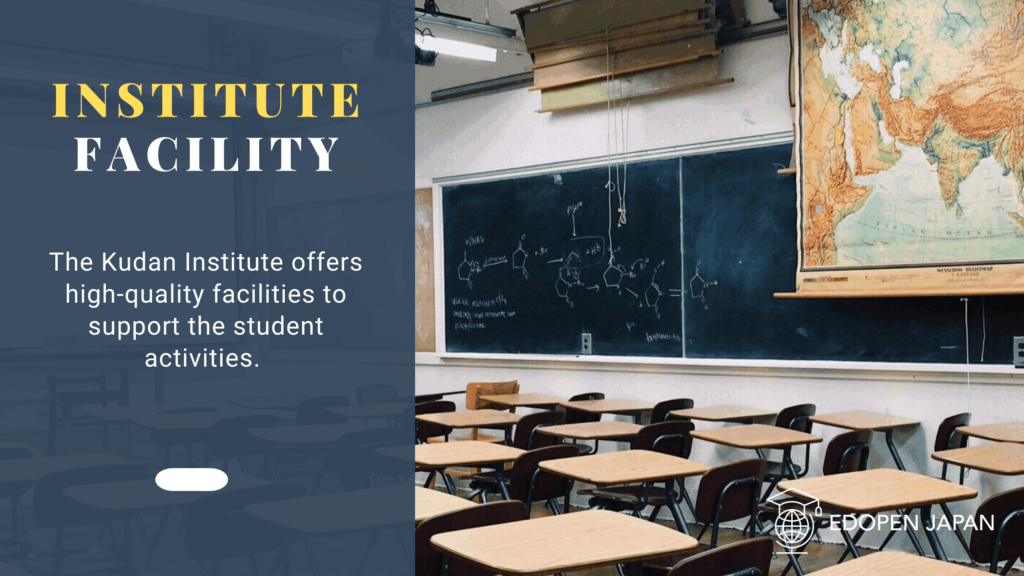 If you become a part of KILC, you will be surrounded by a lot of high-quality facilities and comfortable environment to study. Please read the following facilities:
| | |
| --- | --- |
| Wi-Fi | Free internet access for all students everywhere in the school. |
| Lounge | Student lounge to learn, relax or passing the time. |
| Library | A variety of reading materials available for study and leisure. |
| Activities | Experience Japanese culture with cultural experiences and activities. |
| Professional Staff | The staff is professional and speaks Japanese, English, and Korean. |
| Career Support | The school offers a program to help students find jobs after graduation. |
| Part-time Work Support | Provide support by presenting part-time positions and reviewing resumes. |
7. Student Support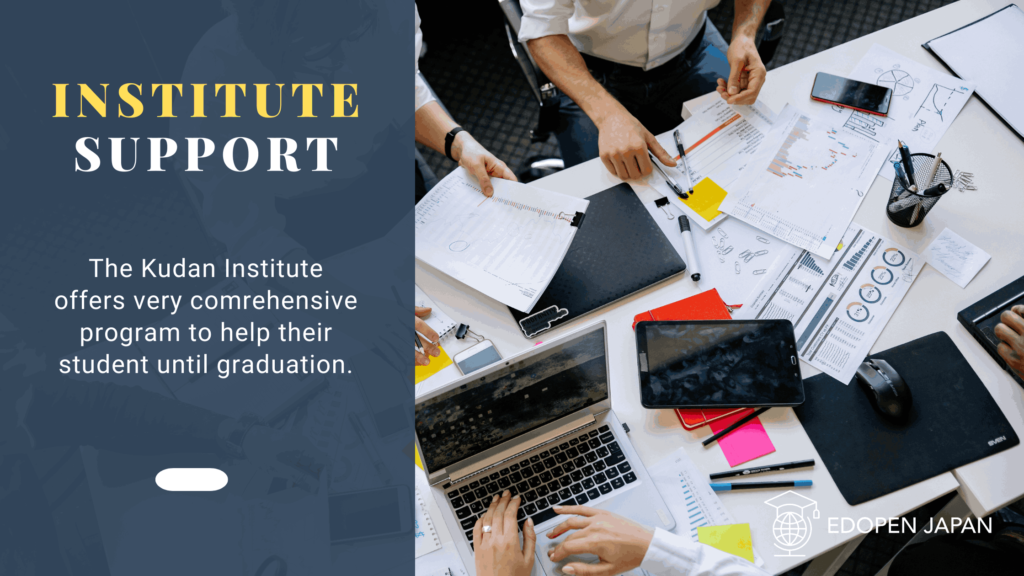 The school would like to support all students who want to come to Japan to study and live. For this reason, the Kudan Institute offers all these services free of charge.
Accommodation Setup
24-Hour Emergency Assistance
Airport Pick-up Support
Career Support
Further, for long-term Japanese language students, the school offers a program to help them find a job after graduation. Not only that, but the school also offers assistance with part-time job placement and resume review. The school has partnerships with several businesses and restaurants.
8. Course Fees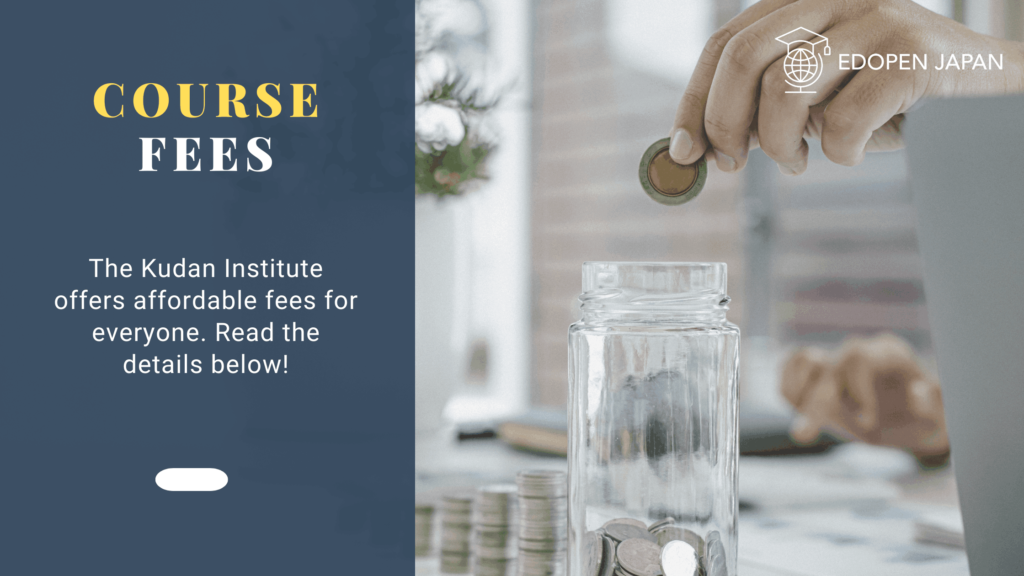 (1) Conversation Course/Intensive Course Fees
Conversation course 1 term: 12 weeks
Intensive course 1 term: 10 weeks
Registration Fee: 20,000 JPY
Fees per week: 16,000 JPY
(2) Holiday Course Fees
Holiday course with homestay: 342,000 JPY (4 weeks) & 560,000 JPY (7 weeks)
Holiday course without homestay: 238,600 JPY (4 weeks) & 397,800 JPY (7 weeks)
(3) Manga (Comic) Course
1 month: 154,000 JPY
2 months: 268,000 JPY
3 months: 392,000 JPY
(4) Online Course
Registration fee: 10,000 JPY
Tuition: 36,000 yen (Tax included)
(5) Other Fees
Please look at the following table to see the other fees:
| | | |
| --- | --- | --- |
| Contents | Fee | Remarks |
| Airport Pick Up | 15,000 JPY | Arrival on Saturday (recommend) |
| | 30,000 JPY | Arrival on Sunday – Friday |
| Homestay Placement Fee | 10,000 JPY | |
| Homestay Fee | 3,000 JPY/night | |
| Accommodation Placement Fee | 5,000 JPY | |
| Private dormitory Guest house | Deposit 20,000 JPY | |
| Monthly Rent | 60,000 JPY ~ 150,000 JPY | |
9. Living Support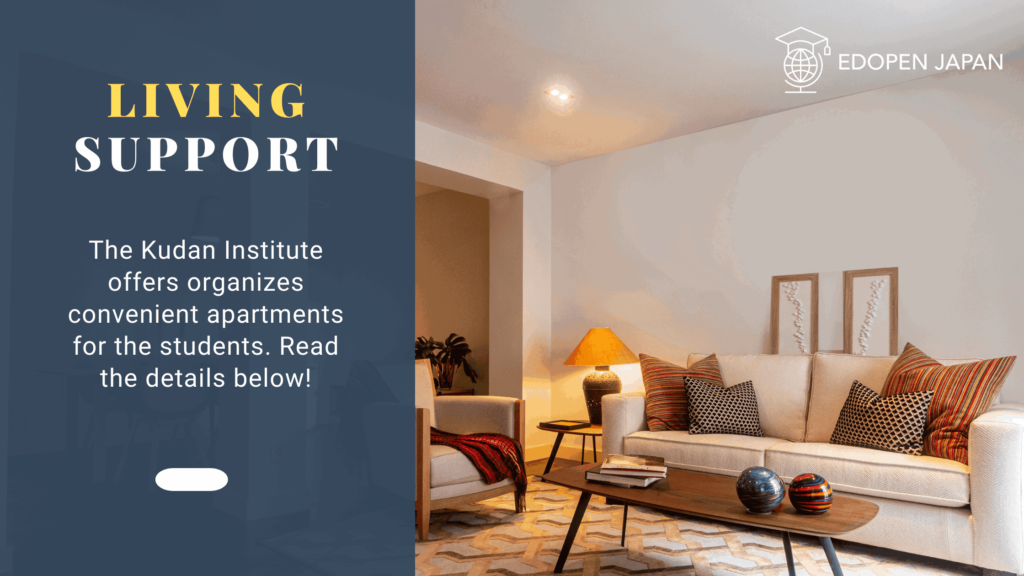 Homestay
This is a truly unique point that Kudan offers to experience life in Japan through a homestay. There are not that many schools that offer Homestays, so I am sure it will be a great experience for you.
This school prepares "homestay" as an accommodation option for students. Homestays are located within 60-70 minutes of the school and living with a Japanese family will help you improve your Japanese. By living with a Japanese family every day, you will be able to experience many things that you cannot learn in class, such as Japanese culture, food, and customs.
Private Dormitory & Guest House
The school organizes shared apartments and apartments for the students. Japanese people live in the shared apartments offered by our school, so you can make new friends and get to know a new lifestyle. You can choose which style is better for you.
10. Activities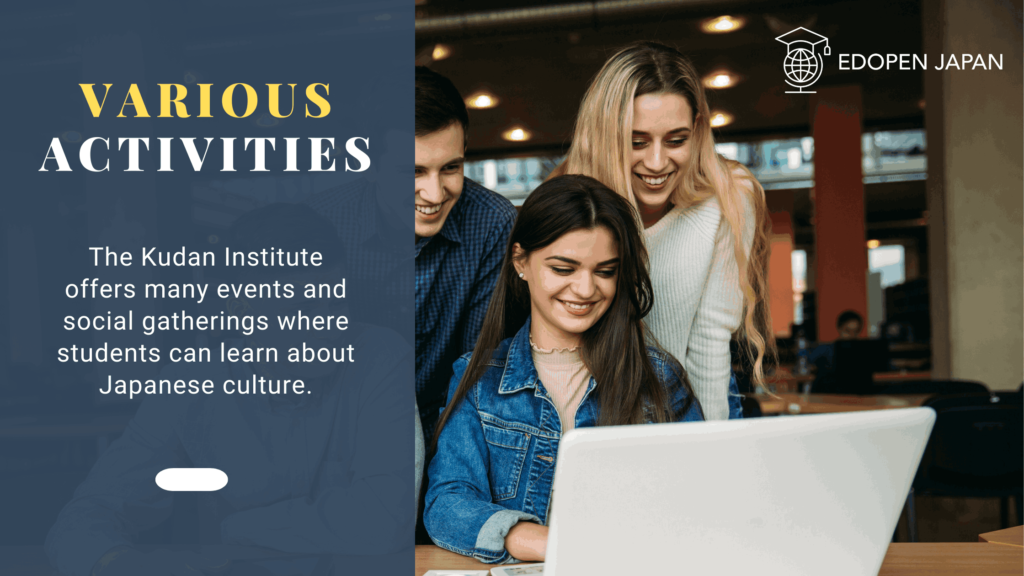 In addition to classes at the school, the school also offers many events and social gatherings where students can learn about Japanese culture and customs. For example, Tokyo Disneyland, trips to Kamakura, Nikko, Hakone, watching sumo, wearing kimono, and so on. The school provides them with regular opportunities to meet Japanese people, and students can gain many experiences and make friends. The school offers 交流会 (exchange with Japanese) as follows:
日本語交流会 (Free conversation in Japanese only)
日本語&英語交流会 (Free conversation in Japanese & English)
日本語&中国語交流会 (Free conversation in Japanese & Chinese)
11. Review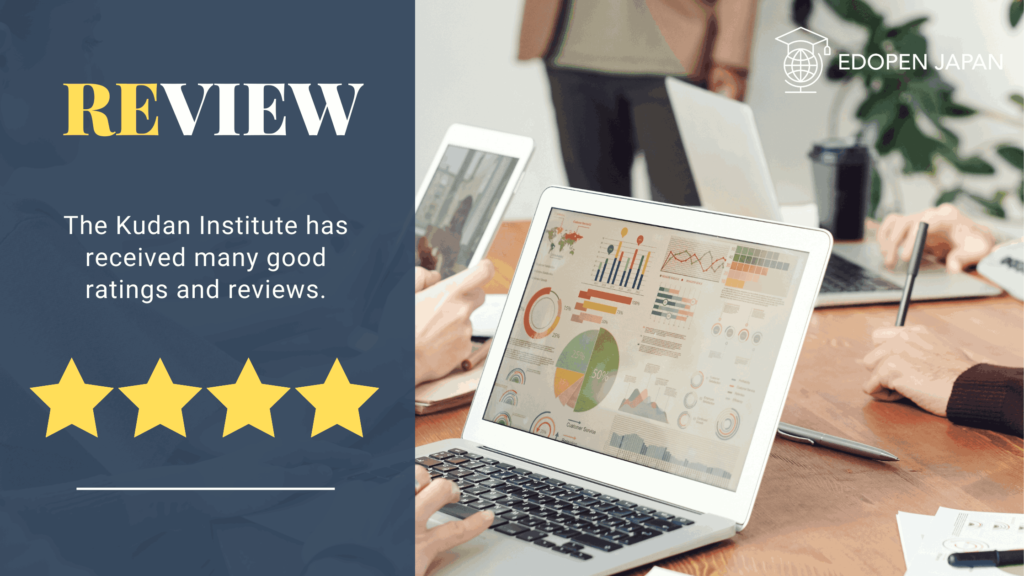 According to some information, the Kudan Institute of Japanese Language & Culture [KILC] has many good ratings and comments. Please take a look at the students' comments as follows:
Teachers and other employees were very nice and paid a lot of attention to our needs and always well-disposed to help students with personal problems or questions.
The school organizes some events, like a meeting between international students and Japanese volunteers, occasion.
I made many friends from around the world, and I got to learn and experience various aspects of Japanese culture.
Even the time after class was maximized for learning and socializing.
This school has very comfortable and high-quality facilities.
The Homestay arrangement for students is very nice.
What do you think about this? I would be glad if you could refer to it.
Summarize
The Kudan Institute is one of the oldest schools that offer not only Japanese lessons but also cultural experiences. It also helps students apply for student visas.
The school has students from over 35 countries each year, most of them from Europe.
There are many unique courses such as the manga course and the cooking course. The manga course is offered in cooperation with Kudan and Mangajuku (Professional Manga School).
"Homestay" is offered as an accommodation option for our students.
The school provides many free services for students, such as free Japanese lessons, accommodation, facilities, and 24-hour emergency assistance.
The School arranges not only lessons in class, but many kinds of activities for students to have chances of experiencing Japanese culture.
Read also: