If you intend to further your studies or pursue employment in Japan, the initial step is to improve your Japanese language proficiency. You may begin by enrolling as a student in a Japanese language school. In Tokyo, for instance, there are several Japanese language schools that possess unparalleled quality and expertise.
When you enroll and study at a Japanese language school, you have the opportunity to immerse yourself in Japanese culture and gain valuable connections. Additionally, you can explore potential career paths while enjoying your time in Japan.
In this article, we will introduce one of the finest Japanese language schools – the Yoshida Institute of Japanese Language. Complete information about the institute follows.
If you are searching for information about other Japanese language schools in Tokyo currently, please read our recommended reading below!
Read also:
ISI Japanese Language School
ARC Academy Japanese Language School
Human Academy Japanese Language School
Brief Overview of Yoshida Institute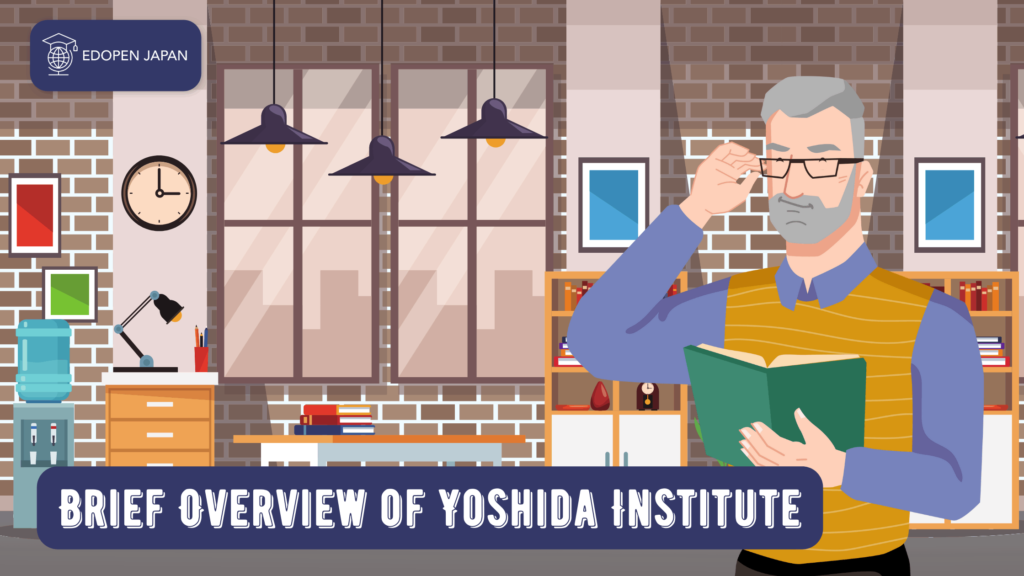 The Yoshida Institute of Japanese Language offers a range of courses for students interested in learning Japanese. Since its establishment in 1986, it has assisted over 4,500 students from various parts of the world. The school provides Daily Full-Time Intensive Classes for individuals seeking to study Japanese, particularly those aiming to be admitted to Japanese universities, colleges, or vocational schools.
In addition, the school's courses aim to prepare students for the JLPT exam, spanning levels 1 to 5. Additionally, the school collaborates with different lodging options, including dormitories, student residences, or host families. This provides a cost-effective solution for individuals starting a new life in Japan.
The Location of Yoshida Institute
The Yoshida Japanese Language Institute is situated near the Waseda student district, a renowned area housing some of Japan's top universities. Many thanks to Waseda University for its prestige as one of Japan's foremost private universities.
It is close to Shinjuku, and specifically located near Takadanobaba, which is popular among young adults. Which is also popular among foreigners and was founded by the former Prime Minister of Japan.
In addition, after classes, students gather in groups to enjoy the various attractions available, including the Big Box and other artistic features situated in the vast community area. This area is home to a sports club, arcade center, numerous stores, and restaurants.
If you prefer a more intimate setting, there are also several Japanese-style Izakaya pubs conveniently located near the station. And there are certainly plenty of opportunities for side gigs, like part-time jobs, in areas with lots of shops, restaurants, and hangout spots for young people.
The Student Demographics at Yoshida Institute
The students are from various countries, including Western, European, and Asian countries, with over 30 countries represented. Here's the distribution:
Asia: 47% & USA: 9%
Sweden: 10%, Spain: 6% and Italy: 10%
Others: 18%
The Features of Yoshida Institute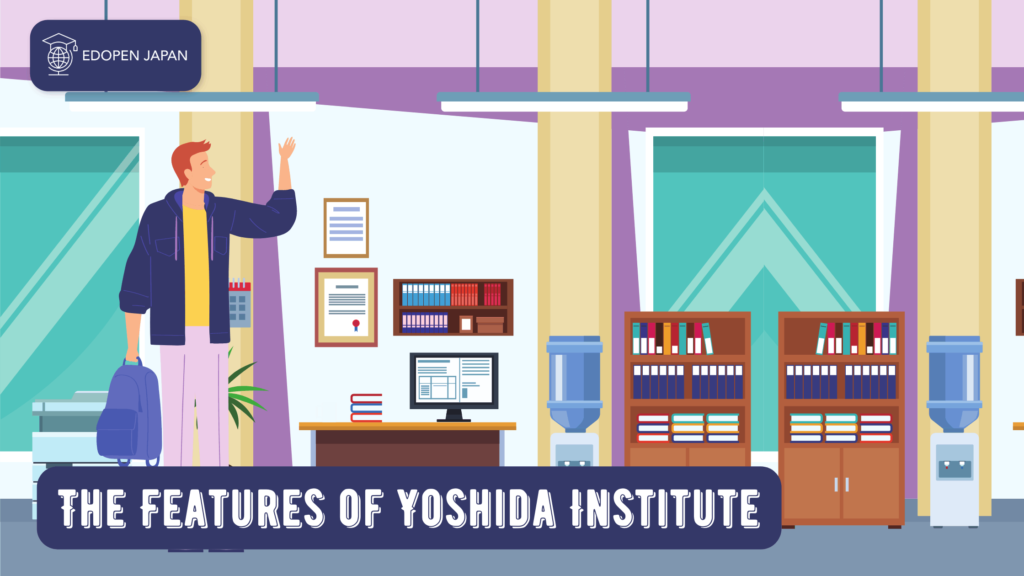 This institute has been operating for over 36 years, highlighting its experience, commitment, and quality standards. The institute boasts noteworthy features, outlined below for your consideration.
| | |
| --- | --- |
| 1. Kanji & JLPT | 1. Very focused on mastering the Kanji and JLPT. |
| 2. Specific level of Japanese | 2. Offers specific levels of the students: Beginner, Intermediate & Advanced. |
| 3. EJU preparation | 3. Suits those who aim to enroll in the Japanese University. |
| 4. Best for Intensive course | 4. The Intensity of the course is Medium. |
| 5. Conveniently located | 5. The school is located in close proximity to the prestigious Waseda University. Students can use the university's common areas and cafeterias. |
| 6. Welcome warms | 6. Accepts students, regardless of their abilities and backgrounds |
| 7. Style of Japanese Courses | 7. Focuses on general Japanese courses, entry into Japanese universities, and passing the JLPT and EJU tests. 50% of class time focuses on exam preparation and/or grammar review. While the other 50% of class time focuses on conversational skills. |
| 8. Pleasant Learning Atmosphere | 8. The friendly atmosphere among students from different countries. |
| 9. Very concentrated classes | 9. Small classes taught by very experienced professional teachers. |
| 10. Tuition fee exemption/reduction | 10. Provide Exemption Or Reduction of The Entrance Fee. Since this school wants all students to receive instruction and have pleasant learning conditions, it offers cost waivers as well. |
Class & Courses in Yoshida Institute
In this institute, you will be divided into different classes depending on your Japanese proficiency. As mentioned above. There are 3 types of classes, namely beginner, intermediate and advanced. What are the details? Please read the reviews below.
(1) Beginner's Classes
This program is perfect for students without any knowledge of Japanese. You will learn the basics of the Japanese language, grammar as well as conversation. In addition, you will start the study with hiragana and katakana, and kanji (about 350 characters). This course will help you pass the JLPT N4 or N5. The teaching material used is Minna no Nihongo 1-2 and others. The total learning time is 9 months.
(2) Intermediate Classes
In this course, you will review the material of the previous level. Then you will continue to learn grammar, reading, listening, conversation, and more complex kanji (up to about 1000 characters). This level is the JLPT N2 or N3 preparation level. The teaching materials used are Minna no Nihongo Chukyu 1 and 2 and other additional teaching materials. Similar to the previous level, the total duration of this study is 9 months as well.
(3) Advanced Classes
In this course, you will learn Japanese at an advanced level. The material at this level includes adverbs, adjectives, conjunctions, and high-level kanji (up to about 2,000). In addition to the instruction at this level, you will be able to read newspapers and magazines. This course will prepare you for JLPT level N1 and for entry into university. The teaching materials are original materials such as newspaper articles, dialogues from TV dramas, etc. The total duration of the class is 6 months.
What do you think? If you need more information regarding the class contents, please visit the following link!
The Courses at Yoshida Institute
Generally, Yoshida Institute of Japanese Language divides its course into 2 courses. It depends on the duration of learning time: Long-term and Short-term courses. Please read the following reviews carefully to understand more!
(1) Long-term course
This school strives to give its students what they need most for their studies, as well as any support they need to live in Japan. Especially, those who wish to study and live in Tokyo for longer than 3 months will receive a student visa from the school to go through the application process. Then, the school will review your documents. Then, the school will apply for the visa on your behalf at the immigration office.
This long-term course consists of standard classes, JLPT and EJU preparation, and cultural activities throughout the year. This is a fairly intensive course, which means that students will improve their Japanese at a normal pace.
(2) Short-term course
This course is for those who cannot study in Japan for a long time. The type of visa you need depends on how long you want to study and your nationality. Classes are held five days a week in the morning or afternoon. During this time, students work on improving their speaking, reading, writing, and listening skills.
In addition, this course consists of standard courses that help students improve their speaking, reading, writing, and listening skills. This is a high-intensity course, meaning students will improve their Japanese faster than average.
The Fee of Course at Yoshida Institute
Next, let's talk about the course fees. As far as tuition fees are concerned, this language institute is known for its very affordable fees. This school is very supportive of their students so that they can study longer. In this way, students can learn more, of course, as much as they can get.
Moreover, the amount of the fee is based on the duration of the lesson. The institute is very keen on keeping the cost low and affordable for everyone. However, it still offers professional and high-quality services. By and large, the course fees in total at Yoshida Institute are as follows:
| | |
| --- | --- |
| Duration | Fee |
| 1. 3 months | ¥174,000 ($1,334) |
| 2. 6 months | ¥465,000 ($3,560) |
| 3. 12 months | ¥807,000 ($6,180) |
| 4. 18 months | ¥1,149,000 ($8,800) |
| 5. 24 months | ¥1,491,000 ($11,420) |
The Review of Yoshida Institute
According to some of the information, we have gathered, the Yoshida Institute of Japanese Language has received a rating of 4 stars and above. What are the advantages of this school? The reviewers have mentioned the following points:
1. Teachers and staff are very kind, supportive, and passionate.
2. The school location is wonderful.
3. The classes are fun and well planned.
4. The price is cheap compared to other Japanese language schools.
Furthermore, what do you think about it? Do you have any experience learning Japanese at this school? We would be very happy if you would share your review directly with us. Please leave your feedback in the comment column below
FAQ about Learning Japanese at Yoshida Institute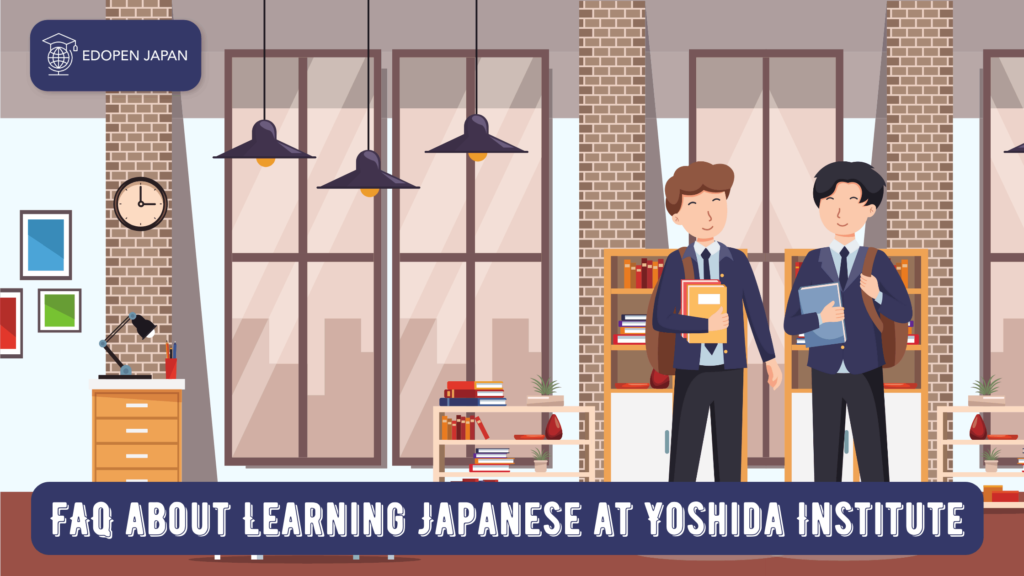 The following is a discussion of us regarding questions that may arise in your mind regarding how to learn Japanese at a Japanese language school such as Yoshida Institute of Japanese Language. We hope our discussion can broaden your reference!
Where is the best place to learn Japanese in Japan?
There are numerous highly esteemed locations to study Japanese in Japan, particularly in Tokyo where the Yoshida Institute is a distinguished institution for teaching the language.
Is 1 year enough to learn Japanese?
Of course. However, to learn Japanese in a more sequential, comprehensive manner that leads to significant results, we highly recommend participating in intensive classes offered at Japanese language schools, such as the Human Academy.
What is the specialization of Yoshida Institute?
The Yoshida Institute provides multiple intensive programs tailored to individuals who have no prior experience studying Japanese.
Can I learn Japanese by myself?
Of course. However, to achieve substantial results, it is advisable to enroll in a language school with specialized instructors and a tailored learning program to study Japanese. The Yoshida Institute stands out as one of the top options available.
What are your thoughts on learning Japanese at a language school? I hope this discussion provides you with useful information and meets your informational needs.
Conclusion
In conclusion, I would like to ask you to reconsider some of the above points. Please let us know what you think of the information presented. We are also very happy to receive any comments. As well as the suggestions for our next improvements. Hope you get useful insight about the Yoshida Institute of Japanese Language.