As we know, Japan is the world's third-largest economy, following the United States and China. To pursue a career in Japan, mastering the Japanese language is essential. Knowledge of Japanese will broaden your job prospects. We recognize that Japan possesses leading multinational corporations that hold sway in multiple industries. Establishing a career in Japan is an aspiration for many young individuals.
Nagoya is one of Japan's top three metropolitan areas. There are 2.26 million residents in Nagoya, a city with stunning natural scenery. Choosing a career in this location is a wise lifestyle decision, especially for individuals interested in the manufacturing, automotive, and robotics sectors.
Nonetheless, fluency in the Japanese language is imperative. This article introduces a premium Japanese language academy. This academy is coveted among international students for its exceptional quality of education. Please see the full article for more details.
Furthermore, you may want to consider exploring additional Japanese language schools in Nagoya to expand your options!
See more:
9 Most Popular Japanese Language Schools in Osaka
8 Most Popular Japanese Language Schools in Fukuoka
9 Best & Most Popular Japanese Language Schools in Tokyo
About Nagoya International Academy (NIA)
The Academy welcomes students from across the globe to learn Japanese alongside peers from diverse countries. The school additionally provides short-term courses and evening classes. Its maximum capacity is limited to 100 students, which ensures exceptional teaching quality within a secure and comfortable learning environment. To enhance your Japanese language proficiency, gaining a comprehensive understanding of Japanese culture and traditions is crucial.
Nagoya International Academy places utmost importance on the advancement of young minds and endeavors to foster mutual understanding. Furthermore, the school's welcoming environment creates opportunities for students to build authentic and stronger connections with each other, faculty, and staff. The school aims to develop valuable human resources who can contribute to Japanese society, promote diversity, and broaden perspectives.
While textbooks are not ignored, an emphasis is placed on practical application of learned expressions in real-life scenarios. The school is dedicated to teaching proper social etiquette and communication strategies. Extracurricular activities are integrated into the curriculum to help apply classroom instruction in real-life situations.
In-class speech contests and debates are also held in Japanese. By listening to classmates from other countries, students gain knowledge about different cultures and develop communication skills and the "power of compassion" leading to better mutual understanding. Nagoya International Academy assists students throughout their learning journey, empowering them to achieve their goals and aspirations. Apart from providing language classes, the school facilitates part-time job opportunities and offers guidance on all aspects of their stay in Japan.
Academy Location
Nagoya International Academy is situated in Aichi Prefecture's Nagoya. This region, which is the birthplace of Japan's greatest warriors, has many attractions. Its central location in Japan makes it simple to reach Nagoya from almost any location. The Shinkansen train from Tokyo takes just one hour and 45 minutes, while the journey from Kyoto is a mere 40 minutes. Additionally, Nagoya is the third-largest city in Japan.
The city boasts close connections to three of the most renowned samurai in history. It is also known for being the birthplace of Toyota Motors, a giant in the Japanese automobile industry. The station offers a variety of high-quality retail and dining options, allowing visitors to savor local delicacies without leaving.
Furthermore, Nagoya is renowned for its delicious cuisine. You can find a multitude of great restaurants around the station area, which is a reflection of the city's recent rapid growth. In addition to its charming beauty, Nagoya has the potential to make you feel at home for an extended period and to facilitate learning of the Japanese language.
Student Demographics
Nagoya International Academy boasts a significant international student population, fostering a diverse learning environment conducive to cultivating an international mindset. Exposure to such a diverse student body enhances students' problem-solving skills on a global level. Below, please find a breakdown of the student population at the academy:
| Country | Percentage |
| --- | --- |
| 1. Nepal | 20% |
| 2. Thailand | 20% |
| 3. China and Malaysia | 20% |
| 4. Latin America and Europe | 30% |
| 5. Other Countries | 10% |
The Features and Services of Nagoya International Academy (NIA)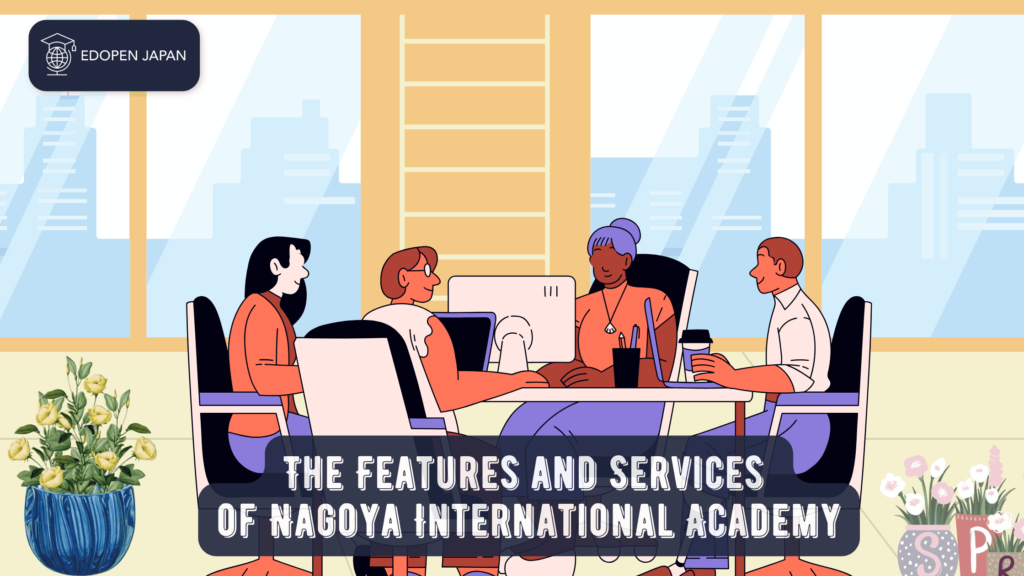 Academy Main Features
What are the excellent features of Nagoya International Academy? Please peruse the following points:
(1) Not limited to textbooks
The course materials are tailored to suit the preferences of students. However, textbooks are provided as a source of reference for vocabulary, grammar, and expressions used in the class. Additional materials such as worksheets and task sheets are also shared by instructors to help students apply and expand their learning in practical situations. These classes also provide an opportunity for students to practice their Japanese skills.
(2) Japanese as a means of communication
This institution provides not only lessons but also encourages active class participation. Possessing knowledge of the Japanese language becomes futile when ineffective communication takes place due to poor listening, speaking, writing, and reading skills. As a result, this school prioritizes teaching with a communication-based approach, emphasizing comprehension and expression. The lessons comprise vocabulary, grammar, expressions, and other related topics, including their corresponding usage contexts. The school's primary focus is to give students a comprehensive understanding of the subject matter.
(3) Etiquette and Strategy
At school, you'll acquire knowledge on how to handle various social settings and develop effective communication techniques in Japanese. This will be taught in class, and you'll be able to utilize your newly learned skills confidently.
(4) Certified & qualified teachers
All teachers are certified and qualified by recognized organizations. In addition, they are committed to ongoing education to enhance their teaching skills.
(5) Small classes
Up to 100 students offer a highly effective methodology to help you achieve your goals in learning Japanese.
Academy Main Services
In addition to the benefits offered by the features, in this section, we also want to talk about the services that Nagoya International Academy offers you. Therefore, this can be your reference to find out more about this academy. Then, what kind of support and services can you get when you are part of this academy? Next, please take a look at some of the following points.
| Services | Details |
| --- | --- |
| 1. Multicultural environment | This school hosts students from all over the world, and the teachers know how to teach and guide them well. |
| 2. Support for part-time work | The school publishes and updates available part-time job opportunities and prepares students for interviews. |
| 3. English-speaking staff | The school can provide support in English and other languages. |
| 4. Accepts beginner students | Even if you've never studied Japanese before, it's no problem! At this school, you can start from scratch. |
| 5. Full-time job search assistance | From interview preparation for business Japanese classes, this school helps those who're ready to find a full-time job. |
| 6. Student lounge | The area where students gather to eat, talk, or do their homework. |
| 7. Wi-Fi | Free Wi-Fi for all students. |
| 8. Convenient study room | There are several wide and convenient rooms for students to focus on their studies. |
| 9. Library | There's a modern library with books and other resources available for students. |
The Courses and Expenses at Nagoya International Academy (NIA)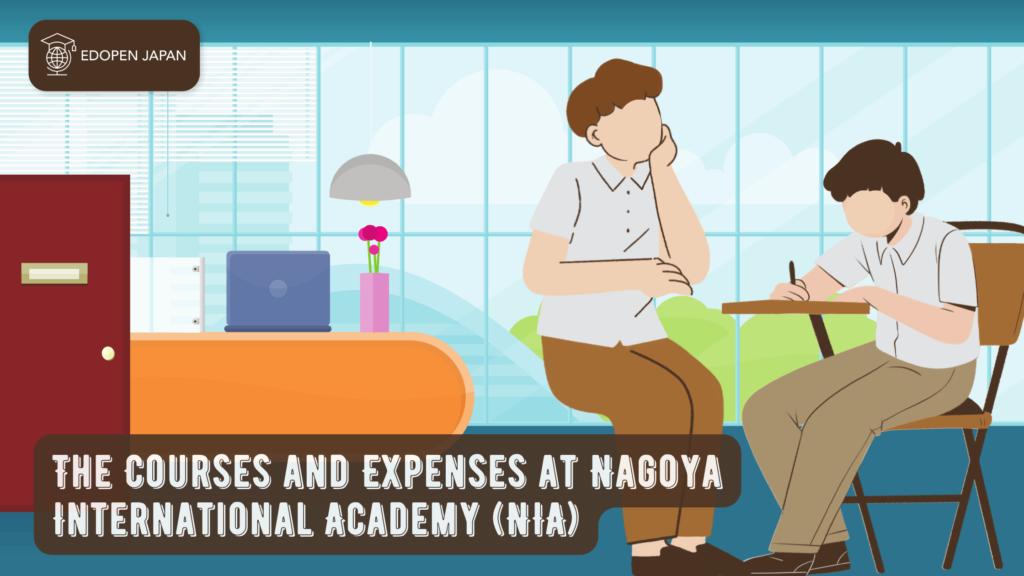 The Courses
At Nagoya International Academy, the school offers a diverse range of courses tailored to your specific needs. Below, you will find comprehensive information about each course:

(1) Comprehensive Japanese

The course structure enables students to learn Japanese comprehensively, from a beginner to an advanced level. It is suitable for individuals seeking higher education or employment opportunities in Japan and those desiring to enhance their Japanese communication skills. The objective of this course as follows:

Main Objectives
1. Focus on reaching the level of JLPT N1.
2. Offer elective classes for your own purposes.
3. Japanese as a means of communication, not knowledge only.
4. Support for the student visa.

(2) Short-term Japanese Course

This course is ideal for individuals with short-term or working holiday visas. Typically, it is taken by those who have already been in Japan with a visa, including family, working holiday, or tourist visas. Additionally, the school provides diverse courses to cater to different goals and objectives.

(3) Courses for those who live in Japan

This course is designed for individuals holding short-term or working vacation visas who aim to learn Japanese language and culture, develop interpersonal skills for daily interactions, and cultivate friendships with Japanese locals. The objective of the course as follows:

Main Objectives
1. For those who want to improve their communication skills in business.
2. Perfect for those who want to participate in Japanese life.
3. The content of the lessons is based on everyday situations as well as conducting the lesson with the goal of applying what you learn in real life.

(4) Business Japanese course

This school provides a course for individuals working or seeking employment in Japan, concentrating on business discussions, etiquette, and expressions.

Main Objectives
1. The content of the lessons is based on everyday situations as well as conducting the lesson with the goal of applying what you learn in real life.
2. Perfect for those who want to learn how to write business letters (emails).
3. Great for those who want to learn how to express themselves properly in various business situations, such as presentations, phone calls, and greetings, and for those who want to work or already work in Japan.

You can explore the courses this school offers via the link provided below.
The Expenses
You can view the current cost of each course offered by NIA through the links below!
| Duration | Amount of Fee |
| --- | --- |
| 1. 3 months course | ¥244,800 |
| 2. 6 months course | ¥421,800 |
| 3. 12 months course | ¥761,500 |
| 4. 18 months course | ¥1,086,400 |
| 5. 24 months course | ¥1,409,700 |
Reviews
According to the information gathered by us, the Nagoya International Academy (NIA) has been awarded a rating of four stars or higher. Then, what are the advantages of this school? The reviewers have cited the following points:
The teachers and staff are very supportive and fantastic.
The school location is wonderful and the environment is very diverse.
Part-time jobs, as well as full-time job hunting' supports, are very helpful.
The class is interactive and easy to understand.
Furthermore, have you had any experience learning Japanese at this academy? We would greatly appreciate if you could share your thoughts with us in the comment section below
FAQ about Learning Japanese and Japanese Language School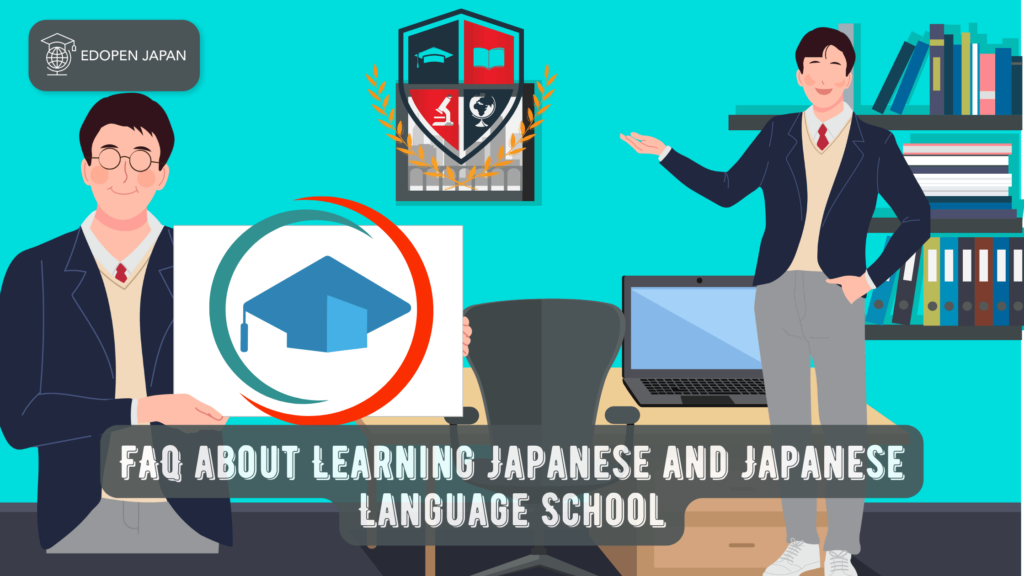 Let's check out some FAQs that might help you about learning Japanese and Japanese language school in Japan below!

Can I learn Japanese in 3 months?

The aforementioned duration is intended solely for novice visitors and is generally suited for short trips to Japan.

Is 2 Years enough to learn Japanese?

It is reasonable to assume that one can reach an intermediate level of proficiency in Japanese within 1-3 years.

How much does it cost to study at a Japanese language school?

If the cost is mentioned, each school and school location will vary significantly in their pricing. As a general estimate, a 12-week program will cost between ¥100,000 to ¥200,000 (approximately $900 to $1,800), without factoring in the cost of living expenses which vary based on the city in Japan.

Which institute is best for Japanese language?

It is inappropriate to provide an exact answer. Please refer to our website for related articles. One of our suggested articles is NIA.

Thus, the FAQ provided above serves as a comprehensive reference for answering common questions. Good luck!
Conclusion
Please let us know if you have any questions or concerns regarding the information presented. We welcome any feedback and suggestions for future improvements. We hope that you have gained valuable insight into Nagoya International Academy (NIA).