For the past 12 years, Japan has been considered one of the safest countries in the world. As of 2017, the Kyoto-Osaka-Kobe metropolitan area (also known as Keihanshin) is among the top 20 student cities in QS Best Student Cities.
In addition, Kyoto is indeed one of the best cities in the world for students. It is also much safer than other cities. This makes it a great place for students to enjoy a safe, urban lifestyle and culture. Furthermore, Kyoto is a relatively affordable city for students.
Especially when it comes to learning the Japanese language. Are you looking for the best school to learn Japanese in Kyoto? Here is the answer for you. Let's find the school that suits you best.
If you're looking for information on the best Japanese language schools in other major cities in Japan, check out our recommendations below!
Read also:
9 Great Japanese Language Schools in Osaka
9 Best Schools for Learning Japanese in Tokyo
6 Great Japanese Language Schools in Hokkaido
Why learn Japanese in Kyoto?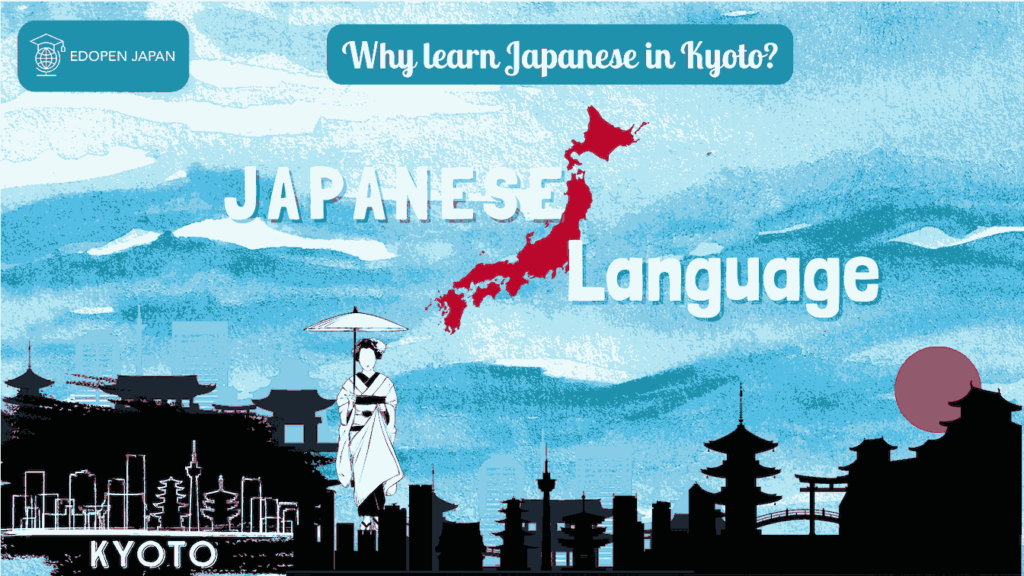 Kyoto is one of the most famous and friendly cities for foreign students to study in Japan. Among foreign students, Kyoto has always been a favorite place. In Kyoto, you will not only have fun learning Japanese, but you will also have many opportunities to come into direct contact with Japan's rich history and culture in everyday life.
Kyoto offers many opportunities for you to learn Japanese in a broad and comprehensive way. In terms of history, Kyoto has been the center of Japanese culture for more than 10 centuries. In addition to learning Japanese, you will also have many valuable opportunities to enjoy various historical and cultural sites in beautiful Kyoto.
In addition, with the warm city conditions and not as busy as Tokyo or Osaka, you can also learn Japanese language and culture in depth. Of course, the soothing view of the city is also very helpful for you to absorb various learning materials easily. The other most important facts for you to know is that the cost of living in Kyoto is also much lower compared to other cities in Japan.
10 Most Popular Japanese Language Schools in Kyoto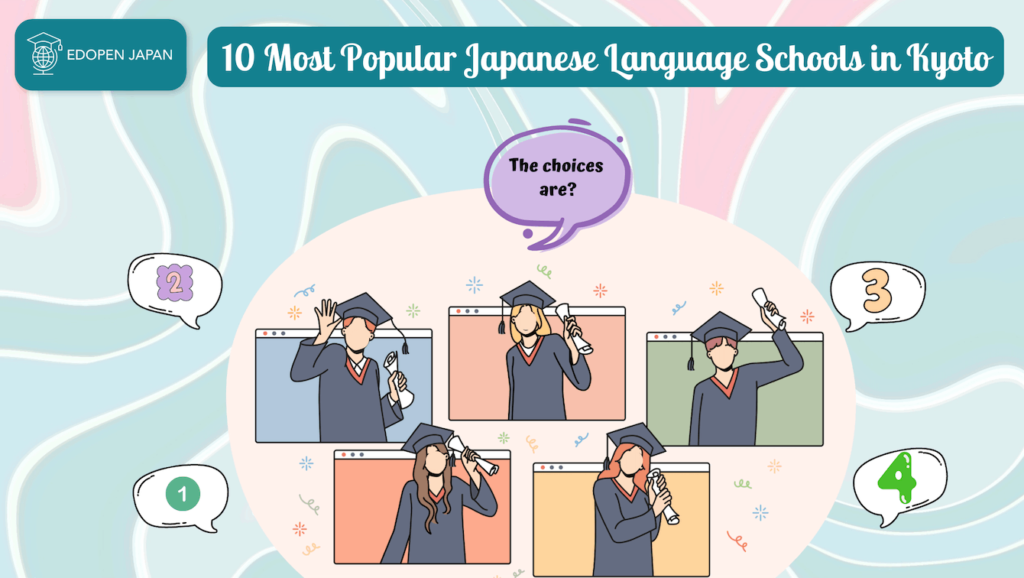 1. Kyoto Minsai Japanese Language School
Kyoto is one of the most beautiful cities in Japan. A mixture of traditional temples and modern buildings. As well as the past and the future are one here.
It's suitable for students who want to study in a quiet and beautiful city. Kyoto Minsai Japanese Language School is located in the city of Kyoto. This school has more than 20 years of experience teaching Japanese to students from all over the world and has around 160 students from different countries.
The school offers a general Japanese language program and preparatory courses.
You will be able to experience a variety of cultural programs.
Kyoto Minsai also helps students find part-time jobs and affordable accommodation near the school.
2. Kyoto JALS
Since its establishment in 2012 and located in Tearaimizucho, Karasumadori-Nishikikojiagaru, Nakagyo-Ku, Kyoto. Kyoto JALS, with its slogan "a warm school that guarantees you a Japanese language learning experience that will change you," has been the principle that this Japanese language school should be on your bucket list.
Furthermore, Kyoto JALS has also won several awards and has been named "Best Japanese Language School" by various organizations since 2015. The 6 values of this school are quality, family, flexibility, activity, facility, and community.
Instead of just using textbook materials, they choose original teaching methods that are uniquely designed and a special curriculum that's suitable for those visiting Japan for a short time.
They focus on output-oriented teaching, Japanese lessons with practical content, and fun lessons filled with a variety of topics. So, it would be a shame if you miss out on studying at this school and enjoying the learning experience. Kyoto JaLS welcomes y'all with open arms and a warm welcome!
3. Kyoto Institute of Culture and Language (KICL)
This school has the principle that human resource education can build a better international society through understanding Japan. Almost all the students from 81 countries have studied and are studying here. Therefore, the school plays an important role in international cultural exchange. This school also offers dormitories and a unique educational system.
A promotion system for grade advancement tailored to students' learning abilities and learning activities that aren't only limited to the classroom. It will surely make you competitive and focus on learning to achieve your goals with such a system.
4. Kyoshin Language Academy
This school is very strategically located in front of Kyoto Station near Kyoto Tower. At this school, every student is special. Kyoshin Language Academy (KLA) values each student and strives to support students in their studies in Japan. KLA not only teaches Japanese but also encourages each student to acquire various skills that are needed in society.
With highly qualified teachers and staff, KLA creates a school environment where one can learn and grow at the same time. KLA not only teaches Japanese but also encourages each student to develop various skills that are needed in society.
With highly qualified teachers and staff, KLA creates a school environment where one can learn and grow at the same time.
The advantages of Kyoshin LA compared to other language schools are as follows:
Achieving a high level of communication skills
Understanding Japanese culture
International cultural exchange
A little rigor in the learning process
5. ISI Language School, Kyoto
The ISI Language School Kyoto is one of the language school groups with the most students in Japan. There are 2 schools in Tokyo (Takadanobaba & Ikebukuro), and 1 school in Nagano.
The school also opened a branch in Kyoto in 2017. ISI is famous for its magnificent and beautiful school buildings, its comprehensive programs, and its students from different countries.
Some of the benefits of ISI Kyoto School:
Friends from different countries study
Students can choose university preparation programs
Japanese language and culture or career preparation programs throughout Japan
Many extracurricular activities and cultural events.
Students can freely choose culture classes, conversation, JLPT, etc.
6. Genki Japanese Language School Kyoto
Genki Japanese and Culture School (GENKIJACS) is the only Japanese language school to be awarded the Star World Language School award, the highest accolade available for a second language learning institution.
GenkiJACS is in the heart of Kyoto and is one of the most popular schools in the country.
The school specifically teaches languages to foreign students like you. Class sizes at these schools are very small (maximum 8 students) and all teachers speak Japanese.
The distance to the school is very strategic, just a few minutes from the beautiful Gion district and right next to the famous Kamo River, making it the perfect place to learn Japanese.
For your information, the Gion district is the most famous geisha district with hundreds of shops, restaurants, and tea houses.
Of course, you can also travel here during your studies. GENKIJACS can also help you apply for a student visa, so don't worry, your departure to the art city of Kyoto can go smoothly.
7. Kyoto Japanese Language School (KJLS)
This school is founded in 1950, in Kyoto, the city of Kyoto is blessed with natural and cultural riches and will enhance your enjoyment of learning. Kyoto Japanese Language School (KJLS) has been bringing together diverse people and cultures from all over the world for more than 70 years.
Kyoto Japanese language school has two residences with basic furniture and furnishings necessary for living.
This school also assists in finding host families and information from real estate agencies.
For those of you who'd prefer to live in a residence rather than a private flat, they'll certainly find something later.
Kyoto Japanese language school offers courses ranging from intensive courses, summer intensive courses, and special courses, to e-course.
With a very long experience and already an expert in teaching Japanese, this school deserves to be the right choice for you.
8. Kyoto Japanese Language Training Center
Established in 1963 as Japan's first private computer institute, this school is for you if you want to learn Japanese and computer skills at the same time.
This Japanese language school has been recognized as an institution by the Ministry of Justice and offers high-level courses that are designated as "propaedeutic courses" by the Ministry of Education, Culture, Sports, Science and Technology (MEXT).
This language school is designed to prepare students for the Grade-N1 or N2 Japanese Language Proficiency Examination and the College Admissions Japanese Language Examination for International Students (EJU) for foreigners who wish to study at higher Japanese educational institutions.
Interested students who have sufficient Japanese language skills can attend professional computer courses and KCG regular courses.
So, you can also improve your computer skills while learning Japanese. Classes are divided according to the student's Japanese proficiency. Classes are held more than 20 hours per week. 20 weeks for 1 semester, 40 weeks for a year.
Topics include grammar, vocabulary, listening comprehension, conversation, reading, essays, and Japanese society and culture. Do not miss this interesting option for you.
9. YIC Kyoto Nihongo Gakko
The goal of YIC Kyoto Japanese Academy is to fulfill the dreams of all students through learning Japanese, such as getting a job in a Japanese company, getting a job in a Japanese company in their home country, or having a close connection with Japan, including the possibility of pursuing higher education in Japan.
This school offers an optimal learning environment. They focus to improve students' Japanese language skills, but also provide a deeper understanding of Japanese culture, traditions, and history, as well as learning Japanese institutions, values, and social manners.
10. ARC Academy, Kyoto
Kyoto is indeed a city where traditional Japanese culture and history are still alive today. Tourist attractions such as Buddhist temples and Shinto shrines are everywhere.
The ARC Academy Kyoto School is located in Gojo Karasuma near the center of Kyoto, Shijo Karasuma. This is an area that is really splendid for shopping and sightseeing. Studying Japanese in this academy will bring you a lot of opportunities to enjoy Kyoto.
ARC Academy, Kyoto Features:
As stated in this academy's educational philosophy, ARC Means "a bridge to the world". Foreign learners will not only be able to learn the Japanese language, but also the culture and its history.
You will be able to improve your communication skills.
ARC Academy provides 5 skills: Listening, speaking, reading, writing as well as thinking. There are many opportunities to look at social, cultural, and local issues together.
You will join various classroom activities that involve how to express your intention to the other International students.
This school offers mutual understanding and a sense of respect as the base of communication.
What level of Japanese can you learn in Kyoto?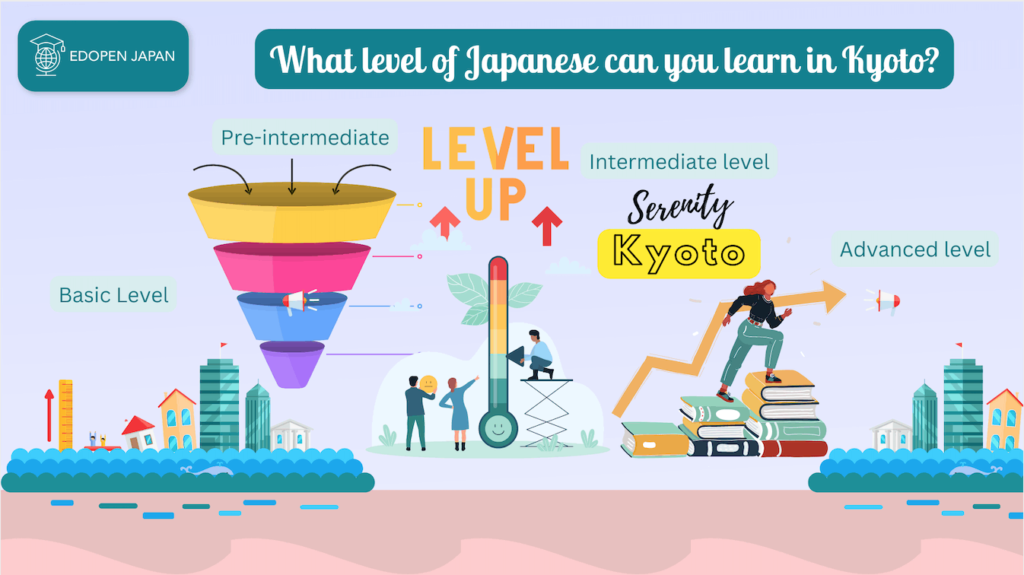 If you have a question about what level of the Japanese language you can learn? Here is the explanation. Overall, the levels of the Japanese Language that we can learn are as follows:
Basic Level
Be able to understand the basic Japanese language. Knowledge of Japanese used in class, basic grammar, and basic conversation.
Mastery of the target for students: JLPT N5 and N4 Kanji: 300, Vocabulary: 2,000.
Pre-intermediate
Be able to understand and respond appropriately to Japanese in everyday situations at an almost natural pace. Be able to read and write in a simple way.
Student Learning Objective: JLPT N3 Kanji: 600, Vocabulary: 3,000.
Intermediate level
Be able to understand most of the Japanese language used in a variety of situations, as well as the more complicated written language used in newspapers and commentaries. Be able to express oneself on a variety of topics.
Student Learning Objective: JLPT N2: Kanji: 1000, Vocabulary: 6,000.
Advanced level
Be able to understand all Japanese used in a variety of complicated situations, including politics, business, law, and international affairs. Be able to express yourself competently with natural-sounding pronunciation.
Pass Target: JLPT N1 Kanji: 2000, Vocabulary: 10,000.
Conclusion
Finally, we would like to conclude this article with the following points:
Studying Japanese in one of the best cities in the world, Kyoto, is a great way to brighten your future.
Living in Kyoto is the best opportunity for students to enjoy a safe, urban lifestyle and Japanese culture.
Choose from 8 highly recommended schools to find the best fit for you.
Each school has its own strong philosophy as well as rigorous features that have made them very well-known and prestigious Japanese language schools in Kyoto.
That's all from us. If you have any questions, please feel free to leave a comment below. We look forward to your feedback. See you in the next article. Thank you very much.