Studying Japanese in Tokyo is definitely a wonderful choice. The Japanese culture is full of high art. In Tokyo, we can experience such an extraordinary discipline. With approximately 100,000 international students, Tokyo has the largest concentration of universities.
As well as the theaters, museums and many institutions in Japan. All of this adds up to more opportunities to study abroad. What's more? You can take the train to Mount Fuji. Immersing yourself in traditional Japanese culture is one of the best ways to learn natural Japanese.
In addition, if you are currently researching and considering the best places to learn Japanese language and culture, please also read our recommendations for the best places to learn Japanese in all of Japan and other major cities in Japan below!
Read also:
9 Most Popular Japanese Language Schools in Osaka
10 Most Popular Japanese Language Schools in Kyoto
6 Great Japanese Language Schools in Hokkaido

Why choose Tokyo for Japanese language study and cultural immersion?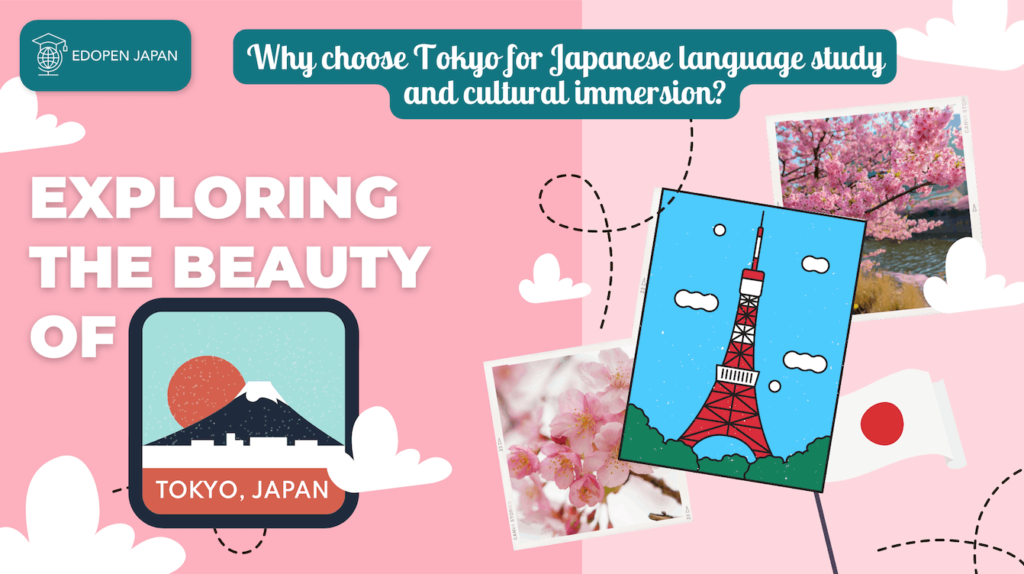 Next, here's a short list of reasons why you should learn Japanese and immerse yourself in Japanese culture in Tokyo. We've compiled the reasons why Tokyo is the most enticing choice for learning Japanese:
As the center of the Japanese and global economy, with a GDP of approximately $1.35 trillion, Tokyo is an excellent and ideal place for anyone to study. Especially for those who want to work on an international level. Therefore, business level Japanese is a must.
This is a city that values discipline, cooperation and creativity.
Tokyo offers many opportunities for those interested in Japanese culture and language. Then for those who want to gain a modern international perspective. Especially for those who want to build international networks.
Tokyo is a modern metropolis equipped with the latest technical facilities. So your experience and language skills will grow very quickly.
How do I choose the best Japanese school in Tokyo?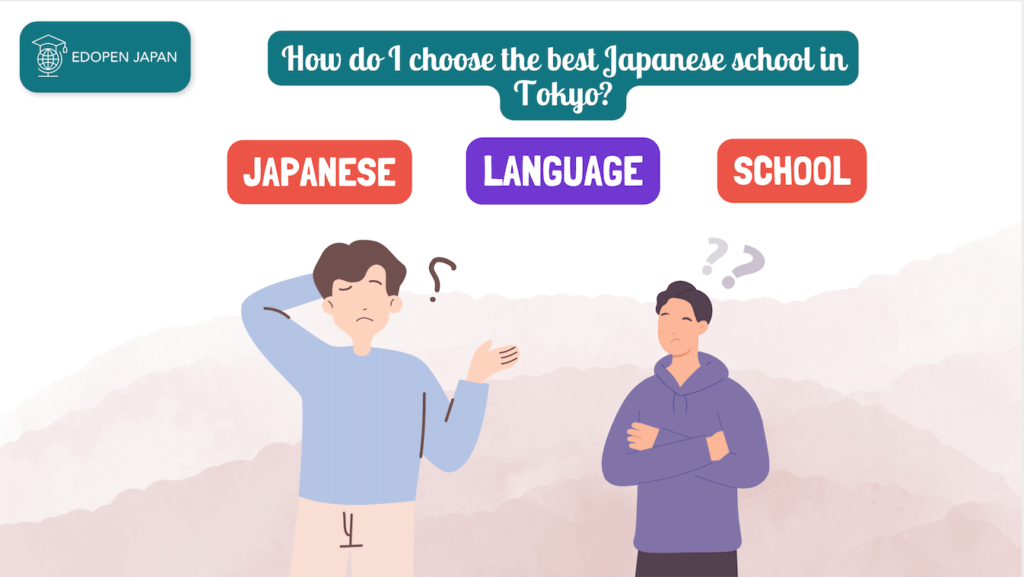 Do you need reliable Japanese resources? Or the best schools that can give you a good understanding of the Japanese language? Here we give you tips on how to choose a good Japanese language school. Let's choose a Japanese language school that fits your goals.
If you don't know which factor is best for you, compare several Japanese language schools. This way you can see the advantages and disadvantages of each.
Tips for choosing the best Japanese language school
First, choose a school that fits your goals
From the beginning, you need to make a plan, especially a plan for your goal of learning Japanese. Japanese language schools are places where foreign students can improve their Japanese language skills. Japanese language schools also have different programs.
So, choose a school that fits your goals. Do you want to work or continue your education at a higher level?
Second, search your desired location
The choice of location is important. Whether it's an urban area, an area that's far from the city, or an area that's not far from the city. The choice of location is very important because it affects several aspects such as follows:
The school environment, the surroundings, and the cost of renting a flat
The possible activities and the availability of part-time jobs
The salary of the part-time jobs you can get
Third, curriculum
Some language schools in Japan offer preparatory courses. It is included study programs to prepare for the Japanese University Entrance Examination for International Students (EJU). To pursue higher education in Japan, the Japanese government requires at least 12 years of education. Other schools are for vocational preparation. Thus, please carefully look into this.
Forth, the School Fees
In addition to Japanese language school fees, living expenses such as housing costs, food costs, transportation costs, and so on must also be considered. We can consider this budget in relation to the area of the Japanese language school that the students want.
How much does it cost to study Japanese in Tokyo?
The Japanese language school usually lasts one to two years, depending on the type of course. Tuition fees are around 700,000-900,000 JPY per year and 1.3-1.5 million JPY for two years. It is definitely different from the extra class or the business class or for the workers.
How many Japanese schools are there in Tokyo?
With the charm of Japan with all its allure, language schools and colleges are currently becoming a trend in Japan. According to various sources, there are currently about 170 language schools for foreign students in Tokyo.
With students from China, Taiwan, Vietnam, Korea, Myanmar, America, Nepal, etc. The cost of living in Japan isn't as expensive as you might think compared to other countries like Singapore and Australia. There are also many part-time jobs in Japan to supplement your income while you attend your language school.
Top 9 Best & Most Popular Japanese Language Schools in Tokyo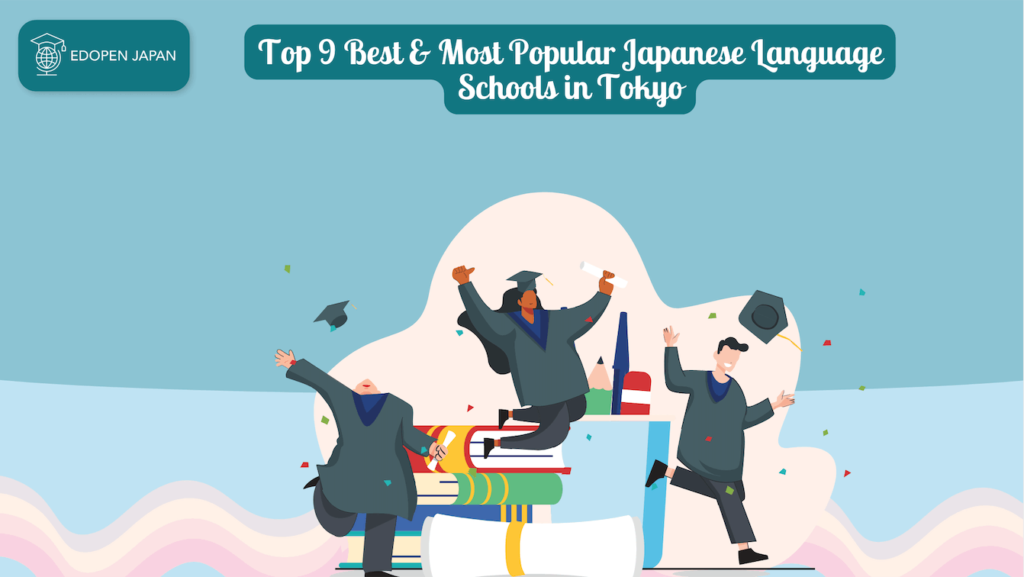 (1) ISI Language School Tokyo – Takadanobaba Campus
The ISI (International Study Institute) Japanese Language School is one of the largest language school groups in Japan. There are 2 schools in Tokyo (Takadanobaba & Ikebukuro). 1 school in Nagano, and 1 school in Kyoto.
The total capacity is 4000 students.
More than 110 students from their home countries study here.
This language school has a large and very nice building.
The interior is also good, so you'll feel right at home.
The Takadanobaba area is often referred to as a student city because there are many schools and colleges here and it's only one stop away from Shinjuku, so there are many convenient restaurants and shops.
(2) Tokyo Central Japanese Language School
The Tokyo Central Japanese Language School (TCJ) in Tokyo has been around for more than 32 years. It offers different programs depending on demand and trains about 300 graduates a year. The school is located about a 2-minute walk from Shinjuku Station. It is one of the most convenient places to get around Tokyo. One of the central areas in the heart of Tokyo.
In 2012, the academy moved to a larger location in a new, bright, and spacious building.
The school's teachers are professional, experienced, and well-trained. They not only help students academically, but also actively support them in life.
Teachers are available for appropriate counseling.
The popular TCJ now also aggressively offers online courses. These online courses come in 7 varieties.
There are Private Speed Learning Program courses for those who want to study in universities in Japan.
There are several types of classes: Business Class for JLPT (weekdays, evenings) to master Japanese in business situations. Standard Class (weekdays, days) to learn the 4 basic skills (reading, writing, speaking, listening). And many others!
(3) UJS Language Institute Japanese Language School
This Japanese language school has been in the Roppongi district of Tokyo for over 30 years. The main aim of this UJS school is to improve students' speaking skills. Therefore, they can smoothly manage their studies and assignments while in Japan.
This school has long experience with students from different countries.
You will get support to prepare for your university's entrance exams. Also, JLPT and EJU.
In addition to preparing students to transfer to the Japanese public school level, this school also trains students to become multilingual international entrepreneurs. This is with the objective to keep up with the rapid development of the internationalization of business.
(4) Japanese Language School, Meguro Language Center
The Japanese language school Meguro Language Centre (in Tokyo) has been in existence since 1990. This school is visited by numerous students from all over the world. If you're looking for a Japanese language school that's affordable, this school could be an interesting choice.
The following are the cost for the lesson provided that are cheaper compared to the other schools:
A 90-minute group lesson costs 3,960 yen (including 10% tax)
A 90-minute private lesson costs 7,170 yen.
Private lessons cost between 7,170 yen and 7,770 yen (including 10% tax).
The benefits offered such as no registration fee, free trial lessons, and original material. The lesson included daily conversation, business conversation, and preparation for the JLPT.
This is the right choice for those of you who've financial constraints. Note, however, that this school doesn't issue and process student visas for you.
(5) Yoshida Institute of Japanese Language
The Yoshida Institute of Japanese Language has helped more than 4,500 students learn Japanese since 1986.
Located very close to the prestigious Japanese private university, Waseda University,
The school offers a friendly atmosphere among students from many different countries.
Small classes taught by highly experienced, professional teachers. They offer standard classes, the JLPT exam and EJU preparation, and in-depth Japanese cultural activities throughout the year.
(6) Toshin Language School
Toshin Language School was founded in 1988. This school has been around 600 students from all over the world. Located in Takadanobaba, Shinjuku-ku, Tokyo. You can improve your language skills through the following special features:
Classes in a free and open atmosphere.
This school provides practical Japanese lessons and special teaching methods.
A teaching staff composed of experienced teachers, overseas teachers from the International Exchange Foundation, JICS. As well as the Overseas Youth Cooperation Association, and young and energetic teachers.
They also offer a one-year student visa.
(7) Coto Japanese Academy – Japanese Language School
Coto Academy was founded in 2000. This school has already helped more than 8000 students from all over the world. Located in the heart of Tokyo. The school offers small classes and a flexible schedule.
The academy offers fun Japanese conversation classes, for all levels, including beginners.
This academy also provides a fun environment for students who want to improve their Japanese conversation skills.
The academy offers different types of courses. They are including intensive courses, part-time courses, and private courses.
This is one of the best courses if you want to learn Japanese in a short period of time.
One of the interesting courses offered is Nihongo Plus and Japanese for Business. In Nihongo Plus, students can choose the courses and topics they want. Japanese for Business is a two-month course in which learners learn to speak fluent Japanese for business. This program is ideal for those entering the workforce and those preparing for a job interview.
In addition, the academy also offers a teacher service where you can take one-on-one lessons with the teacher both at home and in the office. The Coto academy is also an award-winning Japanese course that places a strong emphasis on your conversational skills for casual and professional conversations.
(8) Kudan Institute of Japanese Language & Culture
Kudan Institute is one of the best Japanese language schools in the heart of Tokyo. Its strategic location is surrounded by restaurants and stores that are easy on students' wallets. With more than 20 years of experience. As well as students from more than 70 countries.
This language institute promotes a conducive learning environment.
This school continuously improves the curriculum.
They offer diverse learning methods adapted to the international environment.
Kudan Institute offers a course package for 2 weeks of Japanese learning with programs. They are the Japanese Intensive Course, Conversation Course, Hiragana, and many more.
There's also a course package for 3 months. In addition, the school also offers the opportunity to combine the Japanese language with Japanese cultures, such as a cooking class, tea ceremony, and other activities.
(9) Shinjuku Nihongo Gakko (SNG)
SNG stands for Shinjuku Nihongo Gakko in Japanese or more fully is Shinjuku Japanese Language Institute. Shinjuku Japanese Language Institute was founded in 1975 by Takayoshi Ezoe, and his wife Setsuko Ezoe. Also, their oldest son Takahide Ezoe.
The Institute offers Japanese language courses to more than 500 students. The students come from more than 50 countries around the world. SNG has had over 45 years of experience in Japanese teaching.
This language school is very proven in helping new learners to be able to speak Japanese. As well as to pass entrance exams on Japanese campuses.
This school has a special method that they created, the Ezoe Teaching Method. This method itself was created by the founder of SNG himself, Mr. Takayoshi Ezoe (Current Foundation Chairman).
The learning method is visually very interesting and unique. This is adapted to teach Japanese to foreigners.
Combined with the "Visual Learning Japanese" blended learning system, students can continue to practice at home. Thus, learning the basics of Japanese will be faster.
The Shinjuku Japanese Language Institute is in Takadanobaba. One of Tokyo's leading student districts, only 5 minutes from Shinjuku. Also, it is close to major areas of Tokyo such as Harajuku and Ikebukuro. Making it a very convenient city with easy access.
And most importantly, it is 100% certified and authorized by the Japanese Ministry of Education. The Tokyo Metropolitan Government also acknowledged this great Japanese language school. Interesting right?
Conclusion
Finally, I would like to share with you a few things that are extremely important to strengthen your willpower when learning Japanese.
When you learn Japanese, you will not only master the language but also gain insight into the culture.
Understanding Japanese culture will be your stepping stone to a great future.
Bilingual professionals are in high demand in the working world.
If you speak Japanese and have technical skills, you have a good chance of getting a well-paying job in Japan.
That's all from me. Please freely leave your feedback or any inquiries below. Thank you! See you in the next article.