Mastering the Japanese language can transform your life. It provides you with the chance to develop a career in a country with the world's third-largest economy after the United States and China. Moreover, Japan is home to well-known technology enterprises that lead in multiple fields globally. Conversely, when mentioning Japan, you can find anything in this prosperous nation. You can learn about business, engineering, manufacturing, economics, culture, and politics in Japan.
That's why Japan has the highest number of foreign students in Asia. Their first step is to select the best location for studying Japanese. In this article, we present one of the reputed Japanese language schools in Osaka called the Kansai College of Business and Languages. Please read on for more information about Kansai College.
To enhance your search, for a school in the Osaka region, we suggest that you visit the listed resources on our comprehensive guide below!
Read more:
4 Most Popular International Schools in Osaka
9 Best & Most Popular Japanese Language Schools in Tokyo
10 Great Japanese Language Schools in Japan
A Brief Overview of Kansai College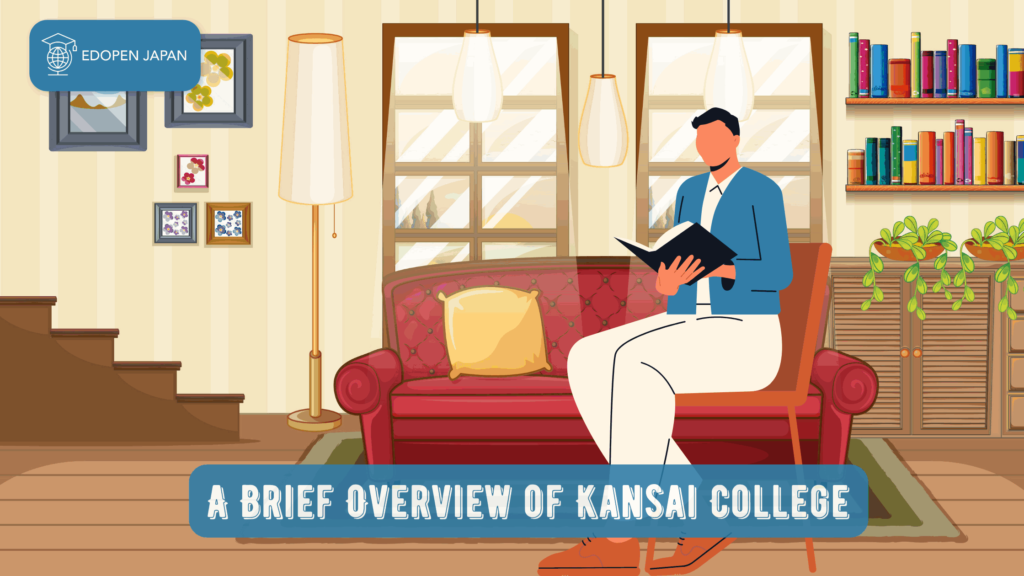 While many public language institutions prioritize teaching grammar, Kansai College specializes in academic and pedagogical content. The college has also implemented effective educational systems to assist students in reaching their educational objectives. Furthermore, since its inception, Kansai College has fostered numerous accomplished students and linguists. Established in 1967 as a vocational school for commerce, Kansai College of Business and Languages continues to thrive.
Contrary to popular belief, foreign language education in Japan tends to focus heavily on grammar development at the expense of practical language skills. However, Kansai College distinguishes itself by providing comprehensive training to students with a strong emphasis on enhancing their practical foreign language skills. Moreover, Kansai College sends numerous language specialists across the globe to further aid students in this regard.
In the year 1989, Kansai College founded the Department of Japanese Studies, which caters primarily to international students. To date, over 400 students attend the institution, as it provides many Japanese students with convenient access to education. As a result, they can acquire language skills and engage in cultural exchange while fostering an exceptionally supportive learning environment, reminiscent of a bygone society. What sets this college apart is its diverse student body, composed of both Japanese and international students.
In addition, Kansai College not only fosters language proficiency but also facilitates cultural exchange with students from around the globe. As a result, you can immerse yourself in an environment that encourages interactions with peers from diverse backgrounds. Essentially, this is a miniature, yet vibrant, international community.
College Location
Kansai College is situated in the heart of Osaka with convenient transportation options available in close proximity. The college is a mere 5-minute walk away from Tennoji Station, as well as the JR Tennoji train station ticket office, which is located a short distance away. The east exit is approximately 150 meters south of the Matsuzaki exit.
Furthermore, Osaka is one of the four major cities in the "Kansai" region and boasts unique characteristics that make it an intriguing destination. The vibrant, sophisticated, and traditional "Osaka", the former capital of Japan "Nara" and the intriguing harbor town "Of Kobe" offer a diverse range of fascinating sites and experiences in comparison to the centralized Tokyo.
The school is situated in the Tennoji locality that boasts a blend of historical and contemporary attractions. Alongside the zoo and art museum, Tennoji Park features an abundance of verdant foliage that extends until Tennoji Station.
Student Demographics
The distribution of Kansai College students is diverse, with enrollment from around the globe. Let's take a look at the demographics of our international students. To simplify, we can break down their percentages as follows:
| Country | Percentage |
| --- | --- |
| 1. Asian Countries | 46% |
| 2. Taiwan | 37% |
| 3. USA | 10% |
| 4. Europe | 4% |
| 5. Other Countries | 3% |
The Main Features and Services of Kansai College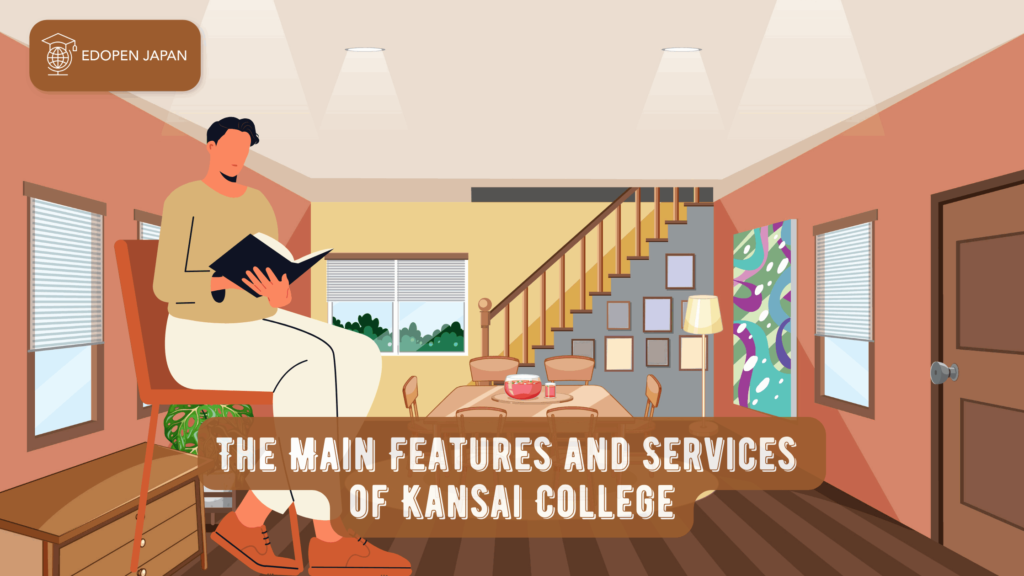 School Main Features
Kansai College of Business and Languages boasts a comprehensive and proficient education system. Thus, what sets this college apart? Please review the following highlights:
1. Instruction in the 4 Japanese language skills (reading, writing, listening, and speaking).
2. Formatted curriculum and course design.
3. Academic and career counseling.
4. Lesson for JLPT and EJU.
5. Excellent learning facilities and environment.
In addition, the points of the above features are designed to achieve the main goal of this college. The main goal is to produce graduates who are highly qualified Japanologists, who have a cultural understanding, who are able to work internationally, and who are well educated.
School Main Services
In addition to the benefits provided by the features, we would like to highlight the services offered by Kansai College. This section serves as a reference to learn more about the college. What types of resources and services are available to enrolled students? Please review the following list:
| | |
| --- | --- |
| Services | Details |
| 1. Housing | The school provides facilities for a comfortable place to live with affordable costs for international students such as a school dormitory, homestay, and shared house. |
| 2. Commuter passes and discount | Commuter passes and other student discounts are available when your student ID card ID is issued. |
| 3. Free Wi-Fi | WIFI is available on campus. |
| 4. Free bicycle park | Free bicycle parking is available. |
| 5. Foreign language speaking staff | Staff members who speak different languages are available to assist students in their daily lives. |
| 6. Interactive events | You can interact with Japanese students through many interactive and well-organized events in the college. |
| 7. Library (Book & Manga) | Convenient place to learn and review the lesson you have done. |
| 8. Classroom | Convenient and wide classroom. |
| 9. Computer room | Convenient computer room to support students. |
| 10. Audiovisual room | A very high-quality audiovisual room for everyone. |
This college also prioritizes the well-being of its students. If students are seeking part-time opportunities or applying for jobs, the college will provide intensive support.
The Courses and Expenses at Kansai College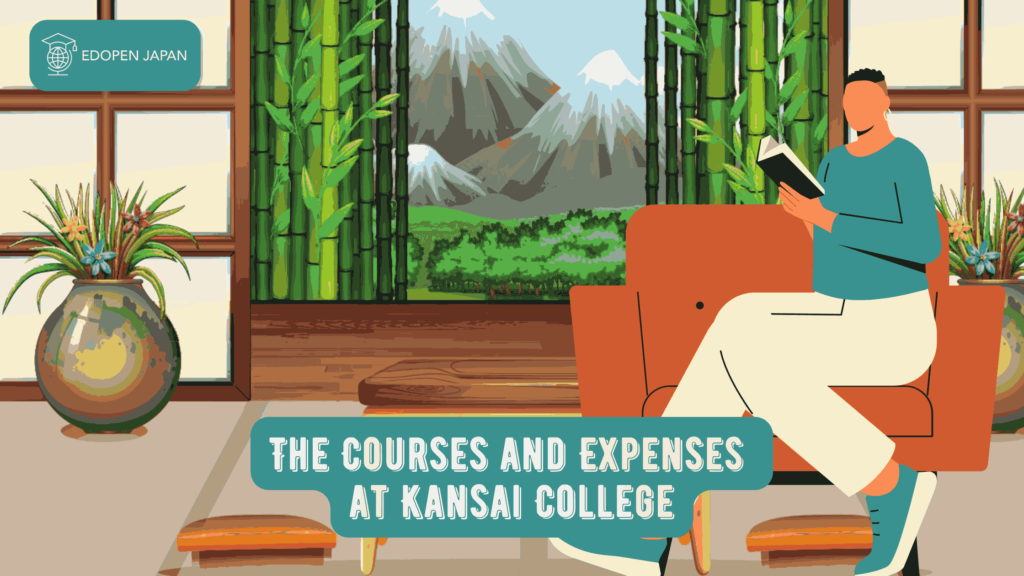 The Courses
Kansai College of Business and Languages typically provides two types of courses: a comprehensive, long-term course and a short-term course. For further information on these courses, please refer to the descriptions provided below.
(1) Long term course
This course is designed for individuals who seek to pursue further education in college and establish a career in Japan through rigorous Japanese language instruction. The duration of this extensive course exceeds one year. The primary objective is to facilitate students in achieving success in EJU, JLPT, and specific predetermined targets.
(2) Short term course
This course offers individuals the chance to enhance their Japanese language skills. The long-term course lasts a total of 210 hours over three months, providing ample opportunity for effective learning.
The Expenses
As for course costs, here's some information. Firstly, it's important to note that costs will vary depending on the duration and type of course you choose. Please refer to the following points for expenses related to long-term courses:
(1) Long-term course (April enrollment)
| | | | |
| --- | --- | --- | --- |
| | Japanese Course (1 year) | Comprehensive Japanese Course (2 years) | Postgraduate Japanese Course (1 year) |
| 1. Tuition Fee | ¥668,000 | ¥1,336,000 | ¥668,000 |
| 2. Social Fee | ¥22,000 | ¥44,000 | ¥22,000 |
| 3. Activity Fee | ¥10,000 | ¥20,000 | ¥10,000 |
| 4. Accident Insurance Fee | ¥7,000 | ¥14,000 | ¥7,000 |
| Total Expenses | ¥707,000 | ¥1,414,000 | ¥707,000 |
(2) Long-term course (October enrollment)
| | | |
| --- | --- | --- |
| | Japanese Course (1.5 years) | Comprehensive Japanese Course (2 years) |
| 1. Tuition Fee | ¥1,002,000 | ¥1,336,000 |
| 2. Social Fee | ¥33,000 | ¥44,000 |
| 3. Activity Fee | ¥15,000 | ¥20,000 |
| 4. Accident Insurance Fee | ¥10,500 | ¥14,000 |
| Total Expenses | ¥1,060,500 | ¥1,414,000 |
In addition, please also note some of the following points.
The textbook fee includes.
The tuition, social fee, as well as activity fee can not be refundable for any reason.
If these tuition fees aren't paid by the due date without notifying the school, then you may not be able to continue attending classes.
Further, for additional information regarding the particulars of this long-term program and the costs of the short-term option, kindly click the button below. We hope you find the desired information.
Details of the Kansai College Expenses
Reviews
According to our research, the Kansai College of Business and Language has received positive feedback in the following areas.
Good curriculum and environment.
Fulfilling lessons and friendly teachers.
Very sincere, supportive staff and teachers.
Also, Kansai College is continually striving to enhance the quality of its service. Thus, it can continue to actively contribute as a bridge for international students to enhance their Japanese language skills and pursue successful careers in Japan.
FAQ about Learning Japanese and Kansai College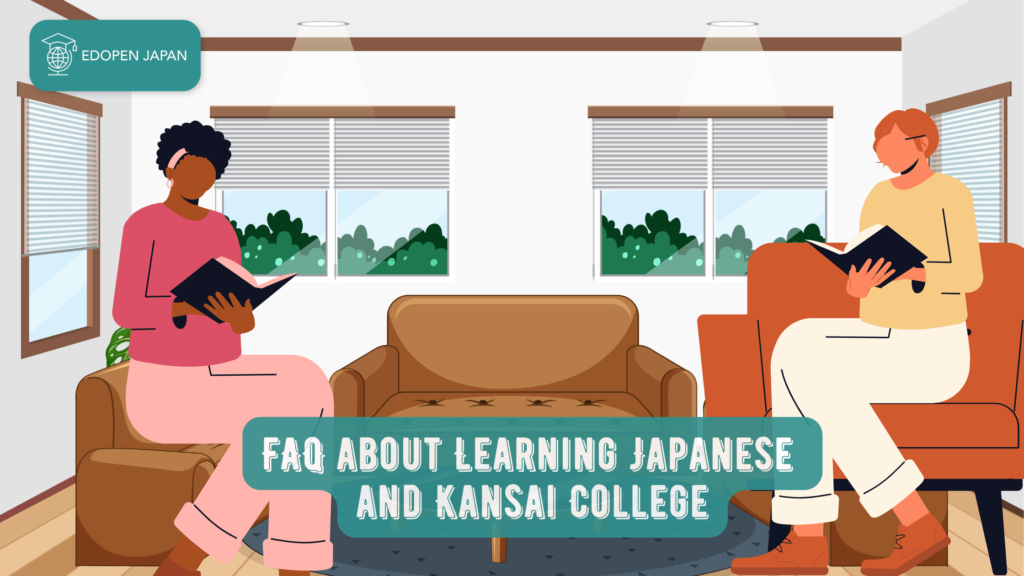 There may be questions on the minds of some potential Japanese language learners who plan to study in Japan directly. In an effort to assist, we have summarized a few frequently asked questions (FAQs) below.
Where is Kansai College of Business and languages?
As previously stated, Kansai College is situated in the third largest city in Japan, Osaka. The institute has been teaching foreign languages since 1967.
How can I learn Japanese by myself?
There are multiple methods to learn Japanese independently, but based on firsthand experience and information gathered from novice Japanese language learners, the most effective approach is to enroll in a Japanese language school located in Japan.
Can I learn Japanese in 3 months?
It's impossible for one to become proficient in Japanese within three months. In fact, one can only expect to master basic Japanese greetings, especially when starting with no prior introduction to the language.
Is 30 too old to learn Japanese?
It's never too late to master Japanese; there is no age limit. As long as this 30-year-old student manages his time properly, he can learn the language despite having a busy schedule.
Hopefully, this FAQ is a useful resource for answering your questions about our business. Please feel free to reach out to us for more detailed information!
Conclusion
In conclusion, we kindly request that you reconsider the aforementioned points. Please inform us of your thoughts regarding the information presented. We welcome any feedback, as well as suggestions for future improvements. We sincerely hope that you have gained valuable insight into Kansai College of Business and Languages.