Do you need the most complete and up-to-date information about high school in Japan? Starting from how the education system differs from that of the US, how long is the compulsory education period, the types of schools available, the pros and cons of the current education system and various other important things about high school in Japan.
Don't worry, in this article we have compiled the latest, most complete and reliable information just for you. If you are planning to move to Japan and study at a high school in the near future, or if you just want to know more about what life is really like for high school students in Japan, you can use this article as a reference.
For example, what are the required subjects studied by high school students in Japan? Is there any difference with your country? We will try to describe everything here. Not only that, but we will also check what the school life of high school students in Japan is like. Is it really like what is depicted in manga or anime? Let's find out more in this article!
Introduction to High School in Japan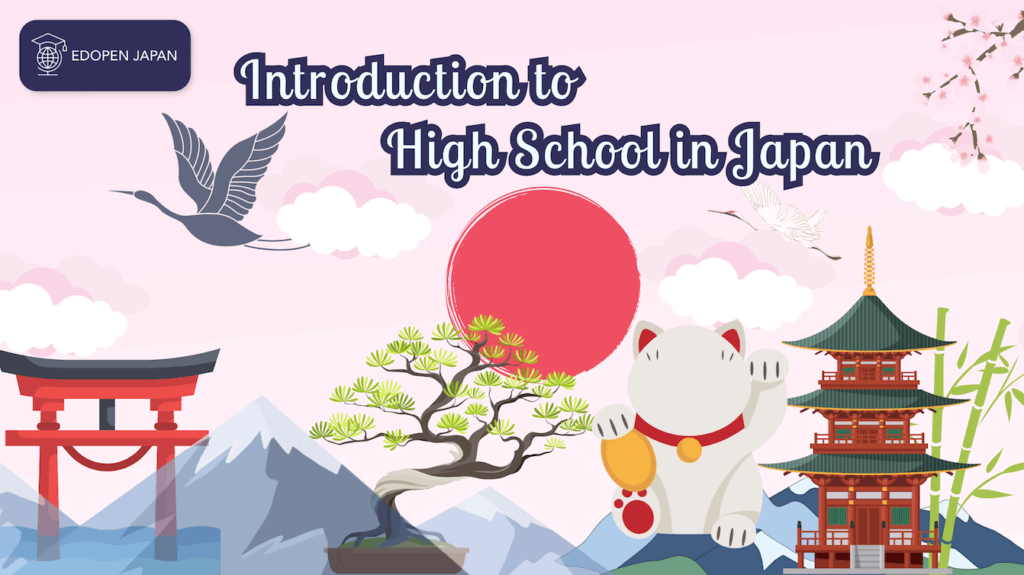 1. Japanese Education System
The Japanese education system is generally divided into 4 levels: Elementary school (小学校 syōgakkō, 6 years), junior high school (中学校 chūgakkō, 3 years), senior high school (高等学校 kōtōgakkō, abbreviated as 高校 kōkō, 3 years), and university (大学 daigaku 4 years). Among them, junior high school in Japan covers the seventh to ninth grades, and senior high school in Japan mostly covers the tenth to twelfth grades.
Moreover, students between the ages of 12 and 15 attend junior high schools, which focus on academic studies, and students between the ages of 15 and 18 attend senior high schools. Although senior high school education is not compulsory in Japan, as of 2010, 98.8% of all junior high school graduates entered high school. Among high school graduates, 83.5% go on to universities, junior colleges and technical schools.[1]
Then, to enter, students typically take an entrance exam in Japanese, mathematics, science, social studies, and English, whether it is a standardized exam for all public high schools in the prefecture or a test created by a private high school for that school alone.
According to the Ministry of Education, Culture, Sports, Science and Technology-Japan, most junior high schools in 2010 were public schools; 7% were private schools.[2] There are secondary schools that a school provides 6 years of coherent education combining junior high school and senior high school education. 33.3% of them are private schools.
This type of secondary school has a unique curriculum. The school I went to was such a school (Christian girls' school founded by a British priest) with special curriculum such as Bible study, English conversation class taught by American teachers, and violin classes. Since they were keen on English, there were overseas exchange programs.
Fortunately, I was able to join them and study at a Christian school in New Zealand for one year, which helped me improve my English and gave me an advantage in securing a job with an attractive salary. At ¥552,592 ($3,989 USD) per student, the cost of private schools was four times that of public schools at ¥130,828 ($934 USD) per student.
2. High School Curriculum in Japan
In general, senior and junior high schools in Japan have limited autonomy in developing their curriculum or selecting their textbooks. Instead, although the latter are written and produced in the private sector, the Ministry of Education has the final say on all content and materials. This is often controversial with our neighboring countries such as China and Korea from the perspective of our history back to the 20th century around World War I and World War II.
Typically, students take three years each of mathematics, social studies, Japanese, science, and English, with additional courses including physical education, music, art, and moral studies. In particular, social studies in Japan is divided into civics, geography, Japanese history, world history, sociology, and politics/economics.There are a large number of required courses and a small number of electives.
3. Japanese Education System Problems
Problems that the current Japanese education system itself holds are often heard as follows:
Lack of competition among educational providers
Limited diversity of textbooks and materials prevents students from new educational materials and methods that suit their different characters. Educational theories are fixed and not diverse.
Leisure time lost to exam wars
Junior and senior high school students face the anxiety of high school and university entrance exams. More than half of them go to cram schools that end late at night. Returning home after 10 o'clock at night is quite common.
Lack of development of unconventionality/creativity
In order to be competitive with other Asian countries that have been rising and growing in the economy, Japanese industries must increasingly rely on creativity and unconventionality. However, Japanese education is still stuck in exam wars focused on acquiring conventional knowledge.
It is fortunate that all the teachers at the private high school I attended more than 20 years ago had unique characteristics and their own world views on various issues. They also emphasized diversity and allowed students to do the same. One of the excellent lessons they taught me was to study abroad early in life to broaden one's horizons and discover and develop unexpected talents.
Types of High Schools in Japan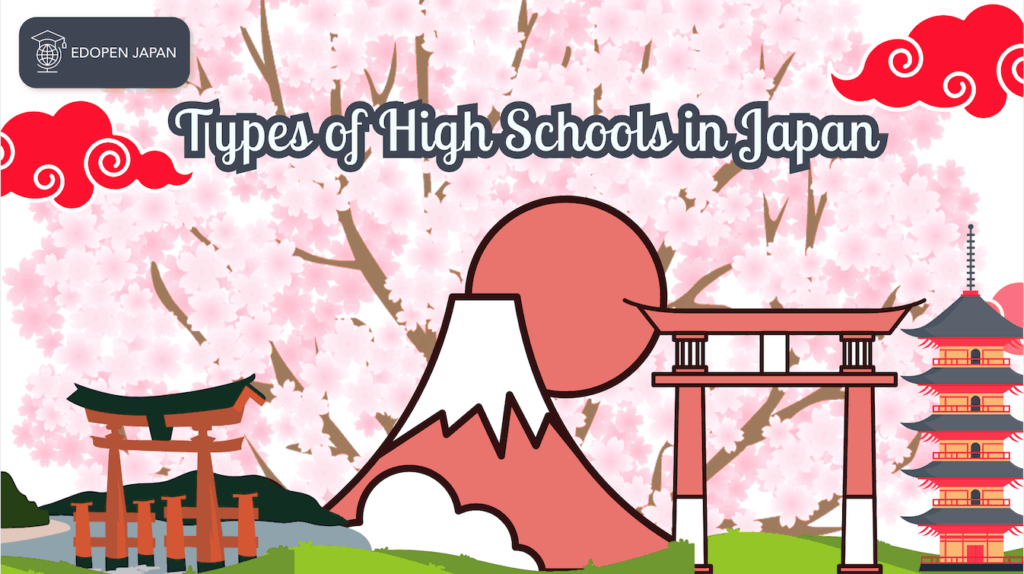 There are several types of high schools in Japan, which can be divided into the following 5 types:
Elite Academic High School
This school usually sends most of its graduates to well-known national universities.
Non-elite Academic High School
Graduates from this school will usually go to secondary colleges, private specialized schools, and public schools with less difficult competition.
Vocational High School
The school offers specific skill courses such as agriculture, nursing, and fishery. In addition, graduates will work full-time in companies.
Comprehensive High school
A comprehensive high school is a school with a concept similar to community high schools in America.
Afternoon High School
This school provides classes for students with financial limitations to continue working in the morning and studying in the afternoon.
Different types of high schools in Japan have different educational systems. Each is here to meet the needs of students in their academic fields, but according to their abilities.
School Life in Japanese High School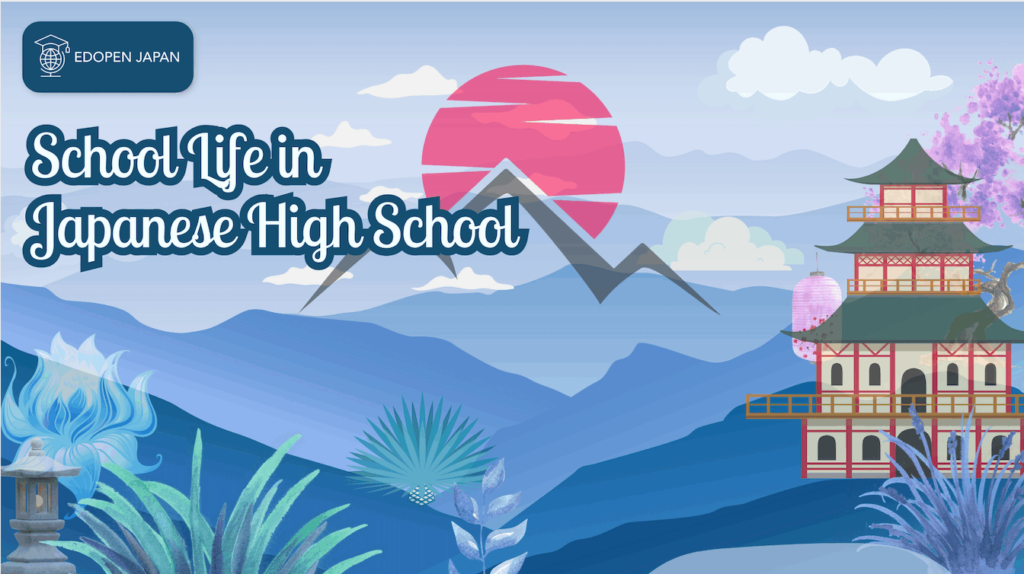 Are you excited about the idea of studying at a Japanese high school? In the meantime, you may want to get an idea of what school life is like in Japan before you consider a specific study plan, such as how much it will cost, in which city and school you want to study, how to obtain a student visa, and so on. The following information about cultural differences may help you visualize.
1. High School Uniform in Japan
In Japan, school uniforms are much more common and mandatory for high schools. The uniforms vary from school to school, but generally there is a requirement to wear the uniform. Uniforms are also usually required for physical education.
In addition, the rules regarding personal grooming habits used to be much stricter than in schools in the United States. Girls are not allowed to shorten their uniform skirts, while boys are not allowed to straighten their pants. Each school has its own rule book. It is interesting that the popular design of socks depends on the trend of a certain generation and changes from time to time. That is why the length and type of socks are strictly regulated by school rules!
At school, students must change their street shoes and wear inner shoes. Those with red color for girls and blue for boys (my girls school has only light blue ones). Tweezing your eyebrows, wearing makeup, and dyeing your hair are also forbidden, not to mention getting tattoos is out of the question!
School uniforms sound negative and are treated as a symbol of monotonous, boring outfit often referred to as a lack of individuality. However, they are economical and convenient, avoiding time to choose so that students can focus on more important matters, which is usually study, just like Steve Jobs.
Also, some students whose schools have history and tradition are proud of their uniforms. At the time I graduated from high school, our uniforms had high value and could be sold with high price among manias (but I didn't).
2. How to Go to High School in Japan
Japanese high school students do not drive. Many of them either walk or ride bicycles, while others must take public buses and trains for certain distances. It is not uncommon for students to spend two or more hours a day on public transportation. Many people usually use bicycles every day and public buses and trains for rainy days.
3. Daily Activities
In the morning, most schools have a weekly school-wide assembly. Students gather in their classrooms for the day's learning. The school day begins with classroom management tasks such as taking attendance and making announcements.
At the end of the school day, all students participate in the school clean-up. They sweep the classrooms and hallways, empty the trash cans, clean the toilets, wipe down the blackboards and erasers, and pick up litter from the school grounds.
4. Japanese Club Activities
Club activities take place every day after school. Teachers are assigned as sponsors, but often the students themselves determine the club's daily activities. Students can only join one club and rarely change clubs from year to year.
In most schools, clubs fall into two categories: sports clubs (baseball, football, judo, kendo, track, tennis, swimming, softball, volleyball, rugby) and cultural clubs (English, broadcasting, calligraphy, science, mathematics, and yearbook). Club activities provide one of the most important opportunities for peer socialization.
Sports clubs are stricter than cultural clubs. I joined the volleyball club and the training was incredibly hard. Almost every weekend and even on national holidays, we are obliged to go to school and participate in training. It was extremely difficult to quit. Sometimes I have a nightmare where I am still in the club and I am not allowed to quit!
To reduce the burden of club activities on students and teachers, the government formulated a guideline in 2018 to limit the days and hours of activities: more than two days of rest in a week, less than 2 hours on weekdays, around 3 hours on weekdays (the guideline is not mandatory and there is no punishment for not following it).
FAQ about High School in Japan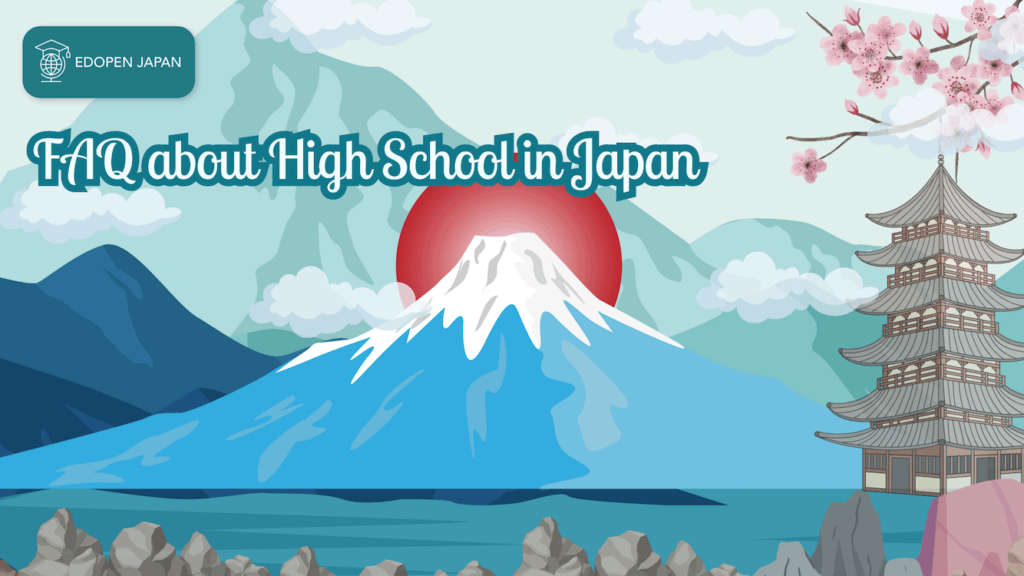 Here are some answers to questions you may have about high school in Japan. Don't hesitate to contact us if you have more questions!
How Many Years is High School in Japan?
Three Years. The elementary school system in Japan is 6 years, junior high school is 3 years, and high school is 3 years. After that, 2, 3 or 4 year college depending on the degree you want to take.
What are High School called in Japan?
Junior high schools are called 中学校 (chūgakkō) and senior high schools are called 高等学校 (kōtōgakkō, abbreviated to 高校 kōkō).
How Old do You Graduate High School in Japan?
In general, high school students in Japan graduate at the age of 18.
Is High School in Japan Free?
Tuition for public primary and secondary schools is free for everyone, including foreign students. However, there are additional costs such as lunch, school supplies, uniforms and other fees.
How Long is School Day in Japan?
Approximately six and a half hours. On average, students should be at school by 8:45 a.m. and school ends at 3:15 p.m. After school, however, students usually participate in clubs, extra-curricular studies and various other activities.
We really hope that you can get answers to questions that might confuse you about high school in Japan. Please share your comments in the comments section if you have experience studying or visiting high schools in any cities in Japan.
In addition, if you are currently looking for information on international schools, top universities in Japan, and more, please read our articles below!
Top 10 Universities with the Best Arts Program in Japan
Top 10 Medical Universities in Japan
The Acceptance Rate of Sophia University: All Important Things You Need to Know
Conclusion
The Japanese education system is generally divided into 4 levels: elementary school, junior/senior high school, and university.
Most high schools in Japan (junior high school and senior high school) are public schools.
In general, junior and senior high schools in Japan have limited autonomy in developing their curriculum or choosing their textbooks.
Problems in the Japanese education system, such as the lack of competition among education providers, the loss of free time due to exam wars, and the lack of development of unconventionality/creativity.
There are several cultures among high schools in Japan that differ from the US. For example, Japan has a junior high school uniform, strict school rules, and Japanese club activities.
References
1 MEXT. About the Current State of High School Education. Retrieved 10 November 2021.
2 MEXT. Promotion of Private Schools. Retrieved 10 November 2021.