Fukuoka (福岡) is the largest city in Kyushu, Japan. It is one of the ten most populous cities in Japan. Due to its proximity to the Asian mainland (closer to Seoul than Tokyo), Fukuoka has been an important port city for many centuries. It was occupied by the Mongol invasion forces in the 13th century.
Do you dream of studying in Japan? Or are you looking for the best place to learn Japanese? Learning Japanese in Fukuoka could be a once-in-a-lifetime opportunity that you will not want to miss! We can't wait for you to make new friends, discover incredible places, and taste the amazing local food for the first time.
Then, do you know which is the best language school to enroll in in Fukuoka? That's why we would like to introduce you to the 8 best Japanese language schools in Fukuoka that you should definitely know. We hope this will help you.
In addition, if you're also looking for the best Japanese language schools in Japan and other major cities in Japan, check out our recommended reading and research as follows!
Read also:
9 Most Popular Japanese Language Schools in Osaka
10 Most Popular Japanese Language Schools in Kyoto
6 Great Japanese Language Schools in Hokkaido
What is the benefit of studying Japanese?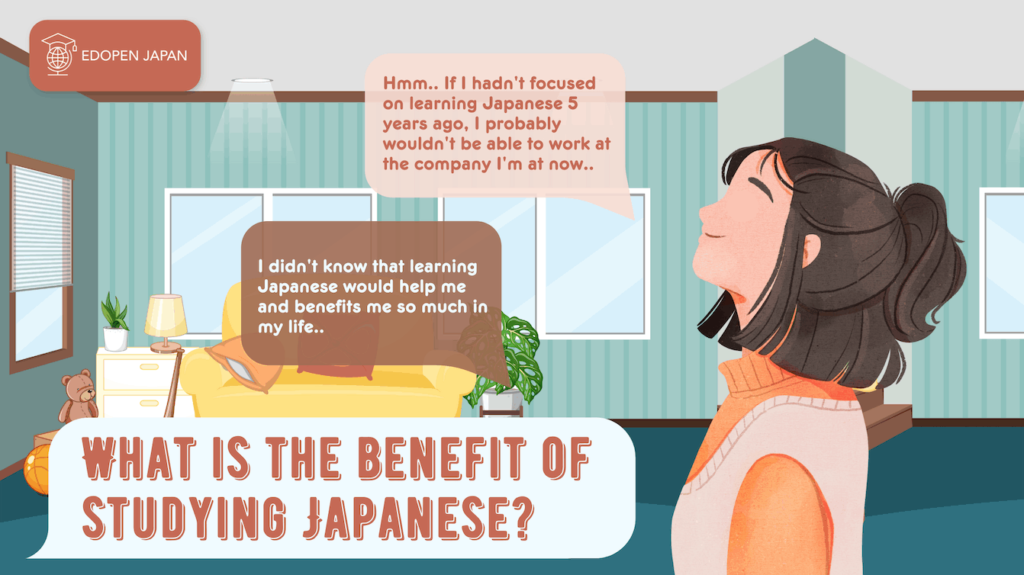 Learning Japanese may have been on the top of your list in your current life plan. Of course, there are many benefits that you can get by learning Japanese. What are the benefits of learning Japanese? Some of the following benefits may increase your enthusiasm for learning Japanese.
Mastering Japanese will make it easier for you to learn and understand Japanese culture more deeply.
Make it easy for you to enjoy a variety of extraordinary Japanese art such as manga, anime, Japanese drama, and various other great works of art.
Master Japanese means expanded job opportunities and significant career advancement if you dream of being part of a Japanese company.
Japanese can be a way for your personal growth and make you smarter.
Mastering Japanese will be a great capital for you to learn Korean and Chinese.
Whether you realize it or not, learning Japanese will improve the quality of yourself and your life. Do you agree with the above five points? Please share your experiences and opinions about learning Japanese in the comments section below!
A brief overview of Fukuoka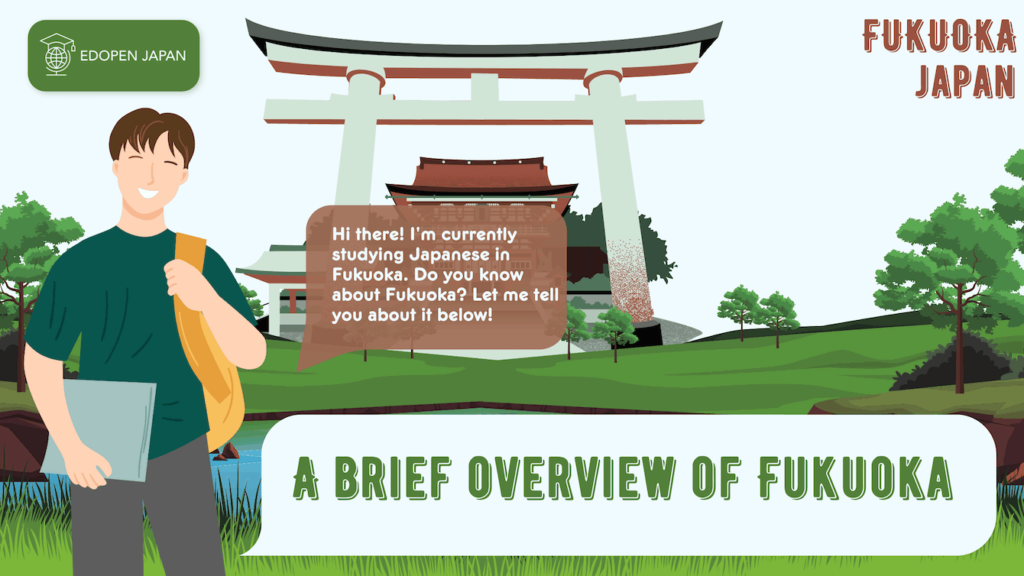 Fukuoka or in Japanese 福岡 is known as a port city that has played an important role in Japan for centuries. This city is the 5th largest city as the most populous city in Japan and is located on the northern coast of Kyushu. Fukuoka consists of 2 parts, the commercial city of Hakata in the east and the castle city of Fukuoka, which includes Tenjin in the west. The two cities merged in 1889 to form the current city of Fukuoka.
To get to Fukuoka, you can land in Tokyo or Osaka and then take a direct Shinkansen or plane to this beautiful city with a relatively short trip. Fukuoka is also known to be very close to South Korea compared to even Tokyo. You can easily visit South Korea by sea or by air with only a very short flight of about 1 hour.
Furthermore, Fukuoka is a city that has warm temperatures compared to other cities in Japan. The people of Fukuoka are also very warm, open and positive towards foreigners. If you are looking for cheap and delicious Japanese food, then visit Fukuoka! Various festivals that are usually held in this city are also very interesting and an attraction. If you visit Fukuoka, don't miss one of the 2 big festivals, the Hakata Dontaku Festival or the Hakata Gion Yamakasa Festival!
Why study Japanese in Fukuoka?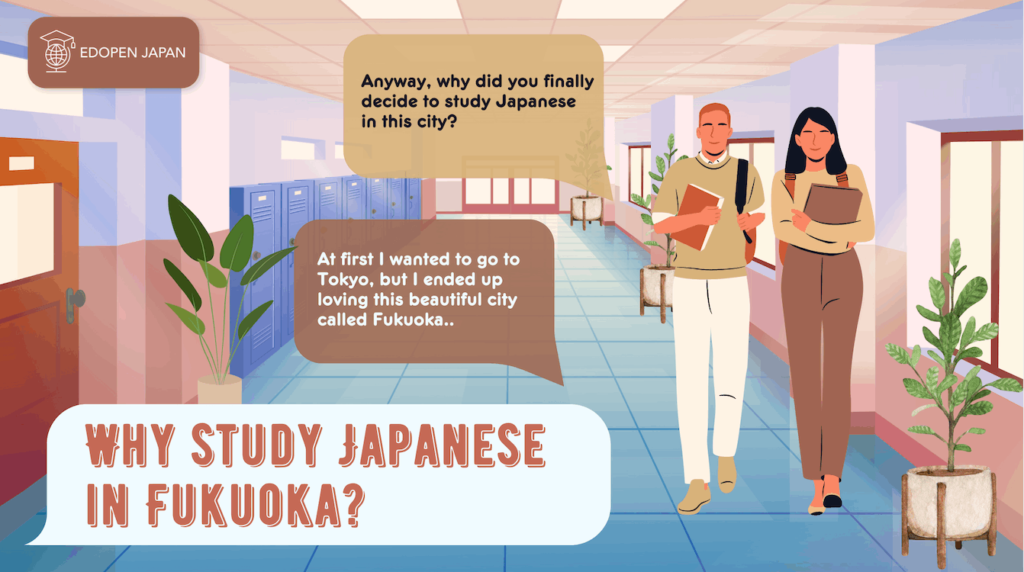 Fukuoka offers a vibrant life that is no less than any other major Japanese city! The very warm atmosphere of life in Fukuoka has always been the main undeniable reason that makes Fukuoka very famous in the eyes of foreigners.
In addition, its location, which is very close to the ocean, will provide you with a more beautiful and comfortable living experience. Then, the cost of living in Fukuoka is much lower compared to other big cities like Tokyo.
Fukuoka also has various Kyushu heritage historical sites that will enhance your knowledge and understanding of Japanese culture. Fukuoka's food, shopping and people are also warm.
Therefore, considering Fukuoka as your place to study Japanese could be the best choice of your life!
Why Fukuoka is better than Tokyo?
The 2 things that really stand out about the differences between Fukuoka and Tokyo are the population and the cost of living. These two points are very important to consider as a prospective student who wants to study Japanese.
In addition, Tokyo is a very crowded and busy city. If you are not used to these conditions, Fukuoka, which has a much smaller population compared to Tokyo, will make your life while studying Japanese more comfortable and enjoyable.
The second point is the cost of living. You can save much more if you live in Fukuoka. The cost of renting a small apartment in Tokyo alone can be 2 to 3 times higher than in Fukuoka. In addition, other costs of living, such as shopping for daily needs, are likely to be much higher.
In addition, trains and other public transportation are more comfortable to use because there are fewer people. You don't have to jostle or stand for hours to get to your Japanese language school in Fukuoka.
Now the choice is yours!
8 Most Popular Japanese Language Schools in Fukuoka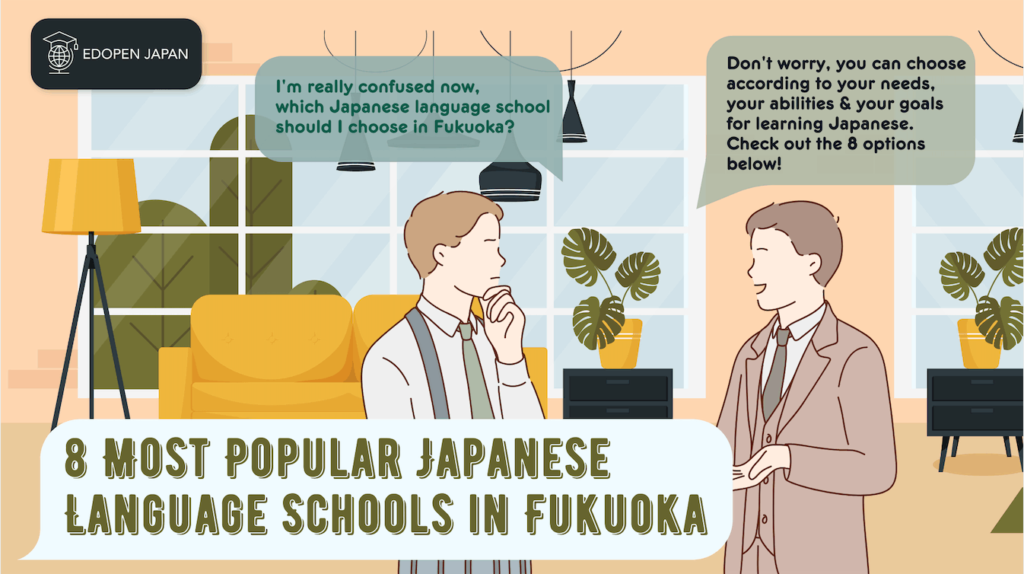 1. Fukuoka Foreign Language College (FFLC)
Fukuoka Foreign Language College (FFLC) is a vocational school specializing in foreign languages and international education. This school is located in the city of Fukuoka, 5 minutes on foot from the JR Yoshizuka Station, West Exit.
In addition, FFLC is an accredited institution of higher learning with a history of over 110 years. This foreign language school is open to both foreign and Japanese students interested in learning languages.
If you are someone who is serious about the Japanese language and want to learn quickly, but still have some free time, this school might be just for you!
FFLC Features:
1. FFLC accepts students from many countries around the globe and from Japan.
2. Japanese students and international students from over 30 countries attend FFLC.
3. In this high-level global college, you can experience cultural sensitivity and global awareness in addition to language skills.
4. This school is medium to high intensity, which means that the material is taught at a very efficient pace. In general, you can expect to spend about 2 hours a day studying outside of class, depending on your level.
2. Aso Foreign Language Tourism and Patissier College
Next, I would like to introduce the Aso Foreign Language Tourism and Patissier College. This college provides a language learning environment for individuals who wish to attend a Japanese college, graduate school, or technical college and then work in Japan or abroad.
Furthermore, the course is also designed for people who have goals other than further education, such as working in Japan. If you study at this school, you will be able to learn, speak, read and write Japanese. The curriculum of this school will develop your skills in every area.
ASO Features:
1. One of the departments of a technical school that offers post-secondary education.
2. Classes have few students and cover a wide range of topics, from the basics of Japanese to Japanese culture. It is possible to mix with Japanese students studying in other courses at the college.
3. Classes are divided by level, so students will receive instruction that matches their Japanese language skills. A supportive curriculum is also offered that includes test preparation to help students achieve their goals, such as passing the JLPT at various levels.
3. Asia Japanese Academy (AJA)
Asia Japanese Academy (AJA) is a Japanese language school established in April 2001. Since 2019, students from 9 different countries have been learning together here. To reach this school, you can take 15 minutes by bus from Nishitetsu-Takamiya Station.
Additionally, people come to this school to learn Japanese to meet various needs. Such as applying for higher education, getting a job, JLPT, or other general purposes. In addition, AJA offers various programs to learn about Japanese culture and society. AJA supports every student to enjoy a fulfilling life in Japan.
AJA Features:
1. Thorough preparation for the Japanese proficiency test/university entrance exam.
2. Classes are divided according to the level of Japanese proficiency, and instructions are given according to the student's aptitude. Close ties to the community through participation in local events.
If you want to look for more information about this school, please click the following link.
4. AIWA Language Institute
The Aiwa Language Institute is a Japanese language school in Fukuoka with a very beautiful educational philosophy. This is one of the most prestigious language schools in Kyushu.
Further, in this very well-known Japanese Institute in Fukuoka, students can learn foreign languages easily. As well as efficiently promote international mutual understanding.
In the classroom, students are not only studying through language acquisition but also through a very good-structured educational system. They emphasize the operational aspect and promote the development of each individual.
Moreover, the origin of language study is communication. As stated, the goal at Aiwa Language Institute is to create an environment in which students can effectively learn the Japanese language. This institute strives to create a fun and easy-to-understand process for its great Japanese language education system.
Aiwa Features:
1. A unique teaching method developed by the school's teachers themselves.
2. Affordable tuition fees. Aiwa also provides student apartments to support their student.
3. Close ties with higher education institutions to facilitate student enrollment. Two sister professional schools (Kyushu Business School and International Animation College).
4. Scholarships or living support for the best and hardest working students. The staffs as well as teachers are really kind and really helpful to find "part-time job or arubaito".
5. Fukuoka Japanese Language School (FJLS)
To get to Fukuoka Japanese Language School, you only need to walk about 1 minute from JR Hakata Station. This is the best place to live in Fukuoka.
In addition, you can experience the base for cultural exchange here. It is also the easiest place to find a part-time job for international students.
Fukuoka Japanese Language School not only focuses on the course of learning a language but also supports the student in a family-like atmosphere so that they can consult anything from daily life up to the psychological aspects.
FJLS features:
1. Currently, students from Asia and more than 10 other countries and regions are studying. You will be able to learn and understand a different culture.
2. This school opens the door for you to learn without distinction of country or region. A class of 20 students per class is trained.
3. The teacher advances the class according to the level of the individual. This school also offers a varied curriculum where students feel close to nature and have a lot of fun. In addition to classes, extracurricular activities are also included in the program to support and improve the lives of the students.
6. Genki Japanese & Culture School, Fukuoka
The GenkiJACS is a Japanese language school in Fukuoka and Tokyo, Japan that teaches Japanese for communication and daily life. Start learning Japanese with us every Monday, and study from 2 weeks to a year! Student visas for long-term study are available at our Fukuoka branch. This school offers various Japanese courses, such as general Japanese courses, standard Japanese courses, Japanese plus traditional culture, Japanese intensive courses, Japanese long-term courses, and Japanese plus pop culture.
GENKI JACS Features:
1. This school offers small classes. Classes consist of a maximum of 8* students and an average of about 6 students. Unlike almost all other Japanese schools, 90% of the students come from the USA, Europe, and Australia.
2. School tailored the course content to the specific needs of students. This school customizes classes to meet your needs.
3. This school is one of only two Japanese schools accredited by the International Association of Language Centers.
4. Acknowledged as the first Japanese school ever to be voted a Star World Language School. This school also welcomes almost all levels.
7. Meiji Academy
Meiji Academy opened its doors to great students in Fukuoka in 2014. Unlike most other Japanese language schools. An international team of young and passionate graduates established the Meiji Academy. They built this academy with their deep knowledge of the challenges of studying and living in Japan.
The common problems in many Japanese schools are large classrooms, a fixed curriculum, and no flexibility in learning. As well as no personalized service, to name a few. Now, this academy come to solve these problems.
As stated, Meiji Academy will support you as an international student. This academy offers small classrooms, personalized services, and customized schedules to help you achieve your study goals.
Meiji Academy Features:
1. Meiji Academy offers small classes. Maximum 6 students per class guaranteed! You can get a flexible schedule. Start whenever you want!
2. Able to join dedicated teachers with years of teaching experience for a successful learning experience! Welcome, all-level learners.
3. Able to participate in social events and day trips throughout Kyushu and meet friends from around the world!
8. Kyushu Foreign Language Academy (KFLA)
Kyushu Foreign Language Academy (KFLA) is located in the center of Fukuoka. There is a subway station and a bus stop right in front of the school. Therefore, you can easily reach other parts of the city from the school. Near the city center, students will find everything they need during their stay.
KFLA Features:
1. KFLA currently has a total of about 70 teachers with doctorate degrees as well as master's degrees In addition, all KFLA teachers are licensed to teach Japanese. Some of them have specialized knowledge in business, management, linguistics, sociology, and science and technology.
2. This school is able to support the entire study of each student's favorite subjects.
3. KFLA has equipped dormitories and is supported by our professional staff in both life and work.
4. KFLA makes sure that its students can relax and study and have a pleasant study life.
FAQ about learning Japanese in Fukuoka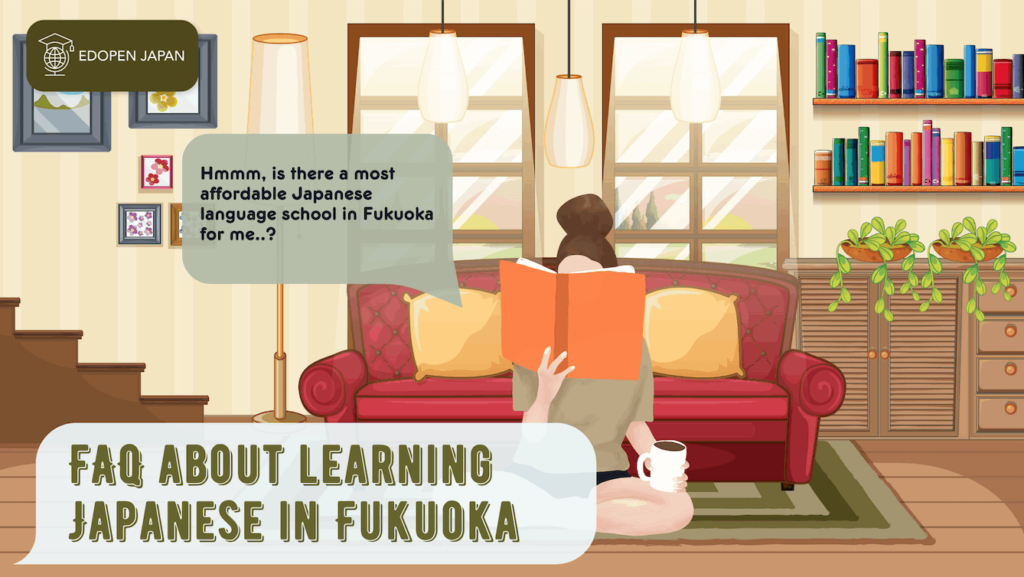 Here are some questions you might have about studying Japanese in Fukuoka. To make it easier for you and to help you avoid confusion, we also present the answer here just for you!
How long does it take to learn Japanese in Fukuoka?
The average length of an entry-level program is usually 4 to 6 months, both online and in-person.
What is the best place to learn Japanese in Fukuoka?
The eight list above may be your choice. Please check again the requirements and facilities of each Japanese language school in Fukuoka above and match them to your needs and abilities.
What is the cheapest Japanese language school in Fukuoka?
Please check the tuition fees for each of the Japanese language schools in Fukuoka using the link we have provided above.
Do you have other questions about Japanese school fees in Fukuoka? If so, please share them with us in the comment section below! We hope that through this discussion you will have a deeper and more comprehensive understanding of Japanese language learning and Japanese language schools in Fukuoka!
Conclusion
To conclude this article, we would like to provide you with a summary of the following points:
Fukuoka is known for its ancient temples, beaches and modern shopping malls, including Canal City. Undoubtedly, Fukuoka is a vibrant city that will hold a special place in your heart. Once you have lived there, you will have an enchanting memory.
The warm and vibrant atmosphere that permeates every corner of Fukuoka City will make you feel at home in no time.
As the 8 most popular Japanese schools in Fukuoka have been introduced, what do you think about them? Can you get one to enroll in? Leave your feedback below!
Thank you for spending your precious time reading this article. We hope you can enjoy your life and study in Fukuoka. See you in the next article!