Hokkaido is the northernmost of Japan's four main islands. It is bordered by the Sea of Japan (East Sea) to the west, the Sea of Okhotsk to the north, and the Pacific Ocean to the east and south. The administrative capital is Sapporo.
Hokkaido is also famous for its volcanoes and natural hot springs. Studying Japanese language and culture in Hokkaido is very valuable. You will continue your studies in a well-rounded educational system, learn the Japanese language and a unique new culture, and gain an international perspective! One of the most important things is that you can enjoy nature in Hokkaido.
Want to find the best Japanese language schools in Hokkaido to enroll in? Here is the perfect list for you! Please go through it!
Moreover, if you wish to discover and compare the finest Japanese language schools in other Japanese cities, we recommend that you read our suggested readings below.
Read also:
8 Most Popular Japanese Language Schools in Fukuoka
9 Most Popular Japanese Language Schools in Osaka
9 Best & Most Popular Japanese Language Schools in Tokyo
Why should you learn Japanese in Hokkaido?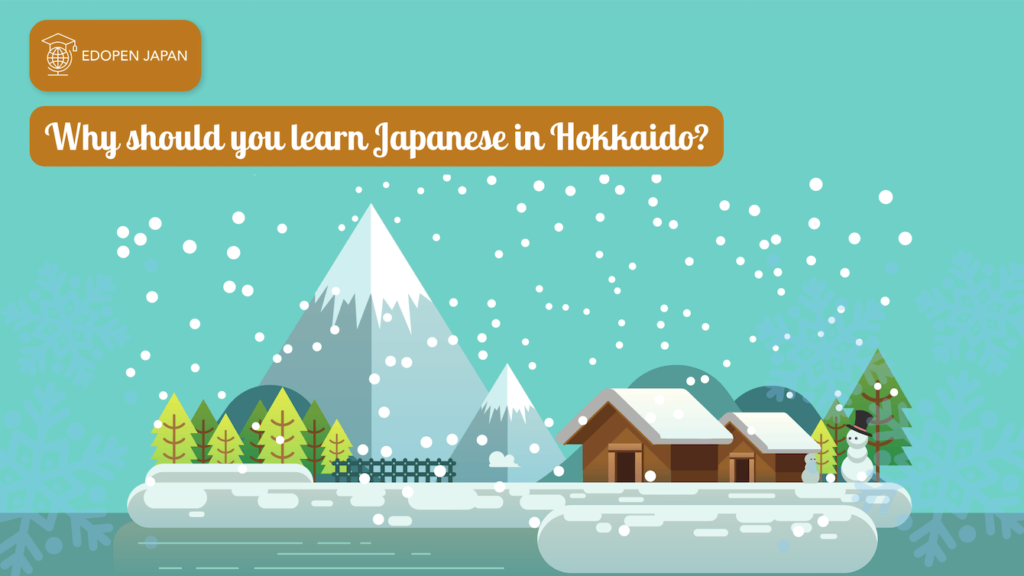 Hokkaido is a hidden gem; the island becomes magical in winter with snow festivals every year. If you love snowboarding and skiing, Hokkaido is the best place to enjoy these sports. Hokkaido is also a great place to study because it is not as crowded as Tokyo or Osaka. You can do fun after-school activities, learn in a friendly environment, and feel at home in the coolness of Hokkaido.
Besides learning Japanese, you will find a very strong agricultural environment in Hokkaido with the opportunity to learn and taste Hokkaido's famous agricultural products. Hokkaido's farms produce 60% of Japan's dairy products, and its ramen is famous for being served with butter on top.
There is no doubt that due to its convenience, stunning natural scenery, history, and other sides you can get to accompany Japanese language learning, Hokkaido is one of the best places as part of your reference to choose a place to learn Japanese directly for both beginners and advanced students in Japan.
Hokkaido vs Tokyo: Which is Better for Studying?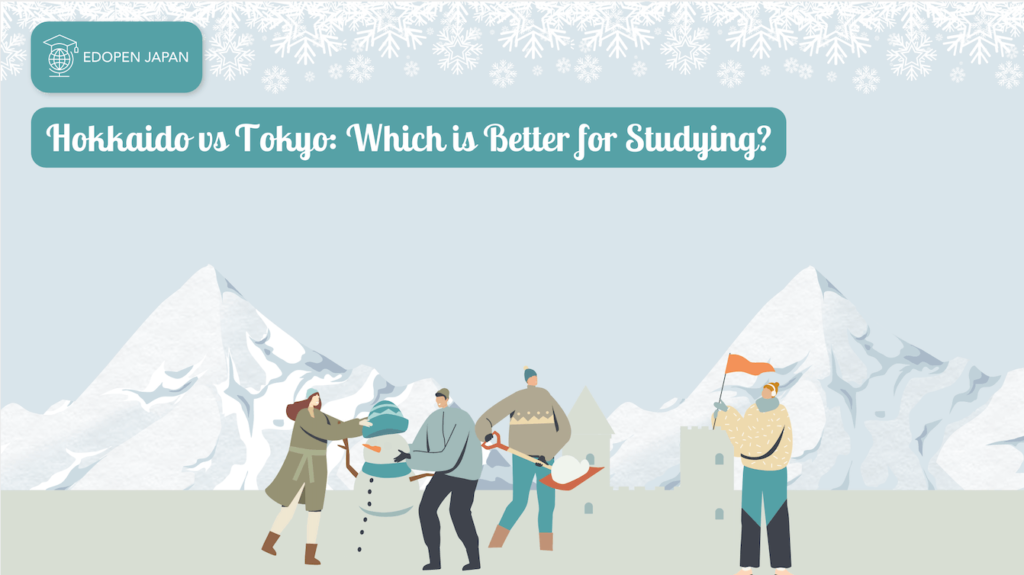 Tokyo and Hokkaido are very different in terms of the metropolis and natural resources. Tokyo is the center of Japan's modern civilization, and students from all over the world have access to convenient facilities. In contrast, Hokkaido offers beautiful nature, unique gourmet cuisine, a climate suitable for winter sports, and a low cost of living.
Hokkaido is free from the hassles of congested Tokyo but does not lack the shopping and transportation facilities for a convenient lifestyle. The city centers planned and managed in a grid pattern, offer beautiful and fresh urban streetscapes, and the wide streets make commuting to work and school free of congestion.
One of the largest expenses that students will incur is the cost of renting an apartment. Hokkaido is affordable compared to Tokyo, and food is relatively inexpensive when living in Hokkaido.
It can be concluded that if you are looking for a metropolitan place to study with all its sophistication, then Tokyo is the choice, but if you are looking for a comfortable place to study and enjoy the spectacular strokes of Japanese nature, then Hokkaido is the answer.
6 Most Popular Japanese Language Schools in Hokkaido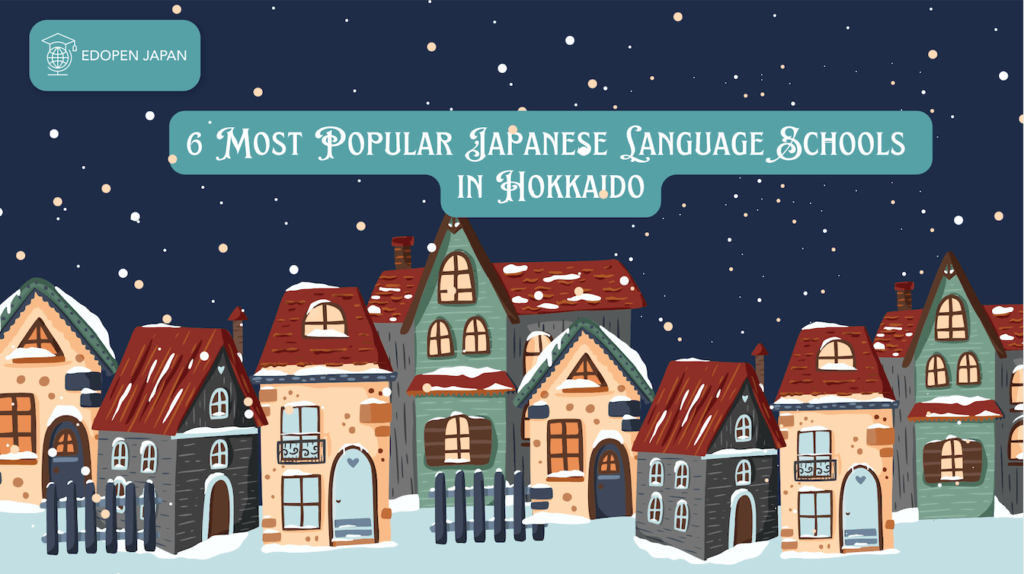 1. Hokkaido Japanese Language Academy (HJLA)

Hokkaido Japanese Language Academy (HJLA) is a Japanese language school located in Sapporo, the capital of Hokkaido. This leading Japanese language school offers Japanese language courses for foreign students who wish to study Japanese.

Also, for students already living in Japan. This school further has classes that can be tailored to any goal, such as travel, sightseeing, and survival Japanese as an extra.

HJLA Features:
HJLA offers a variety of courses where Internationals can communicate with many Japanese people and experience Japan. It is not only through daily classes but also through events. There, students will be able to learn both proper Japanese and proper natural Japanese.
This school also offers a variety of extracurricular activities. With it, you can experience beautiful nature and one of the best food cultures in Japan.
HJLA offers 2 types of courses. They are for people with and without visas. The program without a visa is suitable for those who plan to study long-term in any school abroad. The program with a visa, on the other hand, is suitable for people who already have or will obtain a visa, such as for a work stay, a spouse, etc.
HJLA offers a number of residence halls within walking or biking distance of the school to provide a safe living situation for foreign students.
2. Japanese Language Institute of Sapporo (JLI)
JLI, the Japanese Language Institute of Sapporo, is the number one Japanese language institute in Hokkaido. This institute has the most students enrolled. Its history and achievements have paved the way for a trustworthy Japanese learning environment.
It also continues to evolve by offering classes that are designed to meet the needs of students.
JLI Features:
When you study at JLI, your classmates come from about 25 countries and regions. Hence, you can make Japanese your common language.
In this school, you will meet students from all over the world and future Japanese teachers who are realizing their dreams together. This school aims to create an environment where people help and encourage each other to strive for their dreams.
JLI also provides a secure, safe, convenient, affordable dormitory and apartment for all students.
Join this school, which will open the door to an abundance of cultural exchange events in Sapporo, Hokkaido.
JLI provides support for students who wish to continue their studies. JLI also provides individualized assistance in applying to EJU and JLPT, suggestions and advice on choosing a school, preparing required documents, as well as other important guidance.
3. Hokkaido Japanese Language School
Hokkaido Japanese Language School (Hokkaido JaLS) is located in Sapporo, the largest city on the island. The school specializes in short-term Japanese language courses.
This school has won numerous awards since its establishment in 2012. Hokkaido JaLS welcomes all students and provides a warm, family environment.
Here, international students receive the support they need to succeed. Hokkaido JaLS's main aim is for students to have wonderful, memorable, and profound experiences with Japanese culture.
Where they fall in love with the country and return to study here in the future. Hokkaido JaLS offers their prestigious 6 values for their students as the following.
Hokkaido JaLS Feature:
This school offers qualified teachers, small class sizes, and a proven curriculum to help you achieve your goals.
Here, you'll be able to feel right at home.
You will be assured of the care and support of our staff and teachers. You have the option to choose from a variety of courses and start on any Monday.
Students will have the opportunity to participate in cultural lessons and activities throughout the year for an intense learning experience.
You can make new contacts with students from all over the world and with Japanese locals.
Hokkaido JaLS is located just a 5-minute walk from Sapporo Station, the main city of Hokkaido.
4. IAY International Academy Japanese Language School in Sapporo
IAY International Academy is an accredited school approved by the Department of Justice. This school has also been designated as a proper educational institution for the Japanese language. This makes the document application process very simple in this school.
IAY Features:
Experienced teachers who specialize in Japanese language education deliver lessons in a detailed manner. Thus, students can efficiently acquire practical Japanese language skills.
The school provides life support counselors to listen to students' problems. Regarding their daily life and future courses, and provide assistance in any language. Information sessions for universities and colleges are also held.
Classes are held efficiently in small groups, depending on the level of the students.
IAY offers full support to students who study hard. Nearly 100% of graduates, excluding returnees, advance to higher institutions. The IAY has a good reputation for detailed advising. Many graduates have gotten jobs in Japan after graduating from the university.
There are different types of residence halls based on your goal and the time of the study. IAY helps students so that even students who do not have guarantees within Japan can easily find housing.
Furthermore, the school building is located in the center of Sapporo. It is only a 1-minute walk from the largest park in Sapporo, Odori Park, which stretches from east to west.
There are large underground shopping centers. As well as three subway lines intersect at the nearest Odori subway station. You can take the elevator directly to the IAY. Most students walk or bike to school.
5. Higashikawa Japanese Language School (HJLS)
Higashikawa Japanese Language School (HJLS) is the only public Japanese language school in Japan located in Higashikawa town, Hokkaido. The school provides 2 courses, a long-term course studying for 6 months or 1 year, and a short-term course for 1-3 months. The students are from all over the world aiming to learn the Japanese language.
The HJLS Features:
This school provides 2 courses.
A long-term course for those who want to study Japanese for more than half a year. There are two types of courses, 6 months and 1 year. You will need a student visa to enroll in this course.
A short-term course: Anyone can take this course regardless of their level or age. You do not even need to obtain a student visa for a short period of time.
There is a dormitory in Higashikawa Town where you can study abroad in comfort. Higashikawa Town International House and International House Ma Maison Higashikawa have their own manager, so you can study Japanese at your leisure.
6. Sapporo Language Center
The Sapporo Language Center is located in the center of Sapporo city and is conveniently located.
The school is surrounded by nature and is located near Nakajima Park, which makes for a quiet and relaxing environment.
For students who want to attend college or graduate school in Japan, or find employment in Japan, this school offers an excellent opportunity to learn Japanese.
Sapporo Language Center Features:
Besides classes, the school has also prepared programs for you to experience more of Japanese culture and enjoy Hokkaido to the fullest.
In the summer, the whole school goes on a field trip.
Also, various extracurricular activities are scheduled for each class. You can enjoy Japan and have many new experiences while you are studying at this school.
The school not only can place you in part-time jobs but also helps you find a job after you graduate.
This school offers career counseling such as job search seminars, help with writing application forms and resumes, information about job fairs, and interview practice.
The school can also arrange employment opportunities and short-term company internships for you.
FAQ about Japanese language study in Hokkaido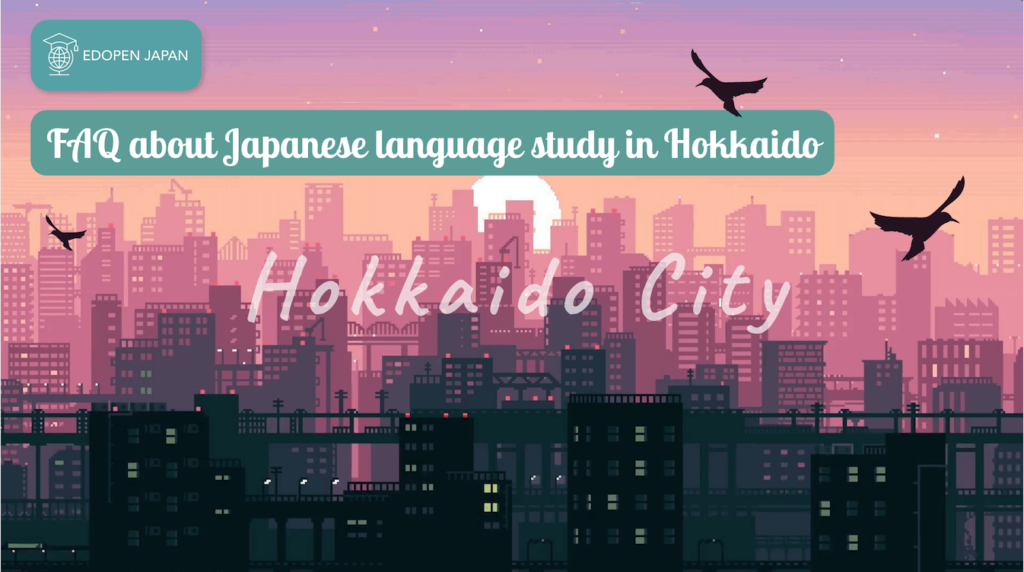 In order to make it easier for you to answer some of your questions, we have put together some of the answers to some of your questions here!
What is the ranking of the best Japanese language schools in Hokkaido?
We have reviewed 6 of the best Japanese language schools in Hokkaido. Check carefully what kind of atmosphere and excellence the school offers and match it with your goals.
What is the cheapest Japanese language school in Hokkaido?
The information provided is so clear, you can click on the link above that has been listed in each school, make sure you choose a school because of quality.
Where can I study Nihongo in Japan?
Almost all major Japanese cities offer them, but many students choose Japanese language schools to study not only in terms of metropolitan cities but the comfort of the learning atmosphere is now a priority, as Hokkaido is on the top list of destinations.
Don't hesitate to ask us any other questions. You'll find it easier to make the right choice of school if you're not afraid to ask, right? Please leave your questions in the comments section below!
Conclusion
Last but not least, I would like to add more points about why you should consider Sapporo as your place to learn the Japanese Language.
Sapporo is fascinating not only for its nature but also as the origin of many kinds of music, fashion, food, sports, culture, and trends.
Compared to Tokyo, prices in Sapporo are cheaper, and it is a pleasant city to live in.
Sapporo is an ideal place to learn the Japanese language and learn more about Japan.
What do you think? Please leave your feedback below for any inquiries. Thank you very much! See you in the next article.