Looking for the best place to learn Japanese in Tokyo? As we all know, Tokyo has everything. It is the hub of business, education, and culture in Japan. These facts make Tokyo an ideal location to learn the Japanese language and immerse in the culture.
In this article, we introduce you to one of the premier language schools: the Intercultural Institute of Japan, also known as Intercult, which boasts 45 years of experience. The institute offers a variety of classes dedicated to teaching Japanese to individuals, companies, and the general public.
For your satisfaction, we provide another reference for choosing the best Japanese language school in the Tokyo area, please check according to your preferred specifications below!
See also:
Akamonkai Japanese Language School, Tokyo
Tokyo Galaxy Japanese Language School
KAI Japanese Language School
About Intercultural Institute of Japan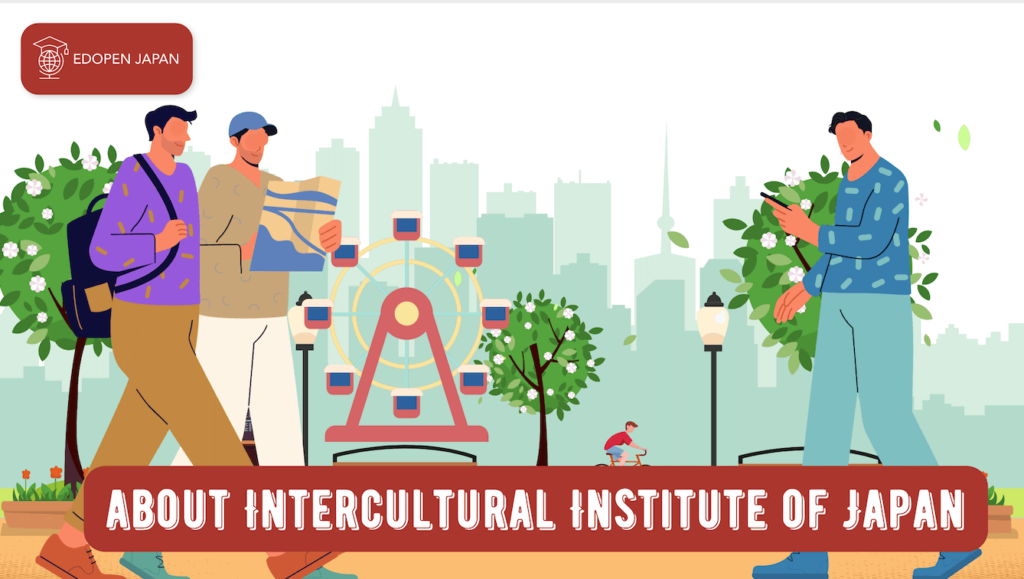 The Intercultural Institute of Japan was established in 1977. This institute has undertaken many tasks to meet the needs of many parties in learning the Japanese language. Individuals, companies, and society as a whole. This renowned Japanese language school has 2 main projects.
The "Japanese Language Teaching Project" and "Japanese Language Teacher Training Project" are the projects. The first project, "Japanese Language Teaching Project" aims to develop human resources. On the other hand, the second project, "Japanese Language Teacher Training Project" is dedicated to training professionals in the field of Japanese language teaching.
Moreover, with its undisputed experience, this school has become a pioneer among the excellent Japanese language schools in Tokyo. This language institute also focuses on creating the ideal learning style. This allows students to use applicable theories that can be directly applied in real-life situations.
Location
The interesting thing about this school is its location, Intercult is located in the center of Tokyo, Akihabara. Akihabara is very famous as an IT center in Japan. Not only that, you will see many people wearing cosplay clothes here.
Therefore, it is very popular among anime, manga, and video game fans. This language institute is also not far from Asakusa. You can feel the traditional side of Japan by looking at the many shrines in Asakusa. It is very rare to find a language school with such a strategic location.
The School Facilities of the Intercultural Institute of Japan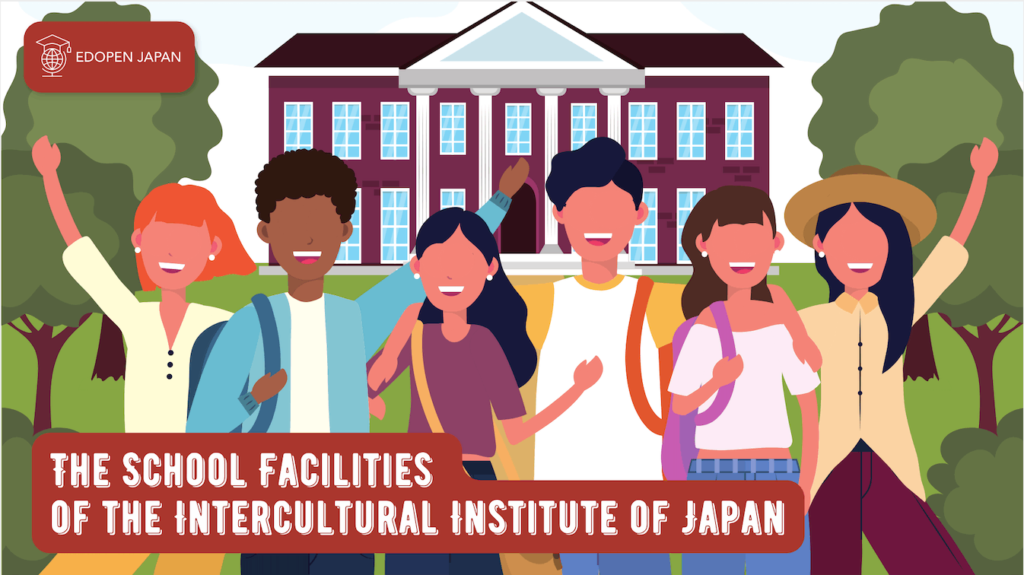 (1) Features
What are the unique features of Intercult? These features are the reason why many people agree and say that Intercult is the leading and premier Japanese language school in Tokyo. Take a look at the details below.
(2) No Less than 45 Years of Experience
With its undeniable experience, this school ranks among the leading Japanese language schools in Japan. This language institute has been a successful part of the pioneering work in establishing Japanese language schools for foreign students in Tokyo.
(3) Applicable Lesson
This school has found the ideal learning system. Here, the theory taught in class can be applied directly to a real situation. What is taught is not only based on what is written in the book. Rather, the material is wrapped in practical knowledge. This makes it easier for students to absorb and apply the material.
(4) Great Training Program for Japanese Teachers
Currently, no less than 5% of Japanese language schools offer Japanese teacher training programs. This school is one of that 5%. Through a balance of theory and practice, prospective teachers can improve their skills to become the best Japanese teachers.
(5) Extensive Global Network
This school has a very extensive global network. This school will help you from the time you arrive until you can comfortably follow the curriculum. This network is the gateway for you to build a future social network. This will surely make it easier for you to reach the top of the goals you want for the future.
(6) Career Support
With its large network, this school will help you find your future career opportunities. They will help you find your way to a career both in Japan and abroad.
(7) Strong Multinational Environment
Students from over 50 countries around the world typically study at Intercult. Intercult also organizes multinational events to encourage students to actively speak Japanese. There are also exchange events that provide a unique opportunity to communicate in Japanese.
(8) Support from Intercult
As a highly professional language institute, Intercult is very concerned about the comfort and safety of its students. What kind of support can you receive when you enroll at Intercult? Please read below for some supporting details.
1. Before Arrival
You do not have to worry about how to start the registration process until you arrive in Japan. Intercult will guide you in the best way. The staff at this school speaks English, Chinese and even Korean. Do not worry if you do not speak Japanese. Intensive communication is possible through the email and chat channels provided.
2. Upon Arrival
What kind of assistance can you expect upon arrival? Airport transfers from Narita and Haneda airports are available upon request. There is an additional charge for this service. What else? You will also receive assistance with administrative services. Intercult staff will assist you with resident registration, national health insurance registration, and bank account opening.
3. Accommodation
Intercult has dormitories where students can live. In addition, other types of housing are available. These include private apartments, guesthouses, and Homestays, depending on your budget and desired lifestyle.
4. Insurance
There are 2 insurances that you will receive when you become a member of Intercult. They are the National Health Insurance and the Foreign Student Insurance. With National Health Insurance, everyone only has to pay 30% of the necessary health costs. Foreign Student Insurance is a special insurance for foreign students that covers unexpected events (other than illness). Intercult can help you apply for these 2 insurances. Do not worry, the process is quick and easy.
5. Learning Support
As foreigners, we obviously need a map to adapt to the new learning system at Intercult. Therefore, Intercult has provided some aids for learning as follows:
1. Special materials and support for students whose arrival is delayed
2. One-on-one meetings each semester to express each other's impressions while learning
3. At the end of the semester, there is a report card as a form of evaluation so that students can determine the progress of their skills.
6. Higher Education Support
Especially for students who want to continue their education in universities, both undergraduate and graduate, Intercult offers a lot of help, such as seminars, advice from professionals, a counseling room, how to find a suitable supervisor, how to make a study plan and prepare for interviews, preparation course for the university entrance exam, preparation program for the EJU exams and much more.
7. Scholarships
Students with excellent grades and perfect attendance are eligible for scholarships at Intercult. There are 2 types of scholarships, namely the Intercultural Institute of Japan Scholarship at 20,00 JPY/month for 6 months and the Honors Scholarship for Privately Financed International Students at 48,000 JPY/month for 12 months. Please click on the link below to learn more about this scholarship.
8. Daily Life Support
Intercult will help you in this way by providing you with the best support and services. So that you can have a comfortable life at Intercult. For example, what you can get: assistance in case of illness or injury, advice on various problems and concerns in daily life, and also an explanation of immigration procedures and applications for various insurance packages. All of these services are available in English, Chinese, Korean, and Japanese.
The Courses & Prices at the Intercultural Institute of Japan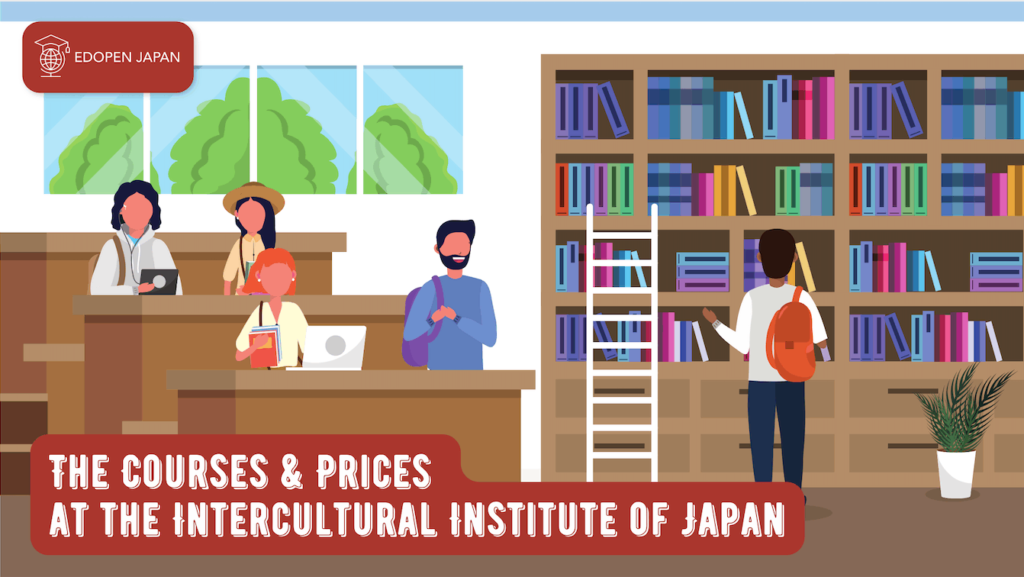 Courses
There are 4 types of courses that Intercult offers, as follows:
| | |
| --- | --- |
| 1. Weekly course | Courses that can be taken in units of 1 week. This course can be taken for a minimum of 1 week and can be adjusted to fit your work or school schedule. |
| 2. Long-term course | This long-term course is a course for 1 or 2 years and requires a student visa. This course is usually taken by those who are focused to be enrolled in a Japanese university or want to find a job in Japan. |
| 3. Evening lessons/Early morning lessons/Saturday lessons and Private and semi-private lessons | For those who only have a specific time and occasion in learning Japanese. As well as for those who can't regularly come to class due to their job or any specific conditions. |
| 4. Special course | Special courses usually last 2 to 4 weeks. This course is usually included in the summer courses. Suitable for those who want to study Japanese in the morning. After that, want to participate in various extracurricular activities to experience Japanese culture. |
Expenses

As for fees, there are several options depending on the duration and details of the course you want to take. Roughly speaking, the costs are as follows:
| | |
| --- | --- |
| 1. Weekly course | from 25,000 ($193) |
| 2. Long-term course | from 850,000 ($6,547) |
| 3. Early morning/evening/Saturday course | from 6,000 ($47) |
| 4. Private course | from 17,000 ($131) |
| 5. Semi-private course | from 15,000 ($116) |
Additionally, please find detailed information about the fees by clicking the link below.
Review of Intercultural Institute of Japan
Based on several sources we found, Intercult has received no less than a 4-star rating. What are the advantages of Intercult according to some reviewers? Take a look at some of the following:

1. Classes are balanced, effective, and interactive.
2. Attractive and professional teachers.
3. Supportive and professional staff.
4. The location of the school is very strategic.
5. Practical learning materials.
6. The school has an excellent learning system so that students can pass a certain level of JLPT or a certain university entrance exam they are aiming for.

However, some aspects, such as the fast pace of the material and varying teaching styles, make it hard for students to adjust to the teaching method. Despite this, the Intercultural Institute of Japan is a remarkably professional and exemplary Japanese language school in Tokyo that comes highly recommended.
FAQ about the Intercultural Institute of Japan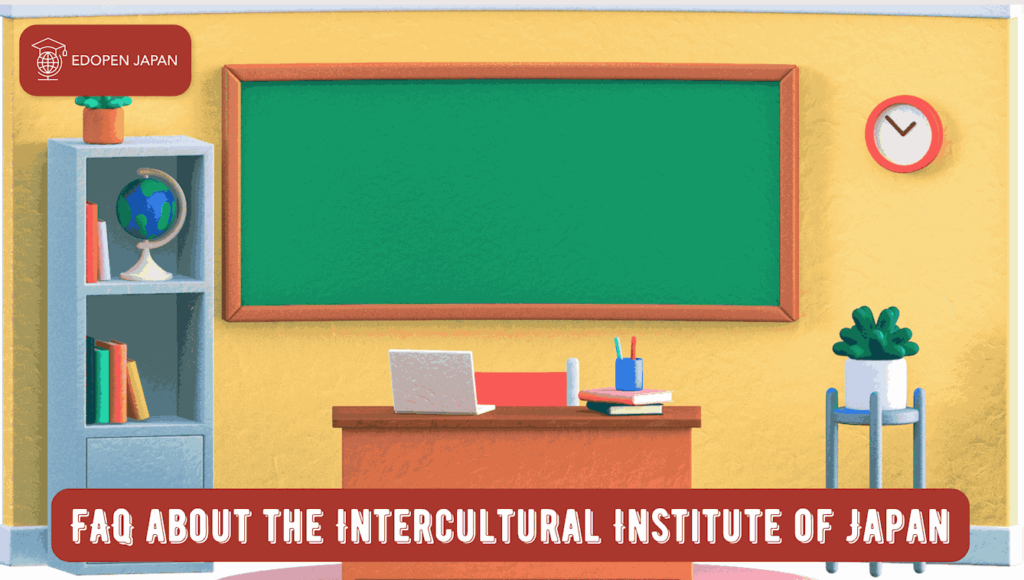 We have briefly categorized some common questions about learning Japanese and Japanese language schools. We hope it will be useful and can be your best guide!
How to learn Japanese fast?
There is no fast track to proficiency. It will take at least 2 years to become proficient in Japanese, but there are many ways to accelerate your Japanese proficiency with the absolute necessity of discipline.
Is it difficult to learn Japanese?
For native English speakers, Japanese is one of the most difficult languages to learn, especially the kanji writing. It requires a strong presence to master the grammar. The good news is that pronunciation is much easier.
How long is a Japanese language school?
Most schools will issue a 2 year student visa. Each school has different programs and durations, some are under 2 and 1 year. It is important to check the program and duration offered by the school first.
Can I study Japanese for free?
It is very possible, you can use various media such as websites, free App or digital books and Japanese language communities online. But joining a Japanese language school is a structured way to learn Japanese.
I hope this answers your question quickly before you dig deeper. Hopefully, it will help you in learning and determining the best Japanese language school for your future.
Conclusion
In conclusion, kindly reconsider the aforementioned points. Please provide feedback regarding the information presented and any comments you may have, along with suggestions for our upcoming improvements. We trust you find the details regarding the Intercultural Institute of Japan in Tokyo helpful.