The chance to learn Japanese in Japan is a fantastic opportunity. Additionally, you can reside in Tokyo, one of the world's largest metro cities. Tokyo is filled with authentic and captivating Japanese traditions and culture, both modern and historical. It represents Japan and has become a trendsetter. Includes some of the world's most advanced products and popular culture.

Furthermore, below you can also explore other top Japanese language schools we offer, which can offer a more comprehensive perspective. This will enable you to reduce errors when selecting a Japanese language school and enhance your learning experience once you have made your decision.

Read also:
10 Most Popular Japanese Language Schools in Kyoto
9 Most Popular Japanese Language Schools in Osaka
8 Most Popular Japanese Language Schools in Fukuoka

Therefore, allow us to introduce the prestigious KAI Japanese language school located in Tokyo. Do you desire to learn more? Refer to this article!
About KAI Japanese Language School, Tokyo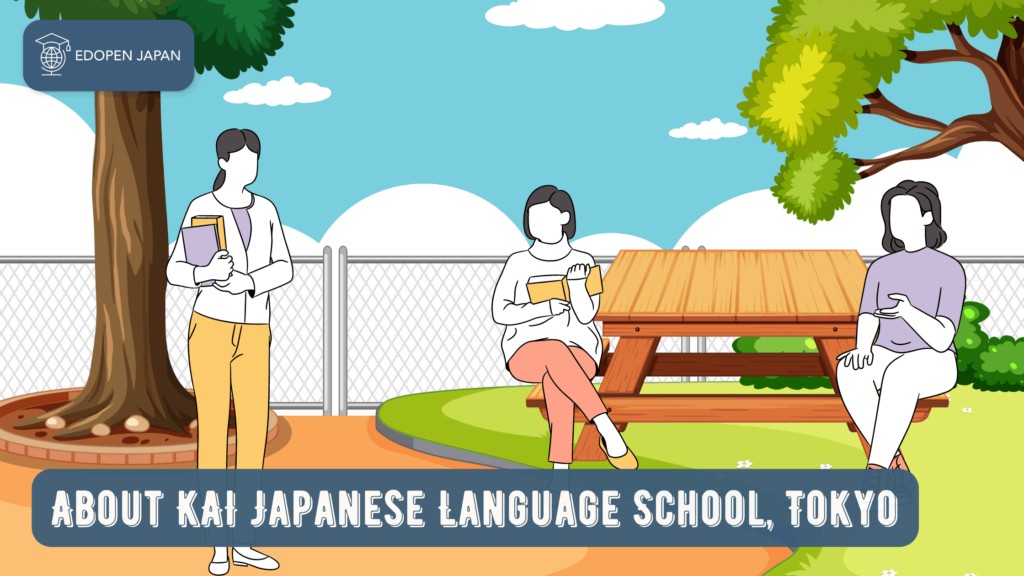 The KAI Japanese Language School has a renowned reputation for excellence, spanning 30 years. Situated in the heart of Tokyo, the school serves as a modern and captivating hub for learning Japanese with utmost convenience. Innovative teaching methods are implemented, utilizing iMacs for a seamless learning experience. As well as utilizing the school's apps, KAI School
Has digitized almost the entire curriculum. The school boasts an impressive KAI⋮DLS (Digital Learning System) with the goal of providing original teaching materials and building effective learning platforms for students. The school has a commendable reputation for providing support to every student, particularly those without any prior experience with the Japanese language. The student body comprises individuals from over 35 distinct countries.
School Location
KAI Japanese Language School is located in Okubo, a bustling district known for its numerous shops and restaurants and dubbed "Korea Town". Okubo is heavily influenced by Korean culture, evident in its many Korean-themed establishments.
Then, with the growing local interest in Korean culture, Okubo is a must-visit area that seamlessly blends Korea and Japan. From here, it's a convenient stroll to Shinjuku Ward, which is one of the most popular and bustling tourist areas in the capital city. Kai's location, along with a sizeable shopping center, serves as a hub for local youth.
Additionally, the center features a planetarium, aquarium, and amusement park, making it an appealing destination for everyone. This area provides an excellent environment for both studying and entertainment, all within a well-connected location where the excitement is always close at hand!
Student Demographics
According to the data in 2022, the student demographics are as follows:
United States: 18.3%
Spain: 8.7% & Italy: 8.2%
United Kingdom: 5.3% and others
The School Quality and Facilities at KAI Japanese Language School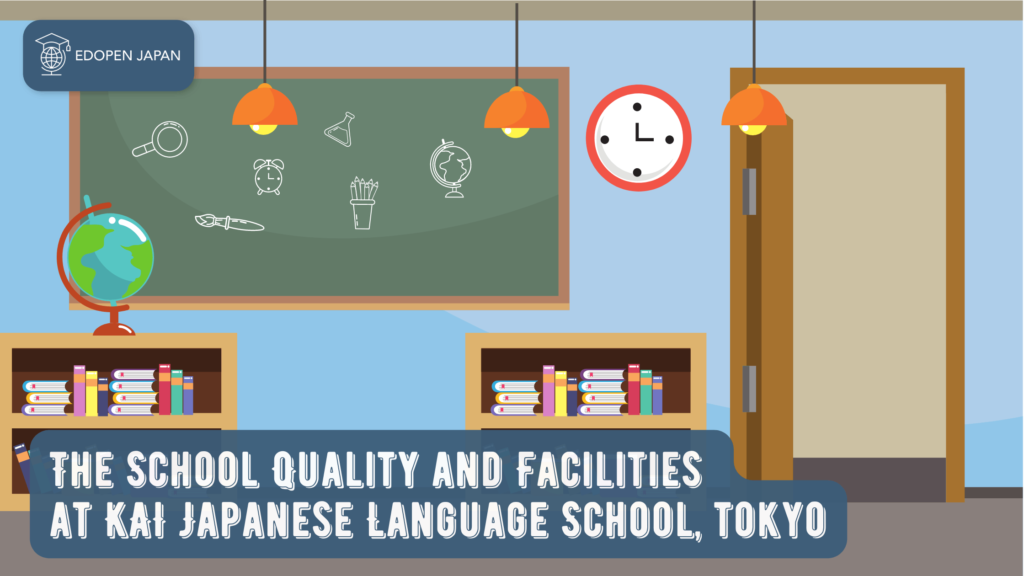 (1) Accreditation
KAI is a prestigious Japanese Language School. Its goal is to enhance the quality of Japanese language education. The school proudly holds accreditation from multiple prestigious organizations.
1. IALC (International Association of Language Centers)
2. ISO 29991
3. Association for the Promotion of Japanese Language Education
VISA
(2)

This school KAI can help you get a student visa to Japan, with several options for length of stay. Such as the following:
| | |
| --- | --- |
| 1. A brief stay (no more than 6 months) on a visitor visa | The specific criteria for obtaining a short-term visa differ depending on your nationality. It is advisable to consult the Japanese Embassy in your region for further information. |
| 2. Long period (3 months to 2 years) with a student visa for college | Communication between schools is required to obtain credible information through the Japanese Embassy. |
(3) Health Insurance
Health is the highest priority at this school. Therefore, students are expected to be ready for any emergency while studying abroad. Obtaining health insurance to cover illness or injury is a crucial aspect of this preparation. This school is fully equipped to assist students in obtaining health insurance while residing in Japan.
(4) Scholarships
The KAI Japanese Language School offers scholarships that can assist your Japanese language learning journey. To be eligible, you must possess a strong desire to learn Japanese, attend each class with a demonstrated track record of above 90% attendance, and exhibit excellent academic achievements.
(5) Special Skills Scholarship
This program waives some or all your tuition fees in exchange for using specific skills. This school will determine the amount of your scholarship. As well as the term of the exemption based on the skills you provide to this school. To be eligible for this scholarship, you will be required to submit your resume and any certifications or awards you may have.
(6) Student Volunteer System
Students can volunteer for various positions, both paid and unpaid, at KAI Japanese Language School. KAI will inform the school board when student volunteers are needed. A range of opportunities, including interpretation, translation, and more, will be available.
The School Main Services of KAI Japanese Language School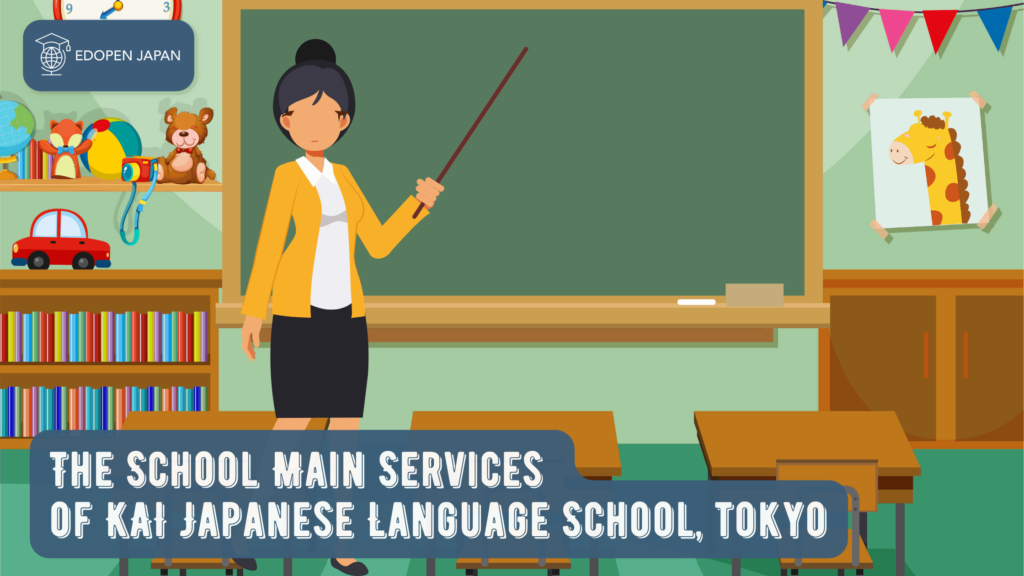 What can you gain by attending this leading language school? Of course, the facilities are very high quality. What are they? You can take several advantages as the following.
| | |
| --- | --- |
| Facility | Remarks |
| (1) Innovative and Fun Learning Materials | Teaching materials are optimized for their novice learning with ideograms. Also more fun videos of Japanese learning. |
| (2) iMac (Tablet Support) | This school has an application. It is specifically designed to optimize your Japanese language learning. You can use your own device or rent it for home use. |
| (3) Support For Full-Time Employment | The school will assist you with job interviews by teaching the Japanese for business. |
| (4) Arubaito (Part-time Job Support) | The school will post and update available part-time job opportunities. Then, prepares the students for the interviews and to get a suitable part-time job in the Tokyo area. |
| (5) Perfect for very BEGINNER STUDENTS | Even if you have never studied Japanese before, at this school you can start from scratch. You can study at this school even if you have never learned Japanese before. |
| (6) Students' Lounge and Free Wi-Fi Provided | KAI support and provide an Area where the students gather to eat, chat or do their homework. Free Wi-Fi for all the students. Very comfortable place to study! |
| (7) Top Level English-Speaking Staff Available | Above the level of the English-speaking staff are available. They will assist you with any issues that may arise during your time at the school. |
Is the topic interesting to you? If you have any further questions or thoughts to share, please don't hesitate to leave a comment below. Is the topic interesting to you? Let us know your opinion.
The Courses and Prices of KAI Japanese Language School
KAI Japanese language school in Tokyo currently provides five-course types: General Japanese, Practical Conversation, Business Japanese, Summer Courses, and Private Lessons. These courses range from beginner to advanced levels. Below are the details of each course.
1. General Japanese Course
These courses are typically pursued by students with a definite objective. Securing employment in Japan, attending a university or trade school, or passing the JLPT N1. Student visas for these particular courses are valid for a period of 6 months to 2 years.
A fee of 2022: starting from ¥278,000 (3 months-shortest)
2. Practical Conversation Course
This course is typically brief and designed for individuals seeking to enhance their conversational abilities. It is commonly taken by students on short-term visas.
A fee of 2022: starting from ¥41,000~
3. Business Japanese
This is the main course offered by KAI Japanese Language School, which has been providing Japanese language courses for companies in a variety of industries and corporations for multiple years.
A fee of 2022: starting from ¥144,000~
4. Summer Courses
This course is typically offered annually from July to August. Upon enrollment, you have the option to take either the Grammar & Conversation Course or the JLPT Preparation Course. Rest assured, you will also receive a range of amenities, including lodging, meals, and enjoyable activities.
A fee of
2022: starting from ¥43,000 ~
5. Private Lesson
This lesson is suitable for those of you who are busy Monday through Friday. This program offers private Japanese lessons with an easy setup for you. Also, you do not have to worry about not being able to attend class. Why? Because the place, time and other things can be arranged to suit your needs.
A fee of 2022: starting from ¥17,000 ~
Reviews
According to our research on various social networks, the KAI Japanese Language School has an excellent reputation, earning an average review of 4.5 stars or higher. What benefits do reviewers highlight? Please see the following points for more information.
1. The amazing and pleasant atmosphere of study.
2. Great and supportive teachers who can explain even complex grammar and vocabulary.
3. Super friendly and helpful staff.
4. Very interactive classes and classmates with diverse backgrounds.
5. Great place to learn Japanese for Westerners.
Unfortunately, there are cases where customers have expressed dissatisfaction with the uninformative customer service. However, this school has made a significant contribution to providing high-quality Japanese language education for individuals worldwide.

FAQ About KAI Japanese Language School, Tokyo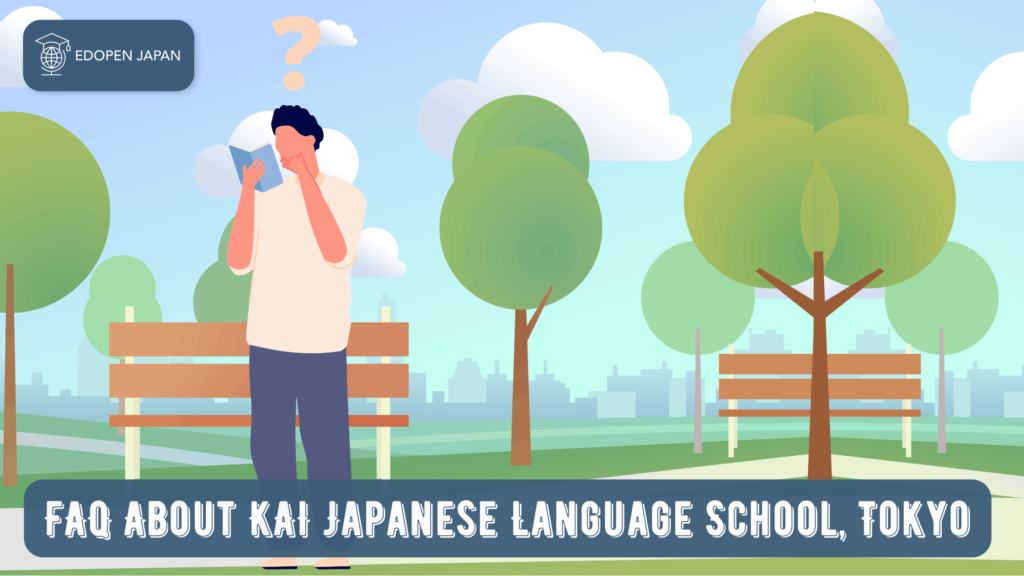 To assist you in easily locating answers to the most commonly asked questions about selecting or studying at the finest Japanese language academy in Japan, we provide a set of FAQs that may prove beneficial to you.
Is it easy to learn Japanese?
There's a common misconception that kanji is the most challenging aspect of learning Japanese. In reality, Japanese is much like any other foreign language. Proficiency levels vary among individuals, and you may be an exception, achieving fluency faster than others.
Is 2 Years enough to learn Japanese?
t depends on the student's commitment. Japanese language schools typically use a 2-year time frame for long-term course study. Perhaps this can serve as a reference point.
Is it hard to learn Japanese in school?
Self-study becomes very difficult because it will fight laziness by studying in an unsystematic way. It will be easier if you study at a Japanese language school. Being disciplined, structured will make it easier to achieve learning targets.
Can I study in Japan as a foreigner?
It is possible to accomplish. Begin by determining the desired study duration and visa type. Reach out to the school and discuss your objectives. Japanese language schools are well-equipped to assist with these procedural concerns.
The responses above may not address all of your inquiries. If you still have questions, please contact our team using the provided contact information. We are pleased to assist you, Good Luck!
Conclusion
In conclusion, we would like to ask you to reconsider the above points. Please provide your valuable feedback and comments, including suggestions for future improvements. We hope that you have gained valuable insights into KAI Japanese Language School in Tokyo.