Studying Japanese in Okinawa can be one of the best options you can do. Okinawa is known as one of the most unique regions in Japan because of its warm climate. The lifestyle of native Japanese living in Okinawa is also different from native Japanese living in other areas. Okinawans are known to be very warm and relaxed.
This island, also known as the Hawaii of Japan, is very popular among tourists and foreigners. The combination of a culture and environment that is traditional yet very open to modernity will provide a unique and valuable experience for everyone.
In this article, we will discuss a list of the very famous and best Japanese language schools in Okinawa. You can choose one of them according to your needs, abilities and goals for learning Japanese.
In addition, if you are also looking for the best and most famous Japanese language schools in other cities in Japan, please read our special recommendations below:
Read also:
9 Most Popular Japanese Language Schools in Osaka
6 Most Popular Japanese Language Schools in Hokkaido
8 Most Popular Japanese Language Schools in Fukuoka
A Brief Introduction to Okinawa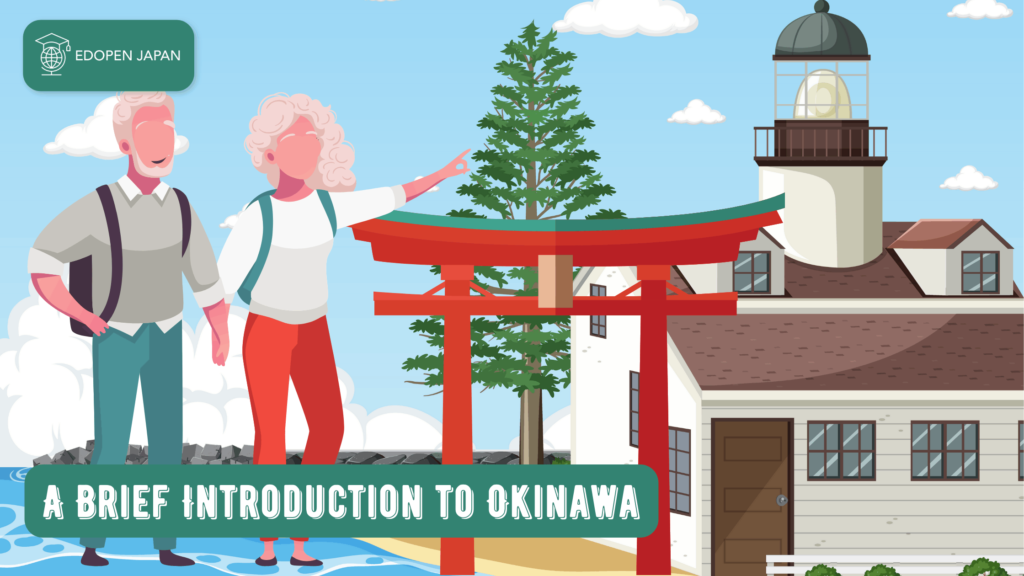 Okinawa Prefecture is the only prefecture in Japan that belongs to the subtropical zone. Now, Okinawa is a tourism-oriented prefecture with a variety of keywords. Such as longevity, world heritage, eco-tourism, traditional performing arts and festivals. Since ancient times in Japan, Okinawa has cultivated its own culture.
This beautiful place has exchanges with various countries as an island that loves peace. It has adopted diverse cultures, even until this time. By living and interacting with the Okinawans, you will be able to experience Japanese culture firsthand. This experience will surely have a great positive impact on the development of your outlook on life.
Where is Okinawa?
Geographically, Okinawa Prefecture is located at the southwestern tip of the Japanese archipelago. It is in the southern part of the Nansei Shoto (Southwest Islands). Okinawa is a 1200 km long chain of islands that winds off the east coast of the Asian continent. Simply put, Okinawa is a beautiful island between Taiwan and mainland Japan in the East China Sea.
Why study Japanese in Okinawa?
In order to choose the best place to learn Japanese, there are certainly a few things you need to consider. There are several points you should consider like the following:
Okinawa is a great place to live and learn as much as you can. You will learn a lot about Japanese culture and their way of life. You can see what they eat and you will also learn how to live long.
Okinawa combines Japanese culture, a large number of expatriates, and the atmosphere of a Pacific island in a unique package. Also, it's pretty safe to leave your door unlocked. Just like in other parts of Japan, you can go for a walk after dark.
Living on this island, you can take in peace and respect. Okinawa offers a much lower cost of living than Tokyo. This allows you to save more of your pocket money or salary so you can have more fun!
In addition, for those of you who really like plants and animals, including various endemic species that are endangered, then you can get the opportunity to see them in various sanctuaries that exist only in Okinawa. Apart from learning Japanese, you can also get closer to nature and learn how Japanese people do treatments to protect their precious nature.
8 Great Japanese Language Schools in Okinawa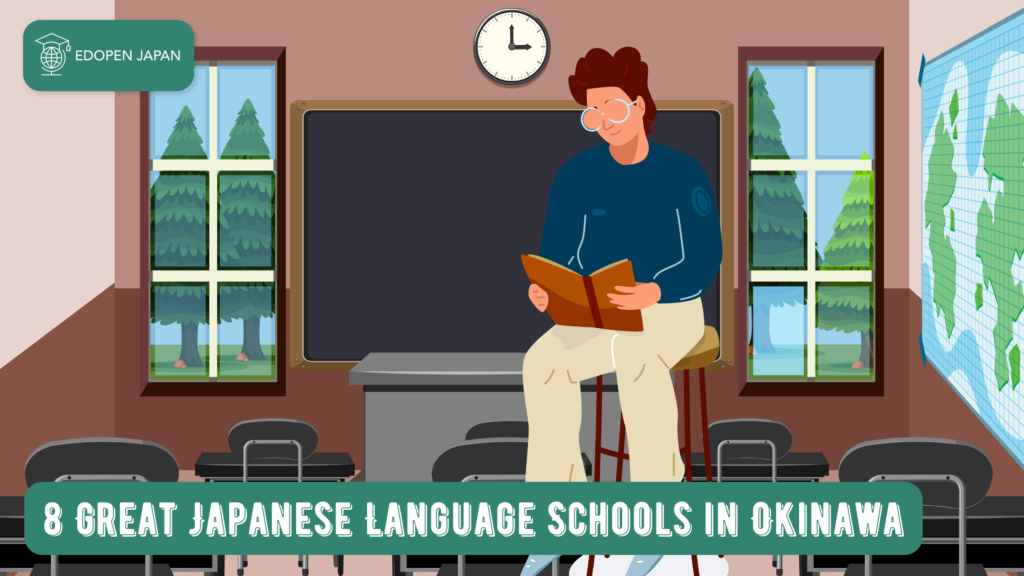 Here are the 8 Most Famous Japanese Language Schools in Okinawa you absolutely need to know more! Please leave me your feedback if you have any inquiries about these schools. I would really happy to receive your comments, thoughts as well as the message. Thank you very much!
1. ICLC Okinawa Japanese Language School
The International Center of Language & Culture Institute of Japanese Language (ICLC) was founded in 1983. This is the oldest language school in Okinawa. The school has students from more than 50 countries.
Then, ICLC accepts students from nearly 20 different countries and regions each year. This school provides instruction not only for international students but also for business and short-term students. With years of experience and knowledge, this school provides an education that meets the needs and goals of each student.
ICLC Okinawa Japanese Language School Features:
| | |
| --- | --- |
| International Exposure | You can study with students from Asia, Europe, America, and other parts of the world at ICLC. It provides a conducive environment to enhance your Japanese communication skills. |
| Various Cultural Experience | Not only will you learn Japanese, but you will also have a fantastic opportunity to build valuable relationships with people from around the globe. You will be accompanied by various cultural experiences while you study Japanese at this school. |
| Accredited Course | ICLC offers courses accredited by the Agency for Cultural Affairs for Japanese teachers. |
The school is always striving to improve and maintain the quality of education. The ICLC has earned a reputation for having a high pass rate on the JLPT among its students. They provide quality training based on the knowledge and experience we've gained over the years to meet the goals and needs of every student – including you, who're reading this article!
2. Okinawa Japanese Cultural Study Academy (JCS Academy)
"Okinawa Japanese Cultural Study Academy (JCS Academy)" was firstly opened in 2011 as a Japanese language school in Okinawa. This Japanese language school is in Naha City, Okinawa. It is very easy to reach, about 14 minutes walk from the Prefectural office station. The school focuses on human resource exchange such as learning practical Japanese and building networks that will be useful for future life.
What can you get by enrolling in this school:
| | |
| --- | --- |
| Various Culture Exposure | You will not only learn the language, but you will also get in touch with the different cultures. As well as immerse in the customs of the hometown of Okinawa. With the passion that this language school displays, they build friendships and teacher relationships with international students. |
| Several List of Courses | This school has several lists of courses. There you may select one of the 9 courses provided. You can choose your "best" one. |
Please explore the website and choose according to your particular goals. If you want to learn Japanese culture as well as the Japanese language on the island of traditional culture, this school will welcome you with open arms to help you learn Japanese.
3. Nichia Foreign Language Academy
The Nichia Foreign Language Academy school was built in 1997. This school has the main purpose to train talents with excellent Japanese language skills and help students enter their desired school or get involved in a relevant field.
Nichia Foreign Language Academy Features:
| | |
| --- | --- |
| Systematically Learning System | The school's distinctive curriculum focuses on developing proficiency in the four core language skills: speaking, listening, reading, and writing. The curriculum features ample opportunities for speaking practice and group discussions. Additionally, students cultivate the capacity to think in Japanese and aim to master natural, practical Japanese. |
| Tailored Courses | This school offers three types of college preparatory programs: one-year, one-and-a-half-year, and two-year programs designed for those seeking admission to a Japanese professional college or university.These courses emphasize the learning of standard Japanese language while exploring Japanese history and culture. |
Don't worry, all the teachers at this school are qualified teachers. As native speakers, they aren't only fluent in Japanese but also have special pedagogical training. They teach students with their rich teaching experience. Bonus for you: This school has a teacher who can speak Chinese!
4. CCCC Japanese School
The Cross Cultural Communication Center Annexed Japanese School (CCCC Japanese School) was founded in 1989. With the concept of offering a curriculum with small classes and high learning efficiency. The school focus on those who wish to study in universities and graduate schools in Japan, so this school has a very academic character and is suitable for those of you who wish to continue your studies in Japan.
As for location, please note that this is the only Japanese language school in central Okinawa. It takes about 20-30 minutes to travel from the school to Naha City. The nearest beach is about 5 kilometers away, so less than 10 minutes by car.
CCCC Japanese School Features:
| | |
| --- | --- |
| Tailored Courses for International Leaders | This school is committed to developing a young generation capable of promoting Asia and the world in the global age through education in the Japanese language and Japan's history and culture. The program equips students for the JLPT (Japanese Language Proficiency Test) and the EJU (Japanese College Acceptance for International Students) exam. |
| Rich Courses & Events | To supplement traditional classroom instruction, the school also provides opportunities to visit historical sites and attend meetings with Japanese and international residents. The courses offered are comprehensive, ranging from short-term to long-term, and can be tailored to individual needs. They are divided into introductory, beginner, intermediate, and advanced levels. |
Please note that this school uses almost all the popular Japanese phrase books. Therefore, please do not worry if you come to Okinawa for the first time, because you can still use your English of course.
5. JSL Nippon Academy
JSL Nippon Academy was founded in 1986 and has since accumulated more than 30 years of experience. Also manages, and owns campuses in Okinawa and Tokyo to develop globally successful students. The school has educated students from more than 40 countries around the world.
JSL Nippon Academy Features:
| | |
| --- | --- |
| Wide Range of Courses | This great school offers a wide range of courses and quality instruction. They provide well-trained teachers for students with great enthusiasm to achieve their goals and needs as students. |
| Balance Skills Training | This school is ready to offer Japanese basic knowledge and balanced skills training (reading, writing, speaking, and listening). The courses offered are the Japanese Culture Course, Japanese Skills Course, and Business Japanese Course. |
Of course! There's also a JLPT Preparation Course. Most interestingly, this school offers a Japanese Teacher Training Course for those of you who really know Japanese well and then want to teach Japanese in your own country or around the world.
6. Asian Language and Culture College
The school was established in October 2011 in the most beautiful and natural area of Uruma, Okinawa. This school has the principle of developing your taste and character as an international person should have. The educational goals are set in terms of lifestyle habits, autonomy, and coordination based on Japanese culture.
Asian Language and Culture College Features:
| | |
| --- | --- |
| Profesional Staff | The school staff strives to meet every student's learning needs, ensuring they live and master the Japanese language while studying in Japan. They are friendly, akin to family members, and put immense effort into designing unique learning experiences. Students are taught JLPT test-taking strategies and prepared for admission to top-tier universities in Japan. |
| Vibrant Environment | This school stands out for providing two programs to international students: regular classes and the opportunity to learn Japanese with locals. The latter course offers a vibrant environment in which to naturally learn Japanese, including the Okinawan dialect, from native speakers. |
What do you think about this school? Interested? If you want to explore this school in advance, please directly go to the following link!
7. Saelu Gakuin
Saelu Gakuin is very thick with its slogan that really wants to make your dreams come true. They will support you to continue your education in Japan. This school offers a real class for those who cannot speak Japanese at all. Also, for those who have arrived in Japan for the first time.
Saelu Gakuin Features:
| | |
| --- | --- |
| 3 Special Classes | The Saelu Gakuin offers three courses: the intensive course (which includes a long-term option) and the short course. This school supports anyone passionate about learning the language and local culture. Additionally, the Saelu Gakuin Okinawa Plus program is available for families of students and foreigners residing in Okinawa. |
| Useful Japanese for Daily Life | The course introduces the level of Japanese language and skill development mainly focused on useful Japanese daily life. You'll learn the basics of Japanese culture and customs as well as study outside of the school program. |
Cool enough, right? What do you think about this school? Interested? If you want to explore this school in advance, please directly go to the following link!
8. Gores Japanese Institute of Culture and Economics
Gores Japanese Institute of Culture and Economics was established in 1988 in Ikebukuro, Toshima-ku in Tokyo, and in time moved to Okinawa.
Gores Japanese Institute of Culture and Economics Features:
| | |
| --- | --- |
| Various Events | You'll be taught not only the Japanese language but also business and Japanese culture. You will be able to experience a tea ceremony, flower arrangements, music, Japanese cuisine, etc. |
| International Community | The student comes from Asia, America, Europe, etc. So, you'll get to know the multinational culture (not only Japanese) of students from all over the world. |
| Professional Japanese Teachers | This school has more than 20 excellent professional Japanese teachers. There are 7 or 8 teachers for one class. The institute also provides course preparation for university and vocational school enrollment up to JLPT class. |
In addition, this school also offers comprehensive guidance for working in Japan, including Japanese business communication that is smooth and polite. According to the statistical results from Gore's Japanese Institute of Culture and Economics, enrollment rates in Japanese universities and vocational schools are almost 100% accepted.
FAQ about Japanese Language School & Study in Okinawa
To help you understand more about learning Japanese language and culture as well as Japanese language schools in Okinawa, please read our FAQs and discussion below:
Can I learn Japanese in 2 or 3 months?
If you study Japanese diligently for 2 or 3 months, you will be able to learn at least basic materials and basic everyday Japanese conversation.
How quickly can you learn Japanese?
Learning Japanese is not easy and takes time. It usually takes at least 1 year to master Japanese at the N3 level. If you continue to study consistently in the following years, you will certainly increase your mastery of the Japanese language.
What is the best Japanese language school in Okinawa?
The above 8 schools are the best choices based on our research. Please choose one of these 8 schools according to your needs, abilities and goals for learning Japanese.
What do you think? Do you have any other questions about learning Japanese in Okinawa or the best Japanese language schools in Okinawa? Please share them in the comments section below!
Conclusion
That's all for this article. Let's conclude by reiterating some of the key points:
When studying Japanese in Okinawa, you'll get to experience life on this world-renowned island. From history, Okinawa has a culture of healthy living. People here can live up to 100 years old. Additionally, Okinawa has a unique culture that is rich in a variety of seafood, which is not only cheap but also healthy.
There are eight language schools in Okinawa that are renowned for their high quality, as previously described. Find them above!
Additionally, please provide your feedback on the information we collected in the comments section below. That concludes my message. If you have any questions, please ask them in the comments below. Thank you, and I look forward to our next article.