Learning Japanese may seem challenging at first, but it doesn't have to be. Enrolling in a Japanese language school in Japan can make the process much easier. When studying in Japan, you'll have the chance to immerse yourself in the language and culture, interacting with native speakers outside the classroom to practice what you've learned.
When studying in Japan, you'll have the chance to immerse yourself in the language and culture, interacting with native speakers outside the classroom to practice what you've learned. This approach allows for immediate and authentic language acquisition.
In this article, we will present the finest Japanese language schools in Yokohama. Yokohama has always been a tourist destination for many foreigners.
To quench your curiosity and access the most reliable information on the benefits of Japanese language schools across Japan, as well as other pertinent details, we offer you the ultimate guide. Check out the comprehensive list below!
Read more:
9 Most Popular Japanese Language Schools in Osaka
10 Most Popular Japanese Language Schools in Kyoto
6 Most Popular Japanese Language Schools in Hokkaido
About Yokohama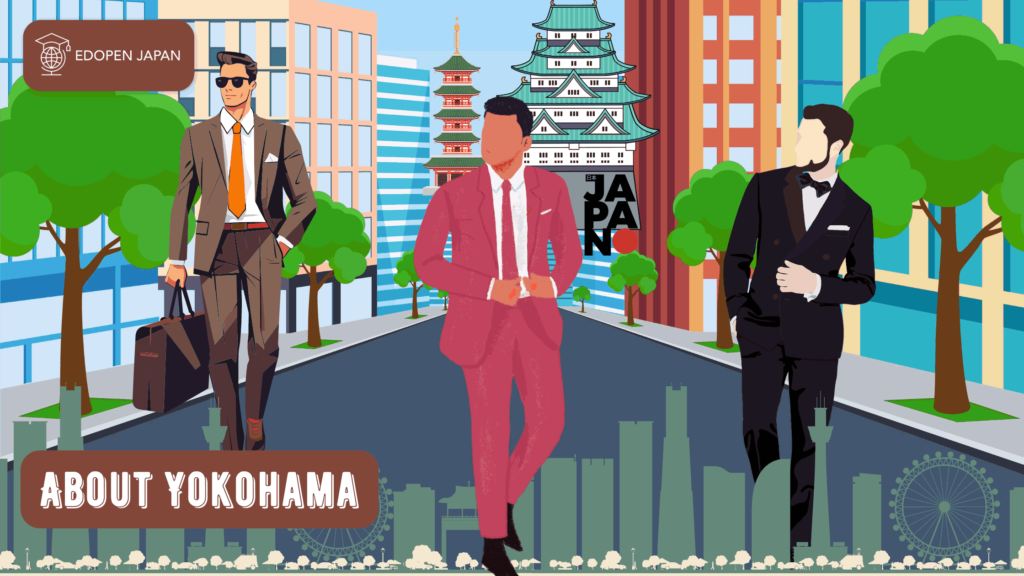 The city of Yokohama is very famous as the second largest city in Japan by population and the most populous municipality in Japan. Yokohama is the capital and most populous city of Kanagawa Prefecture. Yokohama is also known as an economic and cultural center. This large city was one of the cities open to trade with the West.
History also records that Yokohama was home to many Japanese civilizations during the Meiji period. It is said that Yokohama is growing rapidly as the leading port city in Japan. Today, this beautiful city is one of the most important ports in the country, along with Kobe, Osaka, and several other cities.
Where is Yokohama?
Yokohama is a Japanese city south of Tokyo. The city was one of the first Japanese ports. This port city is located in the Kantō region of the main island of Honshu. Yokohama is a major commercial center in the Tokyo metropolitan area.
Yokohama is centered on a bay on the western side of Tokyo Bay, 30 kilometers (18 mi) from Tokyo. Tokyo and Yokohama are like one entity, but different areas due to the developed character of the city. Yokohama is also famous for its large Chinatown with hundreds of Chinese restaurants and stores.
Why Study Japanese in Yokohama
There are several important reasons why you should consider Yokohama.
1. Yokohama is one of the safest places to live in Japan.
2. Compared to Tokyo, Yokohama is a much easier place to live, as house rentals and other prices are cheaper.
3. For students, it is also a little easier to find part-time jobs.
10 Great Japanese Language Schools in Yokohama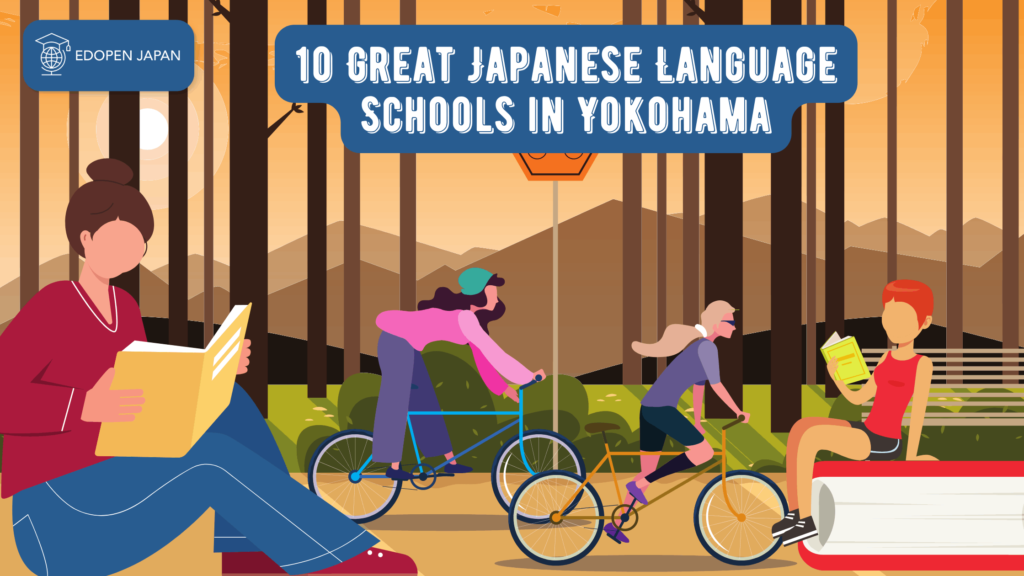 Here are the 10 best Japanese schools in Yokohama that you absolutely need to know.
1. Yokohama International Education Academy (YIEA)
Yokohama International Education Academy has been providing quality Japanese language education for over 30 years. The Academy's experience and expertise have led it to evolve over time. This ensures that Yokohama International Education Academy's services always meet the expectations of students and the global community.

Yokohama International Education Academy is located in the heart of the port city of Yokohama, close to the vibrant Minato-Mirai district. It is at the center of educational and cultural institutions. Where people gather to learn. The excellent location means you can experience both the modern and traditional aspects of Japan in close proximity.

There are 4 train stations within walking distance of the school and the closest one is only 4 minutes away. This language school has around 400 students in the Yokohama area. As mentioned above, Yokohama is a large city very close to Tokyo. It is only 30 minutes by bullet train from Shinjuku. Students can study in a big city with a quieter atmosphere than Tokyo. The school has the following features:

1. The school helps each student pass the EJU and/or the JLPT N1 for graduate school and vocational school in Japan.
2. Language learning in the classroom is done by the "direct method" to achieve maximum effectiveness.
3. Special recommendations to universities and vocational schools for students with good grades.
4. All teachers at the academy are qualified language teachers and native Japanese speakers.
5. Classes are taught based on the prepared curriculum; students use the same textbook as other classes at the same level.
6. The Yokohama International Education Academy has over 50 experienced and dedicated teachers.

Therefore, don't miss the opportunity to enroll in this school!
2. Yokohama Design College (YDC)
Yokohama Design College (YDC), a school specializing in fashion design, illustration, manga, and, of course, a comprehensive Japanese course, has been around since 1948. At YDC, there are 3 schools in one building: a Japanese language school, a design school, and a high school.

International and Japanese students use the same facilities and equipment, and can easily make friends with Japanese locals and enjoy language and cultural exchange. In the Japanese department, the school has students from about 25 countries around the world. The school has the following features:

1. The school has 420 students, 180 in the Japanese language department, 170 in the design department, and 70 in the high school department.
2. In the Japanese department, the school has students from about 25 countries around the world.
3. The Yokohama Design College provides an education that meets the needs of everyone through easy-to-understand teaching and in-depth guidance.
4. For students preparing for university, college, or vocational school, Yokohama Design College teaches four language skills: Reading, Writing, Speaking, and Listening, as well as preparation for the EJU (Examination for Japanese College) and aptitude tests.
5. This college also provides job search assistance and Japanese language training so that students can work easily.

What's more? Students can learn Japanese for their own goals. Such as enrolling in a college in Japan, artistic activities (art college, vocational school), or just experiencing life in the country of their dreams. YDC offers many optional and free programs to help our students achieve their dream, as well as activities to understand Japanese culture/thinking, etc.
3. Aishin International Language School
This language school was originally established by the Aishin International Social Exchange Association, a government-approved non-profit organization (NPO). The aim of establishing this language school is to deepen mutual understanding through international exchange and to contribute to world peace.
The location of the school is very convenient. It is just a 3-minute walk from Sakuragicho Station. With the background of "Minato Mirai 21" in the international city of Yokohama, it is very convenient to go to school. The famous Yamashita Park and Chinatown are close to the school, Yokohama Stadium and the public library are also nearby, and there are many facilities for education, culture, arts ,and sports. The school has the following features:
This school chooses to focus on education to understand different cultures in an easy to understand way. Students' interest in different cultures can be one of the main motivations for learning a language as a means of communication. With the aim of fully satisfying students' interests. In addition, the school has special counselors to provide individual counseling on various problems faced by students.
This school has five pillars of excellence that are offered in Japanese language teaching, as the following:
1. Effective small-group guided by the ability
2. Best environment and Attentive student dormitory
3. Life counseling with professional staff and reliable management base
4. Asuka Gakuin Language Institute
Founded in 1986, Asuka Gakuin is a well-established Japanese language school that has played a leading role in the Japanese education market. All teachers are professional certified Japanese teachers with many years of professional experience. The school building is modern and beautiful and can accommodate approximately 600 students.
Asuka Gakuin is located in the heart of Yokohama. It is located next to Hinodecho Station, the second stop from Yokohama Station, where many shops and restaurants are located. This provides easy access to transportation. In addition, the school is within walking distance of Japan's largest Chinatown. The school offers a study program divided into beginner, intermediate ,and advanced levels. The school has the following features:
1. The direct method of teaching Japanese.
2. Organizations are subdivided into many classes based on the Japanese language.
3. Language levels to accommodate all students.
4. Emphasis on not only helping students learn Japanese but also Japanese culture and history.
5. Yokohama YMCA
The school ensures that you will experience a fascinating, different, and comprehensive experience. You will learn the main aspects of Japanese language learning. Such as Listening, Speaking, Reading, and Writing, with the goal of learning the Japanese language.
Whether you are continuing your studies at a vocational school, university, graduate school, or working in Japan, the school's learning system is ideal for those who have a strong desire to learn Japanese in a structured way. the School has the following features:
1. The school also offers many interesting facilities, including a sports club, after-school childcare, and a language school.
2. There are people of all ages: Japanese students in the occupational therapy department, older babies, and children in the sports club. The entire Global Kindergarten comes together at this YMCA.
3. In terms of curriculum, students are divided into classes of different levels according to the results of a placement test given at the time of enrollment.
In addition, this school is located in the Yokohama Kannai area, which has been the center of development since the opening of the Port of Yokohama. Yokohama City Hall, Kanagawa Prefectural Government ,and other government offices are located in this area. It is within walking distance of Yokohama Stadium, home of the Yokohama DeNA BayStars professional baseball team, and Yokohama Chinatown, the largest Chinatown in Japan.
6. The Kohwa Institute of Japanese Language
The school was founded in 1987. Most of the students from this school have been accepted into higher education in Japanese universities, vocational schools, and other colleges, and some of them have been employed by Japanese companies or established their own companies in Japan. This school is located at the nearest station, just a 10-minute walk from Kawasaki Station, JR Line, Yokohama.
The hard work everyone puts into their studies paves the way to the future and makes dreams grow to infinity. Kohwa Japanese Language Institute is run by passionate teachers who treat students kindly and teach not only Japanese language but also Japanese culture and society. The school has the following features:
1. This school offers a complete and balanced Japanese language curriculum in the four main skills of reading, writing, listening, and speaking.
2. The course lengths offered by this school are 2 years, 1.9 years, and 1.6 years.
3. The school is highly praised by its students because it strives to offer classes that are fun. Yet intense, against competition from students all over the world. As well as tutoring that's tailored for future study.
4. This school is suitable for anyone who's willing to enroll and has ambitions for the future
7. Sagami International Academy
At Sagami International Academy, the classes are designed to help students acquire the ability to communicate and speak in Japanese, as well as the ability to communicate and speak about themselves and their thoughts. This school is relatively new, having opened in April 2017, so it is very fresh and the teachers are very passionate about doing their best for you. The school has the following features:
1. The school has its own textbook "Dekiru Nihongo" which is based on the concept of the basic purpose of this school.
2. This school is perfect for those who want to go on to high school (university) and take EJU.
3. The school has teachers with extensive experience, including overseas teaching experience.
4. Teaching methods are also defined and detailed career guidance is provided.
5. The materials created are shared by all teachers, and teachers strive to teach an integrated Japanese language education.
8. Kanrin Japanese School
This school is very promising in terms of quality. It is very clear from the school's 35-year teaching history and experience with very professional Japanese language teachers. The support staff can assist with Japanese language study programs in Japan in a variety of languages including English, Chinese, Russian, Korean, and simple Japanese. The school has the following features:
1. You can find the school near the Aobadai station, between Tokyo and Yokohama.
2. You can learn "Japanese" with students from over 30 different countries.
3. This school will provide you with everything you need to know about the Japanese language and Japan itself.
4. Offering features ranging from basic courses, college preparation, and job search conversation, this school also offers digital online learning classes so that you are not left behind in the online learning hegemony.
9. Berlitz Yokohama Language Center
Berlitz is one of the world's leading providers of language training. With operations in more than 70 countries. Since introducing its world-famous teaching method in 1878, Berlitz has had a significant impact on the way languages are taught. Now more than 140 years old, Berlitz Japan entered the Japanese market in 1966 and today has more than 60 locations throughout the country. The school has the following features:
1. Berlitz has more than 50 branch schools throughout Japan, including in Yokohama City.
2. Berlitz's unique teaching method has helped millions of people around the world speak new languages and communicate more effectively. Naturally, quickly, and effectively.
3. With extensive experience and a well-known reputation for teaching various languages, including Japanese, there is no question.
4. As well as it doesn't rule out trying to improve your Japanese skills, his school seems to focus on students being more able to speak Japanese naturally, rather than just textbooks and theory!
10. Asia International Language Center
The school began in 1993 as an institution for people displaced by the war in China. After that, the school was established as a Japanese language school for international students as the number of international students from China increased. The school also has branches in various countries, such as China, Shan Dong Sheng, Indonesia, Russia, Vietnam, and Laos. The school has the following features:
1. Life at this school is full of fun with activities. Such as study tours, sports fairs, speech contests, Christmas parties, culinary parties, welcoming new students, and much more.
2. The students come from different countries in Asia as well as Europe and America.
3. Not only learning in the classroom but also various learning activities outside the school, such as directly experiencing Japanese culture or international intercultural festivals.
4. This school provides dormitories within walking distance of the school. Each room is equipped with air conditioning, a refrigerator, and a bed. In addition, the dormitory is located near the train station, there are many rooms and staff who stay there and provide standby services.
5. As for the curriculum, the classes are divided according to each student's ability, so that the improvement of everyone's ability can be promoted more effectively.
6. The experienced teaching team and high teaching enthusiasm are combined with learning media such as complete computers.
Additionally, the school provides extensive cultural support to help students feel comfortable in their learning. Such as continuation counseling, daily life counseling, and quality improvement opportunities in all areas of interest. A detailed and comprehensive curriculum that includes study programs for Japanese examinations and examinations for foreign students, as well as guidance for continuing studies toward the Diploma, Bachelor's, or Masters at various universities in Japan that are part of the curriculum.
FAQ about Japanese Language School & Study in Yokohama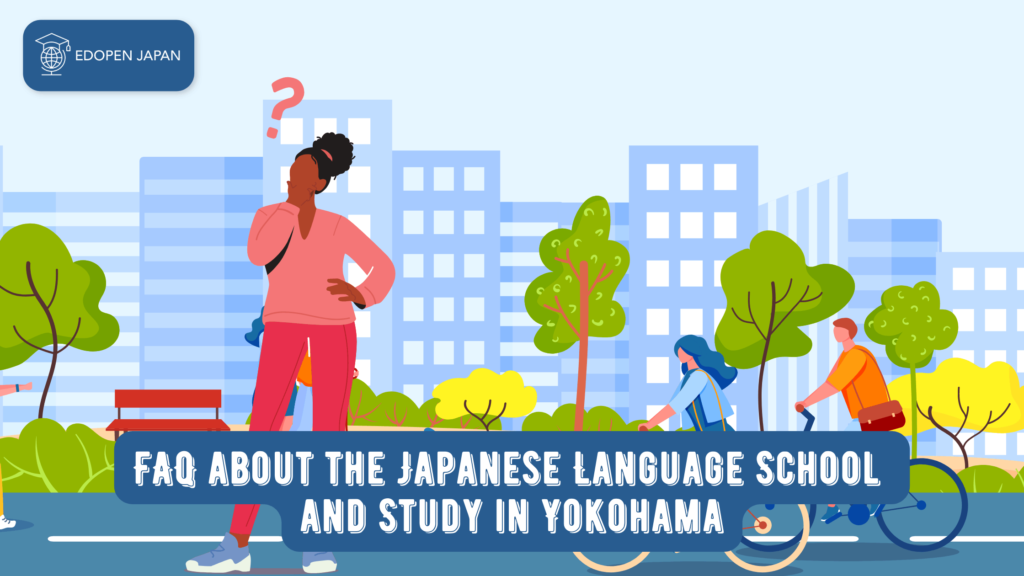 Here we have collected some questions from the majority of students. Hopefully, this FAQ below can help you:
Is it better to learn Japanese alone or in a Japanese school?
Joining a Japanese language school is the right choice because you will learn in a structured way and discipline will be stronger than lazy self-study.
what is the best Japanese language school in Yokohama
The above 10 reviews of Japanese schools in Yokohama are the best of our version, you should adapt them to your goals.
Which city is best for international students in Japan?
The cost of living can be reduced by 30% compared to Tokyo with only a 30 minute commute and you can get exactly what Tokyo has to offer.
Those are some of the questions that often arise in the minds of students, especially beginners, to explore Japanese, study well, and take enough time before deciding.
Conclusion
In conclusion, let's summarize this article with the following key points:
When learning Japanese in Japan, you'll have the chance to directly engage with Japanese language and culture.
History records that Yokohama was home to numerous Japanese civilizations during the Meiji period. Therefore, studying Japanese in this city presents an excellent opportunity.
There are the 10 most famous schools we discussed above. Please provide feedback on the information we've gathered in the comments section below.
That's all for now. If you have any questions, please do not hesitate to send me a message. I'll see you in the next article!